PrivadoVPN Review 2023: How Good Is the Newcomer?


Ad disclaimer:
For links on this page, EXPERTE.com may earn a commission from the provider. This supports our work and has no influence on our editorial rating.
Is the VPN market overcrowded? PrivadoVPN's founders apparently didn't think so, launching their service in 2019 in order to bring back the 'open' Internet. We took a closer look at PrivadoVPN and will let you know what the newcomer can do.
What Is PrivadoVPN?
PrivadoVPN is a Swiss VPN that started as an enterprise solution for business clients in 2019. A few months later, the service also began offering a VPN for private use. With the Spanish word for privacy built into its name, PrivadoVPN further underlines its commitment to digital anonymity through rigid security standards, powerful encryption, and a robust zero-log policy.
Apps are available for Windows, Android, macOS, iOS, FireTV, and AndroidTV. We reviewed PrivadoVPN on Windows and Android.
PrivadoVPN Review
Installation and Features
7.4 / 10
Security and Privacy
7.4 / 10
Solid features including split tunneling

Powerful free version with 10 GB of data per month
Performance could be better

No external security audits
1.
Installation and Features
Since there is a free version of PrivadoVPN, registering is easy: All you have to do to create a free account is supply an email address. Of course, if you provide your payment details, you can also directly purchase a subscription.
Next, click on VPN Setup in the user dashboard, and select and download the right app for your operating system.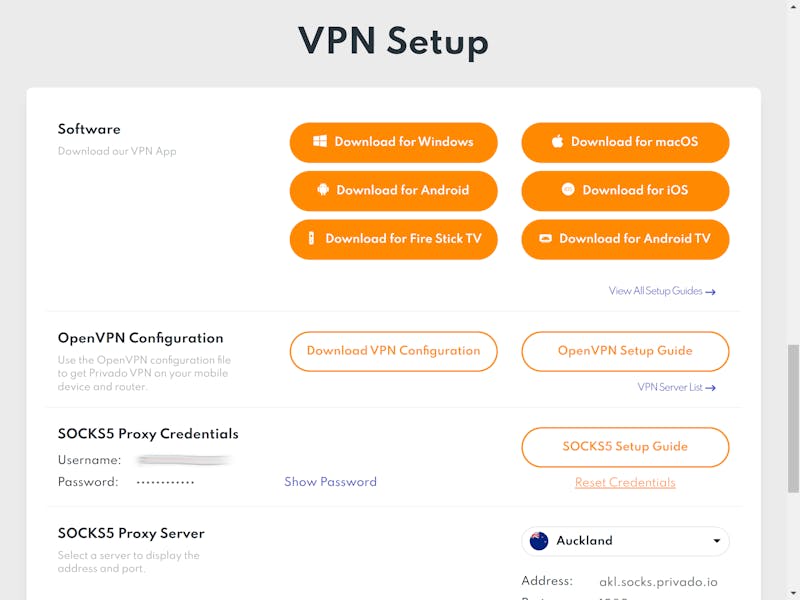 All downloadable PrivadoVPN apps are listed in the user dashboard's VPN Setup area.
Once installed, you might notice that PrivadoVPN's desktop app is structured similarly to those of most other VPNs: In the middle, you'll find a large connect button, under which you can select server locations. Below this, it's possible to toggle the kill switch on or off. This immediately severs your Internet connection whenever an issue with your VPN tunnel is identified. Make sure to enable it so that you'll never surf without your VPN's protection.
By default, the app is docked to the side of your screen. Thankfully, this can be changed by clicking on the screen symbol in the lower left of the menu bar.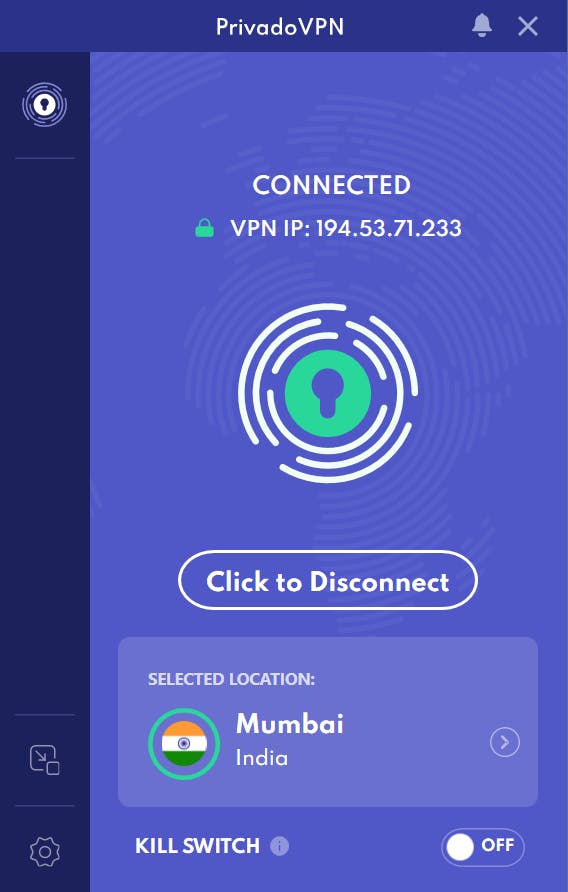 PrivadoVPN's app is straightforward and intuitively designed.
Server Selection and Favorites
You can change servers by clicking on Server Location. Available options can be sorted according to their latency and name. There's also a search feature, and a favorites list, which opens in an additional tab.
Unfortunately, a quick connect button that automatically links you to the best available server is nowhere to be found. You can manually do this though, by opening the server list and selecting the location with the lowest latency.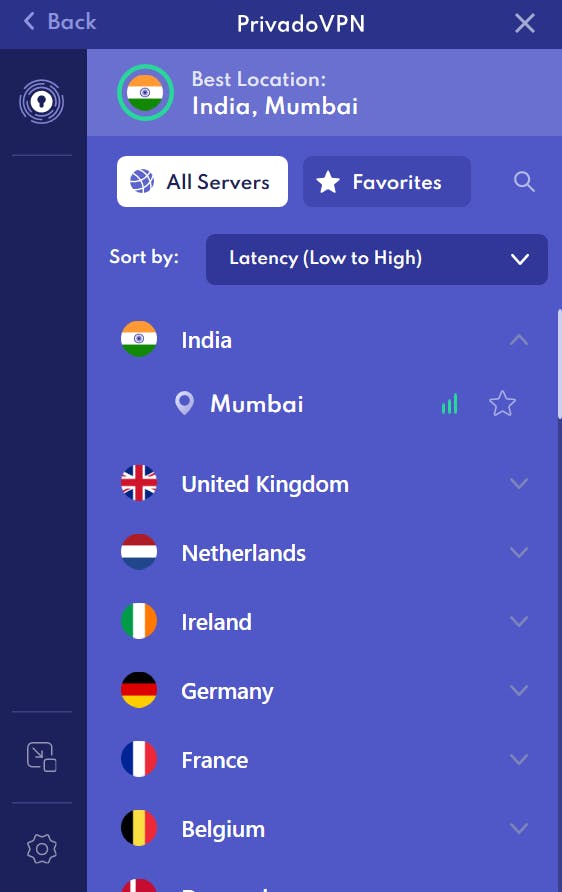 Thanks to the favorites list, your preferred servers are never more than a click away.
Basic Features and Settings
A click on the gear symbol opens the features and settings menu. There aren't too many of these: In the VPN tab, you'll find the kill switch along with Auto Connect, for establishing a VPN connection when your system starts up. There's also the protocol selection menu, which we'll explain in more detail in the Security and Privacy section of this review.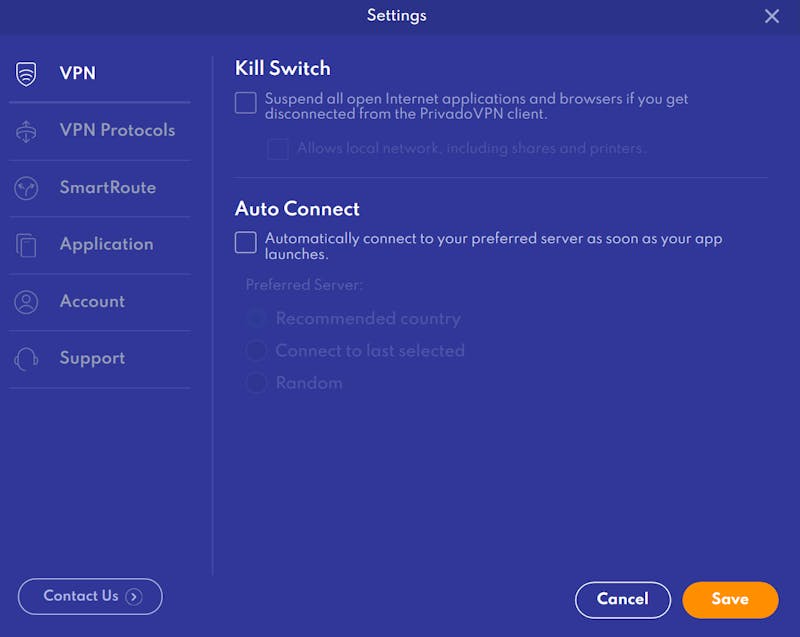 Auto Connect automatically establishes a VPN connection when your system boots up.
SmartRoute is PrivadoVPN's name for split tunneling: With this, you decide which applications and programs use PrivadoVPN's tunnel. Here, you'll have two options: You can either exclude specific apps from the connection or limit it to certain programs.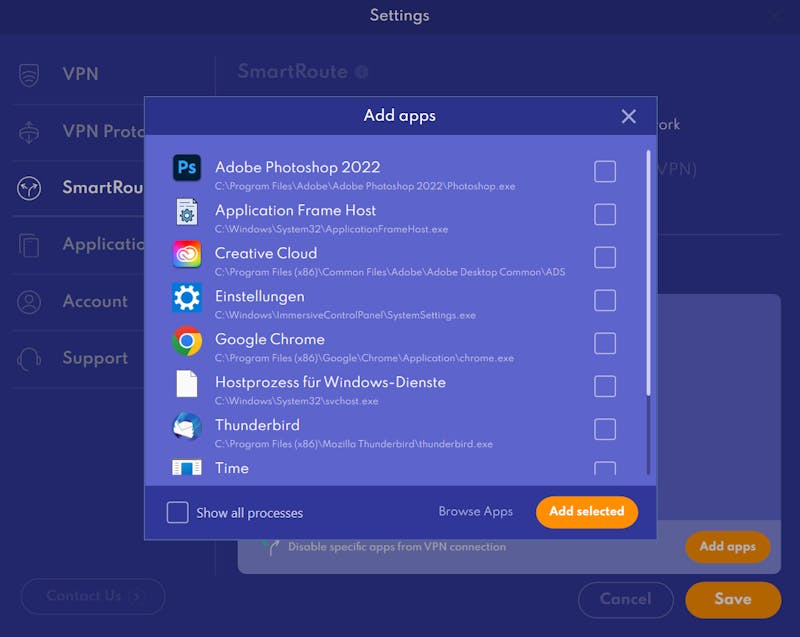 Split tunneling allows you to decide which apps use your VPN connection.
Apart from that, there aren't many other noteworthy features or settings. Privado Control Tower blocks ads, untrustworthy websites (such as ransomware, phishing, or crypto scams), inappropriate content, and certain social media channels.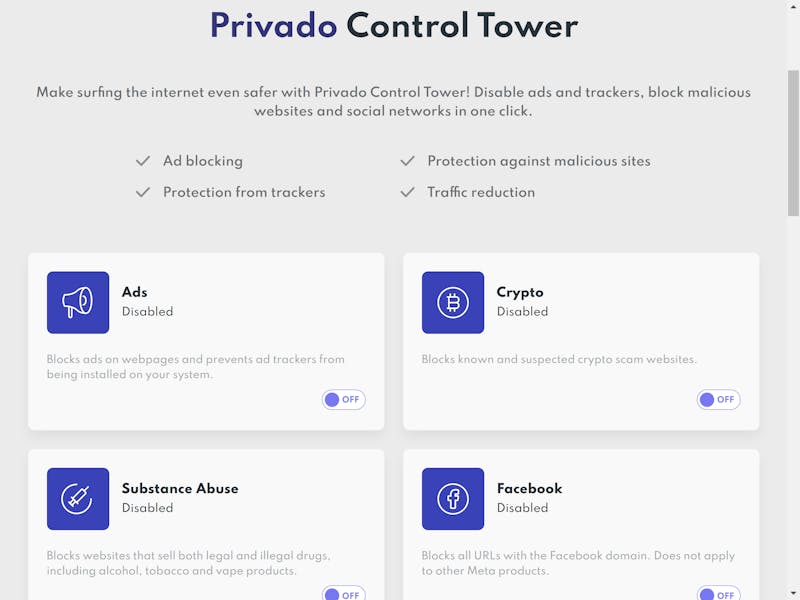 Privado Control Tower offers an ad and malware blocking solution.
Mobile App
PrivadoVPN's Android app is nearly identical to its Windows client. The kill switch and split tunneling are both included, as is Always-on, a feature that makes sure that your VPN connection is active 24/7.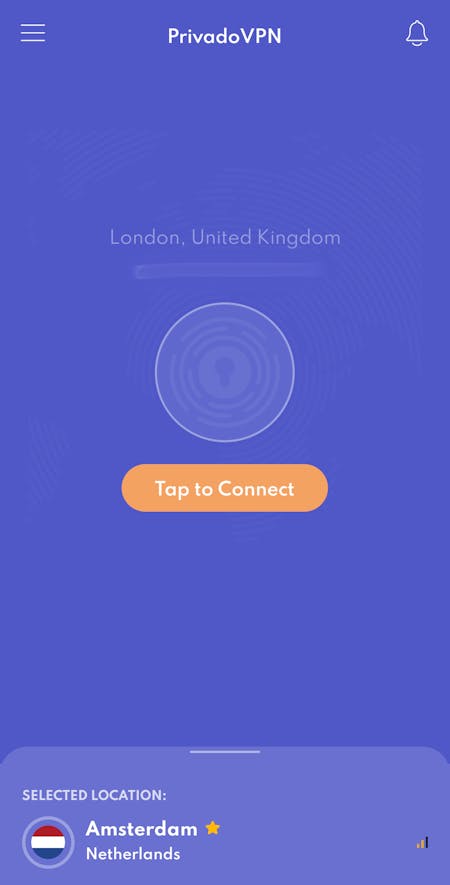 PrivadoVPN's Android app is practically identical to its desktop client, while also offering the same features.
PrivadoVPN definitely includes the most essential VPN features, however, it still offers relatively little when set alongside some of its competitors. For example, dedicated streaming or multihop servers would be welcome additions. The platform's age definitely plays a role here: Split tunneling was only introduced in 2022. As such, we're optimistic that more features will be added with time.
When it comes to useability, however, we have no complaints about PrivadoVPN.
Installation and Features
7.4 / 10
PrivadoVPN doesn't advertise how many servers it operates, noting only that it has "hundreds". These can be found in 45 countries. Both numbers are decent, even though some of the Swiss service's competitors offer thousands of servers in twice as many countries.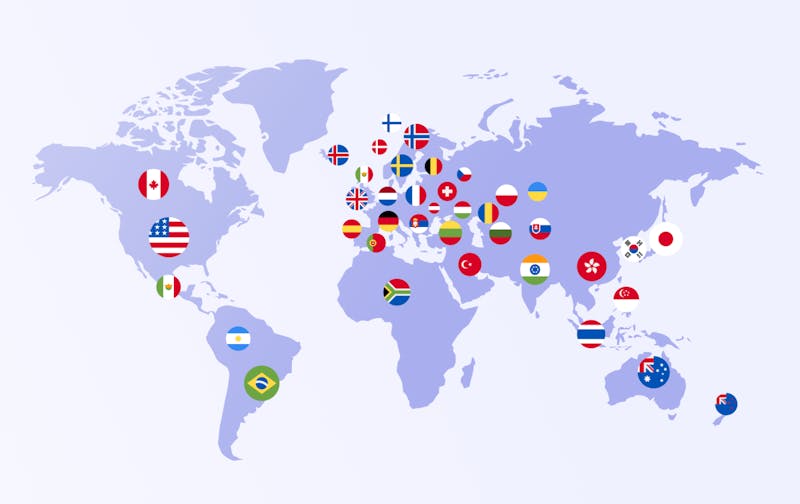 PrivadoVPN's server network can't compete with those of other VPNs from our sample.
So far as server distribution is concerned, like most VPNs, Privado concentrates on Europe and North America. The only African server is in South Africa, while South America is just represented by Brazil and Argentina.
Here again, the service's age shows: Building up a sizable server network takes time and PrivadoVPN is still a work in progress. With that said, their offering is already solid and definitely capable of satisfying most needs.
We evaluate the performance of each VPN from our sample using a 1 GB/s server based in Germany (you can read more about our methodology in our VPN speed test article). Unfortunately, for technical reasons, we couldn't use this method with PrivadoVPN and instead had to manually check its upload and download speeds.
Without a VPN connection, our download speed was 75.71 MB/s, while our upload speed was 20.93 MB/s. After establishing a VPN connection, these dropped to 47.29 MB/s and 18.81 MB/s, respectively. While the loss in upload speed isn't too dramatic, for downloads, it's a significant change.

Of course, checking speeds manually is less meaningful than our usual method, but repeated tests yielded similar results. Even when connecting to the best available server, our download speeds were significantly lower when using PrivadoVPN tunnels.
Below, we've compiled a speed ranking of all providers from our sample:
1.
2.
3.
4.
5.
6.
7.
8.
9.
10.
11.
12.
13.
14.
15.
16.
17.
18.
19.
20.
21.
That takes care of the numbers, but how does surfing with PrivadoVPN feel? Overall, our connections were stable and consistent. Sometimes, it took a while for the VPN connection to be established or closed. We definitely had smoother experiences with other services. Unfortunately, we also needed to complete a few captchas when using Google, an annoying side effect of VPN usage.
PrivadoVPN for Video Streaming
One of the main advantages a VPN offers is the ability to stream otherwise unavailable content from abroad on platforms like Netflix. However, not all VPNs can outsmart streaming services. So, was PrivadoVPN up to the challenge?
We're happy to report that it was, and we were able to access content from abroad on all of the streaming platforms we tested (Netflix, Amazon Prime Video, Disney+, and BBC iPlayer).
Despite the excellent streaming score, we're somewhat disappointed with PrivadoVPN's overall performance: Its tunnels significantly lowered our download speeds, setting them up takes a long time, and we had to complete way too many captchas.
Like most VPNs, Privado uses the highly secure AES-256 to encrypt connections. For protocols, you can choose from OpenVPN (both UDP and TCP), WireGuard, and IKEv2. You won't have to manually select which protocol to use as PrivadoVPN automatically picks the best option.
Being based in Switzerland gives PrivadoVPN a major advantage when it comes to user privacy, owing to the Alpine country's strict data security laws. Switzerland also isn't party to any international surveillance or intelligence-sharing agreements. As such, it's capable of offering robust European privacy backed up by an independent judiciary, typical of offshore VPNs.
Does PrivadoVPN Create Logs?
PrivadoVPN promises to only collect data needed for the business's continued service. The privacy policy details exactly what kind of information this is.
In addition to account and payment information, session data is also stored, such as which version of the app you're using (for troubleshooting purposes), and anonymous statistics. PrivadoVPN does not store any personal data that could identify a user.
All of that sounds fantastic, however, what a provider says and what they actually do are two separate things. Unfortunately, since PrivadoVPN has not submitted to any independent, third-party security audits, we can't confirm whether its promises are true. We strongly recommend that PrivadoVPN organize an audit since it would generate a great deal of trust in their service.
Leaks? None That We Could Find
PrivadoVPN successfully passed all of our VPN leak tests (IPv6, DNS, and WebRTC).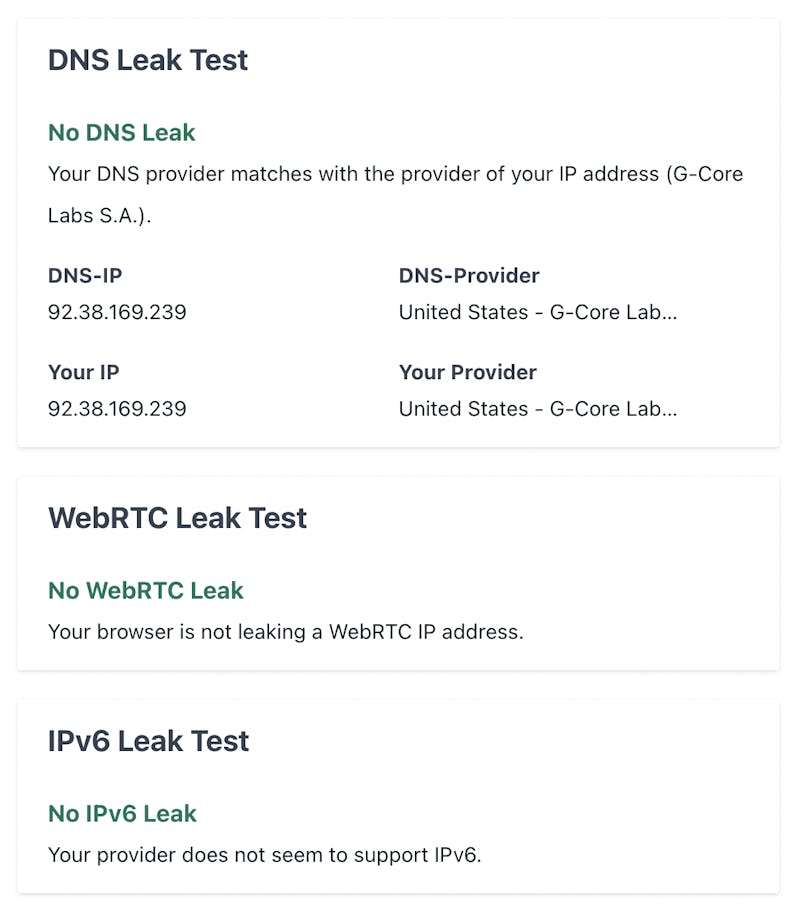 We couldn't identify any leaks with PrivadoVPN.
On paper, PrivadoVPN does everything right, however, external security audits would give us true peace of mind.
Security and Privacy
7.4 / 10
PrivadoVPN's support is divided between a Knowledge Base, Live Support, and Installation Guides. The Knowledge Base features a number of FAQs, while the Installation Guides help users set up the VPN's clients. Unfortunately, this static content isn't too impressive, and screenshots aren't included in every article.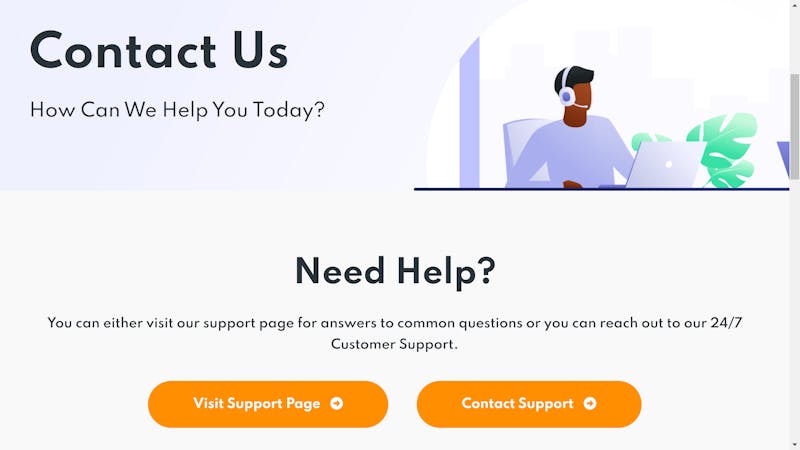 PrivadoVPN promises 24/7 support, however, this is only ticket-based.
If you'd prefer live support, you'll need to fill out a ticket. During our review, we only had to wait around 2 hours for a competent and helpful response.
Overall, we were somewhat disappointed in PrivadoVPN's support: While a hotline or live chat would be nice, the real issue is that the Knowledge Base and Installation Guides aren't all that helpful or well-organized. Still, we're pleased with how quickly PrivadoVPN's support reacted to our tickets.
PrivadoVPN offers a very enticing free version: 10 GB of data per month and servers in 12 countries. Paying subscribers will also get their money's worth, as rates are very affordable. As with most VPNs, the longer you sign up, the less you'll pay per month.
All premium subscriptions include unlimited devices and up to 10 simultaneous connections.
Below, we've summarized all of PrivadoVPN's rates:
Free
12 months
1 month
Set-up Fee
$0.00
$0.00
$0.00
Monthly Price
$0.00
$4.99
$7.99
Contract Period (Months)
0
12
1
Limits
Data Volume
10 GB
unlimited
unlimited
Number of Devices
1
10
10
Features
Number of Servers
12
200
200
Number of Countries
8
45
45
No Server Logs
P2P Allowed
Tor Access
Kill Switch
Protocols

OpenVPN

IKEv2

OpenVPN

IKEv2

OpenVPN

IKEv2
PrivadoVPN offers a 30-day, money-back guarantee. Credit, debit, PayPal, and cryptocurrency are accepted.
Conclusion
free version with 10 GB/ month
strong performance (incl. streaming)
no external security audit
performance could be better
6.8

satisfactory
Data Volume
Devices
Protocols
Contract Period
PrivadoVPN Free
$0.00
monthly price
Visit Website*
Getting started is always hard and PrivadoVPN is something of a newcomer to the world of VPNs. Comparing it to well-established heavyweights would be unfair. In terms of features, server network, and performance, there's no doubt that the Swiss service has a long way to go. Support could also be improved, at least in terms of static content and more channels.
All the same, PrivadoVPN has done fairly well: It looks excellent as a streaming VPN and is priced competitively. Another positive is its very generous free version, should you be looking for a non-subscription VPN.
Installation and Features
7.4 / 10
Security and Privacy
7.4 / 10
Customer Reviews
Based on the reviews that we found, PrivadoVPN achieves a "good" overall score. Its simple setup, stable connections, and useability are all highly praised. Below, you can see an overview of all customer ratings:
Customer Ratings
7,748 Bewertungen
Visit Website*
We analyzed the reviews and ratings from various portals and found 7,748 ratings with an overall rating of 4.0 out of 5 .
Alternatives
If you'd like what we think is the best VPN on the market, offering improved performance, a larger server network, and security audits at an affordable price, you can't go wrong with our top pick, NordVPN.
Or maybe you want a free VPN with unlimited data? In that case, you can stay in Switzerland and hop over to ProtonVPN. Compared to Privado, you'll be able to access fewer servers but can surf as much as you want.
Below, we've listed a few more of the best alternatives to PrivadoVPN:
NordVPN is our number one VPN because it combines speed, ease-of-use, and functionality in a slick package that's also pretty affordable.
5,500+ servers, 60 countries
affordable 2-year package
9.4

excellent
Data Volume
Devices
Protocols
Contract Period
NordVPN 2-year plan
$3.49
monthly price
Visit Website*
30 days money-back guarantee
ExpressVPN can impress with a strong performance, a huge server network, and excellently designed applications, but this quality also comes at a higher price.
Data Volume
Devices
Protocols
Contract Period
ExpressVPN 12 Months
$8.33
monthly price
Visit Website*
30 days money-back guarantee
With its open source philosophy and extra security features, Proton VPN targets security-conscious VPN users. But thanks to its user-friendly interface and suitability for streaming, it's worth a look for a wide audience.
open source & external audits
2,900+ servers in 67 countries
free plan without data limit
9.1

excellent
Data Volume
Devices
Protocols
Contract Period
Proton VPN Free
$0.00
monthly price
Visit Website*
Free forever
Surfshark is one of the cheapest providers on the market, but it's a lot more than a great budget option: the relatively new VPN boasts strong protection, many features, and a great support with 24/7 live chat.
3,200+ servers in 100 countries
unlimited number of devices
many apps (Linux, FireTV, ...)
8.8

good
Data Volume
Devices
Protocols
Contract Period
Surfshark 24 months
$2.49
monthly price
Visit Website*
Get 83% Discount
HideMyAss' main claim to fame is its impressive server infrastructure, but the VPN also delivers solid speeds and handy features like its IP Randomizer. When it comes to streaming, however, it's not always the most reliable choice.
Data Volume
Devices
Protocols
Contract Period
HideMyAss! 36 months
$2.99
monthly price
Visit Website*
30 days money-back guarantee
* Ad disclaimer:
For links marked with an asterisk, EXPERTE.com may earn a commission from the provider. The commission has no influence on our editorial rating.

Martin Gschwentner majored in American Studies and Media Studies in Germany, the USA and France and works as a freelance editor in Paris. He is a doctoral student at the Institute for English and American Studies at the University of Paris Diderot, where he is researching the influence of money on US politics. On EXPERTE.com he writes about IT security, data protection and software for the self-employed and small businesses.

Translation: D Bare
Continue Reading
Reviews
Comparisons
Tools & Guides