Avast SecureLine VPN Review 2023: A Good Choice?


Ad disclaimer:
For links on this page, EXPERTE.com may earn a commission from the provider. This supports our work and has no influence on our editorial rating.
VPN tunnels are a must for privacy-minded Internet users. As their popularity has grown, so too has their profitability, with more software developers offering their own solutions, either as standalone software or parts of larger security suites.
Avast, a recognized leader in antivirus solutions, is one such provider, marketing its SecureLine VPN to anyone familiar with the rest of its portfolio. In this review, we'll take a look at what the VPN can do.
What Is Avast SecureLine VPN?
Avast SecureLine VPN* is an attempt by the Czech developer to build upon its well-deserved reputation in the world of antivirus arising from its solid protection, features, and user-friendliness. The company's Ultimate subscription plan includes SecureLine VPN, however, it can also be purchased separately. For this review, we assessed the latter.
Avast SecureLine VPN Review
Installation and Features
6.6 / 10
Security and Privacy
6.0 / 10
Smart VPN makes it possible to tailor the VPN's behavior

Includes split tunneling (mobile app)
Has not submitted to any security audits

Cannot be configured for routers
1.
Installation and Features
Avast SecureLine VPN is available for Windows, macOS, Android, and iOS. Browser extensions are offered for Google Chrome and the Avast Secure Browser while Android TV, Nvidia Shield TV, and the Mi Box are also supported. Other devices aren't compatible with the service.
You won't find guides for manually setting these up either, meaning that SecureLine can't be configured for routers or other devices not explicitly covered. Since the VPN has been on the market for a while, we also don't expect this to change in the near future, which is unfortunate.
It only takes a few moments to install the desktop client since, if taking advantage of the service's 7-day trial version, you won't have to create an account or input payment data. After downloading and installing the software, you're good to go.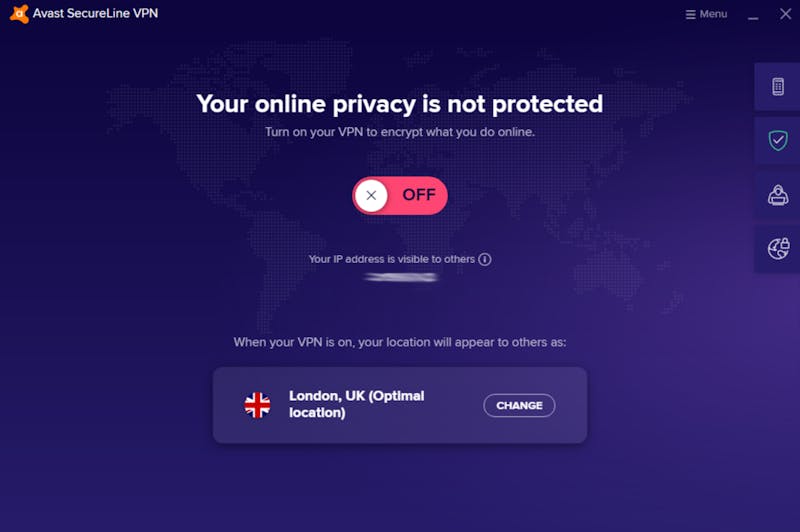 You can create a VPN connection by clicking on the red On/Off switch.
Even though the user interface is less minimalistic than those of other services from our sample, it's just as easy to operate. To create a VPN tunnel, simply click the main On/Off toggle. Underneath the switch, you'll be shown your real and, when connected to a VPN, virtual IP, as well as the duration of your connections.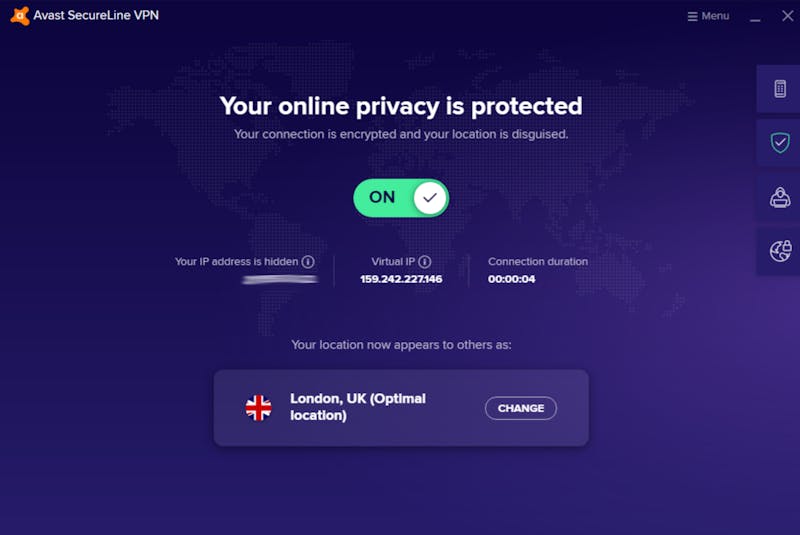 When connected to a VPN, your virtual IP will be displayed.
Server Categories and Smart VPN
SecureLine VPN automatically connects to the best available server, however, you can manually select this if you'd like. All servers in the server list are arranged by region, with dedicated streaming and P2P servers marked as such. The VPN's streaming performance is discussed below in the "Performance" section of this review.
Unfortunately, no option is provided for marking favorites, however, owing to the relatively small size of the server network, this isn't that big of a deal. It would be nice to see more information about the performance of individual servers, but the client lacks both an integrated speed test, as well as real-time metrics.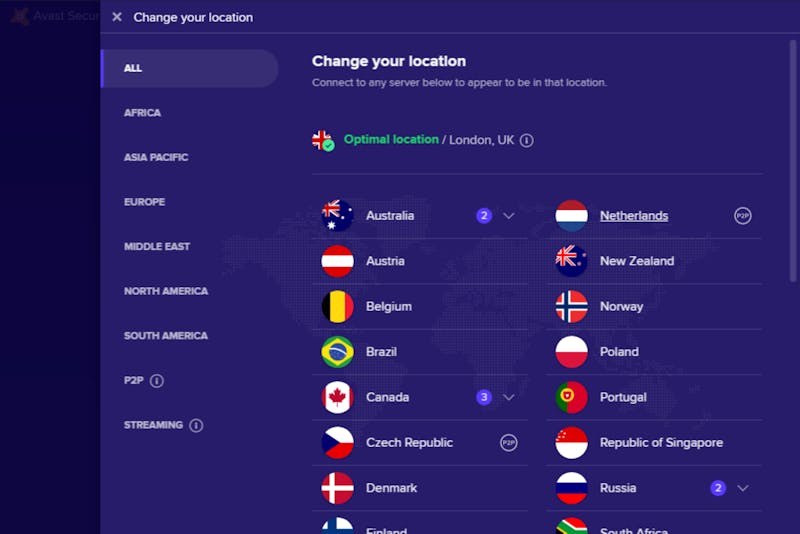 SecureLine's server list is nothing to write home about.
Additional features, like an email leak check, can be accessed by clicking on the buttons in the upper right of the interface.
Of these, Smart VPN is perhaps the most interesting: It automatically creates VPN connections based on your activity. To set rules for these, click on Settings > VPN Mode. An example of such a rule would be for a VPN connection to automatically be created when you start to use torrents or connect to an unknown network. Rules for specific websites can also be added.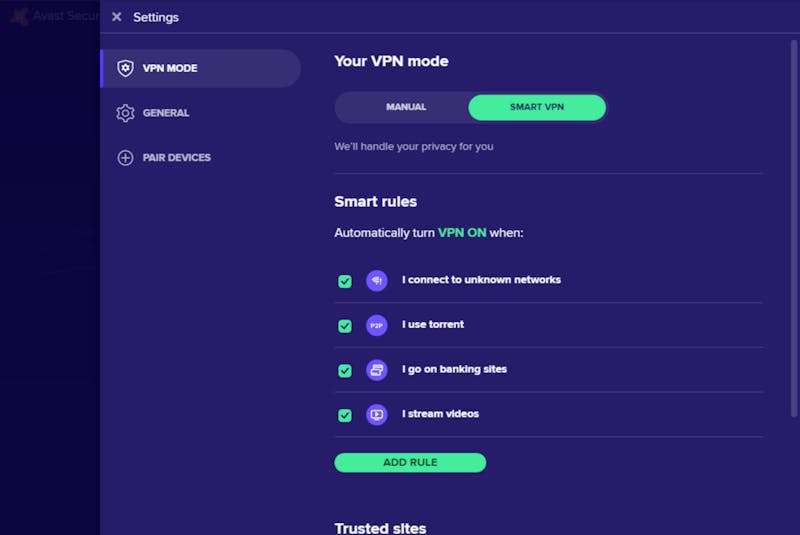 Smart VPN allows you to personalize your VPN connection.
Lacking Features
Avast SecureLine VPN doesn't offer many features beyond that. There's no split tunneling, for selecting which apps or websites use your VPN connection (and which don't), multi-hop (routes your connection through multiple VPN servers), extra security features, or the ability to change your protocol.
There's a logical reason for the shortage of integrated security tools: As the developer of a comprehensive security suite and a variety of other software options, Avast doesn't want its products to compete against one another. To 'help', a list of all Avast products is provided in the lower-right corner of the menu.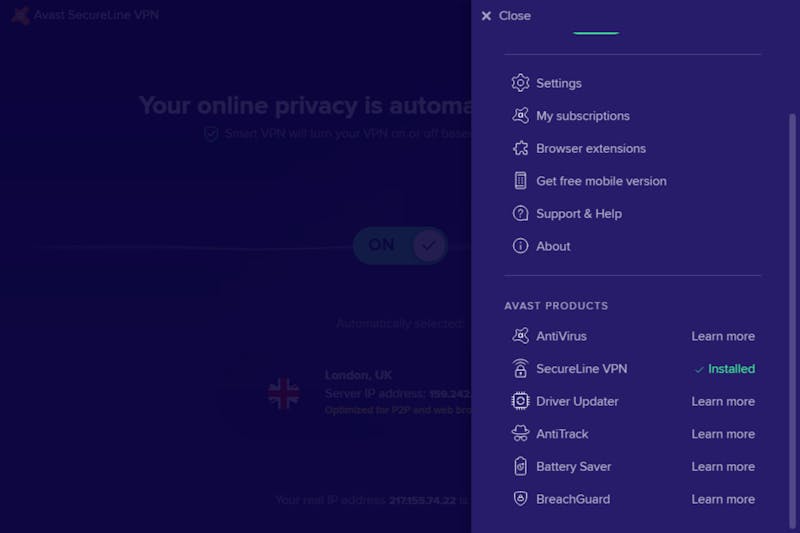 Avast cross-promotes its security solutions and SecureLine VPN is no exception.
Mobile Apps for Android and iOS
It's possible to test SecureLine VPN's mobile apps for seven days. Apart from the inclusion of split tunneling, there isn't much difference between it and the desktop client: Using the elegant and optimized app(s) is self-explanatory, with connections established within seconds.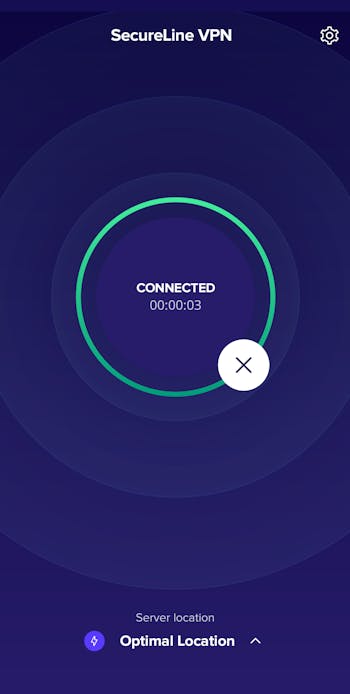 Split tunneling makes it possible to select which apps should use your VPN tunnel and which stay on your regular network.
User-Friendly, but Underdeveloped
SecureLine VPN's desktop client and mobile apps are user-friendly and handle nicely, but don't provide much beyond the essentials. Smart VPN allows you to personalize your connections, however, features like split tunneling or multi-hop are missing. Only the most common devices are supported, with routers not making the cut. Settings and options are bare-bones, with users unable to change protocols or set a DNS server.
Should you be looking for lots of settings, SecureLine VPN is not your best choice. If you'd like an easy-to-use and straightforward VPN that works for your devices and/or operating system (double-check that it does), SecureLine VPN might meet your expectations.
Installation and Features
6.6 / 10
Avast SecureLine VPN's server network isn't remarkable, entailing 700 servers in 34 countries. As is common among VPNs, most of these are in Europe and North America, with a few outliers in South Africa or Brazil being the only representatives for each of these continents.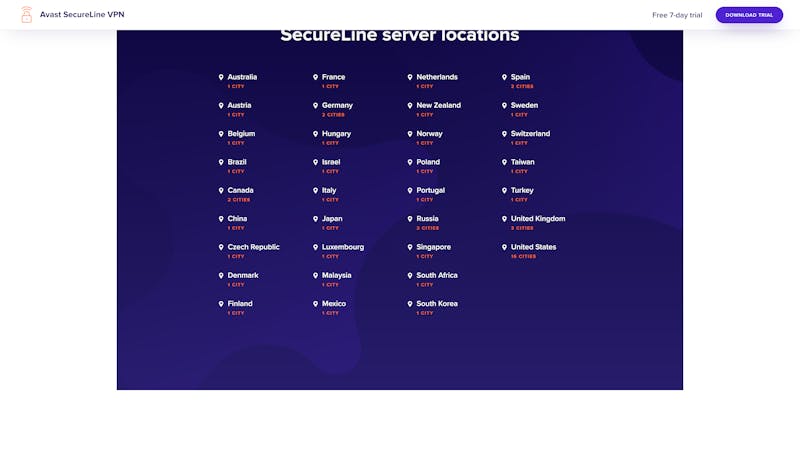 SecureLine's server network isn't very impressive.
Overall, SecureLine's server network is relatively underdeveloped, especially when compared to other providers, who offer more servers and/or better global coverage. Since the service isn't a newcomer, we don't expect any significant improvements in the near future.
Usually, we measure the speed of our sample's VPNs using a server in Europe with a 1 GB/s connection (for more information on our methodology, see our VPN speed test). As SecureLine VPN didn't allow us to change protocols or manually select OpenVPN, we couldn't assess the service in our typical fashion.
Instead, we manually evaluated the provider's performance, clocking the following speeds:

We reached high speeds during manual testing.
To compare: Without a VPN we achieved an upload rate of 11.47 MB/s, and a download rate of 213.25 MB/s, meaning that with a VPN, we used 92% of the available bandwidth. As such, SecureLine's VPN tunnels provided excellent speeds.
With that said, our regular speed test assesses services over an extended period of time that is far more representative and provides more than just a one-off snapshot. To compare SecureLine VPN's speed to other providers, we've included a list below:
1.
2.
3.
4.
5.
6.
7.
8.
9.
10.
11.
12.
13.
14.
15.
16.
17.
18.
19.
20.
Great for Everday Usage, Less so for Streaming
For everyday usage, SecureLine VPN reinforced the good impression its speeds left. Connections were quickly established, stable, and didn't suffer from unexpected interruptions. We also didn't have to contend with any of the annoying side-effects of VPN usage, like captchas when searching on Google.
We were less thrilled with how the service tackled video streaming. It wasn't possible to access content from abroad on either Amazon Prime Video or Disney+, however, we had no difficulties with Netflix and BBC iPlayer.
VPNs are particularly useful in countries where the Internet is severely restricted. Unfortunately, we can't recommend SecureLine VPN for your next trip to China, since we were unable to establish a connection using it. Other providers, like NordVPN, Windscribe, or Hotspot Shield have no trouble with this.
We found SecureLine VPN's everyday performance to be excellent, however, it was only decent at streaming, and not at all useful for circumventing Internet restrictions.
As a digital middleman for your data, VPN services can gather quite a bit of information about you and your behavior. For this reason, unequivocal and transparent privacy and data protection policies are important. Regarding this topic, Avast has the following to say:

In its privacy policy, Avast clearly lists what information it does and does not save.
Connection timestamps, the IP address of the VPN server you use, the amount of data transferred, and the sub-net of your original IP address are saved. These shouldn't reveal much about your activity or persona, but SecureLine VPN does gather somewhat more information than its competitors.
No Audits Despite Past Issues
Compounding this, Avast, SecureLine VPN's producer, had a few issues with privacy in the past. According to Vice, one its subsidiaries, Jumpshot, collected and sold large amounts of user browser information to companies like Google, Microsoft, McKinsey, Pepsi, and Yelp.
Even though the company apologized, a scandal of this magnitude should have provided enough motivation to conduct an external security audit. Other VPN providers regularly undergo audits - to date, Avast hasn't.
As a small consolation, the Czech-based company does regularly publish transparency reports. Reading between the lines, it's possible to infer that the company has provided user information to authorities if legally mandated. With other VPNs based in more safe harbors, you won't need to worry about the risk of this.
No Leaks, High Security
We couldn't identify any leaks after conducting our VPN leak tests (IPv6, DNS, and WebRTC):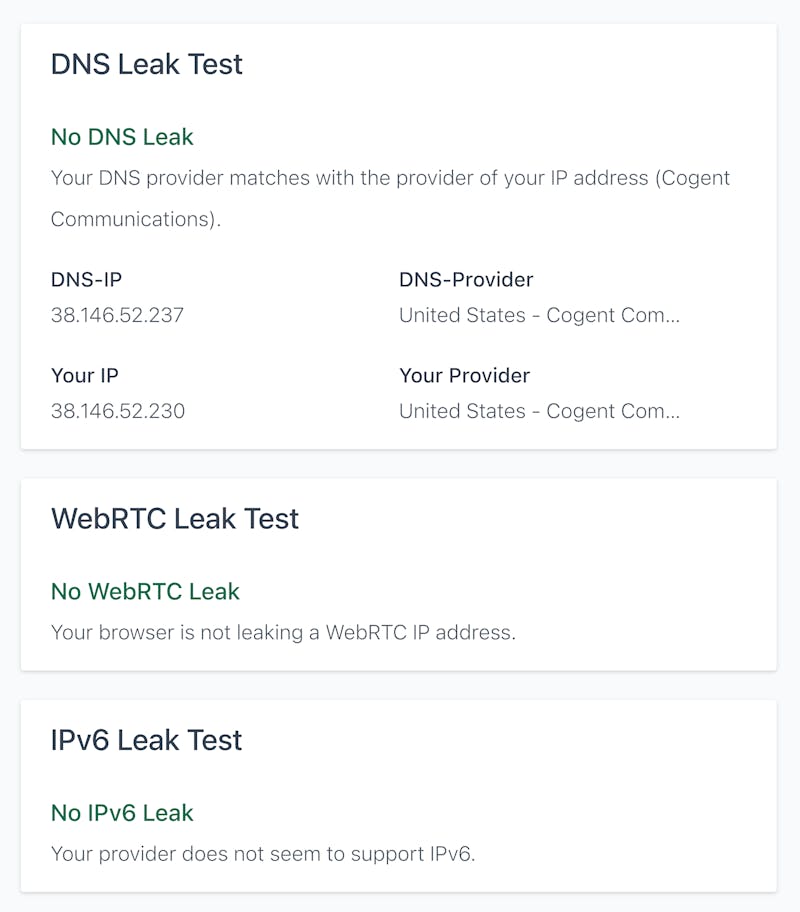 No leaks were identified during testing.
Avast makes use of AES 256 to encrypt all connections. In terms of protocols, Windows and Android users benefit from OpenVPN (UDP), while macOS users get IPsec. It isn't possible to change protocols, meaning that the new gold standard, WireGuard, is not supported. Avast justifies this by indicating its desire to only support proven protocols.
Generally speaking, Avast is secure, scoring with its transparent privacy policy, but dropping points owing to its storage of more (anonymous) data than most of its competitors. Similarly, Avast's past trespasses in cooperating with authorities and monetizing user data are hard to ignore. To allay these concerns, it would be advisable for the company to submit to an independent security audit.
Security and Privacy
6.0 / 10
Avast's support center includes a neatly arranged list of topics that can be text-searched. The FAQs are logically grouped and sorted by operating system, making it easy to find precisely what you're looking for. Sub-forums for each Avast product are provided, offering a de facto dedicated platform for seeking assistance.
Direct support is only available via the contact form as the company lacks a hotline or live chat. We waited longer than 48 hours for an answer to our query, which, in light of the absence of other means of contacting the support team, is far from ideal.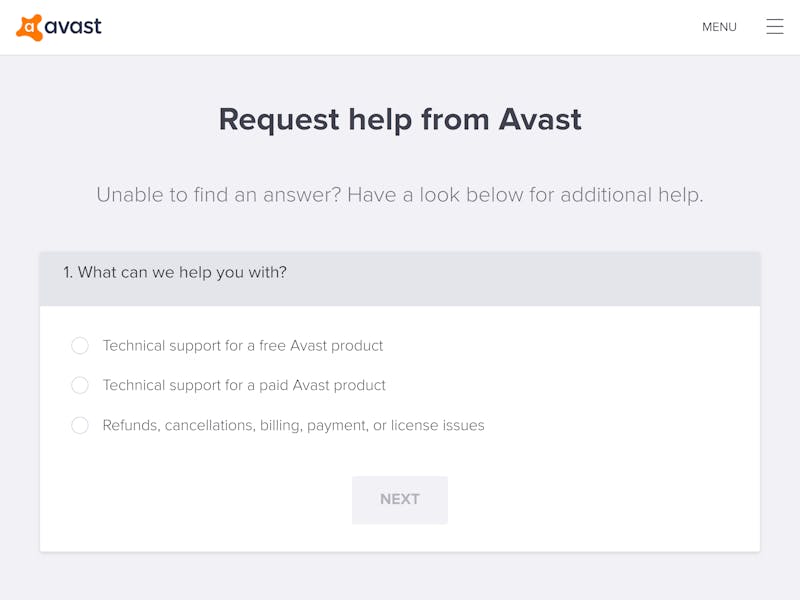 Avast can only be reached in writing.
So far as direct support is concerned, Avast seems to have cut a few corners. Other providers do better here, either offering a live chat, hotline, call-back service, or some combination of these. While waiting for Avast's support team to respond to your query, you might be able to solve the issue on your own in the service's help center.
SecureLine VPN's pricing is not particularly complicated, with the service available in yearly, two-year, and three-year subscriptions, each of which costs less (per month) than the one preceding it. All subscriptions include the ability to connect 10 devices and the same features.
When registering our subscription in the app, we were shown much cheaper prices than those displayed on Avast's website. To get the best deal, make sure to start with the trial version, and compare the in-app prices before concluding your purchase.
A current price list can be found below:
3 years
2 years
1 year
Set-up Fee
$0.00
$0.00
$0.00
Monthly Price
$4.39
$4.39
$4.59
Contract Period (Months)
36
24
12
Limits
Data Volume
unlimited
unlimited
unlimited
Number of Devices
10
10
10
Features
Number of Servers
700
700
700
Number of Countries
34
34
34
No Server Logs
P2P Allowed
Tor Access
Kill Switch
Protocols

OpenVPN

IPSec

OpenVPN

IPSec

OpenVPN

IPSec
In addition to its standalone version, SecureLine VPN is also included in Avast's Ultimate package. This comes with a 30-day, money-back guarantee.
Conclusion
Installation and Features
6.6 / 10
Security and Privacy
6.0 / 10
We didn't uncover any grave issues with SecureLine VPN during testing. It's easy to use, performs well, and has decent support. As just one of Avast's many products, we weren't surprised that its server network is underdeveloped, or that it lacks features and settings found elsewhere. The company's addition of a VPN to its portfolio makes sense, but SecureLine VPN doesn't offer anything that its competitors are missing, or perform better.
In terms of privacy and data security, we have some misgivings about Avast since one of its subsidiaries monetized user data in the past. The easiest way to clear its name would be to submit to an external audit.
Despite SecureLine VPN not performing better than most other providers, it also didn't slip up. Turning to performance, we were actually impressed with what the service could do. For anyone who can live with the features, server network, and supported devices, SecureLine is a safe choice.
Data Volume
Devices
Protocols
Contract Period
Avast 3 years
$4.39
monthly price
Visit Website*
Try free for 60 days
Customer Reviews
Although customers rate Avast as "very good", these apply to the company as a whole rather than SecureLine VPN.
Customer Ratings
7,275,604 Bewertungen
Visit Website*
We analyzed the reviews and ratings from various portals and found 7,275,604 ratings with an overall rating of 4.7 out of 5 .
Alternatives
Should you be after a VPN offering more features and settings, we recommend taking a look at hide.me, which combines ease of use with a wide variety of options.
On the other hand, if you're searching for a top-performing VPN that offers reliable video streaming and can be used in China, NordVPN, and ExpressVPN are excellent choices. As the cherry on top, they also regularly submit to (and pass) external security audits.
The best alternatives can be found here:
NordVPN is our number one VPN because it combines speed, ease-of-use, and functionality in a slick package that's also pretty affordable.
5,500+ servers, 60 countries
affordable 2-year package
9.4

excellent
Data Volume
Devices
Protocols
Contract Period
NordVPN 2-year plan
$3.79
monthly price
Visit Website*
30 days money-back guarantee
ExpressVPN can impress with a strong performance, a huge server network, and excellently designed applications, but this quality also comes at a higher price.
Data Volume
Devices
Protocols
Contract Period
ExpressVPN 12 Months
$6.67
monthly price
Visit Website*
30 days money-back guarantee
With its open source philosophy and extra security features, Proton VPN targets security-conscious VPN users. But thanks to its user-friendly interface and suitability for streaming, it's worth a look for a wide audience.
open source & external audits
2,900+ servers in 67 countries
free plan without data limit
9.1

excellent
Data Volume
Devices
Protocols
Contract Period
Proton VPN Free
$0.00
monthly price
Visit Website*
Free forever
Surfshark is one of the cheapest providers on the market, but it's a lot more than a great budget option: the relatively new VPN boasts strong protection, many features, and a great support with 24/7 live chat.
3,200+ servers in 100 countries
unlimited number of devices
many apps (Linux, FireTV, ...)
8.8

good
Data Volume
Devices
Protocols
Contract Period
Surfshark 24 months
$1.99
monthly price
Visit Website*
Get 83% Discount
HideMyAss' main claim to fame is its impressive server infrastructure, but the VPN also delivers solid speeds and handy features like its IP Randomizer. When it comes to streaming, however, it's not always the most reliable choice.
Data Volume
Devices
Protocols
Contract Period
HideMyAss! 36 months
$2.99
monthly price
Visit Website*
30 days money-back guarantee
* Ad disclaimer:
For links marked with an asterisk, EXPERTE.com may earn a commission from the provider. The commission has no influence on our editorial rating.

Martin Gschwentner majored in American Studies and Media Studies in Germany, the USA and France and works as a freelance editor in Paris. He is a doctoral student at the Institute for English and American Studies at the University of Paris Diderot, where he is researching the influence of money on US politics. On EXPERTE.com he writes about IT security, data protection and software for the self-employed and small businesses.

Translation: D Bare
Continue Reading
Reviews
Comparisons
Tools & Guides