In the past, many dreams of having a website were dashed either because the process was too cost- or time-intensive. However, those days are over: The rise of website builders has provided an easy and affordable way to create a homepage.
The possibilities are endless, ranging from simple blogs to full-fledged online stores. With website builders, and their beginner-friendly user interfaces and features like drag and drop editing, anyone can establish a professional-looking web presence. However, you should have an idea of what it is that you'd like to create. Below, we'll show you what website builders can do, and which of those we reviewed impressed us most.
What Is a Website Builder?
Website builders bring complex programming and CMS processes from the back end to the front end, packaging them in an easy-to-understand interface made up of tools and guidelines. With these, users can manually design and create a website without any programming knowledge.
Site builders are particularly useful not only for those unfamiliar with coding but also, for anyone who prefers to work visually. With that said, not all site builders are created equal: Significant differences do exist between solutions, particularly in regards to the complexity of their tools and the features to which they provide access.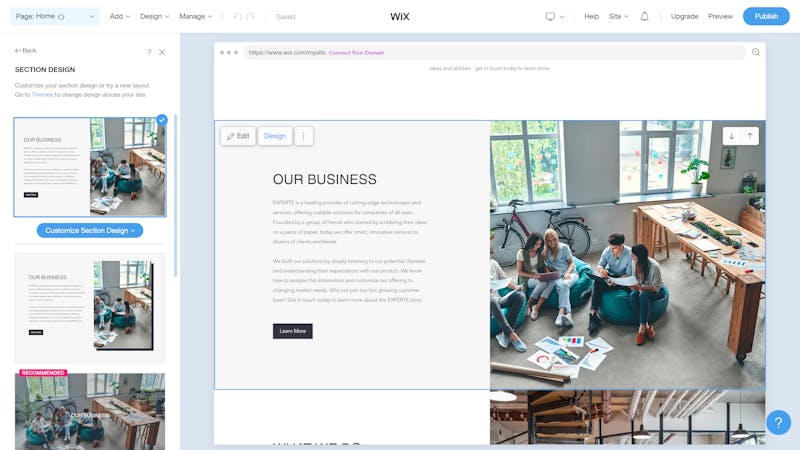 With website builders like Wix, you can methodically fill your website with content.
Also, just because it isn't necessary to have any knowledge of programming, doesn't mean that these services lack a learning curve. Similarly, how the platform's interface is structured also varies from provider to provider. Each website builder has its own logic that you'll need to familiarize yourself with before being able to unlock its full power.
Below, we'll introduce you to all of the services we assessed as well as which performed best in our sample. After that, we'll touch upon our rating criteria and scoring process, letting you know which boxes a good website builder needs to tick to get our stamp of approval.
1.
Winner: Wix Website Builder
Wix succeeds with an unmatched feature set, intuitive editors and a packed app marketplace. Only with the blog features do we still see some room for improvement.
many high-quality templates
simple & intuitive interface
jam-packed app marketplace
Domains free for one year only
9.6

excellent
Space
Domains
Templates
Contract Period
Wix Free
$0.00
monthly price
Visit Website »
Try for Free
Wix combines both quality and quantity like none of the other builders we examined, making it easy to create a site, even for newcomers.
At first glance, the user interface, which is reminiscent of Photoshop, owing to its movable toolbars and grid lines, is a bit overwhelming. Luckily, the platform's learning curve is not particularly steep. In addition to the standard editor, Wix also provides a slimmed-down ADI editor, which is less complex but offers fewer features, and accordingly, isn't as flexible.
It's important to note that alternating from the ADI editor to the basic editor and back again will cause your progress to be lost. In the latter, you'll find numerous elements in its toolboxes that you can incorporate into your website. The media toolbox, for example, enables you to adorn your site with high-quality pictures and illustrations, and the service's blogging features are solid.
If you can't find the content element or feature you're looking for, you can always peruse the service's well-stocked app market for additional extensions.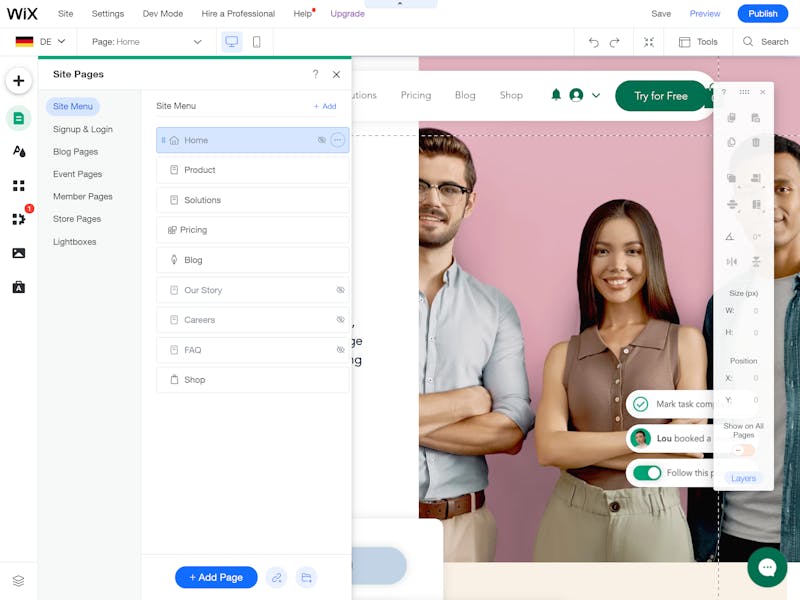 Among the platforms that we assessed, Wix offered the best blend of user-friendliness and features.
Wix also offers a number of possibilities for personalization when it comes to creating an online shop. The service provides help in SEO, including a plan for optimizing your search engine strategy, as well as a number of analytical tools. Making your website multilingual is no problem for Wix.
Wix is available for free, however, this opting for this will tie you to the company's domain and limit access to some important features. Current prices and additional information about our best in show can be found in its full review.
Marketing, SEO & Ecommerce
10 / 10
Templates & Design
9.4 / 10
Configuration & Usability
9.4 / 10
2.
For Eye-Catching Designs: Squarespace Website Builder
Squarespace Website Builder
Squarespace impresses with flawless designs and high quality templates, which make the creation of professional websites a piece of cake - but also costs a bit more than most other providers.
Space
Domains
Templates
Contract Period
Squarespace Personal
$14.00
monthly price
Visit Website »
14 Days Trial Period
Squarespace is a popular site builder that yields websites with an unmistakable look, scoring highly in our assessment thanks to its stylish designs and templates. But, there's much more to Squarespace than eye candy: Its editor makes site building incredibly intuitive, even for beginners, thanks in large measure to its user-friendliness.
We also liked the platform's stock photo integrations, which supply both free and paid visual material that you can include on your website. Beyond the standard site building features, you'll also find much more, such as a powerful form builder, and email newsletter tool.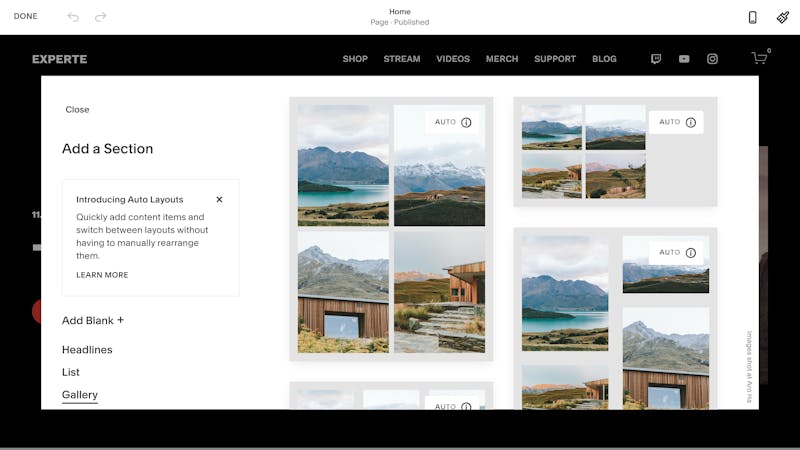 Squarespace is particularly well known for its elegant templates.
Unfortunately, the platform does suffer from a few issues. It lacks a dedicated app marketplace akin to that of Wix, and third-party apps are limited to a handful of integrations. Multilingual websites are also trickier to create than necessary: Without a premium (paid) tool like Weglot, you'll need to add an extra menu layer for each language you want to include, and add each individual page to it. Other site builders from our sample facilitate this in a much smoother and more straightforward fashion.
Despite these few shortcomings, we're confident in our assessment of Squarespace as one of the best site builders on the market, even if just to use its templates.
Configuration & Usability
10 / 10
Marketing, SEO & Ecommerce
8.6 / 10
Templates & Design
8.0 / 10
3.
Complicated but Versatile: MyWebsite by 1&1 IONOS
1&1 IONOS MyWebsite makes getting started a little more complicated, but rewards hobbyists without programming skills with a variety of design options for unique websites.
supports multilingual sites
large, established provider
lots of templates, average quality
8.8

good
Space
Domains
Templates
Contract Period
1&1 IONOS Starter
$3.00
monthly price
Visit Website »
30 days risk-free
MyWebsite by 1&1 IONOS takes somewhat more getting used to than its more intuitive competitors above. As such, when starting out, you might curse your luck and wish for a clearer dashboard with fewer fragmented input fields. The same will likely apply when you take a look at the templates, as the service can't hold a candle to Wix or Squarespace in this area. Still, sticking with the platform will pay off, since MyWebsite offers a considerable degree of freedom when it comes to customizing your website, leaving other services in the dust.
Multilingual websites, for example, are no problem with MyWebsite. You can easily add new languages (including automatic translations, that can be adjusted manually) through the page menu. The platform's ecommerce features are also well-developed, with the only downside being that certain features (like selling digital products) are only available to specific types of subscribers.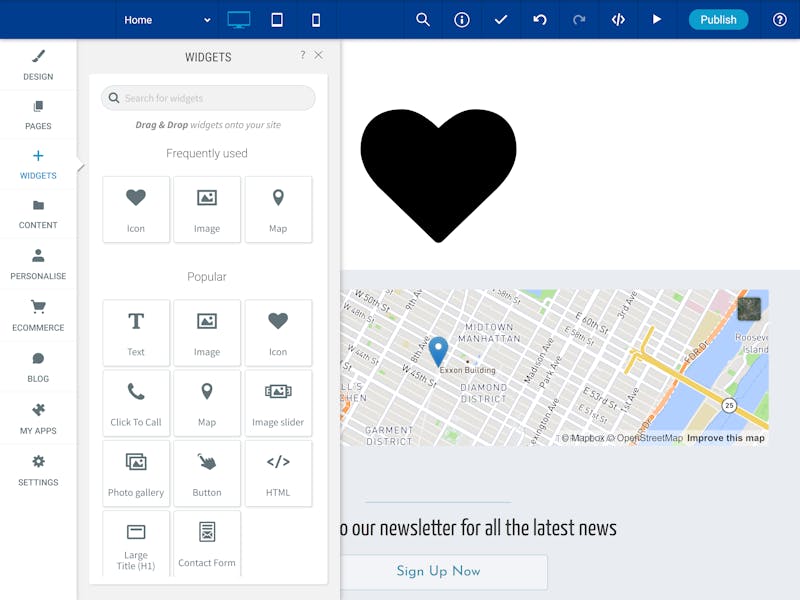 MyWebsite by 1&1 IONOS takes a bit of getting used, but its comprehensive customization options really pay off.
Set alongside the templates offered by Squarespace, 1&1 IONOS' MyWebsite's offerings are somewhat wanting. Similarly, the stock photos that the platform provides aren't anything to write home about. All the same, turning a blind eye to its deficits in the visual department, you'll be afforded a great degree of customization, so long as you stick with the service.
Templates & Design
8.6 / 10
Marketing, SEO & Ecommerce
8.6 / 10
Configuration & Usability
8.0 / 10
4.
For the Advanced User: Webflow Website Builder
Webflow requires an understanding of programming logic and is less suitable for beginners. As a hybrid of website builder and CMS, it offers its target group countless possibilities to create user-friendly dynamic websites.
mix of CMS & website builder
almost infinite possibilities
learning platform "Webflow University"
good ecommerce integration
somewhat steep learning curve
8.7

good
Space
Domains
Templates
Contract Period
Webflow Starter
$0.00
monthly price
Visit Website »
Start for Free
Webflow perfectly epitomizes the differences between website builders: As a website builder/content management system (CMS) hybrid, the service does demand some background knowledge of programming from its users, making it more complex than the other services we reviewed. For those who have this (or who are ready to learn), you'll get a powerful tool that is far more versatile than its counterparts in a number of areas.
A Webflow site consists of containers that are stacked upon one another and can be arranged however the designer wishes. This "box model" will be familiar to programmers and web designers, but for everyone else, something new. Webflow bases the programming and order of boxes in its front end so that you can drag and drop those elements that would otherwise require coding to create and adjust.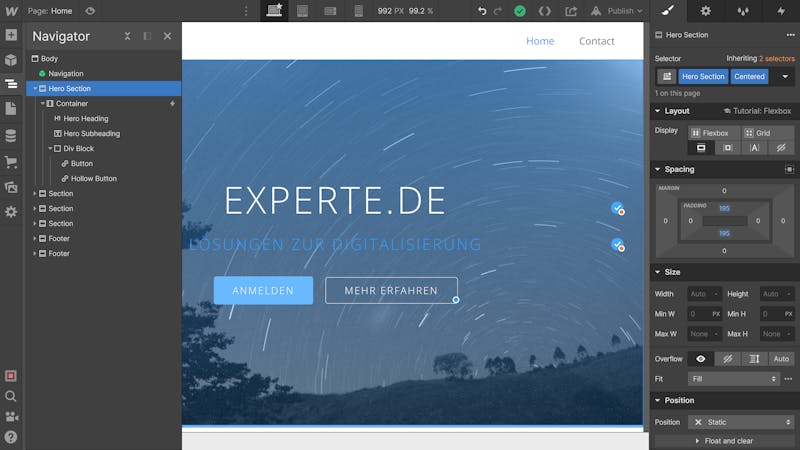 Similar to Photoshop: Compared to those of other site builders from our sample, Webflow's user interface is definitely more complex.
Webflow visualizes complicated coding procedures to bring the design process as close to the front end as possible. This service will be less of a hit with beginners or those lacking familiarity with programming, however, for everyone else, Webflow can help you to accomplish a great deal.
Templates & Design
9.4 / 10
Marketing, SEO & Ecommerce
8.6 / 10
Configuration & Usability
7.4 / 10
5.
For Building on the Go: Weebly Website Builder
With its intuitive drag-and-drop functionality and an unrivaled smartphone app for mobile website building, Weebly makes homepage creation easy even for beginners.
intuitive drag-and-drop editor
powerful e-commerce features
8.4

good
Space
Domains
Templates
Contract Period
Weebly Free
$0.00
monthly price
Visit Website »
Try for Free
Like most of our Top 5, Weebly is also based around a user-friendly editor that makes creating a website easy, especially for beginners. Thanks to its approach to drag and drop within guidelines, you won't have to worry about content elements skewing your design. We particularly liked its mobile app, which you can use to build and manage your site from practically anywhere.
In terms of ecommerce, Weebly really shows off its power: Product management includes all necessary features, and creating variations occurs logically. Beyond that, you'll also find comprehensive marketing solutions, including lots of options for discounts and sales, as well as a powerful email marketing tool.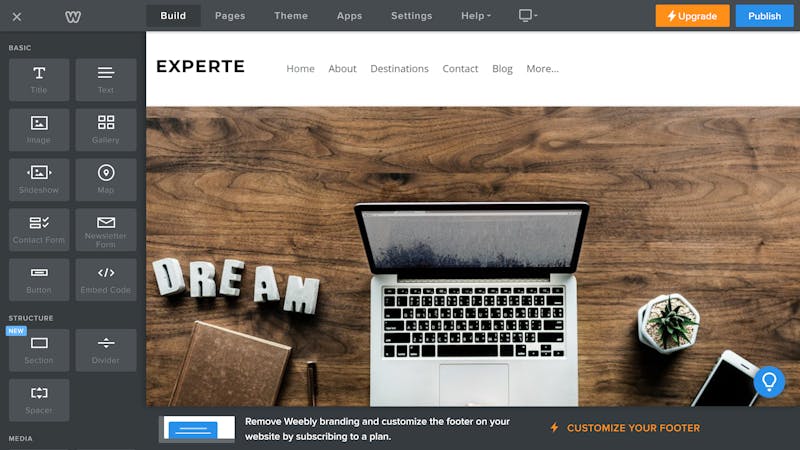 Thanks in part to its practical mobile app, Weebly makes site building on the go easy.
Since Weebly's drag and drop is limited, users are only afforded limited customization options. Compounding this, the platform's templates lack variety. Looking past these cosmetic issues, Weebly is still a good choice, especially for those interested in ecommerce.
Marketing, SEO & Ecommerce
9.4 / 10
Configuration & Usability
8.0 / 10
Templates & Design
7.4 / 10
Alternatives
SITE123 Website Builder
SITE123 emphasizes simplicity, consciously limiting its users' freedom of design in certain aspects. You'll be provided with a nice selection of ready-made website building blocks that can be freely arranged, however, these aren't really customizable. The result is a site builder that facilitates the quick creation of professional-looking websites, albeit at the cost of creativity.
clean editor, easy to use
good blogging and e-commerce features
limited customization options
8.0

good
Space
Domains
Templates
Contract Period
SITE123 Free
$0.00
monthly price
Visit Website »
Try for Free
Jimdo Website Builder
Jimdo tries to strike a nice balance between simplicity and versatility but doesn't always get it right. In terms of ecommerce, product management is a bit behind the times. Similarly, multilingual websites are only possible with a workaround, and the platform suffers somewhat in the template department.
However, there's little to complain about when it comes to Jimdo's user concept, and beginners who want things even easier than in the already intuitive standard editor can switch to the platform's AI-assisted Dolphin editor.
almost automatic website by AI
Domains only one year free
7.9

good
Space
Domains
Templates
Contract Period
Jimdo Creator Free
$0.00
monthly price
Visit Website »
Try for Free
Strikingly Website Builder
Strikingly is particularly well-suited for single-page websites as projects with multiple pages require the purchase of a Premium subscription. This focus makes Strikingly incredibly user-friendly, however, does disadvantage the platform in terms of SEO and ecommerce. As such, Strikingly is a great choice for smaller or more basic website projects.
Strikingly Website Builder
quickly creating single-page sites
solid e-commerce features
good support, featuring a live chat
limited freedom of design
7.8

good
Space
Domains
Templates
Contract Period
Strikingly Free
$0.00
monthly price
Visit Website »
Webnode Website Builder
Webnode impresses thanks to its sleek editor, making website creation a cinch, albeit at the cost of functionality. For our tastes, this was too high a price to pay: There is a noticeable lack of variety among the service's elements, support for blogging is limited to the absolute minimum, and for those looking to build an ecommerce site, be warned that the service offers only the basics.

good range of design templates
limited selection of elements
7.6

good
Space
Domains
Templates
Contract Period
Webnode Free
$0.00
monthly price
Visit Website »
Try for Free
GoDaddy Website Builder
GoDaddy takes users by the hand, providing them access to ready-made section blocks. These are arranged in different layouts and while you can modify their content, you cannot make any structural adjustments to their layout. Likewise, drag and drop, or even the ability to move elements around within a section are not on offer. As such, GoDaddy ensures that sites created by its users are visually harmonized and neat, albeit at a steep price in terms of customization.
beginner-friendly, easy to use
solid e-commerce features
practical marketing tools
little room for customization
inconsistent support quality
6.7

satisfactory
Space
Domains
Templates
Contract Period
GoDaddy Free
$0.00
monthly price
Visit Website »
How Did We Evaluate?
As can be seen, none of the website builders we examined were too similar to one another. What did remain the same were our criteria: We aggregated individual scores in six areas to create a single score for each service. Below, we'll briefly explain each of these in greater detail.
1.
Configuration and Usage
Every website builder has a learning curve. Those editors that appear more complicated, generally become more familiar with some practice, sometimes even being easier to operate than those which are intuitive from the outset. In addition to the general user-friendliness of site builders, it's also important to us how the platforms direct users to their numerous features and impart awareness of their underlying logic.
We looked most favorably upon those website builders that appeal to both beginners and advanced users in equal measure. The former should benefit most from the limited versions of editors. For example, Wix offers a less complicated ADI editor, while Jimdo provides the AI-assisted Dolphin editor which serves much the same purpose.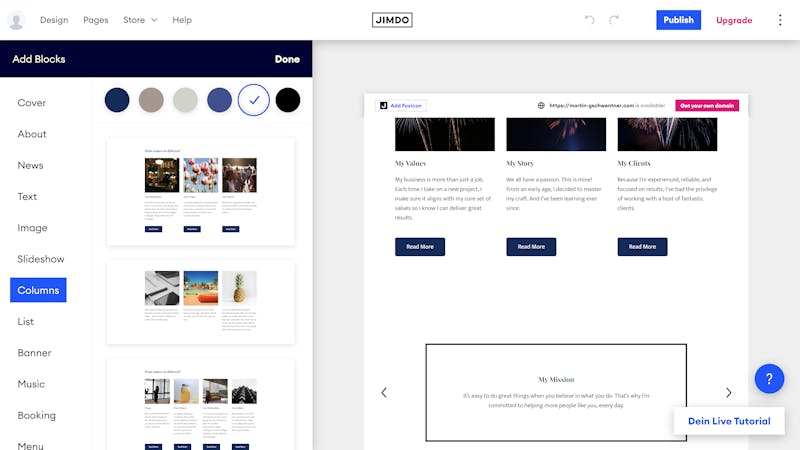 With its AI-assisted Dolphin editor, Jimdo makes creating a website even easier.
Site builders should also strike a good balance between user-friendliness and functionality or sophistication. The more elements and possibilities that exist for arranging them, the more individual a finished website will appear. At the same time, the greater the freedom that is afforded users, the more likely the final result will not meet their expectations.
An ideal website builder takes users by the hand when they want help, allowing them to create professional-looking homepages without any foreknowledge of coding or programming. It also will afford more technically advanced or creative users the chance to create more complicated websites by removing as many hindrances to this as possible.
The number and quality of website elements that users can organize in drag and drop blocks determine, to a large extent, how qualitative and individual the finished site appears. Alongside essential blocks, website builders should also offer the ability to create specific kinds of sites: For example, a restaurant homepage needs menu or reservation content options, while artists or designers benefit from being able to add portfolios to their pages.
Thus, a good website builder should be able to fulfill these different needs and offer the necessary solutions in clearly-marked and/or logical icons or menus.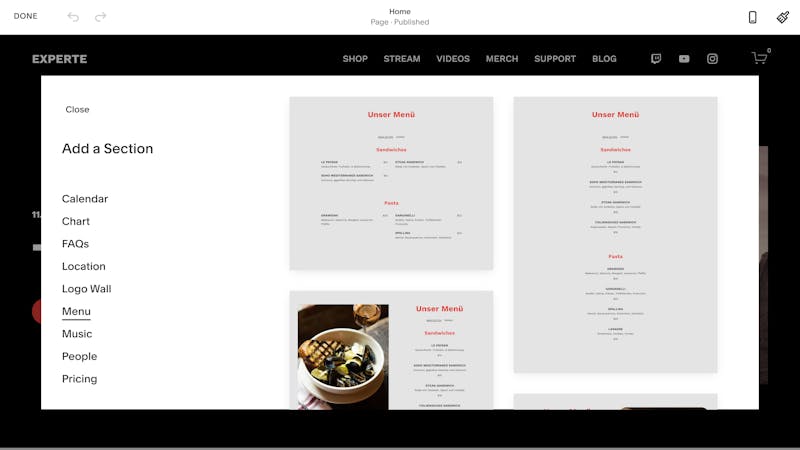 Every site builder we assessed offers ready-made content blocks for different forms and types of websites.
Blogging features are something else that we look for when scoring a website builder's features. To achieve a good score, the service should allow for a highly-customized blog to be created: Alongside a powerful editor for varying kinds of posts, tags, and categories, further means of organizing content should also be provided. Since blogs can often have multiple authors, builders should serve as a type of headquarters or rallying point where collaboration thrives.
Another area where we paid attention was how well each platform facilitated the creation of multilingual websites. Site builders should make this as easy as possible, allowing users to select from languages that they want their site to be available in. Most of the services in our sample offer dedicated language menus, however, some only still require users to implement complicated workarounds to create websites in different languages.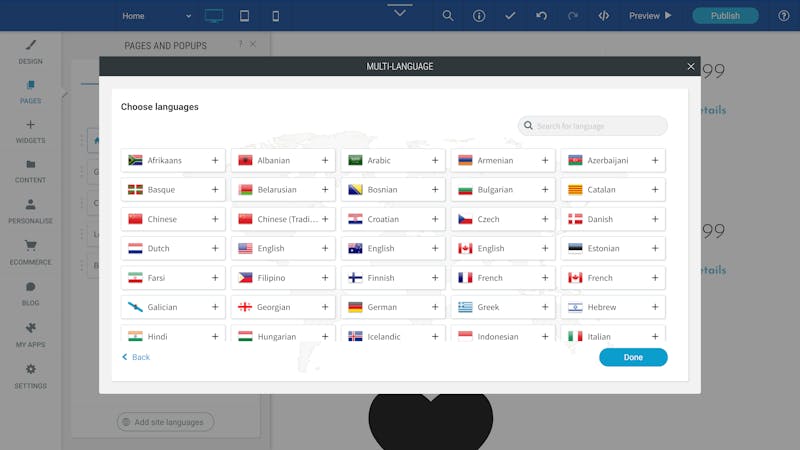 MyWebsite by 1&1 IONOS makes it easy to create multilingual websites.
In sum, we consider a website builder strong in terms of features when it allows for detailed and highly personalized websites to be created which fulfill a wide range of its users' commercial or private needs.
Each website builder relies on ready-made templates that users can personalize. It's also important that a variety of templates be offered, otherwise, the danger exists that sites created with the builder will look identical. For example, MyWebsite by 1&1 IONOS offers more than 400 templates, whereas others only provide a handful. Accordingly, the chance that you'll find a ready-made website design that fits your needs is significantly higher with MyWebsite by 1&1 IONOS than with their less template-rich competitors.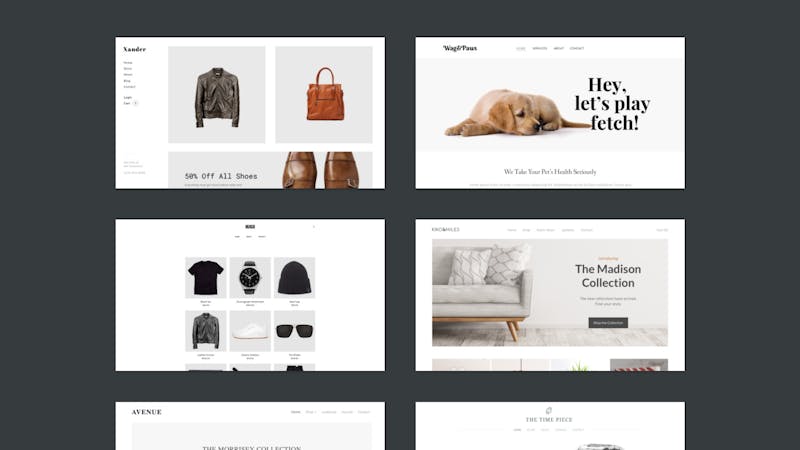 Templates should be versatile and appropriate for all sorts of websites, such as blogs, business pages, or online stores.
Even more important than the number of templates is how versatile these are. Most website builders offer different layouts for each template, but of course, you'll probably want to modify these yourself. Here, we paid attention to whether users can move elements at will, or only change the color schemes and background images. Spacing, fonts, and menu types are just a few of the parameters that should be customizable in a good site builder.
To receive a good score from us in this area, a website builder needs to offer a wide selection of templates and layouts and make their elements as customizable as possible.
4.
E-Commerce, Marketing & SEO
Not every website needs to be an online shop or have commercial capabilities. With that said, all website builders should offer users the possibility to create web stores. In this vein, it's particularly important that the platform makes product management as straightforward as possible, allowing users to add new products (physical or digital) as well as services.
The number of options that are left up to users varies from builder to builder: It's crucial that types and categories of products can be specified, and that users are able to input details about the number of items in storage, their weight, and their size. Shipping & handling, payment methods, and taxes should also be controllable.
Among advanced features, we alsolooked for the ability to launch sales or issue coupon codes.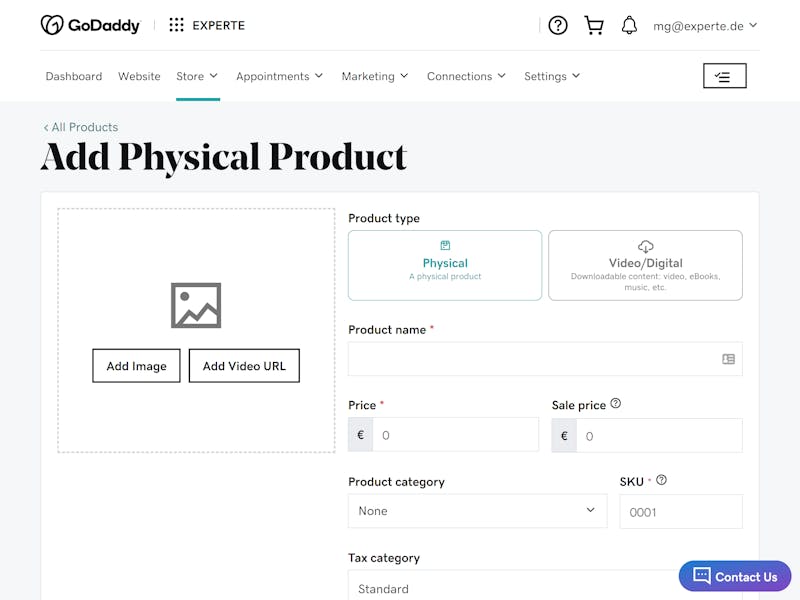 Along with physical products, users should also be able to sell digital products or services, such as is the case with GoDaddy.
Every website builder should provide access to basic SEO options, making the creation of meta-tags, page titles, and descriptions as easy as possible. Some solutions, like Wix, guide their users towards optimizing their search engine positions.
In terms of analytics, it's desirable to be able to integrate tools like Google Analytics, Yandex Metrica, or Facebook Pixel, as well as user-defined tracking codes. Many website building platforms, like Squarespace, also include an individual menu option for statistics, which provides the site owner with information about traffic, visitor locations, and other factors.
Achieving a good support score from us requires possessing both an authoritative help center with FAQs and guides, as well as offering numerous options for directly contacting the service's staff to resolve more complicated issues. We particularly like those providers that offer live support chats, such as SITE123.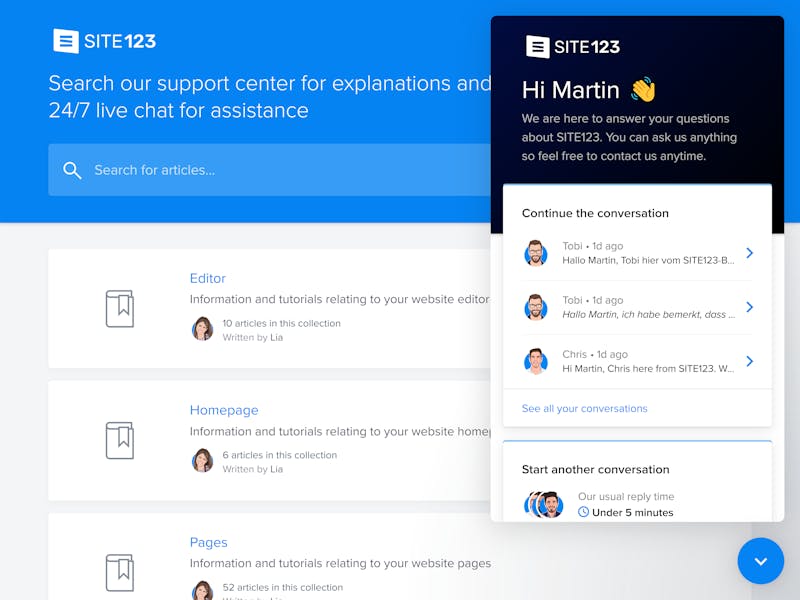 Offering a live chat is always looked favorably upon, however, static support content should be authoritative, comprehensive, and well-sorted.
In live chats, questions should be answered in a matter of seconds. We look for responses to phoned queries, support tickets, and emails to be provided within a reasonable amount of time.
When it comes to price, there exist significant differences between all of the providers from our sample. Most site builders offer subscription packages that come with different features. In this section of our reviews, we let you know the broad strokes of these, whether a free or trial version is available, and if the provider offers a money-back guarantee.
We didn't score providers in terms of their price, however, we do compare the most affordable rate each offers which is ad-free and includes a unique domain, as can be seen below:
1.
2.
3.
4.
5.
6.
7.
8.
9.
10.
11.
Conclusion
Creating your own website is easier today than ever before, largely thanks to the efforts of website builders in overcoming the barrier posed by programming. At the same time, the Internet has become full of half-finished sites, since many users underestimate the amount of effort needed, despite the process becoming much simpler. To enjoy success online, even with a website builder, you'll still need to learn how to use it, have an eye for design, and ensure that you offer enticing content.
For those that can keep up with these demands, a number of providers offer a selection of services that make creating the perfect website easy. Wix ⇱ was the best service in our EXPERTE.com sample, owing to its winning combination of user-friendliness and features. Determining which platform is best for your project depends largely on the purpose of your website, your budget, and your level of familiarity with programming.
Be sure to also check out our comparison of the most popular site builders for online shops.
FAQs
What is a website builder?
⊖
A website builder is a tool for creating professional websites without having any specialized programming knowledge. With ready-made design templates and intuitive drag and drop editors, users can create and administer websites, blogs, and online shops without CSS or HTML. Site building services mostly run off the provider's servers, making it possible to use them in your browser without needing to download any software. These companies also make available all services that are needed for a website, from hosting to the domain.
Who are website builders for?
⊕
How do website builders differ from one another?
⊕
Which website builder is the best?
⊕

Author (German Version): Martin Gschwentner
Martin Gschwentner majored in American Studies and Media Studies in Germany, the USA and France and works as a freelance editor in Paris. He is a doctoral student at the Institute for English and American Studies at the University of Paris Diderot, where he is researching the influence of money on US politics. On EXPERTE.com he writes about IT security, data protection and software for the self-employed and small businesses.

Translator & Editor: D Bare
Continue Reading