VPN
hide.me VPN Review 2022: Worth Your Money?
As corporations and security services collect ever-larger amounts of data, the desire for digital anonymity has only grown among internet users. VPN providers like hide.me make it easier than ever before to conceal your identity with just a few mouse clicks. However, not every VPN provider is created equally. In this review, we've examined hide.me to see whether it allows you to do a virtual disappearing act.

Hide.me is a Malaysian VPN provider that professes not to create logs, prioritizing the security and privacy of its users. In contrast to most of its competitors, a free version of hide.me exists, which is meant to acclimatize new users to VPNs. Below, we'll discuss what the free and paid versions offer, as well as how each performs.
Bedienung & Features
5.0 / 5
Sicherheit & Privatsphäre
3.7 / 5
User-friendly clients and apps
Relatively high monthly price
Unremarkable server network
Occasional connection issues
Last independently audited in 2015
2.
Installation and Features
Hide.me offers apps for Windows, Android, macOS, iOS, and Linux, as well as Android TV and Amazon Fire TV. Beyond that, the service also provides browser extensions for Chrome and Firefox, and on its website, guides for installing the VPN on routers and other devices.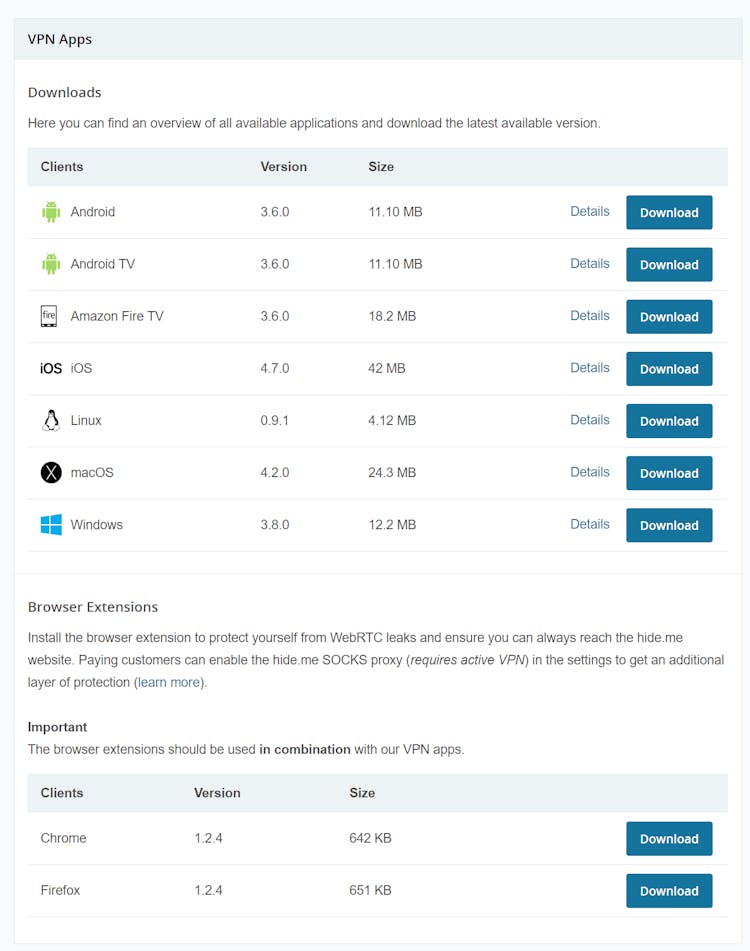 You can download all available hide.me apps and browser extensions from the customer area of the website.
Since hide.me, unlike most other VPN providers, offers a free version of its software, users are not required to input payment information when registering. Simply select and download the client for your operating system (and, if manually installing, configure a preferred VPN protocol) before installing the application. Within a matter of minutes, with the help of the instructions on hide.me's website, we were able to get the desktop client running.
This is uncluttered and provides a good overview of the program. In its center, you'll find a large "Enable VPN" button that automatically creates a VPN tunnel between you and the best location. On the bottom left, you can see your IP address, while at the top left and right, you'll find a notifications bell and a gear icon that takes you to the settings menu.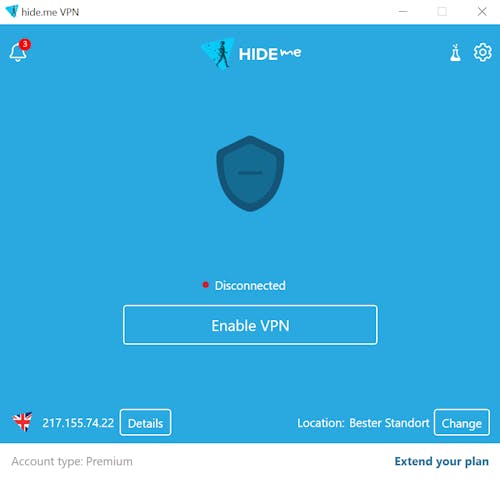 Hide.me's desktop client is uncluttered and finished elegantly in blue.
To connect to a different server, simply click on the "Change" button in the bottom right of the main screen. With hide.me, the server list is divided into three areas: favorites (which you can augment by clicking on the star symbol next to a server), recommended servers, and finally, a complete server list. Servers can be arranged alphabetically, or on the basis of their ping (descending).
Beyond that, there are two additional server categories. As the name implies, streaming servers are designed for usage with on-demand platforms, such as Netflix or Disney+, allowing you to view foreign content (we'll discuss how well this works below in the "Performance" section). Alternatively, multi-hop servers, allow you to create a connection that utilizes two VPN tunnels simultaneously, providing enhanced security.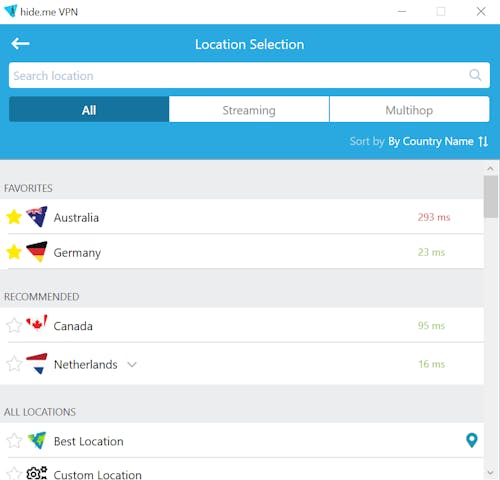 Finding the right VPN server with hide.me is easy since you're provided with a nice selection of categories and filters.
So far, so good. If you want to dive into the more complicated side of hide.me, click on the gear symbol at the top right of the main window to open the settings menu. Here, more advanced users can set auto-start preferences, location selection, or modify how the program behaves. For example, auto-start can be set to interact differently with trusted and untrusted WLAN or Ethernet networks.
You'll also be able to make use of the platform's extra features as well. These include the ability to manually configure a DNS server or exempt certain programs and apps from your VPN connection through split tunneling.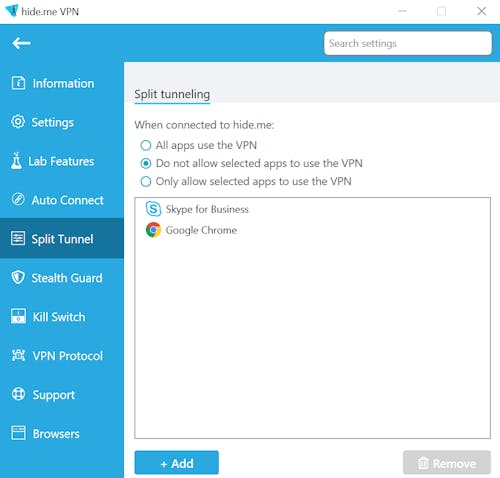 Split tunneling allows you to set which programs and applications use you VPN tunnel, and which don't.
Added security is provided by "Stealth Guard", which works similarly to split tunneling, but designates which apps or programs should never run without a VPN tunnel. Beyond apps, you can even include your Internet connection, meaning that you'll only have connectivity if a VPN tunnel through hide.me can be established.
Should you only want to use certain apps or programs with the protection of a VPN for security reasons (such as a torrent client), this function can be extremely useful.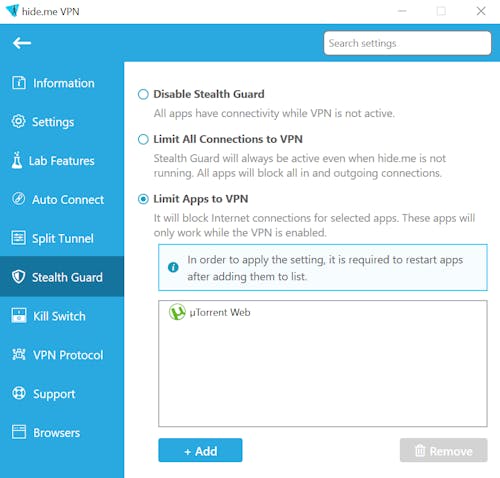 Stealth Guard allows you to select apps or programs which only run when a VPN connection exists.
The platform also features a classic kill switch, that completely severs your connection whenever there are disruptions, but, with a unique twist: You can execute user-defined scripts once the kill switch is activated.
You can also change protocols, but more on that in the "Security and Privacy" section below.
Mobile App
Mobile versions of hide.me are available for iOS, Android, Windows Phone, and Blackberry. Similarly to the desktop version, these offer a clear, albeit slightly plain overview of the program's services and features.
At the bottom of the screen, you can alternate between location and settings, in addition to the main VPN option and a renew subscription button. Both the location and settings areas are not as extensive as in the desktop client (for example, Stealth Guard is missing). With that said, split tunneling is offered as is the ability to manually configure a DNS server.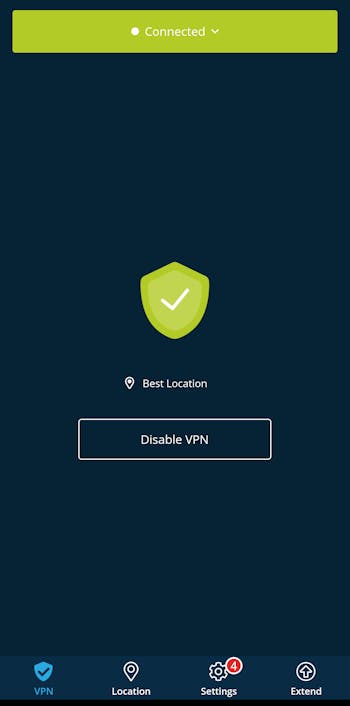 Although the smartphone app does everything it's supposed to, its appearance isn't all that exciting.
In sum, hide.me perfectly blends simplicity with advanced settings, catering equally to those who simply want to surf anonymously with as little fuss as possible, as well as others who wish to create a more personalized VPN experience.
Score: 5 / 5
Hide.me possesses a network of around 1,900 servers spread across 49 countries. Most servers are located in the US and Europe, with Brazil, Singapore, Morocco, and South Korea serving South America, Africa, and Asia, respectively. In comparison to other VPN providers, the network is not particularly extensive, lacking African and South American coverage.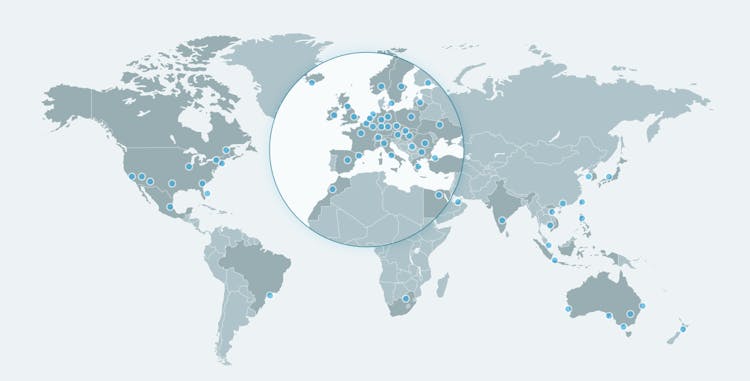 Hide.me's Euro-centric server network doesn't come as a big surprise.
Even though the number of servers on offer is good, we would have liked to see more variety, especially considering that other VPN providers host servers in twice as many countries. Particularly in Asia, hide.me's base, the trend has been for greater development and growth. As such, we're hopeful that the service will expand more in its backyard.
Score: 4 / 5
The speed of all VPNs which we tested was evaluated using a server in Europe with a 1 GB/s connection. We tested random hide.me servers at different times of the day in the US and Germany to more accurately gauge their performances. More information concerning our methodology can be found in our VPN speed test.
The table below shows the average results from the last 365 days, arranged in order of download and upload speed (descending):
1.

195.6 Mbit/s

Download

42.9 Mbit/s

Upload

2.

191.7 Mbit/s

Download

42.8 Mbit/s

Upload

3.

200.8 Mbit/s

Download

18.1 Mbit/s

Upload

4.

175.0 Mbit/s

Download

42.0 Mbit/s

Upload

5.

167.7 Mbit/s

Download

16.1 Mbit/s

Upload

6.

166.5 Mbit/s

Download

16.3 Mbit/s

Upload

7.

153.9 Mbit/s

Download

27.0 Mbit/s

Upload

8.

155.1 Mbit/s

Download

21.2 Mbit/s

Upload

9.

154.8 Mbit/s

Download

18.8 Mbit/s

Upload

10.

156.4 Mbit/s

Download

15.0 Mbit/s

Upload

11.

113.1 Mbit/s

Download

41.4 Mbit/s

Upload

12.

129.4 Mbit/s

Download

18.4 Mbit/s

Upload

13.

109.6 Mbit/s

Download

37.6 Mbit/s

Upload

14.

126.3 Mbit/s

Download

18.8 Mbit/s

Upload

15.

118.6 Mbit/s

Download

18.4 Mbit/s

Upload

16.

109.7 Mbit/s

Download

17.0 Mbit/s

Upload

17.

82.2 Mbit/s

Download

43.3 Mbit/s

Upload

18.

79.9 Mbit/s

Download

38.8 Mbit/s

Upload

19.

106.0 Mbit/s

Download

12.2 Mbit/s

Upload

20.

99.3 Mbit/s

Download

12.7 Mbit/s

Upload
When the test was conducted, hide.me clocked a download speed of 153.9 MB/s and an upload speed of 27 MB/s, securing seventh place in our ranking. This is good, considering that the speeds alone aren't that far off the leading providers.
The diagram below shows hide.me's average speeds over the past months.
CyberGhost VPN
ExpressVPN
hide.me VPN
HideMyAss! VPN
Hotspot Shield VPN
IPVanish VPN
Mullvad VPN
NordVPN
Private Internet Access
PrivadoVPN
PrivateVPN
ProtonVPN
PureVPN
Surfshark VPN
TorGuard VPN
TunnelBear VPN
VeePN
VPN Unlimited
VyprVPN
Windscribe VPN
ZenMate VPN
Monat
Download
Upload
12/21
December 2021
Download: 130.8 Mbit/s
December 2021
Upload: 40.5 Mbit/s
1/22
January 2022
Download: 121.2 Mbit/s
January 2022
Upload: 39.3 Mbit/s
2/22
February 2022
Download: 124.4 Mbit/s
February 2022
Upload: 41.1 Mbit/s
3/22
March 2022
Download: 121.5 Mbit/s
March 2022
Upload: 40.1 Mbit/s
4/22
April 2022
Download: 124.8 Mbit/s
April 2022
Upload: 41.5 Mbit/s
5/22
May 2022
Download: 104.6 Mbit/s
May 2022
Upload: 33.9 Mbit/s
6/22
June 2022
Download: 102.7 Mbit/s
June 2022
Upload: 40.1 Mbit/s
7/22
July 2022
Download: 104.4 Mbit/s
July 2022
Upload: 40.5 Mbit/s
8/22
August 2022
Download: 91.5 Mbit/s
August 2022
Upload: 37.2 Mbit/s
9/22
September 2022
Download: 89.1 Mbit/s
September 2022
Upload: 35.7 Mbit/s
10/22
October 2022
Download: 89.4 Mbit/s
October 2022
Upload: 32.7 Mbit/s
11/22
November 2022
Download: 90.5 Mbit/s
November 2022
Upload: 33.6 Mbit/s
12/22
December 2022
Download: 105.3 Mbit/s
December 2022
Upload: 39.8 Mbit/s
But speed isn't everything. For that reason, we tested hide.me for an entire day to see how it performed for all sorts of routine tasks, and to check the reliability and stability of its connection. Our general impression was good as connections were quickly established, mostly functioned smoothly, and didn't generate captchas when performing Google searches. The only blemishes were occasional disruptions in our connection, which shouldn't occur.
Hide.me gave a good accounting of itself when it came to video streaming as well, no doubt owing to its special servers. Through them, we were able to view foreign content on a number of major steaming platforms (Amazon Prime, Netflix, Disney+, and the BBC's iPlayer).
We're less sure about hide.me's suitability for usage in China, where websites and services are often blocked. This is because it couldn't create a connection from China. Then again, this shouldn't come as a big surprise since the provider states their inability to 100% guarantee such connections on their website.
For everything else, hide.me put in a solid performance, despite the occasional connection problems.
Score: 4 / 5
Hide.me makes available a variety of protocols: IKEv2, OpenVPN, SoftEther VPN, SSTP, and WireGuard, the new gold standard and most secure protocol on the market. IKEv2 supports AES-128, AES-256, or Open VPN AES-256 encryption.
The service also allows users to configure additional settings for protocols, such as designating a "Fallback Protocol" to be used if your main protocol runs into problems.
Hide.me passed our VPN leak tests for IPv6, DNS, and WebRTC using different locations and protocols without any issues.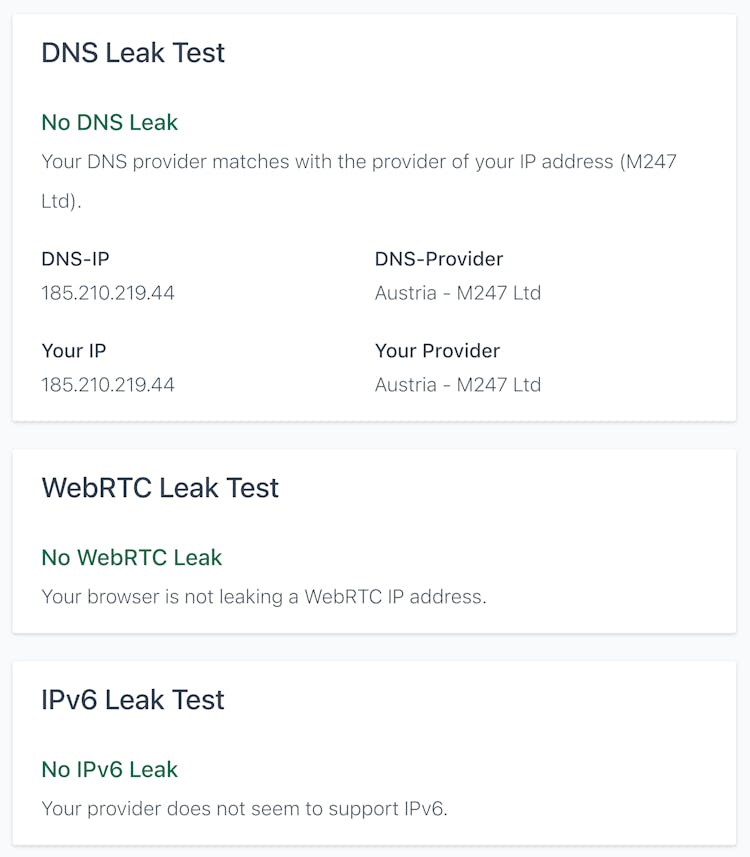 We didn't identify any leaks during testing.
As noted above, hide.me is headquartered in Malaysia, where foreign data regulations have no influence upon the company's internal data management processes. For that reason, according to hide.me, connections on any of its servers are never logged or saved. In the past, independent data privacy analysts confirmed the company's claims: In 2015, DefenseCode awarded hide.me its "Privacy and Anonymity Certificate."
Since that time, six years and counting to be precise, hide.me has not submitted to any external audits. An annual transparency report is released every year, the latest being from 2020, however, we would prefer an independent, third-party assessment.
On paper, hide.me looks okay, but we're disturbed by a few factors. The provider was one of the first VPN services to submit to an independent audit, and its CEO, Sebastian Schaub, remarked about their importance as recently as 2019. As such, it's difficult to understand why the provider hasn't performed such checks more regularly or recently.
Score: 3.7 / 5
Support and help are available in abundance on hide.me's website: Tickets can be submitted in the support area, or you could consult the knowledge base, which contains FAQs and detailed guides. If you have time, you can also check out the forum.
Reports about problems can be filed within the desktop client itself, adding a further layer of convenience. During testing, we received an answer to our issue in less than an hour.
Apart from that, there's also a live chat on the company's website. When using it, we received an answer to our request for help in under a minute.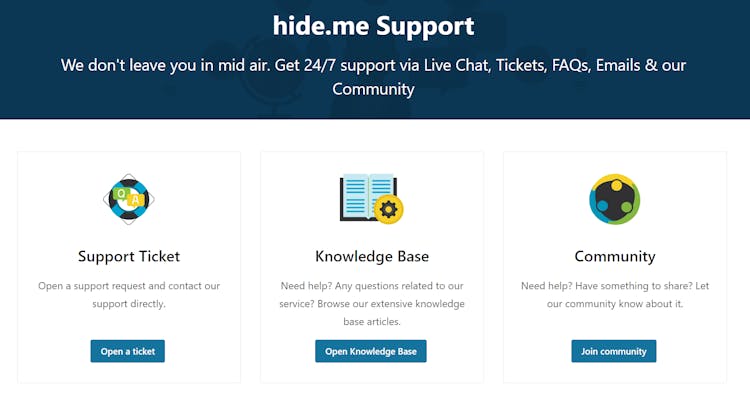 Direct support is available via ticket or live chat.
With its knowledge base, forum, live chat, and in-app support hide.me offers users a number of ways to contend with any issues that might arise when using its service. Thanks to quick response times, the quality of direct support is also very good.
Score: 4.3 / 5
Hide.me is known for its free version, which provides 10 GB of data (monthly), and the ability to connect to 5 server locations. Unlimited VPN surfing requires a 'premium' subscription, which enables usage of all available server locations, the simultaneous establishment of 10 connections, and makes features such as Streaming Support and Port Forwarding available.
How much you pay for a premium subscription depends on the length of your contract. For month-to-month usage, hide.me is one of the pricier services, but, monthly costs drop by 61% if you sign on for two years.
Business plans are available, however, for further details, you'll have to contact hide.me.
An overview of hide.me's current rates is provided in the table below:
Free
Premium 2 years
Premium 12 months
Pricing
Set-up fee
$0.00
$0.00
$0.00
Effective monthly price
$0.00
$2.50
$6.66
Contract period (months)
0
24
12
Limits
Data volume
10 GB
unlimited
unlimited
Number of Devices
1
10
10
Features
Number of servers
150
1,900
1,900
Number of countries
5
47
47
No server logs
P2P allowed
Tor access
Kill Switch
Protocols

OpenVPN

WireGuard

PPTP

SSTP

IKEv2

IPSec

L2TP

OpenVPN

WireGuard

PPTP

SSTP

SOCKS5

IKEv2

IPSec

L2TP

OpenVPN

WireGuard

PPTP

SSTP

SOCKS5

IKEv2

IPSec

L2TP
All subscriptions come with a 30-day, money-back guarantee.
Bedienung & Features
5.0 / 5
Sicherheit & Privatsphäre
3.7 / 5
In nearly every regard, hide.me offers good or excellent performance, even taking its somewhat unremarkable speeds and occasional connection issues into consideration. We particularly liked the wide variety of features that the service comes with, from split tunneling to Stealth Guard. That hide.me's interface remains user-friendly and uncluttered is impressive.
There is definitely room for improvement when it comes to the server network, as hide.me still can't really go head-to-head with the big names. We would also like to see the company return to its pioneering approach to external audits, backing up its CEO's more recent remarks about their importance with action. When it comes to price, hide.me only becomes attractive if signing on for a two-year contract.
In the reviews that we evaluated, hide.me was rated 'good'. Users praised the service's simplicity, performance, and level of customer support.
We analyzed the reviews and ratings from various portals and found 24,120 ratings with an overall rating of 4.4 out of 5 .
Show sources
Should you want a provider whose commitment to security and privacy is unwavering and regularly submits to independent audits NordVPN, ExpressVPN, and TunnelBear are all excellent choices. NordVPN and ExpressVPN have the added benefit of also being faster than hide.me.
If you're looking for a free alternative without data limits ProtonVPN is worth taking a closer look at.
A list of the best alternatives can be found below.
5400+ servers, 60 countries
Inexpensive 2-year package
NordVPN combines speed, user-friendliness and functionality into a coherent overall package that is also fairly affordable.
Data volume
Devices
Protocols
Contract Period
NordVPN 2-year plan
$2.99
monthly price
Visit Website »
30 days money-back guarantee
160 cities in 94 countries
30-day money-back guarantee
ExpressVPN impresses with strong performance, a huge server network and excellently designed applications, but this quality also comes at a higher price.
Data volume
Devices
Protocols
Contract Period
ExpressVPN 12 Months
$8.33
monthly price
Visit Website »
30 days money-back guarantee
3200+ servers in 65 countries
Unlimited number of devices
Many apps (Linux, FireTV, ...)
Very cheap on the 24-month plan
Surfshark is one of the cheapest providers on the market, but besides the price also impresses with strong protection, many features and a great support with 24/7 live chat.
Data volume
Devices
Protocols
Contract Period
Surfshark 24 months
$2.49
monthly price
Visit Website »
Get 83% Discount
1200+ servers in 55 countries
Headquarters in Switzerland
Open Source & external audits
Data volume
Devices
Protocols
Contract Period
ProtonVPN Free
$0.00
monthly price
Visit Website »
30 days money-back guarantee
290 locations in 210 countries
Data volume
Devices
Protocols
Contract Period
HideMyAss! 36 months
$2.99
monthly price
Visit Website »
30 days money-back guarantee

Author (German Version): Martin Gschwentner
Martin Gschwentner majored in American Studies and Media Studies in Germany, the USA and France and works as a freelance editor in Paris. He is a doctoral student at the Institute for English and American Studies at the University of Paris Diderot, where he is researching the influence of money on US politics. On EXPERTE.com he writes about IT security, data protection and software for the self-employed and small businesses.

Translator & Editor: D Bare