VeePN VPN Review 2023: Ultra-Fast Speeds and Limitless Streaming?


Ad disclaimer:
For links on this page, EXPERTE.com may earn a commission from the provider. This supports our work and has no influence on our editorial rating.
The secret is out: VPNs are useful! As with anything popular, new providers are entering the market almost daily. One of the most recent of these is VeePN, which promises high-speed connections and unlimited streaming. Below, we'll let you know whether there's something to these claims, or if it's just a marketing gimmick.
What Is VeePN?
VeePN Review
Installation and Features
8.6 / 10
Security and Privacy
6.0 / 10
Extremely affordable 5-year subscription

Plenty of features, including split tunneling
Issues with streaming services (Netflix, Amazon Prime Video, Disney+, and BBC iPlayer)

Has not submitted to a comprehensive, independent security audit
1.
Installation and Features
In order to use VeePN, you'll need a premium account since a free version isn't offered. After setting up your account and paying, you can log in to the user dashboard and download and install the app for your operating system.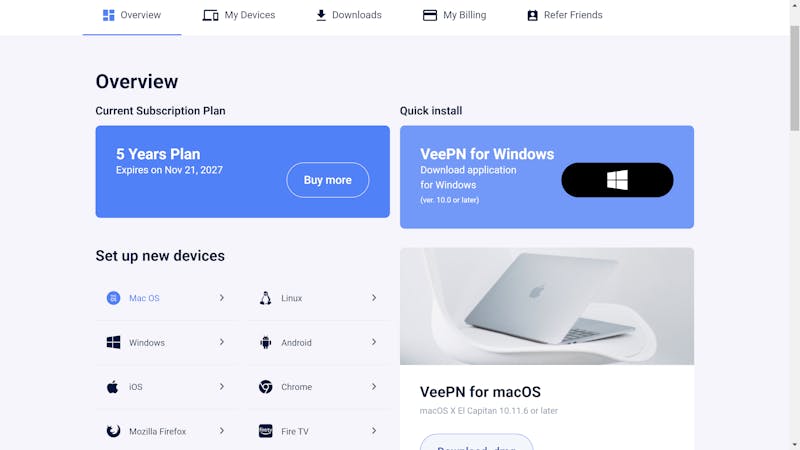 VeePN's user dashboard lists all of the clients and apps offered by the service.
There's nothing groundbreaking about VeePN's desktop app, which looks similar to those of most of its competitors, however, we have no issue with that. On the contrary, we liked the default view, with its large on/off button, kill switch, server list, and IP address.
A kill switch automatically severs your Internet connection whenever an issue with your VPN tunnel is identified. When activated, this ensures that you'll never surf without your VPN's protection.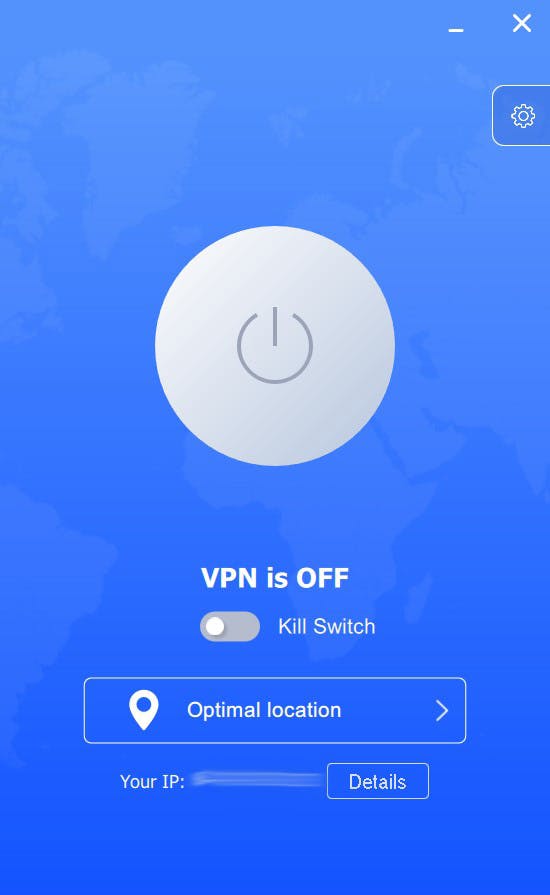 VeePN's app is simple and elegant.
What Your IP Reveals About You
By clicking on the Details button, you'll be forwarded to a Web page showing information about you, such as your ISP, hostname, and operating system. A WebRTC leak check is also included.
To keep all of this information secret, click the on/off button in the VeePN app, and a VPN connection will be created.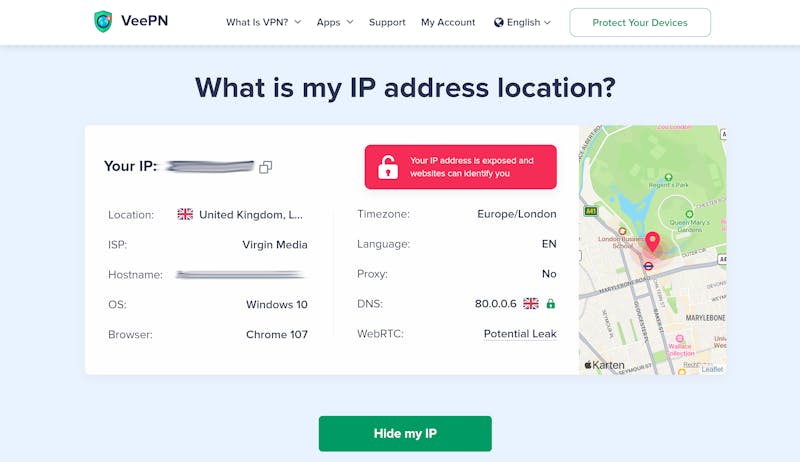 VeePN shows users what information their Internet connection reveals about them.
Expanded View: VeePN's Features & Settings
A click on the gear symbol in the upper right of the app opens an extended menu that includes additional features, settings, and a support link. These are arranged into five tabs:
General: Here, you can adjust the app's language, switch to dark mode, and toggle notifications on or off.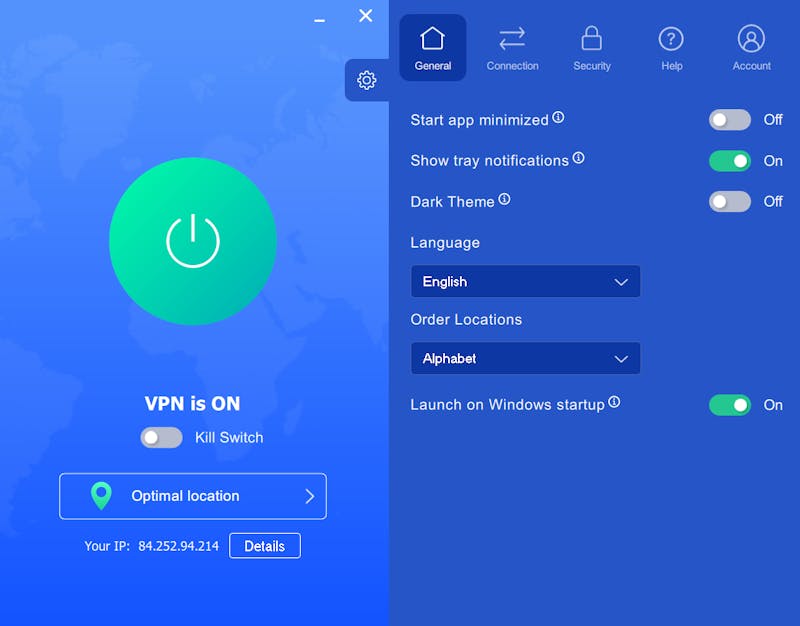 You prefer a darker design? In the General tab, you can make some cosmetic changes to the app.
Connection

: Here, you're able to specify which

VPN protocol

you'll use (more on this in the

Security & Privacy

section below) and configure VeePN to automatically set up a connection whenever your system starts. This is also where

split tunneling

is, for deciding which apps and programs use your VPN connection.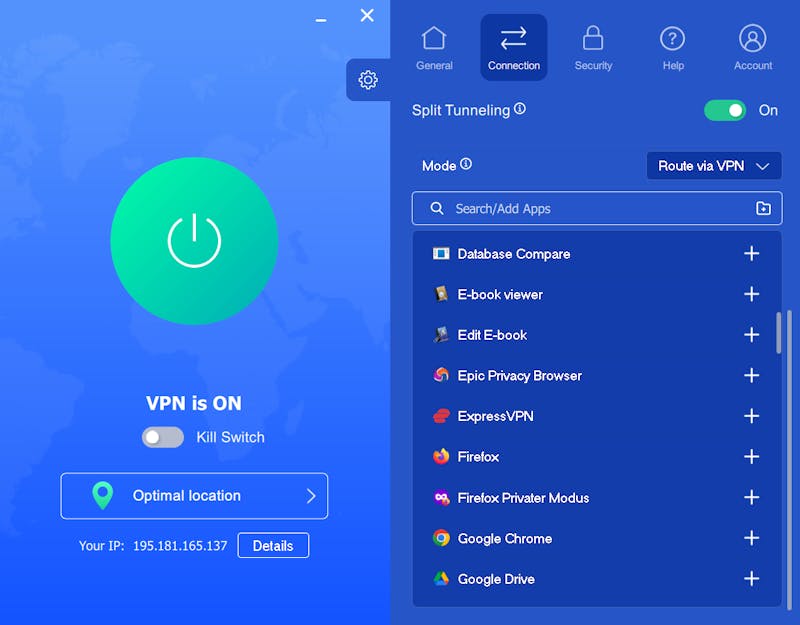 Split tunneling allows you to choose which apps use your VPN connection.
Security: This includes a few extra security features, such as an ad blocker and protection against DNS leaks.

Help: A link here to takes you directly to VeePN's support area, but more on that below.

Account: This is where you can make a few changes to your account. By clicking on Manage, you'll be forwarded to the browser dashboard.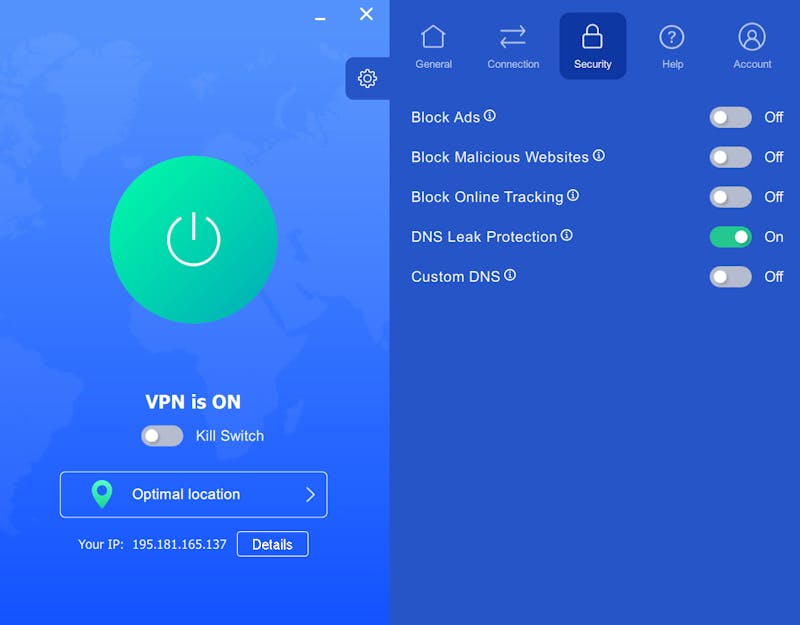 VeePN comes with a few useful security features.
Double VPN, an additional feature in the server selection menu allows you to simultaneously create two VPN connections in order to surf even more securely. Beyond that, you can mark favorites with a star, which will be listed in the location menu.
Mobile App
VeePN offers smartphone apps for Android and iOS. Unlike the desktop version, these can be trialed for a week at no cost. During testing, the Android app worked well, making all of the same features available as the desktop app, including the kill switch and split tunneling.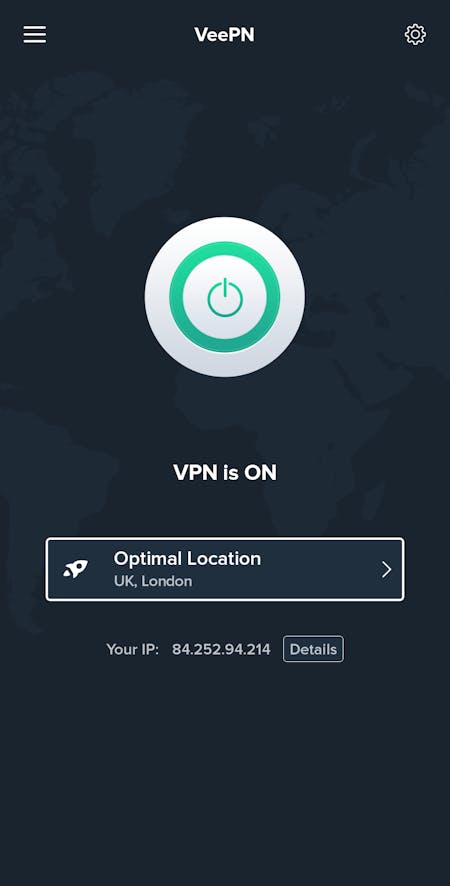 VeePN is great on Android too.
When it comes to appearances, there's nothing to fault VeePN for: Its apps are sleek and user-friendly, both on desktops and smartphones. Features are located where you'd expect them to be, making it easy to find whatever you're looking for.
The most important features, such as a kill switch and split tunneling, are included. Other VPNs do offer more, however. Dedicated servers for streaming or gaming, like those which NordVPN provides, are nowhere to be found. You'll also have to make do without a static IP address. Still, overall VeePN offers an attractively presented good overall package.
Installation and Features
8.6 / 10
VeePN provides access to more than 2,500 servers spread across 50 locations in 42 countries. Not bad, but still far off the market leaders. For comparison, NordVPN has a network consisting of 5,413 servers in 59 countries, with ExpressVPN making 3,000 servers across 94 countries available.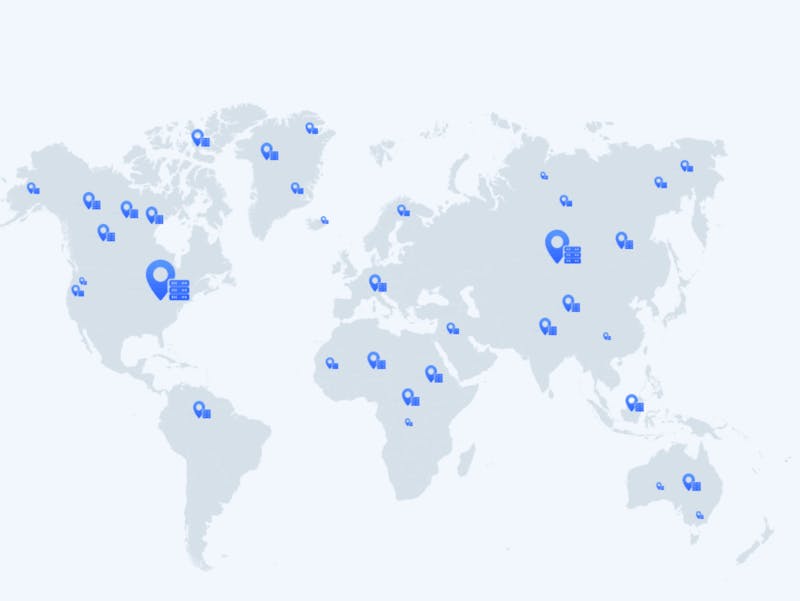 VeePN's servers dot the globe, but their network still can't compete with the leading providers.
As with most VPNs, the majority of VeePN's servers are concentrated in Europe and North America, with other regions, like Africa or the Middle East, poorly covered.
Should a wide-ranging global server network be important to you, VeePN probably isn't your best bet. The number of servers it offers access to in North America, Europe, and parts of Asia is definitely solid though.
So, how does VeePN do in terms of Performance? To test the providers from our sample, we connect to random VPN servers in the US and Germany several times per day on a 1 GB/s connection from Germany. Each time, we note the upload and download speeds, giving us a fairly accurate view of average speeds over time.
For more detailed information about our methodology and the most up-to-date figures, be sure to check out our VPN speed test article.
In the table below, you'll find results from the past 365 days, sorted, in descending order, from the highest download and upload speeds:
1.
2.
3.
4.
5.
6.
7.
8.
9.
10.
11.
12.
13.
14.
15.
16.
17.
18.
19.
20.
When we tested VeePN, it had a download speed of 128 MB/s, and an upload speed of 5.4 MB/s, which were good enough for 13th place in our ranking. This wouldn't be a problem, but considering that VeePN promises ultra-fast speeds, our experience didn't back up that claim.
The diagram below shows VeePN's average speeds over the past few months:
CyberGhost VPN
ExpressVPN
hide.me VPN
HideMyAss! VPN
Hotspot Shield VPN
IPVanish VPN
Mullvad VPN
NordVPN
Private Internet Access
PrivadoVPN
PrivateVPN
Proton VPN
PureVPN
TorGuard VPN
TunnelBear VPN
VeePN
VPN Unlimited
VyprVPN
Windscribe VPN
ZenMate VPN
Monat
Download
Upload
11/22
November 2022
Download: 134.9 Mbit/s 134.9
Mbit/s
November 2022
Upload: 19.4 Mbit/s
12/22
December 2022
Download: 93.5 Mbit/s 93.5
Mbit/s
December 2022
Upload: 40.9 Mbit/s
1/23
January 2023
Download: 91.5 Mbit/s 91.5
Mbit/s
January 2023
Upload: 38.9 Mbit/s
2/23
February 2023
Download: 93.1 Mbit/s 93.1
Mbit/s
February 2023
Upload: 47.1 Mbit/s
3/23
March 2023
Download: 117.6 Mbit/s 117.6
Mbit/s
March 2023
Upload: 48.2 Mbit/s
4/23
April 2023
Download: 118.0 Mbit/s 118.0
Mbit/s
April 2023
Upload: 47.5 Mbit/s
5/23
May 2023
Download: 115.7 Mbit/s 115.7
Mbit/s
May 2023
Upload: 47.1 Mbit/s
6/23
June 2023
Download: 118.6 Mbit/s 118.6
Mbit/s
June 2023
Upload: 47.8 Mbit/s
7/23
July 2023
Download: 131.1 Mbit/s 131.1
Mbit/s
July 2023
Upload: 43.9 Mbit/s
8/23
August 2023
Download: 98.4 Mbit/s 98.4
Mbit/s
August 2023
Upload: 38.4 Mbit/s
9/23
September 2023
Download: 117.8 Mbit/s 117.8
Mbit/s
September 2023
Upload: 39.8 Mbit/s
So, VeePN's speeds aren't anywhere near as fast as the provider claims, however, numbers aren't everything when we award performance scores. Our subjective experience surfing with VeePN was solid: No connectivity issues or annoying captchas when performing Google searches.
But what about streaming?
A Lot of Hot Air: Video Streaming Shortcomings
VeePN might promise unlimited streaming, but talk is cheap. Regardless of whether we tried Netflix, Disney+, Amazon Prime Video, or BBC iPlayer, we were unable to stream content that would otherwise be unavailable in our geographic location. Even the usual error message that streaming content can't be accessed over a VPN failed to appear - the websites simply wouldn't load.
Taken together, we definitely felt let down by VeePN's performance: Surfing was okay, however, since speeds and video streaming are two of the provider's biggest marketing pitches, what we actually encountered was extremely disappointing.
VeePN follows in the footsteps of many other VPNs when it comes to encryption, relying on the highly secure AES-256. WireGuard, OpenVPN (UDP & TCP), IKEv2, and Shadowsocks are supported.
Like ExpressVPN, VeePN is based in Panama, which offers both advantages and disadvantages: Panama is not a party to any of the intelligence-sharing agreements, such as 5 Eyes or 14 Eyes, and doesn't have any strict laws data storage laws. This means that VeePN is not legally required to store protocols or other data that include personal information.
For privacy purists, the service's headquarters in Panama offers an edge. At the same time, if you're not concerned about Western authorities and just looking for a trustworthy VPN that conforms to robust privacy laws, Panama's offshore nature might be less appealing.
Does VeePN Log Data?
Although VeePN refers to itself as a 'no log' VPN, it does store some data. This includes service protocols (such as session length or the amount of data transferred in MB), account information, and contact data (which you voluntarily provide when contacting customer support).
On the other hand, VeePN explicitly does not store sensitive and personally identifiable information such as:
Browser history

Information about what users have downloaded or shared

Primary IP address as well as the IP address assigned by VeePN's servers

DNS queries

Device metadata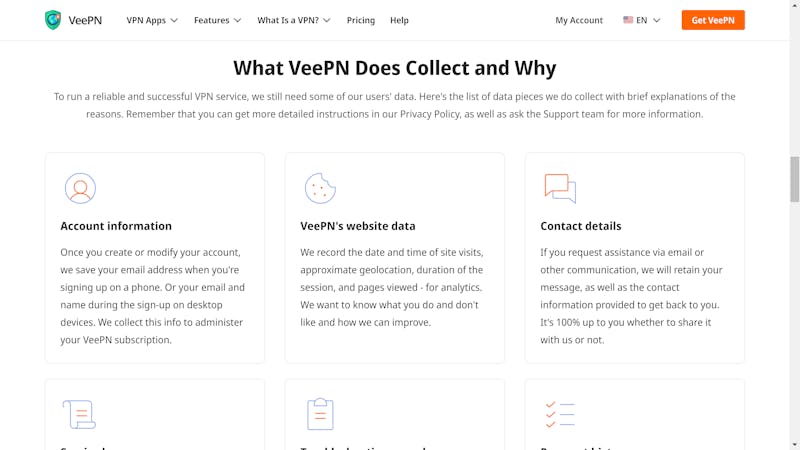 VeePN does store somewhat more data than other VPNs from our sample.
Even though VeePN doesn't store any highly sensitive data, its no-log policy is less strict than those of many of its competitors, who don't store service protocols.
No Leaks
VeePN passed our VPN leak tests (IPv6, DNS, and WebRTC) without issue: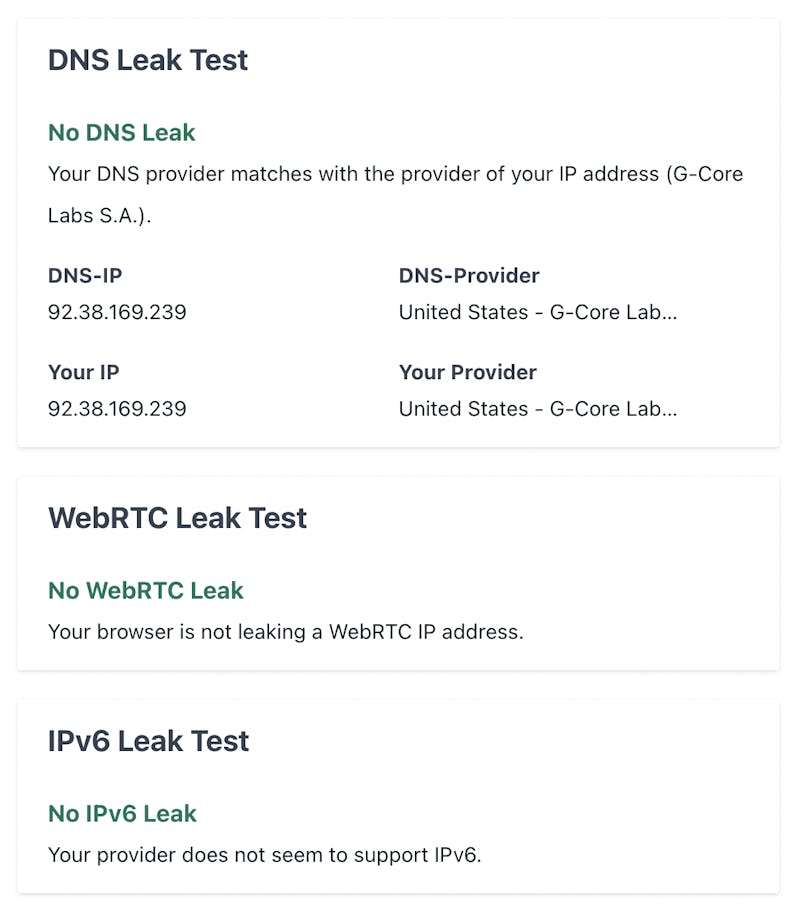 We didn't uncover any leaks during our review.
External Security Audits?
Yes: VeePN last had its security claims validated by an independent third party in 2021. However, Cure53, a cybersecurity company, only examined the provider's browser extensions, which made a "very positive" impression.
Since VeePN's browser extensions only create a proxy connection, comparing them to the service's main clients isn't very telling. Unfortunately, the latter have never been vetted.
So far as encryption, protocols, and leaks are concerned, VeePN does well. At the same time, the service does collect more data and logs than its competitors and still has yet to submit to an independent security audit of its main clients.
Security and Privacy
6.0 / 10
You can directly access VeePN's support portal by clicking on the link in the app's Help tab. There, you'll find some FAQs and guides, which briefly introduce the software's features. Unfortunately, a number of guides don't have screenshots, and we weren't particularly impressed.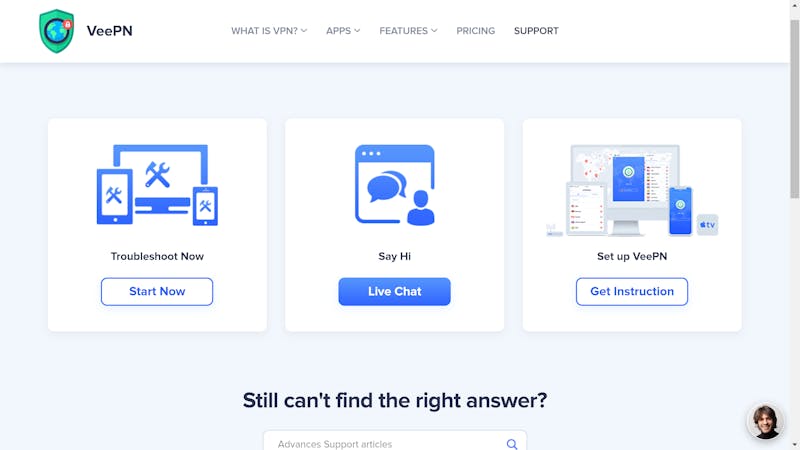 You can either use VeePN's static resources to solve issues on your own, or reach out to their support staff.
Alternatively, you can get in touch with a support staffer through live chat, ticket, or email.
Entering the live chat, we were immediately put in touch with a staffer who satisfactorily answered some basic queries we had about VeePN's features. When we asked more detailed follow-up questions though, the "staffer" began repeating themselves, leaving us with the inescapable feeling that we were actually interacting with a bot.
After that, we tried filing a support ticket. In around an hour, we received a response that seemed to have been written by a real person.
Overall, there's plenty of room for improvement: Although several support channels are offered that VeePN claims are monitored around the clock, we didn't feel that these are always staffed by humans.
No surprises here: Like most VPNs, how much VeePN costs per month depends on the length of your subscription. Monthly, yearly, and 5-year rates are offered. The last of these is particularly affordable.
Up to 10 devices can be used simultaneously with any subscription.
Below, you'll find an overview of VeePN's rates:
5 years
1 year
1 month
Set-up Fee
$0.00
$0.00
$0.00
Monthly Price
$1.67
$5.83
$10.99
Contract Period (Months)
60
12
1
Limits
Data Volume
unlimited
unlimited
unlimited
Number of Devices
10
10
10
Features
Number of Servers
2,500
2,500
2,500
Number of Countries
60
60
60
No Server Logs
P2P Allowed
Tor Access
Kill Switch
Protocols

OpenVPN

IKEv2

OpenVPN

IKEv2

OpenVPN

IKEv2
Unfortunately, there's no free trial of VeePN. With that said, if you're not satisfied, you can request your money back within 30 days of starting a subscription.
Credit and debit cards, PayPal, Google Pay, cryptocurrency, and PaymentWall are accepted.
Conclusion
Installation and Features
8.6 / 10
Security and Privacy
6.0 / 10
The latest isn't always the greatest, and VeePN, unfortunately, proves this point. Its performance was particularly disappointing, with average speeds and no help in accessing geo-blocked streaming content. The server network is nothing to write home about either - You can get more for less elsewhere.
Looking at the positive, VeePN's apps are user-friendly and offer a nice selection of features. Its 5-year subscription is a real bargain too. If the provider performed better, it might be worth considering, however, as things stand, you're still paying for an inferior product.
Data Volume
Devices
Protocols
Contract Period
VeePN 5 years
$1.67
monthly price
Visit Website*
Customer Reviews
Based on the reviews we examined, almost all of which didn't include comments, VeePN is rated as "very good" by its users. Below, we've provided an overview of these:
Customer Ratings
15,424 Bewertungen
Visit Website*
We analyzed the reviews and ratings from various portals and found 15,424 ratings with an overall rating of 3.9 out of 5 .
Alternatives
Are you looking for the best VPN when it comes to performance, security, and user-friendliness? If so, our EXPERTE.com top pick, NordVPN should be at the top of your list. The service is great for video streaming, granting access to Netflix and other content libraries around the world.
Or perhaps a free VPN is more appealing? In that case, ProtonVPN is probably the best option available as its free version includes unlimited data.
More of the best alternatives to VeePN can be found below:
NordVPN is our number one VPN because it combines speed, ease-of-use, and functionality in a slick package that's also pretty affordable.
5,500+ servers, 60 countries
affordable 2-year package
9.4

excellent
Data Volume
Devices
Protocols
Contract Period
NordVPN 2-year plan
$3.49
monthly price
Visit Website*
30 days money-back guarantee
ExpressVPN can impress with a strong performance, a huge server network, and excellently designed applications, but this quality also comes at a higher price.
Data Volume
Devices
Protocols
Contract Period
ExpressVPN 12 Months
$8.33
monthly price
Visit Website*
30 days money-back guarantee
With its open source philosophy and extra security features, Proton VPN targets security-conscious VPN users. But thanks to its user-friendly interface and suitability for streaming, it's worth a look for a wide audience.
open source & external audits
2,900+ servers in 67 countries
free plan without data limit
9.1

excellent
Data Volume
Devices
Protocols
Contract Period
Proton VPN Free
$0.00
monthly price
Visit Website*
Free forever
Surfshark is one of the cheapest providers on the market, but it's a lot more than a great budget option: the relatively new VPN boasts strong protection, many features, and a great support with 24/7 live chat.
3,200+ servers in 100 countries
unlimited number of devices
many apps (Linux, FireTV, ...)
8.8

good
Data Volume
Devices
Protocols
Contract Period
Surfshark 24 months
$2.49
monthly price
Visit Website*
Get 83% Discount
HideMyAss' main claim to fame is its impressive server infrastructure, but the VPN also delivers solid speeds and handy features like its IP Randomizer. When it comes to streaming, however, it's not always the most reliable choice.
Data Volume
Devices
Protocols
Contract Period
HideMyAss! 36 months
$2.99
monthly price
Visit Website*
30 days money-back guarantee
* Ad disclaimer:
For links marked with an asterisk, EXPERTE.com may earn a commission from the provider. The commission has no influence on our editorial rating.

Martin Gschwentner majored in American Studies and Media Studies in Germany, the USA and France and works as a freelance editor in Paris. He is a doctoral student at the Institute for English and American Studies at the University of Paris Diderot, where he is researching the influence of money on US politics. On EXPERTE.com he writes about IT security, data protection and software for the self-employed and small businesses.

Translation: D Bare
Continue Reading
Reviews
Comparisons
Tools & Guides