VPN Kill Switch: What Is It and When Do You Need One?


Ad disclaimer:
For links on this page, EXPERTE.com may earn a commission from the provider. This supports our work and has no influence on our editorial rating.
Imagine that you're surfing the Internet with a VPN and you suddenly notice that your connection was disrupted more than an hour ago. Any anonymity you thought you had has instantly disappeared, and, in the worst case, someone might have followed your activity. To prevent this from happening, most VPN software has integrated kill switches.
Should you have experience with VPNs, you might be familiar with this feature already. But why is a kill switch so important? Which VPN providers offer them? And how do they work? In this guide, we'll answer all of these questions and more.
What Is a Kill Switch?
A kill switch is like a digital circuit breaker and comes built into many VPN clients. It automatically severs your Internet connection whenever an unexpected disruption to your VPN tunnel occurs. Since VPN tunnels conceal your IP address and protect your anonymity, having a kill switch is important. As soon as the VPN connection disappears, your data and privacy are compromised, particularly if on a public WiFi network.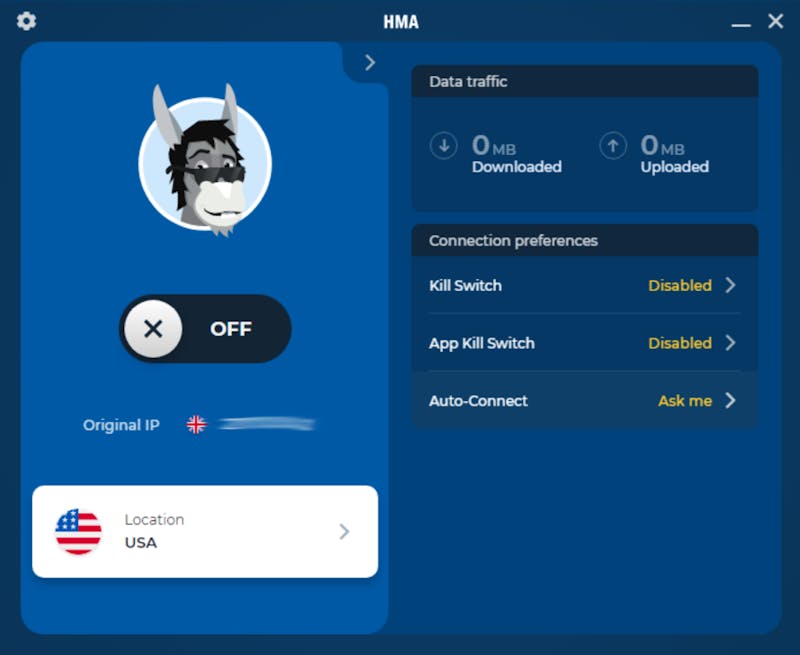 HideMyAss's kill switch can be toggled on or off.
Kill switches also immediately notify you about any disruption to your VPN connection, preventing you from unknowingly surfing without its protection. But how do VPN tunnels fail in the first place?
Possible reasons for the loss of a VPN connection:
Antivirus/firewall settings
Antivirus software and firewalls ensure that only certain apps and programs can access the Internet from your computer or device. These can be strict, preventing services that you've authorized or want to use, like VPN clients, from connecting to the Internet. If your firewall is making life difficult for your VPN, you can manually whitelist it.

Router settings
Another possibility is that your router's configuration is preventing your computer from connecting to a VPN server. Similarly, your router might need software updates.

Issues with the VPN protocol
VPN protocols regulate how data is transferred between your device and the VPN server you've selected. However, not all VPN protocols are created equal, and for that reason, the one you've selected might destabilize your connection. So far as security and stability are concerned, WireGuard and OpenVPN are the two leading protocols.

Poor connection
An unreliable or weak Internet connection can also cause problems for a VPN. This is especially true if you're trying to connect to a server that is geographically remote from where you are. If this frequently happens, try connecting to another WiFi network, or a VPN server that's closer to you.
How It Works
All kill switches work in the same way: As soon as an issue with your VPN tunnel is identified, they automatically sever your Internet connection. According to AVG, this process is comprised of four steps:
1.

Scan the network: The kill switch continually monitors your VPN connection in real-time, to see if there are any changes.

2.

Identify anomalies: The moment that the network status or IP address unexpectedly changes, the kill switch trips an alarm.

3.

Block the connection: Next, either the Internet connection or a specified app or program's Internet access will be blocked (more on this in the next section).

4.

Reconnect: As soon as the VPN tunnel is deemed to be secure, the kill switch re-establishes the Internet connection.
Two Types of Kill Switch
There are several types of kill switches, however, these can be roughly divided into two categories:
System-level kill switch: With this, the entire Internet connection is severed when a disruption to the VPN tunnel is identified. This guarantees that no data leaves your device and also that your IP address remains invisible.

App-level kill switch: This type of kill switch allows you to choose which apps are disconnected from the Internet when activated. For example, you can specify that certain actions take place if your VPN connection vanishes, like stopping torrent downloads.
Not every VPN with a kill switch offers both options. The system-level kill switch is more important and common since it offers maximum security.
Why You Should Use a Kill Switch
Now that you know how a kill switch works, you're probably wondering why it's important?
If you're already familiar with VPNs, you probably are aware of their advantages. First, they enhance your online security and anonymity. Especially if you're on a public WiFi network, they'll protect you against cybercriminals. The instant a VPN tunnel disappears though, so do all of its benefits, and danger can again strike.
Supposing that you weren't aware that your VPN connection had ceased, you'd likely continue to behave as though it remained active, doing things you would never do without its protection. As such, surfing with a broken or non-working VPN connection is even more dangerous than knowingly surfing without a VPN.
The importance of a kill switch depends largely upon what you use a VPN for. For getting around region restrictions or geoblocking, it will likely be more of an inconvenience than a threat. On the other hand, if you're surfing on a public WiFi network, or transferring sensitive data, doing so over a VPN without a kill switch can be risky.
The feature is particularly important for:
Anyone on public WiFi networks who wants to shield their data from third parties.

Journalists and/or whistleblowers, whose jobs and life depend on anonymity.

People who handle sensitive documents or information, like lawyers or business executives.

Those who use torrents, and don't want others to see what they download.
Even if none of the above apply to you, it's a good idea to activate your VPN's kill switch so that you'll never unknowingly surf without its protection.
How to Activate the Kill Switch
Kill switches are automatically activated by default in most VPN clients, however, this isn't always the case. When configuring your VPN, it's a good idea to check its settings to make sure. Most of the time, you can enable the kill switch with a single click.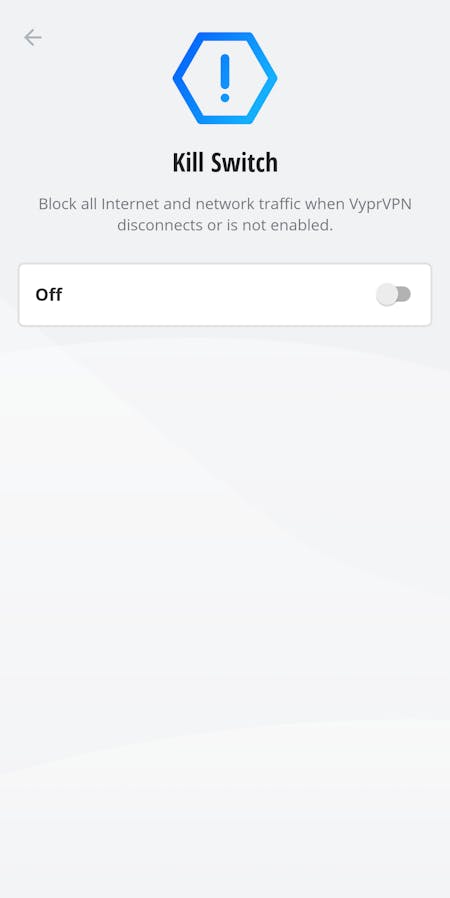 VyprVPN's kill switch in its smartphone app.
Depending on the provider, kill switches can have different names. ExpressVPN, for example, refers to it as "Network Lock".
The Best VPNs With a Kill Switch
These days, kill switches are a standard feature of most VPNs, however, they aren't offered by every provider. Below, we'll introduce you to our Top 3 VPNs with kill switches, based on our comprehensive EXPERTE.com comparison of 27 VPN providers:
NordVPN is our number one VPN because it combines speed, ease-of-use, and functionality in a slick package that's also pretty affordable.
5,500+ servers, 60 countries
affordable 2-year package
9.4

excellent
Data Volume
Devices
Protocols
Contract Period
Christmas Deal
+3 months free
NordVPN 2-year plan
$3.79
monthly price
Visit Website*
30 days money-back guarantee
NordVPN won our EXPERTE.com VPN comparison. The service also secured first place in our speed ranking, offering excellent performance, strong security, intuitive apps, and a solid catalog of features. Among the latter is a kill switch, which can be configured to intervene at both the system and app levels. During testing, both worked flawlessly.
Installation and Features
9.4 / 10
Security and Privacy
9.4 / 10
ExpressVPN can impress with a strong performance, a huge server network, and excellently designed applications, but this quality also comes at a higher price.
Data Volume
Devices
Protocols
Contract Period
Christmas Deal
+3 months free
ExpressVPN 12 Months
$6.67
monthly price
Visit Website*
30 days money-back guarantee
ExpressVPN is a popular VPN service, even though it's somewhat pricier than other comparable solutions. Still, you'll get a great-performing and highly user-friendly VPN powered by an excellent network of servers. Even though its kill switch is only a system-level one, it works perfectly.
Security and Privacy
9.4 / 10
Installation and Features
8.6 / 10
Surfshark is one of the cheapest providers on the market, but it's a lot more than a great budget option: the relatively new VPN boasts strong protection, many features, and a great support with 24/7 live chat.
3,200+ servers in 100 countries
unlimited number of devices
many apps (Linux, FireTV, ...)
8.8

good
Data Volume
Devices
Protocols
Contract Period
Christmas Deal
+4 months free
Surfshark 24 months
$1.99
monthly price
Visit Website*
Get 83% Discount
Surfshark is one of the most affordable premium VPNs on the market and offers what we think is the best price-performance ratio. Even though it costs significantly less than its rivals, you won't need to accept any performance compromises. During our speed ranking, Surfshark came in just behind NordVPN, securing second place. Like ExpressVPN, it comes with a reliable system-level kill switch.
Installation and Features
9.4 / 10
Security and Privacy
8.0 / 10
Conclusion
A kill switch is a security mechanism that every VPN should include. It ensures that your Internet connection is automatically severed when problems arise with your VPN tunnel, preventing you from unknowingly surfing without its protection.
Most VPNs have a built-in kill switch, like the Top 3 providers from our EXPERTE.com comparison: NordVPN, ExpressVPN, and Surfshark. Kill switches are usually activated by default, however, to be on the safe side, double-check the client's settings when first configuring your VPN.
To learn more about whether VPNs are right for you be sure to consult our guide.
FAQs
A kill switch is an integrated VPN feature that prevents you from unknowingly using the Internet if your VPN connection has been disrupted. Generally speaking, these can be divided into two types: system and app-level kill switches. The former sever your Internet connection, while the latter prevent certain apps or programs from using the Internet in the event of a disruption.
Do I need a kill switch?
⊖
Kill switches make sure that you don't unknowingly surf the Internet without your VPN's protection. Connectivity issues can occur with even the best VPN providers. Without a kill switch, there's a risk that your VPN connection might disappear, while you'll still be connected to the Internet. If on a public WiFi network, this can make you vulnerable to digital attacks or surveillance.
How reliable is a kill switch?
⊖
Generally speaking, kill switches are very reliable. We tested the feature among each provider from our sample, and report the findings in our VPN reviews. Our experiences with most services were positive.
* Ad disclaimer:
For links marked with an asterisk, EXPERTE.com may earn a commission from the provider. The commission has no influence on our editorial rating.

Martin Gschwentner majored in American Studies and Media Studies in Germany, the USA and France and works as a freelance editor in Paris. He is a doctoral student at the Institute for English and American Studies at the University of Paris Diderot, where he is researching the influence of money on US politics. On EXPERTE.com he writes about IT security, data protection and software for the self-employed and small businesses.

Translation: D Bare
Continue Reading
Reviews
Comparisons
Tools & Guides