Whether for a blog, advertising materials, or just to spruce up an article or website, images and videos make good content better. However, not everyone has an archive of photographs, illustrations, and videos at their fingertips. Thanks to stock photo providers, you won't need to, since they offer digital archives filled with all sorts of usable visual materials.
The Web is teeming with providers offering free and paid stock content databases. These vary in terms of quality, licensing conditions, and relevance, to say nothing of how the websites themselves are designed and what sort of filter options they make available.
One crucial point to keep in mind is your legal responsibility for the media on offer. While most free platforms do not offer any indemnification in the event that you're on the wrong end of a copyright or trademark infringement lawsuit, paid stock photo archives typically do. Accordingly, we assessed 13 stock photo providers.
Comparing Stock Photo Providers
Choosing the right stock photo database is difficult considering how many providers are out there and what they do to entice users toward their collections. Below, we'll introduce you to the Top 5 from our comparison, each of which impressed us in one way or another. After that, we summarized our testing criteria, explaining what a provider needed to do to score highly in our EXPERTE.com assessment.
Depositphotos wins us over in the review with an intuitive platform, a huge media archive, a simple licensing model, fast support and a fair price.
Photos / Month
Videos / Month
Licence For
Billing
Depositphotos Subscription 30
$24.92
monthly price
Visit Website »
Depositphotos wowed us with its huge portfolio, good support, clear licensing conditions, and impressive price-performance ratio. The only downside is that corporate customers can take advantage of special pricing and sales while regular, private users cannot.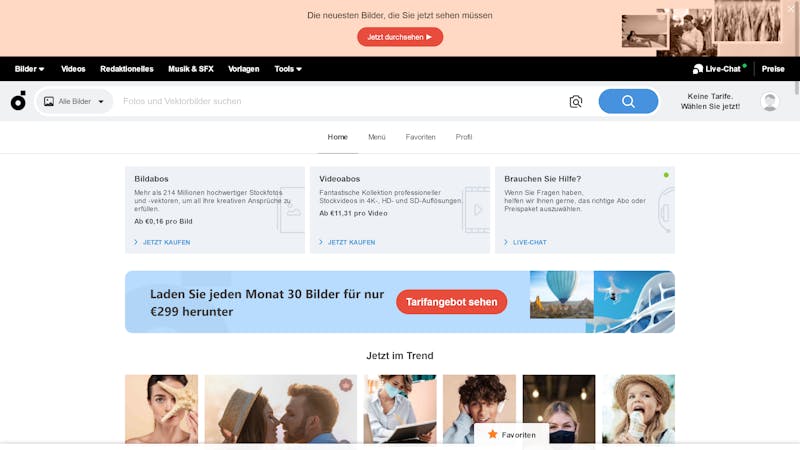 Once logged in, users of Depositphotos are afforded a clear overview of what the platform has to offer and quick access to support.
All the same, the provider scored with its user-friendliness, helpful filters, high-quality media, and relevant search results, saving plenty of time and energy. Its affordable music subscription and integration to the in-house, online layout service Crello are also worth noting. Thanks to its excellent overall package, it isn't surprising that Depositphotos earned a place on our winner's podium.
Good price-performance ratio as well as free media
Pricing structure could be more transparent

Sales and special offers reserved for corporate clients
Selection of Videos, Audio, Vector Graphics & Illustrations
9.4 / 10
Configuration & Usage
9.4 / 10
Licensing Conditions
9.4 / 10
Stock Photo Selection
8.6 / 10
Photos / Month
Videos / Month
Licence For
Billing
iStock Credit Pack 1
$12.00
monthly price
Visit Website »
Second place in our stock photo platform comparison went to iStock. Part of the Getty Images empire, iStock offers high-quality media, logical and comprehensive filter options, as well as clear licensing conditions. Rounding things out are its helpful and fast support and indemnification included in its licenses.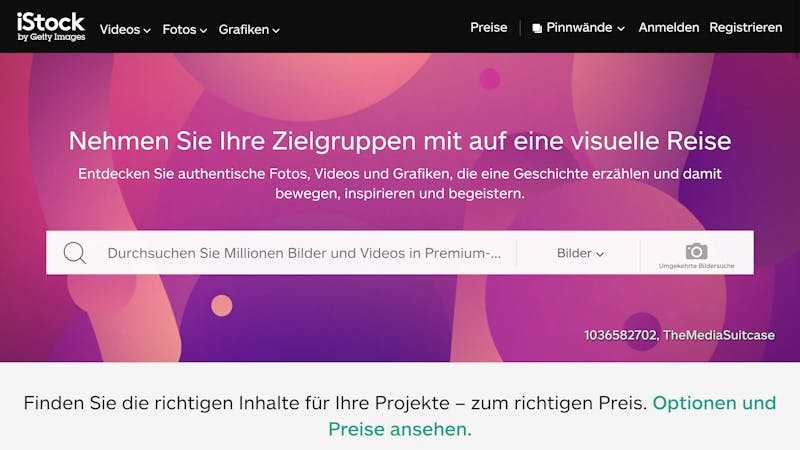 iStock's homepage is easy to navigate.
iStock isn't the most affordable provider from our sample, however, you can look forward to a nice return on your investment. Downsides to the platform include its lack of audio, which, if desired, needs to be licensed from another company.
Wide-ranging filter options

Intuitive navigation and clear licensing conditions
Configuration & Usage
10 / 10
Licensing Conditions
10 / 10
Stock Photo Selection
9.4 / 10
Selection of Videos, Audio, Vector Graphics & Illustrations
6.6 / 10
Photos / Month
Videos / Month
Licence For
Billing
Getty Images Single Small
$175.00
monthly price
Visit Website »
iStock's elder brother follows it, taking third place. Even though Getty Images is much more expensive than its peers, it offers high-quality content, extraordinary filter options, straightforward licensing conditions, comprehensive support, and is intuitive to use.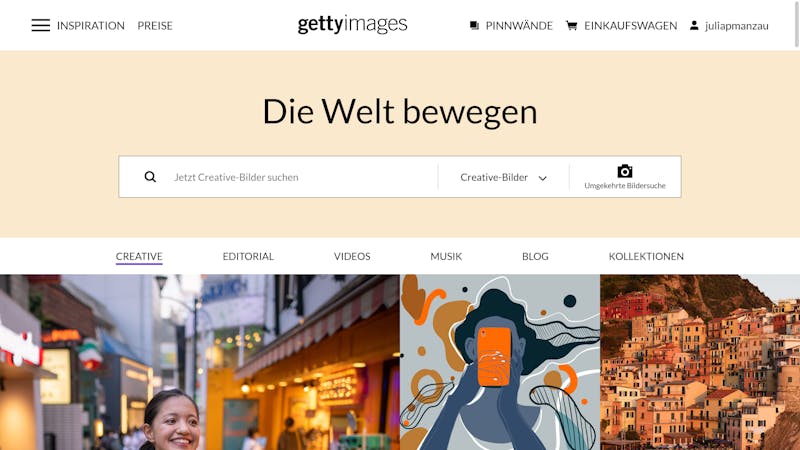 Getty Images is a professional provider of high-quality media.
Owing to its price tag, Getty images is really only an option for medium-sized businesses and/or larger agencies. All the same, you'll get premium-quality images, illustrations, and videos. Unfortunately, music is only included for Premium Access members, which as its name suggests, will set your bank account back even further.
Extensive filter options and service
Configuration & Usage
10 / 10
Licensing Conditions
9.4 / 10
Stock Photo Selection
9.4 / 10
Selection of Videos, Audio, Vector Graphics & Illustrations
6.6 / 10
unclear pricing structure
packages are only valid for a year
9.1

excellent
Photos / Month
Videos / Month
Licence For
Billing
Shutterstock Subscription 10
$29.00
monthly price
Visit Website »
Get 10 free images
Shutterstock, one of the market leaders, captured fourth place in our ranking. Even though users can look forward to a comprehensive selection of professional media, as well as top-class support, there were a few issues separating it from our Top 3. Foremost among these were its confusing pricing structure, and the limited validity of licensing rights.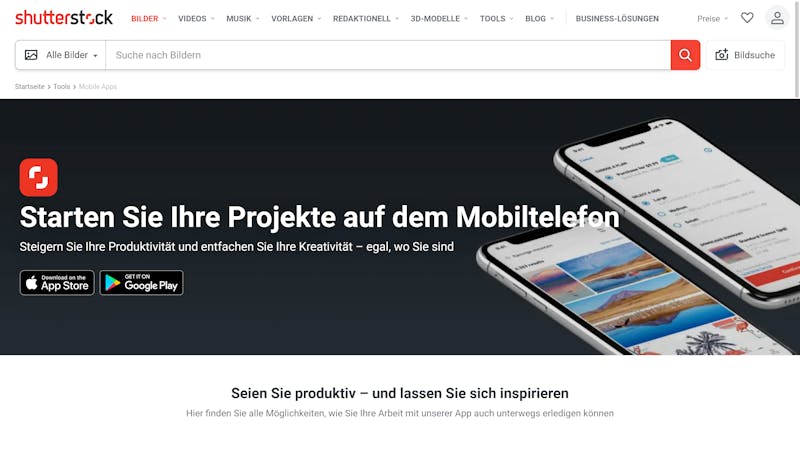 Shutterstock is easy to use, however, its pricing structure is opaque and licensing agreements are extremely limited.
Nevertheless, the New York-based service definitely belongs in our Top 5 stock media sites for professional users. Its impressive portfolio offers every kind of media a website operator or business might need.
Comprehensive media portfolio
Licenses are only valid for a year

Confusing pricing structure
Selection of Videos, Audio, Vector Graphics & Illustrations
9.4 / 10
Licensing Conditions
9.4 / 10
Configuration & Usage
8.6 / 10
Stock Photo Selection
8.0 / 10
large selection of videos & music
affordable and free content
8.9

good
Photos / Month
Videos / Month
Licence For
Billing
Pond5 Membership
$83.25
monthly price
Visit Website »
Rounding out our Top 5 is a provider that used to only focus on videos: Pond5. The platform is the go-to for high-quality clips for films and ads. Particularly if you look at its price-performance ratio, the database performed excellently. Unfortunately, its image filters and disjointed pricing structure (each creator sets prices themselves) did somewhat sour our experience. Still, if you're looking for videos, music, After Effects content, or other sound effects, Pond5 will likely have what you're after.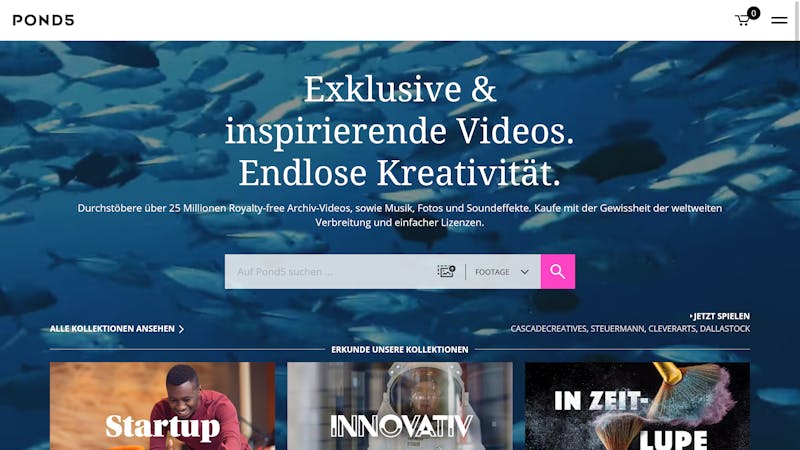 With more than 86 million files, Pond5 is a media playground for content creators.
Since it specializes in footage and clips, Pond5 isn't as good as its competitors when it comes to photographs. Beyond that, its filter options could also be improved. Still, for reasonably priced, high-quality audio and video content, Pond5 is great.
Affordable and even free offers

Fast support, easy to use
Limited filter options for still images

Disjointed pricing structure
Selection of Videos, Audio, Vector Graphics & Illustrations
10 / 10
Licensing Conditions
9.4 / 10
Configuration & Usage
8.6 / 10
Stock Photo Selection
6.6 / 10
Overall Results
For anyone that's on the hunt for high-quality media material, there exist a number of excellent solutions, depending on what sort of budget you or your business has. None of the free providers made it into our Top 5. These evidenced handling issues, a less than stellar selection of media, and/or age. At the same time, and this was more of an issue, free stock photo providers accept no legal responsibility for the licenses of pictures and videos they offer. This means that as the end-user, you cannot be 100% certain that you aren't (unknowingly) infringing upon trademarks, copy, or model rights.
If you'd like to safely use stock media, we recommend going with a paid platform. Even then, you'll be able to take advantage of fairly-priced packages and/or free media, since a number of these offer free content alongside premium options.
How We Evaluated
We created an account with each of the stock photo providers and set to work intensively assessing each platform. Scores were awarded (ranging from 1-5, with 5 being the highest, and 1 the lowest) across five different categories. Below, we've summarized each of these.
Configuration & Usage
Registering with a provider should be as simple and straightforward as possible. Ideally, registering should be possible via email or a social media account. Platforms that streamline this process excelled in our ranking.
With Pixabay, Pexels, and Unsplash you won't even need an account in order to download images, since these providers are free. However, extras, such as being able to group favorites into collections, are only possible with an account.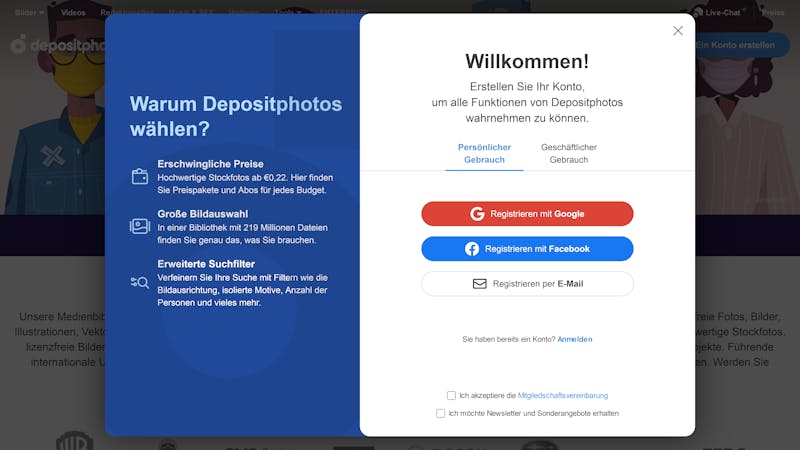 All providers make the process of creating an account easy and quick, either via email or social media logins.
During testing, we paid particular attention to user-friendliness and how intuitive each platform was to navigate. For these, a well-structured homepage, as well as easy searching were essential. Should you be in the market for lots of media material, effective temporary storage (lightboxes or collections) is important, so that these can be shared with other users, even if they don't have an account with your stock photo provider.
Another crucial aspect was how effective and accurate a platform's search was, as well as what sort of filter options can be used to refine results. All free databases performed far worse in this area than the premium platforms.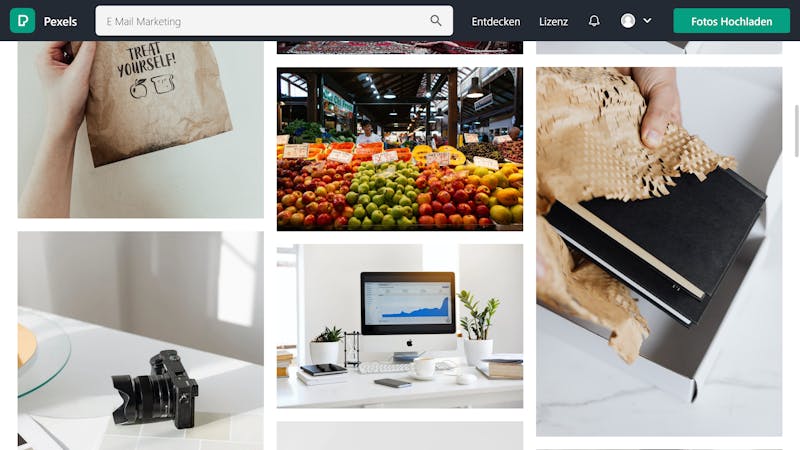 Search accuracy and professional filters are necessary to find the images you need. In this area, free providers fared particularly poorly.
Providers offering easy registration and intuitive usage, as well as good filters and accurate search results scored high in this aspect of our evaluation.
Stock Photo Selection
How well a platform handles can be a subjective judgment, but, the accuracy of search results is objective. For this, we used five set keywords and phrases: Web hosting, ecommerce, antivirus, business, and email marketing.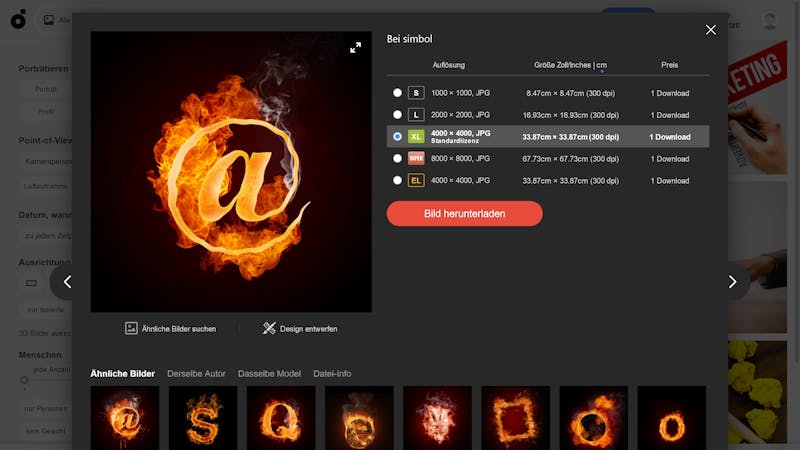 Platforms that provided creative or unusual results to our somewhat conservative keywords and phrases, accrued bonus points.
We assessed the search results based on how well the platform understood our searches, the relevancy of the results, the quality of the images, and the filter's efficacy. Beyond that, we also awarded bonus points for interesting or unexpected results. Certain motifs repeated themselves across multiple platforms, depicting similar or even identical scenes. We commended those providers that offered options that broke with the mainstream.
Selection of Videos, Audio, Vector Graphics & Illustrations
For all of the above types of media, the same criteria were applied as with images: Accuracy, search and filter options, and relevance. Beyond that, we also took into account how comprehensive the selection of media was and its quality. Providers that didn't offer a certain category in their portfolio fared worse than those possessing each media type in their database.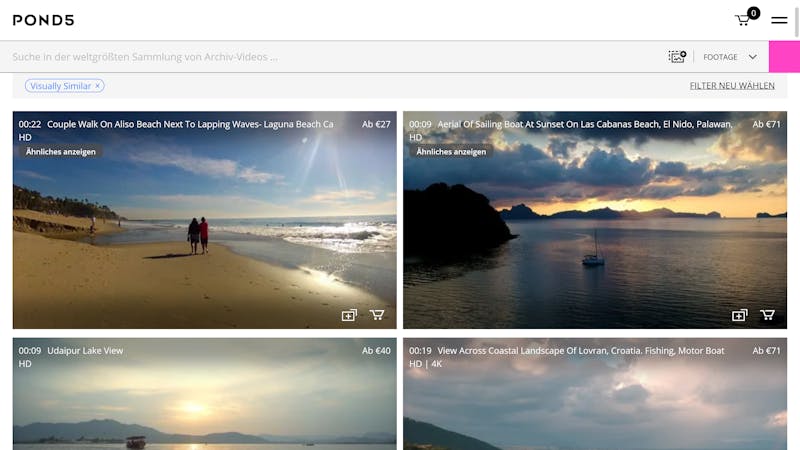 Pond5 was the only provider we tested which allows users to upload a video and search for similar clips.
Licensing Conditions
What are you allowed to do with which types of media? This burning question pertains to images, videos, and audio files you might have purchased a license for. Legal issues can not only be expensive but also lead to all sorts of headaches.
In our EXPERTE.com reviews, we looked at the licensing conditions for each provider. To receive a good score, a stock photo provider should offer easy-to-understand licensing with few exceptions and clear conditions.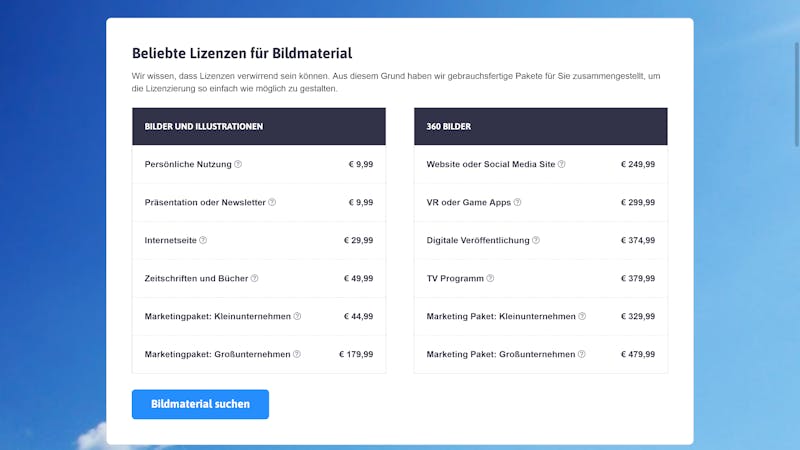 The more straightforward the licensing conditions, the better our score.
Another aspect that played a role here was indemnification. Since free stock photo providers do not, generally speaking, accept any responsibility for eventual legal issues encountered by third parties that use their content, they often scored lower here.
Support
In terms of support, all of the providers from our sample could score in two areas: First, with their static articles and (hopefully) easy-to-find contact options. Second, with fast, professional, and competent reactions to our queries.
Most providers that fared poorly in the first aspect made up for it with the speed and knowledgeability of their staffers. Accordingly, high or even perfect scores were achieved rather often in this category.
Conclusion
Whoever needs images, videos, or audio files for their marketing project doesn't have to spend years building their own archive or library. Both free and premium platforms offer a range of digital material, putting it at anyone's fingertips. However, we recommend paying close attention to whether the license comes with indemnification, since paid platforms that provide this offer a degree of protection against legal consequences for the material you've licensed. At the same time, at least some of their content is usually available at no cost.
Over the course of our reviews, we determined that premium providers with the highest price tags aren't always the best option, especially if you're searching for everyday subject matter that won't break the bank.
FAQs
Stock photos, as well as illustrations, footage, or audio files, are media produced outside of a contract or work order. This makes them useful for a variety of different projects and purposes. A number of companies have specialized in offering such media, either for free or at cost, to the public.
How do stock photos work?
⊕
What kind of licenses are there for stock photos?
⊕
What are license-free images?
⊕
Are there free stock photos?
⊕

Author: Julia P. Manzau
Julia P. Manzau has more than 30 years of professional experience in leading editorial and marketing positions in the premium automotive, mechanical engineering, and healthcare industries. She studied Political Science and History in Bonn, Marketing at the St. Galler Business School and earned a BA in Media Engineering (CCI). Since 2015, she has worked as a freelance writer. For EXPERTE.com, she focuses on software, the Internet, and marketing.
Continue Reading
Other languages
Deutsch