Best Antivirus Software: 16 Programs Reviewed

Author
Janis von Bleichert
The Internet offers unlimited possibilities for cybercriminals to deceive, trick, steal, rob, and manipulate unsuspecting users through ever-mutating viruses, worms, Trojans, and other malware.
In both real-life and the virtual world, inattention and ignorance are the two greatest allies criminals have. This is because criminals prey on those who are the least prepared or present the easiest opportunity. In cyberspace, antivirus programs are one crucial component of any meaningful digital defense.
Reviewing Antivirus Programs
Antivirus programs identify and neutralize threats before they can damage your computer and/or mobile device. Since malware is constantly evolving, antivirus programs offer a reactive rather than proactive solution. The number of providers is huge, with each promising the best, most user-friendly, or efficient security solution. We carefully examined 16 of the most popular antivirus programs to see how each stacks up against the other.
After presenting our Top 5, we'll go into more detail concerning the criteria we used to evaluate all services from our sample.
1.
Winner: Bitdefender Antivirus
Our 'best in test' antivirus program Bitdefender boasts strong security, confirmed by independent test laboratories, along with a flawless user interface and a comprehensive set of features.
configurable quick actions
good support with 24/7 live chat
9.6

excellent
Plan
Devices
Protection Features
Premium Features
Bitdefender Antivirus Plus
$23.99
yearly price
Visit Website »
Only a handful of antivirus programs impressed us across the board, and Bitdefender was certainly one of them. Across its various subscription packages, users are treated to a wide array of features, however, you wouldn't know since it's also intelligently and sensibly designed. The only area where we weren't awestruck was in regards to extras since its VPN and password manager are both relatively blasé in comparison to stand-alone options.
Bitdefender is not only intuitive to use and bursting with features: Its provision of security has consistently received high ratings from independent test labs. We also liked how users are able to customize the service's dashboard, adding or removing modules at will.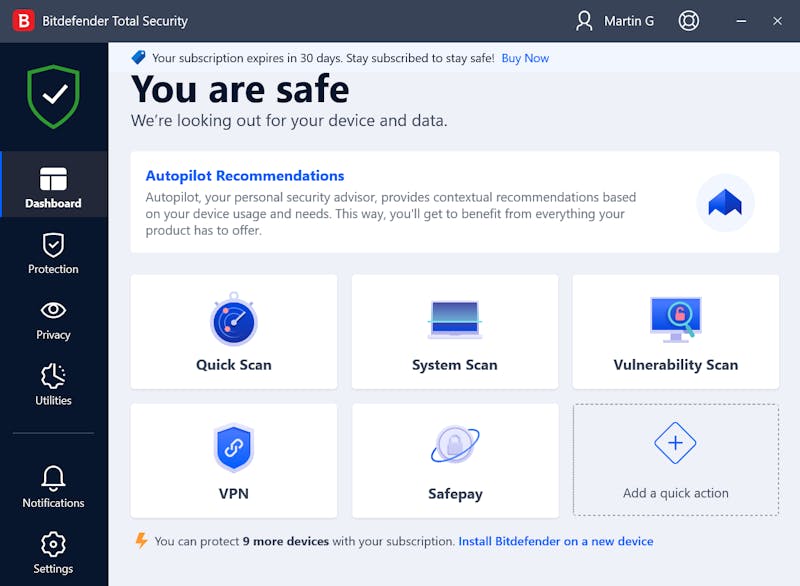 Bitdefender impresses both with its ease of use and the high degree of security it affords users.
Adding to the service are its good chat, email, and hotline support, mobile app, and fully functional free version. In our minds, Bitdefender is the gold standard in terms of antivirus protection, and as such, the top performer from our sample.
Installation & Usage
10 / 10
Security & Performance
9.4 / 10
Kaspersky Internet Security is a user-friendly antivirus tool with a ton of features. However, some Western governments are currently warning against its use.
keylogging & webcam protection
some governments warn against use
9.1

excellent
Plan
Devices
Protection Features
Premium Features
Kaspersky Antivirus
yearly price
Visit Website »
Free Trial Version
Kaspersky is one of the most well-known names in the world of antivirus software. Our assessment showed that the Russian program's reputation is well-earned since its application is easy to use and comes loaded with useful features. The test labs awarded it good and very good scores in security and performance, further underlining its reliability.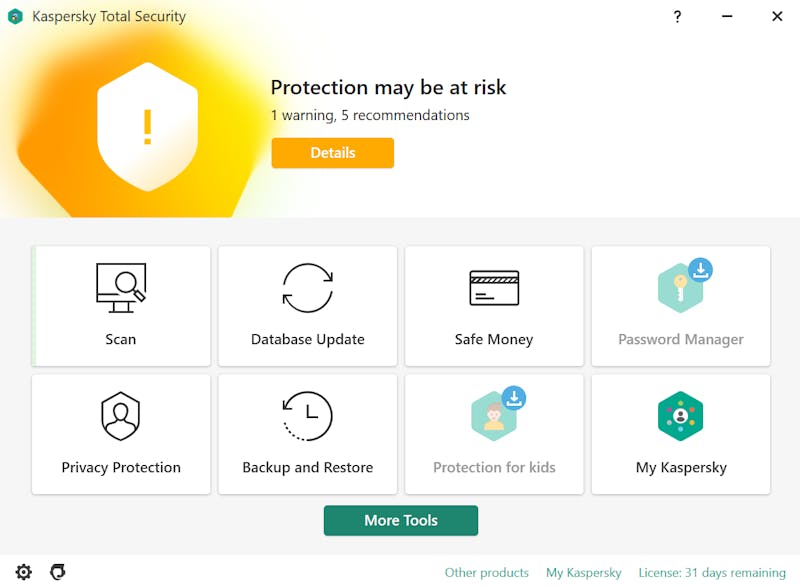 Few antivirus programs enjoy as much name-brand recognition as Kaspersky.
As was the case with Bitdefender, Kaspersky also doesn't offer its users the strongest password manager or most comprehensive VPN. Kaspersky's password manager received a "satisfactory" score from EXPERTE.com, primarily owing to a few security lapses (which have since been ironed out). Users of the VPN will quickly realize that regardless of their subscription package, they'll have data limits.
Installation & Usage
9.4 / 10
Security & Performance
8.6 / 10
Avast impresses with a great free version covering all the essentials, and a huge set of features that offer well-rounded antivirus protection and some nice extras. Scans can slightly impact performance, however.
Sandbox and WiFi-Inspector
scans can impact performance
8.6

good
Plan
Devices
Protection Features
Premium Features
Avast Free
$0.00
Visit Website »
Download for Free
As a freemium program, Avast Antivirus won't cost you a thing, however, some advanced security features are limited to paying customers. Free users can still perform scans, use the service's real-time protection (which monitors both web and email activity), and take advantage of a somewhat rudimentary password manager. Advanced security features, like ransomware or webcam protection, are reserved for paying customers.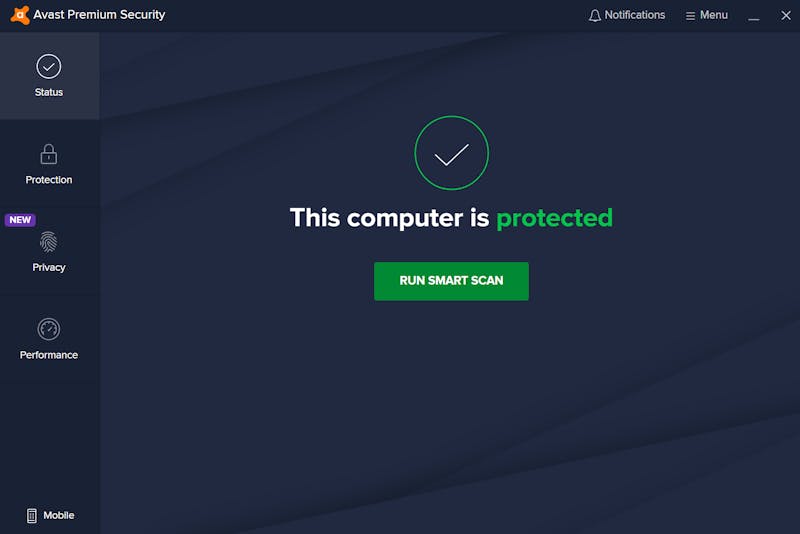 Avast offers one of the best free antivirus solutions out there.
The testing labs we consulted confirm that Avast offers good-very good security, and the program has a well-thought-out and intuitive interface. We're less effusive about the developer's support, which, particularly for free users, doesn't provide many means for getting in touch. All the same, for qualitative protection that doesn't cost a cent, we can forgo the lack of email support. As such, Avast Antivirus is a solid choice for free antivirus protection.
Installation & Usage
9.4 / 10
Security & Performance
8.0 / 10
With its robust set of features, lean applications, and a 100 % antivirus guarantee, Norton Antivirus is definitely worth a look. Sadly, the testing labs aren't unanimously impressed, and one or two features are missing.
learn, user-friendly apps
customizable child protection
100 % antivirus guarantee
8.4

good
Plan
Devices
Protection Features
Premium Features
Norton Antivirus Plus
$19.99
yearly price
Visit Website »
Norton is another big name in the world of antivirus software. Since the creation of NortonLifeLock (a conglomerate that has swallowed up a number of prominent antivirus solutions like Avast and Avira), it could be argued that Norton is doing so well that it's buying up its competitors.
All the same, the company's eponymous security suite remains reliable: It's easy to use, provides solid protection, and provides users with all sorts of possibilities for getting in touch with live support or solving issues on their own via the service's comprehensive help center.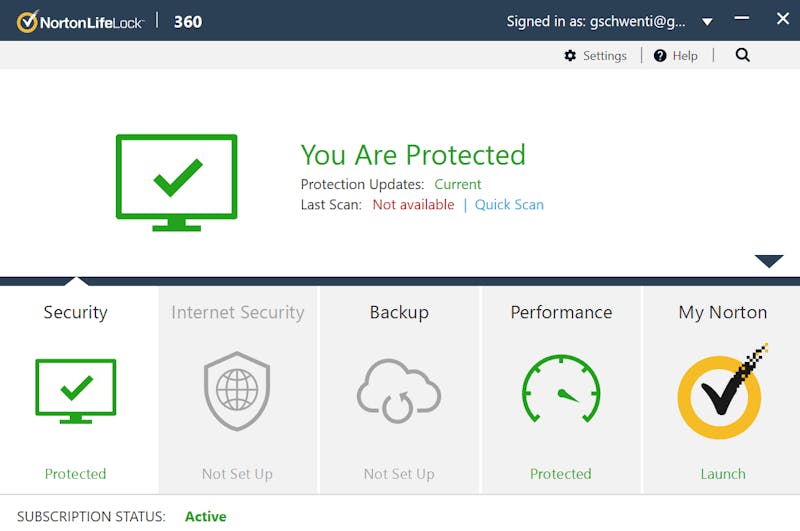 Norton's antivirus empire continues to grow.
Unfortunately, Norton lacks a few features that its competitors offer. One of these is a file shredder for permanently deleting data from your system, while the absence of anti-theft tools for mobile devices was something of a let down. Other features that are accessible to Windows users are nowhere to be found in the macOS version.
More critically, the testing labs we consulted couldn't reach a conclusive verdict in terms of Norton's security: AV-Test awarded full points, however, AV-Comparatives recorded too many false positives as well as a less-than-optimal protection rate. Even though Norton does a lot right, we feel that there are more reliable antivirus solutions out there.
Installation & Usage
8.6 / 10
Security & Performance
8.0 / 10
Trend Micro delivers a solid overall antivirus package with lots of features and some nice extras, such as social media protection. However, the testing labs are a bit divided on the reliability of its protection.
Plan
Devices
Protection Features
Premium Features
Trend Micro Antivirus+
$19.95
yearly price
Visit Website »
Trend Micro is most likely the least familiar name in our Top 5. Nevertheless, the US/Japanese company has provided security solutions for both private individuals and companies since 1988. We were completely satisfied with the service, which received good-very good security scores from the testing labs, and has a visually appealing interface.
When it comes to features, Trend Micro can't really go head-to-head with the rest of our Top 5 though. It lacks a firewall, webcam protection, and none of its packages come with a VPN. The (free) password manager isn't part of the antivirus suite, but rather a stand-alone extra and, even then, not really anything to write home about.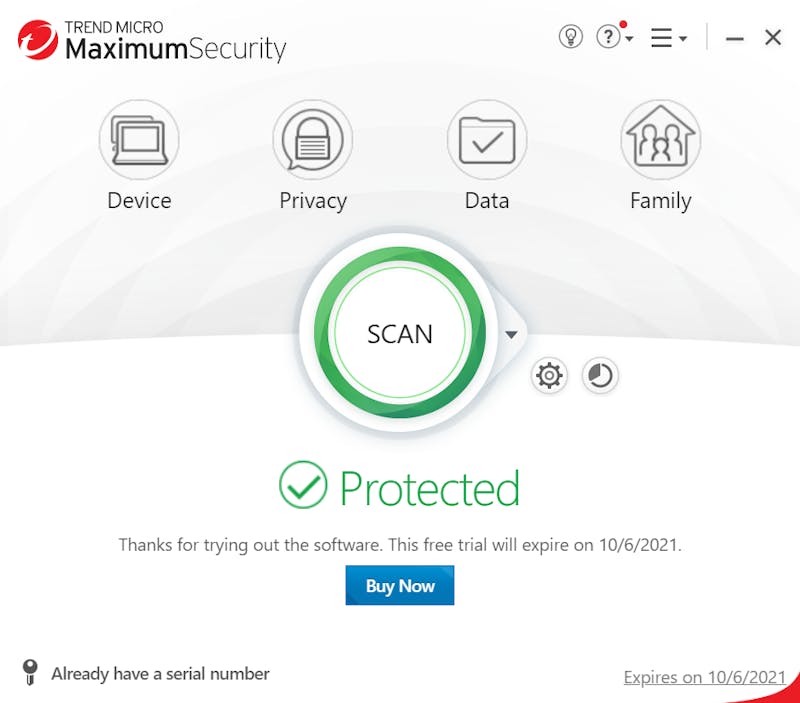 Scans are the central focus of Trend Micro's interface.
To offset this, you will find a number of features not offered by any of the others from our sample, such as Social Media Protection, which prevents you from inadvertently clicking on suspicious links while browsing Facebook. The software's Privacy Scanner keeps you informed about your privacy settings on social networks.
Overall, Trend Micro provides reliable antivirus protection in a user-friendly package.
Installation & Usage
9.4 / 10
Security & Performance
8.6 / 10
Full Ranking
Each provider from our sample had strengths and weaknesses. Since nearly all of them received good-very good scores from the independent testing labs we consulted, we're confident in saying that most are capable of protecting their users against malware, which, after all, is their primary purpose. All the same, when it comes to usage, the features on offer, or what kind of support is provided, there are significant differences from service-to-service.
In that spirit, should none of our Top 5 meet your needs, take a look below for a ranking of all of the antivirus solutions we assessed:
How We Evaluated
In assessing antivirus programs, we focused on five areas, four of which we graded, to create a comprehensive score. Below, we'll briefly discuss each of these five categories and our evaluation criteria.
Installation & Usage
Right off the bat, it's important to us how quickly and easily an antivirus program can be downloaded and installed. We look favorably upon those that don't require the entry of a payment method to start a free trial. This is because many users are rightfully afraid of falling into "subscription traps". For companies that resort to this tactic to drive up earnings, it's often the most criticized aspect in reviews anyways, since it typically manifests into billing irregularities.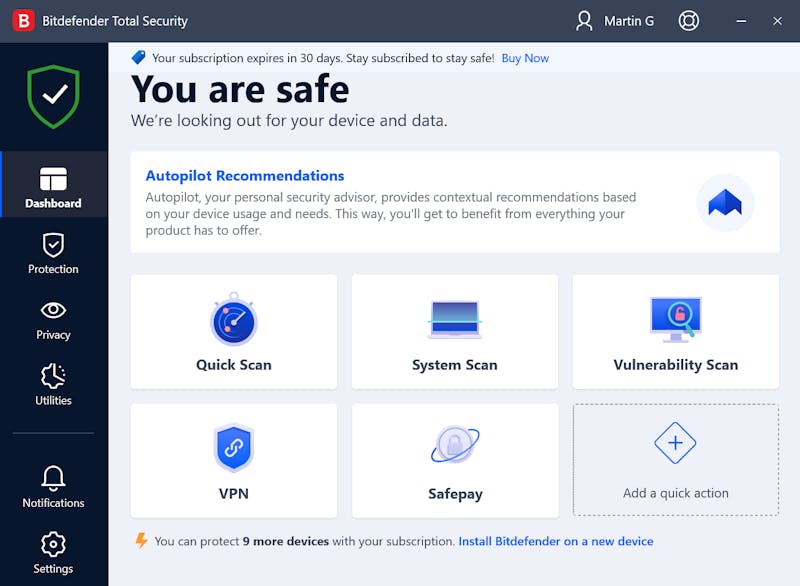 Bitdefender offers one of the most user-friendly antivirus applications out there.
When it comes to usability, ensuring intuitive navigation should be the goal of any antivirus software developer. The best antivirus programs should be highly configurable, which generally necessitates the inclusion of detailed sub-menus. At the same time, they should remain easy to navigate, making it possible for less technically-inclined users to get the most out of them. As far as we're concerned, Bitdefender's interface strikes a near-perfect balance between these two objectives: In its main menu, all features are conveniently and clearly organized, while the program's dashboard can be customized to an individual user's preferences.
Features
Even though the individual package of features offered by each antivirus software differs, there are some which we feel no program should be without. Alongside basic protection, many providers tack-on premium features, which don't really have much to do with combatting viruses or malware but fall loosely under the heading of Internet security. Standard and premium features are usually separated depending on the subscription a user purchases, but even amongst paid subscriptions, there can be differences. Below, we'll discuss each of these features in greater detail, since they're referenced in all of our individual reviews.
Security Features
Scans

Scanning refers to the ability of an antivirus program to check your system (or parts of it) for threats with little more than the push of a button, or click of a mouse. There are differences in how these are configured: A number of programs offer a variety of scans, such as quick scans (which only check your most important files), full system scans, or user-defined scans. In most cases, such as can be seen below with

ESET Smart Security

, these can be automated, and set to run at specific intervals.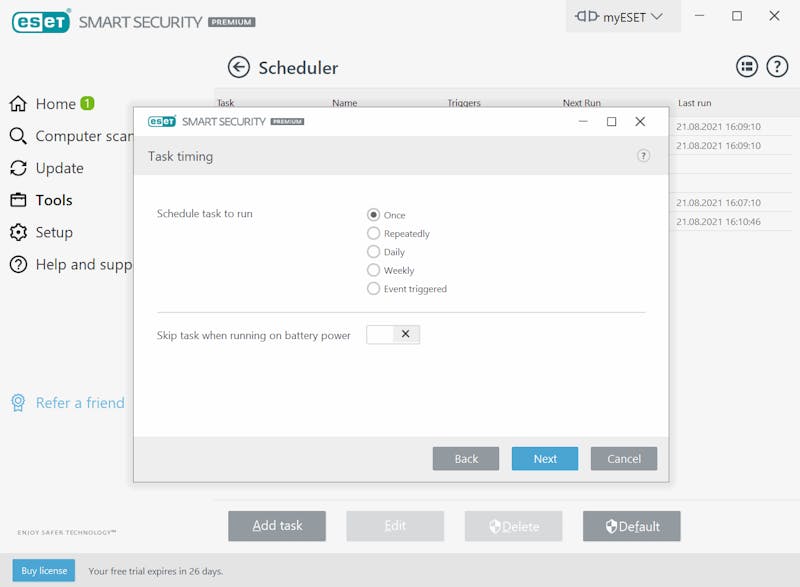 With ESET's task planner, you can schedule when antivirus scans are performed.
Real-time protection

Alongside scans, every antivirus program worth its salt should monitor your system in real-time, constantly probing for the appearance of viruses, malware, keyloggers, and other threats. In many cases, such real-time protection is comprised of multiple security modules, all of which can be configured to run independently of one another (or not at all), such as below, with

Avira

: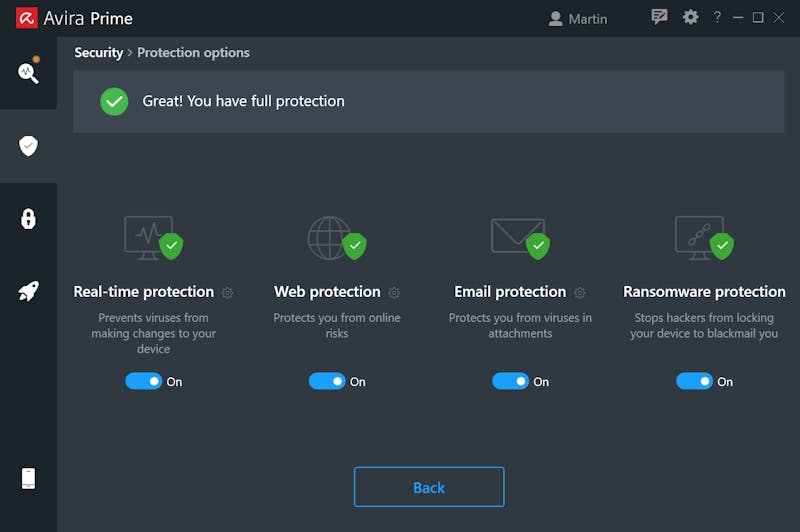 Avira doesn't offer access to all of its security modules to all of its users.
Some important real-time protection modules have their own sections within a program's dashboard, making it possible to customize them to a greater extent. Typically, these are:
Internet Security

This alerts you to suspicious websites that you might want to visit and prevents the download of dangerous files. Some antivirus programs enhance their web security capabilities with browser plugins or even dedicated browsers for online shopping and banking.

Email Protection
Malware can and does conceal itself within emails. With this feature, your antivirus program will automatically filter out dangerous emails and spam from both your incoming and outgoing messages.

Ransomware Protection

Ransomware, alternatively known as extortion Trojans, is a particularly nasty variety of malware, taking your data hostage by encrypting it and only providing you with the decryption key in exchange for a hefty payment. Ransomware protection identifies and neutralizes these kinds of threats.

Webcam Protection
Webcam protection prevents unauthorized access to your webcam and microphone, notifying you when applications request access, and allowing you to choose whether to grant or reject it.
Premium Features
Firewall
Firewalls have become standard in most antivirus programs, monitoring all incoming and outgoing network traffic and defending your system against unauthorized access. Frequently, you can set individual guidelines for each program or app you have installed, such as below, in Bitdefender: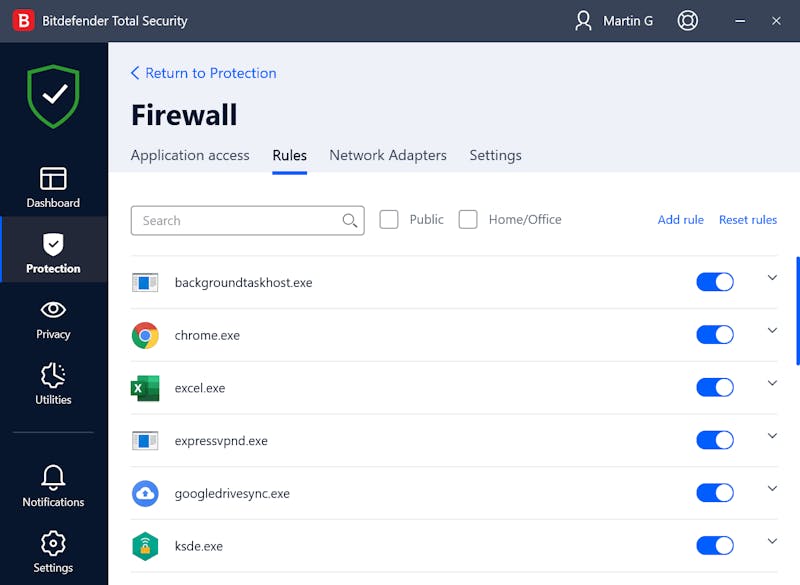 With Bitdefender's firewall you can filter your network's traffic and identify attacks before they damage your system.
Password Manager

Password managers allow you to save login data and other sensitive information in a secure digital vault, protected by a single master password. Many antivirus programs include basic password managers which offer more limited capabilities than those of stand-alone programs. Others license dedicated password managers from third parties.

VPN

A virtual private network, or VPN, offers enhanced online security and

anonymity

by enclosing the traffic between you and your Internet provider in a virtual tunnel, concealing your physical location, and

masking your IP address

. As little more than digital "filler", the VPNs offered in antivirus packages generally come with very strict data limits, and/or have tiny server networks (at least compared to dedicated VPN providers). Sometimes, however, these are decent, as is the case with Bitdefender's VPN: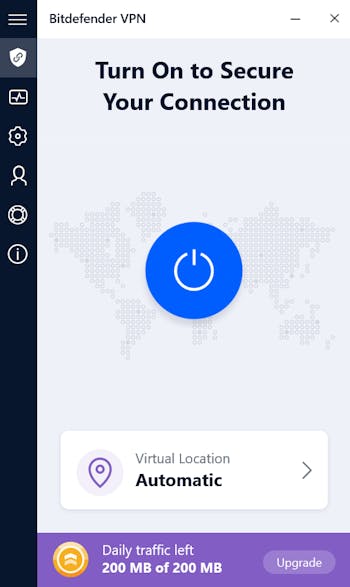 You can surf the Web anonymously with Bitdefender's VPN.
Adblocker

Most antivirus programs don't stop at blocking malware but also fend off ads. Frequently, this is done via a browser extension.

Cloud Backup

With this feature, you'll be able to create encrypted backups of your system or specific folders, storing them in a secure digital cloud. There are often strict data limits coupled with these uploads, which ease as the subscription price increases.

File Shredder
This allows you to permanently delete files from your device or system, leaving no possibility for them to be restored.

Parental Controls
Parental controls make you the arbiter of your children's Internet consumption. Often, these function by creating different user profiles, setting time limits, and/or blocking specific sites (or types of sites). In some cases, as below with Kaspersky, you can even GPS locate your children through their device: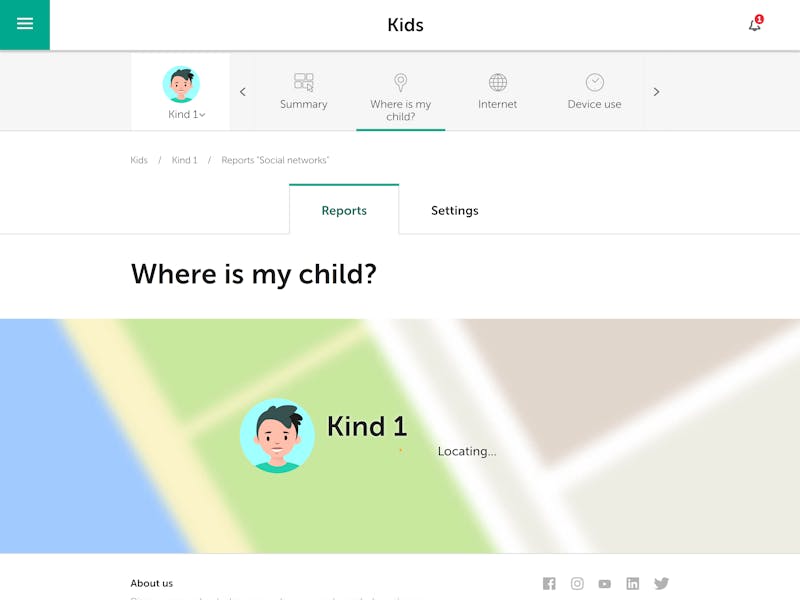 Using Kaspersky's parental controls you can GPS locate your child through their device.
Performance-Tuning
Most antivirus programs come with performance tools, allowing you to tinker with your system by automatically deleting unused files or removing startup programs.
Mobile Features
App Lock
This adds supplementary security to specific apps, enabling access only after the correct input of a PIN, code, sequence, or fingerprint.

Anti-Theft Measures
Owing to their size and portability, mobile devices are targeted more frequently by thieves than laptops or computers. For this reason, most antivirus programs now include anti-theft tools. These allow you, for example, to remotely GPS locate your device, activate an alarm, delete data, or even lock the device. Sometimes, a "camera trap' is also included that secretly takes a picture of the person holding your device.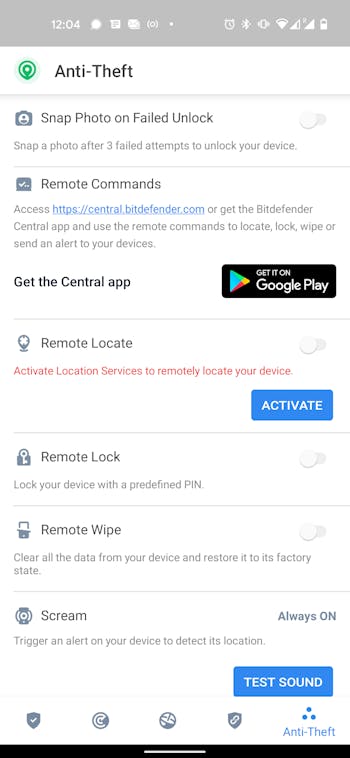 With Bitdefender you can remotely locate or lock a stolen device.
Security & Performance
To evaluate the security and performance of the antivirus programs from our sample, we relied upon the expertise of external, independent testing labs. For this, we primarily relied on AV-Test ⇱ and AV-Comparatives ⇱, two labs that regularly examine a number of antivirus programs from top to bottom. As part of these assessments, each awards separate scores for security (based on the number of compromised files that remain after scanning and the number of false positives) as well as for performance. In some cases, namely, those programs which neither AV-Test nor AV-Comparatives had recently analyzed, we used results from other testing labs.
When gauging performance, our own subjective experiences with the software played a role: To what extent did our system appear to run slower, particularly during a scan? If our computer became unresponsive or we were unable to perform routine tasks while running a scan, we deducted points.
According to the testing labs, Bitdefender is far and away the most reliable antivirus program on the market.
Support
In our opinion, good support has two qualities: First, the features and capabilities of an antivirus program should be clearly and accurately explained in an easy-to-use help center (ideally with a search function), be it through FAQs, articles, video guides, or even a well-visited forum.
Second, in what is often a major stumbling block for antivirus programs, contact to live support personnel (either through support tickets, telephone, or best of all, a live chat) should be made available as often as possible, with those manning the keyboards or phone lines knowledgeable and responsive.
We were most impressed by Norton in both of these areas, owing to the variety of methods it offers for contacting support, as well as its well-structured and authoritative help center, relevant sections of which are linked to every page in the program's dashboard and sub-menus.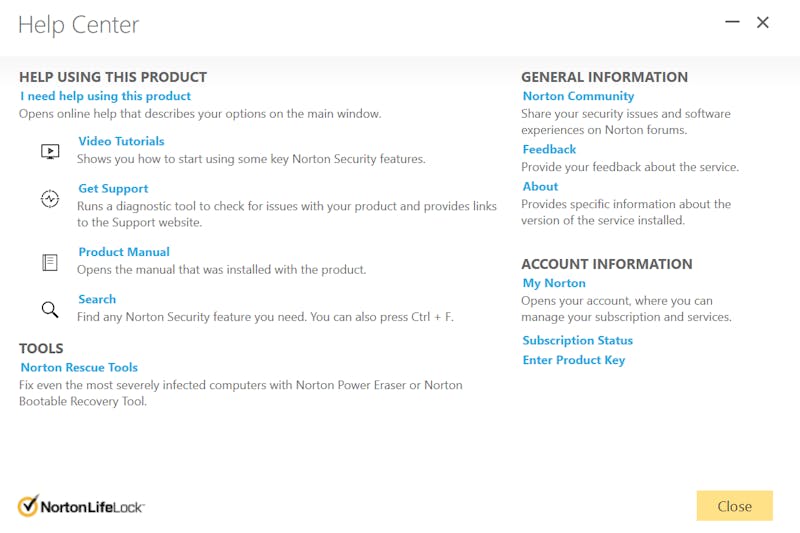 Norton provides excellent support, whether through its help center or direct assistance.
Pricing
Free antivirus programs often operate on the freemium principle: They enable the use of basic functions at no cost while limiting access to additional features to paying subscribers. From provider to provider, the number and type of paid subscriptions vary, as do the features they offer. More extravagant "filler", like a password manager or VPN is often only offered in the most expensive packages.
We don't score companies on price, since the subscription structures and accompanying numbers of features differ too much. The table below compares each provider's offering on the basis of a sample, with similar conditions:
1.
2.
360 Total Security
Premium
3.
4.
5.
6.
Bitdefender
Internet Security
7.
8.
9.
10.
11.
12.
13.
14.
F-Secure
Internet Security
Conclusion
Bad news first: There is no such thing as a "perfect" antivirus program. With some providers, support is an issue; with others, the testing labs assessed security differently, and for still others, user interfaces are unnecessarily complicated. Each program we reviewed had its weaknesses. The good news is, that some of the programs had more strengths than weaknesses, or their advantages far outweighed their disadvantages, meaning that a number of solid antivirus programs do exist.
Alongside our winners, there were also plenty of other programs that provide good protection against malware, where it truly counts, only slipping up in less critical areas. Accordingly, you should choose the program that best meets your needs, all the while remaining vigilant about the threats posed by the Internet.
FAQs
Do I need an antivirus program?
⊖
Don't let the name fool you: Even though antivirus programs might seem to have only one purpose, modern antivirus software defends you and your system against a multitude of nefarious threats, such as ransomware, adware, and spyware. Ransomware attacks in particular are some of the nastiest, demanding payment of a ransom for the decryption of your files. For this reason, particularly when using Windows, antivirus protection is a must.
Do antivirus programs really defend against malware?
⊖
Yes! Antivirus is an umbrella term for software that protects systems against viruses, in addition to other threats, such as ransomware or spyware.
What is the best antivirus software?
⊖
EXPERTE.com evaluated 16 well-known antivirus programs on the basis of their usability, features, security & performance, and support. In our ranking, Bitdefender scored highest with 4.8 (out of 5). However, a number of other providers also performed well. All results can be found in our comprehensive evaluation of antivirus programs.
What is the best free antivirus software?
⊖
Bitdefender and Avast Antivirus, which took 1st and 3rd place in our evaluation, respectively, offer free versions of their software. As such, they are some of the best free antivirus solutions on the market.

Janis von Bleichert studied business informatics at the TU Munich and computer science at the TU Berlin, Germany. He has been self-employed since 2006 and is the founder of EXPERTE.com. He writes about hosting, software and IT security.
Continue Reading