Cheaper Flights With a VPN: Does It Work?

Author
Janis von Bleichert
Ad disclaimer:
For links on this page, EXPERTE.com may earn a commission from the provider. This supports our work and has no influence on our editorial rating.
You're probably aware that you can use VPNs to virtually travel the world and access streaming content from practically anywhere. But what about actual travel - can they unlock cheaper flights for your next trip abroad?
Let's examine the claim made by many providers that VPNs can help secure cheaper flights and explore what other advantages VPNs might offer to travelers.
Are Flights Cheaper With a VPN?
Is it true that a VPN can snag you cheaper flight deals? At least in theory, it makes sense: flight prices are dynamic and influenced by numerous conditions and factors, most of which are invisible to us. These might include the traveler's location.
NordVPN, for example, claims that airlines offer lower prices in their home markets and adjust them to match the relative level of affluence elsewhere. Currency fluctuations and exchange rates can also impact the cost of flights.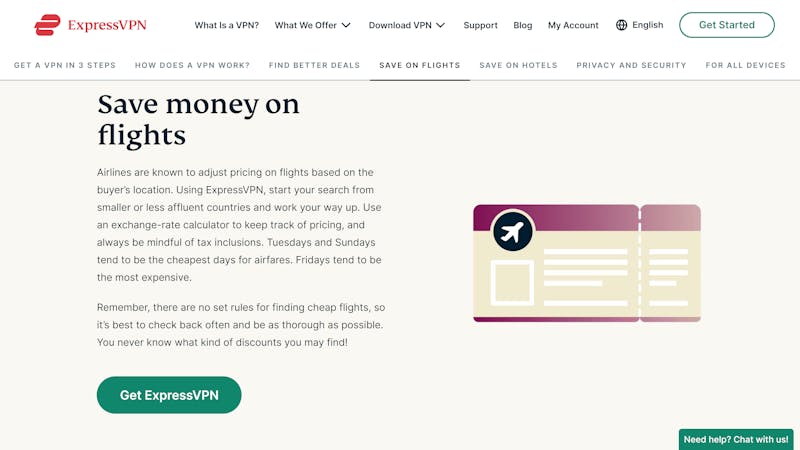 Like most VPNs, ExpressVPN promises to help users find cheaper flights.
And NordVPN isn't the only VPN promising cheaper flights. ExpressVPN, Surfshark, HideMyAss, and many other services make nearly identical promises.
No savings according to our test
VPN providers are known for making bold claims, and given the complexity of flight pricing -subject to numerous variables and frequent changes - it's a challenge to verify these claims.
Nevertheless, we did our best to check their claims and compare flight costs from different regions with a VPN. We used Skyscanner for our searches, clearing our cache and wiping cookies after each session to make sure that we weren't recognized.
For consistency, we always looked at the same flight (on the same date) and logged the price in Euros. Here are our results:
| | Germany | USA | Portugal | Japan |
| --- | --- | --- | --- | --- |
| | | | | |
| | | | | |
| | | | | |
| | | | | |
As you can see, adjusting our location via VPN had no impact on the flight prices displayed. This isn't to say it's impossible for others to experience different results - after all, we couldn't monitor every flight across all countries and booking platforms. And as noted earlier, currency could also be a factor.
But our investigation did make us question the validity of these claims. We couldn't find any conclusive reports from reputable sources or convincing examples on forums like Reddit either.
Cheaper Flights With a VPN? Color Us Doubtful.
We'd love to save money on flights by using a VPN. Unfortunately, we couldn't find any evidence that it actually works. We didn't manage to find cheaper tickets ourselves, and the few reports claiming to have found better deals never actually provided proof of having booked the flight - meaning the supposed savings were not realized in practice.
To date, we have yet to find an actual instance of someone booking a more affordable flight with a VPN.
Other Benefits of VPNs for Travelers
VPNs probably won't unlock cheap flights, and you shouldn't get one if that's your primary motivation. However, VPNs still offer a range of valuable benefits for travelers. These include:
Bypassing Censorship and Firewalls
When you travel to countries with strict internet censorship, like China, a VPN can help you get around government censorship. The Great Firewall of China is notorious for restricting access to the free internet and blocking services like Google, YouTube, or Facebook.
With a VPN, you can bypass geoblocking and access otherwise restricted content on your trip abroad.
Streaming Content From Anywhere
Don't want to miss out on local TV during your trip abroad? With a VPN, you can access content from your country's media libraries – whether on BBC iPlayer, Netflix, or local channels – which may otherwise be restricted due to licensing agreements when you're abroad.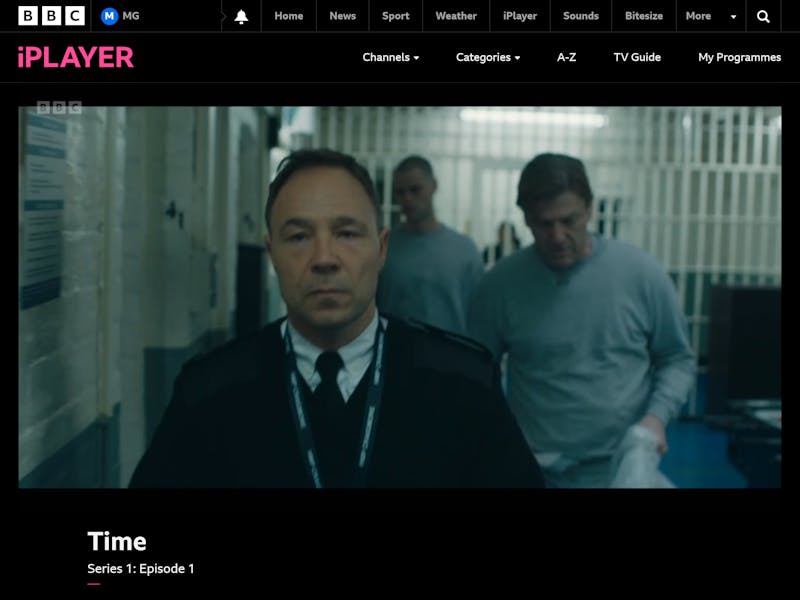 Streaming content is often licensed by country and unavailable from abroad.
Of course, this isn't just a travel feature: wherever you are, you can use your VPN to unlock content from streaming libraries around the world.
Increasing Safety on Public Wi-Fi
From airports to cafés, travelers rely on public Wi-Fi to stay connected. But these convenient hotspots come with risks, including poor encryption and the danger of man-in-the-middle attacks or rogue access points, making them less secure than your private network back home or at the office.
A VPN can make you more secure on public Wi-Fi.
Saving on Other Travel Expenses
Of course, flights aren't the only travel expense. Maybe VPNs can help save money on other aspects of your journey, like car rentals or hotel stays?
For car rentals, some evidence suggests that VPNs can indeed unearth better deals. A study by Comparitech found significant savings when renting cars via VPN, with discounts of up to 85 %. The biggest price difference was for a rental car in Los Angeles, booked through RentalCars.com, which cost $752 with a Japanese IP — and a whopping $1,854 with an Australian IP.
Many VPN providers also promise savings on hotel bookings. When we checked sites like Booking.com with a VPN, we were indeed shown different prices depending on the country we were connected to. However, Which?, a British non-profit organization that specializes in consumer protection, notes that users don't even need a VPN to take advantage of these deals, it might be enough to just change the region on the website itself.
We can't entirely rule out travel savings thanks to VPNs, and in some areas — such as car rentals — a VPN connection might indeed make a difference in certain cases. But there's definitely a gap between reality and the promises of VPN providers, so don't expect too much.
The Best VPN Services
Still interested in getting a VPN, even though it's no magic wand for bargains? Then it's time to choose the right provider. To help you with your selection, we've evaluated 27 different services. You can find our results, with links to our comprehensive reviews, here:
Conclusion: VPNs Don't Unlock Travel Bargains
Many VPN providers entice customers with the promise of cheaper flights. Sadly, there's scant evidence to support the notion that they deliver on this promise. We couldn't find definitive proof of savings, neither in our own tests nor in our online research.
That's not to say VPNs are without merit for travelers: they are valuable tools for bypassing censorship, unlocking streaming content not available in your region, and enhancing security on public Wi-Fi networks. For some travel-related costs, such as rental cars, they might even save you a few dollars here and there.
As long as you have a clear understanding of what VPNs can — and cannot — do, a VPN subscription is definitely worth it. EXPERTE.com's VPN reviews can help you find the best solution for your needs.
FAQs
A VPN (virtual private network) is a kind of network tunnel between your device and the internet. It conceals your IP address, encrypts your connection to protect your data, and anonymizes your traffic to a certain degree. Since it allows you to select a foreign IP address, you can change your virtual location and stream content or access websites from specific regions.
Are flights cheaper with a VPN?
⊖
Despite the claims made by many VPN services, we cannot confirm that they unlock cheaper flights. Our own tests didn't reveal any noteworthy savings, and we couldn't find any documented cases online either.
How much does a VPN cost?
⊖
VPN prices vary from provider to provider. The VPNs we reviewed cost between $2 to $10 per month, with cheaper prices for longer subscriptions. Some VPNs offer free versions with limited features (no streaming, for example) or data and server limits.
* Ad disclaimer:
For links marked with an asterisk, EXPERTE.com may earn a commission from the provider. The commission has no influence on our editorial rating.

Janis von Bleichert studied business informatics at the TU Munich and computer science at the TU Berlin, Germany. He has been self-employed since 2006 and is the founder of EXPERTE.com. He writes about hosting, software and IT security.
Continue Reading
Reviews
Comparisons
Tools & Guides