Best VPN for Android 2023: Top 5 Apps (Free & Premium)

Author
Janis von Bleichert
Our editors test and evaluate all services independently. For links on this page, EXPERTE.com may earn a commission from the provider.
VPNs make it possible to not only search the Web anonymously but also to bypass geoblocking. This is great if you'd like to stream content from abroad, take advantage of international ecommerce deals, or circumvent censorship measures in places like China. Android users can also take advantage of these benefits, so long as they install a VPN on their phone or device.
This guide will let you know which free and premium VPN options are the best for Android users and how to set up a VPN on your smartphone.
Android VPN: Top 3 Premium VPNs
In EXPERTE.com's VPN comparison, we put 27 providers to the test, comprehensively reviewing them in terms of their user-friendliness, performance, and security. We also assessed each service's smartphone Android app.
To make your choice easier, below, we'll introduce you to our Top 5:
1.
NordVPN: EXPERTE.com's Best in Class, for Android Too
NordVPN is our number one VPN because it combines speed, ease-of-use, and functionality in a slick package that's also pretty affordable.
5,500+ servers, 60 countries
affordable 2-year package
9.4

excellent
Data Volume
Devices
Protocols
Contract Period
NordVPN 2-year plan
$3.49
monthly price
Visit Website*
30 days money-back guarantee
NordVPN took first place in our VPN comparison. The Panama-based provider fought hard for the title, emerging victorious thanks to its excellent performance in our speed test, vast server network, and top scores in usage and handling.
The provider's Android app offers access to all of the important desktop features that a mobile user will need. These include split tunneling, which deactivates your VPN connection for specific user-defined programs or applications, as well as the new Meshnet, a feature that makes it possible to use encrypted private tunnels to connect to remote devices directly.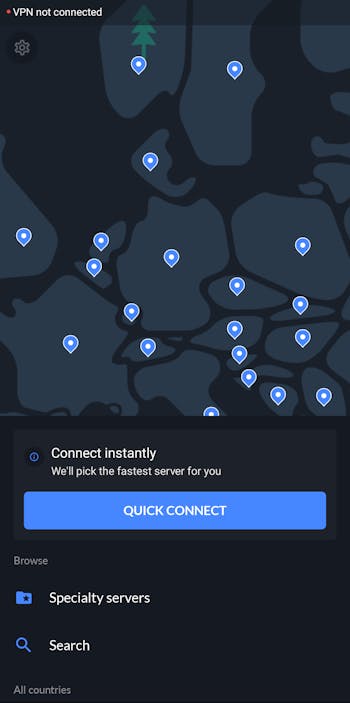 EXPERTE.com's overall #1, NordVPN, also takes top spot when it comes to VPN apps for Android devices.
Even NordVPN's special servers, with dedicated IP, double VPN connections, or additional routing through Tor, made it into the Android app.
For all of the above reasons, NordVPN offers what we feel is the best VPN Android app.
Highly intuitive Android app

All important features from desktop offered on the go as well
Not the most affordable VPN

Somewhat crowded user interface
Installation and Features
9.4 / 10
Security and Privacy
9.4 / 10
2.
ExpressVPN: Premium VPN With a Matching Price Tag
ExpressVPN can impress with a strong performance, a huge server network, and excellently designed applications, but this quality also comes at a higher price.
Data Volume
Devices
Protocols
Contract Period
ExpressVPN 12 Months
$8.33
monthly price
Visit Website*
30 days money-back guarantee
ExpressVPN's desktop app is one of the most user-friendly on the market. Its Android interface is even simpler and more neatly arranged than that of NordVPN, our #1. In the main window, you'll see an On/Off button, and be afforded quick access to more than 3,000 servers in 160 locations across 94 countries.
If you need other features, you can tap your way over to Options > Settings. When using the service's split tunneling, you're able to choose which apps should or should not use your VPN connection.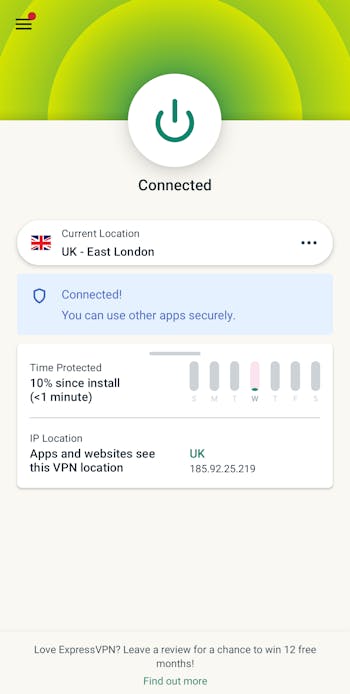 Also on Android, ExpressVPN is very user-friendly.
In addition, you'll be able to take advantage of a few data privacy and security tools, such as the IP address checker, which lets you know whether your location and IP are really hidden. Rounding things out is a nifty password generator.
The only downside is that even in its most affordable 12-month subscription package, ExpressVPN remains expensive. Other VPNs offer a much better price-performance ratio.
User-friendly Android app

Split tunneling and extra security features
Considerably more expensive than other VPN services
Security and Privacy
9.4 / 10
Installation and Features
8.6 / 10
3.
Surfshark: Price-Performance Winner, Also for Android
Surfshark is one of the cheapest providers on the market, but it's a lot more than a great budget option: the relatively new VPN boasts strong protection, many features, and a great support with 24/7 live chat.
3,200+ servers in 100 countries
unlimited number of devices
many apps (Linux, FireTV, ...)
8.8

good
Data Volume
Devices
Protocols
Contract Period
Surfshark 24 months
$2.49
monthly price
Visit Website*
Get 83% Discount
While on the topic of price-performance ratios, allow us to introduce you to the winner of that accolade from our review: Surfshark. When comparing how well a VPN from our sample performed to what the service will set a user back, Surfshark excelled in the first, while posting one of the lowest numbers for the latter. Its 24-month subscription will only cost you around a third as much as the same from ExpressVPN.
But price isn't the only advantage to being a Surfshark user: Its speeds are first-rate, all important features (including split tunneling) are offered on Android, and the app is easy to use.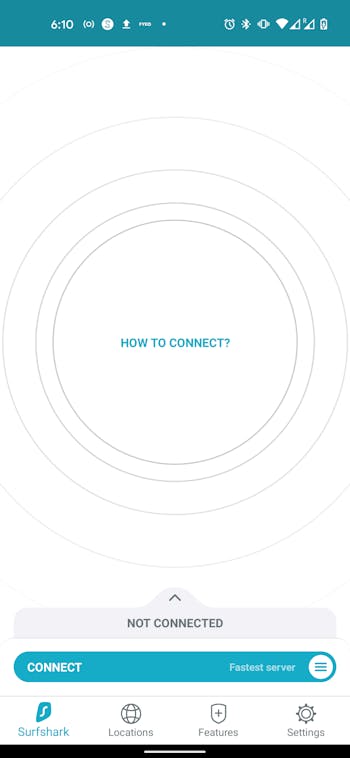 Among both desktop and Android VPNs, Surfshark offers the best price-performance ratio.
Unfortunately, even for paying Surfshark customers, there's a paywall, as the Surfshark One area is only for security package subscribers. We feel that these kinds of digital velvet ropes sour the experience of being a premium (paying) user of an app.
All the same, when it comes to VPNs for Android, Surfshark definitely offers the most bang for your buck.
User-friendly Android app

Particularly affordable 2-year subscription package

Excellent performance in our EXPERTE.com speed test
Paywalls even in the premium app
Installation and Features
9.4 / 10
Security and Privacy
8.0 / 10
VPN on Android: Free VPN Providers
Supposing that you aren't willing to pay for a VPN, you'll need to live with a few limitations. First of all, free VPNs don't offer video streaming. This means that if you want to access Netflix content from abroad or international sporting events without a cable or satellite connection, there aren't many ways past a premium VPN subscription.
Still, there are free VPNs that you can use to change your virtual location and conceal your IP address, in order to take advantage of the additional anonymity VPNs offer. We're leery of any VPNs which claim to be 100% free, for the simple reason that they need to earn revenue somehow. More often than not, in these cases, you and your data are the product that's being monetized.
As a result, we stick to freemium VPNs, which are free packages offered by reputable providers and intended to be teasers or enticements for prospective subscribers or customers.
4.
ProtonVPN: Generous Free Version on Android
With its open source philosophy and extra security features, Proton VPN targets security-conscious VPN users. But thanks to its user-friendly interface and suitability for streaming, it's worth a look for a wide audience.
open source & external audits
1,900+ servers in 67 countries
free plan without data limit
8.7

good
Data Volume
Devices
Protocols
Contract Period
Proton VPN Free
$0.00
monthly price
Visit Website*
Free forever
ProtonVPN makes one of the most generous free VPN packages available, setting no data limits whatsoever. And you can use the connection for as long as you want. Of course, there's a catch, namely, that you're limited to servers in Japan, the Netherlands, and the US.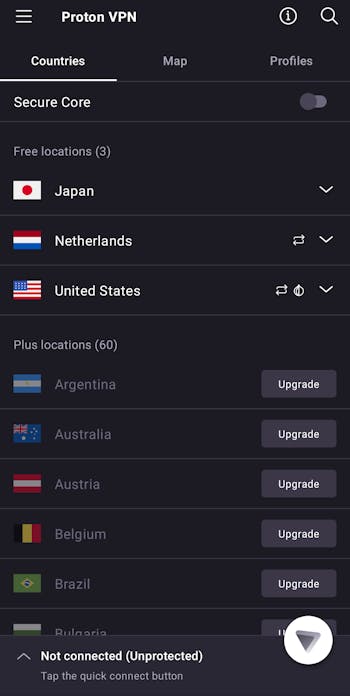 ProtonVPN tries to lure in new subscribers with its free version, which doesn't impose any limit on how much data you can use.
Additional features, such as Secure Core, are likewise off-limits to free users.
So, if your only goal is to set up a VPN without having to pay for it, and you aren't interested in video streaming or extra features, ProtonVPN is a solid choice.
Free version without data limits

Servers in Japan, the Netherlands, and the US
Lots of features reserved for paying subscribers
Installation and Features
10 / 10
Security and Privacy
10 / 10
5.
hide.me: 10 GB of Android Traffic per Month
Hide.me secures its place in our top 10 with good to very good grades in all test categories. The app is filled to the brim with handy features, the performance is solid, and with 10 GB of data per month, the free tier is also worth a look.
78 locations in 49+ countries
many features, incl. split tunneling
free plan with 10 GB monthly
8.4

good
Data Volume
Devices
Protocols
Contract Period
hide.me Free
$0.00
monthly price
Visit Website*
Free forever
hide.me doesn't offer free users unlimited data. All the same, the 10 GB you'll get each month at no charge is fairly generous and definitely more than enough for "regular" surfing. As another benefit, you won't have to register (unlike ProtonVPN).
Apart from having to make do without video streaming, you'll also have to tolerate banners that try their best to coax you into upgrading to the premium version. As a free user, you can access servers in Germany, Canada, the Netherlands, and the US.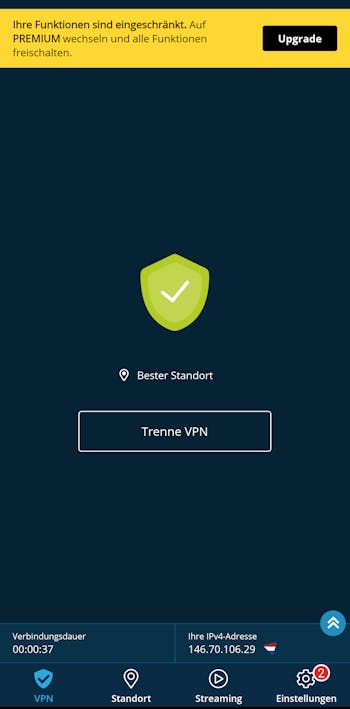 hide.me gives free users 10 GB of data per month.
Additional features such as multihop, which routes your VPN connection through multiple VPN servers, or access to streaming servers, are not included in the free version.
Generous monthly 10 GB data limit

4 server locations: Germany, Canada, the Netherlands, and the US
Access only to a few features
Installation and Features
10 / 10
Security and Privacy
7.4 / 10
Overall Result
Our Top 5 above includes what we think are the best free and premium VPNs for Android devices.
The latter offer all the important characteristics expected of a solid VPN (good speeds, capable of reliably bypassing geoblocking, high security, and features like split tunneling), all the while being easy to use on Android devices. In contrast to their premium counterparts, the free VPNs don't impose as many limitations as might be expected, and are certainly useful, so long as you don't want to stream video content or access servers from dozens of countries.
And there are plenty of other VPNs that performed perfectly well on Android during our assessment. Below, you can find a general overview of the results from our VPN comparison:
Guide: How to Use a VPN on Android
Using the service that performed best in our assessment, NordVPN, we'll show you below how to set up a VPN on your Android device. In the event that you want to manually configure a VPN connection, for example, to be able to access your company's Intranet from home, be sure to check out our tutorial for doing so on an Android device.
Set Up a VPN on Android (NordVPN)
Step 1: Visit the Play Store and find the app for the service you've selected.
Step 2: Tap Install to set up the app on your Android device.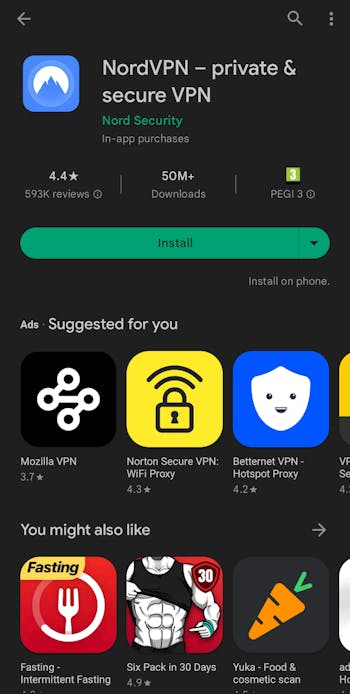 The first thing you'll need to do is set up your preferred VPN app on your Android device.
Step 3: Register a new account (input your email address, create a password, and specify your payment method) or login to your existing account.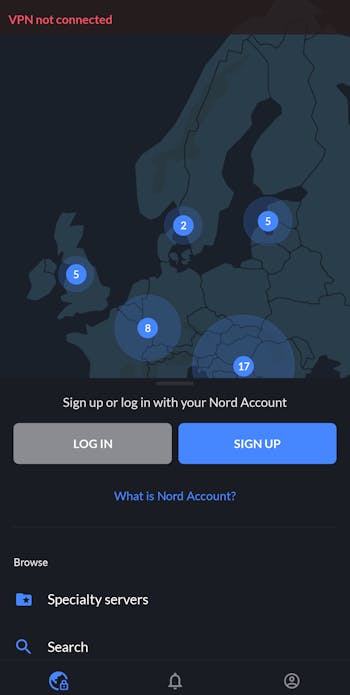 You'll need a NordVPN account in order to use the service.
Step 4: To connect, select a server from the list or tap on one of the locations on the map. For example, if you're anywhere but the UK and would like to access the BBC's iPlayer, you'll need to connect to a British server.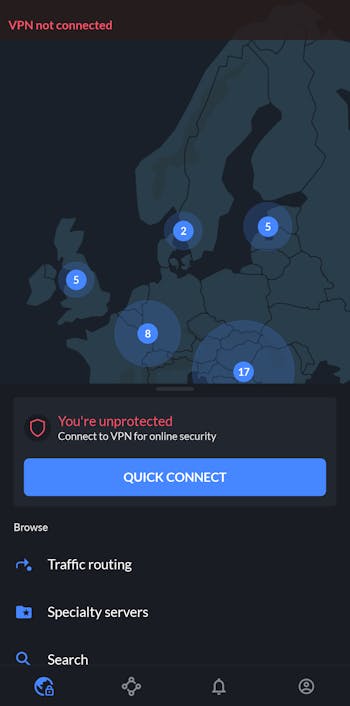 Now, all you have to do is establish a connection with a VPN server of your choice.
Step 5: Once you've established a VPN connection, you can take advantage of all the benefits it offers. When you're finished using the connection, simply tap Disconnect.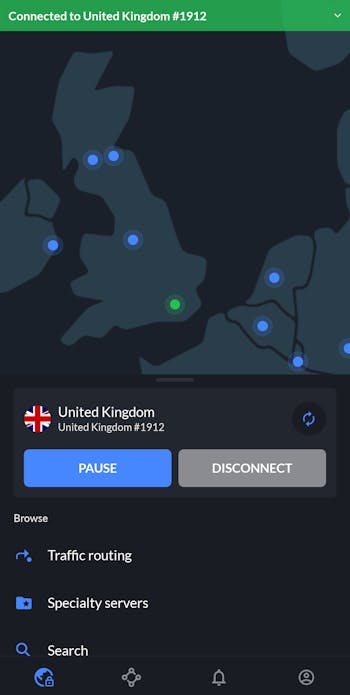 You're now surfing through an anonymous VPN tunnel that conceals your physical location.
Conclusion
Even when you're on an Android device, a VPN is a great companion, making it possible to surf anonymously and circumvent geoblocking in order to stream content from abroad. Among the best VPNs for Android users are NordVPN, ExpressVPN, and Surfshark, each of which performed excellently on both smartphones and desktops during our assessment. For those looking for a free option on their Android device, you can take ProtonVPN or hide.me into consideration.
Setting up a VPN on Android only takes a matter of minutes: Just find the app in the Play Store, install it, register (or log in to your account), and that's all.
Comprehensive reviews of all 27 services we assessed can be found in our EXPERTE.com comparison. In case you need a VPN for an Android-capable Smart TV or Chromecast, be sure to check out our guide.
FAQs
Are VPNs necessary for smartphone users?
⊖
All of the things that make VPNs useful for PCs or laptops apply to Android devices as well: They can circumvent geoblocking, which makes streaming content from abroad possible on platforms like Netflix, or negate Internet censorship. With a VPN, you'll surf anonymously, which can come in particularly handy if you find yourself on public WiFi. To read up on the usefulness and limitations of VPNs, we recommend consulting our guide, What Is a VPN and Does It Make Sense to Use One?
Which VPN is the best for Android?
⊖
Based on our EXPERTE.com assessments, the best premium VPNs for Android users are NordVPN, ExpressVPN, and Surfshark. All three combine strong performance, large server networks, and plenty of features in user-friendly Android apps. Among the freemium offers, ProtonVPN and hide.me are recommended, owing to their relatively generous conditions.
Are free Android VPNs secure?
⊖
We advise exercising caution whenever you happen across a completely free VPN service: These need to pay the bills somehow, and if no product is offered for sale, you, or more accurately, your data are likely it. Freemium software, such as the free versions offered by established premium providers like ProtonVPN or hide.me, are better choices. These offer something of a teaser for their paid versions all the while not restricting usability too seriously.

Janis von Bleichert studied business informatics at the TU Munich and computer science at the TU Berlin, Germany. He has been self-employed since 2006 and is the founder of EXPERTE.com. He writes about hosting, software and IT security.
Continue Reading
Reviews
Comparisons
Tools & Guides
Ad disclaimer
* For links marked with an asterisk, EXPERTE.com may earn a commission from the provider. The commission has no influence on our editorial rating.