VPN
Windscribe Review 2022: The Canadian VPN Provider
From Edward Snowden to Cambridge Analytica: Discussions about the Internet, its purpose, and its nature have been tinged with cynicism over recent years. Far removed from the tech utopia it was once thought to be, the Internet as a place of boundless freedom and anonymity has been shown to be illusory.
Windscribe promises to bring back "the Internet, as it should be." In our comprehensive evaluation of VPN providers, we've looked closely at underdogs like Windscribe to see just how much they really have to offer.

Windscribe is a Canadian VPN provider, which since 2016 has offered free and paid subscriptions. Desktop applications are available for Windows, macOS, and Linux, as are mobile apps for iOS, Android, and Blackberry, and browser extensions for Google Chrome, Firefox, Edge, and Opera. Beyond that, Windscribe can also be configured for smart TVs and routers.
Installation and Features
4.7 / 5
Security and Privacy
3.0 / 5
Intuitive apps with a number of features, including split tunneling and double-hop
Affordable and flexible subscription options
Free version (10 GB of data)
Well-suited for video streaming and usage in China
Has not submitted to any independent audits
2.
Installation and Features
Windscribe's website automatically detects your operating system and browser, providing a link to the appropriate app download, significantly shortening the installation process. Within less than a minute, we were able to use Windscribe in Windows as well as Chrome.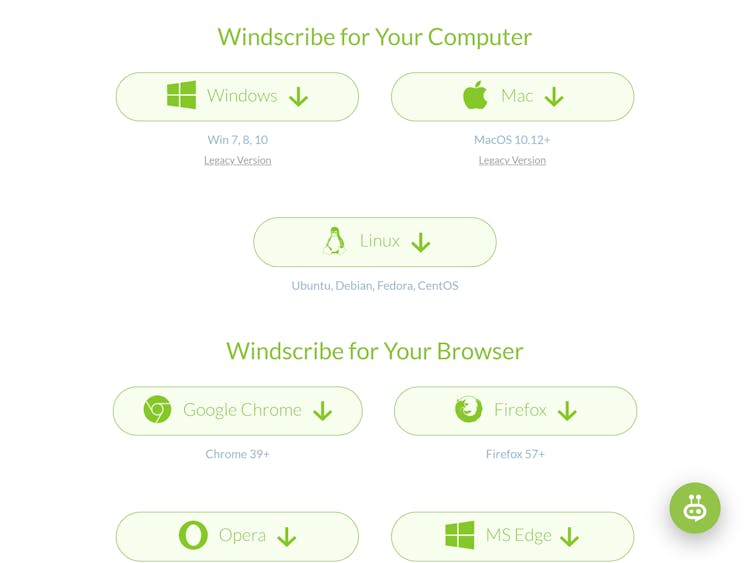 All available apps and setup guides can be found on Windscribe's website.
Windscribe's app interface is even more lightweight and unobtrusive than the most minimal VPN providers from our sample. Features such as an interactive world map, or performance data from servers are nowhere to be found, with only the bare necessities integrated into the app's interface. These include a drop-down server location menu, an on/off switch, your IP address, a kill switch (referred to as the 'firewall'), a notification bell, and a hamburger menu icon that takes you to the settings menu.
Once a connection has been established, its quality can be rated by clicking on the nearby bar symbol. In the drop-down menu, the bar symbol provides information about the strength of potential connections; if you hover your pointer over the symbol, the exact ms can be seen.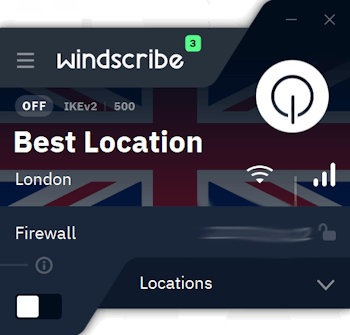 The background flag is a nice touch.
Unfortunately, no server categories are available in the country menu, which is a feature common to many other VPN providers. Favorites can be marked, which will then gathered in their own list. You can search through servers, use your static IP addresses, or import user-defined configurations from other VPN providers.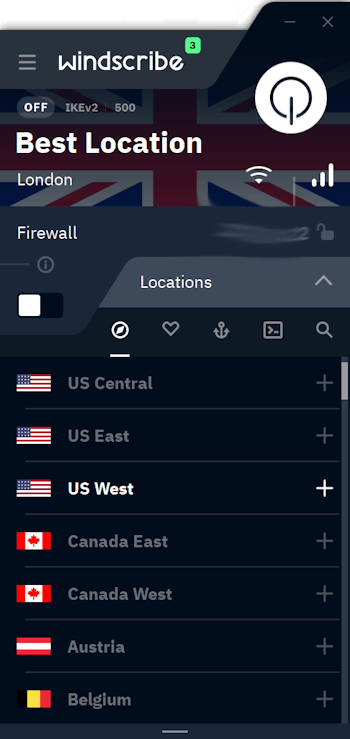 If you don't select a specific server, you'll be automatically connected to the best available one.
In the desktop client, it's possible to modify plenty of settings for auto-start, the automatic kill switch, and protocols, about which we go into greater detail below, in the "Security and Privacy" section. Under Settings, you can also configure your network's LAN proxy. Should your network adapter support it, Windows users can also create a secure hot-spot. Further options include the ability to establish HTTP or SOCKS proxy servers, making it possible for additional devices to use your connection.
Two modes are provided for using split tunneling: In "exclusive" mode, apps and hostnames that you select won't use your VPN tunnel; In "inclusive" mode, user-selected apps and hostnames will use your VPN tunnel.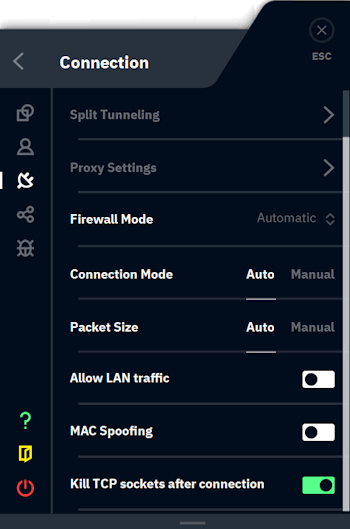 Split tunneling is possible in both the app as well as on the domain/IP level.
The application's MAC spoofing feature provides further anonymity when using public WLAN. With this, you'll be assigned a new MAC address each time you connect, preventing the companies that operate those networks from tracking you.
Windscribe's browser extension is as slim as its desktop counterpart, consisting of a quick-connect option, a server list organized by country, and a bar showing your IP address. In terms of privacy, the browser extension also serves as an ad-blocker. Using it, you can decide whether to block ads and malware, tracker cookies, social media widgets, notifications, or WebRTC queries.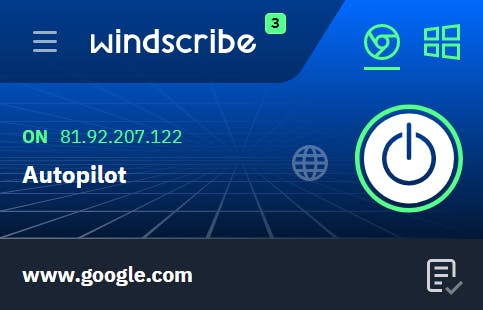 Windscriber's browser extension also comes loaded with features.
"Split personality" reduces the risk of browser fingerprinting by rotating the user agent, browser version, and operating system that is reported to websites you visit. Using "location warp" and "time warp", you can change the GPS and time settings of your proxy connection.
"Double-hop" activates VPNs in both the desktop and browser interfaces, routing your internet traffic through two different VPN servers, providing even greater anonymity.
Mobile App
The mobile app, currently available in seven languages, offers the same features as the desktop client, leaving little to be desired. In the mobile version, dedicated servers for video streaming appear as a special server category.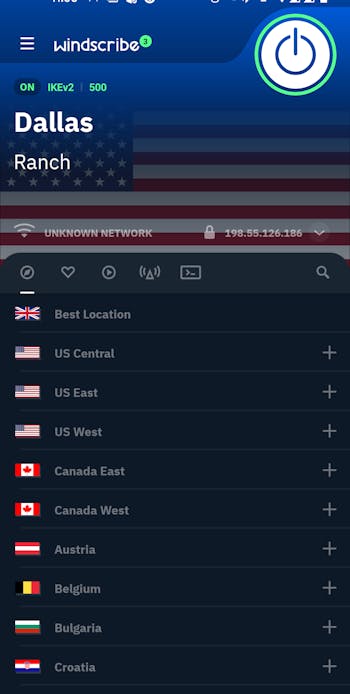 Windscribe's smartphone app is nearly identical, in both appearance and features, to the service's desktop client.
Despite its streamlined interface, Windscribe is intuitive, fast, and packed with practical features. Achieving such a nice balance between design and functionality remains an issue for many VPN providers.
Score: 5 / 5
Windscribe offers its users a network of around 500 servers (the support personnel we discussed the topic with did not want to reveal the exact number) across 110 cities in more than 60 countries. Users of the free version can select from 10 of these locations. As such, in pure numbers, Windscribe is far off the leading VPN services like NordVPN or ExpressVPN, however, in contrast to other providers, Windscribe's server network is not bloated with virtual servers.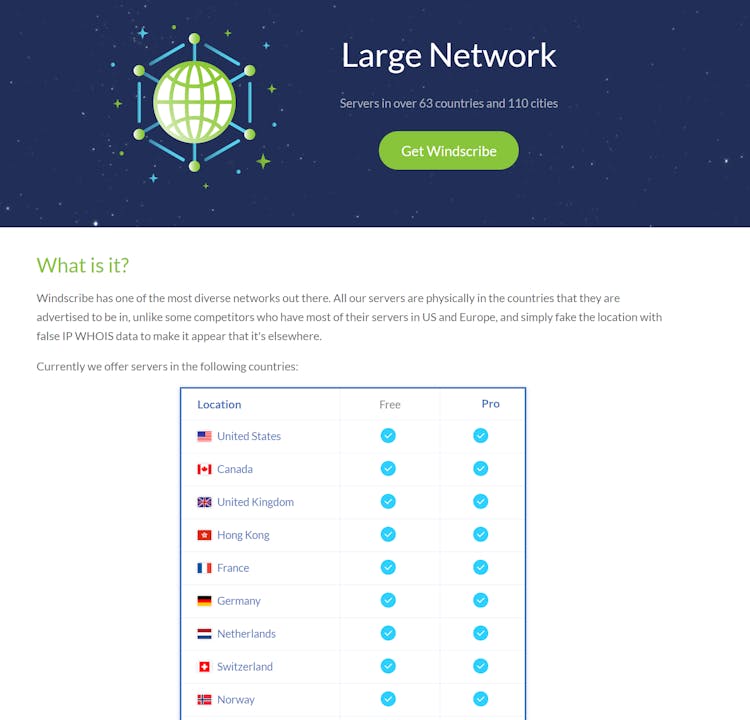 In terms of its geographic spread, Windscribe conforms to the industry's trend, focusing upon Europe and North America, while practically ignoring Africa and Asia. In general, however, the server network is solid. With that said, since we first reviewed the service (2019), barely any growth has occurred. While other providers set up shop in new countries, Windscribe hasn't, and we don't see any signs that they will.
Score: 3.7 / 5
The speed of all VPNs which we reviewed was evaluated using a server in Europe with a 1 GB/s connection. We assessed random Windscribe servers at different times of the day in the US and Germany to more accurately gauge their performances. More information concerning our methodology can be found in our VPN speed test.
The table below shows the average results from the last 365 days, arranged in order of download and upload speed (descending):
1.

185.1 Mbit/s

Download

34.7 Mbit/s

Upload

2.

162.1 Mbit/s

Download

41.5 Mbit/s

Upload

3.

156.8 Mbit/s

Download

43.2 Mbit/s

Upload

4.

178.2 Mbit/s

Download

17.0 Mbit/s

Upload

5.

170.4 Mbit/s

Download

15.3 Mbit/s

Upload

6.

167.0 Mbit/s

Download

15.7 Mbit/s

Upload

7.

166.7 Mbit/s

Download

11.5 Mbit/s

Upload

8.

158.8 Mbit/s

Download

19.1 Mbit/s

Upload

9.

151.4 Mbit/s

Download

19.1 Mbit/s

Upload

10.

150.2 Mbit/s

Download

18.8 Mbit/s

Upload

11.

149.7 Mbit/s

Download

14.8 Mbit/s

Upload

12.

137.5 Mbit/s

Download

13.7 Mbit/s

Upload

13.

121.9 Mbit/s

Download

17.2 Mbit/s

Upload

14.

80.7 Mbit/s

Download

10.4 Mbit/s

Upload
Windscribe was one of the slower VPN services from our sample, putting up numbers only good enough for 17th place. In comparison to the top performers, its download speed of 82.2 MB/s and upload speed of 43.3 MB/s is "satisfactory."
The diagram below shows Windscribe's average speeds over the past months.
CyberGhost VPN
ExpressVPN
hide.me VPN
HideMyAss! VPN
Hotspot Shield VPN
IPVanish VPN
Mullvad VPN
NordVPN
Private Internet Access
PrivadoVPN
PrivateVPN
ProtonVPN
PureVPN
Surfshark VPN
TorGuard VPN
TunnelBear VPN
VeePN
VPN Unlimited
VyprVPN
Windscribe VPN
ZenMate VPN
Monat
Download
Upload
8/22
August 2022
Download: 66.9 Mbit/s
August 2022
Upload: 31.8 Mbit/s
9/22
September 2022
Download: 70.9 Mbit/s
September 2022
Upload: 31.4 Mbit/s
10/22
October 2022
Download: 76 Mbit/s
October 2022
Upload: 31.6 Mbit/s
11/22
November 2022
Download: 82.6 Mbit/s
November 2022
Upload: 32.5 Mbit/s
12/22
December 2022
Download: 88.6 Mbit/s
December 2022
Upload: 36.7 Mbit/s
Despite its underwhelming speeds, we weren't disappointed with how Windscribe performed. Our connections were stable, without disruptions, and didn't generate annoying captchas when performing Google searches.
For video streaming, we also didn't have any complaints with Windscribe: Though its VPN tunnels, Netflix, Amazon Prime Video, Disney+, and the BBC's iPlayer foreign content was displayed without issue.
We can also recommend taking the service along on your next trip to China, but make sure to download its client(s) before you depart. When using the "Stealth" protocol, we didn't have any connection difficulties.
Windscribe makes up for its poor upload and download speeds by performing well, whether for streaming foreign content at home, or usage in a country that restricts the Internet. As such, we're confident that it's deserving of a "good" score.
Score: 4 / 5
Like most VPNs, Windscribe encrypts your data with AES 256, which is considered the industry standard. Users can select from among VPN protocols such as IKEv2, OpenVPN (TCP or UDP), and the new gold standard, WireGuard. In auto-connect mode, the desktop version uses IKEv2 by default, necessitating a trip to the settings menu for anyone who prefers OpenVPN or WireGuard.
Apart from this, there are two additional modes, namely "Stealth" and "WStunnel", which are encapsulated OpenVPN connections that simulate an ordinary connection. As mentioned above, these can be particularly useful in countries that restrict Internet usage, such as China.
Windscribe passed the standard VPN leak tests (IPv6, DNS, and WebRTC) without any difficulties: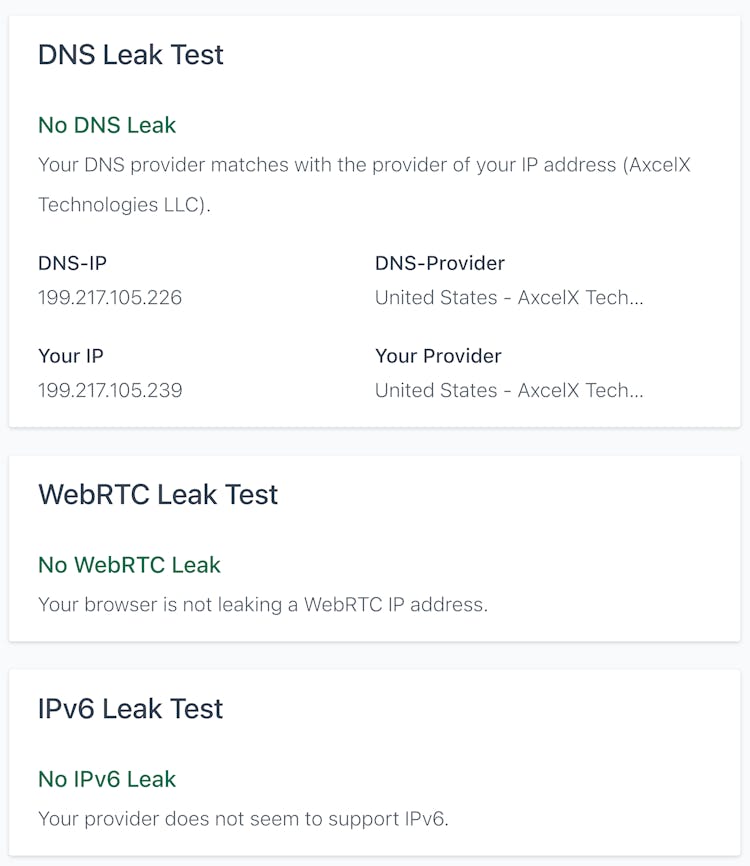 No leaks were identified during our testing.
Windscribe is based in Canada, a country with strict data storage laws and a member of the so-called Five Eyes intelligence-sharing agreement. Unlike Panama, Malaysia, or the British Virgin Islands, Canada is not the ideal location for a VPN provider to be headquartered. For most users, however, security and privacy concerns will probably not extend to the severity of government surveillance. Nevertheless, the legal situation, particularly in regards to copyright laws, should be taken note of.
Windscribe promises not to save any "identifiable logs", including connection logs, IP timestamps, or session logs. The only data that is saved, according to Windscribe, is that of bandwidth usage over the past 30 days, and the time of the last VPN connection.
If taking the service at its word, there are no red flags, something underlined by the plethora of security features that are offered, such as "double hop" or "split personality." However, Windscribe has yet to submit to any external security audits in order to put its commitment to the test. For that reason, we cannot award it a higher score in this area.
Score: 3 / 5
Windscribe has a dedicated employee named Garry who is available to answer your questions around the clock. As soon as a question is posed in the support center, Garry immediately starts typing a response. Unfortunately, Garry is a bot, and as such, he is only helpful in certain situations, primarily, very basic questions.
In contrast to the heavyweights in the VPN market, like NordVPN, Windscribe has neither a live support chat nor a hotline. The company's support personnel can only be contacted through the filing of a somewhat old-fashioned support ticket. On the positive side, the ticket we filed was answered by the support team within roughly two hours.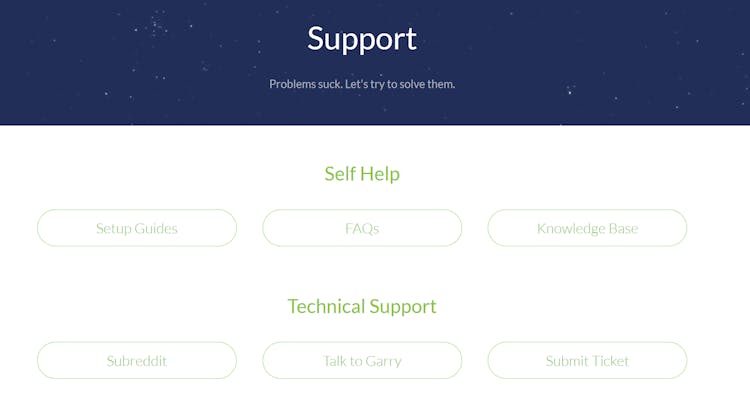 Windscribe does have a relatively active subreddit, and its support center features a knowledge base, FAQs, and setup guides with video tutorials.
The provider seems to have attempted to preempt any questions through all of these measures, however, in certain cases, particularly those which are complex or highly detailed, others in the VPN market are simply better, offering more personal and immediate live assistance.
Score: 4 / 5
Apart from Windscribe's free version (which has a 10 GB monthly data limit, and allows connections to 10 servers), monthly and yearly subscription packages are also available. In terms of price, Windscribe is definitely one of the more affordable options. The service also offers the possibility to create your own subscription package, paying per server location used per month.
A current price list can be found below:
Free
12 months
Monthly
Pricing
Set-up fee
$0.00
$0.00
$0.00
Effective monthly price
$0.00
$4.08
$9.00
Contract period (months)
0
12
1
Limits
Data volume
10 GB
unlimited
unlimited
Number of Devices
unlimited
unlimited
unlimited
Features
Number of servers
10
500
500
Number of countries
10
60
60
No server logs
P2P allowed
Tor access
Kill Switch
Protocols

OpenVPN

IKEv2

OpenVPN

WireGuard

SOCKS5

IKEv2

OpenVPN

WireGuard

SOCKS5

IKEv2
Discounts are available for students, while for businesses and organizations "ScribeForce" charges on a monthly basis according to the number of 'team' users. Static IPs can be booked (at cost) as part of any subscription.
Windscribe offers a money-back guarantee to all subscribers, however, this only lasts three days, as opposed to the industry standard of 30.
Windscribe's flexibility and low cost set it apart as one of the most attractive VPN services on the market.
Installation and Features
4.7 / 5
Security and Privacy
3.0 / 5
Until recently, Windscribe has flown under the radar of many VPN users, standing in the shadow of its more well-known competitors, in our opinion, without reason. Among free VPN providers, in particular, Windscribe has only a few real rivals. Its reasonable subscription prices make it less of an underdog, especially when taking its sleek design, and wide variety of features into account.
Unfortunately, points were deducted in terms of speed, where Windscribe didn't do very well at all. Similarly, the lack of any external security audit, which would confirm the provider's claims about not saving protocols, is disappointing. Were Windscribe able to score here, it would be an excellent all-rounder, at a very fair price. Should you take the company at its word and/or attach little importance to speed when choosing a VPN provider, we think you'll be happy with Windscribe.
500+ servers in 60+ countries
Free version with 10 GB limit
Connect unlimited devices
Data volume
Devices
Protocols
Contract Period
Windscribe Free
$0.00
monthly price
Visit Website »
Download for free
Based on the customer reviews we examined, most users seem to be highly satisfied with Windscribe. The free version's high data volume and the program's intuitiveness were both praised on multiple occasions. Complaints, although sparse, pertained mostly to connection problems and low speeds.
Review
125,923 Ratings
good
We analyzed the reviews and ratings from various portals and found 125,923 ratings with an overall rating of 4.2 out of 5 .
Show sources
If you're on the hunt for a free VPN without data limits, ProtonVPN might be right up your alley. The service performed slightly better in our speed test than Windscribe and has submitted to external security audits. The only drawback is that you'll have to make do with fewer features than with Windscribe.
Should you be ready to make a small investment in order to have a top-performing service, we recommend checking out NordVPN, Surfshark, or Mullvad VPN. Each of these options finished near the top in our speed ranking and regularly submits to third-party audits.
You can find the best alternatives to Windscribe below:
5400+ servers, 60 countries
Inexpensive 2-year package
NordVPN combines speed, user-friendliness and functionality into a coherent overall package that is also fairly affordable.
Data volume
Devices
Protocols
Contract Period
NordVPN 2-year plan
$2.99
monthly price
Visit Website »
30 days money-back guarantee
160 cities in 94 countries
30-day money-back guarantee
ExpressVPN impresses with strong performance, a huge server network and excellently designed applications, but this quality also comes at a higher price.
Data volume
Devices
Protocols
Contract Period
ExpressVPN 12 Months
$8.33
monthly price
Visit Website »
30 days money-back guarantee
3200+ servers in 65 countries
Unlimited number of devices
Many apps (Linux, FireTV, ...)
Very cheap on the 24-month plan
Surfshark is one of the cheapest providers on the market, but besides the price also impresses with strong protection, many features and a great support with 24/7 live chat.
Data volume
Devices
Protocols
Contract Period
Surfshark 24 months
$2.49
monthly price
Visit Website »
Get 83% Discount
1200+ servers in 55 countries
Headquarters in Switzerland
Open Source & external audits
Data volume
Devices
Protocols
Contract Period
ProtonVPN Free
$0.00
monthly price
Visit Website »
30 days money-back guarantee
290 locations in 210 countries
Data volume
Devices
Protocols
Contract Period
HideMyAss! 36 months
$2.99
monthly price
Visit Website »
30 days money-back guarantee

Author (German Version): Martin Gschwentner
Martin Gschwentner majored in American Studies and Media Studies in Germany, the USA and France and works as a freelance editor in Paris. He is a doctoral student at the Institute for English and American Studies at the University of Paris Diderot, where he is researching the influence of money on US politics. On EXPERTE.com he writes about IT security, data protection and software for the self-employed and small businesses.

Translator & Editor: D Bare