VPN
IPVanish VPN Review: Good Choice In 2022?
IPVanish seems to have grown wiser with age. A few years back, the provider advertised itself as "the fastest, most reliable VPN service in the world", however, has prudently ceased doing so. This might signal that the legal department won out, but we like to think that those leading the company had an epiphany, realizing that speed isn't everything. Below, we'll let you know how IPVanish really performs, including its speed, and what else the service has to offer.

IPVanish is a US-based VPN provider which offers desktop clients for Windows and macOS, as well as apps for Android, iOS, and Fire TV. The service also supports Linux, ChromeOS, and routers.
Launched by Mudhook Media Inc. in 2012, IPVanish became part of the Los Angeles-based tech firm, StackPath, in 2019.
Installation and Features
3.7 / 5
Security and Privacy
3.0 / 5
No device or connection limits
Unappealing user interface
Questionable "No-Logs" promise
Desktop client lacks split tunneling functionality
2.
Installation and Features
Apart from the official IPVanish apps, you can also configure the service manually for Chromebooks or routers. The dedicated apps are much easier to set up though: After registration, clients can be installed with a few clicks, allowing users to start surfing in minutes, if not seconds. The subscriptions don't have annoying limits either, making it possible to create connections with as many devices as you'd like.
Diplomatically speaking, the desktop client's user interface is an acquired taste. More bluntly, the program consists of an ugly green and black text box overloaded with buttons and information.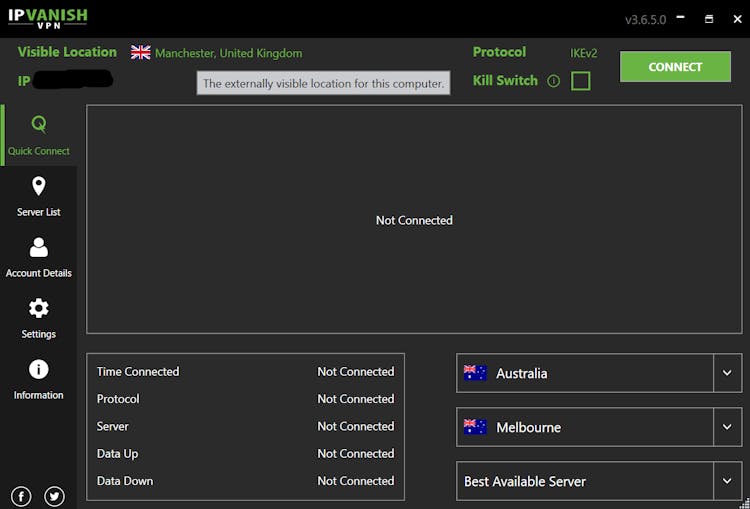 IPVanish's desktop client isn't exactly our taste, but it does provide plenty of information.
To jump between different functions, click on the tabs along the left edge of the window. Breaking with VPN providers who seem to put their interfaces on ever more restrictive diets, IPVanish has stuffed its desktop client with as many options as possible. The "Connect" button is not the center of attention around which everything else is organized, but rather, hidden in the upper right of the program's taskbar.
In the increasingly 'stylish' VPN market, IPVanish looks like a throwback and we're fairly certain, will never win any design award. However, IPVanish does cater to those who want current information about their connections, and/or aren't particularly fond of minimalism.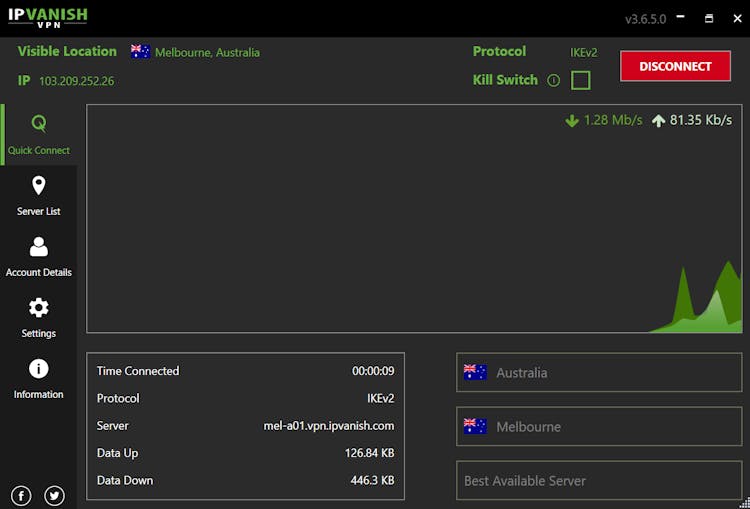 As soon as a VPN tunnel has been created, IPVanish provides real-time information about your connection.
If not actively connected, you can peruse the three drop-down menus in the lower right of the interface and select the country, city, and server you'd like to create a tunnel with. Alternatively, you can leave these as they are, and click on "Connect" in the upper right corner of the interface to create a tunnel with the best possible server based on your location.
Once a VPN tunnel has been created, you'll receive information about its upload and download speeds. You'll also be able to see which protocol you've connected with, if the kill switch is activated, and what your current IP address is.
By clicking on the "Server List" tab, you can sort servers alphabetically, by favorites, ping, or loading time. Although it's good that favorites can be marked as such, their absence from the "Quick Connect" tab is odd. Apart from the list view, you can also browse servers on a world map, connecting at will by double-clicking on a location.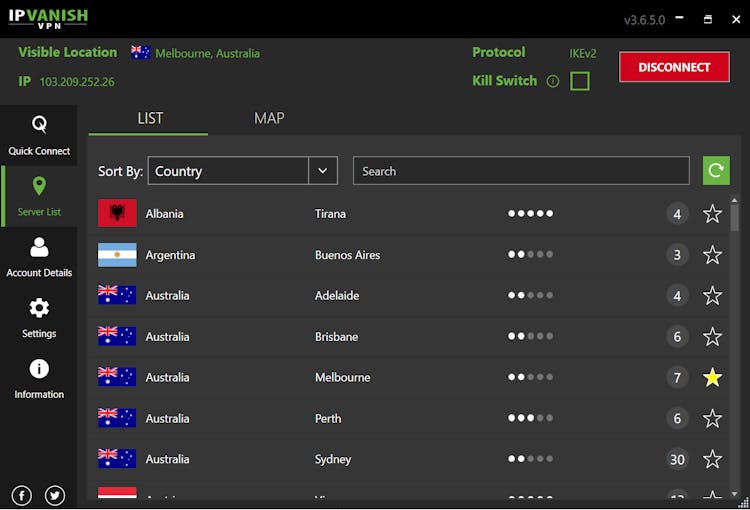 The server list also features a search function.
Under the "Settings" tab, you'll find plenty of practical options for configuring how the program should behave when you run it or start your system. Alongside the usual auto-start settings, you can also configure IPVanish to automatically connect to the last-used connection, the best available server, or the best available server in a particular country. This allows you to ensure that your Internet connection is (nearly always) secure.
Apart from these features, the settings aren't particularly extensive, and the client doesn't offer any extravagant features, however, the most important VPN functions, like switching protocols, and a kill switch, are present. The latter severs your connection whenever the VPN encounters a disruption. During testing, we were slightly confused when the kill switch engaged after we had disconnected from the VPN.
It's unfortunate that IPVanish has removed several well-liked features which were included in the past, such as the ability to automatically change your IP address at certain intervals.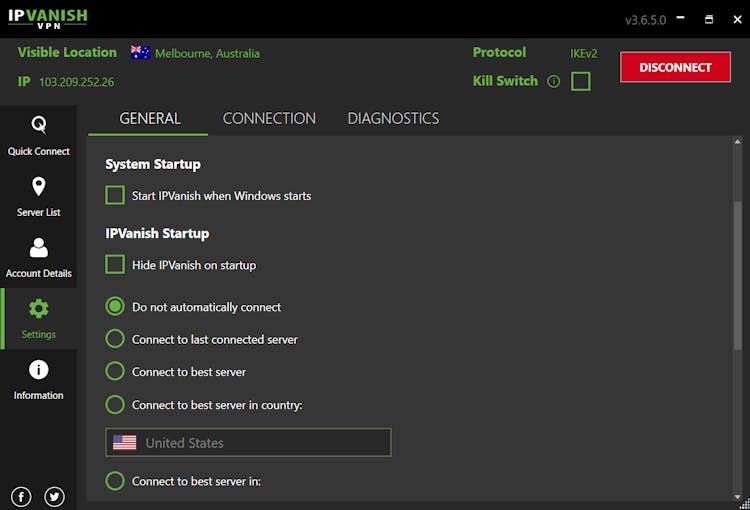 Under "Settings", you can automate your VPN connection.
Mobile App
IPVanish's mobile app is similar to its desktop app, however, its "Connect" button is in the center, as is standard among the provider's competitors. In the "Quick Connect" area, users can select from the full list of server locations, or alternatively, switch to the server sub-menu.
Most of the desktop client's settings, including detailed auto-start options, are also available in the mobile apps for both Android and iOS. Unfortunately, the kill switch is only offered for the Windows and macOS desktop clients, whereby the mobile app does have split tunneling. This makes it possible to exclude certain apps from using your VPN tunnel.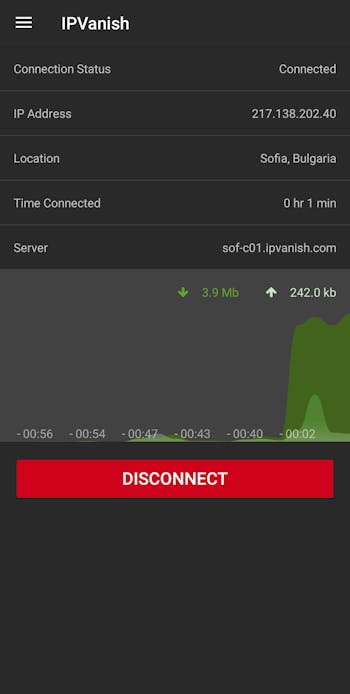 IPVanish's mobile app is highly functional and, unlike its desktop counterpart, offers split tunneling.
Once you get used to the visually unappealing desktop interface, IPVanish turns out to be a solid provider, capable of much more than just connecting you to a VPN, since it also provides a wealth of connection information. At the same time, the technical interface builds up the expectation that its tabs are filled with options for personalization and customization., which upon closer inspection, turns out not to be the case.
IPVanish offers few extras apart from the VPN essentials. Even its once unique scheduled IP change has been removed, for reasons unknown. The absence of split tunneling from the desktop client is also unfortunate. What remains is a good VPN service, however, one with a lot more potential.
Score: 3.7 / 5
IPVanish has more than 1,600 servers, across upwards of 75 locations, in around 55 countries. This global network can't compete with the heavyweights, but definitely secures IPVanish a place in the middle of the pack.

IPVanish's server network.
The majority of IPVanish's servers are, as might be expected, in Europe and North America, with some outposts scattered around the rest of the globe. Nigeria and South Africa cover Africa, while Brazil, Peru, Argentina, Chile, and Columbia are South America's representatives. Even in Asia, the world's most populated continent, coverage is sparse. These weaknesses are a problem common to nearly all VPN providers, with IPVanish's main shortcoming being its paucity of servers in Africa.
Score: 4 / 5
We evaluated the speed of all VPNs from our sample using a server in Europe with a 1 GB/s connection. At different times of the day, we connected to IPVanish servers in the US and Germany to more accurately assess their performance. More information concerning our methodology can be found in our VPN speed test.
The table below shows the average results from the last 365 days, arranged in order of download and upload speed (descending):
1.

195.6 Mbit/s

Download

42.9 Mbit/s

Upload

2.

191.7 Mbit/s

Download

42.8 Mbit/s

Upload

3.

200.8 Mbit/s

Download

18.1 Mbit/s

Upload

4.

175.0 Mbit/s

Download

42.0 Mbit/s

Upload

5.

167.7 Mbit/s

Download

16.1 Mbit/s

Upload

6.

166.5 Mbit/s

Download

16.3 Mbit/s

Upload

7.

153.9 Mbit/s

Download

27.0 Mbit/s

Upload

8.

155.1 Mbit/s

Download

21.2 Mbit/s

Upload

9.

154.8 Mbit/s

Download

18.8 Mbit/s

Upload

10.

156.4 Mbit/s

Download

15.0 Mbit/s

Upload

11.

113.1 Mbit/s

Download

41.4 Mbit/s

Upload

12.

129.4 Mbit/s

Download

18.4 Mbit/s

Upload

13.

109.6 Mbit/s

Download

37.6 Mbit/s

Upload

14.

126.3 Mbit/s

Download

18.8 Mbit/s

Upload

15.

118.6 Mbit/s

Download

18.4 Mbit/s

Upload

16.

109.7 Mbit/s

Download

17.0 Mbit/s

Upload

17.

82.2 Mbit/s

Download

43.3 Mbit/s

Upload

18.

79.9 Mbit/s

Download

38.8 Mbit/s

Upload

19.

106.0 Mbit/s

Download

12.2 Mbit/s

Upload

20.

99.3 Mbit/s

Download

12.7 Mbit/s

Upload
So, was it a wise decision to distance the provider from its claims of being the fastest VPN in the world? Definitely, as IPVanish's download and upload speeds of 156.4 MB/s and 15 MB/s, respectively, were only good enough for tenth place, right in the middle of our sample. As such, IPVanish offers solid speeds, but by no means the fastest.
The diagram below shows IPVanish's average speeds over the past months.
CyberGhost VPN
ExpressVPN
hide.me VPN
HideMyAss! VPN
Hotspot Shield VPN
IPVanish VPN
Mullvad VPN
NordVPN
Private Internet Access
PrivadoVPN
PrivateVPN
ProtonVPN
PureVPN
Surfshark VPN
TorGuard VPN
TunnelBear VPN
VeePN
VPN Unlimited
VyprVPN
Windscribe VPN
ZenMate VPN
Monat
Download
Upload
12/21
December 2021
Download: 181 Mbit/s
December 2021
Upload: 18.3 Mbit/s
1/22
January 2022
Download: 177.8 Mbit/s
January 2022
Upload: 17.4 Mbit/s
2/22
February 2022
Download: 176.9 Mbit/s
February 2022
Upload: 17.7 Mbit/s
3/22
March 2022
Download: 195.3 Mbit/s
March 2022
Upload: 17.4 Mbit/s
4/22
April 2022
Download: 195.1 Mbit/s
April 2022
Upload: 18.2 Mbit/s
5/22
May 2022
Download: 188.2 Mbit/s
May 2022
Upload: 18.2 Mbit/s
6/22
June 2022
Download: 182.6 Mbit/s
June 2022
Upload: 17.8 Mbit/s
7/22
July 2022
Download: 184.7 Mbit/s
July 2022
Upload: 17.2 Mbit/s
8/22
August 2022
Download: 193 Mbit/s
August 2022
Upload: 22.2 Mbit/s
9/22
September 2022
Download: 191 Mbit/s
September 2022
Upload: 23 Mbit/s
10/22
October 2022
Download: 192.1 Mbit/s
October 2022
Upload: 23 Mbit/s
11/22
November 2022
Download: 190.8 Mbit/s
November 2022
Upload: 23.5 Mbit/s
12/22
December 2022
Download: 191.6 Mbit/s
December 2022
Upload: 24 Mbit/s
And how did IPVanish hold up during day-to-day usage? We didn't suffer any connection problems, but, we did need to complete a few captchas when performing Google searches, which was annoying. This was less of an issue with other providers from our sample.
In terms of video streaming, IPVanish cleared two hurdles and bungled the other two. We were able to access foreign content with Netflix and Disney+, however, we didn't have any luck with Amazon Prime Video or the BBC's iPlayer.
IPVanish is not a good choice if looking to circumvent China's Great Firewall, as this wasn't possible during testing.
Overall, when it comes to performance, IPVanish is, in nearly every aspect, average.
Score: 3.7 / 5
IPVanish encrypts your traffic with AES 256, the industry-standard, providing maximum security. The protocols supported include IKEv2, L2TP, SSTP, and PPTP, as well as OpenVPN (UDP and TCP). Unfortunately, WireGuard is not supported.
IPVanish does grant its users a significant amount of freedom in regards to protocols, however, only the first two are really recommended. PPTP, for example, is no longer up-to-date, but the option to use it certainly doesn't cause any harm.
In contrast, leaks do cause a lot of harm, however, thankfully, in our VPN leak tests, we didn't identify any of these.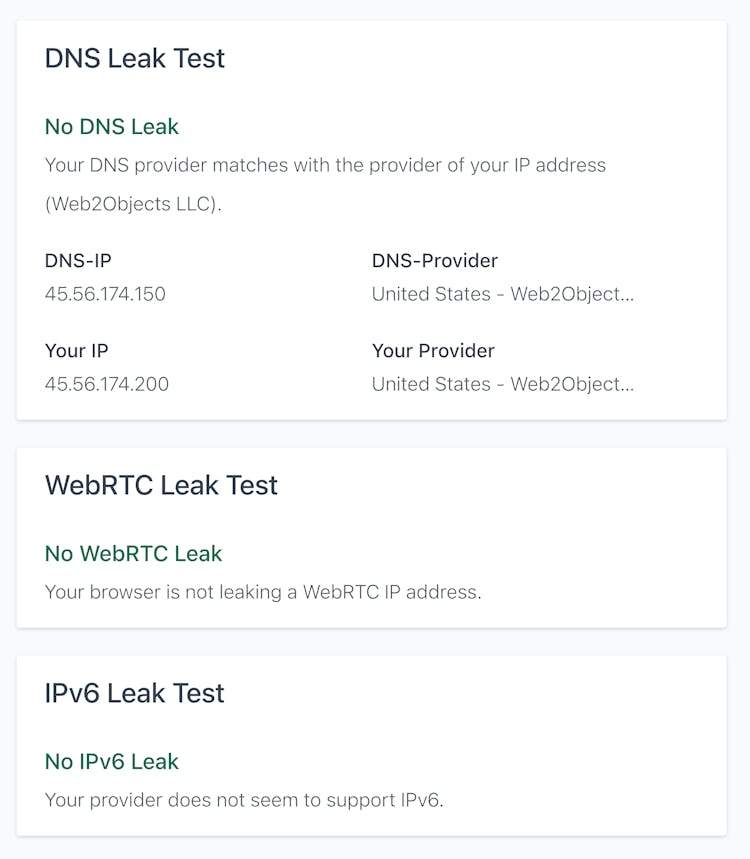 IPVanish passed all of our leak tests.
IPVanish offers a strict "No-Logs" guarantee, which is repeated several times in its privacy policy. On paper this doesn't raise any eyebrows, however, the reality looks a bit different.
In 2018, a Reddit post, supported by court documents, claimed that IPVanish had, in the past, been able to and did save logs. The accusation stretched back to 2016, well before IPVanish was taken over by StackPath. The provider's privacy policy has not changed since then, and StackPath's director assured users on Reddit that: "Without exception, while part of StackPath, IPVanish has never created or saved any logs, and will continue not to do so into the foreseeable future."
This guarantee sounds authentic enough, and it is certainly possible that under StackPath's custodianship, IPVanish has truly not committed any data security trespasses, however, broken promises are still broken promises. IPVanish could go some way to removing doubt through an independent, third-party audit as TunnelBear or NordVPN have done.
Certainly not lessening our concerns is that IPVanish is headquartered in the US, making them subject to the whims, wishes, and dictates of both US law and authorities. When either of them knocks, IPVanish's privacy policy presumably does a disappearing act.
Score: 3 / 5
24 is the number customers most like to hear in regards to support, and IPVanish doesn't disappoint: "We are online - 24 hours a day." This commitment extends not only to email support but also a live chat. For both, we had to wait a bit in line, but never longer than a few minutes. Service is also offered in foreign languages, albeit noticeably through automatic translations.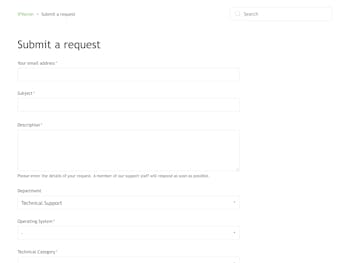 IPVanish offers live chat, email, and telephone support.
The support center's FAQs are only available in English as of the time of writing. At least here, IPVanish could take a look at its user base, and invest in translating these guides to their mother tongues. Even (blindly) selecting the most common languages in the world, French, Spanish, Hindi, Chinese, Russian, and Arabic would be a good start. The 24/7 live chat is a nice feature though.
Score: 4.0 / 5
IPVanish's monthly price depends largely on the length of the contract you agree to. The cheapest option is the yearly plan, however, the monthly plan is also reasonably priced, especially compared to those of other providers. No business rates are offered.
A current price list can be found here:
Yearly
Quaterly
Monthly
Pricing
Set-up fee
$0.00
$0.00
$0.00
Effective monthly price
$3.75
$5.00
$10.99
Contract period (months)
12
3
1
Limits
Data volume
unlimited
unlimited
unlimited
Number of Devices
unlimited
unlimited
unlimited
Features
Number of servers
1,600
1,600
1,600
Number of countries
55
55
55
No server logs
P2P allowed
Tor access
Kill Switch
Protocols

OpenVPN

PPTP

SSTP

SOCKS5

IKEv2

IPSec

L2TP

OpenVPN

PPTP

SSTP

SOCKS5

IKEv2

IPSec

L2TP

OpenVPN

PPTP

SSTP

SOCKS5

IKEv2

IPSec

L2TP
IPVanish accepts credit cards and PayPal. Regrettably, payment by Bitcoin or other methods is not available. IPVanish also doesn't offer corporate packages.
No free trial version is available, but each subscription comes with a 30-day, money-back guarantee.
Installation and Features
3.7 / 5
Security and Privacy
3.0 / 5
Users of IPVanish will probably not be artists, designers, or those interested in aesthetics of any sort: The VPN's interface is downright hideous. The ugly duckling does not really grow into a feature swan either: Its breadth of functionality is only 'good'. The same is true about IPVanish's performance, which secures a place in the middle of the pack. When it comes to data security, a lot of questions have been raised that could be cleared up with an independent audit.
IPVanish is far from perfect, but we were satisfied with what the service was capable of. In the advantages column, IPVanish is priced right, something that we think plenty of users will take note of.
1600+ servers with 40,000+ IPs
10 simultaneous connections
Data volume
Devices
Protocols
Contract Period
IPVanish Yearly
$3.75
monthly price
Visit Website »
30 days money-back guarantee
In the reviews which we evaluated, IPVanish received very good ratings. These often praised its easy installation and usage, with criticism directed largely at the speed of its connections.
Review
141,984 Ratings
excellent
We analyzed the reviews and ratings from various portals and found 141,984 ratings with an overall rating of 4.5 out of 5 .
Show sources
Should you be looking for a VPN service that backs up its "No-Logs" promise with independent audits, TunnelBear and our price-performance winner, NordVPN might be just what you're after. The latter took first place in our speed test, also offering split tunneling in its Windows client.
5400+ servers, 60 countries
Inexpensive 2-year package
NordVPN combines speed, user-friendliness and functionality into a coherent overall package that is also fairly affordable.
Data volume
Devices
Protocols
Contract Period
NordVPN 2-year plan
$2.99
monthly price
Visit Website »
30 days money-back guarantee
160 cities in 94 countries
30-day money-back guarantee
ExpressVPN impresses with strong performance, a huge server network and excellently designed applications, but this quality also comes at a higher price.
Data volume
Devices
Protocols
Contract Period
ExpressVPN 12 Months
$8.33
monthly price
Visit Website »
30 days money-back guarantee
3200+ servers in 65 countries
Unlimited number of devices
Many apps (Linux, FireTV, ...)
Very cheap on the 24-month plan
Surfshark is one of the cheapest providers on the market, but besides the price also impresses with strong protection, many features and a great support with 24/7 live chat.
Data volume
Devices
Protocols
Contract Period
Surfshark 24 months
$2.49
monthly price
Visit Website »
Get 83% Discount
1200+ servers in 55 countries
Headquarters in Switzerland
Open Source & external audits
Data volume
Devices
Protocols
Contract Period
ProtonVPN Free
$0.00
monthly price
Visit Website »
30 days money-back guarantee
290 locations in 210 countries
Data volume
Devices
Protocols
Contract Period
HideMyAss! 36 months
$2.99
monthly price
Visit Website »
30 days money-back guarantee

Author (German Version): Martin Gschwentner
Martin Gschwentner majored in American Studies and Media Studies in Germany, the USA and France and works as a freelance editor in Paris. He is a doctoral student at the Institute for English and American Studies at the University of Paris Diderot, where he is researching the influence of money on US politics. On EXPERTE.com he writes about IT security, data protection and software for the self-employed and small businesses.

Translator & Editor: D Bare