Online Design: Reviewing 5 Online Graphic Programs in 2023

Do you need graphics for a presentation, illustrations for social media, and/or creative marketing materials? In the past, it would have been necessary to hire a designer or master a graphic design program. These days, there are plenty of online solutions that anyone can use to craft their own content. But which tool is the best?
We took a close look at some of the most well-known providers, highlighting both their advantages and disadvantages. User-friendliness was essential to us since, for non-designers, the program should be as intuitive and easy to operate as possible. Beyond that, we noted the features each offer, what templates are included, the design elements they make available, their support, and their price-performance ratio.
Before elaborating upon our testing criteria, we'll let you know how the five programs from our sample fared.
Online Design: Reviewing 5 Platforms
These days, there are plenty of online design platforms on the market, so we limited our assessment to the five most popular. Without further ado, here are the results:
1.
Canva: The Best All-Arounder From Down Under
impressive stock media database
good price-performance ratio
free premium trial available
9.6

excellent
Plan
Users
Speicher
Downloads/Month
Canva Free
$0.00
monthly price
Visit Website »
The Australian platform Canva does almost everything right: It's intuitive, offers a huge selection of templates, elements, and editing tools, and has a very good price-performance ratio. Another advantage: Its premium Pro package can be trialed at no cost, meaning that you won't need to purchase a subscription before giving the full version a go.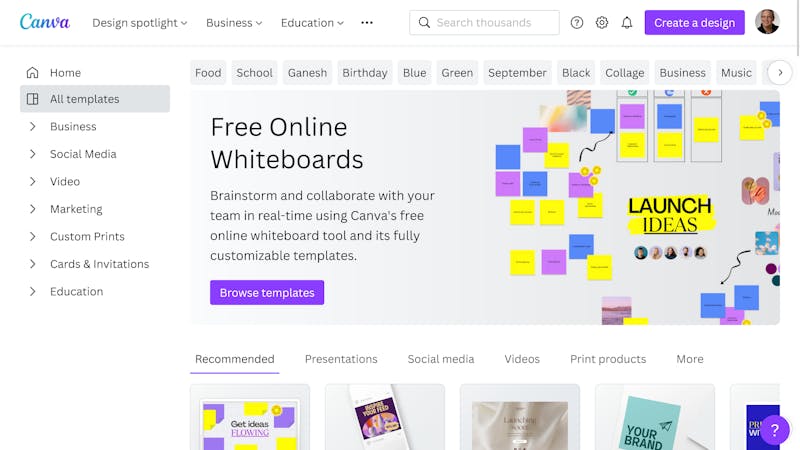 Canva is powerful: Its portfolio includes more than 250,000 templates spanning upwards of 200 layout categories.
Our top performer isn't without flaws though: The sheer amount of templates and options available can be daunting, which isn't helped by the weak filter options. Because of this, finding the right content can be difficult.
Comprehensive stock media archive

Very good price-performance ratio
Few filters to help refine search results

Unclear template selection
Documentation & Support
9.4 / 10
Templates & Elements
9.4 / 10
2.
Visme: Versatile Templates & Attention to Detail
comprehensive editing tools
specific templates (e.g. magazine layouts)
takes time to get used to
8.6

good
Plan
Users
Speicher
Downloads/Month
Visme Basic
$0.00
monthly price
Visit Website »
Silver in our comparison went to Visme. The US provider wowed us with its specialized templates, such as 3-D options and magazine layouts. We liked the comprehensive assortment of editing tools on offer since they reflect Visme's attention to detail.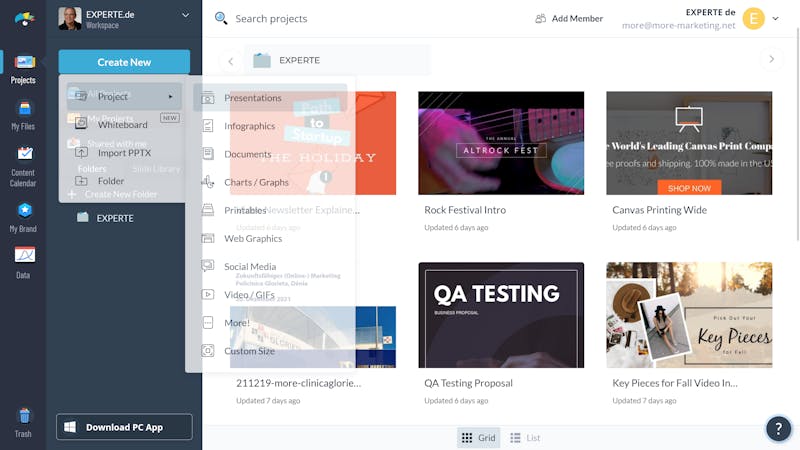 Visme: Strong in some areas, but difficult to use and pricey.
We were less taken with how the platform handles. With Visme, you'll only notice most things the second time around, which unnecessarily complicated the design and editing process. Set alongside our best-in-class, Canva, you should also be ready to dedicate more time to become familiar with the service's features. On top of that, Visme is fairly expensive, and no free trial version that includes Pro features is available.
DTP templates for magazines and publications

Comprehensive editing tools
Complicated; takes time to get a feel for

Doesn't offer a free premium trial
Documentation & Support
9.4 / 10
Templates & Elements
8.0 / 10
3.
VistaCreate: Easy to Use and Excellent Templates
Plan
Users
Speicher
Downloads/Month
Vista Starter
$0.00
monthly price
Visit Website »
VistaCreate, formerly known as Crello, made it to 3rd place in our assessment. The service set itself the goal of revolutionizing the worlds of marketing and print, however, it still has some work to do. Now owned by Cimpress (formerly Vistaprint), we liked how easy its platform is to use as well as its high-quality templates. Unfortunately, the devil is in the details as VistaCreate lacks an app and printing integrations.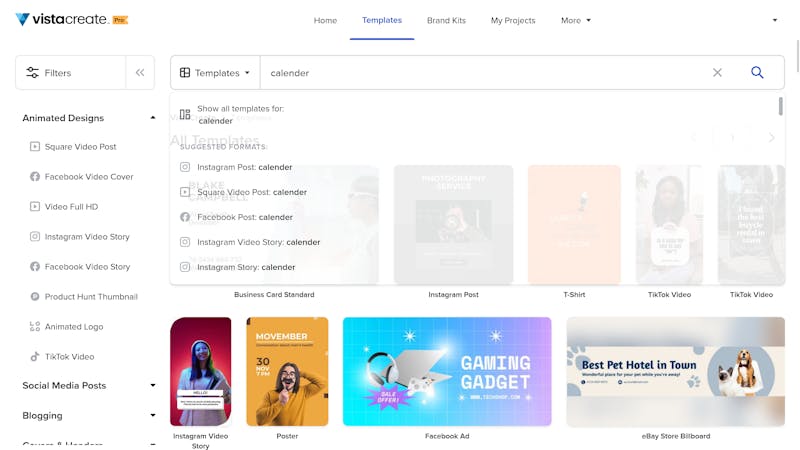 VistaCreate tries to compete with Canva, however, when it comes to the nitty gritty, it shows its shortcomings.
All the same, VistaCreate has a good price-performance ratio and offers excellent support. Before booking a premium subscription, you can try it out at no cost for 14 days.
Good price-performance ratio
No direct print integrations

Doesn't have a companion app
Documentation & Support
8.6 / 10
Templates & Elements
8.0 / 10
4.
Piktochart: Visualize Numbers, Data, and Figures
Plan
Users
Speicher
Downloads/Month
Piktochart Free
$0.00
monthly price
Visit Website »
In terms of score, Piktochart was tied with VistaCreate. However, since the Malaysian platform lacks apps and comprehensive tools, and is fairly expensive to boot, it has to settle for fourth place in our assessment. Things aren't all bad though as the service's support is fast and knowledgeable.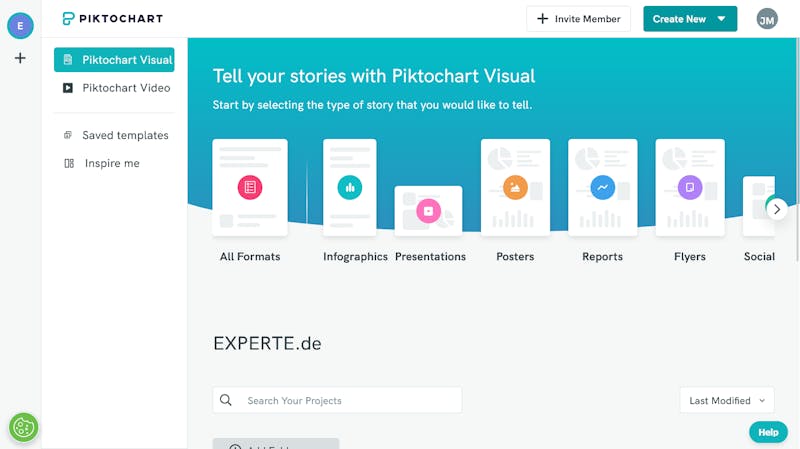 Piktochart is all about visualizing numbers, data, and figures.
One of the things we liked most about Piktochart was how it helps to creatively visualize numbers and data. Its interface is easy to use, its templates are professional, and the dashboard keeps everything straightforward.
Should you need a tool to illustrate data or figures, such as for a presentation at work, Piktochart is a solid choice.
Doesn't offer a free trial of its premium version
Documentation & Support
10 / 10
Templates & Elements
6.6 / 10
5.
Adobe Express: Beginner-Friendly, but Light on Features
features professional stock photos
offers few features and tools
template quality leaves much to be desired
7.8

good
Plan
Users
Speicher
Downloads/Month
Adobe Free
$0.00
monthly price
Visit Website »
Even though Adobe is a market leader in terms of design and layout programs, the Internet giant's solution finished last in our assessment. That's because Adobe Express's selection of features just can't compete with the other services from our sample. Video editing isn't supported, while its templates could do with both more quality and variety.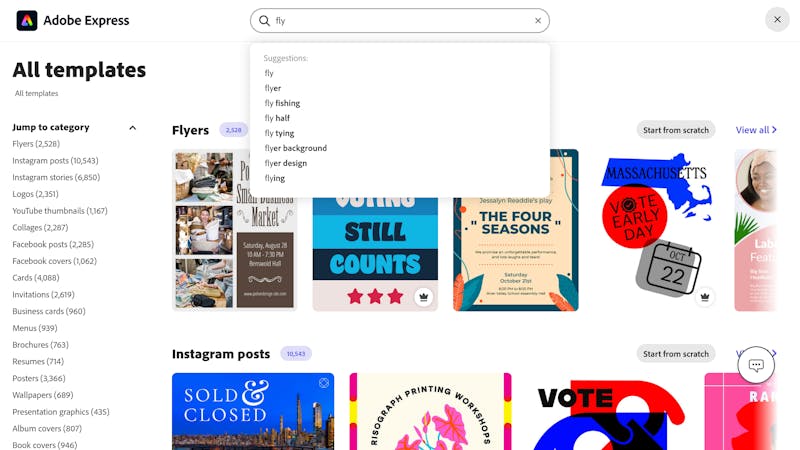 Tools, features, and attention to detail are all in short supply with Adobe Express.
That isn't to say that Adobe Express doesn't perform well in certain areas. As might be expected from an Adobe solution, it's highly intuitive. On top of that, the stock photo archive you'll be given access to is excellent, and its support is top-of-the-line. Still, Adobe's beginner-friendly online graphic platform just doesn't do enough to overtake its more dynamic rivals.
Comes with professional stock photos

Offers a free premium trial
Limited features and tools

Template quality leaves much to be desired
Documentation & Support
10 / 10
Templates & Elements
6.6 / 10
Online Design Tools: How We Evaluated
For each of the five services from our sample, we booked a paid premium subscription in order to assess all of the platform's features. This took place according to five different categories in which we awarded scores (with 1 being the lowest and 5 the highest). Below, we've summarized what we paid attention to when scoring each category.
Usage
The first aspect we examined was how each provider handled the registration process. Those who expedited this, or made matters as straightforward as possible received higher scores. The only major difference between the providers in this area was whether or not they offered a free trial of their premium version. Canva and Adobe Express give a very generous 30 days, VistaCreate lets you try it out for 14 days, however, PikoChart and Visme don't offer any sort of free trial, even upon request.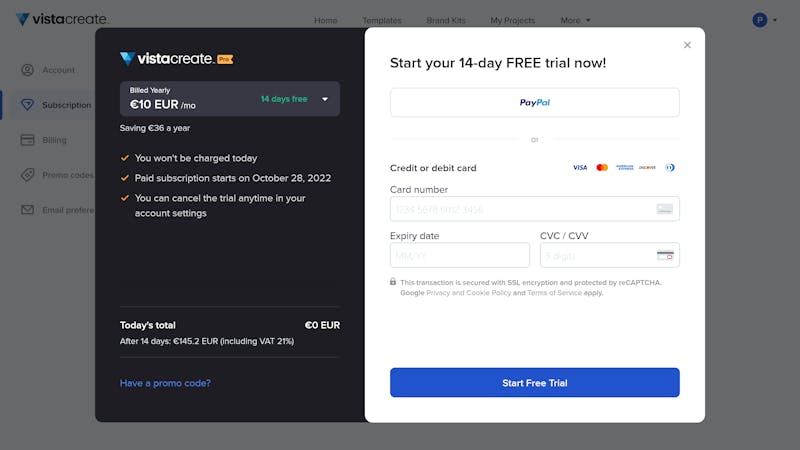 The registration process is straightforward with all five services from our sample, however, only three of them offer free premium trials.
We also evaluated how user-friendly each of our 5 services was. Points were awarded, for example, for clear dashboards and neatly-organized templates. Additional aspects we looked at were how quickly a design can be created, whether text or icons can be added, and what possibilities users have to download the finished project or share it with customers/colleagues.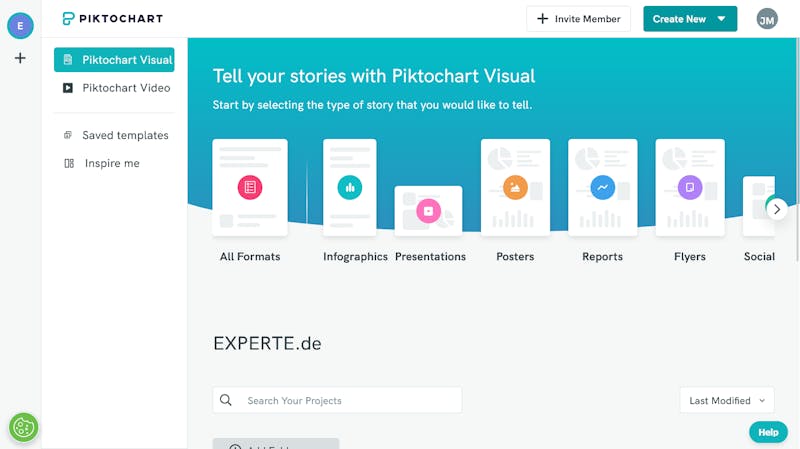 Piktochart's dashboard was one of the most straightforward and well-organized in our sample.
Features
For this part of our assessment, we focused on the technical qualities of each program. What sort of editing options, image filters, and animations are available? Can numbers and raw data be converted into visually-appealing presentations and infographics? Which tools are particularly useful or time-saving? Those services that made a wide array of helpful tools available while still being easy to use received the highest scores in this section.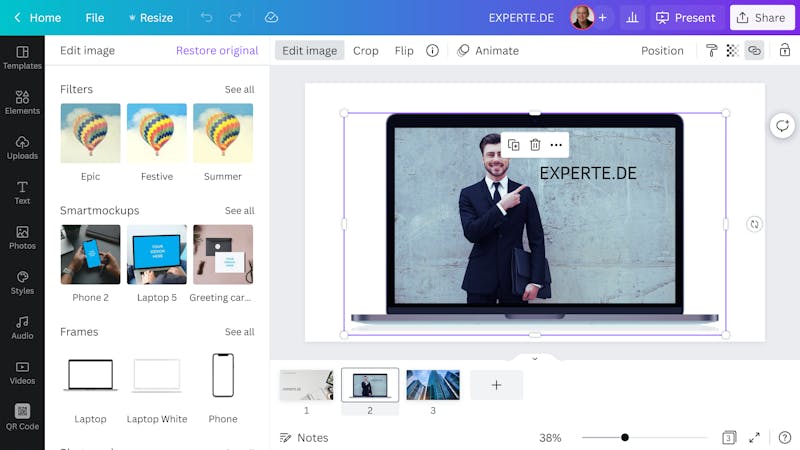 Services could boost their score for their provision of photo-editing capabilities, animations, and helpful tools.
Intuitive video editing and the ability to include brand assets such as logos, fonts, or colors that could then be shared among a team, were additional factors that we judged favorably. Scheduling tools for social media also were advantageous, as were apps and integrations with other tools or software.
Templates & Elements
In this section, everything was about the core competencies of an online design program, namely, what templates and design elements it offers. How good, appealing, and creative are the layouts? Is a topically wide range of content available? Are stock photos and videos offered? Can audio files be integrated?
Here, the differences between the five services became readily apparent. Piktochart's assortment of layouts and templates was fairly limited, however, it excelled in terms of charts, tables, and data visualizations. Adobe Express was the stingiest, failing to offer video clips and stock videos, while also dropping points on account its layouts' quality.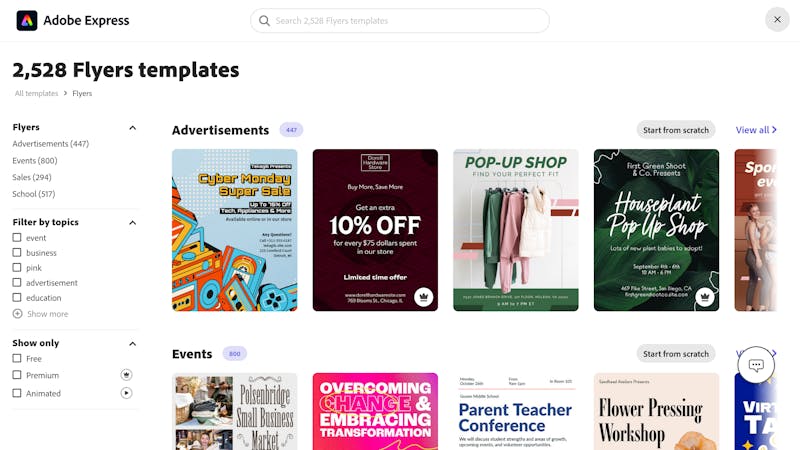 Adobe Express was lacking in creativity and attention to detail: Most of the templates it offers are very basic.
We also paid attention to which elements and fonts are included with each service. From all of the above, we calculated a score.
Support
As with all of our software reviews, we look at support from two aspects: The help center, and direct (or live) support. The former should include easy-to-understand, informative, and up-to-date tutorials, FAQs, and guides.
When it comes to direct support, providers that did well offered clear channels for getting in touch, while responding quickly and competently to our queries. We're happy to report that all five services showed themselves to be customer-oriented, allowing us to award very high scores in this section.
Pricing
What do you get for your money and how do the premium and free versions differ from one another? These questions were answered in the final section of our reviews with our top performer (Canva) taking the highest score.
The table below shows the 12-month subscription price for each service from our sample:
1.
2.
3.
4.
5.
Conclusion
Online design programs can be easily used by anyone to handle a whole range of creative projects. Long gone are the days when you'd have to learn how to use complicated, expensive software in order to create aesthetically pleasing layouts and graphics. Depending on what your needs are and the capabilities of the service you've selected, a free account might even be enough to get the ball moving. Should you want to do more professional work, however, there aren't many ways around a premium subscription, since these enable access to all tools a platform has to offer.
Even though each of the five services we've looked at above focused on graphics, layouts, and design, the differences between the platforms are considerable. We recommend using the free or trial versions of each before purchasing a subscription so that you can see if the provider is capable of doing what you want it to.
FAQs
What's the best online design program?
⊖
During our assessment, Canva emerged as the best online design program. In terms of handling, template selection, and the variety of tools on offer, the software has a clear advantage over its competitors. The sheer amount of content and options might be overwhelming at first, however, after a short while, you should feel right at home in the intuitive environment. On top of that, the service's price-performance ratio is nearly unbeatable.
What can I do with an online design program?
⊕

Author: Julia P. Manzau
Julia P. Manzau has more than 30 years of professional experience in leading editorial and marketing positions in the premium automotive, mechanical engineering, and healthcare industries. She studied Political Science and History in Bonn, Marketing at the St. Galler Business School and earned a BA in Media Engineering (CCI). Since 2015, she has worked as a freelance writer. For EXPERTE.com, she focuses on software, the Internet, and marketing.
Continue Reading
Other languages
Deutsch