ExpressVPN Review 2023: Worth The Price?


Ad disclaimer:
For links on this page, EXPERTE.com may earn a commission from the provider. This supports our work and has no influence on our editorial rating.
The insatiable appetite for data of all sorts has seen virtual private networks (VPNs) grow in popularity over recent years. However, the anonymity they offer should not come at the cost of performance. Our review shows whether ExpressVPN truly lives up to its name.
What Is ExpressVPN?
ExpressVPN* is a VPN service registered in the British Virgin Islands and among the most popular and well-known solutions available. Its reputation is well-deserved, with our test showing that ExpressVPN performs superbly, however, this quality does come at a price.
ExpressVPN Review
Security and Privacy
9.4 / 10
Installation and Features
8.6 / 10
Straightforward app which emphasizes performance

Regularly undergoes independent security audits
1.
Installation and Features
After registering with ExpressVPN, you'll receive an activation code through the app's dashboard, with which you can log in to various devices, eliminating the need to create a new username and password for each. This combination is only needed when you log in through a browser. As an added layer of anonymity, you won't have to verify the email address where the authentication code is sent.
Although we limited our test to Windows and Android, the selection of supported devices is impressive, including Mac, as well as various routers and gaming consoles.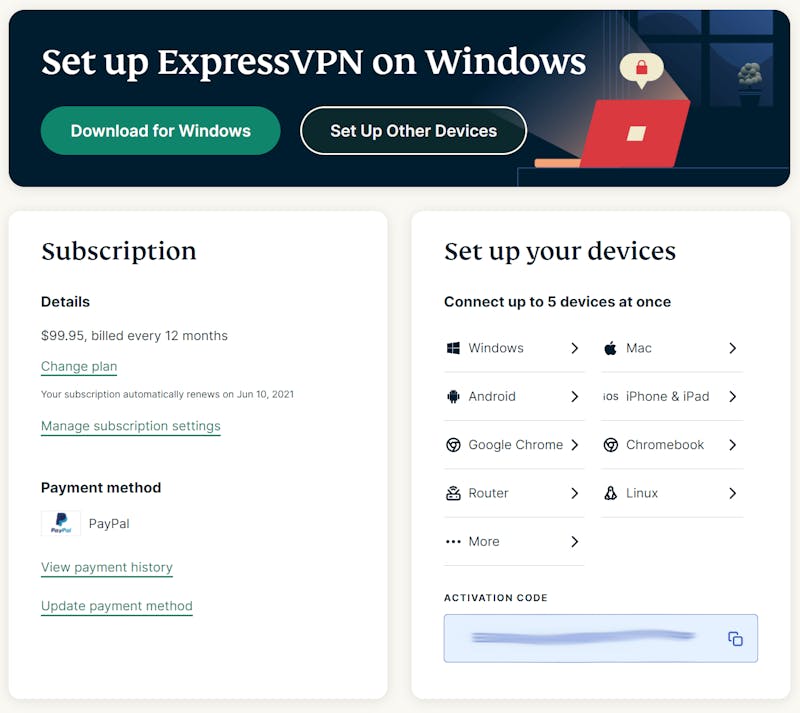 You can find a list of all dedicated VPN apps as well as installation guides for other devices on ExpressVPN's website.
After entering the activation code, the application automatically configures itself, asking only about your preferences for certain settings, such as auto-start. Once finished, you'll land on the main screen.
ExpressVPN has a no-frills interface: Apart from the server location and a hamburger menu, its only other feature is a prominent dark red 'start' button. The app was definitely designed to help users connect to a network as quickly and with as few distractions as possible. There is an ad space below the interface that cannot be closed. During testing, this promoted an ExpressVPN competition with monetary prizes.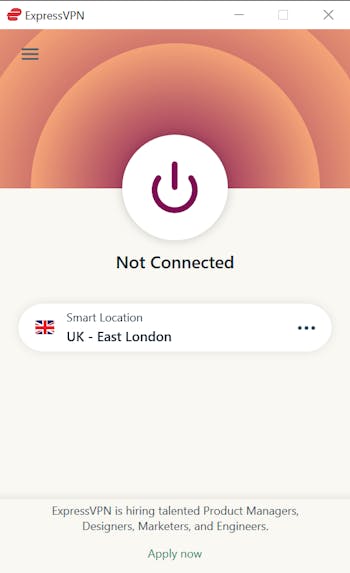 ExpressVPN's desktop client features a minimalist design.
If you would prefer to connect to a specific server in a certain country, you can click on 'server location', which opens a second window. There, you can browse through all servers, choose from a list of suggested locations, or pick from your favorites. The last of these are stored in a separate list.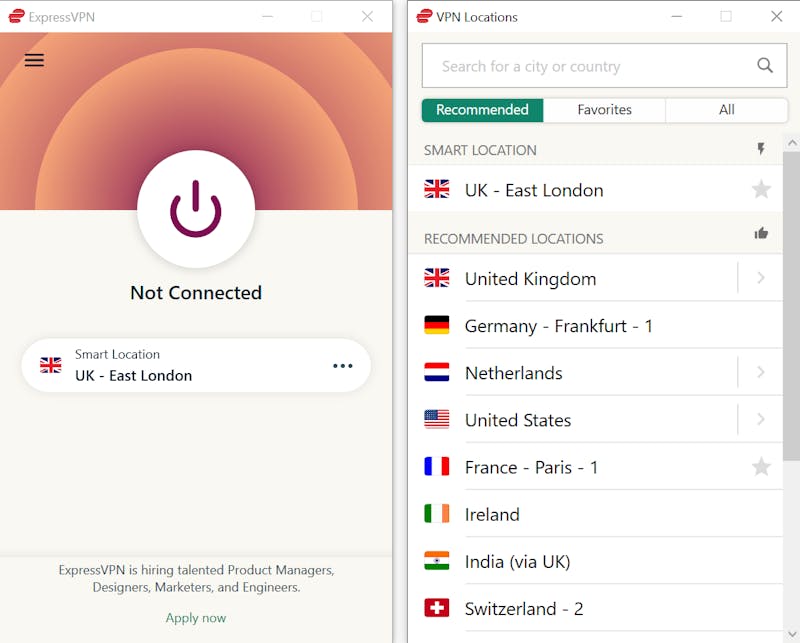 By default servers are sorted by region, however, it is possible to mark your favorites.
Specific server categories, such as streaming or P2P filesharing, aren't offered. ExpressVPN also doesn't provide any information about server performance alongside listed servers, however, through the main menu, you can run a speed test. This assesses all locations, recommended locations, or specific regions. Unfortunately, custom tests for your favorites can't be configured. Here, ExpressVPN could definitely improve.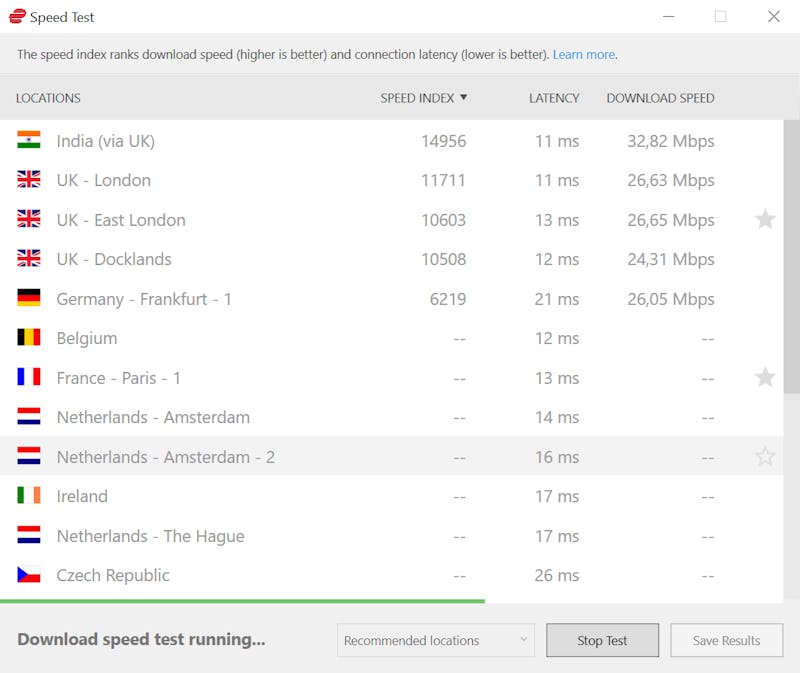 The speed test provides insight into server latency and download speeds.
All other settings are managed by clicking on 'options', which opens a new window. Alongside familiar features like a kill switch ("Network Lock") and protocol options (more on these in the "Security and Privacy" section of this report), you can also install browser extensions for Chrome, Firefox, and Safari.
These are nice additions for users who prefer to use the app directly in their browsers. Thanks to additional security features like HTTPS Everywhere, you'll automatically connect to the secure HTTPS version of a website whenever available.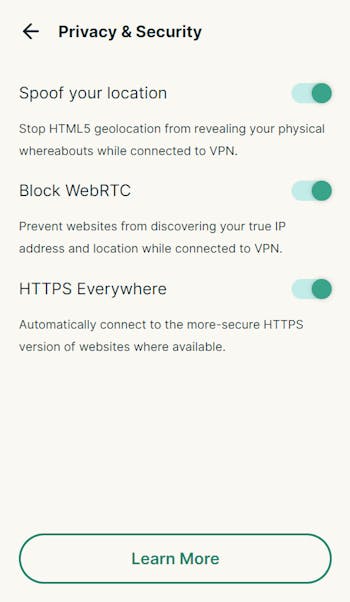 In terms of appearance, ExpressVPN's browser extension is identical to its desktop client, however, it also offers some additional features.
ExpressVPN also offers split tunneling, which makes it possible to limit your VPN connection to specific apps or to exclude certain programs from using it.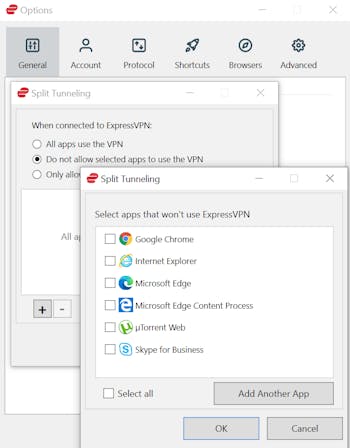 With split tunneling, you decide which apps use your VPN tunnel.
Mobile App
We tested ExpressVPN's Android app which is practically identical to its desktop counterpart. It is just as simple and intuitive to operate and allows connections to be established as quickly as on the desktop. The only question that arises here is why the mobile app does not allow users to select from their favorite servers: In addition to 'auto-location', you're only able to choose from servers you've recently used.
It's possible to view statistics about your VPN usage and information regarding your IP location. Split tunneling and a kill switch are also included.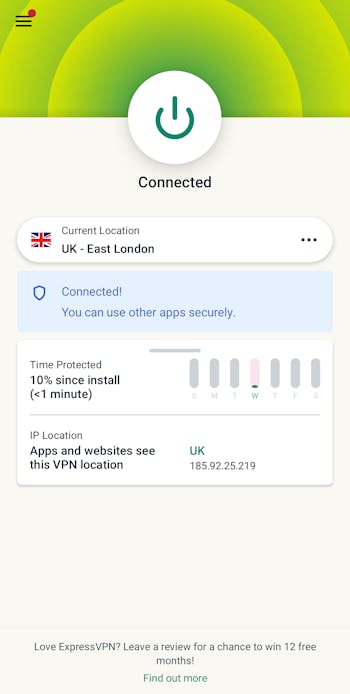 It doesn't take long to get used to ExpressVPN's smartphone app.
ExpressVPN offers straightforward apps, optimized for speed, and loaded with plenty of features. You'll get everything one expects from a VPN provider, however, if you're looking for something extravagant, you won't find it. Most of the bells and whistles, like the adblocker and antivirus scanner, aren't too impressive, and we'd prefer the ability to create multi-hop connections instead. As things stand, ExpressVPN doesn't have any unique selling points.
For anyone who wants to quickly and easily protect themselves with a VPN either on their desktop or elsewhere, ExpressVPN's sleek app interfaces make this possible.
Installation and Features
8.6 / 10
ExpressVPN has more than 3,000 servers in 160 VPN locations across 94 countries. Even though these numbers are impressive, when it comes to pure server power, NordVPN still outmuscles ExpressVPN.Owing to the greater variety of server locations, ExpressVPN's servers are less burdened.
Alongside the usual presence in Europe and North America, ExpressVPN also has a number of servers in Asia, South America, and Africa (South Africa, Kenya, Algeria, and Egypt), the last of which is usually overlooked by VPN providers.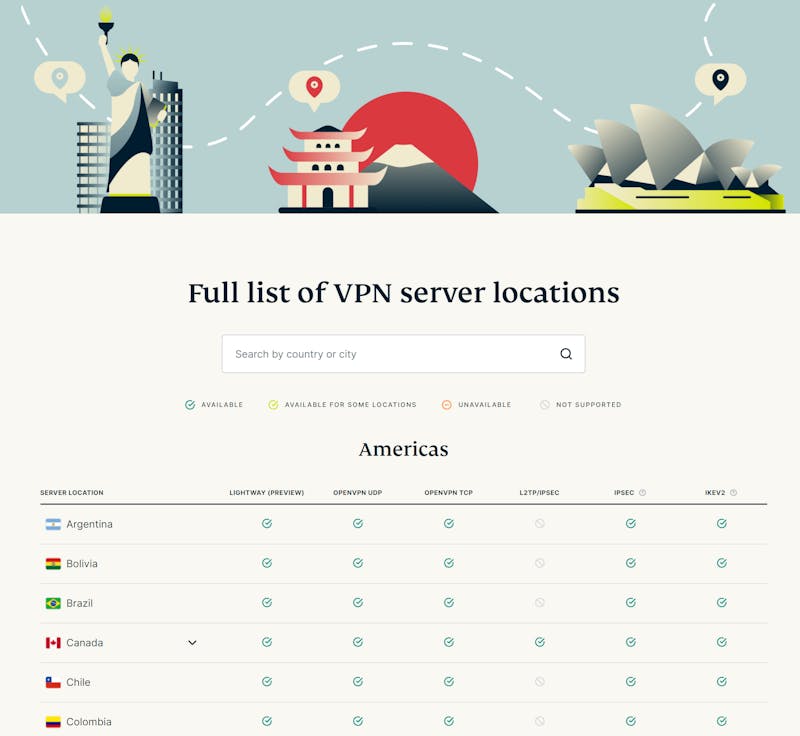 You can find a list of all available server locations and their status on ExpressVPN's website.
Over the past few years, ExpressVPN's server network has not grown much, but it doesn't really need to. In its price class, the service remains a contender for having the best server network in the VPN market.
The speed of all VPNs from our sample was tested using a server in Europe with a 1 GB/s connection. We connected to random ExpressVPN servers in the US and Germany at different times of the day to evaluate their performances. More information concerning our methodology can be found in our VPN speed test.
The table below shows the average results from the last 365 days, arranged in order of download and upload speed (descending).
1.
2.
3.
4.
5.
6.
7.
8.
9.
10.
11.
12.
13.
14.
15.
16.
17.
18.
19.
20.
When the test was conducted, ExpressVPN clocked a download speed of 175 MB/s and an upload speed of 42 MB/s, taking fourth place in our ranking.
The diagram below shows ExpressVPN's average speeds over the past months.
CyberGhost VPN
ExpressVPN
hide.me VPN
HideMyAss! VPN
Hotspot Shield VPN
IPVanish VPN
Mullvad VPN
NordVPN
Private Internet Access
PrivadoVPN
PrivateVPN
Proton VPN
PureVPN
TorGuard VPN
TunnelBear VPN
VeePN
VPN Unlimited
VyprVPN
Windscribe VPN
ZenMate VPN
Monat
Download
Upload
9/22
September 2022
Download: 126.6 Mbit/s 126.6
Mbit/s
September 2022
Upload: 30.6 Mbit/s
10/22
October 2022
Download: 138.9 Mbit/s 138.9
Mbit/s
October 2022
Upload: 34.1 Mbit/s
11/22
November 2022
Download: 141.7 Mbit/s 141.7
Mbit/s
November 2022
Upload: 31.7 Mbit/s
12/22
December 2022
Download: 137.3 Mbit/s 137.3
Mbit/s
December 2022
Upload: 34.4 Mbit/s
1/23
January 2023
Download: 141.7 Mbit/s 141.7
Mbit/s
January 2023
Upload: 34.0 Mbit/s
2/23
February 2023
Download: 128.9 Mbit/s 128.9
Mbit/s
February 2023
Upload: 30.6 Mbit/s
3/23
March 2023
Download: 142.8 Mbit/s 142.8
Mbit/s
March 2023
Upload: 31.3 Mbit/s
4/23
April 2023
Download: 137.4 Mbit/s 137.4
Mbit/s
April 2023
Upload: 30.2 Mbit/s
5/23
May 2023
Download: 134.8 Mbit/s 134.8
Mbit/s
May 2023
Upload: 30.2 Mbit/s
6/23
June 2023
Download: 145.0 Mbit/s 145.0
Mbit/s
June 2023
Upload: 31.9 Mbit/s
7/23
July 2023
Download: 147.6 Mbit/s 147.6
Mbit/s
July 2023
Upload: 32.0 Mbit/s
8/23
August 2023
Download: 146.8 Mbit/s 146.8
Mbit/s
August 2023
Upload: 31.9 Mbit/s
9/23
September 2023
Download: 145.9 Mbit/s 145.9
Mbit/s
September 2023
Upload: 30.5 Mbit/s
ExpressVPN not only did well in our speed test, but it also put in an excellent performance when it came to usage. Within a few seconds and with only a single mouse click, it created a VPN tunnel. We didn't notice any service disruptions or problems, such as captchas, even when completing Google searches.
There's no need for dedicated streaming servers either, as we were able to access all streaming platforms (Netflix, Amazon Prime Video, BBC iPlayer, and Disney+) and watch foreign content.
And what about using ExpressVPN during your next trip to China? It should be a reliable companion and during testing, we were able to establish a connection, so long as we used the Lightway protocol. While connections to Germany and the US didn't work, we were able to bypass the "Great Firewall" through VPN tunnels to Hong Kong and Singapore.
In sum, ExpressVPN shines in terms of both server quantity and quality.
ExpressVPN is registered in the British Virgin Islands, a country known for its lack of data retention laws. This means that your data is in safe hands and can only be accessed by authorities with great difficulty.
Even then, they won't be able to get much from ExpressVPN since the company doesn't store a significant amount of information. According to their website, "ExpressVPN does not and will never log traffic data, DNS queries, or anything that could be used to identify you."
However, the company does log some data, such as your email address (a throw-away email account could be used for the activation code) and the date of your connections. Pertinent information should be safe, at least according to the company's statements. And you can trust these since ExpressVPN has allowed its security to be independently audited by third parties, the most recent of which was conducted by PwC in June 2020.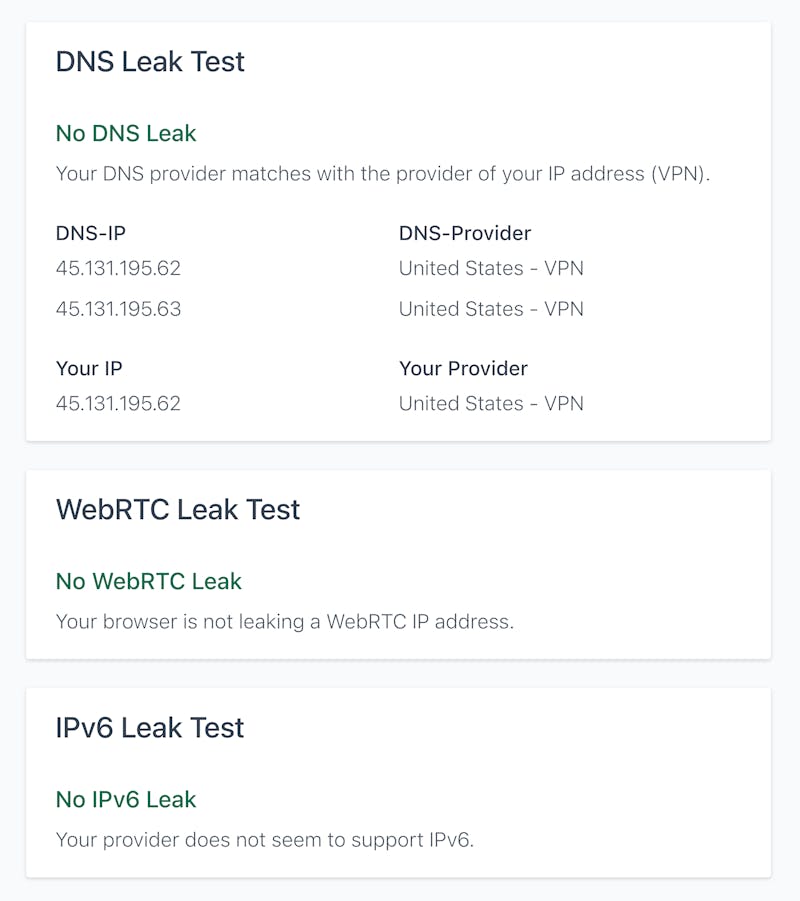 No leaks were identified during our test meaning that our privacy was secure.
The program passed various VPN leak tests, for IPv6, DNS, and WebRTC, without issue.
ExpressVPN offers users a selection of several VPN protocols, including OpenVPN, IKEv2, and L2TP/IPsec. One notable absence is WireGuard, however, ExpressVPN's in-house VPN protocol, Lightway, claims to offer similar functionality and protection. VPN connections are encrypted with the global norm, AES 256, which guarantees maximum security.
When it comes to security and privacy, there aren't any red flags with ExpressVPN. The integration of a few features offered by other providers, such as NordVPN's server categories or hide.me's Stealth Guard would be welcome, but as things stand, there isn't much to complain about.
Security and Privacy
9.4 / 10
ExpressVPN's support center provides answers to a variety of FAQs, in addition to video tutorials and guides.
The support team can be contacted directly through live chat, email, or support ticket. The app also has an integrated contact form, allowing for questions to easily be asked in regard to whatever function or aspect requires clarification. Staffers then reply to an email address you provide.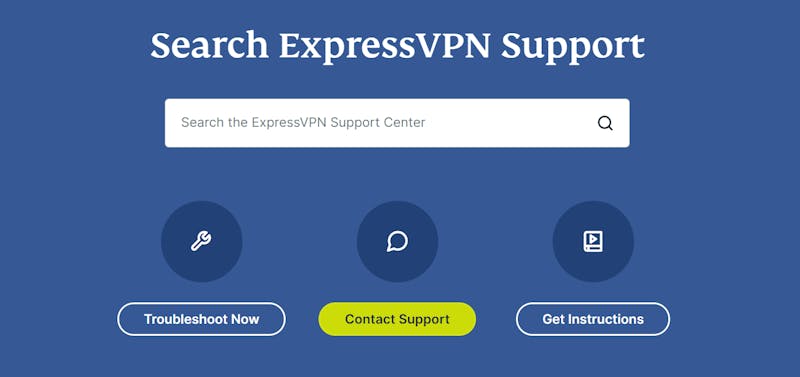 ExpressVPN offers solid support.
During several tests of the service's live chat, we received answers from knowledgeable support personnel within seconds. A question sent using the app's contact form was answered after 20 hours.
For ExpressVPN's excellent services and features, customers need to dig a bit deeper into their wallets than with other providers. The exact price still depends on the length of your contract, however, the savings from long-term ones are slightly less than elsewhere. An overview of ExpressVPN's current rates is provided in the table below:
12 Months
6 Months
1 Month
Set-up Fee
$0.00
$0.00
$0.00
Monthly Price
$8.33
$9.99
$12.95
Contract Period (Months)
12
6
1
Limits
Data Volume
unlimited
unlimited
unlimited
Number of Devices
5
5
5
Features
Number of Servers
3,000
3,000
3,000
Number of Countries
94
94
94
No Server Logs
P2P Allowed
Tor Access
Kill Switch
Protocols

OpenVPN

PPTP

SSTP

IKEv2

IPSec

L2TP

Eigenentwicklung

OpenVPN

PPTP

SSTP

IKEv2

IPSec

L2TP

Eigenentwicklung

OpenVPN

PPTP

SSTP

IKEv2

IPSec

L2TP

Eigenentwicklung
ExpressVPN accepts all major credit cards, PayPal, and payment methods like Alipay, Yandex, or Giropay. For even more anonymity, subscriptions can also be paid with BitCoin.
While a free trial version isn't offered, every subscription comes with a 30-day, money-back guarantee.
Conclusion
Security and Privacy
9.4 / 10
Installation and Features
8.6 / 10
Speed is far from the only thing that ExpressVPN has going for it: The service also offers superbly-designed applications that leave little to be desired, to say nothing of its globetrotting server network. Rounding out the positives, it's also part of the (unfortunately) small circle of VPN services that allow their security to be regularly evaluated by independent auditors.
There isn't really anything 'wrong' with ExpressVPN, apart from its price, which may too high for some. Keep in mind that other VPNs offer similar performance for much less. In addition, ExpressVPN doesn't actually bring any interesting or unique extras to the table.
Should neither cost nor nifty extras be issues, ExpressVPN is one of the most reliable VPN options on the market.
ExpressVPN can impress with a strong performance, a huge server network, and excellently designed applications, but this quality also comes at a higher price.
Data Volume
Devices
Protocols
Contract Period
ExpressVPN 12 Months
$8.33
monthly price
Visit Website*
30 days money-back guarantee
Customer Reviews
ExpressVPN is highly regarded by its customers, with its good performance and user-friendliness frequently praised. The most common criticism levelled against the service is its high price.
Customer Ratings
655,392 Bewertungen
Visit Website*
We analyzed the reviews and ratings from various portals and found 655,392 ratings with an overall rating of 4.5 out of 5 .
Alternatives
In case you're looking for more power at a lower price, you can check out the fastest provider from our sample, NordVPN, which costs less than half as much per month as ExpressVPN. You won't be sacrificing security either, as NordVPN regularly undergoes independent external audits. We've even compared the top two services from our sample here: ExpressVPN vs. NordVPN
An even more affordable high-quality VPN is Surfshark - which we've directly compared here: ExpressVPN vs. Surfshark
Alternatively, if you're in the market for a free VPN, we recommend ProtonVPN, since you won't have to worry about data limits.
The best alternatives can be found below:
NordVPN is our number one VPN because it combines speed, ease-of-use, and functionality in a slick package that's also pretty affordable.
5,500+ servers, 60 countries
affordable 2-year package
9.4

excellent
Data Volume
Devices
Protocols
Contract Period
NordVPN 2-year plan
$3.49
monthly price
Visit Website*
30 days money-back guarantee
With its open source philosophy and extra security features, Proton VPN targets security-conscious VPN users. But thanks to its user-friendly interface and suitability for streaming, it's worth a look for a wide audience.
open source & external audits
2,900+ servers in 67 countries
free plan without data limit
9.1

excellent
Data Volume
Devices
Protocols
Contract Period
Proton VPN Free
$0.00
monthly price
Visit Website*
Free forever
Surfshark is one of the cheapest providers on the market, but it's a lot more than a great budget option: the relatively new VPN boasts strong protection, many features, and a great support with 24/7 live chat.
3,200+ servers in 100 countries
unlimited number of devices
many apps (Linux, FireTV, ...)
8.8

good
Data Volume
Devices
Protocols
Contract Period
Surfshark 24 months
$2.49
monthly price
Visit Website*
Get 83% Discount
HideMyAss' main claim to fame is its impressive server infrastructure, but the VPN also delivers solid speeds and handy features like its IP Randomizer. When it comes to streaming, however, it's not always the most reliable choice.
Data Volume
Devices
Protocols
Contract Period
HideMyAss! 36 months
$2.99
monthly price
Visit Website*
30 days money-back guarantee
Hide.me secures its place in our top 10 with good to very good grades in all test categories. The app is filled to the brim with handy features, the performance is solid, and with 10 GB of data per month, the free tier is also worth a look.
78 locations in 49+ countries
many features, incl. split tunneling
free plan with 10 GB monthly
8.4

good
Data Volume
Devices
Protocols
Contract Period
hide.me Free
$0.00
monthly price
Visit Website*
Free forever
* Ad disclaimer:
For links marked with an asterisk, EXPERTE.com may earn a commission from the provider. The commission has no influence on our editorial rating.

Martin Gschwentner majored in American Studies and Media Studies in Germany, the USA and France and works as a freelance editor in Paris. He is a doctoral student at the Institute for English and American Studies at the University of Paris Diderot, where he is researching the influence of money on US politics. On EXPERTE.com he writes about IT security, data protection and software for the self-employed and small businesses.

Translation: D Bare
Continue Reading
Reviews
Comparisons
Tools & Guides