Best VPN for China 2023: Get Around The Great Firewall?

Our editors test and evaluate all services independently. For links on this page, EXPERTE.com may earn a commission from the provider.
In the 21st century, China has become infamous for a second "Great Wall", this time in the digital domain. The so-called "Great Firewall" prevents dissidents from voicing their opposition, and the country's citizenry from exposure to Western influence, but it also blocks numerous websites that are part of most people's everyday life (outside of China, of course).
To find out whether one of your favorite sites is blocked, you can consult our Internet censorship checker. Should you want to access any of these websites while visiting or living in China, you'll need a VPN.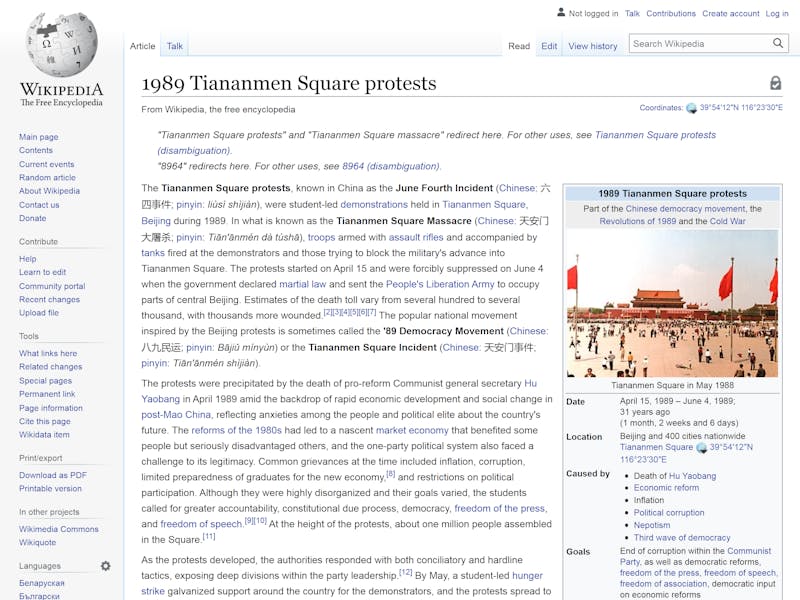 Wikipedia is blocked in China because it contains information that casts the ruling Chinese Communist Party in an unfavorable light.
VPNs aren't only good for concealing your traffic and helping you surf the Internet anonymously, they also make it possible to circumvent geo-blocking and restrictions in countries that limit Internet access, such as China. Should you find yourself heading there in the near future, and want to be able to access websites like Google or YouTube, a reliable VPN is the best solution.
Unfortunately, not every VPN provider has what it takes to bypass the "Great Firewall", so, we looked at all 27 providers from our sample to see which are useful for your next trip to China, and which are better left at home.
Best VPNs for China
To find out which VPNs are capable of surmounting the "Great Firewall", we used servers based in China. Of the 27 providers in our sample, only 6 were able to establish a VPN tunnel, however, this should not be taken as conclusive since VPNs are in a constant cat and mouse game with Chinese authorities.
With that said, the providers below demonstrated their ability to help users access websites otherwise blocked and unavailable in China when we tested them:
NordVPN is our number one VPN because it combines speed, ease-of-use, and functionality in a slick package that's also pretty affordable.
5,500+ servers, 60 countries
affordable 2-year package
9.4

excellent
Data Volume
Devices
Protocols
Contract Period
NordVPN 2-year plan
$3.49
monthly price
Visit Website*
30 days money-back guarantee
NordVPN took the top spot in our evaluation, combining ease of use with excellent performance and high security. The provider's server network is formidable and all important features, including split tunneling, are offered.
The service is also recommended for your next trip to China, however, you will have to pay attention to a few settings. To establish a connection, you'll need to select NordVPN's NordLynx protocol from Settings.
Thankfully, despite being one of the best VPN providers on the market, its prices remain reasonable, with its 2-year subscription being a particularly attractive option for bargain hunters.
EXPERTE.com's winner; wonderful combination of features and functionality
Installation and Features
9.4 / 10
Security and Privacy
9.4 / 10
ExpressVPN can impress with a strong performance, a huge server network, and excellently designed applications, but this quality also comes at a higher price.
Data Volume
Devices
Protocols
Contract Period
ExpressVPN 12 Months
$8.33
monthly price
Visit Website*
30 days money-back guarantee
In our comprehensive VPN evaluation, ExpressVPN finished just behind NordVPN owing to its high speeds, intuitive user interface, and far-reaching network of 3,000 servers across 94 countries.
However, ExpressVPN also has the dubious distinction of being more expensive than almost all other services from our sample (when considering long-term subscriptions). Its parent company, Kape Technologies, also suffers from a poor reputation, having been accused of being a malware and adware slinger in the past.
Still, ExpressVPN offers what, in our opinion, are the best browser extensions for Chrome and Firefox, since they not only create a proxy connection (like most VPN browser extensions) but also serve as remote controls for the service's desktop client. This guarantees secure, protocol-based connections.
To create a connection from China, you'll need to use ExpressVPN's Lightway protocol. During testing, we were able to connect to VPNs in Singapore and Hong Kong from China, and from there, to the US and Germany. Although far from ideal, this allowed us to bypass the "Great Firewall's" restrictions.
Direct connections to German and US servers not possible from China

Shady parent company (Kape Technologies)
Security and Privacy
9.4 / 10
Installation and Features
8.6 / 10
Surfshark is one of the cheapest providers on the market, but it's a lot more than a great budget option: the relatively new VPN boasts strong protection, many features, and a great support with 24/7 live chat.
3,200+ servers in 100 countries
unlimited number of devices
many apps (Linux, FireTV, ...)
8.8

good
Data Volume
Devices
Protocols
Contract Period
Surfshark 24 months
$2.49
monthly price
Visit Website*
Get 83% Discount
Surfshark, our price-performance winner, might be relatively new to the VPN market, but don't let that fool you. Thanks to its feature-laden applications and low price, the provider has already made quite a name for itself, which will only improve as it continues to expand its already respectable server network. In terms of speed, Surfshark came in second place, right on NordVPN's heels.
Although it sounds odd, bringing along this shark on your next trip to China makes sense. The provider even offers a feature for facilitating this called "NoBorders", with which you can circumvent Internet restrictions in general, not only in China. In addition, make sure to activate the Shadowsocks protocol, since many servers won't work with automatic protocol selection enabled.
Offers many features, including split tunneling

Bargain 2-year subscription
Server network could be larger
Installation and Features
9.4 / 10
Security and Privacy
8.0 / 10
4.
Private Internet Access
Besides its huge server network and its audit-proofed 'no logs policy', Private Internet Access sets itself apart from the competition with its module-based app that can be adjusted to each users' habits.
34,000+ servers in 84 countries
performance could be better
8.2

good
Data Volume
Devices
Protocols
Contract Period
Private Internet Access 3 Years
$2.19
monthly price
Visit Website*
Private Internet Access won us over with its sleek and intuitive VPN client which comes loaded with plenty of features and customizable settings. In particular, we really liked the ability to personalize the app by adding or removing modules, a feature unique among the providers in our sample.
We were a bit less thrilled with how the provider performed, posting decent speeds that were only good enough for 12th place in our EXPERTE.com speed test. As is the case with ExpressVPN above, PIA also belongs to Kape Technologies, which for privacy aficionados is a red flag.
With that said, we have no doubts when it comes to PIA's suitability for usage in China: To connect to a foreign server from China, all you'll have to do is select the WireGuard protocol.
Has module-based, customizable apps

Good combination of user-friendliness and features

Possesses a massive server network (34,000+ servers)
Average performance during speed testing

Questionable parent company
Installation and Features
10 / 10
Security and Privacy
6.0 / 10
With its flexible pricing and a generous free plan, Windscribe is a solid option for budget-minded VPN users. It also has a nice, lean app with lots of features – but sadly, its performance can't keep up.
Data Volume
Devices
Protocols
Contract Period
Windscribe Free
$0.00
monthly price
Visit Website*
Download for free
So far as free VPNs are concerned, Windscribe was one of our favorites, in large part owing to its generous provision of 10 GB of data per month. The software's paid version wasn't all that shabby either, offering up a solid app that puts some interesting features at its users' fingertips, such as "Double Hop" (simultaneously activates two VPN connections) or "Split Personality" (minimizes the risk of browser-fingerprinting).
We were disappointed in how the service performed though, with Windscribe finishing near the bottom of our speed ranking. Its lack of external audits also wasn't a positive, since it means we have to take the service at its word not to collect logs, and we don't like doing that.
Should you want to use Windscribe in China though, you're in luck! Just remember to download and install its client before departure, as you won't be able to do so once in China (that is to say, without a VPN). When connecting, make sure to select the Stealth protocol.
Intuitive app offering plenty of features like split tunneling and double hop

Affordable subscriptions at flexible prices

Free version with a monthly data limit of 10 GB
Has not submitted to an external audit
Installation and Features
9.4 / 10
Security and Privacy
6.0 / 10
Data Volume
Devices
Protocols
Contract Period
Hotspot Shield Free
$0.00
monthly price
Visit Website*
Like Windscribe, Hotspot Shield also made it onto our list of the best free VPNs, offering even more data than its competitor: Free users receive 500 MB every 24 hours, equating to 15 1/2 GB per month.
Alongside unremarkable speeds and performance, we also took issue with the provider for its overly invasive data collection practices and lack of an external security audit.
Beyond that, Hotspot Shield cut a good figure: Its server network is decent, it offers important features like split tunneling, and we didn't have issues streaming content from abroad when using it. Connecting from China also worked without issue, even with automatic protocol selection.
User-friendly applications
Underwhelming performance

Privacy and data collection issues

Has not submitted to any external security audits
Installation and Features
8.0 / 10
Security and Privacy
5.4 / 10
How We Tested
To test each service, we purchased a subscription to all providers in our sample, thoroughly evaluating their clients and apps. Individual reviews are divided into six main areas, five of which we scored:
Installation and Features
Here, we looked at the availability and user-friendliness of each VPN, on both desktops and mobile devices. We also paid attention to how many features were offered and what settings can be configured or modified. A good VPN client or app should be intuitive to use and grant users access to plenty of features.
Server Network
When it comes to VPN networks, two numbers are important: Servers and server locations. For both, the more, the better.
Performance
When examining performance, we took a few different aspects into consideration: In our speed test, we measured each provider over an extended period of time. Beyond that, we also looked at how each performed on a day-to-day basis, for surfing, video streaming, and whether they were able to circumvent the "Great Firewall".
Security and Privacy
For this aspect, we carefully examined each provider's privacy policy, determining whether these are conducive to user privacy or infringe upon it. We also examined what security practices each provider adheres to, performing VPN leak tests in the process. Finally, we noted whether a provider has submitted to external security audits, if they do so regularly, and whether their privacy or data security practices have been criticized, such as by supplying user information to third parties.
Customer Support
In terms of support, we looked for good direct support options (ideally, a live chat) and an equally informative help center containing FAQs, guides, and if possible, video tutorials. For email or ticket support, response times of less than 24 hours translate into good scores.
Which Websites Are Blocked in China?
Plenty of websites that are likely a part of your daily browsing are censored in China. These include, but are not limited to:
Facebook

Google (as well as lots of Google's Apps, like Gmail, or Google Maps)

Instagram

Wikipedia

Spotify

Most news sites, such as the New York Times or Washington Post
In addition, just because a website is available today, doesn't mean that you'll be able to visit it tomorrow. Chinese government censors are constantly on the prowl for content at odds with the CCP's ideology and don't hesitate to block websites or services, even on very trivial grounds. To access the free Internet in China, you'll need a VPN.
You can easily check which websites are available in China and which are blocked with our EXPERTE.com Internet Censorship Checker, which has servers in Peking, Shanghai, and Shenzhen. All you have to do is input the URL you want to visit, and the tool will tell you whether it's accessible in China or not: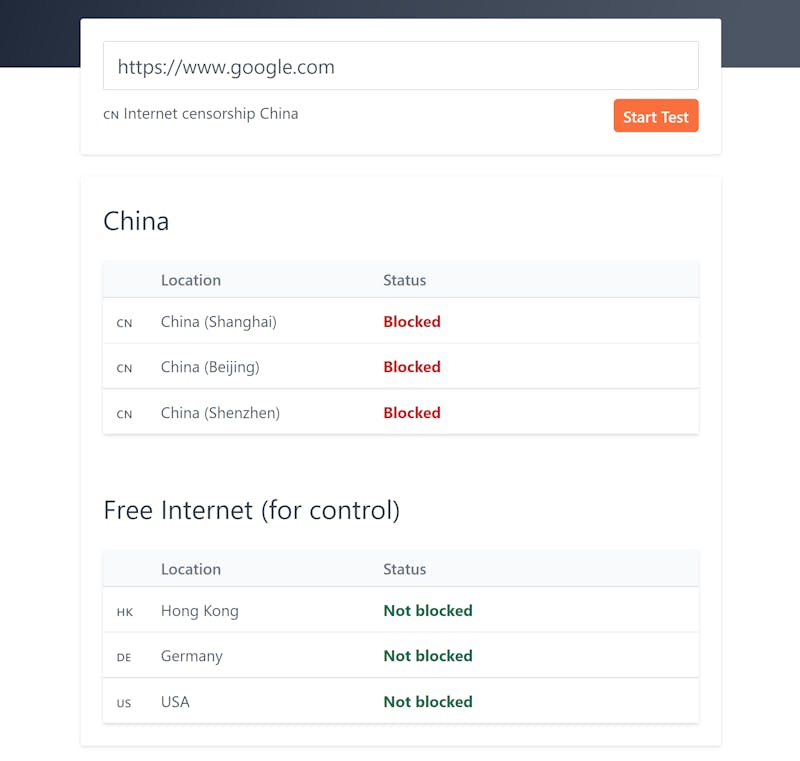 EXPERTE.com's Internet Censorship Checker tells you which websites are available in China and which are blocked.
Guide: How to Use a VPN in China
Have you settled on a VPN provider? In order to use it during your trip to China and overcome the Great Firewall, just follow these steps:
Step 1: Before you cross the border, make sure that you download all of the apps offered by the VPN of your choice for your devices. Most of the time, these can easily be found in the user area or a dedicated downloads section of their homepage. For this guide, we used NordVPN, the top performer in our assessment.
Hint: Do this before your trip. Most VPN websites are blocked or unavailable in China.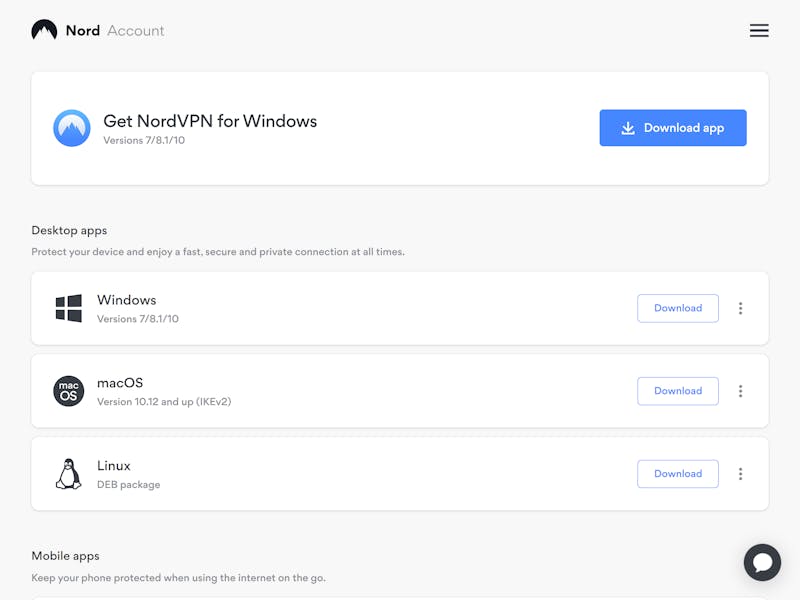 You can find all available apps in NordVPN's download area.
Step 2: Install and open the VPN app. Select a server from the list that you'd like to establish a connection to.
Hint: Connection speeds depend on how physically far you are from the VPN server. For that reason, it's advisable to select a server that's close by, such as in Taiwan or Japan, in order to optimize your performance.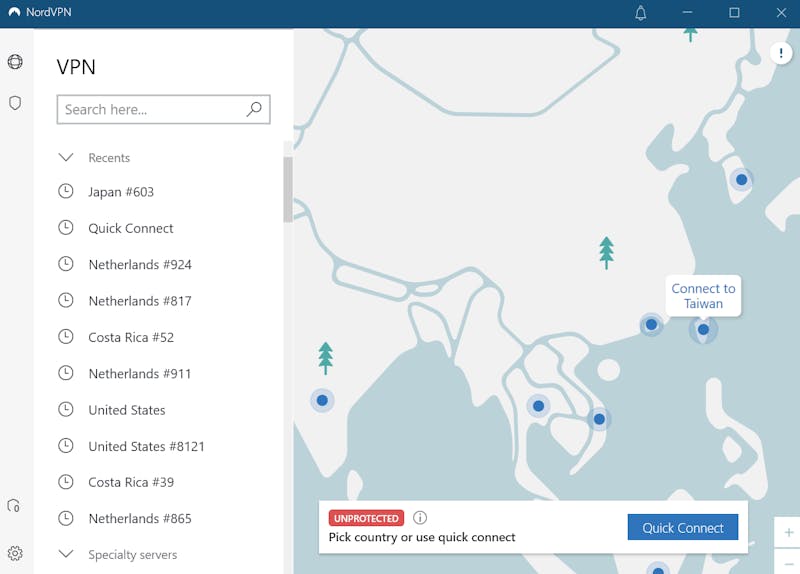 Now, select the VPN server you'd like to connect to.
Step 3: As soon as the VPN connection is established, you can use the Internet just as you would at home and visit sites that would otherwise be blocked in China.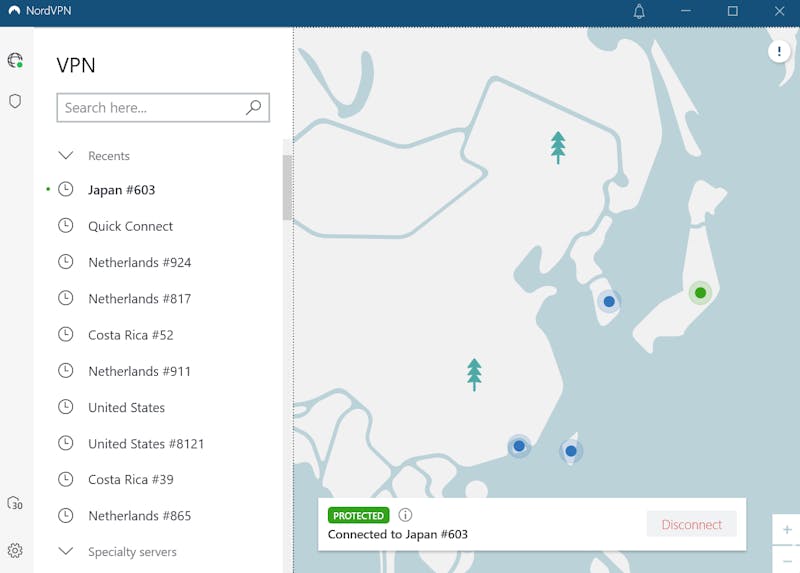 With your new VPN connection, you can easily bypass the Great Firewall.
VPN in China: Is It Legal?
Considering how tenaciously the Chinese Communist Party pursues censorship, it's understandable to have a few concerns about whether or not using a VPN is legal in the PRC. First off, the bad news: Any VPN service that isn't explicitly approved by the Chinese government is prohibited. As such, technically speaking, using a non-authorized VPN to get around the Great FIrewall's censorship measures is illegal.
But now the good news: Most likely, you won't have to fear any adverse consequences, since VPN usage is de facto very common and widespread. We're not aware of any cases where a tourist or visitor came into difficulties of any kind owing to the usage of a VPN. Still, we think it's important to know where things stand, as well as that from a strict legal sense, using a VPN in China is prohibited.
Conclusion
Should you want to be able to access Google, YouTube, Netflix, or Facebook during your next trip to China, there's just no getting around a VPN. Unfortunately, not every VPN provider is able to overcome the "Great Firewall", and even some of those that claim to be, weren't up to the task when we evaluated them.
As of the time of testing, we enjoyed success with the above six providers, however, this can periodically change as Chinese authorities and censors don't take their jobs lightly. We recommend checking shortly before your trip whether the VPN service you're using is effective in China or not, for example, by paying a visit to their user forum or reading a few recent customer reviews.
FAQs
Which VPNs work in China?
⊖
When we evaluated the services from our sample, six were capable of establishing connections from China, namely, NordVPN, ExpressVPN, Surfshark, Private Internet Access, Windscribe, and Hotspot Shield. For most of these, it's necessary to select a specific VPN protocol in order to connect, as well as to download and install the provider's client prior to departure.
What is the best VPN to use in China?
⊖
NordVPN offers excellent performance, solid apps, and a high degree of security, all of which helped it to achieve first place in our comprehensive evaluation. The service is also highly affordable, offering excellent performance at a low price. Since NordVPN can bypass the "Great Firewall", it is the best VPN for usage in China in our opinion.
Why should I use a VPN in China?
⊖
The Chinese government has blocked many online services and websites commonly used by those elsewhere in the world, such as Facebook, Wikipedia, and even Google. To access these while in China, you'll need a VPN.
Is it legal to use a VPN in China?
⊖
The Chinese government prohibits the use of non-authorized VPNs. For that reason, providing a clear legal answer, either way, is difficult. With that said, using a VPN is likely semi-legal. Since we're not aware of any cases of visitors to China being punished, fined, or jailed for using VPNs, given their commonality in the country, it seems that their usage is not prosecuted.

Martin Gschwentner majored in American Studies and Media Studies in Germany, the USA and France and works as a freelance editor in Paris. He is a doctoral student at the Institute for English and American Studies at the University of Paris Diderot, where he is researching the influence of money on US politics. On EXPERTE.com he writes about IT security, data protection and software for the self-employed and small businesses.

Translator & Editor: D Bare
Continue Reading
Reviews
Comparisons
Tools & Guides
Ad disclaimer
* For links marked with an asterisk, EXPERTE.com may earn a commission from the provider. The commission has no influence on our editorial rating.