Mullvad Review 2023: The Anonymous VPN

Every VPN provider makes at least two promises: Enhanced security and more privacy. Since the encryption principle for each program is the same, providers increasingly attempt to differentiate themselves by strengthening these promises.
Mullvad VPN has sought to do this by allowing users to register without an email address and pay for their subscriptions with cash. Our test shows if Mullvad's added anonymity and privacy are bonuses offered on top of strong service or meant to cover up for the provider's shortcomings.

What Is Mullvad VPN?
Mullvad ⇱ is a VPN provider founded in 2009 in Göteborg (Sweden) and owned by Amagicom AB. The provider offers applications for Windows, macOS, iOS, and Android.
Review
Security and Privacy
10 / 10
Customer Support
6.6 / 10
Installation and Features
6.6 / 10
Anonymous registration and payment

Has submitted to independent security audits
Relatively small server network
2.
Installation and Features
Mullvad might be a paid service, however, creating an account is much easier than with its competitors. You don't need to enter an email address, receiving instead an account number from the company upon registration. Subscriptions can be paid for using PayPal, credit cards, bank transfer, Swish, as well as anonymous methods like Bitcoin, Bitcoin Cash, cash, or mail-in vouchers.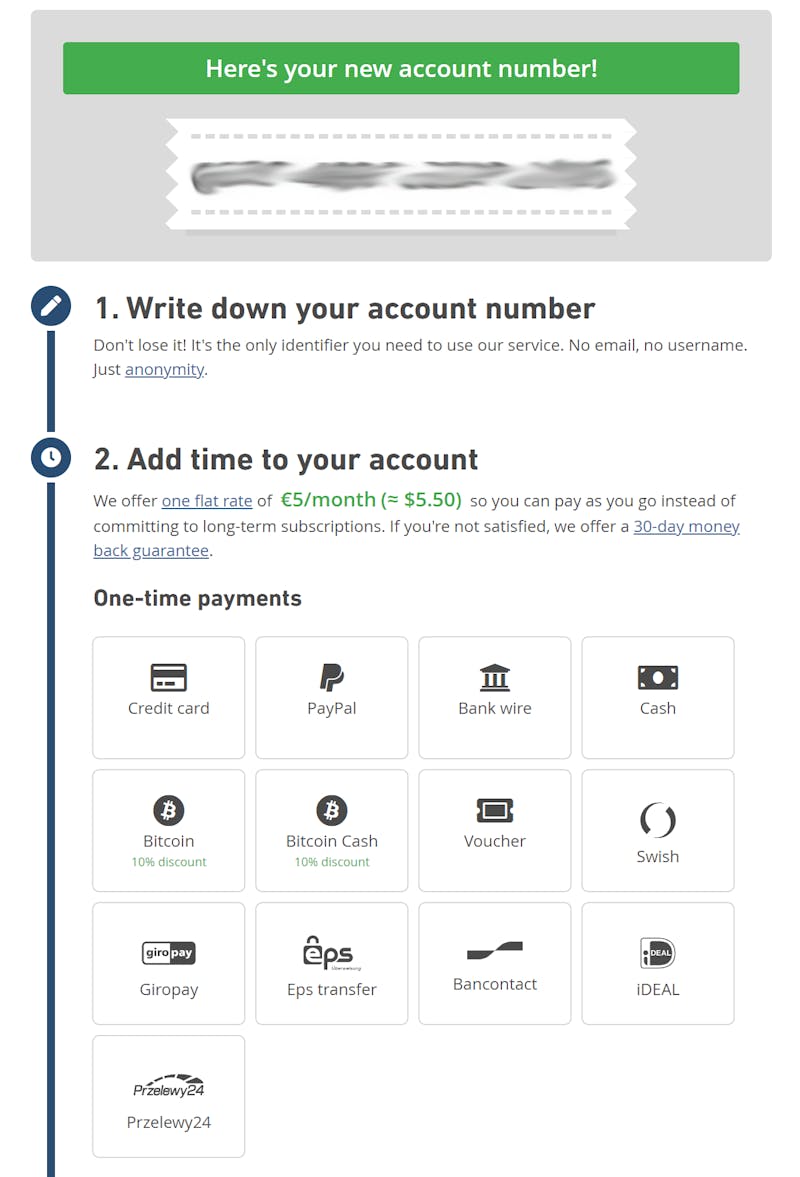 To use Mullvad VPN, you won't even need to enter an email address.
After downloading the client, it's only necessary to enter your account number to establish a VPN connection. Perhaps the software has homesickness because as soon as you load the client, Mullvad automatically establishes a connection to Sweden. This can be changed with a single mouseclick, however.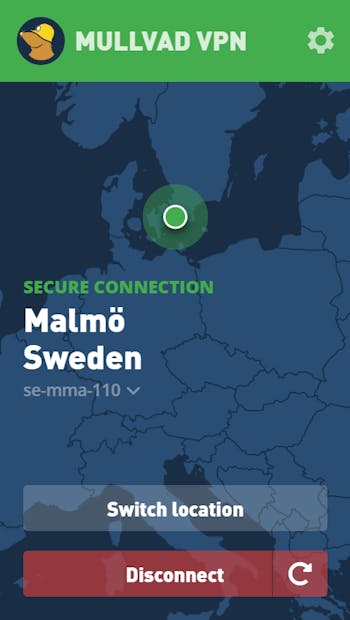 The interface is similar to those of other VPN services, however, Mullvad is pinned to the bottom of the screen in the Windows taskbar, meaning that the client cannot be moved freely across the screen. After some time, this small difference becomes unnoticeable.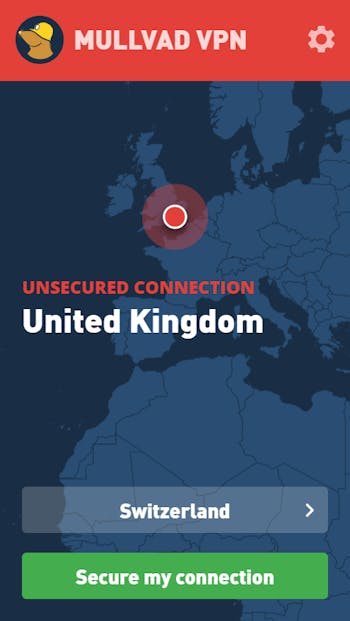 After clicking on the green button, Mullvad's mole begin to 'burrow' a secure VPN tunnel for you.
Apart from this, installation is relatively self-explanatory. A connection can be established by clicking on the green button, whereas you can select a server by clicking on the button above this. Mullvad VPN only includes the most necessary functions here; You won't find a quick connect feature, server categories, favorites, or even server information. By clicking on the arrow to the right, you can view all available servers in each country.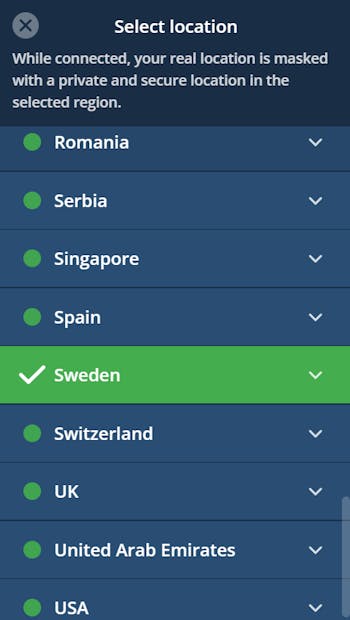 The server list is clear but doesn't include categories.
Settings can be accessed by clicking on the gear symbol in the upper right. If you want the app to auto-start and automatically create a VPN connection, you can do so under preferences. Apart from that, you can allow other devices to use the same network.
Under 'Advanced', you'll find a kill switch and be able to change VPN protocols, which we examine in greater detail below. The kill switch ensures that your Internet connection is severed whenever an issue with your VPN tunnel arises, guarding you against unprotected surfing.
Mullvad VPN does provide multi-hop functionality through its "bridge mode". This routes your traffic through two different, user-defined VPN servers, helping to better conceal your activity online. In addition, it's also possible to enter a user-defined DNS server.
Split tunneling, the selective use of your VPN connection for certain programs or apps, is not offered.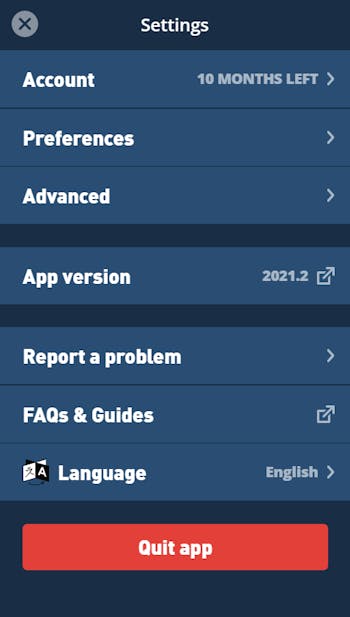 Among the settings, multi-hop really stands out. Unfortunately, split tunneling is not offered.
Mobile App
The Android app is nearly identical to the desktop client, with the only real difference being its fewer settings (you won't find bridge mode, for example). To compensate for this, split tunneling is offered for smartphone users, allowing you to select which applications should not use your VPN tunnel.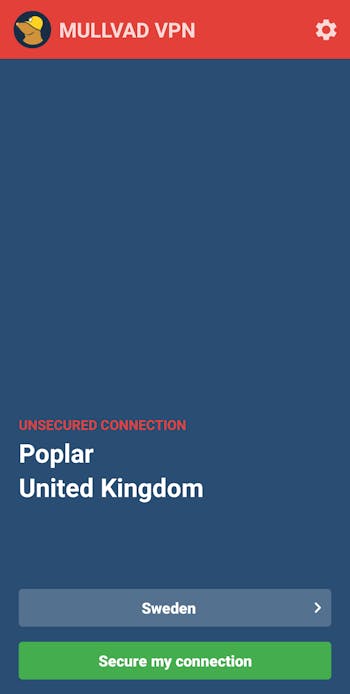 The smartphone app is nearly identical in appearance to the desktop client.
Mullvad VPN shines thanks to its uncomplicated account creation procedure, anonymous payment options, as well as multi-hop (desktop) and split tunneling (mobile) functionality. Nevertheless, the apps still feel slightly 'empty', owing to the paucity of options and settings in the server list, and the absence of a quick-connect feature.
Score: 3.3 / 5
Mullvad's server list is nothing to write home about: The provider's 754 servers are spread across more than 60 cities in 36 countries. Most of these are located in Sweden, the UK, and the US, as well as a number of European countries. In addition, there are a few locations in the Asian-Pacific (Australia, Hong Kong, and Japan), South America (Brazil), and the Middle East (UAE and Israel).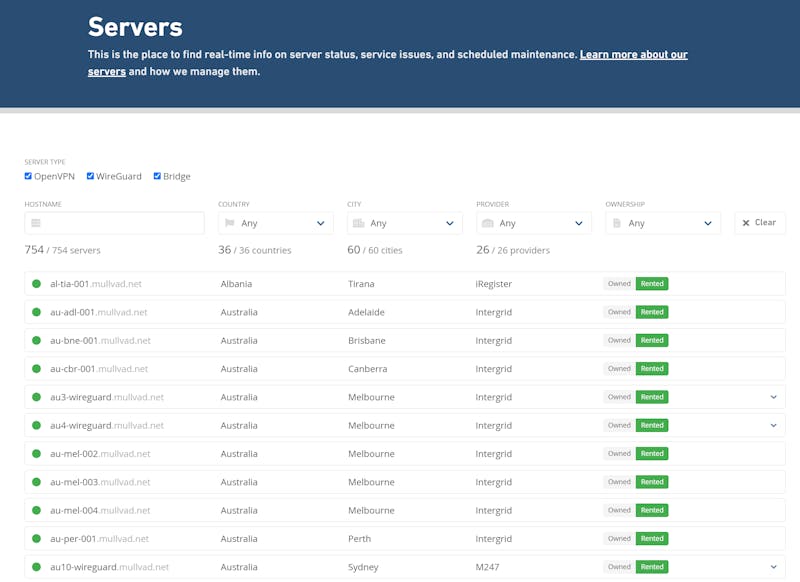 You can check the status of all available servers at anytime on Mullvad VPN's website.
Mullvad is far behind the top providers, which offer thousands of servers in dozens of more countries, leaving much room for improvement. Since we first reviewed the provider (2019), there hasn't been much growth, so we don't expect any significant changes on the horizon.
Score: 2.7 / 5
We evaluated the speed of all VPNs in our sample using a server in Europe with a 1 GB/s connection. Random Mullvad VPN servers in the US and Germany were connected to at different times of the day to more accurately assess their performance. More information concerning our methodology can be found in our VPN speed test.
The table below shows the average results from the last 12 months, arranged in order of download and upload speed (descending):
1.
2.
3.
4.
5.
6.
7.
8.
9.
10.
11.
12.
13.
14.
15.
16.
17.
18.
19.
20.
Although Mullvad VPN impressed during our first assessment of it in 2019, it has increased its speeds even further. With a download speed of 200.8 MB/s and an upload speed of 18.1 MB/s, the service grabbed third place, only coming behind NordVPN and Surfshark.
The diagram below shows Mullvad VPN's average speeds over the past months.
CyberGhost VPN
ExpressVPN
hide.me VPN
HideMyAss! VPN
Hotspot Shield VPN
IPVanish VPN
Mullvad VPN
NordVPN
Private Internet Access
PrivadoVPN
PrivateVPN
ProtonVPN
PureVPN
Surfshark VPN
TorGuard VPN
TunnelBear VPN
VeePN
VPN Unlimited
VyprVPN
Windscribe VPN
ZenMate VPN
Monat
Download
Upload
1/22
January 2022
Download: 155.5 Mbit/s 155.5
Mbit/s
January 2022
Upload: 18.4 Mbit/s
2/22
February 2022
Download: 200.2 Mbit/s 200.2
Mbit/s
February 2022
Upload: 20.1 Mbit/s
3/22
March 2022
Download: 176.4 Mbit/s 176.4
Mbit/s
March 2022
Upload: 20.5 Mbit/s
4/22
April 2022
Download: 165.1 Mbit/s 165.1
Mbit/s
April 2022
Upload: 23.2 Mbit/s
5/22
May 2022
Download: 147.7 Mbit/s 147.7
Mbit/s
May 2022
Upload: 16.8 Mbit/s
6/22
June 2022
Download: 151.6 Mbit/s 151.6
Mbit/s
June 2022
Upload: 23.2 Mbit/s
7/22
July 2022
Download: 141.8 Mbit/s 141.8
Mbit/s
July 2022
Upload: 22.6 Mbit/s
8/22
August 2022
Download: 139.5 Mbit/s 139.5
Mbit/s
August 2022
Upload: 23.1 Mbit/s
9/22
September 2022
Download: 145.7 Mbit/s 145.7
Mbit/s
September 2022
Upload: 23.1 Mbit/s
10/22
October 2022
Download: 154.7 Mbit/s 154.7
Mbit/s
October 2022
Upload: 23.0 Mbit/s
11/22
November 2022
Download: 148.3 Mbit/s 148.3
Mbit/s
November 2022
Upload: 23.1 Mbit/s
12/22
December 2022
Download: 153.5 Mbit/s 153.5
Mbit/s
December 2022
Upload: 22.5 Mbit/s
1/23
January 2023
Download: 189.3 Mbit/s 189.3
Mbit/s
January 2023
Upload: 19.4 Mbit/s
With that said, speed isn't the only aspect of performance we examined. We also used Mullvad VPN for an entire day while surfing, by and large being able to confirm our excellent first impression. On a few occasions, however, we had to complete annoying captchas, something that isn't all that common with other VPN providers.
We were disappointed with Mullvad VPN's ability to stream content from abroad as we were unable to access foreign content from Netflix, Amazon Prime Video, Disney+, and the BBC's iPlayer through the VPN tunnels it created.
When it comes to speed, Mullvad VPN is near the head of the pack, however, its incompatibility with major streaming providers is disheartening.
Score: 4 / 5
Mullvad VPN is ground-breaking not only for its no-email registration: When it comes to VPN protocols, the provider, in contrast to its competitors, has, for years used the new gold standard, WireGuard. OpenVPN is also supported. Connections are encrypted using AES 256, which guarantees maximum security.
Mullvad passed our VPN leak tests (IPv6, DNS, and WebRTC) without any difficulties.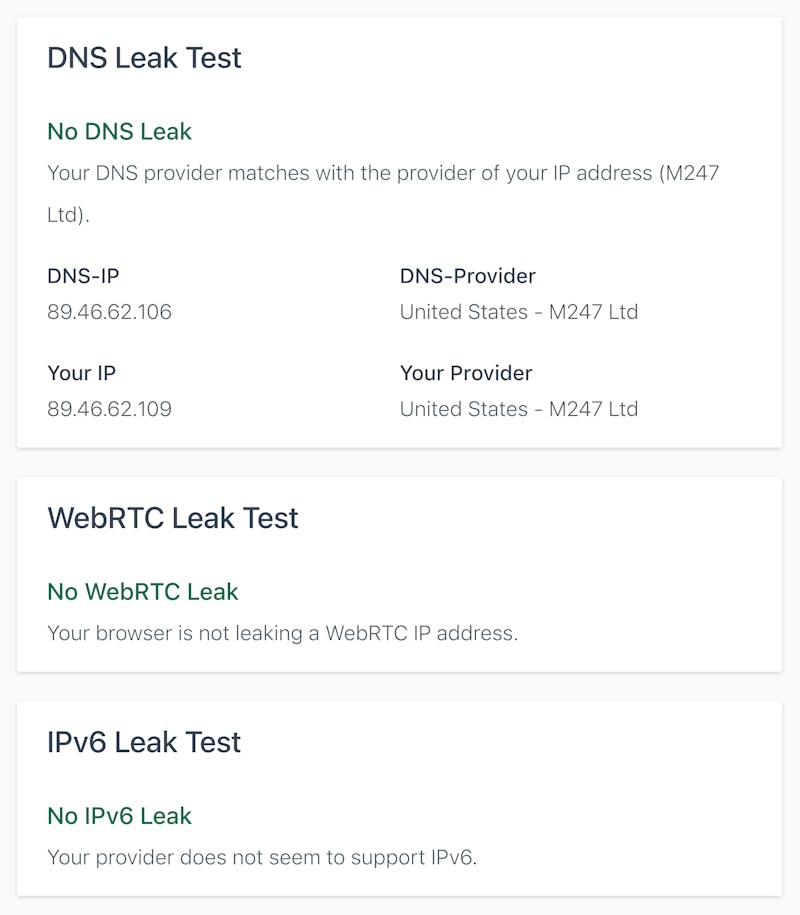 Mullvad VPN passed all of our leak tests.
According to the company's data privacy agreement ⇱, Mullvad VPN does not collect any activity logs from its users. In conjunction with the ability to anonymously create an account, this means that no protocols can be saved and that your activity cannot be tied to a specific account. Should you pay your subscription by cash in an envelope without a return address, no personal data will exist tying you to your payment method or account. In terms of anonymity and privacy, Mullvad VPN truly goes the extra mile, surpassing its competitors.
The location of the company's headquarters in Sweden means that Mullvad VPN must adhere to stricter data privacy laws than its competitors based in places like Panama or the British Virgin Islands. Further, Sweden is a party to the 14 Eyes intelligence-sharing agreement, including it in the global surveillance apparatus. However, because of Mullvad's anonymous payment and registration methods, this doesn't really raise any concerns.
Mullvad VPN also regularly allows for its commitment to anonymity to be put to the test. A 2020 independent security audit conducted by Cure53 ⇱ only uncovered a handful of security risks in the application and its code, none of which were deemed critical or dangerous.
Score: 5 / 5
It's possible to access Mullvad VPN's help center directly through the client's settings menu. This is organized into topical areas, has a practical search function, and features a number of FAQs. Our only complaint is that the center's layout and visual design could do with a bit of sprucing up.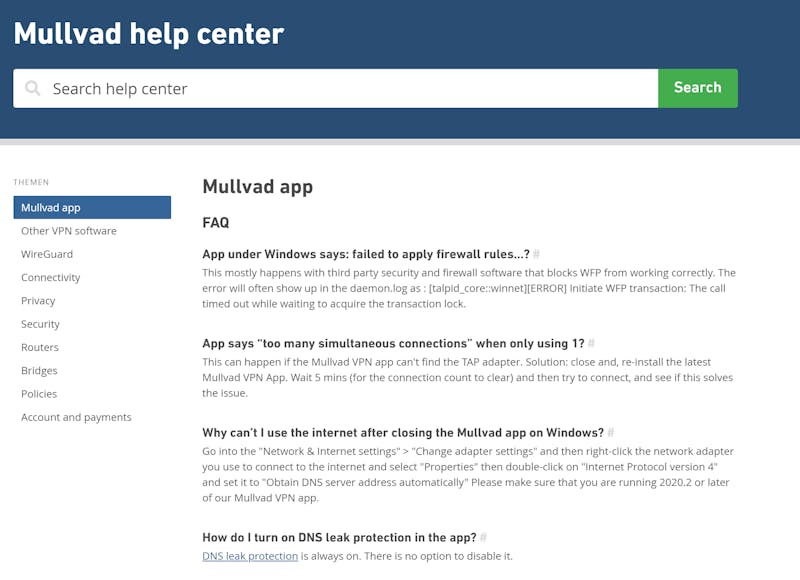 Mullvad VPN's help center is a little too plain for our tastes.
The support team can be contacted directly by email (in English or Swedish). During testing, we waited roughly a day and a half (35 hours) for an extensive and personalized response to our question. Unfortunately, neither chat nor telephone support is offered.
Mullvad's help center is a bit underwhelming. The channels for contacting the support team are limited and the response time is only acceptable.
Score: 3.3 / 5
Mullvad makes the selection of rates very easy, in that it offers only one: a flat 5 Euro ($6 USD) per month. In comparison to the monthly prices charged by other services, this is very reasonable, however, a cheaper annual or two-year subscription is not available.
Flatrate
Set-up Fee
$0.00
Monthly Price
$5.10
Contract Period (Months)
1
Limits
Data Volume
unlimited
Number of Devices
5
Features
Number of Servers
750
Number of Countries
36
No Server Logs
P2P Allowed
Tor Access
Kill Switch
Protocols

OpenVPN

WireGuard
As mentioned above, the flat rate can be paid with PayPal, major credit cards, bank transfer, Swish, Bitcoin, Bitcoin Cash, cash, or vouchers. Mullvad does not offer special corporate rates or a free trial version.
Conclusion
Security and Privacy
10 / 10
Customer Support
6.6 / 10
Installation and Features
6.6 / 10
Mullvad has found its niche in the VPN market, without being a niche product. Users who place a premium on privacy should not have any concerns about the provider owing to its anonymous registration and payment options. The service's VPN connections are not only secure but also fast: In our speed test, Mullvad secured third place.
While the provider's quality is good, corners have been cut in terms of quantity: The server network is relatively limited, and its apps and clients are perhaps too spartan, lacking additional features such as split tunneling. Nevertheless, Mullvad's strengths eclipse its weaknesses and make it a good choice, both for its niche, as well as more generally.
750+ servers in 36 countries
Anonymous registration / no logs
Independent security audit
7.3

good
Data Volume
Devices
Protocols
Contract Period
Mullvad Flatrate
$5.10
monthly price
Visit Website »
Customer Ratings
As of the time of writing, Mullvad has only received a small number of ratings on the review aggregators we consulted. Most of these are positive, stressing the provider's good speeds and privacy guarantees. The absence of a mobile client and problems when paying with credit card were highlighted, however.
Customer Ratings
1,735 Bewertungen
Visit Website
We analyzed the reviews and ratings from various portals and found 1,735 ratings with an overall rating of 4.0 out of 5 .
Alternatives
More well-known providers like ExpressVPN and NordVPN offer a wider variety of features and larger server networks. All the same, Mullvad VPN cuts a good figure in terms of security owing to its somewhat unique registration and payment methods.
Should you not be interested in subscriptions, freemium providers like Windscribe or hide.me offer good choices worth looking into.
NordVPN combines speed, user-friendliness and functionality into a coherent overall package that is also fairly affordable.
5400+ servers, 60 countries
Inexpensive 2-year package
9.4

excellent
Data Volume
Devices
Protocols
Contract Period
NordVPN 2-year plan
$2.99
monthly price
Visit Website »
30 days money-back guarantee
ExpressVPN impresses with strong performance, a huge server network and excellently designed applications, but this quality also comes at a higher price.
160 cities in 94 countries
30-day money-back guarantee
9.4

excellent
Data Volume
Devices
Protocols
Contract Period
ExpressVPN 12 Months
$8.33
monthly price
Visit Website »
30 days money-back guarantee
Surfshark is one of the cheapest providers on the market, but besides the price also impresses with strong protection, many features and a great support with 24/7 live chat.
3200+ servers in 65 countries
Unlimited number of devices
Many apps (Linux, FireTV, ...)
Very cheap on the 24-month plan
8.8

good
Data Volume
Devices
Protocols
Contract Period
Surfshark 24 months
$2.49
monthly price
Visit Website »
Get 83% Discount
1200+ servers in 55 countries
Headquarters in Switzerland
Open Source & external audits
8.7

good
Data Volume
Devices
Protocols
Contract Period
ProtonVPN Free
$0.00
monthly price
Visit Website »
30 days money-back guarantee
Data Volume
Devices
Protocols
Contract Period
HideMyAss! 36 months
$2.99
monthly price
Visit Website »
30 days money-back guarantee

Author (German Version): Martin Gschwentner
Martin Gschwentner majored in American Studies and Media Studies in Germany, the USA and France and works as a freelance editor in Paris. He is a doctoral student at the Institute for English and American Studies at the University of Paris Diderot, where he is researching the influence of money on US politics. On EXPERTE.com he writes about IT security, data protection and software for the self-employed and small businesses.

Translator & Editor: D Bare
Continue Reading
Reviews
Comparisons
Tools & Guides