VPN
Configuring a VPN on an iPhone
Itching to use your home network when on vacation? Or maybe you need something from your company's intranet while working remotely? Regardless of where you find yourself physically, with a virtual private network (VPN) you can connect to networks which you physically would otherwise be unable to. These are also useful if you want to surf anonymously. Establishing VPN connections is particularly easy with an iPhone. Below, we'll tell you how to do it, and what you should pay attention to.
A VPN is an encrypted, virtual Internet network, which serves a number of different purposes. Two of the most important are:
1. They allow you to overcome physical barriers, and connect to geographically-distant networks - for example the your company's or university's intranet. This kind of VPN connection can be created on your iPhone without any additional software.
2. They also enable circumvention of geo-blocking and Internet censorship (for example, in China). For this, you need an external VPN provider.
We'll show you how to do both:
Create a VPN Connection Using Your iPhone's Settings
Creating a VPN connection using the settings on your iOS device is relatively easy.
1) Open Settings and select General.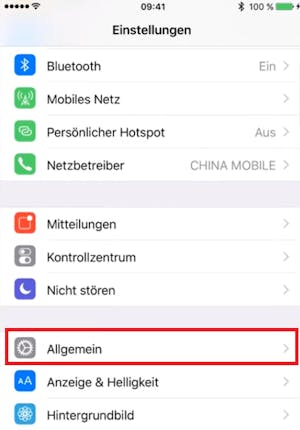 2) Scroll down to VPN and tap on it.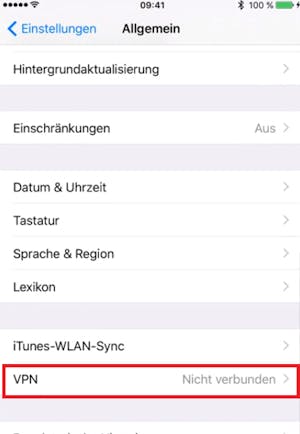 4) In this window, you will need to enter some important information and give your VPN a suitable name (i.e. based on its location or purpose).
Your server or internet provider will need to make this information available to you. For online services, you should receive an email containing the necessary data.
The information that must be input depends on which VPN protocol your provider uses. Below, an example which uses IPSec is shown: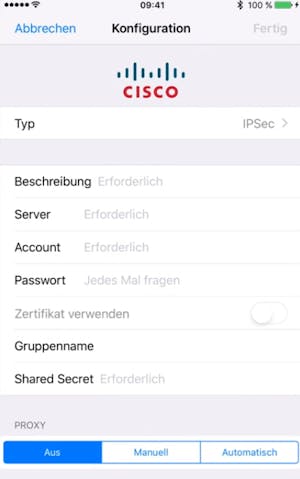 5) Once all information has been correctly input, tap on Done in the upper right of your screen.

6) Return to your network overview, and select the VPN you created from the list, sliding the Status toggle to the right (making it green).
The status should change to Connected.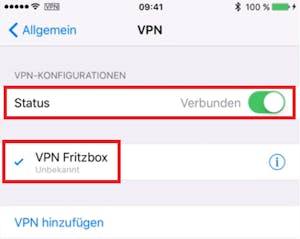 7) The appearance of a VPN symbol in the status bar shows that you are connected to the VPN network you created.

Even Easier: Connect Using Your VPN Provider's iPhone App
A VPN connection to surf more anonymously, or bypass geo-blocks, can also be configured in your iPhone's settings. However, to do this, you will also need the login credentials of a dedicated VPN provider, which are input during Step 4, as detailed above. For a fee, services like NordVPN or ExpressVPN offer access to VPN servers around the world.
These providers make the entire process even easier through special apps, which establish secure connections in a matter of seconds. These are automatically configured to connect to VPNs, saving you time and effort in manually changing settings on your device. Using these, you won't have to do much else besides select a server, and tap on the Connect button.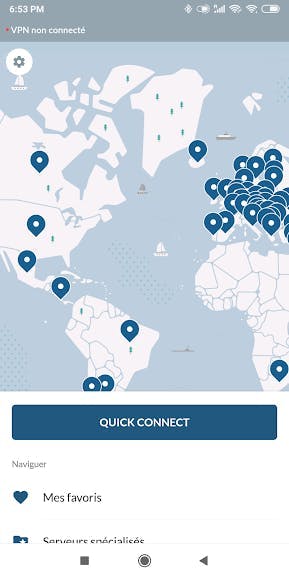 The best VPN providers usually require a subscription, however, there are also freemium VPNs, which offer limited functionality, servers, and data volumes free of charge. These apps can be downloaded in the App Store.
In EXPERTE.com's comprehensive review, we evaluated and compared 17 of the most well-known VPN services. Our Top 3 are below:
160 cities in 94 countries
30-day money-back guarantee
ExpressVPN impresses with strong performance, a huge server network and excellently designed applications, but this quality also comes at a higher price.
Data volume
Devices
Protocols
Contract Period
ExpressVPN 12 Months
$8.33
monthly price
Visit Website »
30 days money-back guarantee
5400+ servers, 60 countries
Inexpensive 2-year package
NordVPN combines speed, user-friendliness and functionality into a coherent overall package that is also fairly affordable.
Data volume
Devices
Protocols
Contract Period
NordVPN 2-year plan
$2.99
monthly price
Visit Website »
30 days money-back guarantee
3200+ servers in 65 countries
Unlimited number of devices
Many apps (Linux, FireTV, ...)
Very cheap on the 24-month plan
Surfshark is one of the cheapest providers on the market, but besides the price also impresses with strong protection, many features and a great support with 24/7 live chat.
Data volume
Devices
Protocols
Contract Period
Surfshark 24 months
$2.49
monthly price
Visit Website »
Get 83% Discount