PrivateVPN Review 2023: How Private Is It?


Ad disclaimer:
For links on this page, EXPERTE.com may earn a commission from the provider. This supports our work and has no influence on our editorial rating.
One of the easiest ways to safeguard your online privacy is with a VPN. However, selecting your digital middleman should be done carefully, since you'll be entrusting them to anonymize your activities and data.
PrivateVPN describes itself as "the world's most trusted VPN". We're uncertain what this claim is based on, as, at least according to our sample, it is not the most used service. For more information about PrivateVPN, and whether the service excels in privacy and security, continue reading.
What Is PrivateVPN?
First launched in 2009, PrivateVPN* is a Swedish VPN provider offering apps for Windows, macOS, Android, and iOS.
The service won't win any awards for humility, confidently stating that it offers "the most secure, rapid connections of its kind." We took a closer look at the Windows and Android versions of PrivateVPN's clients and apps to put their claims to the test.
PrivateVPN Review
Installation and Features
7.4 / 10
Security and Privacy
6.6 / 10
Well-suited for streaming (Netflix, Amazon Prime Video, Disney+, and BBC iPlayer)
Has not submitted to any external audits
1.
Installation and Features
All available apps are listed on the developer's website in the download area. There, you'll also find practical guides, video tutorials, and step-by-step explanations for setting up the service on Linux, routers, or other devices. PrivateVPN does not offer any browser extensions.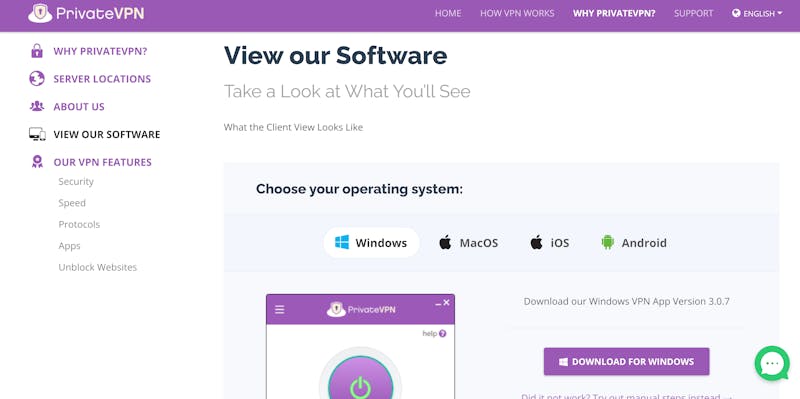 Dedicated apps, guides, and video tutorials are available from PrivateVPN's website.
After installing the Windows client, PrivateVPN suggests two tutorials that go into greater detail about streaming servers and how to use its VPN to circumvent geoblocking in places like China (more on this below in the "Performance" section). Once you've watched these, you'll be taken to the client, designed around a large On/Off button, under which is a server list.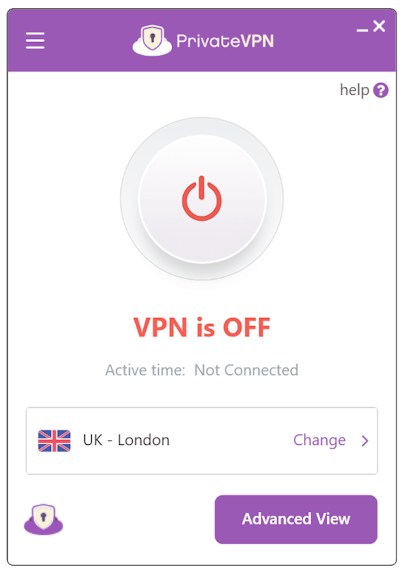 The client's default layout is similar to those used by most VPN clients.
Should you want access to more settings and options, you can open the "Advanced View", and adjust your connection type and encryption. Once a connection has been established, your external IP, forwarded ports, as well as how much data has been uploaded and downloaded using the tunnel you've created will be displayed.
A quick-connect option to the best available server is not offered in either the basic or "Advanced" views. Instead, Stockholm (Sweden) is set as the default server location; We would have preferred connecting to the best available or fastest server instead.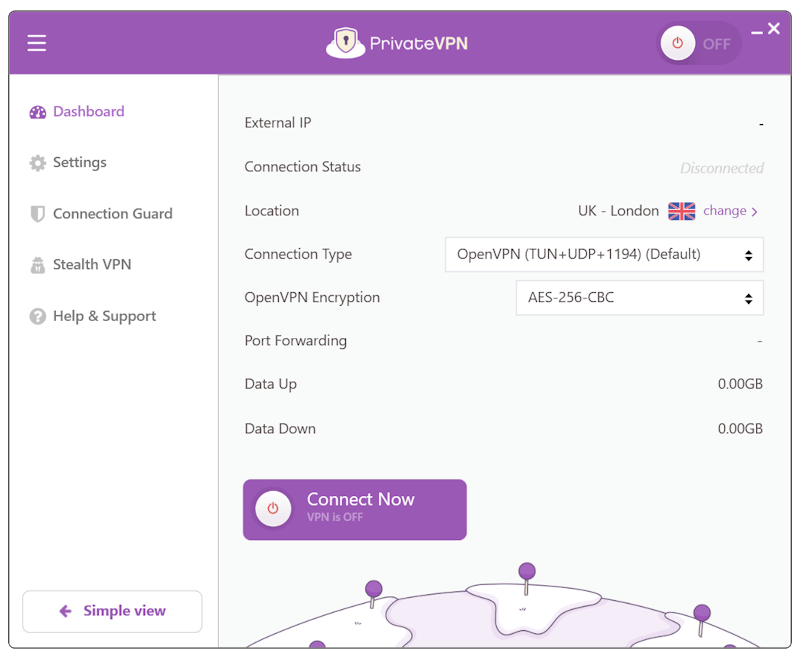 You can find additional information and settings in the "Advanced View".
When switching servers, a window will open listing all available servers either alphabetically, or according to their geographic distance from your present location. You can also select servers that are optimized for torrenting, however, be sure not to confuse these with a static dedicated IP address, which PrivateVPN doesn't offer.
Information about server performance is provided in the form of ping. Favorites can be marked, which adds them to a special list, but this isn't shown on the client's main page. Search functionality is integrated, however, as the server list isn't all that long, this is less important.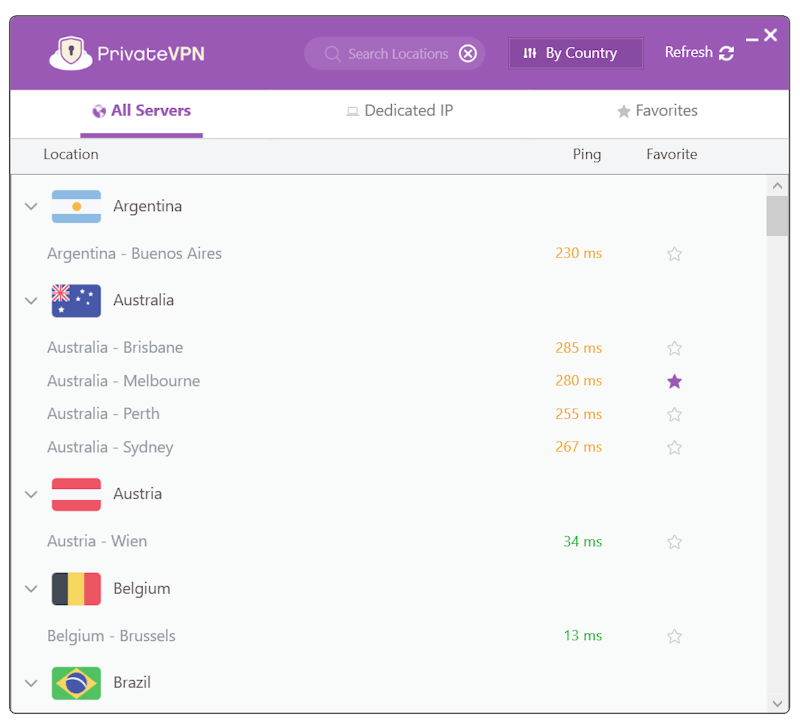 You can keep track of your most-used servers by marking them as favorites.
PrivateVPN doesn't offer ]too many features: There are auto-start settings, a kill switch (under the "Connection Guard" tab), and "Stealth VPN", which disguises your VPN traffic as regular traffic, helping to circumvent VPN restrictions in countries like China. IPv6 and DNS leak protection are also offered.
As such, the service limits its feature package to only the most essential. We particularly noted the lack of split tunneling, for specifying which programs, apps, or websites use your VPN tunnel. Multi-hop, which routes your connection through multiple VPN tunnels, is another notable absence, as is the inability to execute user-defined scripts or fine-tune DNS settings.
No frills smartphone app
The Android app's user interface is identical to that of the desktop client, and just as minimalistic. "Stealth VPN", the kill switch, and IPv6 leak protection are included. Some of PrivateVPN's competitors compensate for shortcomings in their desktop clients by adding extras to their mobile versions, however, this isn't the case with PrivateVPN: The mobile app doesn't offer any features that aren't available in the desktop client.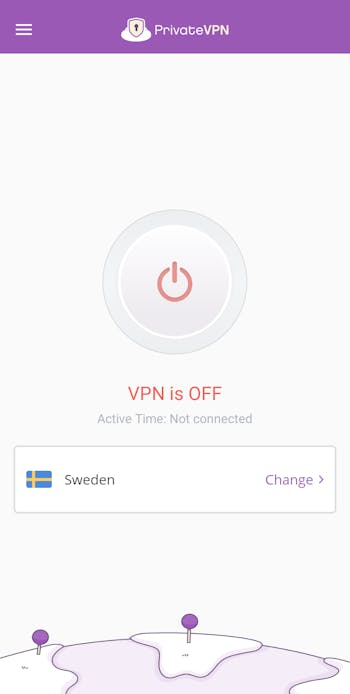 PrivateVPN's smartphone app is identical to its desktop client.
PrivateVPN's streamlined user interface doesn't offer up any surprises or bonuses. The service is easy to use, however, the inability to quickly connect to the fastest or best available server is unfortunate. The developers could improve their VPN by adding more customization options and features. As things stand, PrivateVPN is too simplistic for tinkerers or those with more technical requirements.
Installation and Features
7.4 / 10
How many servers does PrivateVPN offer? According to the company, "more than 100 across 63 locations". The number of countries is decent, albeit clustered around Europe and North America. There are a few servers in Asia and South America, but only two (Nigeria and South Africa) for all of Africa.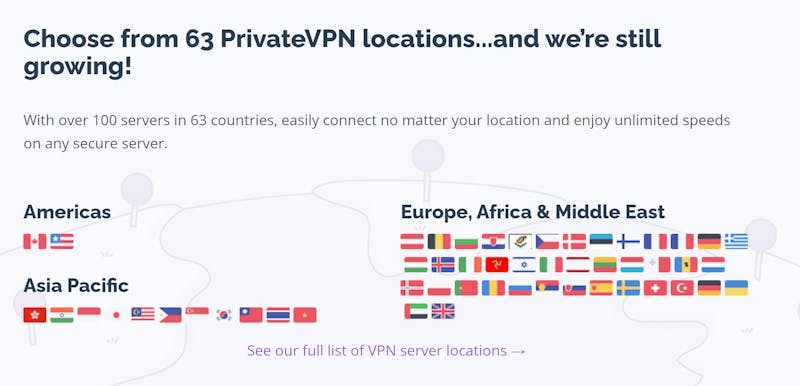 PrivateVPN's server network has decent geographic coverage, but is a bit short on numbers.
In terms of the number of servers, PrivateVPN is definitely near the lower end of our sample, with only Perfect Privacy offering fewer. As such, the service needs to do quite a bit of catching up, but considering how long it has been on the market, we're not holding our breath. Below, we'll take a look at whether the limited number of servers has any impact on how PrivateVPN performs.
We determined the speeds for all VPNs from our sample using a server in Europe with a 1 GB/s connection. To accomplish this, we connected to random PrivateVPN servers in the US and Germany at different times of the day. More information concerning our methodology can be found in our VPN speed test.
The table below shows the average results over the last 12 months, arranged in order of download and upload speed (descending):
1.
2.
3.
4.
5.
6.
7.
8.
9.
10.
11.
12.
13.
14.
15.
16.
17.
18.
19.
20.
With a download speed of 155.1 MB/s and an upload speed of 21.2 MB/s, PrivateVPN staked out a respectable eighth place in the upper middle of our sample.
The chart below shows PrivateVPN's average speeds over the past months:
CyberGhost VPN
ExpressVPN
hide.me VPN
HideMyAss! VPN
Hotspot Shield VPN
IPVanish VPN
Mullvad VPN
NordVPN
Private Internet Access
PrivadoVPN
PrivateVPN
Proton VPN
PureVPN
TorGuard VPN
TunnelBear VPN
VeePN
VPN Unlimited
VyprVPN
Windscribe VPN
ZenMate VPN
Monat
Download
Upload
9/22
September 2022
Download: 154.9 Mbit/s 154.9
Mbit/s
September 2022
Upload: 12.7 Mbit/s
10/22
October 2022
Download: 215.2 Mbit/s 215.2
Mbit/s
October 2022
Upload: 13.7 Mbit/s
11/22
November 2022
Download: 195.3 Mbit/s 195.3
Mbit/s
November 2022
Upload: 15.4 Mbit/s
12/22
December 2022
Download: 201.5 Mbit/s 201.5
Mbit/s
December 2022
Upload: 16.4 Mbit/s
1/23
January 2023
Download: 209.9 Mbit/s 209.9
Mbit/s
January 2023
Upload: 19.1 Mbit/s
2/23
February 2023
Download: 212.5 Mbit/s 212.5
Mbit/s
February 2023
Upload: 18.9 Mbit/s
3/23
March 2023
Download: 233.4 Mbit/s 233.4
Mbit/s
March 2023
Upload: 19.2 Mbit/s
4/23
April 2023
Download: 217.5 Mbit/s 217.5
Mbit/s
April 2023
Upload: 17.6 Mbit/s
5/23
May 2023
Download: 204.0 Mbit/s 204.0
Mbit/s
May 2023
Upload: 15.4 Mbit/s
6/23
June 2023
Download: 206.5 Mbit/s 206.5
Mbit/s
June 2023
Upload: 15.5 Mbit/s
7/23
July 2023
Download: 209.6 Mbit/s 209.6
Mbit/s
July 2023
Upload: 15.5 Mbit/s
8/23
August 2023
Download: 202.9 Mbit/s 202.9
Mbit/s
August 2023
Upload: 13.5 Mbit/s
9/23
September 2023
Download: 195.3 Mbit/s 195.3
Mbit/s
September 2023
Upload: 12.6 Mbit/s
Solid for everyday usage and streaming
PrivateVPN is reliable for everyday usage, that is to say, downloading and surfing. Our VPN tunnels were built quickly and reliably, remaining stable throughout our sessions. We didn't notice any speed or connection issues and were spared captchas when performing Google searches, an annoying side effect of VPN usage.
We continued to be impressed when it came to video streaming, as we could access foreign catalogs on all four of our testing platforms (Netflix, Amazon Prime Video, Disney+, and BBC iPlayer).
The only issue we encountered was our inability to connect from China. Other services, like Windscribe, NordVPN, Private Internet Access, or Hotspot Shield do better in this area.
Overall, PrivateVPN gave a strong showing of its capabilities, coinciding nicely with its solid place in the speed ranking.
We always accept it as a challenge when a VPN markets itself as being the best at something, so, PrivateVPN's claim to be "the world's most trusted VPN provider" piqued our curiosity. At least on the surface, the service doesn't make too many mistakes:
A range of different VPN protocols, including OpenVPN (UDP/TCP), L2TP, IPsec, PPTP, and IKEv2, are supported. Regrettably, the newest protocol, WireGuard, offering cutting-edge security and performance, is not among these. OpenVPN users are given a choice between AES 256 and AES 128 (either CBC or GCM).
PrivateVPN passed our VPN leak tests (IPv6, DNS, and WebRTC) without fuss: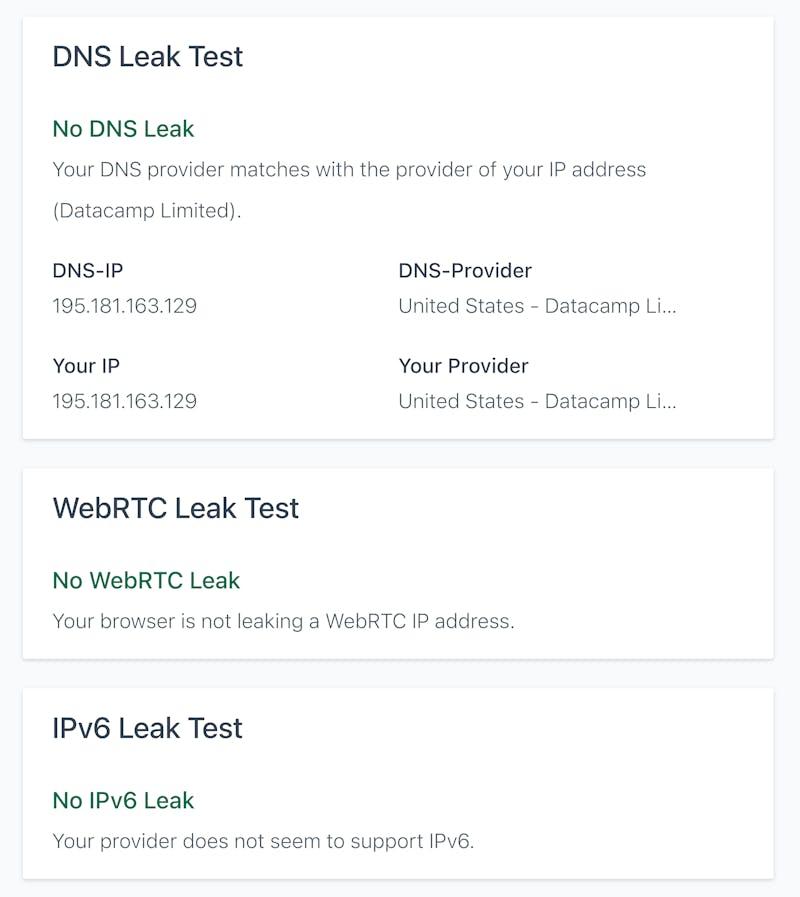 No leaks were identified when using PrivateVPN.
Transparent privacy policy, but no independent audits
And how do things look in terms of privacy and data protection? The service's privacy policy states that the company does "not log or store any unnecessary data about our users. Hence, we do not collect or store logs of your activity, including no logging of browsing history, traffic destination, connection time stamps, DNS queries, IP addresses (neither allocated IP nor connected IP), data content or bandwidth."
Information necessary for the service's smooth functioning or your account (such as your email address and payment method) is stored. Such secondary data can be used for analytical purposes.
Nothing from PrivateVPN's privacy policy raises too much concern, however, we do have to take the provider at their word, which considering their boastfulness, isn't ideal. PrivateVPN has never submitted to an independent security audit, something we expect from trustworthy VPN providers, like the service's Swedish counterpart, Mullvad VPN.
While on the topic of Sweden, it's important to note that its Nordic location means that data privacy is subject to stricter legal guidelines than elsewhere, like the British Virgin Islands or Panama. At the same time, Sweden is party to the 14 eyes intelligence-sharing alliance, another blemish when it comes to privacy.
Trust is difficult to earn, and your VPN shouldn't be an exception. We prefer providers that take away all of the guesswork by submitting (regularly) to external security audits. On paper, PrivateVPN hardly misses a beat in terms of security and privacy, but we can't award it a better score without an external security audit.
Security and Privacy
6.6 / 10
We might have caught PrivateVPN at a bad time while overhauling its support center, however, we had a very confusing support experience.
When we clicked on "Support" from the menu on the service's website (and through the appropriate link in the desktop client) we were brought to one support center; When we searched in Google, we found a more current, newer support area, offering FAQs and a full-text search. Unfortunately, in the latter, many of the links to setup guides or filing support tickets were dead-ends.
In the 'older' support center, we found plenty of guides with screenshots for setting up the VPN, as well as some (relatively basic) FAQs. This support center was not full-text searchable, making it necessary to manually search for answers. Overall, both of PrivateVPN's support areas were a bit rough and disorganized, even though the setup guides were good.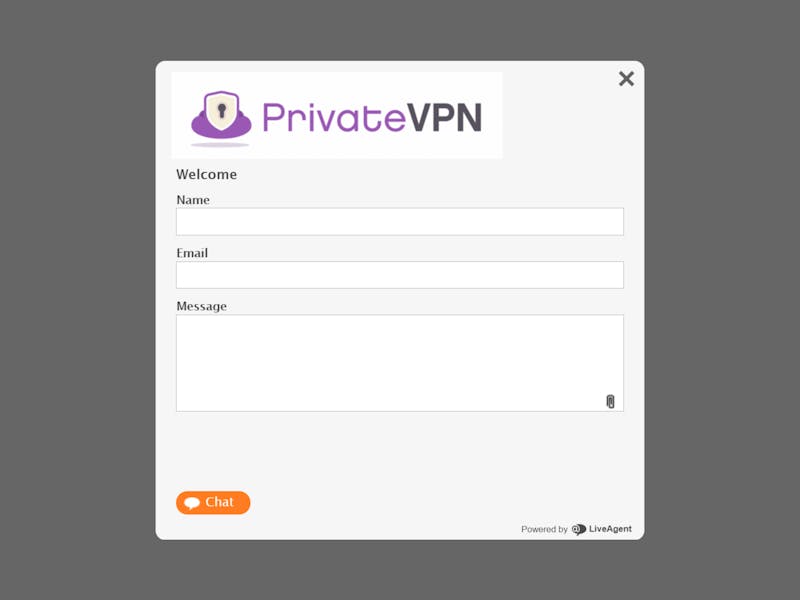 We were connected to a live chat staffer in a matter of seconds.
Direct support is available around the clock either by support ticket or in the service's live chat. In the latter, we were put in touch with friendly staffers capable of answering our questions within a matter of seconds.
And what about the promise of "industry-topping support"? We're happy to report that our experiences with live support were as good as can be, however, static support was a bit lacking and could do with some attention.
As is the case with nearly every provider from our sample, a PrivateVPN subscription becomes cheaper the longer you sign up for. For month-to-month users, the rates aren't anything special, however, the 2-year package costs 77% less per month. In other words, if planning to use the service for 6 months or longer, you'll pay less for a 2-year subscription than a monthly one.
Features are the same for each subscription level, with up to six simultaneous connections possible.
Payment can be made by credit card, PayPal, or Bitcoin.
Below, you can find an overview of current prices:
36 months
3 Months
1 month
Set-up Fee
$0.00
$0.00
$0.00
Monthly Price
$2.00
$6.00
$9.90
Contract Period (Months)
36
3
1
Limits
Data Volume
unlimited
unlimited
unlimited
Number of Devices
6
6
6
Features
Number of Servers
100
100
100
Number of Countries
63
62
62
No Server Logs
P2P Allowed
Tor Access
Kill Switch
Protocols

OpenVPN

PPTP

IKEv2

IPSec

L2TP

OpenVPN

PPTP

IKEv2

IPSec

L2TP

OpenVPN

PPTP

IKEv2

IPSec

L2TP
PrivateVPN offers all subscribers a 30-day, money-back guarantee.
Conclusion
Installation and Features
7.4 / 10
Security and Privacy
6.6 / 10
PrivateVPN is a straightforward VPN that doesn't suffer from too many defects but is still a way off from being groundbreaking. Its clients and apps are intuitive and easy to use but lack depth as things like split tunneling aren't offered.
The geographic spread of the provider's server network is decent, but the number of servers is the second-lowest from our sample. This didn't impact performance as we were able to do everything that we would expect from a VPN, except bypass the "Great Firewall", which the provider oddly claims to be able to do.
In the all-important realm of security, there wasn't anything tangible to fault the provider for, however, independent audits are a must for VPNs, and PrivateVPN hasn't undergone any. Live support was fast, competent, and reliable, however, static support could do with a bit of work, as could the service's website.
PrivateVPN definitely does not lack confidence, however, despite performing decently in most areas, it has a few weaknesses that could be easily fixed. Integrating split tunneling, doubling (or tripling) the server network's size, overhauling static support, and, most importantly, submitting to an external security audit would collectively catapult the service near the frontrunners from our sample. As things stand, PrivateVPN lags behind this group.
Data Volume
Devices
Protocols
Contract Period
PrivateVPN 36 months
$2.00
monthly price
Visit Website*
Customer Reviews
To find out how the service is seen by users, we gathered scores from verified rating aggregators.
Customer Ratings
12,451 Bewertungen
Visit Website*
We analyzed the reviews and ratings from various portals and found 12,451 ratings with an overall rating of 4.3 out of 5 .
Alternatives
Perhaps you're searching for a VPN that outperforms PrivateVPN while costing less for a two-year subscription. If so, look no further than our best-in-class, NordVPN, which also took first place in our speed ranking. The provider offers split tunneling and regularly undergoes external audits.
On the other hand, both ProtonVPN and Windscribe are worth trying out if you'd prefer a free VPN.
The best alternatives to PrivateVPN can be found here:
NordVPN is our number one VPN because it combines speed, ease-of-use, and functionality in a slick package that's also pretty affordable.
5,500+ servers, 60 countries
affordable 2-year package
9.4

excellent
Data Volume
Devices
Protocols
Contract Period
NordVPN 2-year plan
$3.49
monthly price
Visit Website*
30 days money-back guarantee
ExpressVPN can impress with a strong performance, a huge server network, and excellently designed applications, but this quality also comes at a higher price.
Data Volume
Devices
Protocols
Contract Period
ExpressVPN 12 Months
$8.33
monthly price
Visit Website*
30 days money-back guarantee
With its open source philosophy and extra security features, Proton VPN targets security-conscious VPN users. But thanks to its user-friendly interface and suitability for streaming, it's worth a look for a wide audience.
open source & external audits
2,900+ servers in 67 countries
free plan without data limit
9.1

excellent
Data Volume
Devices
Protocols
Contract Period
Proton VPN Free
$0.00
monthly price
Visit Website*
Free forever
Surfshark is one of the cheapest providers on the market, but it's a lot more than a great budget option: the relatively new VPN boasts strong protection, many features, and a great support with 24/7 live chat.
3,200+ servers in 100 countries
unlimited number of devices
many apps (Linux, FireTV, ...)
8.8

good
Data Volume
Devices
Protocols
Contract Period
Surfshark 24 months
$2.49
monthly price
Visit Website*
Get 83% Discount
HideMyAss' main claim to fame is its impressive server infrastructure, but the VPN also delivers solid speeds and handy features like its IP Randomizer. When it comes to streaming, however, it's not always the most reliable choice.
Data Volume
Devices
Protocols
Contract Period
HideMyAss! 36 months
$2.99
monthly price
Visit Website*
30 days money-back guarantee
* Ad disclaimer:
For links marked with an asterisk, EXPERTE.com may earn a commission from the provider. The commission has no influence on our editorial rating.

Martin Gschwentner majored in American Studies and Media Studies in Germany, the USA and France and works as a freelance editor in Paris. He is a doctoral student at the Institute for English and American Studies at the University of Paris Diderot, where he is researching the influence of money on US politics. On EXPERTE.com he writes about IT security, data protection and software for the self-employed and small businesses.

Translation: D Bare
Continue Reading
Reviews
Comparisons
Tools & Guides