Email Marketing Software Review - Top 12 Providers

Ad disclaimer:
For links on this page, EXPERTE.com may earn a commission from the provider. This supports our work and has no influence on our editorial rating.
Keeping in touch with the visitors to your website or store is a no-brainer, especially if there's a chance that you can convert the former into the latter. To go about doing this, by optimizing your newsletter, you'll need a solid email marketing tool. In this review series, we've taken a closer look at twelve of the most well-known and reputable providers on the market, the results of which we've summarized for you here, in this article.
To help in making your choice, below, we'll introduce you to our Top 5. There are a few shoo-ins among the services that impressed us the most, but also a surprise or two that you might not have had on your radar.
Below, we'll tell you what made our overall winner stand out, and what its weaknesses are. At the end of the review, you'll hopefully have a clearer picture of which provider comes closest to meeting your email marketing needs!
GetResponse stands out with its ease of use, excellent customization options, extensive statistics and numerous templates. It is suitable for both beginners and frequent senders.
Contacts
Emails / Month
Marketing Automation
GetResponse Basic
$15.00
monthly price
Visit Website*
30 days free trial
GetResponse has mixed up the email newsletter market quite a bit over the past few years. Today, the Polish provider serves 350,000 clients across 183 countries. In the US, GetResponse is one of the leading email marketing services, rightfully so, as our test shows.
All of the services we reviewed are capable of helping users to send newsletters, but GetResponse takes this to the next level with its extensive automation options and top-of-the-line statistical and tracking data. On top of all that, it's easy to use, and the dashboard can be personalized to your individual needs.
GetResponse also makes sure that you never have to face any issue alone, offering a 24/7 live support chat.
With its innovative Conversion Funnel, you can create targeted landing pages, and optimize your workflows for efficiency. In addition, there are also a number of integrations for shop systems and websites, making it easy to link whatever tools or plugins you might already be using with GetResponse.
Although GetResponse doesn't offer a free version, its price-performance ratio is unbeatable, and you can adjust your subscription to coincide with the growth of your organization or business at any time.
Maximum convenience thanks to the ability to personalize the user dashboard

Extensive statistics and nice options for tracking

Efficient automation through workflows and the Conversion Funnel
Configuration & Usage
10 / 10
Tracking & Statistics
10 / 10
Sendinblue is a fully recommendable email marketing service with a wide range of features and ease of use. It is particularly suitable for sending automated campaigns.
unlimited number of contacts
loads of newsletter templates
9.4

excellent
Contacts
Emails / Month
Marketing Automation
Sendinblue Free
$0.00
monthly price
Visit Website*
Sendinblue (the successor to Newsletter2Go) is a highly-ambitious newsletter service that aspires to make email marketing accessible for small and medium-sized enterprises (SMEs) and to become the leading service for doing so in Europe. To bring this about, the French provider makes a free version of its service available for use.
Using Sendinblue is straightforward, and it offers numerous newsletter, landing page, and form templates, making it a particularly interesting choice for beginners. Beyond that, the tool also provides excellent statistical analysis, helping you to optimize transactional, automated, or classic email and newsletter campaigns.
The only weaknesses worth mentioning here are limited support in the free and less expensive packages, as well as the somewhat constrained A/B testing options for campaigns. Overall, Sendinblue offers more in its free version than most paid services do. Should you sign up for a paid subscription, keep in mind that Sendinblue charges based on the number of emails sent per month, and not the number of recipients or contacts. For those with large recipient lists and monthly or bi-weekly sendings, this can be a blessing, however, for anyone who likes to blast emails several times a week to moderate or large groups of contacts, take care!
Very beginner friendly and easy to use

Wide selection of campaign, form, and landing page templates

Excellent tracking and statistical data for campaigns
Configuration & Usage
10 / 10
Tracking & Statistics
10 / 10
ActiveCampaign is a fully integrated sales and marketing platform including CRM system, complex automation and multi-channel marketing.
Contacts
Emails / Month
Marketing Automation
ActiveCampaign Lite
$15.00
monthly price
Visit Website*
ActiveCampaign was founded in the US in 2003, making a name for itself ever since owing to its bountiful features. If you're able to make do without a free version and on occasion, long loading times, ActiveCampaign might be just the tool you're looking for.
We highly recommend ActiveCampaign, not least owing to its excellent options for automation, a wide selection of design templates for landing pages and campaigns, and ease of integration with other tools and services.
Beyond this, the service does much more than just a newsletter tool though, offering a complete CRM system for managing contacts and optimizing how you communicate with them.
The remaining features are impressive, as are the statistical/analytical capabilities of the service. A solid API is provided, ensuring that ActiveCampaign can be used as a full-fledged multichannel marketing and sales platform. And, last but not least, it offers plentiful options for transactional emails as well as automation and synchronization.
Versatile templates for transactional and automated campaigns

Integration and synchronization allow for usage as a CRM and multichannel marketing platform

Excellent tracking and reporting for campaign optimization
Tracking & Statistics
10 / 10
Configuration & Usage
8.0 / 10
CleverReach is an European email marketing service, which shines with well thought-out functions, intuitive editors and many features and also provides a free plan for beginners.
Contacts
Emails / Month
Marketing Automation
CleverReach Lite
$0.00
monthly price
Visit Website*
Try CleverReach for Free
The German provider CleverReach was founded in 2007 and is operated by Ashampoo. According to its promotional material, CleverReach services more than 220,000 customers, making it one of the largest email marketing tools available. This large number of users can be traced not only to paid subscriptions, but also the free version of the tool, which allows the sending of up to 1,000 emails to 250 recipients per month, at no charge.
However, we don't recommend CleverReach just because it has a free version; its price-performance ratio is excellent too. During testing, the provider aced nearly every assessment category, evidencing only a few shortcomings when set alongside its competitors. These include less-than-stellar support, the limited variety of features available in the free version, as well as the underwhelming template customization options.
Apart from these issues, however, CleverReach made fans out of us. It's easy to use, allowing beginners to quickly find their feet, and provides a lot of options for creating automated campaigns. On top of that, its analytical capabilities are versatile, helping you to easily optimize your campaigns. And if that wasn't enough, linking CleverReach with your existing service is a cinch thanks to abundant CMS and e-commerce integrations.
Beginner-friendly thanks to its ease of use and wide range of integrations

Solid automation and analytical options for campaigns
Configuration & Usage
9.4 / 10
Tracking & Statistics
9.4 / 10
Complete Overview
In addition to the five providers above with the best total scores, a number of other services excelled in specific areas. If you're unsure about which service best meets your needs, it's worth taking a look at the alternatives, which can be found in our complete overview below:
How We Evaluated
In evaluating all twelve email marketing tools, we concentrated on six areas, five of which were scored. This allowed us to fairly and objectively compare each of the services and rank them accordingly. Below, you can read more about each of these areas and our scoring criteria.
Configuration & Usage
Configuration & Usage is comprised of two aspects:
1.

Registration Process
Some providers manually check and approve all registration requests. Others require the input of valid payment information, business or organizational details, or make it necessary to fill out multiple captchas and forms. This means that the registration experience differs from provider to provider, with some requiring less, and others more information.

The easier registration is, and the less data that must be input, the higher score we awarded.


2.

Ease of Use
For this aspect, we took a closer look at how well the dashboard is arranged, if navigation is intuitive, and approximately how long it will take a beginner to get comfortable using the service. Factors that adversely influence this score include the intricacy of menus and whether important settings are hidden, while those that improve it are intuitive usage, a clear layout, and logical structuring.
In addition to both of these categories, we also assessed how straightforward it was to configure individual settings (i.e. registering a domain or setting up data protection standards) and which plugins and integrations are on offer for CMS or shop systems. The easier it is to link a service to an existing website through plugins or API, the better we scored it.

GetResponse allows for users to customize the dashboard to their liking, adding or removing widgets at will.
One positive example of an excellent registration process and usage concept is provided by GetResponse. Registering with the service is easy, and in the dashboard, it's possible to add or remove widgets to your heart's content. Beyond that, navigating the interface is smooth and beginner-friendly. For its masterful performance in this category, GetResponse received a perfect score in our review.
Adding Contacts
In Adding Contacts we looked at the options provided for adding new contacts to a contact list by each marketing tool. Some providers refer to these under a variety of names (address list, recipient list, etc.), however, the underlying concept remains unchanged. Further, we also looked beyond the simple input of existing contact data into a list at what support the service offers in generating new contacts from your website or store through forms, widgets, landing pages, or the like. Among the most common forms of this that we encountered were:
Manually adding contacts

Importing contact information from a file (CSV, XLS, etc.)

Importing or synchronizing contact information from another service or tool

Copying and pasting contacts from an existing file

Retrieving or synchronizing contacts through an integration on your website or from a database

Creating forms through which new contacts can be added (either manually or automatically) to a mailing list

Landing pages, through which those interested can register

SMS forms, through which individuals can register themselves
In addition to the number of options for adding or importing contact data, we also looked at how contact management is structured. For example, to ensure efficient recipient management, it's important that individual fields, tags, and markings for contacts can be manually or automatically applied.
It should also be possible to assign recipients to different groups based on their tags or segments. In terms of GDPR-compliance, we also looked at whether it's possible to individually deactivate the gathering of user data for statistics, as well as enable double opt-ins.
Beyond this, it's important for individual settings to be configurable when creating or designing a registration form or subscription page. For that reason, the provider that offers the most options for integrating contacts didn't necessarily score highest, but rather, the one which made importing and gathering contacts as simple and accessible as possible.
Sending Emails
With regards to Sending Emails, we took a closer look at how each service supports campaigns, from conceptualization all the way up to their dispatch. In particular, we paid close attention to the different types of campaigns and the automated sending of emails as a result of specific factors.
The so-called autoresponder, which is sent when a new recipient subscribes to your mailing list via a form on your site, is the classic type of message in this category. Most providers offer four types of campaigns:
Newsletter (primarily manually sent emails)

Automation (automatic emails sent when pre-set conditions, such as a birthday, are met; also RSS feed emails)

Transactional (an automated email sent when a transaction is completed in your webstore or a similar activity occurs (shopping cart with items in it, order, payment, dispatch, etc.))

Workflow (a chain of emails and/or events that is prompted by the recipient's behavior/activity)
Apart from these common types of campaigns, a number of services also make it possible to conduct SMS campaigns or configure live chats for websites or store. What matters here is not how many different types of campaigns can be created or launched, but rather the following factors:
Ease of use and selection of features in the service's editors (also referred to as builders or creators) for creating campaigns (ideally, with drag and drop functionality).

Templates and layouts for newsletters.

Ease of use and range of features in the workflow editor for different types of automation.

Wide selection of integrations and plugins for linking your site with the service for transactional emails.

Deliverability (how often do emails sent using the provider wind up in the spam folder?)

Presence of additional features like RSS feed newsletters, funnels, SMS campaigns, plaintext campaigns, etc.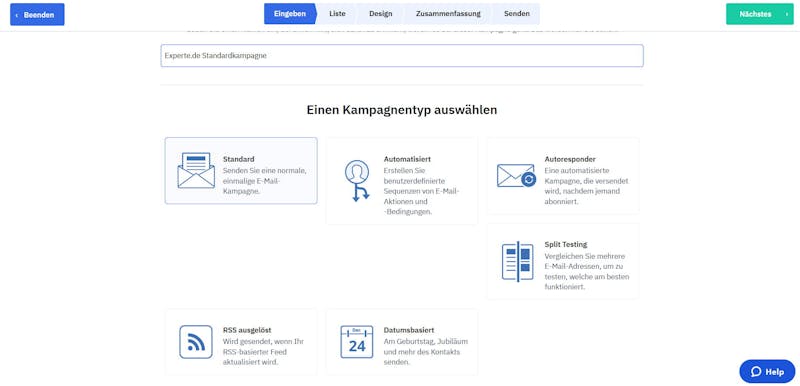 Different types of campaigns in ActiveCampaign.
Particularly in regards to creating a campaign, providers differ considerably from one another. To improve comparability, we checked how easy it is to design and send a basic newsletter, as well as to create a simple workflow for automated sending.
As far as sending emails is concerned, ActiveCampaign scored high in each area. The service allows you to select from a number of different types of campaigns (see the screen capture below), for which a wide range of different templates are provided. Beyond this, you can also create automation scenarios in the workflow editor, each of which allows for intricate processes to be configured and visualized schematically.
Here too, a number of different templates for classic types of automation are made available, with RSS feed newsletters, A/B tests, HTML templates, transactional emails, also individually customizable. We couldn't ask for more!
Tracking & Statistics
Tracking refers to the evaluation of all recipient activities once they've received your email. For each service, we took a look at how good the overview that is provided for campaign performance is, and which statistics and metrics are made available. This is important because the more detailed statistics are, the better you'll be able to optimize future campaigns.
The most important metrics are the open rate, the click performance rate, as well as the cancellation and delivery rates per provider. Beyond that, lots of additional insight can be gained if the service makes it available. These include, for example, the location of the recipient, bounces (undelivered messages), reading time, the time to first click (the average amount of time until a user clicks on a link), as well as live or 24-hour performance.
The more extensive and detailed the statistics are, the better. At the same time, all of this data must be clearly-structured and easily comparable with earlier campaigns for it to be used effectively.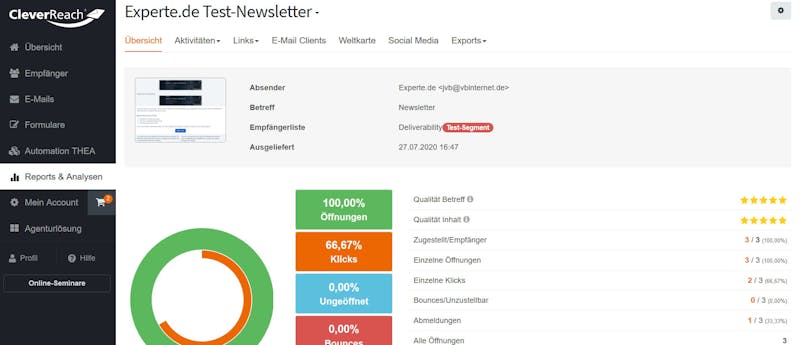 Tracking and statistics in CleverReach.
If you take a look at one of CleverReach's statistical reports, you're bound to notice a few things. First, that you're provided with all relevant performance data in a single place. Second, the service makes it easy to compare your ongoing campaign with previous ones. This is expressed in the subject line quality (number of clicks) as well as the content (link clicks and reading time).
Beyond that, you're also given detailed information about the 24-hour performance of your mailing and can follow it in real-time, including provider information, recipient location, and more. CleverReach provides extensive data in a clear manner, making it easy to use effectively; the very things that we look for in tracking.
Support
In a perfect world, a provider would offer a service so well-designed and clear that contacting support wouldn't be necessary. Instead, all issues could be readily resolved through an FAQ section, knowledge base, tutorials, and/or active community. As such, we note the presence of each, or all of these, when evaluating a provider's support.
Sometimes though, you need a human touch. In those cases, it's important that support is readily available, competent, and provided through a variety of channels.
Nearly every provider offers either email-based or contact form support. Response times vary considerably, from a few minutes to more than 24 hours.
Of course, even better than waiting around for an email or response is if you're able to communicate in real-time with a support staffer through a live chat or hotline. Both of these are rare in free versions of the providers we tested, which is understandable since good support is a cost for any business. As such, some providers offer additional support packages which must be paid for separately, in addition to a paid subscription.
We rated support according to the following factors:
Number of support channels (live chat, email, form, hotline, social media)

Response quality

Response time

Availability (business-hours, or 24/7)

Presence and quality of FAQs, Tutorials, user community, etc.

Premium support for paying subscribers? (dedicated assistant, hotline, around-the-clock)
Pricing
It goes without saying that there are differences in price among the services that we evaluated, ranging from the free versions, all the way up to more than $1,000 per month. What's important, and comparable, is how each provider structures their packages and charges users. The majority of services we looked at charge customers according to the number of recipients in their contact list, however, others, like Mailjet or Sendinblue, allow unlimited recipients, instead asking subscribers to pay for how many emails they send per month.
In addition to the number of recipients or emails, most providers also differentiate their subscription packages in terms of the selection of features made available. For example, additional statistics, extras, or premium support are offered only in the more expensive packages, or, as add-ons that need to be booked separately.
As a result, it is possible to directly compare the prices of the providers we assessed, however, this doesn't offer much help in choosing, since individual needs vary and what might be enough for one subscriber, won't be for another. As such, we recommend first determining what your targets and goals are, specifically, how many subscribers you plan on addressing, and in which volume, as well as which features you want access to, before taking a look at the subscription packages on offer.
For evaluatory purposes, among those providers that charge on the basis of emails, rather than recipients, we estimated five emails per recipient per month. All prices are in USD.
| Contacts / Provider | 500 | 1,000 | 5,000 | 10,000 ▲ | 50,000 | 100,000 |
| --- | --- | --- | --- | --- | --- | --- |
| Mailjet | $0 | $0 | $10 | $19 | $167 | $334 |
| MailerLite | $0 | $0 | $30 | $50 | $210 | $360 |
| GetResponse | $15 | $15 | $45 | $65 | $250 | $450 |
| AWeber | $0 | $26 | $46 | $66 | - | - |
| Mailchimp | $0 | $0 | $50 | $75 | $259 | $499 |
| Sendinblue | $0 | $0 | $66 | $81 | $229 | $379 |
| Constant Contact | €18 | €40 | €57 | €83 | €292 | - |
| Campaign Monitor | €9 | €29 | €49 | €99 | €329 | - |
| CleverReach | €15 | €20 | €55 | €100 | €400 | €900 |
| ConvertKit | $0 | $0 | $79 | $119 | $379 | $679 |
| ActiveCampaign | $15 | $29 | $89 | $139 | $299 | $459 |
| Klaviyo | $20 | $30 | $100 | $150 | $700 | $1,200 |
Conclusion
Our review shows that the differences between providers can be significant in some areas. The 'perfect' email marketing service does not exist, however, we're confident that with the help of our reviews, you'll be able to find the best match for you or your organization.
Ultimately, which service is the best depends on your expectations and needs. If you don't plan on sending a large volume of emails, and instead want to get a feel for email marketing before diving into a paid subscription, a number of services offer free versions of their product.
Engaging in professional email marketing with the ability to individualize your mailings, and gain extensive insight from your campaigns is possible for anyone. We recommend trying out the free versions of the services we've listed above, or the test phases they offer, should you be interested in a particular provider. You have nothing to lose, and everything to gain!
* Ad disclaimer:
For links marked with an asterisk, EXPERTE.com may earn a commission from the provider. The commission has no influence on our editorial rating.

Carsten Podszun studied computer science and business administration and was self-employed in the retail industry for 15 years. Since 2014 he is a consultant for startups, freelance author and writes at EXPERTE.com about homepage, hosting & IT security.
Continue Reading
Other languages
Deutsch