Best VPN for Gaming 2023: Improve Ping With a VPN?

Author
Janis von Bleichert
Our editors test and evaluate all services independently. For links on this page, EXPERTE.com may earn a commission from the provider.
VPNs are great for lots of things: Streaming content from abroad, staying anonymous online, protecting yourself when on public WiFi, or overcoming Internet censorship. But what can they do for gamers? There actually are a few advantages to using VPNs.
In this article, we'll show you how a VPN can enhance your gaming experience, and which services are your best options.
What Benefits Do VPNs Offer for Gaming?
The list of potential ways you can use a VPN when gaming is longer than you might think:
Access otherwise unavailable games and extensions
Some titles or extensions aren't available in certain regions. For example, if you buy a game on Steam that isn't offered in the US, you can use a VPN to change your virtual location and purchase it from where it's marketed.

Take care though, as Steam and other platforms don't like when users do this and take measures to prevent it, such as blocking VPNs or only accepting payment methods from the country in question.

Get a discount on games
Prices vary from region to region on services like Steam. By changing your region with the help of a VPN, you can take advantage of special discounts or get titles for less than you would normally pay.

Play games before their official release
Games are rarely released everywhere at the same time. If you want to get a head start on your friends, you can use a VPN to purchase a game from a country or region where it's released sooner than your physical location.

Play multiplayer matches in other regions
For some games, multiplayer servers are arranged on a regional basis. If you'd like to play with your friends from halfway around the world, you can adjust your digital location to their country.

Protect yourself from DDoS attacks
If you play at a professional level or are participating in an esports tournament, you can use a VPN to ward off any potential denial of service attacks against your IP address. Opponents can use these to thwart your game plan or strategy by compromising your Internet connection.

Prevent throttling of your connection speed
Your Internet provider might consciously throttle your connection if its bandwidth is overburdened or you've exceeded a certain limit. With a VPN, you can negate these steps.
However, VPNs can also have disadvantages for gamers. One downside to using a VPN is that it encrypts your traffic and routes it through geographically distant servers, all of which can inhibit your connection's performance. With gaming, speed is key, and lagging, disruptions, or loss of connectivity can and often do make the difference between victory and defeat.
Some VPN services claim that their services actually improve the gaming performance of their users by optimizing their ping. We took a closer look to find out whether this is just clever marketing, or if their promises hold any water.
Can VPNs Improve Ping?
Broadly speaking, you shouldn't put too much stock in a VPN provider claiming that their connections can lower your ping. At the end of the day, a VPN is nothing more than an intermediary between you and the server you've selected, which more often than not, will have an adverse impact on your connection's performance.
With that said, there are times when using a VPN can improve your ping, such as if the server you've selected is actually closer to that on which you're playing a game. Some VPN providers even offer dedicated gaming servers.
During our assessment, VPN connections either had a negative or no effect upon ping - we never witnessed improvements. However, this doesn't mean that our experience will be the same as yours.
Best Gaming VPN: Our Top 5
As part of our EXPERTE.com VPN comparison, we examined 27 providers, rating them on their performance, user-friendliness, and security, and comparing them to one another. Below, we've listed our Top 5:
1.
NordVPN: The Best Allrounder for Gamers Too
NordVPN is our number one VPN because it combines speed, ease-of-use, and functionality in a slick package that's also pretty affordable.
5,500+ servers, 60 countries
affordable 2-year package
9.4

excellent
Data Volume
Devices
Protocols
Contract Period
NordVPN 2-year plan
$3.49
monthly price
Visit Website*
30 days money-back guarantee
The top VPN from EXPERTE.com's assessment, NordVPN emerged above all other services from our sample owing, among other things, to its performance. During our VPN speed test, in which we used servers based in Germany and the US to measure upload and download speeds for each provider, NordVPN came in first. This alone means that the platform is well-suited for gaming.
Beyond that though, the Panama-based VPN also offers access to 5,000 servers across 59 countries. Its security standards are top-notch and regularly validated by external audits.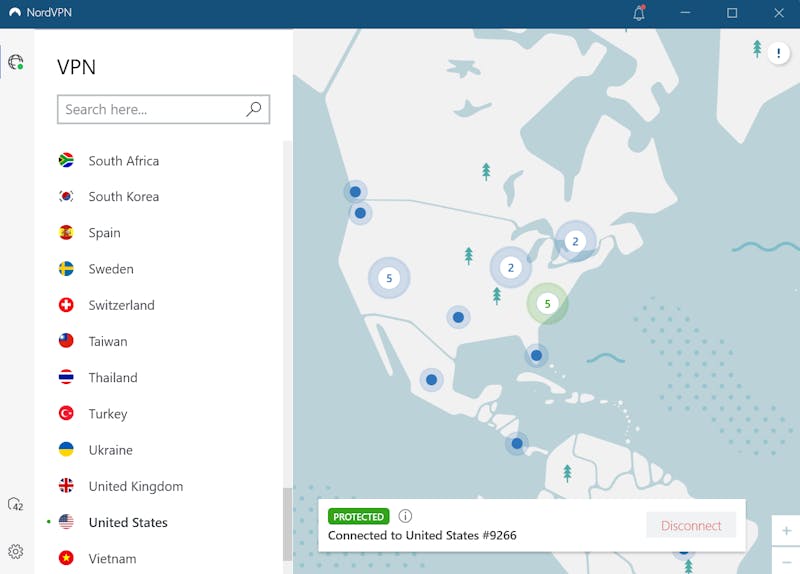 EXPERTE.com's best in show, NordVPN, is well-suited for gaming.
So long as you have a compatible router or LAN cable, you also can use NordVPN on gaming consoles like PS5 or Nintendo Switch. Needless to say, here too, the program offers protection against DDoS attacks.
Thanks to all of the above, NordVPN is our first choice for a gaming VPN.
World map interface design might not be everyone's cup of tea
Installation and Features
9.4 / 10
Security and Privacy
9.4 / 10
2.
ExpressVPN: Premium VPN Priced Accordingly
ExpressVPN can impress with a strong performance, a huge server network, and excellently designed applications, but this quality also comes at a higher price.
Data Volume
Devices
Protocols
Contract Period
ExpressVPN 12 Months
$8.33
monthly price
Visit Website*
30 days money-back guarantee
ExpressVPN is another service that ticked all of the boxes a good gaming VPN should: It delivers top speeds, offers access to a huge server network, and reliably protects against DDoS attacks. The provider also explicitly promises shorter ping times for gamers, which we couldn't independently confirm.
Still, ExpressVPN is still a good choice for gamers, since its intuitive PC and mobile apps are extremely user-friendly. Using these and your router, you'll be able to offer all of your gaming consoles or devices the advantages a VPN connection provides.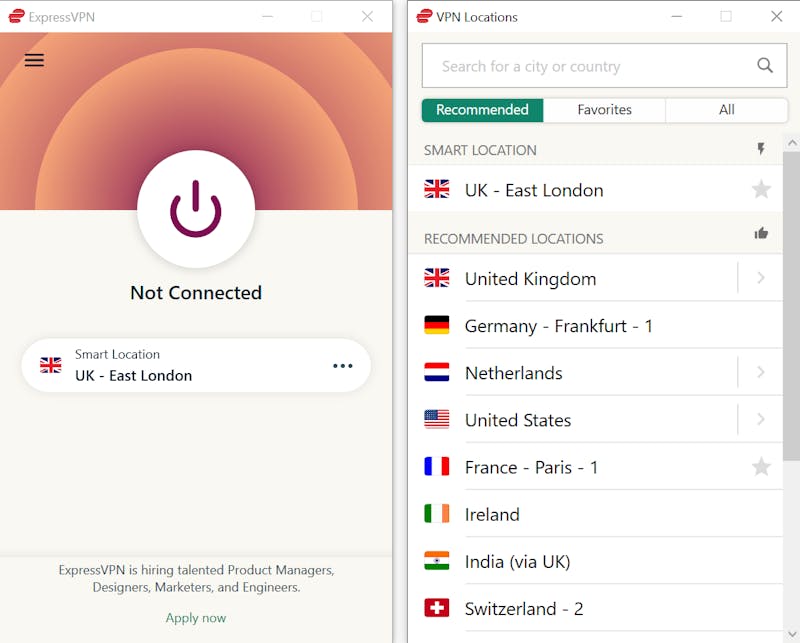 ExpressVPN is a premium VPN that offers a nice package of features for gamers.
We were less impressed with ExpressVPN's costs: Its monthly fees are priced similarly to those of its competitors, however, when signing on for a long-term contract, you'll save considerably more elsewhere, without compromising on performance.
Supposing that this isn't a deal breaker for you, or you'd prefer to pay month-by-month, ExpressVPN could be a solid choice.
More expensive than comparable VPN services
Security and Privacy
9.4 / 10
Installation and Features
8.6 / 10
3.
Surfshark: Gaming VPN With Top Price-Performance Ratio
Surfshark is one of the cheapest providers on the market, but it's a lot more than a great budget option: the relatively new VPN boasts strong protection, many features, and a great support with 24/7 live chat.
3,200+ servers in 100 countries
unlimited number of devices
many apps (Linux, FireTV, ...)
8.8

good
Data Volume
Devices
Protocols
Contract Period
Surfshark 24 months
$2.49
monthly price
Visit Website*
Get 83% Discount
Strong arguments can be made in favor of using Surfshark owing to its price: Anyone who foresees needing a VPN well into the future can do their bank account a favor with the provider's 24- month subscription. To illustrate, this costs 1/3 as much as ExpressVPN's two-year plan. And the best part? You won't have to make any compromises in terms of quality.
On the contrary: During our speed test, Surfshark bested ExpressVPN, while its breadth of features and user-friendliness are first in class.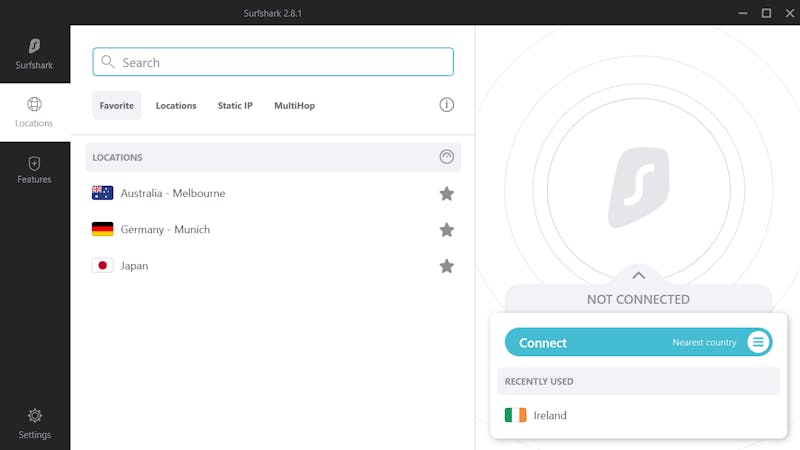 Surfshark is EXPERTE.com's top price-performance pick.
For gamers who have been interested in a VPN for some time, but never felt ready to make the necessary financial commitment, Surfshark offers an affordable and qualitative solution.
Long-term subscriptions are real bargains
Server network could be larger
Installation and Features
9.4 / 10
Security and Privacy
8.0 / 10
4.
ProtonVPN: Top Speeds and Security
With its open source philosophy and extra security features, Proton VPN targets security-conscious VPN users. But thanks to its user-friendly interface and suitability for streaming, it's worth a look for a wide audience.
open source & external audits
1,900+ servers in 67 countries
free plan without data limit
8.7

good
Data Volume
Devices
Protocols
Contract Period
Proton VPN Free
$0.00
monthly price
Visit Website*
Free forever
According to EXPERTE.com's speed test, ProtonVPN is the fastest VPN on the market. This makes the Swiss VPN particularly attractive for gaming.
Beyond that though, ProtonVPN's emphasis on security and transparency set it apart: Its apps are open source, meaning that source code and encryption standards can be viewed by anyone, including independent security experts.
There are also a few extra security features worth taking note of: With Secure Core, you'll be able to route your connection through multiple servers, while BitTorrent support means that you won't have to worry about others monitoring your filesharing activities. Rounding things out, Tor over VPN offers the capability to direct your traffic through Tor network.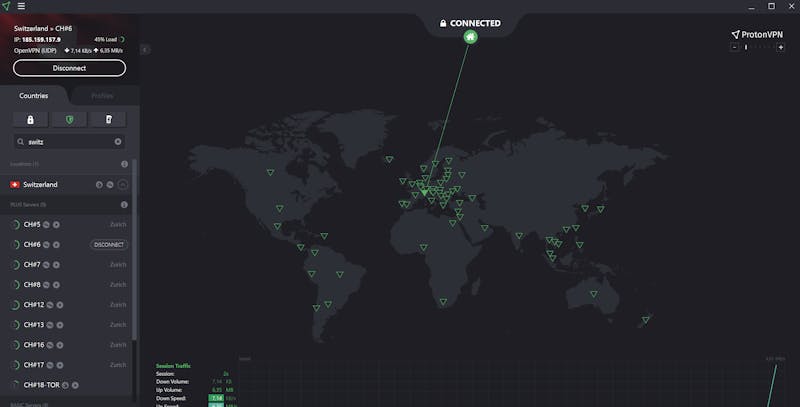 ProtonVPN is an open-source VPN that's well-suited for gamers. The provider is known, in particular, for its emphasis on security and transparency.
We should probably also mention ProtonVPN's free version here since, in contrast to most of those offered by its competitors, with it, you won't have to worry about any data limits. Still, if you intend to use your VPN for gaming, we recommend going for a premium subscription, since it provides access to more server locations and has better speeds.
Offers several practical security features
Server network could be larger
Installation and Features
10 / 10
Security and Privacy
10 / 10
5.
HideMyAss: Well-known in Esports
HideMyAss' main claim to fame is its impressive server infrastructure, but the VPN also delivers solid speeds and handy features like its IP Randomizer. When it comes to streaming, however, it's not always the most reliable choice.
Data Volume
Devices
Protocols
Contract Period
HideMyAss! 36 months
$2.99
monthly price
Visit Website*
30 days money-back guarantee
HideMyAss is another VPN that is highly conducive to gaming and is actually used and recommended by esports teams such as FNATIC Rising and WARTHOX. This can be attributed to the DDoS protection it provides to pro gamers. HideMyAss' speeds were only good enough for the middle of EXPERTE.com's speed test, but these are solid.
The provider's server network covers around 200 countries, and as such, has a global reach.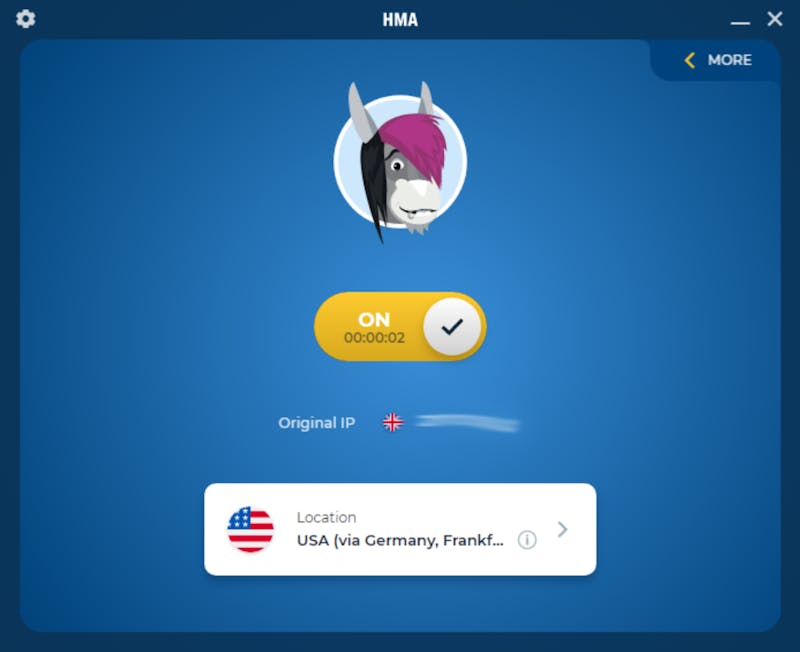 HideMyAss is used by a number of esports teams.
Unfortunately, split tunneling is only available for the Android version of the provider. Its inclusion in the desktop software would be helpful since it allows users to limit the VPN to their game.
We also had mixed results with video streaming on HideMyAss – Netflix and Amazon Prime Video caught on to what we were trying to do, and prevented us from viewing content from abroad. For that reason, if you're in the market for a VPN that you can use for gaming as well as video streaming, other providers might be better suited.
Video streaming shortcomings

No split tunneling for desktop users
Security and Privacy
8.6 / 10
Installation and Features
8.0 / 10
Overall Results
Alongside our Top 5, there are plenty of other VPNs that can work out well for gaming. Below, we've included the complete EXPERTE.com ranking of all providers from our sample:
VPN Protocols: Which Protocol Should I Use When Gaming?
VPN protocols are a series of rules and processes that specify how a VPN tunnel is established. Typically, each VPN service offers a choice of protocols that can be manually adjusted. At the same time, your choice of protocol can impact your connection's performance and security. For gamers, latency and performance are two key aspects that protocols can influence.
So, which VPN protocol is the best for gaming? To find out, the gaming website, This Gen Gaming performed more than 20 speed tests with different VPN providers and protocols, assessing their performance using multiplayer games like Dota 2, Age of Empires, CS: GO, Fortnite, and Overwatch.
WireGuard emerged as the clear winner among the protocols. Even for geographically-distant servers, speed losses were minimal and multiplayer games didn't evidence any annoying lag.
VPN and Gaming: Can My Account Be Blocked?
So, VPNs are 100% legal, and their usage in conjunction with a game or platform like Steam is, at the most, a grey area. This is because in using one, you don't break any laws, but do transgress the usage conditions or agreement for that game. Steam notes the following in its subscriber agreement:
"You agree that you will not use IP proxying or other methods to disguise the place of your residence, whether to circumvent geographical restrictions on game content, to order or purchase at pricing not applicable to your geography, or for any other purpose. If you do this, Valve may terminate your access to your Account."
This means that technically speaking, Steam has the right to suspend or block your account if they notice this sort of behavior. However, the chances of this actually happening are low. All the same, it's important to be aware of the potential risks.
Conclusion
VPNs offer gamers a number of advantages: They can be used to access or buy games and extensions that might not be available where they're physically located, protect themselves against DDoS attacks, or play multiplayer games in other regions. To make the most of these, you'll need a reliable VPN, the performance and speed of which can keep up with whatever demands your game places on it.
Based on EXPERTE.com's assessment results, NordVPN, ExpressVPN, and Surfshark are among the three best gaming VPNs on the market. Whichever provider you choose, make sure that you go with the WireGuard protocol, which is ideal for both streaming and gaming. Comprehensive reviews of all 27 VPNs from our sample can be found in our EXPERTE.com VPN comparison.
FAQs
What advantages do VPNs offer for gaming?
⊖
With a VPN, you'll be able to access otherwise unavailable games or extensions, play new releases earlier, ward off DDoS attacks, or contest multiplayer matches with gamers from around the world. You can also overcome attempts by your ISP to throttle your connection speed.
Some VPN services claim that their programs are able to lower your ping. However, a VPN is an intermediary which routes and encrypts your traffic through distant servers, making it more likely that they'll have a negative impact on your connection speed. During our assessment, pings remained either unchanged or became higher. However, we don't rule out that, depending upon your geographic location (and that of the server you connect to), a VPN might actually lower your ping.
What is the best VPN for gaming?
⊖
Based on our EXPERTE.com test results, NordVPN, ExpressVPN, and Surfshark are the three best VPNs for gaming, owing to their combination of high speeds, DDoS protection, and high-quality features.

Janis von Bleichert studied business informatics at the TU Munich and computer science at the TU Berlin, Germany. He has been self-employed since 2006 and is the founder of EXPERTE.com. He writes about hosting, software and IT security.
Continue Reading
Reviews
Comparisons
Tools & Guides
Ad disclaimer
* For links marked with an asterisk, EXPERTE.com may earn a commission from the provider. The commission has no influence on our editorial rating.