Bypass Geoblocking
Change the Country on Netflix — Netflix Abroad 2022
If you've ever opened Netflix while on vacation abroad, you probably know that the movies and series on offer can be widely different than what you're accustomed to. Netflix catalogs differ from country to country because the licensing rights negotiated by streaming services are secured individually for each market. Wouldn't it be great if you could access all content catalogs without having to travel?
It's actually quite simple to change the country catalog that Netflix displays, making it possible to view content from other regions. However, you can't just change your country in Netflix's settings—you have to trick the service by obtaining a foreign IP address. The easiest way to secure one of these is with a VPN.
A virtual private network or VPN is a tool that protects you and your privacy online. It creates a virtual tunnel between your device and the network you've connected to, anonymizing any data sent, while also changing your IP address.
This process entails sending your data through one of the VPN's servers, which can be located anywhere on the planet. For example, if you connect to a server in the US, you'll get a US IP address, which means websites and streaming services will treat you as if you were a visitor from America.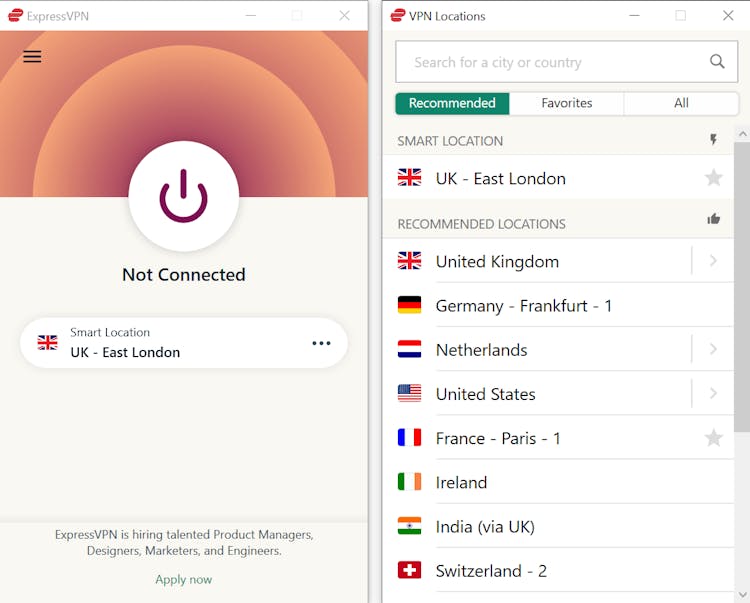 Services such as ExpressVPN grant users access to servers located all over the world.
VPN services make it easy to establish a secure, anonymous connection via user-friendly apps. In the next section, we'll explain how these work.
How To Change the Country on Netflix With a VPN
To start, you'll need an account with a VPN provider of your choosing. While there are free VPN services, streaming foreign content on platforms such as Netflix, is usually only possible with a paid subscription.
The method used to change countries depends on where you watch Netflix.
1.
Changing the Netflix Country on Your Computer/Smartphone
If you use Netflix on a computer or smart device that supports apps, the process is incredibly easy. We'll explain how it's done using NordVPN, the best-performing service from our review, as an example.
1. Open the VPN app and select a server in the country whose content you want to access.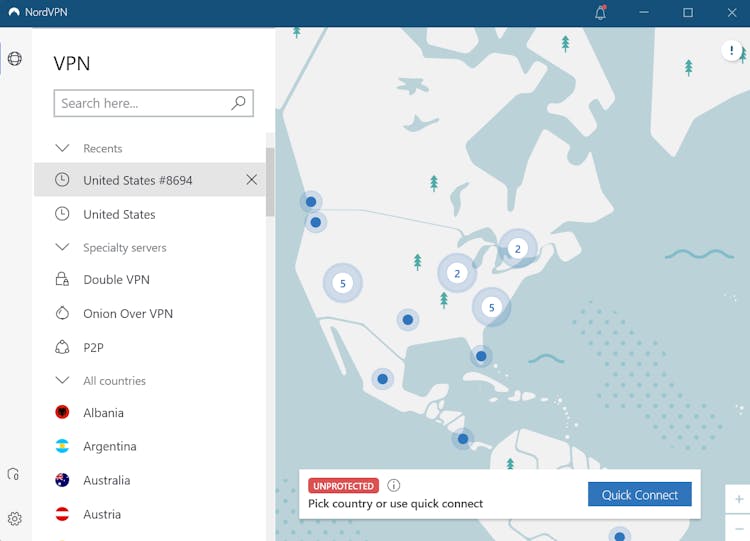 First, select the country whose Netflix catalog you want to access.
2. Connect to the server.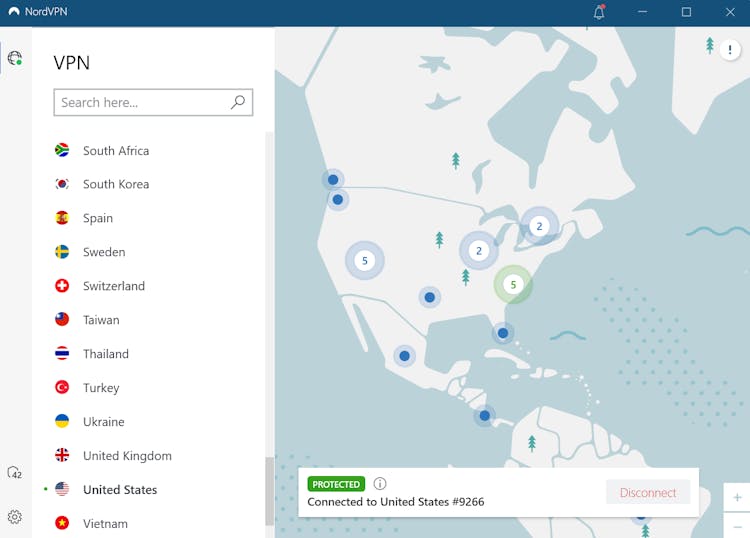 Now, connect to a server of your choice.
3. Go to Netflix's website. The catalog for the country you've connected to should now be displayed.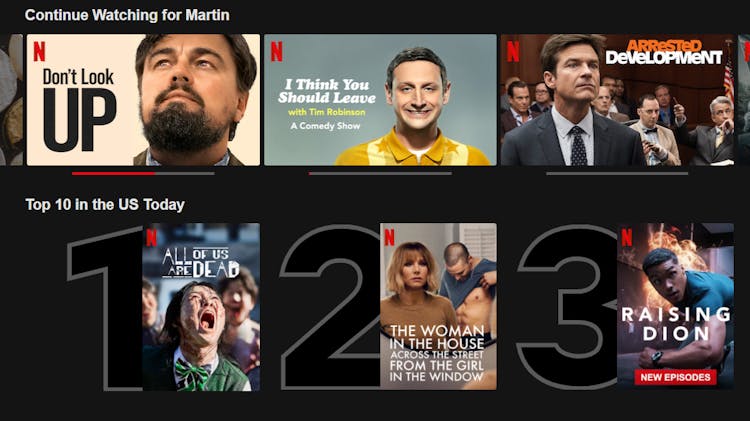 Via connection to a VPN server in the US, it's possible to access the American Netflix catalog.
4. Once finished, close the VPN connection in the app's client.
2.
Change the Netflix Country on Your TV
If you want to watch Netflix on another device, such as your TV, the procedure is a bit more complicated. Native VPN apps do exist for some smart TVs. Should you have an Android TV, for example, you can simply download NordVPN and establish a VPN connection.
In the event that your VPN provider doesn't offer a dedicated app for your smart TV, you'll have a few options:
A)
Configure a VPN on Your Router
You can set up a VPN on your router and use it at the network level. This has an added advantage: instead of just using a VPN app on a single device, all devices on your network—including your TV—will have a secure connection and the ability to change locations.
The downside to this approach is that it is more complex than other options. Not every router supports each VPN service, and there's no universal guide because the technique varies depending on the router and VPN provider.
Fortunately, most VPN services explain the process for different routers. For example, here are instructions for NordVPN.
B)
Share a VPN Connection via Ethernet Cable
If you don't want to set up a VPN connection on your router, you can share one between your computer and TV via Ethernet cable. To illustrate, here's how you would do this on Windows 11:
1. Open Windows Settings and navigate to "Network & Internet". Click on "Advanced network settings".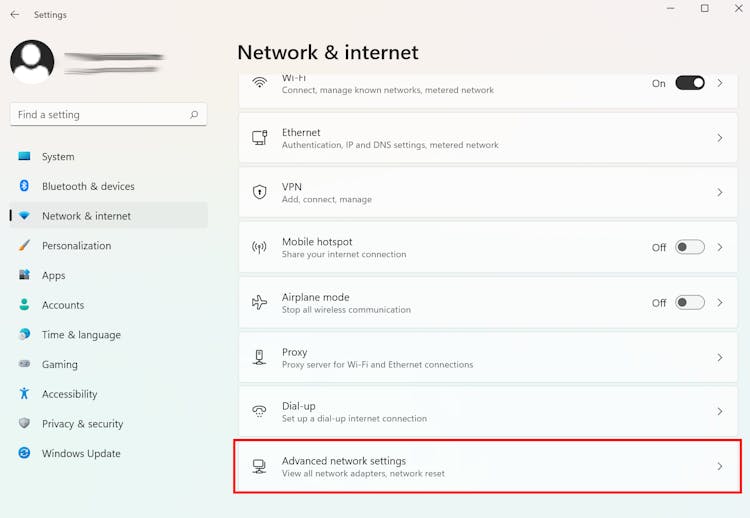 To begin, open "Network & Internet" settings.
2. Click on "More network adaptor options" to see your network interfaces.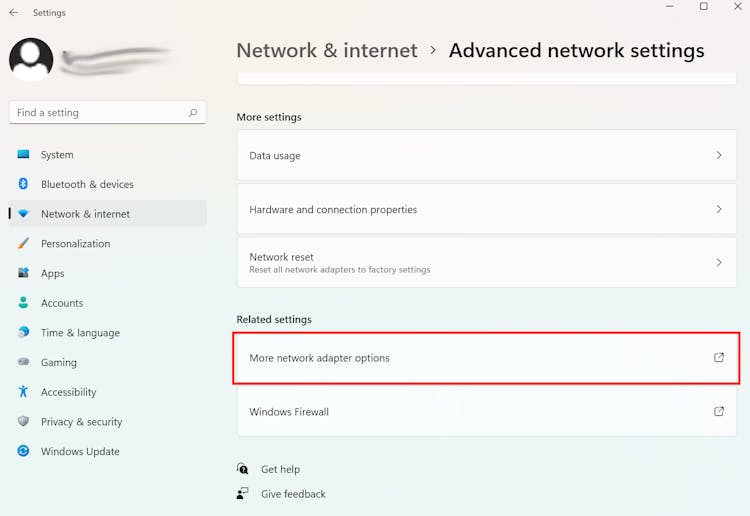 Open the advanced options.
3. From the list, find the adapter with the name of your VPN service. Right-click on it and choose "Properties."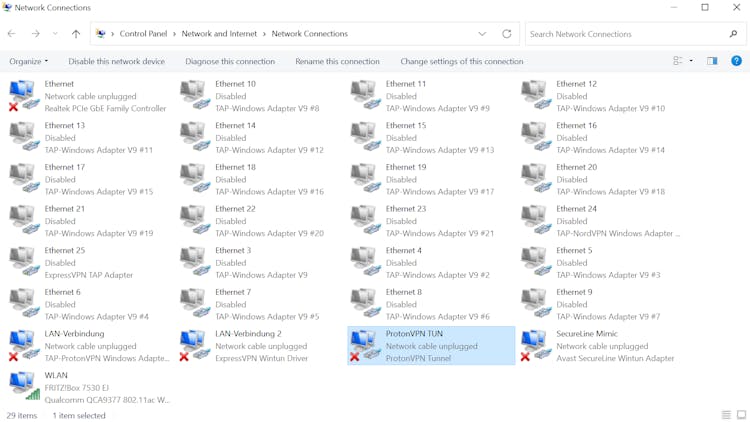 Select your VPN from the connections.
4. Switch to the "Sharing" tab and check the "Allow other network users to connect through this computer's internet connection" box. Then click "OK."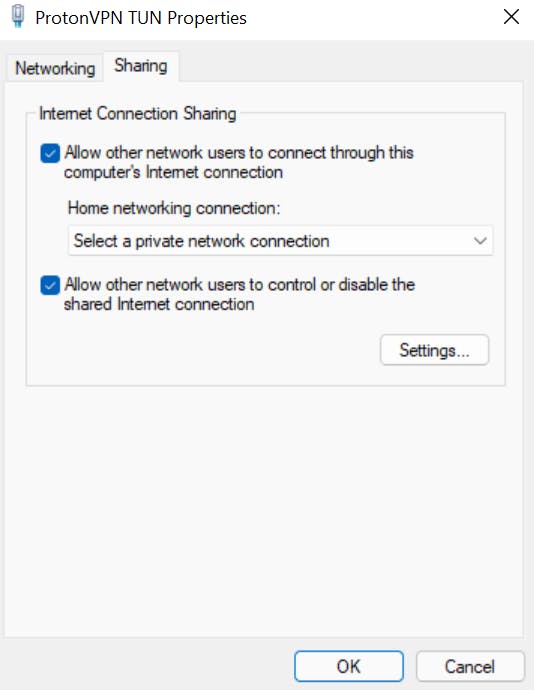 Ensure that the Internet connection can be shared via Ethernet cable.
5. Connect your computer to your smart TV via Ethernet cable. Now you can establish a VPN connection to the PC, which should also work on the TV.
C)
Share Your VPN Connection via WiFi Hotspot
Instead of using an Ethernet cable, you can create a mobile hotspot on your computer and connect your smart TV to it.
1. Open Windows Settings and click "Mobile Hotspot" under "Network & Internet".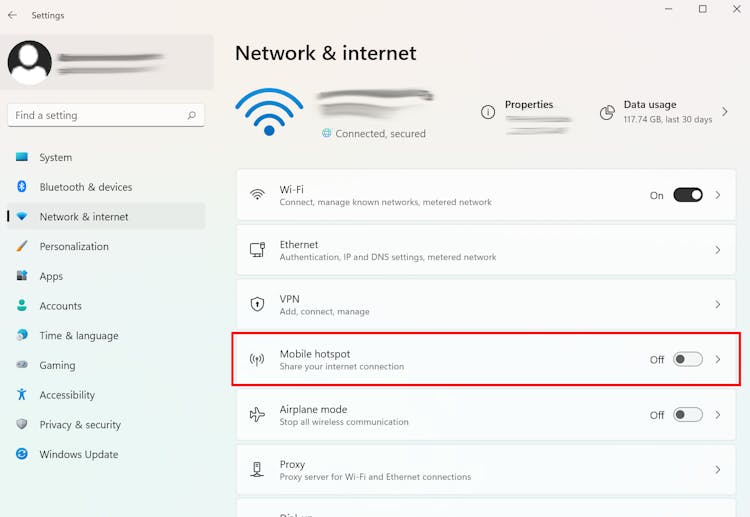 Toggle "Mobile Hotspot" on.
2. Open Windows Settings and navigate to "Network & Internet". Go to "Advanced network settings" and in the window that opens click on "More network adapter options".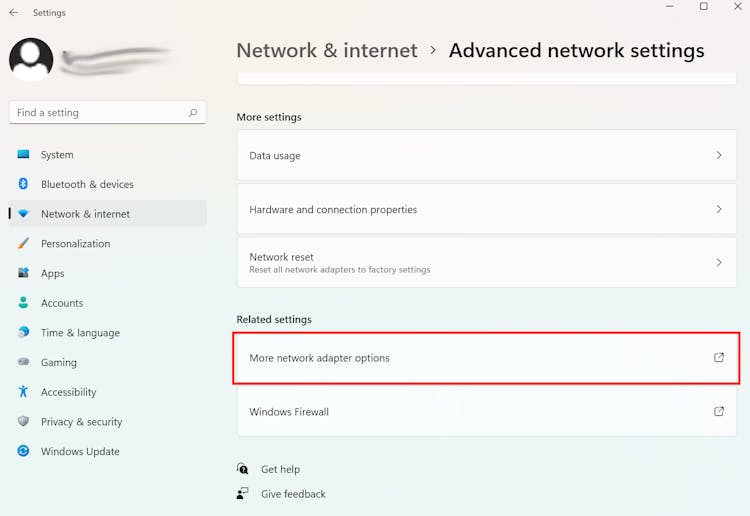 Open "More network adapter options".
3. The new hotspot should now be visible among your network connections. It will be labeled as "Microsoft Wi-Fi Direct Virtual Adapter". Take note of its name because you'll need it in a moment. In the example pictured below, it's called "LAN Connection* 10″.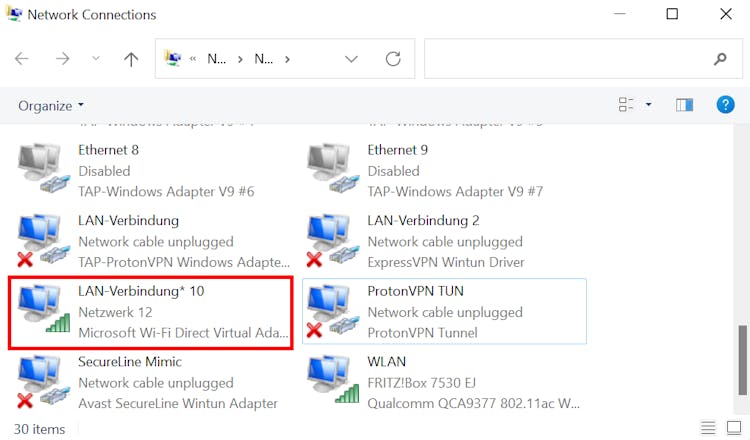 Take note of your hotspot's name.
4. Next, find the adapter that includes your VPN service's name. Right-click on it and choose "Properties".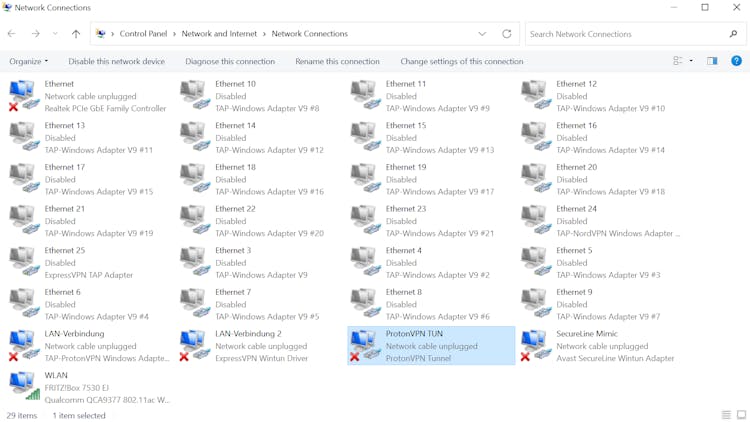 The correct adapter will include your VPN's name.
5. Switch to the "Sharing" tab and check the "Allow other network users to connect through this computer's internet connection" box. From the drop-down menu, select the hotspot connection with the name you noted earlier and click on "OK".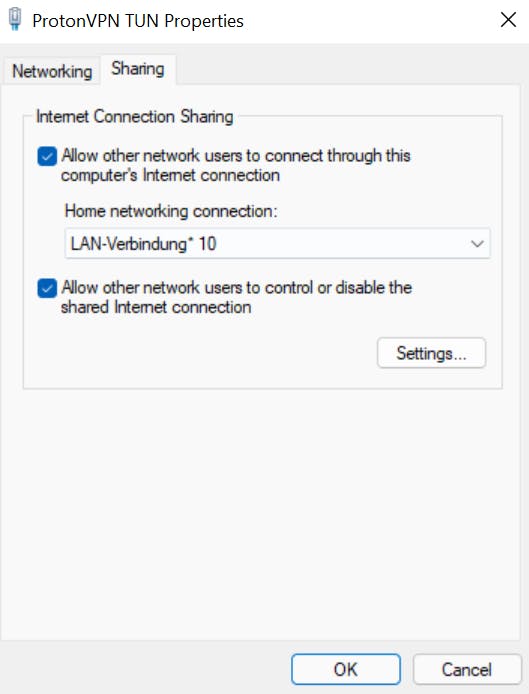 Be sure to select the right connection from the drop-down menu.
6. Connect to the WiFi hotspot you just shared on your smart TV. You should now be able to use the VPN connection.
Which VPN Provider Is Best for Changing the Country on Netflix?
There are countless VPN providers on the market, but not all of them are capable of streaming foreign content. We were able to watch Netflix content from abroad with 17 of the 22 providers from our sample. Here are our Top 3:
1.
NordVPN: Best Performance and Overall Package
5400+ servers, 60 countries
Inexpensive 2-year package
NordVPN combines speed, user-friendliness and functionality into a coherent overall package that is also fairly affordable.
Data volume
Devices
Protocols
Contract Period
NordVPN 2-year plan
$3.29
monthly price
Visit Website »
30 days money-back guarantee
NordVPN is EXPERTE.com's overall winner. The service didn't just dominate in our sample's performance test, it also includes great apps with plenty of features, a large server network, and high security standards. In addition to Netflix, we were able to use NordVPN to access content from abroad on Amazon Prime Video, Disney+, and the BBC's iPlayer.
Installation and Features
4.7 / 5
Security and Privacy
4.7 / 5
2.
ExpressVPN: Extremely User-Friendly
160 cities in 94 countries
30-day money-back guarantee
ExpressVPN impresses with strong performance, a huge server network and excellently designed applications, but this quality also comes at a higher price.
Data volume
Devices
Protocols
Contract Period
ExpressVPN 12 Months
$8.33
monthly price
Visit Website »
30 days money-back guarantee
ExpressVPN scored with its user-friendly app, great performance, and reliability in terms of accessing content from abroad on Netflix as well as other streaming platforms. However, it is one of the pricier VPN providers on the market.
Security and Privacy
4.7 / 5
Installation and Features
4.3 / 5
3.
Surfshark: A Real Bargain
3200+ servers in 65 countries
Unlimited number of devices
Many apps (Linux, FireTV, ...)
Very cheap on the 24-month plan
Surfshark is one of the cheapest providers on the market, but besides the price also impresses with strong protection, many features and a great support with 24/7 live chat.
Data volume
Devices
Protocols
Contract Period
Surfshark 24 months
$2.49
monthly price
Visit Website »
Get 83% Discount
Compared to many other VPN providers (especially those offering 2-year subscriptions), Surfshark is particularly inexpensive. But they don't just offer attractive pricing; Surfshark took an impressive second place in our performance review, making it a reliable choice for streaming Netflix content from abroad.
Installation and Features
4.7 / 5
Security and Privacy
4.0 / 5
As we noted, 14 other VPN providers from our sample were able to stream Netflix content from abroad. To see more of our top picks, be sure to check out our dedicated article on the best VPNs for Netflix.
Can You Change the Country on Netflix for Free?
Not really. While free VPN services and plans do exist, they're usually unable to bypass region restrictions on foreign streaming content. Even the free versions offered by top VPN providers don't include this feature, since it's a perk for paying subscribers. On occasion, you might be able to watch videos over a free VPN connection, however, for reliable streaming, you'll need a paid program.
Is It Legal to Change the Country on Netflix?
Yes, it's legal. That being said, you are in a bit of a gray area. Bypassing the provider's geoblocking via VPN violates Netflix's terms of use. This is because the provider is responsible for ensuring that it adheres to the licensing agreements it's signed in various countries and must perform due diligence in ensuring compliance.
However, you don't need to fear any legal repercussions, and it's unlikely that you'll be penalized as a Netflix customer. Theoretically, the streaming service could block your account, but so far, we aren't aware of any such cases.
Change the Country on Netflix Without a VPN
VPNs aren't the only way to travel the world virtually. You can also use a proxy server or Smart DNS to bypass Netflix's region restrictions.
Proxy servers are typically free and don't require the installation of any special software. However, they have shortcomings when it comes to performance, which can often translate into difficulties while streaming. Smart DNS is a service (typically paid) that enables you to use the DNS address of a server abroad. You'll be able to surf at full speed, however, your data won't be encrypted.
Our article on geoblocking explains how to set up proxy servers and Smart DNS. We consider VPN services the best way to access Netflix content from abroad due to their combination of reliability, performance, and security.
Using a VPN to switch countries on Netflix and other streaming platforms is a breeze, making it possible to explore otherwise inaccessible content, such as movies and series, from around the world. The entire process is legal; and even if you violate Netflix's terms of use, you don't have to fear any consequences.
You could try your luck with free VPN services. However, for reliable Netflix streaming, you need a paid subscription. With our Top 3 providers—NordVPN, ExpressVPN, and Surfshark—you'll be all set. We cover the best VPN services for Netflix in a separate article. You can also find detailed reviews of all 22 providers from our sample in our EXPERTE.com VPN comparison.
Can Netflix USA be accessed from another country?
Yes. If you use a VPN to connect to a US server, you can access Netflix USA from abroad. As long as you're connected with your VPN, simply go to the website and you should be able to access all content available in the US catalog.
Can I change my Netflix country without paying for a VPN?
Some free VPN services promise access to foreign Netflix content. This may work in isolated cases, but in our experience, only paid VPN providers can reliably bypass region restrictions on streaming services such as Netflix.
Which country has the best Netflix?
Ireland currently has the largest Netflix catalog, followed by Malaysia and Indonesia. As for where the best content is located—that depends entirely on which series and movies you're interested in. Online services, like uNoGS, do exist that compile all global content from streaming services.
Is it legal to use Netflix with a VPN?
Yes—you don't need to fear any legal consequences. However, you are violating Netflix's terms of use, so theoretically, they could block your account. That being said, we aren't aware of any such cases so far.

Author (German Version): Martin Gschwentner
Martin Gschwentner majored in American Studies and Media Studies in Germany, the USA and France and works as a freelance editor in Paris. He is a doctoral student at the Institute for English and American Studies at the University of Paris Diderot, where he is researching the influence of money on US politics. On EXPERTE.com he writes about IT security, data protection and software for the self-employed and small businesses.

Translator & Editor: Lisa Torelli-Sauer