Cancel CyberGhost: How to Cancel Your VPN Contract

You check your credit card statement and notice a charge you don't remember making. Was your card stolen or compromised by a dubious merchant? And then you remember that you forgot to cancel a subscription that renews automatically. In our modern world, plenty of services rely on this technique to squeeze the most out of those who sign up but forget to cancel on time. VPNs like CyberGhost are no exception.
Most of the leading VPNs are premium, and of these, the majority require a subscription. Generally, you'll save considerably by inking a long-term deal with a VPN provider and CyberGhost is no exception. Its 3-year package is particularly affordable and only renews every 36 months.
CyberGhost offers a lot of bang for the buck, especially in the 2-year plan. It has lots of features, even more servers, and quick support including live chat. We had occasional performance issues, however.
7 simultaneous connections
fast support with live chat
7.8

good
Data Volume
Devices
Protocols
Contract Period
CyberGhost 2 Years
$2.37
monthly price
Visit Website »
45 days money-back guarantee
Few people plan three years in advance though, so it's advisable to cancel your contract, or at the very least, turn off automatic renewal as soon as possible. In general, this is a good practice regardless of the VPN or service you're using, since you can always renew a subscription manually later on, or re-book it.
In this guide, we'll show you how to cancel your CyberGhost subscription before it renews automatically and how to make the most of the provider's money-back guarantee.
Cancel CyberGhost
To cancel, you'll need to remember how and where you signed up for CyberGhost: On its website, or in the Android or Apple app stores. We'll go through each of these options step-by-step.
Cancel CyberGhost Online
1. Log in to your CyberGhost account by clicking on the "My Account" button in the upper right of the platform's website ⇱.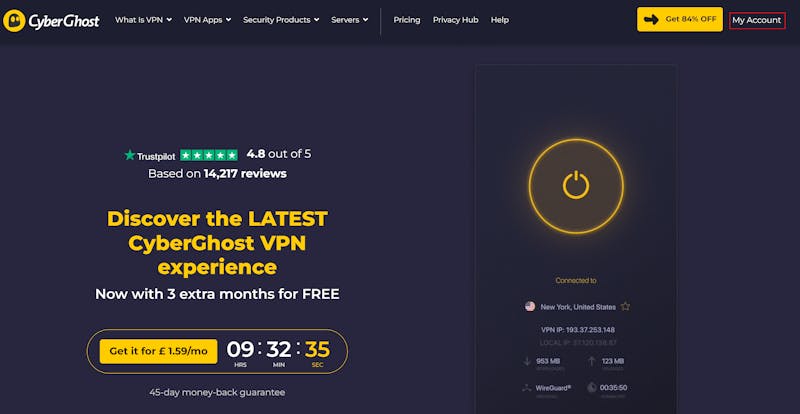 First you'll need to log in to your account on CyberGhost's website.
2. In the overview area of the dashboard, click on the "Check Subscription" button.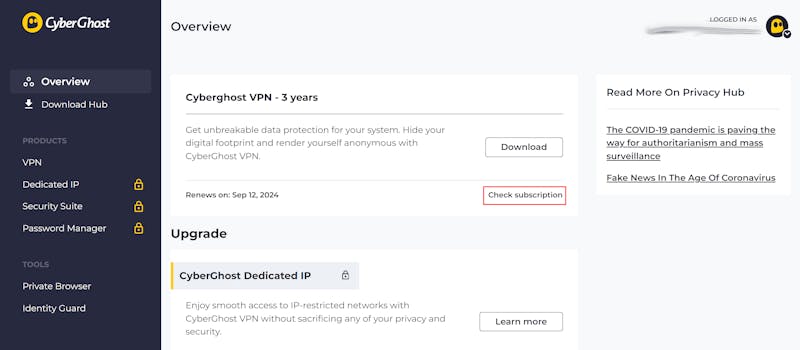 By clicking on "Check Subscription", you can turn off contract auto-renewal.
3. To turn off automatic contract renewal, click on the "Cancel Subscription" button. Next, you'll need to go through a few steps, such as providing a reason for your decision. Once finished, click on "Cancel Subscription" until the process is complete.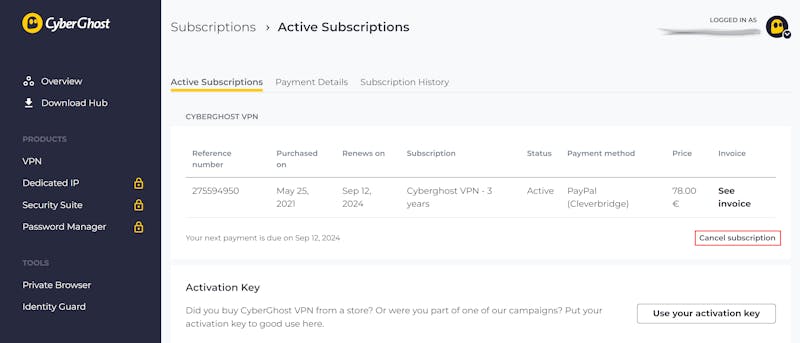 CyberGhost does everything in its power to convince you to stay, however, after a few clicks, you'll be free.
4. Your contract will now expire when your subscription runs out. The payment method you used when booking your plan will not be charged.
Cancel CyberGhost in the Play Store
If you've signed up for CyberGhost on your Android smartphone, you can easily turn off automatic subscription renewal in the Play Store.
1. Open the Play Store and tap the account symbol in the upper right.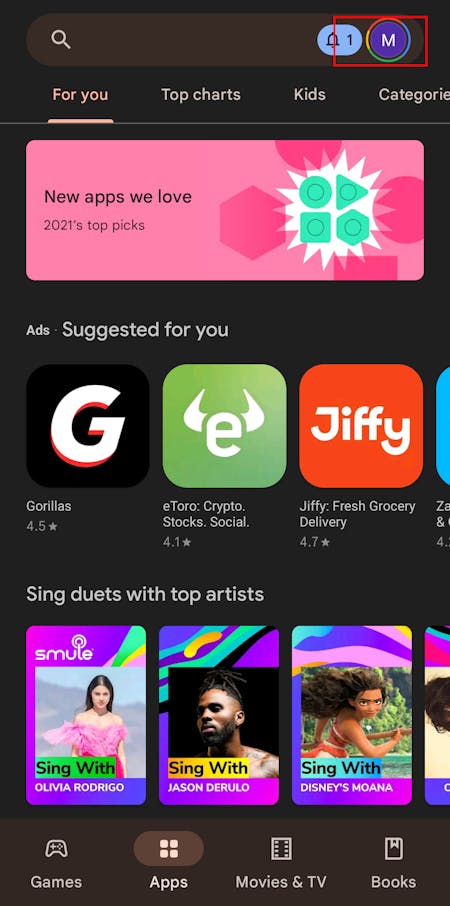 2. Tap "Payments and Subscriptions" in the menu.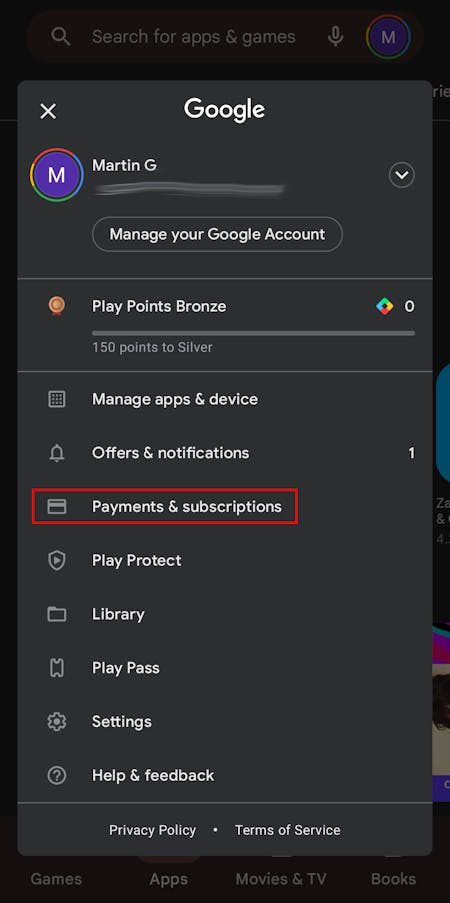 All payments and subscriptions are linked to your account.
3. Tap "Subscriptions" and a list of all the services you're presently subscribed to will be displayed.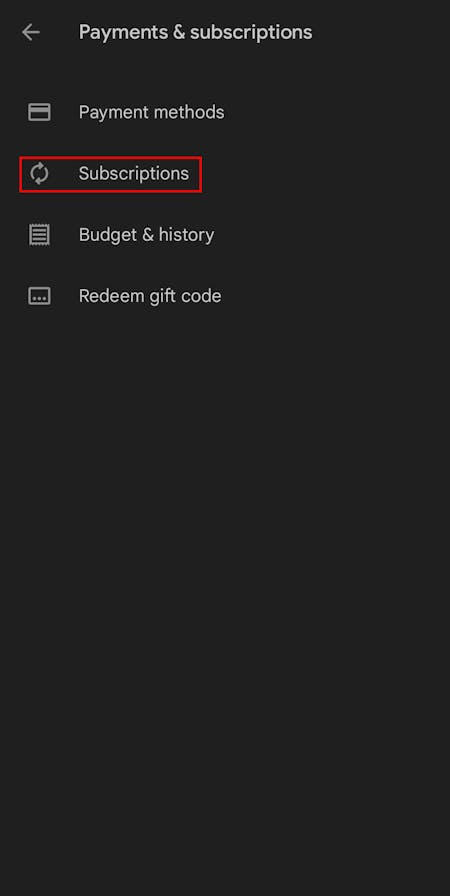 Google Play lists all of your active subscriptions.
4. You should find your CyberGhost subscription under the "Active" heading. Tap on it, and in the next step on "Cancel Subscription".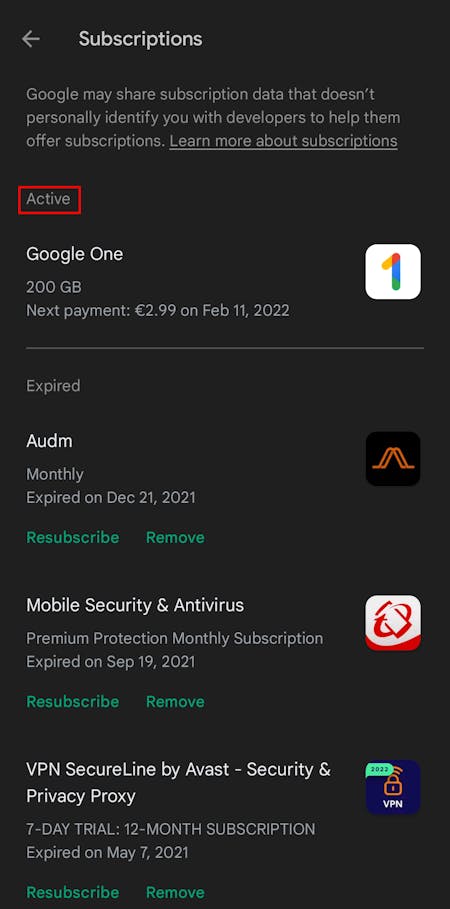 If you've signed up for a CyberGhost subscription with Google Play, you'll find it here.
5. Now, your CyberGhost subscription will not automatically renew when your contract finishes.
Cancel CyberGhost with Apple
Canceling your CyberGhost contract is also simple if you signed up for the VPN via Apple's App Store.
1. Open the App Store on your Apple device and tap on the user symbol in the upper right.
2. Under Account Administration, tap again on the user symbol or your username.
3. Tap on "Subscriptions" and you should see all of your active subscriptions.
4. Once you've found CyberGhost, tap on its entry to open a detailed view.
5. Select the cancel option to end your subscription when your contract expires.
How to Get Your Money Back From CyberGhost
If you're canceling your CyberGhost contract shortly after signing up (up to 14 days for a monthly subscription/up to 45 days for longer plans), you can actually claim a refund, either via email or live chat.
Via refund
1. In CyberGhost's support area ⇱ click on "Submit a request".
2. Fill out the contact form and request a full refund. A simple message such as "Hello, I would like to claim a refund for my CyberGhost subscription which I purchased on..." is enough.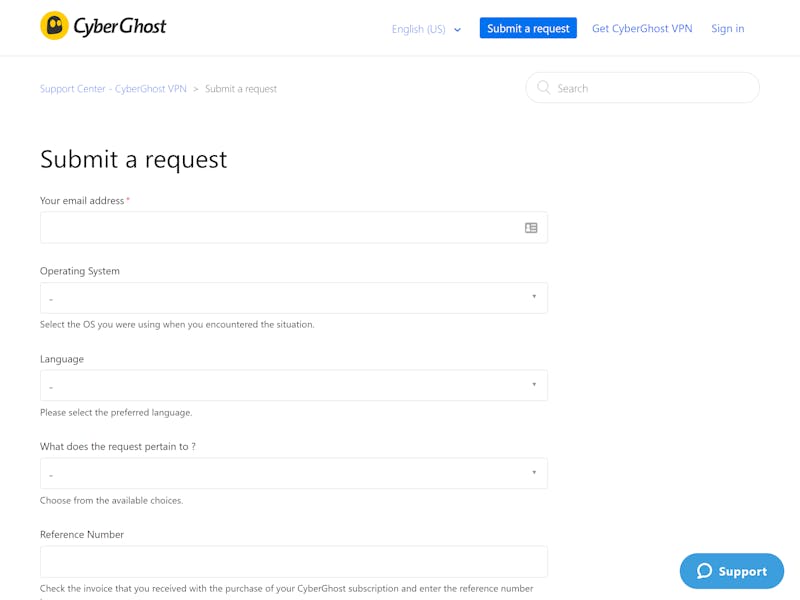 You can request a full refund from CyberGhost via email.
3. The refund should be credited to the payment method you booked the subscription from within a few business days.
Via live chat
1. You can use CyberGhost's live chat in its support area by clicking on the blue "Support" button in the bottom right.
2. Fill out the form and include a brief message requesting a full refund in the comment field.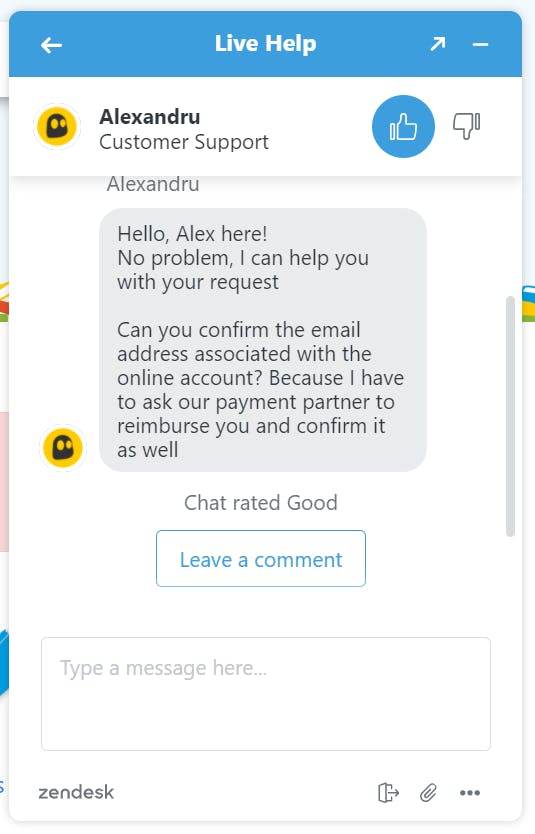 In CyberGhost's live chat, you can request a refund directly from one of the platform's support staffers.
3. The support team member will look into your request and the refund should be credited to the account you booked your subscription from within a few business days.
CyberGhost Alternatives
You're finished with CyberGhost but in the market for another VPN? Even though the Romanian provider performed decently in our comprehensive EXPERTE.com assessment (eighth place), seven other services fared better in our eyes. In fact, we even put together an article on the best alternatives to CyberGhost.
NordVPN is our number one VPN because it combines speed, ease-of-use, and functionality in a slick package that's also pretty affordable.
5,500+ servers, 60 countries
affordable 2-year package
9.4

excellent
Data Volume
Devices
Protocols
Contract Period
NordVPN 2-year plan
$3.49
monthly price
Visit Website »
30 days money-back guarantee
ExpressVPN can impress with a strong performance, a huge server network, and excellently designed applications, but this quality also comes at a higher price.
Data Volume
Devices
Protocols
Contract Period
ExpressVPN 12 Months
$8.33
monthly price
Visit Website »
30 days money-back guarantee
Surfshark is one of the cheapest providers on the market, but it's a lot more than a great budget option: the relatively new VPN boasts strong protection, many features, and a great support with 24/7 live chat.
3,200+ servers in 100 countries
unlimited number of devices
many apps (Linux, FireTV, ...)
8.8

good
Data Volume
Devices
Protocols
Contract Period
Surfshark 24 months
$2.49
monthly price
Visit Website »
Get 83% Discount
Should you want to give your wallet a rest after winding up your CyberGhost subscription, we can also suggest a look at our guide to the best free VPN services.
Conclusion
How to canceling your CyberGhost subscription depends largely on where you purchased it: Online, or in an app store on your Android or Apple device. Whatever the case, you'll be able to disentangle yourself from CyberGhost without much hassle.
In case you booked a monthly subscription (less than 14 days before), or a longer plan (less than 45 days before), you'll also be eligible for a full refund. Like cancelling, requesting a full refund is extremely easy and can be done either via contact form or live chat directly on CyberGhost's website.

Martin Gschwentner majored in American Studies and Media Studies in Germany, the USA and France and works as a freelance editor in Paris. He is a doctoral student at the Institute for English and American Studies at the University of Paris Diderot, where he is researching the influence of money on US politics. On EXPERTE.com he writes about IT security, data protection and software for the self-employed and small businesses.

Translator & Editor: D Bare
Continue Reading
Reviews
Comparisons
Tools & Guides