Best Cloud Storage: Which Provider Should You Choose?

Author
Janis von Bleichert
Do you find external hard drives to be a hassle? You're not alone: More and more people prefer saving their data virtually. Cloud storage makes this particularly easy, allowing you to access important data anywhere from a range of different devices without needing to plug in any cables or carry around a USB stick.
So, what should you look for in a cloud storage provider, which solutions are the best, and how do they differ from cloud backups? In this guide, we'll provide you with answers to these and other questions.
What Is Cloud Storage?
Cloud storage is a type digital of storage space. By using one, you can save your files (documents, photos, videos, etc.) to the provider's servers, and access them from anywhere. This is especially handy if you want to access data from your desktop at home, the office, or your laptop while on the go.
Both free and paid cloud storage solutions exist. A number of providers, such as Dropbox (likely the most well-known service) offer a limited amount of storage space for free. However, in order to take full advantage of all the benefits cloud storage offers, you'll usually need a premium (paid) subscription.
Difference Between Cloud Storage and Cloud Backups
Cloud backups also revolve around the concept of saving files to the cloud, however, the purpose differs. With these, the main goal is to proactively secure files against unexpected data loss, such as following a virus infection or catastrophic damage to the device. In turn, the system and/or files can then be restored as though the event never occurred. Further differentiating the two, backups are made automatically with users able to specify which files (or folders, or drives) should be secured.
Cloud storage solutions, on the other hand, prioritize user-friendliness and convenience. Users should be able to access files from any device, anywhere they may find themselves. The security aspect is of secondary importance, and as such, encryption standards and safety measures are often less robust than those found on cloud backup services.
Nevertheless, there is quite a bit of overlap between the two, with cloud storage services now featuring automatic synchronization, making them suitable as backup options.
What to Pay Attention to When Selecting a Cloud Storage Service?
There exist a large number of cloud storage services, all of which make very similar promises, namely, that they'll store your data in the cloud, granting you access to it from anywhere. So, which factors help differentiate between the seemingly identical offers out there? Below, we summarized some of the most important aspects:
Storage capacity (and price-performance ratio)
Some of the most important questions to ask yourself when selecting a cloud storage service are how much space you need and what you're willing to pay for it. Will a few GBs be enough? If so, a free account might be the best way forward.

On the other hand, if you intend to upload entire folders and hefty files to the cloud, you'll likely have to book a paid subscription. In that case, make sure you compare different plans and their conditions.

Encryption on the cloud storage provider's servers
Almost all cloud storage services offer at least basic encryption standards: On the server side, this is typically AES 256, which prevents third parties from gaining access to your files. While being transported, from your browser to the server, data is often secured with transport encryption (such as SSL or TLS).

End-to-end encryption
End-to-end encryption goes one step further. Whereas regular encryption wards off third parties, the provider is able to decipher your files on its server. This means that in the event hackers successfully breach your cloud storage, they can gain access to your data.

Here, end-to-end encryption demonstrates its value, protecting your files even in this scenario owing to something known as the zero-knowledge principle. When this is in play, files are sent encrypted to the provider's servers and remain that way, since the cloud storage service doesn't receive a decryption key. In other words, even if the cloud storage servers have been hacked, the attacker won't be able to do anything with the files.

Not every cloud storage service offers this type of encryption.

Server location
When the safety of your files is important to you, you'll likely want to know more about where a particular provider's servers are located. For businesses, this is even more critical in light of the EU's GDPR. Should you want a guarantee that your data is saved to servers in a particular country, make sure that your provider offers this.

Data privacy
Alongside encryption and server location, you should also pay attention to the data privacy a cloud storage service offers. Look for internationally-recognized certificates such as ISO/IEC 27001 or the BSI Cloud Computing Compliance Criteria Catalogue (BSI C5).

Automatic synchronization
This ensures that the files and folders you've saved are always up to date. Let's say that you make changes to a spreadsheet from your laptop, with automatic synchronization, the updated file will be immediately available on your desktop PC and tablet as well. In this way, you can guarantee that the most current version of a file is being used and, if working on a team, that everyone has the same file.

Sharing options
Cloud storage offers a convenient way to share and work on files with others (such as work colleagues or family members). If this is important to you, make sure that the cloud storage service you've selected makes sharing files as user-friendly as possible.

Office features
Most cloud storage solutions offer a range of comprehensive collaboration tools. With office solutions, such as those from Google or Microsoft, you can work in real-time on documents or presentations, instead of just sharing these with others. However, keep in mind that such features aren't supported by every provider.

Two-factor authentication (2FA)
For added security, cloud storage services should have two-factor authentication. This requires users to not only input a username and password to log in but also, to supply an additional factor (such as a code sent via text message or through an authenticator app). This protects against data thieves who might acquire your password.

User-friendliness
Especially if you intend to use your new cloud storage frequently, it should be as user-friendly as possible. Ask yourself questions like "How intuitive is data sharing?" and "Is it difficult to set up?" The best way to find answers to these is to try the services out before committing to a subscription.
The Best Cloud Storage: Our TOP 7
Now you know what to pay attention to when selecting a cloud storage service. In order to provide a bit more help, we wanted to introduce you to some of the best providers out there.
1.
Google Drive: FIrst Choice for Online Collaboration
Google Drive is the cloud storage solution that comes conveniently integrated into every Google account. In other words, if you have one of these (and who doesn't these days?), you automatically get 15 GB of storage space.
You can access Google Drive through your Internet browser or its Windows, macOS, or Linux clients. Apps for Android and iOS are also available.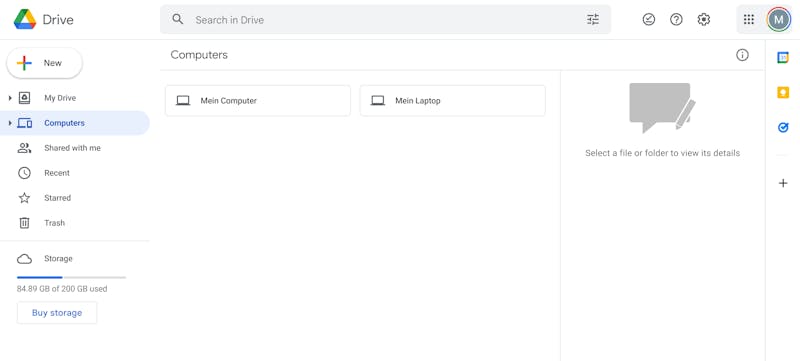 Google Drive offers 15 GB of cloud storage for free.
What we like
User-friendliness is at the heart of all Google services, and Drive is no exception. Everything can be done within your browser, and the service's interface is designed to be accessible, even for those lacking in technical know-how. The service also impresses owing to its comprehensive collaboration features. Rounding things out, its 15 GB of free storage space is particularly generous when compared to what its competitors put on the table.
Who is Google Drive for?
Drive is a great option for anyone who already has a Google account (such as a Gmail account or if you have an Android smartphone).
The service is also excellent for collaboration with other users since it makes it possible to work on documents or slides together in real-time. As a result, you won't need to send files back and forth via email. The permissions feature is also very useful, allowing you to specify access rights and privileges for files or folders that you share.
What we don't like
Google Drive doesn't offer end-to-end encryption. In addition, by default, Google's servers are located in the US and it's only possible to specify where you'd like your data to be saved if you pay for an Enterprise subscription to Google Workspace.
When it comes to data privacy, Google also has a few disadvantages: The platform reserves the right to automatically scan stored files (purportedly, in order to enhance user-friendliness).
How much does Google Drive cost?
In order to exceed the free 15 GB, you'll need a Google One subscription. This can be booked on either a monthly or (discounted) yearly basis. Below, we've summarized prices for the latter:
| Plan | Price | Storage capacity |
| --- | --- | --- |
| | | |
| | | |
| | | |
| | | |
Enterprise plans are offered through Google Workspace. With this, the monthly cost (per user) is determined based on factors such as your company's size and the amount of storage space needed:
| Plan | Price (per user, per month) | Storage capacity |
| --- | --- | --- |
| | | |
| | | |
| | | |
For larger businesses, customized options are offered, however, you'll need to contact Google's sales team for further information about these.
Advantages and Disadvantages of Google Drive
Excellent collaboration features
Lacks end-to-end encryption

Missing some features (i.e. expiring share links or password protection)
2.
pCloud: Security at a Fair Price
On pCloud security and data privacy are prioritized over collaboration. For example, when registering, the Swiss provider allows you to choose whether your data should be saved in the US or the EU. After that, you can access files either from your browser, desktop, or smartphone app.
pCloud promotes itself as offering "secure and simple" cloud storage.
What we like
pCloud doesn't cut any corners when it comes to security: End-to-end encryption is available (albeit for an extra fee), and the provider embraces the zero-knowledge principle: Neither they nor third parties (such as government authorities) can access your files.
Also interesting: Alongside regular subscriptions, pCloud also offers a lifetime package. You'll pay a fixed price once, and be able to use its cloud storage forever. Complementing this, the price-performance ratio is very good.
Who is pCloud for?
The service is geared most towards users who want to store files in the cloud, but who are willing to forego collaborative office suites. The lifetime package makes pCloud a good investment if you're planning to use cloud storage indefinitely.
What we don't like
If you'd like to work on documents with friends or colleagues, pCloud might not be the best option. In addition, it isn't as intuitive to use as its competitors.
How much does pCloud cost?
Annual or lifetime subscriptions are available. Below, we've summarized the rates:
| Plan | Price | Storage capacity |
| --- | --- | --- |
| | | |
| | | |
And below, the lifetime subscription:
| Plan | Price | Storage capacity |
| --- | --- | --- |
| | | |
| | | |
| | | |
Family and Business plans are also offered.
Advantages and Disadvantages of pCloud
End-to-end encryption available

Possible to select where your data is stored
Only offers basic collaboration features

Usage not always intuitive
3.
Tresorit: End-to-End Encryption for Sensitive Data
Like pCloud, Tresorit is also based in Switzerland and emphasizes security. Thanks to its provision of end-to-end encryption and adherence to the zero-knowledge principle, Tresorit does its utmost to ensure that sensitive data and information are protected to the highest standards possible.
In order to use Tresorit, you'll need to install the service's desktop app. However, you can access your files via your browser or smartphone. Apps are available for Windows, macOS, Linux, Android, and iOS.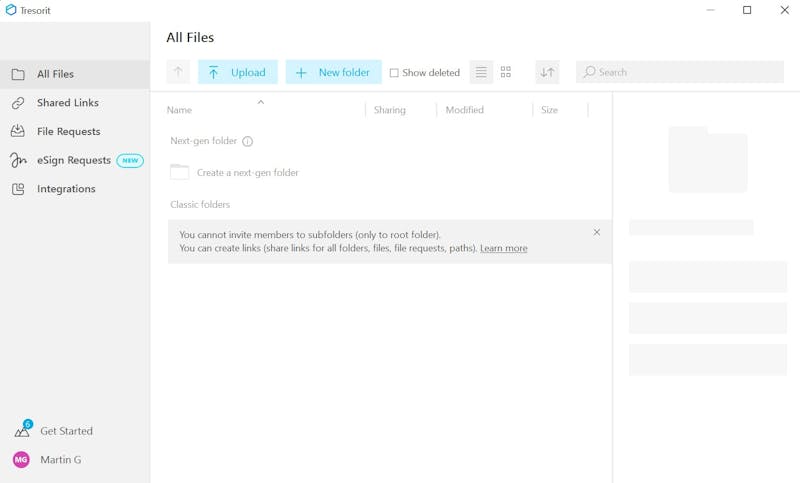 You can manage your online storage with Tresorit's desktop app.
What we like
Tresorit made a good impression owing to its end-to-end encryption and secure file transfers. Because of its adherence to the zero-knowledge principle, the service won't keep a key to your files. Generally speaking, when compared to other services, the security standards which Tresorit provides are a step above: You can specify expiration dates for share links, limit download rights, and customize edit privileges for files.
Who is Tresorit for?
Tresorit is a good choice for security-minded businesses and individuals who want to save their sensitive data to the cloud and share it with others.
What we don't like
The provider offers relatively little storage space at a comparatively high price. You'll also need to make do without office features such as those which come standard with Google Drive or Microsoft OneDrive. Collaboration is possible through document sharing, however, it's not the service's primary focus, and it shows.
How much does Tresorit cost?
Tresorit's subscriptions don't only differ in terms of their storage capacity and price, but also, in the features that they include. The Personal plan for individuals lacks some security features, such as the ability to prohibit the download and/or printing of files, while also not including the Tresorit Email Encryption add-on.
Below, we've summarized the service's individual plans (monthly price, billed annually):
| Plan | Price | Storage capacity |
| --- | --- | --- |
| | | |
| | | |
And here are the rates for businesses (monthly price, billed annually):
| Plan | Price (per user) | Storage capacity |
| --- | --- | --- |
| | | |
| | | |
| | | |
Advantages and Disadvantages of Tresorit
Adheres to the zero-knowledge principle

Comes with lots of security features
No office solutions for real-time collaboration
4.
luckycloud: Cloud Storage Made in Germany
luckycloud markets itself as "the most secure cloud storage in Germany". The sync and share platform is geared toward both individuals as well as business users. Both German Railways (Deutsche Bahn), as well as the German Red Cross, trust the provider with their data.
The service offers top-notch security standards, including end-to-end encryption. Thanks to cross-platform synchronization, it's also great for digital collaboration. Synchronization clients are available for Windows, macOS, and Linux, as are iOS and Android smartphone apps.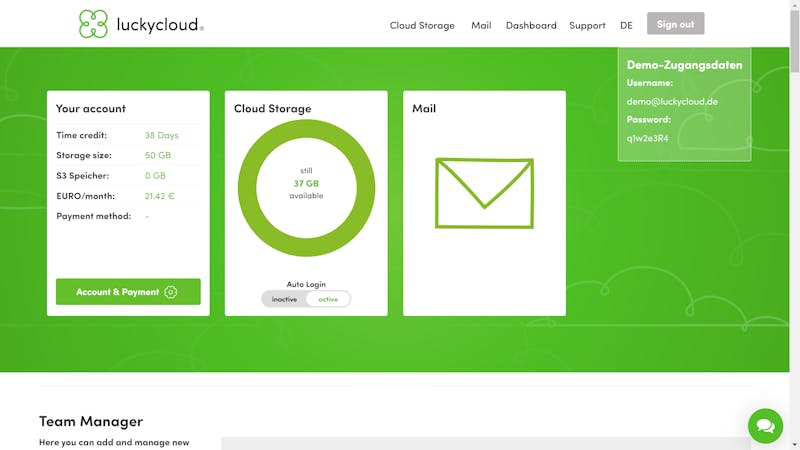 luckycloud offers end-to-end encryption as well as cross-platform synchronization.
What we like
luckycloud only stores data in Germany. As such, you won't need to worry about where your files are. They also offer end-to-end encryption by default, guaranteeing a top level of security. The ability to tailor your luckycloud subscription exactly to your needs and preferences, in terms of the number of users and amount of storage capacity, is also a nice touch.
Who is luckycloud for?
If you want cloud storage based in Germany that adheres to stringent security standards, luckycloud might be your ticket. Its customizable subscription plans offer an alternative to the rigid options most of the other services from our selection.
What we don't like
Unfortunately, no free version of luckycloud is available: You can try the platform out with a demo account. In addition, storage space is fairly expensive.
How much does luckycloud cost?
luckycloud offers individual and business plans, either of which can be freely customized. Individual subscriptions vary in price according to the amount of storage required. Below, we've included a few examples (monthly price, billed annually):
| Price | Storage capacity |
| --- | --- |
| | |
| | |
| | |
| | |
| 597,80 € (around $631.00) | |
| 13.755 € (around $14,520.00) | |
There are also three different business subscriptions, which vary in terms of the features they offer. These are charged per user, meaning that the price goes up based on the number of people and the amount of storage capacity you specify:
| Price (per user) | Team size |
| --- | --- |
| | |
| | |
| | |
Advantages and Disadvantages of luckycloud
Includes end-to-end encryption

Uses servers exclusively based in Germany

Cross-platform synchronization
5.
Microsoft OneDrive: Convenient for Windows Users
With Microsoft's OneDrive we return to all-in-one office solutions. If you're using a Windows device, OneDrive will likely already be installed on your system. As part of a Microsoft 365 subscription, you can take advantage of classics like Word and Powerpoint, while also being able to collaborate on files for these in the cloud.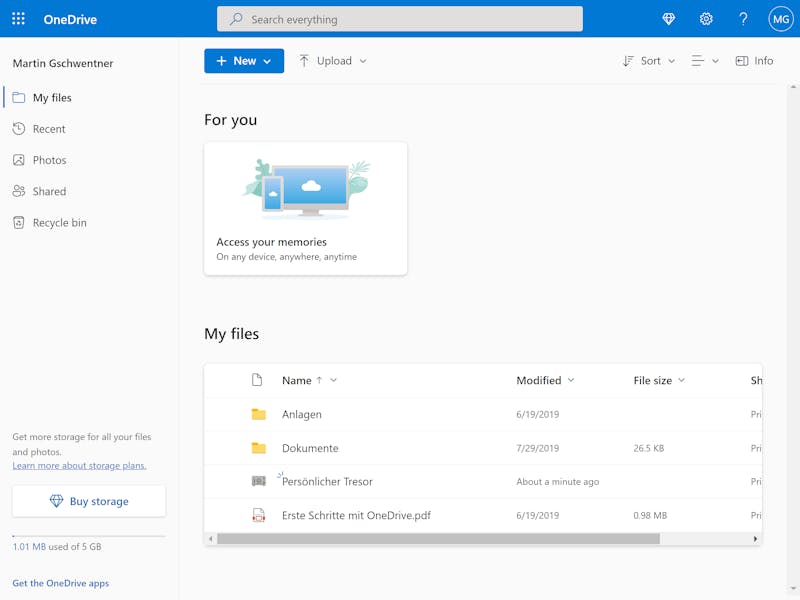 Microsoft OneDrive is familiar to every Windows user.
What we like
The Files On-Demand feature is particularly convenient, ensuring that files are only saved to the cloud and don't take up space on your device. Sensitive or very important files can be given additional security by storing them in a personal vault. For many users, the close connections to other Microsoft solutions are certainly another major advantage.
Who is Microsoft OneDrive for?
First and foremost, the service is geared towards Windows users, since it comes installed on all devices running the operating system. If you already use Microsoft Office, you can easily collaborate with others through the cloud with OneDrive.
What we don't like
You'll need to make do without end-to-end encryption. From a data privacy perspective, the service raises concerns similar to those of Google Drive: Microsoft can scan your files and does not adhere to the zero-knowledge principle.
Beyond that, Microsoft is somewhat less generous than Google, only offering 5 GB of free storage. We also found Google's approach to online collaboration more intuitive, and to be less buggy.
How much does Microsoft OneDrive cost?
Like most of the services on this list, Microsoft also differentiates between individuals (for home) and business users when it comes to subscriptions. OneDrive can be booked as a standalone product or as part of a Microsoft 365 subscription.
Below, we've summarized the rates for individual users:
| For home | Annual price |
| --- | --- |
| | |
| | |
| | $69.99 – 1 person, 1 TB storage |
| | $99.99 – Up to 6 people, 1 TB per person |
And here are Microsoft's business rates:
| Plans for businesses | Monthly price, per user |
| --- | --- |
| OneDrive for Business (Plan 1) | |
| OneDrive for Business (Plan 2) | |
| Microsoft 365 Business Basic | |
| Microsoft 365 Business Standard | |
6.
MEGA: Lots of Free Storage Space
MEGA, hailing from New Zealand, has a slightly tarnished reputation. It (and its more notorious predecessor, Megaupload) were most well-known for illegal filesharing.
You might have even heard of the company's founder, Kim Dotcom, who the US government has issued an extradition order for owing to copyright infringement, wire fraud, and a host of other charges. However, since 2015, MEGA has severed ties with Dotcom and nowadays operates as a regular cloud storage service.
Among other reasons, MEGA is particularly beloved since it's very generous, offering users 20 GB of free storage space (in the past, this was a whopping 50 GB).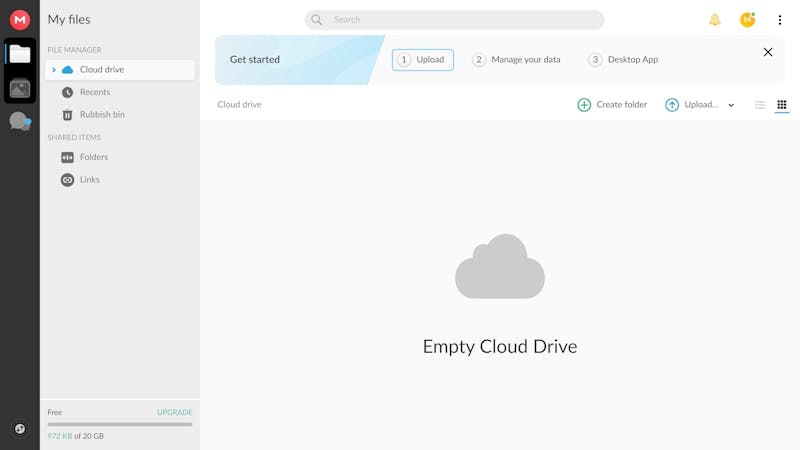 No longer just good for illegal filesharing: New Zealand's MEGA is a popular Internet storage service.
What we like
MEGA offers high security standards and end-to-end encryption, not only for files but also chats and calls. In addition, the service comes integrated with some nifty collaboration features: Teams can securely chat in their browser through the MEGA mobile app. End-to-end encrypted files and folders can be shared with non-users, without requiring them to register. Rounding out the positives is that MEGA's user interface is straightforward and intuitive to use.
Who is MEGA for?
MEGA is a good choice if you want lots of online storage space without having to pay for it. Thanks to its impressive security standards and encrypted communication tools, MEGA is ideal for sharing sensitive data and discussing it.
What we don't like
MEGA has already more than halved the amount of free storage space it offers for free, and we don't see any reason why they wouldn't repeat this trick again. In addition, the service's premium subscriptions can quickly become expensive. Further adding to its disadvantages, the platform is not suitable for real-time office collaboration.
How much does MEGA cost?
Like the other services on this list, MEGA subscriptions are offered for both individuals and teams; you'll pay the least if booking an annual subscription.
The rates for individual users are provided below:
| Plan | Price | Storage capacity |
| --- | --- | --- |
| | | 20 GB storage, limited transfer volume |
| | | 400 GB storage, 12 TB transfer volume |
| | | 2 TB storage, 24 TB transfer volume |
| | | 8 TB storage, 96 TB transfer volume |
| | | 16 TB storage, 192 TB transfer volume |
MEGA also has business plans which can be customized to your needs, both in terms of the number of users and the amount of storage capacity. Broadly speaking, you can expect to pay slightly more than $15 per month, per user with a business plan.
Advantages and Disadvantages of MEGA
Doesn't support real-time collaboration
Dropbox was one of the first cloud storage providers on the market, stepping onto the world stage in 2007. When measured by the number of users, Dropbox remains among the most popular services out there.
Although it's still convenient and a favorite among individual users, Dropbox has shifted its focus in recent years toward businesses and teams. This means that the service offers lots of collaboration features and nifty integrations, thanks to tools like Slack, Salesforce, and Zapier.
Dropbox is available for macOS, Windows, Linux, Android, and iOS.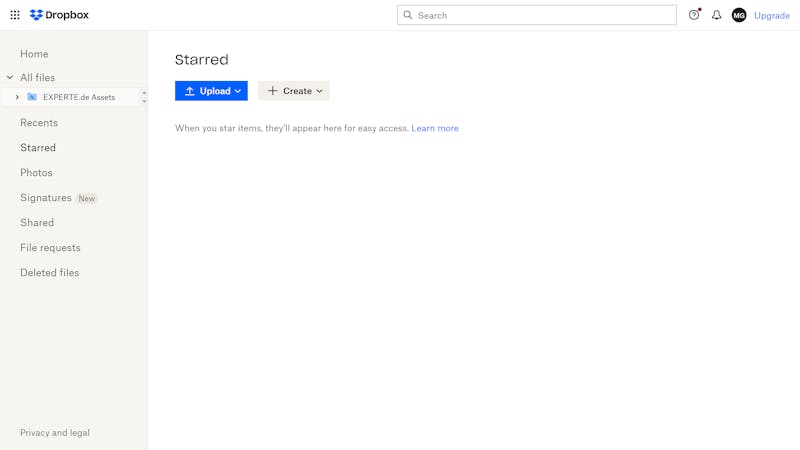 When it comes to online storage, Dropbox is one of the oldies.
What we like
Dropbox continues to maintain its reputation as a solid cloud storage service offering a comprehensive range of impressive features. Like Google, almost everyone has certainly used the platform before, since it makes sharing content easy. Its assortment of extensions and integrations makes the service equally appealing to businesses. Sweetening the pot further are the numerous sharing options and attractive prices.
Who is Dropbox for?
In case you're looking for a solid all-arounder for storing and sharing files, Dropbox is a good choice.
What we don't like
End-to-end encryption is not offered on Dropbox by default. For private users, files are always saved in the US. In addition, free storage is limited to a meager 2 GB. If you'd like to collaborate in real-time using Google or Microsoft, either of these service's cloud storage solutions is easier to work with.
How much does Dropbox cost?
Dropbox's rates correlate to how much storage space, the number of users, and the variety of features a package includes. In the next section, we've summarized these (price per month, billed annually):
| Plan | Price | Storage capacity/number of users |
| --- | --- | --- |
| | | |
| | | |
| | | |
| | | |
| | | |
| | | Scalable storage space/ 3+ users |
Beyond that, Dropbox also offers custom Enterprise packages for larger companies.
Advantages and Disadvantages of Dropbox
Only 2 GB of free storage

Doesn't include end-to-end encryption by default
Conclusion
Sharing data via email or passing a USB stick around is as dated as making a call from a phone box or renting a video cassette: Cloud storage ensures that you can access your most important files anywhere, and work on them with team members in real-time.
These days, you'll be able to choose between a number of different cloud services, all of which have advantages and disadvantages. Some concentrate on security (i.e. pCloud, Tresorit, luckycloud), while others emphasize collaboration (Google Drive and Microsoft OneDrive). Several are basically free (depending on how much storage you need), but others only offer demos or trials. Our Top 7 presents a sampling of several different types of cloud storage services that we found to excel in most areas, however, there are other services that didn't make the cut.
Or maybe you'd like to protect your files in the cloud against hackers or data loss? If that's the case, cloud backup solutions are a better choice. In our comprehensive review, we compared 7 of the most popular cloud backup services.
FAQs
Cloud storage is a service that you pay to host your files online on their servers. By saving your files on these, you'll be able to access them from anywhere on any device with an Internet connection.
Are cloud storage services useful?
⊖
Yes: Cloud storage has a lot of practical uses. For individuals, it's very convenient to be able to access files at home, in the office, or while on the go. These services also offer a range of helpful collaboration tools: With Google Drive or Microsoft OneDrive, you can work on documents in real-time with colleagues all over the world.
Which cloud storage service is the most secure?
⊖
If security is important to you, you should look for a cloud storage service that offers end-to-end encryption. Two of the leading providers in this regard are Tresorit and luckycloud.
What is the difference between cloud storage and cloud backup?
⊖
Cloud storage is all about providing a convenient way to access documents and files from anywhere, whereas cloud backup is more concerned with protecting sensitive files and information against hackers or data loss. Both types of services rely on storing data in the cloud, and there is considerable overlap.

Janis von Bleichert studied business informatics at the TU Munich and computer science at the TU Berlin, Germany. He has been self-employed since 2006 and is the founder of EXPERTE.com. He writes about hosting, software and IT security.
Continue Reading