VPN
CyberGhost Alternatives: Comparing 22 VPN Providers
VPNs are useful: They guard your privacy, make your Internet connections more secure (especially if on public WiFi), and are capable of unlocking geo-blocked content. CyberGhost is no exception, however, is it really the best choice out there?
Based in Romania, CyberGhost offers user-friendly apps, solid performance, and a sizable server network. When set alongside some of the other leading VPNs from our comprehensive EXPERTE.com VPN assessment, we noticed a few areas where it was definitely not leading the pack.
Below, we'll let you know what these shortcomings are, as well as which of the services we evaluated performed better.
CyberGhost's Disadvantages
CyberGhost staked out a very respectable eighth place in our VPN assessment. It failed to reach higher owing to the following aspects:
Dubious parent company
Since 2017 CyberGhost has belonged to Kape Technologies, which owns a few other VPNs such as ExpressVPN, Private Internet Access, and Zenmate, as well as a number of well-known VPN review websites. On its own, this would be cause enough for concern, however, our qualms go a bit deeper. Previously known as Crossrider, the company had a poor reputation as a malware smuggler. Even if Kape Technologies has atoned for its past sins, its corporate history doesn't mesh well with software that is meant to enhance digital privacy and security, like VPNs.
No security audits since 2012
Plenty of VPN services have begun submitting regularly to independent security audits conducted by third parties. These assessments, like no other, underline how serious a provider's data security commitments are, with certification lending a great deal of credence to what their marketing promises. Such an audit would do CyberGhost a world of good, especially in light of Kape Technologies' dubious past. Unfortunately, CyberGhost has not been examined by independent third parties for more than a decade.
Performance 'only' solid
CyberGhost's performance is okay, however, it isn't awe-inspiring. During our assessment, the provider's speeds were only good enough for 15th place, putting it far off the leaders who are both more reliable and faster. Further souring our experience were several instances when we were unable to establish VPN connections at all.
The Best Alternatives to CyberGhost
5400+ servers, 60 countries
Inexpensive 2-year package
NordVPN combines speed, user-friendliness and functionality into a coherent overall package that is also fairly affordable.
Data volume
Devices
Protocols
Contract Period
NordVPN 2-year plan
$2.99
monthly price
Visit Website »
30 days money-back guarantee
As we mentioned above, CyberGhost's speeds only secured it 15th place in our EXPERTE.com speed ranking. At the other end of the spectrum was NordVPN, which was not only faster but also our best-in-show, thanks to its winning overall package.
Alongside top speeds, you'll also get user-friendly apps that come loaded with features such as split tunneling, Tor connections, and Double VPN. Rounding things out is NordVPN's excellent support, which includes a live chat.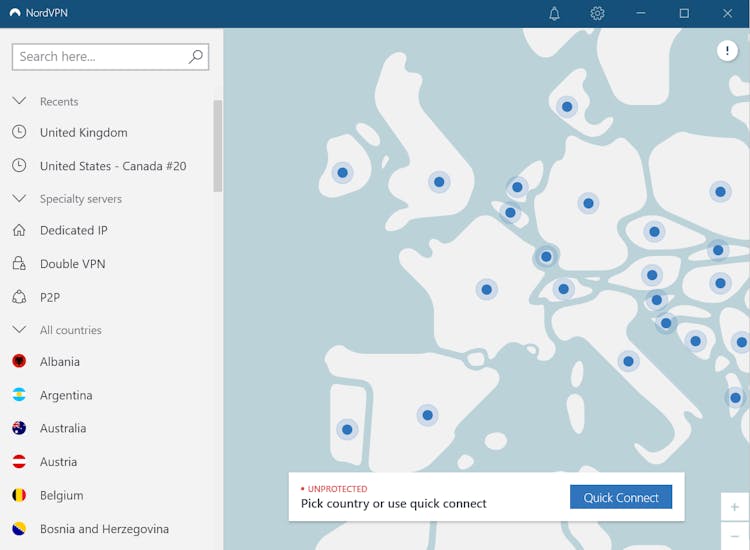 NordVPN came in first out of all 22 VPNs EXPERTE.com examined.
Casting an eye towards security, NordVPN promises not to create any logs and backs up this claim with regular independent security audits. During our assessment, we didn't identify any leaks. Since NordVPN is priced fairly, particularly in its very affordable 2-year subscription, the VPN's premier place on the podium is well-deserved.
Elegant, intuitive app with an interactive world map
Plenty of features, such as split tunneling, server categories, and CyberSec
Server network could cover more countries
Installation and Features
4.7 / 5
Security and Privacy
4.7 / 5
2.
More Affordable 2-Year Subscription: Surfshark
3200+ servers in 65 countries
Unlimited number of devices
Many apps (Linux, FireTV, ...)
Very cheap on the 24-month plan
Surfshark is one of the cheapest providers on the market, but besides the price also impresses with strong protection, many features and a great support with 24/7 live chat.
Data volume
Devices
Protocols
Contract Period
Surfshark 24 months
$2.49
monthly price
Visit Website »
Get 83% Discount
CyberGhost is one of the most affordable VPNs, mostly owing to its competitively-priced 3-year package. In case you don't want to make that long of a commitment, an even less expensive (and contractually shorter) option is circling just within our Top 3: Surfshark.
However, there aren't only economic arguments speaking in Surfshark's favor: The relatively young VPN came in just behind NordVPN in our performance ranking, breezing past CyberGhost. Then there's its highly impressive feature package, which includes split tunneling, MultiHop, an adblocker, and a static IP address.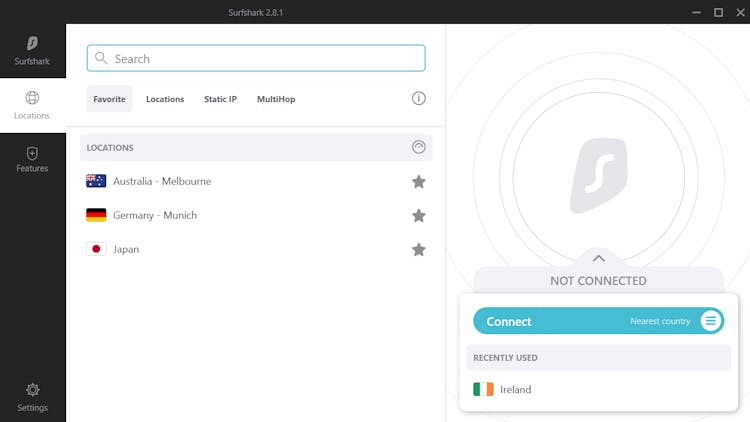 Surfshark might be a few years younger than CyberGhost, but it already outperforms its senior in some areas.
As such, Surfshark's price-performance ratio is better than that of CyberGhost. You'll pay less per month for its 2-year subscription than you would for CyberGhost's 36-month plan. Thanks to its recent audit and lack of leaks, there aren't any security concerns about using Surfshark either.
Tons of features, including split tunneling
Server network could be larger
Installation and Features
4.7 / 5
Security and Privacy
4.0 / 5
3.
Greater Emphasis on Privacy: ProtonVPN
1200+ servers in 55 countries
Headquarters in Switzerland
Open Source & external audits
Data volume
Devices
Protocols
Contract Period
ProtonVPN Free
$0.00
monthly price
Visit Website »
30 days money-back guarantee
CyberGhost didn't demonstrate any technical security issues during our assessment: It supports state-of-the-art protocols, uses AES-256 encryption, and passed all of the IPv6, DNS, and WebRTC leak tests we put it through. At the same time, its corporate ownership (Kape Technologies) left us skeptical, as did the absence of current security audits.
ProtonVPN doesn't only have up-to-date external audits: Since 2020, it's completely open-source. This means that anyone can view its source code and examine it for weaknesses - none of the other services from our sample demonstrated as much transparency.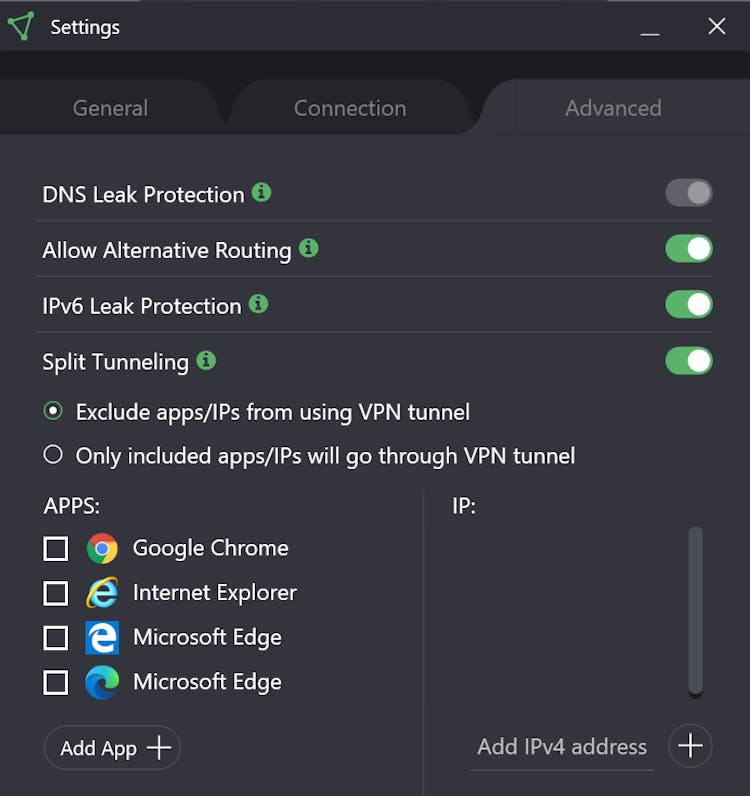 ProtonVPN's open-source philosophy and security features make it an excellent choice for privacy enthusiasts.
ProtonVPN also offers a few useful security features that its competitors have no analog for. With "Secure Core", you'll be able to route your VPN traffic through a secure server in a country with strict data privacy laws.
Another feather in the provider's figurative cap is its free version, which doesn't impose any data or speed limits upon users. Taken together, all of the above make ProtonVPN a great choice for privacy enthusiasts, as well as anyone on the hunt for a free VPN without data limits.
Security features like "Secure Core"
Installation and Features
5.0 / 5
Security and Privacy
5.0 / 5
4.
Kape Subsidiary With Securit Audits: ExpressVPN
160 cities in 94 countries
30-day money-back guarantee
ExpressVPN impresses with strong performance, a huge server network and excellently designed applications, but this quality also comes at a higher price.
Data volume
Devices
Protocols
Contract Period
ExpressVPN 12 Months
$8.33
monthly price
Visit Website »
30 days money-back guarantee
Should you not be afraid of doing business with a Kape Technologies subsidiary, you can enjoy enhanced security with ExpressVPN. One of the most popular services on the market, ExpressVPN offers excellent performance, intuitive apps, and a large server network.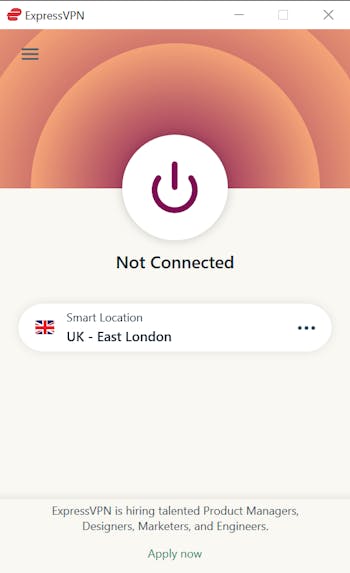 Even though ExpressVPN is owned by Kape Technologies, it regularly submits to independent security audits.
Unfortunately, an ExpressVPN subscription will cost significantly more than a CyberGhost one. Even though the difference is minimal for monthly rates, ExpressVPN's most affordable long-term package costs three times as much per month as that of CyberGhost.
Regularly submits to independent security audits
Owned by Kape Technologies
Security and Privacy
4.7 / 5
Installation and Features
4.3 / 5
HideMyAss
HideMyAss has fewer servers, but more of a geographic spread than CyberGhost. In terms of performance, HideMyAss also beats CyberGhost. Rounding things out are clever features such as automatic IP changing.
290 locations in 210 countries
Data volume
Devices
Protocols
Contract Period
HideMyAss! 36 months
$2.99
monthly price
Visit Website »
30 days money-back guarantee
hide.me
After ProtonVPN, hide.me serves up the best free VPN: You'll get up to 10 GB of data per month and be able to connect to five different locations. In its paid version, hide.me also performed strongly, however, its server network could be larger.
Windscribe
Windscribe is also worth checking out if you'd like a free VPN. You'll be treated to 10 GB of data across any synchronized devices per month, as well as access to 10 different server locations (more than both hide.me and ProtonVPN). All the same, when it comes to performance, Windscribe finished behind CyberGhost.
500+ servers in 60+ countries
Free version with 10 GB limit
Connect unlimited devices
Data volume
Devices
Protocols
Contract Period
Windscribe Free
$0.00
monthly price
Visit Website »
Download for free
Overall Result
In EXPERTE.com's VPN comparison, we scored 22 providers across 5 categories, "Installation and Features", "Server Network", "Performance", "Security and Privacy", and "Customer Support". When the dust settled, CyberGhost wound up in eighth place, within the upper third of our sample. While good, at least seven other services outperformed it in one way or another.
Below, you can see our complete ranking:
NordVPN
Check Review
ExpressVPN
Check Review
Surfshark
Check Review
ProtonVPN
Check Review
HideMyAss!
Check Review
hide.me
Check Review
Private Internet Access
Check Review
CyberGhost
Check Review
PureVPN
Check Review
Windscribe
Check Review
VyprVPN
Check Review
Hotspot Shield
Check Review
IPVanish
Check Review
Mullvad
Check Review
VPN Unlimited
Check Review
PrivateVPN
Check Review
TorGuard
Check Review
TunnelBear
Check Review
ZenMate
Check Review
Avast
Check Review
Perfect Privacy
Check Review
Avira
Check Review
CyberGhost isn't a bad choice for a VPN: It offers a huge server network, elegant apps, and decent performance. However, decent isn't great, and its dubious parent company, Kape Technologies, is sure to be a red flag for any data privacy enthusiasts.
Accordingly, we're happy that several of the services we assessed aren't plagued by the same issues that CyberGhost suffers from. NordVPN, the overall winner of our evaluation, performs better and regularly submits to independent security audits. Surfshark has a more competitively-priced 2-year subscription package than CyberGhost, and ProtonVPN is sure to be a favorite with data security enthusiasts owing to its open-source apps and focus on privacy.
Should you want to find out more about these and other VPNs, you can in our detailed EXPERTE.com reviews of 22 of the most popular VPNs.

Author (German Version): Martin Gschwentner
Martin Gschwentner majored in American Studies and Media Studies in Germany, the USA and France and works as a freelance editor in Paris. He is a doctoral student at the Institute for English and American Studies at the University of Paris Diderot, where he is researching the influence of money on US politics. On EXPERTE.com he writes about IT security, data protection and software for the self-employed and small businesses.

Translator & Editor: D Bare