Everyone knows that without the right marketing and branding, you'll face an uphill battle to entice potential customers into consuming your product or service. One of the best ways to drum up interest in your business is through its logo. Some, like those of Apple, Mercedes, or Nike have become iconic, enjoying global recognition. But you don't have to manage a Fortune 500 company to benefit from a good logo, since smaller firms or start-ups can make sure that their company's first impression is a positive and lasting one with relative ease.
Major corporations invest astronomic sums in their marketing and branding, portions of which go towards logos that have been tested and designed ad nauseam to elicit a particular response from consumers. As just one example, when the consulting firm Arthur Andersen rebranded as Accenture, it generated costs of $100 million, while BP's 'green' rebranding is estimated to have cost more than double that figure ($211 million).
NGOs aren't immune either as the logo for the 2012 Summer Olympics in London (which was lampooned heavily once unveiled) cost around £400,000.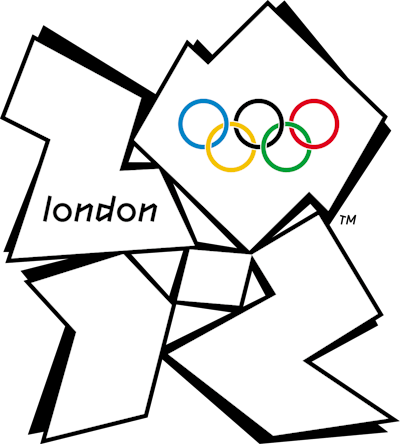 A waste of money? The expensive logo for the Summer Olympics in London came in for heavy criticism in the UK in 2012.
Of course, logo design is only a very small part of any rebranding or marketing budget. Still, smaller businesses can expect to pay several thousand dollars for a professionally designed logo, which, in the grand scheme of things, might be a drop of water in the bucket as a company grows.
But there's also a more affordable way, especially for anyone who needs to do more with less, namely, a logo maker.
Logo makers are intuitive, primarily web-based design tools that make it possible to create a personalized and professional-looking logo in just a few steps, even without any background in design. When using these, you'll typically only have to pay once the logo is complete and you're ready to secure its rights. Even then, the costs are nowhere near those for a professional designer.
A number of logo makers rely on AI components: When starting out, you'll often be asked a few questions about your style preferences and some additional information about your business. The AI engine uses your input to refine the results it generates for you later on. After that, you'll be able to fine-tune any templates that caught your eye, adjusting them, more or less, to your exact specifications. In the last step, you'll be able to purchase the rights to your logo, either for a flat fee, or as part of a subscription. These vary not only in terms of price, but also the quantity and quality of the file formats that are included.
Advantages and Disadvantages of a Logo Maker
The greatest advantage of a logo maker is its price. Whether as part of a subscription or for a flat fee, you should be able to secure all commercial and non-commercial rights to your logo for around $50. Beyond that, nearly all logo makers are user-friendly and fast, capable of churning out a professional-looking logo in just a few minutes. Designers simply can't compete on any of these levels.
Unfortunately, the disadvantages of logo makers are just as apparent as their advantages. As the saying goes, you get what you pay for, and for such a small investment, it shouldn't come as a surprise that the results are often less striking than those crafted by a designer. While it's possible to adjust basic elements such as the font, colors, and layout of your logo, the pre-made icons can be and are used by anyone. As such, logo makers aren't well-suited for coming up with truly unique designs for your business.
So, who can benefit most from logo makers? Small business or start-up owners and freelancers who need a professional-looking logo, but aren't able to make a significant monetary investment in one, at least for the time being. They're also good for creating logo designs without icons and symbols, centered around the (more customizable) layout, font, and color options.
So long as your expectations are realistic heading in, logo makers can prove highly useful. But which is the best? We assessed seven of the most popular providers and introduce our three favorites below:
1.
The Allrounder: Wix Logo Maker
well-performing, intuitive editor
With the Wix Logo Maker you can create a professional logo with just a few clicks. The intuitive drag-and-drop editor offers enough freedom to adapt the logo to your own needs.
Plan
One-off price
Transparent (.png)
Vector (.svg)
Wix Basic
$49.00
Visit Website »
When it comes to classic logo makers, Wix offers the most well-rounded. Perhaps better known for their site builder, the Israeli provider's solutions time and again achieve top scores in our reviews, and largely, for the same reasons: Their intuitive drag and drop editor is easy to use and flexible, while the templates and personalization options on offer are some of the most comprehensive we encountered.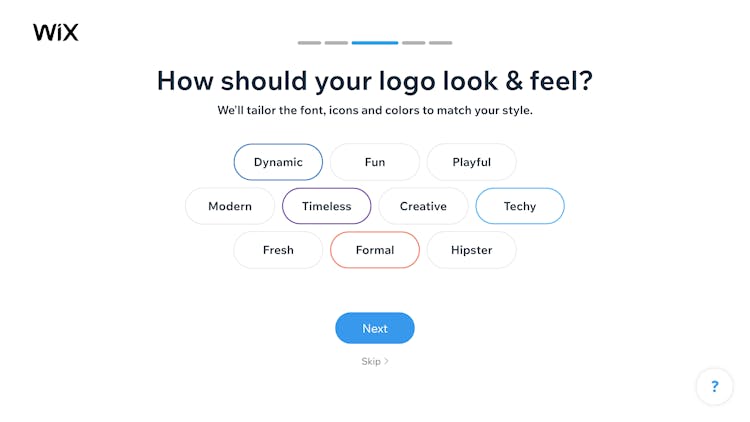 With Wix, you'll start by selecting from a few attributes in order to help the AI narrow down its choices.
We were somewhat disappointed with the preliminary selection of logos Wix returned based on our input. However, in the next step, we were provided with a wide variety of icons and designs as well as a highly versatile editor, exceeding and outperforming those offered by other logo makers. Wix's relatively affordable price was also another factor speaking in its favor.
Should you already use Wix for your website or ecommerce store, it pays to seriously consider its logo maker.
Drag and drop editor for intuitive design
Unimpressive preliminary selection of logos
Logo Customization
4.7 / 5
2.
For Creatives: Canva Logo Maker
comprehensive graphic design platform
offers more than 11,000 templates
powerful editor with extensive options
no automatic AI-assisted logo creation
Canva ist eine umfangreiche und anfängerfreundliche Plattform für Grafikdesign, mit der Sie beim Design Ihres Logos großen Gestaltungsspielraum haben.
Plan
One-off price
Transparent (.png)
Vector (.svg)
Canva Free
$0.00
Visit Website »
Right off the bat, it's somewhat unfair to compare Canva with the other software from our sample since it is much more than just a logo maker, being instead, a comprehensive, cloud-based graphic platform for all sorts of mockups and designs, from logos to websites.
The downside to this is that less is handled automatically 'behind the scenes' than with 'proper' logo makers. This is because Canva lacks an AI-assisted logo generator, and you'll have to do everything from scratch in an editor that is more intricate than those of the other services from our sample.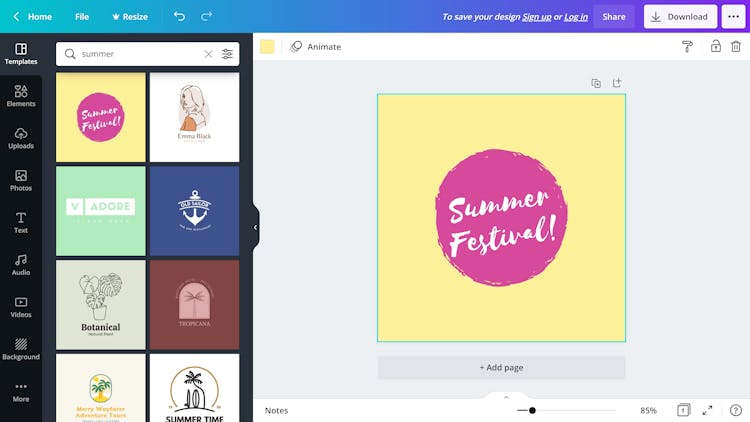 Canva's editor is far more powerful than those of the logo makers from our sample.
At the same time, this complexity is one of Canva's strengths. Because of it, you can put any design knowledge you have to good use, with the pay-off being enhanced creative freedom. Using its intuitive drag and drop interface, you can comprehensively adjust all elements, add effects, or even upload content. In addition, Canva was the only provider from our sample to offer animated logo designs.
For those who want to be walked through the logo design process step-by-step, Canva might not be the ideal solution. The same goes for anyone looking for a bargain since Canva is priced closer to a full-fledged graphic design program than a logo maker. This is offset by the variety of options on offer, as well as the platform's versatility, which make it useful for far more than just crafting a logo.
Intuitive design platform
Versatile editor offering comprehensive design possibilities
More than 11,000 templates
More complicated to use than classic logo makers
Logo Customization
4.7 / 5
3.
The Straight Shooter: Looka Logo Maker
simple and fast logo creation
solid choice of design variations
either one-off price or subscription
editor lacks drag and drop
useless beginner subscription
Plan
One-off price
Transparent (.png)
Vector (.svg)
Looka Basic
$20.00
Visit Website »
From all of the logos we designed using the programs from our sample, Looka's was one of our favorites. Making things even better, the entire process of designing the logo was straightforward, and we only needed an account when we were finished and ready to purchase the rights to what we had created.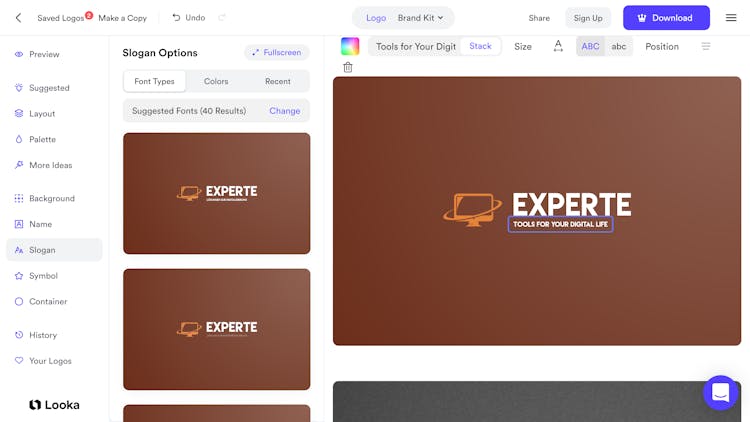 The logo we created with Looka was one of our favorites.
Despite the positives, Looka is far from perfect: The first suggestions that the design platform offered us were too generic and seemed to have no relation to the preferences we had specified a few steps earlier. Users aren't given as free a hand in editing these suggestions since the platform, unlike Wix or Canva, lacks a drag and drop editor. Instead, you'll need to adjust the various design elements through the appropriate sub-menus, where you can change the font type, color, position, or size. Other logo makers inhibit their users' creativity less severely.
Still, the end product is what matters most, and we were completely satisfied with what Looka yielded. As an added bonus, since you only need to register to purchase the rights to your logo, there aren't really any good arguments against trying out the program and then deciding if you want to use it for your logo or not.
Fast and simple logo creation
Solid, ready-made layout variations for any design
Available for a flat rate or as part of a subscription
Editor lacks some capabilities and functionality found in those of other logo makers
Logo Customization
4.0 / 5
Every logo maker has advantages and disadvantages, and that includes the other programs that didn't make our Top 3. Fiverr, a freelancer platform offers users of its logo maker the ability to have the logo's designer customize their logo, for a fee of course. If you're looking for a free solution, Hatchful by Shopify was the only software that won't cost you a cent, however, you will have to contend with somewhat drastic limitations to your creativity.
You can check out all of the alternatives to our Top 3 below:
high-quality logos from Fiverr designers
designs could be more versatile
limited customization options
Plan
One-off price
Transparent (.png)
Vector (.svg)
Fiverr Essential
$30.00
Visit Website »
fast and easy logo creation
wide selection of design and mockup features
unimpressive editing options
lacks 'smart' AI-aided customization
Plan
One-off price
Transparent (.png)
Vector (.svg)
Placeit Single
$39.95
Visit Website »
create a logo in just a few minutes
underwhelming number of designs
few options to personalize your logo
Plan
One-off price
Transparent (.png)
Vector (.svg)
Shopify Free
$0.00
Visit Website »
Or maybe a designer after all?
Logo makers are an affordable alternative to professional designers, however, in the digital age, there are plenty of freelancers or enthusiasts who won't cost an arm and a leg yet still be capable of delivering an excellent final product. To find out what's available, we recommend checking platforms like Fiverr, Upwork, or 99designs. Using these, you can contract designers, paying them either per project or on an hourly basis.
How To Create a Logo Online
You've selected the logo maker you want to use; what's next? Using the top-placed platform from our sample (Wix), we'll show you below how to make a logo in three steps, and let you know what we paid attention to during our assessments.
Regardless of the platform you use, creating a logo with a logo maker follows the same process, albeit with slight variations. For most logo makers, you'll need an account to get started designing, but, there are a few exceptions that allow users to do so during the process, or, our favorite, once you're ready to purchase your logo's rights.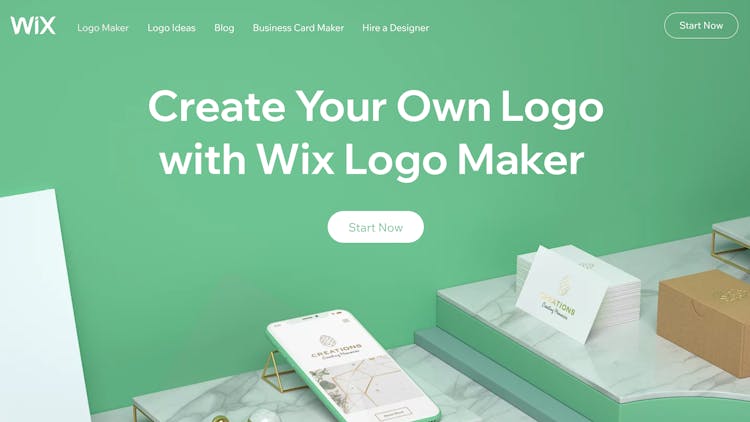 To get started, you'll need a Wix account. This is easy enough to set up and only requires an email address or social media login.
Most of the logo makers from our sample are AI-assisted, serving up an automatically generated selection of logos based on what sort of style or design input you provide. After specifying your business's name and (optionally) slogan, Wix asks you to select a few attributes that best describe your company.
After this, Wix presents you with a few pairs of logos, requesting that you choose your favorites. In this way, the platform's engine can better assess your design preferences and taste.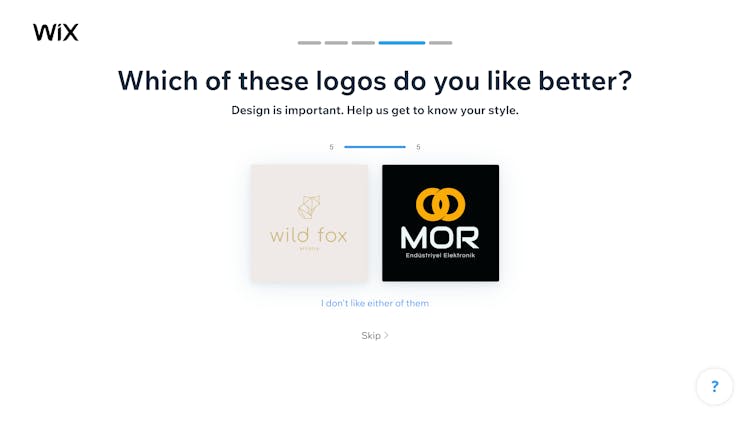 Which of the two logos do you like more? Wix uses a series of either/or questions to help refine the logos it generates for you in the next step.
Once the platform has gathered enough information, the logo maker will present a selection of different designs which you can choose from to further refine or edit in the following step. With Wix, we received 147 suggestions, all of which were of high quality, but not always to our liking.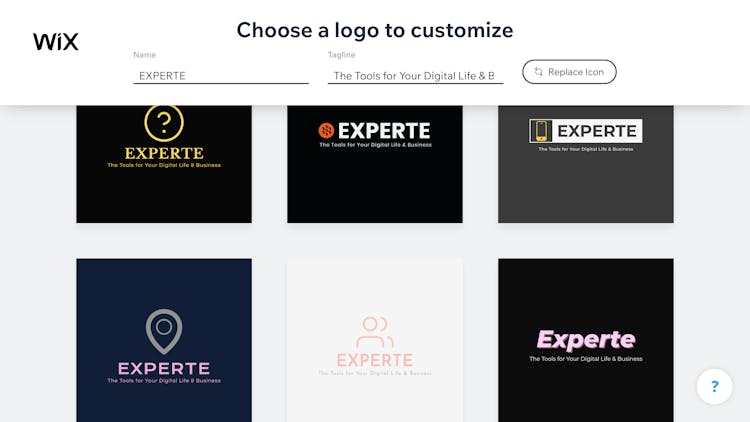 The design that most reflects your preferences can be customized further in the platform's editor.
Should a satisfactory design be among the suggestions, you can click on it, and mark it for further customization in the logo editor.
During our assessment, we looked favorably upon those platforms that made the process as straightforward as possible, offered a nice selection of relevant designs, and, in the best case, didn't require registration to view suggestions.
The extent to which you can leave your personal mark on a logo varies significantly from logo maker to logo maker. Some (such as Wix) offer intuitive drag and drop editors, in which elements of your logo can be moved around at will, like in a classic image processing program. Others, like Looka, don't provide as much freedom, meaning that you'll have less creative control over your logo's appearance. At the same time, this does have the benefit of preventing a logo from looking unpresentable.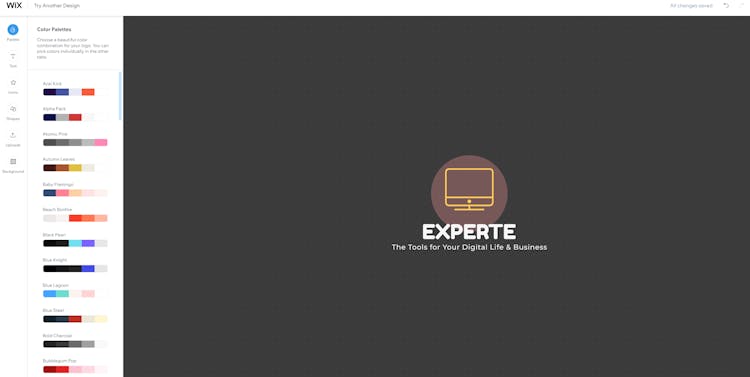 With Wix's editor, you can freely move graphics and other elements around by dragging and dropping them.
To the left of Wix's editor, you'll find a menu with six categories: Color, Text, Icons, Shapes, Uploads, and Background. Alongside the usual parameters, with Wix, you can also adjust text opacity and contours, adding as many new icons or as much text to a logo as your heart desires. These can also be grouped via drag and drop, and moved to the foreground or background. It's even possible to upload your own icons or images and integrate them into your design.
As such, Wix's editor offers users considerably more freedom and customization options, than most of the other logo makers from our sample. These tend to only serve up the basics, like changing colors or fonts.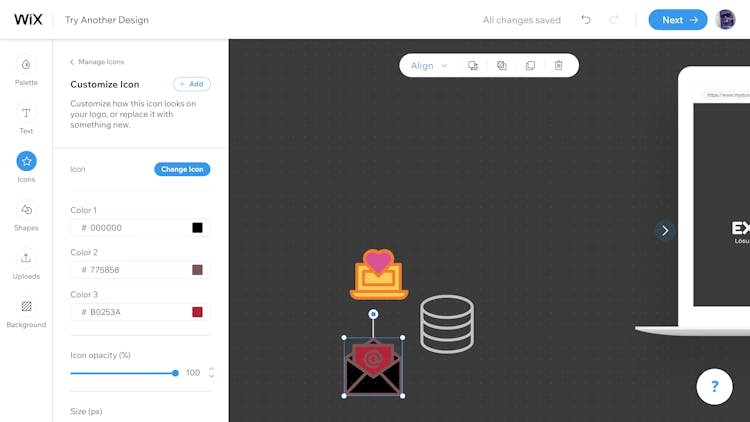 With Wix's editor, you won't need to content yourself with the platform's icons, since you can upload your own, unlike most of the other solutions we looked at.
The capabilities of each editor vary from platform to platform, however, most are relatively intuitive, with some being better than others. We awarded higher scores to those platforms which offered as much personalization as possible, without making their editors unwieldy or user-unfriendly.
After settling on a logo design, you'll likely want to show it off, on your website, business card, or t-shirts. Before you can start printing swag though, you'll have to purchase the rights to it and unlock downloadable logo files.
Which and how many such files you can download also differs from provider to provider. High-resolution PNGs with a transparent background are one type to look out for, since these are highly versatile and can be used with all sorts of different backgrounds. Scalable vector graphics are a must if you want to enlarge or reduce the size of your logo without suffering any loss of quality, such as when printing on t-shirts or banners.
Most logo makers offer all of the files you'll need (depending on your payment option). Wix Advanced subscribers with 40 different versions of their logo for usage across social media (profile pictures, banners, and cover images for Facebook, Instagram, YouTube, and LinkedIn), email signatures, or as iOS and Android icons.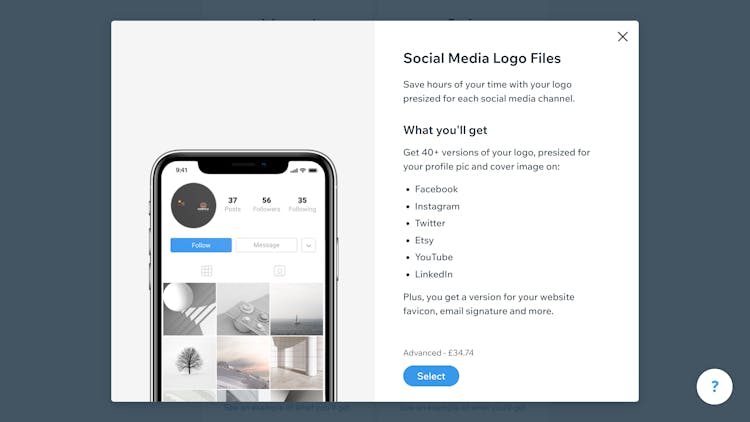 Wix offers additional logo files starting with the Advanced subscription.
Logo makers like Wix sell you the full commercial and non-commercial rights to your logo, meaning that you'll be able to use it as much as you like. However, this doesn't mean that your logo is trademarked. Since logo makers rely on ready-made designs, exclusive rights to your logo, even if they have been highly personalized, are more difficult to secure and the platforms offer little in the way of assistance for doing so.
We scored those platforms highest which offer all important logo files, including vector graphics, and make the process of securing the legal rights to your logo as transparent as possible. Specialized logo designs for specific purposes are a nice bonus, as is the ability to edit or make modifications to the logo after you've purchased its rights.
Usually, logo makers offer two different types of pricing: Subscription-based or one-time, flat rate. Services like Canva are subscription-based but offer additional features that justify their monthly costs. Don't worry though, you'll continue to enjoy full rights to your logo for life, even if you cancel a subscription. In some cases, this actually works to your advantage, since a month's subscription might cost less than the flat rate. So long as you can cancel the subscription after one month, you'll get your logo for a song.
Flat rates, such as with Wix, are a bit more straightforward. With these, you pay a fixed price for all rights to your logo and then part ways with the platform.
Which provider has the best price? The table below compares the lowest rate from each logo maker that includes a transparent PNG of your logo:
$0.00
Visit Website
$30.00
Visit Website
$39.95
Visit Website
$47.88
Visit Website
$49.00
Visit Website
$65.00
Visit Website
$119.99
Visit Website
Like most things in life, having realistic expectations when starting to use a logo maker is important: You won't create the next half-eaten apple or Golden Arches. The affordable alternative to professionally-designed logos is more one-size-fits-all, but there's still plenty of room for customization and personalization. Knowing all of this when heading in means that you'll be able to take advantage of what these platforms have to offer, namely, the ability to create an impressive logo in just a few minutes, without a significant investment of time, effort, or money. For many, in particular small business owners or freelancers, this can be a real game-changer.
Our Top 3 logo makers rely on different processes and vary when it comes to complexity and the options they provide for customization. Since you'll need to pay in order to secure the rights to your logo, there's little reason not to try a few different platforms out and compare the results. In this way, you'll not only be able to find the logo that best suits you and your needs, but also, the one that makes the biggest splash with your clients and customers.
How can I create a logo on my own?
Logo makers allow practically anyone to create a logo in just a few minutes, even if they don't have any background in graphic design. Usually, you'll start by answering a series of questions, after which a selection of potential logos will be shown. You can then edit these further in the logo maker's editor. Once you're satisfied, all that's left to do is purchase the rights to your logo, download all of the necessary file formats, and start using it.
How much does it cost to create a logo?
Based on our sample, a logo with a transparent background, made with a logo maker, will cost between $0 and $130. Some platforms only offer subscription-based pricing, whereas others make it possible to pay a flat rate to secure the rights to your logo. On sites like Upwork or Fiverr, you can wind up paying hundreds or even thousands of dollars for a designer. Larger companies pay hundreds of thousands or even millions of dollars for logos and rebranding.

Author (German Version): Martin Gschwentner
Martin Gschwentner majored in American Studies and Media Studies in Germany, the USA and France and works as a freelance editor in Paris. He is a doctoral student at the Institute for English and American Studies at the University of Paris Diderot, where he is researching the influence of money on US politics. On EXPERTE.com he writes about IT security, data protection and software for the self-employed and small businesses.

Translator & Editor: D Bare