How to Configure a VPN in Windows 10 - A Piece of Cake!

You're working remotely? For security reasons, you most likely have to connect to your company's intranet to complete certain tasks. Fear not, a virtual private network (VPN) makes this, and a lot more possible. With a VPN, you can safely connect to networks that are far away, surf anonymously, and even circumvent geo-blocking. Below, we'll show you how to set up such a connection in Windows 10!
Why Should You Use a VPN on Your Windows PC?
A VPN connection can be imagined as an encrypted tunnel between two networks. Generally speaking, the functionality offered by a VPN is useful in two major areas:
1.

For connecting to a network that you are physically unable to join. For example, when working remotely, and need to connect to your company's intranet, or if on vacation and want to access something on your home network (such as a smart appliance). As a Windows user, you don't need any additional software to create a connection for these purposes, since everything is already built-in to your operating system.

2.

For enhanced anonymity when surfing, and the ability to circumvent geo-blocking or restrictions. When you want to view streaming content, or access a blocked website or service (such as Google in China), VPNs are your knight in shining armor. To utilize a VPN for these purposes, however, you will need to enlist a

third-party VPN provider

.
We'll summarize both scenarios for you!
Create a VPN Using Windows
Creating a VPN connection in Windows only requires a few simple steps.
1) Click on the search bar and enter "VPN".

2) The first result should be "Change a virtual private network (VPN)". Click on it.
Alternatively, you can also find this manually in System Settings.

3) In the new window that opens, click the "+" symbol with "Add a VPN connection" written next to it.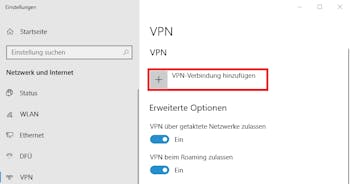 4) For the VPN provider, select Windows (integrated).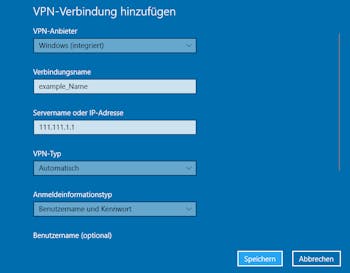 5) For the Connection Name, enter a name of your choice (Hint: Select a name that relates to the purpose or location of the connection).
6) Finally, select the type of connection (PPTP, L2TP, etc.), the server address, a username and a password.
Important
All necessary information will be provided to you by your server administration (or your VPN provider, see below).
7) Save your settings.
8) Open the network overview.

9) Here, you should see VPN Connections at the top. Select the desired connection (and if necessary, enter your username and password).
Congratulations! You have successfully created and connected to a VPN!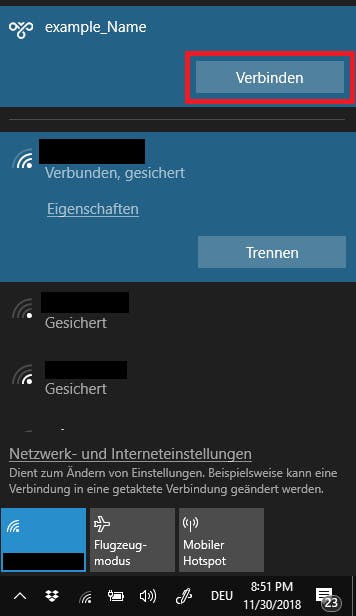 Anonymous Surfing with VPN Software in Windows
If you want to bypass geo-blocking or surf the web anonymously, creating a VPN connection is even simpler. Specialized VPN providers offer applications for Windows that allow for you to select from a list of servers based in countries around the world available for connecting to, all at the push of a button.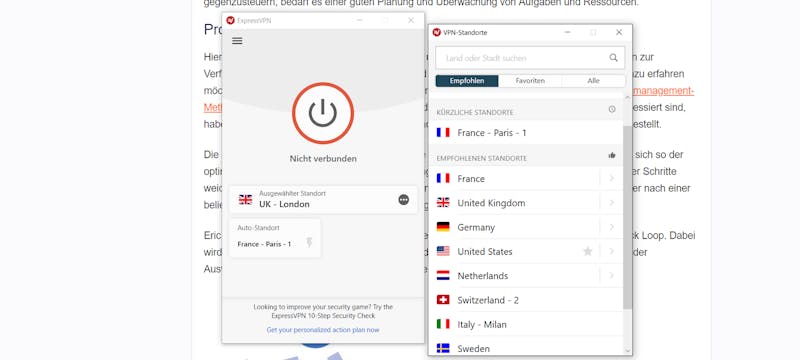 Most VPN providers require subscriptions and charge fees, however, there are some free services, albeit with reduced functionality, data limits, and restrictions on the number of available servers.
The basic functions each VPN provider offers are identical, however, there are a number of bonus or extra features, unique to each. Since streaming services like Netflix are becoming better and better at sniffing out users on VPNs, some providers have begun to offer dedicated streaming servers.
Split tunneling is another feature to keep an eye out for. This allows you to select which apps connect to the Internet through the VPN you're using and which don't, meaning that you can pick and choose which of your services or programs are based where. For parallel downloading and streaming, this is extremely handy.
In our EXPERTE.com VPN comparison we put 17 different well-known to the test, evaluating them along 8 points of comparison. Below, you can see our Top 3:
ExpressVPN can impress with a strong performance, a huge server network, and excellently designed applications, but this quality also comes at a higher price.
Data Volume
Devices
Protocols
Contract Period
ExpressVPN 12 Months
$8.33
monthly price
Visit Website »
30 days money-back guarantee
NordVPN is our number one VPN because it combines speed, ease-of-use, and functionality in a slick package that's also pretty affordable.
5,500+ servers, 60 countries
affordable 2-year package
9.4

excellent
Data Volume
Devices
Protocols
Contract Period
NordVPN 2-year plan
$3.49
monthly price
Visit Website »
30 days money-back guarantee
Surfshark is one of the cheapest providers on the market, but it's a lot more than a great budget option: the relatively new VPN boasts strong protection, many features, and a great support with 24/7 live chat.
3,200+ servers in 100 countries
unlimited number of devices
many apps (Linux, FireTV, ...)
8.8

good
Data Volume
Devices
Protocols
Contract Period
Surfshark 24 months
$2.49
monthly price
Visit Website »
Get 83% Discount

Continue Reading
Reviews
Comparisons
Tools & Guides