Atlas VPN Review 2023: How Good Is the Newcomer?


Ad disclaimer:
For links on this page, EXPERTE.com may earn a commission from the provider. This supports our work and has no influence on our editorial rating.
Does anything remain of the 'free' Internet in the age of global digital surveillance? If asking Atlas VPN, the answer is a resounding yes, but only with the right tools. We took a closer look at the relatively new VPN service to find out how well it does in terms of performance, streaming, and security.
What Is Atlas VPN?
Atlas VPN*, a freemium-style VPN was founded in 2019 in New York. You might be wondering what a 'freemium' service is. Basically, it is software that you can at no cost, however, in order to unleash its full power, you'll need to purchase a premium subscription. In 2021, Atlas VPN was bought by Nord Security, the parent company of NordVPN, making it part of the Nord family.
Atlas VPN offers apps for Windows, macOS, Linux, Android, iOS, Android TV, and Amazon Fire TV. During our assessment, we tested the service out on Windows and Android.
Atlas VPN Review
Installation and Features
8.6 / 10
Security and Privacy
6.6 / 10
Powerful features, including IP rotation

Good price-performance ratio
Streaming issues (Amazon Prime Video and Disney+)

Hasn't completed any security audits

No split tunneling (desktop version)
1.
Installation and Features
The Atlas VPN app can be downloaded for free from the provider's website. Once installed, you'll need to register, which is particularly easy since Atlas VPN doesn't require you to set a password, but simply supply your email address. You'll then be sent a link to confirm registration and log in afterward, even from a new device.
Alternatively, you can log in to Atlas VPN's Web portal and access whatever apps you need there: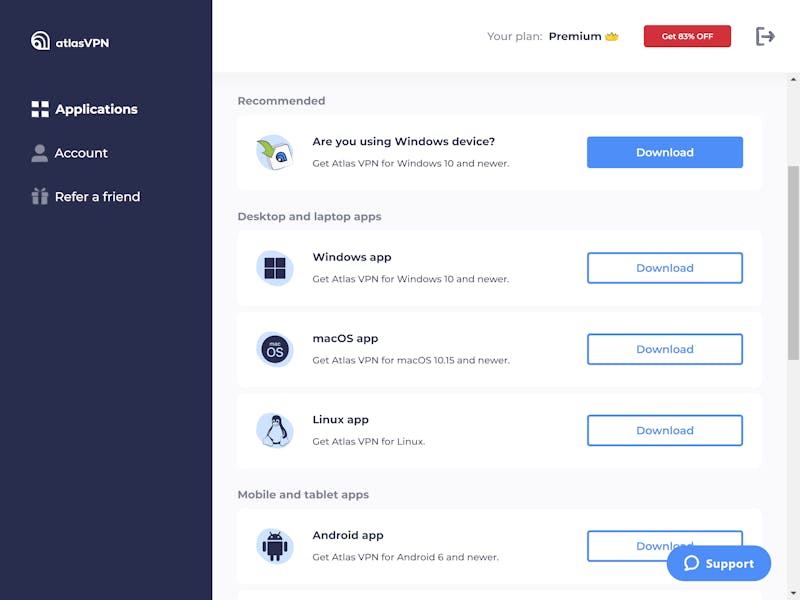 Atlas VPN is compatible with all common operating systems.
Intuitive App
The service's desktop app is logically designed, making it easy to access any features with little more than a few clicks. Off to the left, you'll find the main menu, in which you can jump between the home screen, extras, and the program's settings.
All available server locations are displayed in the center of the home screen. You can either manually search through these, or sort them by category (Streaming and Privacy Pro). To connect, just click on one of the server locations. Alternatively, you can click on the oversized toggle to automatically connect to the best available server.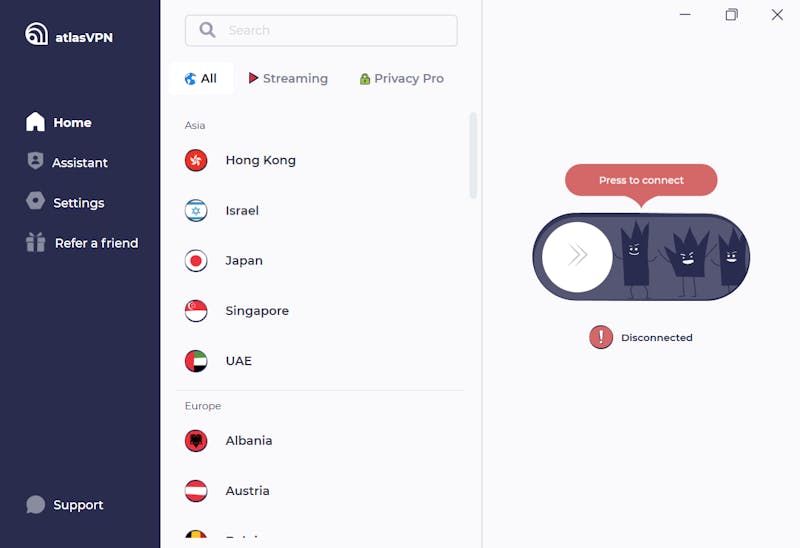 The Atlas VPN app is self-explanatory owing to its logical design and structure.
The inability to mark preferred servers as favorites is unfortunate. Still, you can view the servers you've most recently used under the "Recent Connections" heading, which does come in handy.
Among the Privacy Pro servers, you won't only find MultiHop servers, which route your connection through multiple VPN tunnels, but also, SafeSwap servers. On these, the IP address you use is automatically changed at random intervals, making it even more difficult to follow your online activities.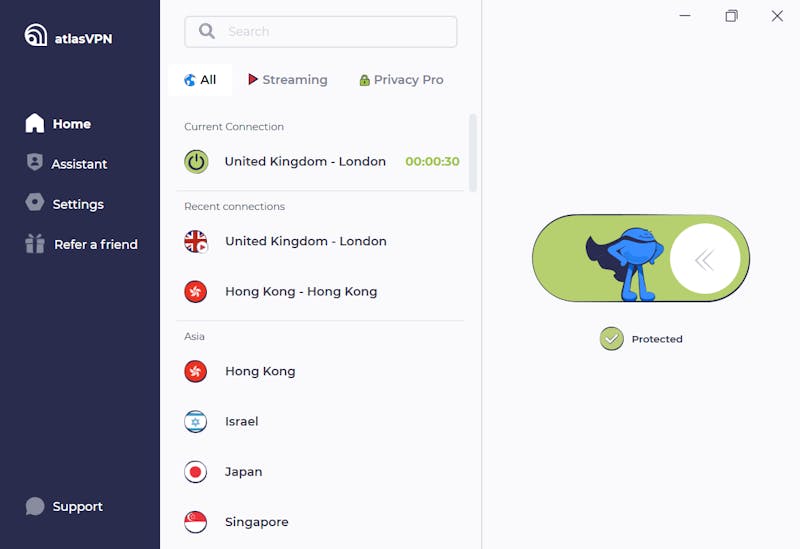 When connected to a SafeSwap server, your IP address will be automatically changed during a single session.
Nice Variety of Features
If you click on Assistant in the menu, you'll be able to access several extra features. SafeBrowse is a basic malware blocker that wards off malicious websites, ads, and trackers. In the Data Breach Monitor, you can input your email address and find out whether your personal data has been leaked in the past, and receive notifications should it happen in the future.
The Protect my devices feature forwards you to a page on which you can generate a download link in order to install Atlas VPN on other devices.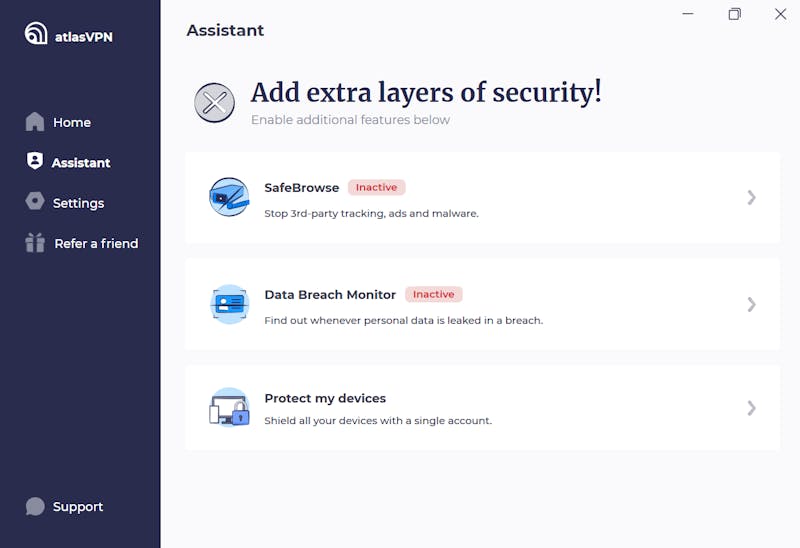 Atlas VPN's Assistant makes a few extra security features available.
More features can be found under settings, such as a autostart, and a kill switch, which automatically severs your Internet connection should any issues with your VPN arise. In addition, you can adjust your protocol by clicking on the similarly named tab.
While there, you might also want to click on the Connectivity tab too: There, you'll be able to specify whether Quick Connect should connect to the fastest or nearest server, or, look for a streaming, SafeSwap, or MultiHop server.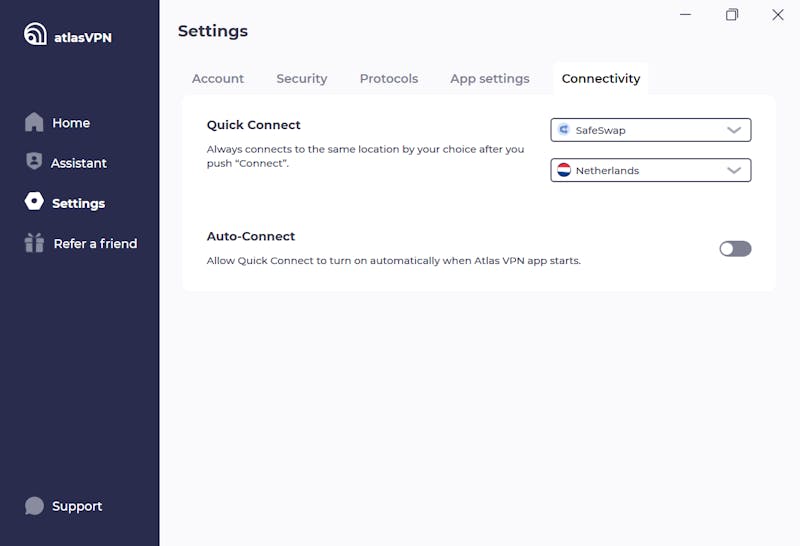 You can configure which kinds of servers Atlas VPN's Quick Connect feature should connect to.
Unfortunately, the desktop app lacks split tunneling, which would make it possible to only use the VPN tunnel for certain apps and websites. Since this feature has become fairly common among VPN services, Atlas definitely can improve in this area.
Smartphone App
Atlas VPN's smartphone app is almost identical to its desktop version, with features like SafeSwap and SafeBrowse both being present. Interestingly, split tunneling is offered, allowing us to choose which apps use our VPN connection while on the go.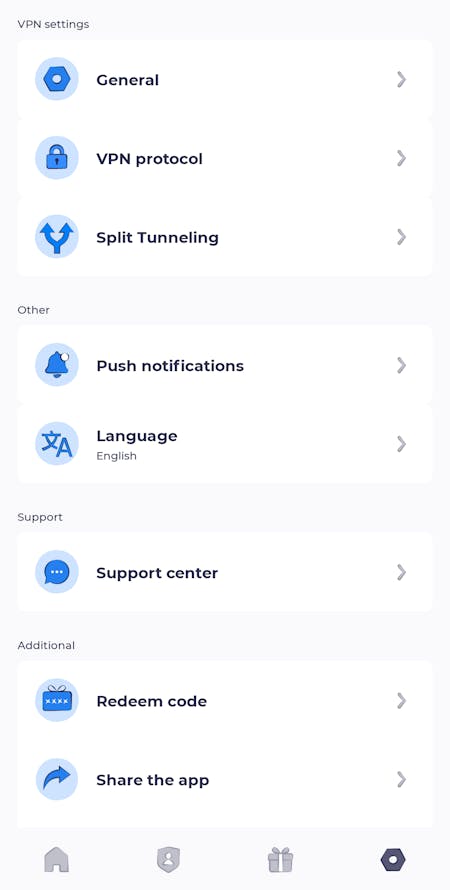 Atlas VPN's Android app scores thanks to its intuitiveness and provision of split tunneling.
Especially when taking into consideration how new the service is, Atlas VPN's range of features is impressive. SafeSwap servers and other security tools set Atlas apart from a number of its competitors, however, the absence of some basics, like split tunneling in the desktop version or a favorite list, is disappointing.
Installation and Features
8.6 / 10
Building up a good server network takes time, and new providers usually stumble in this area. Unfortunately, Atlas VPN is no exception, offering access to a mere 750 servers across 37 countries. This isn't horrible, however, it's far off the mark set by most of its competitors.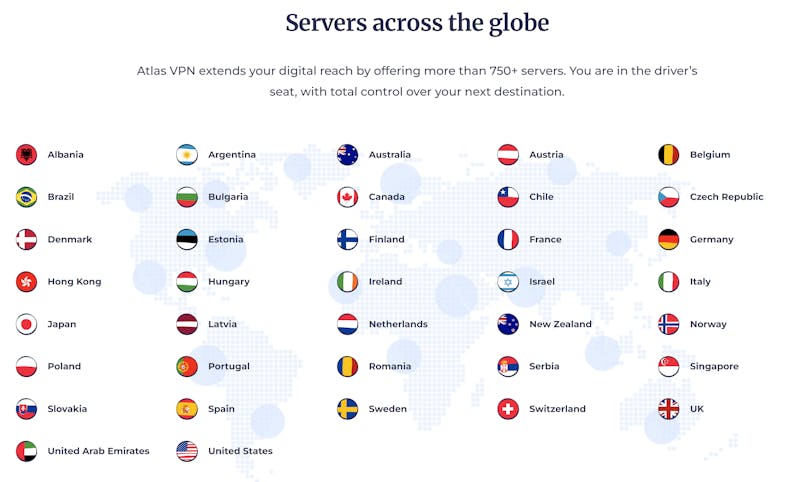 Atlas VPN's server network is not too impressive.
Almost all of the countries (around 25) are in Europe, with North America also well represented. When looking at Asia and Africa though, there isn't much choice. This isn't uncommon with VPN services, and, to be fair, Atlas VPN hasn't been on the market for too long.
We usually compare the speeds of all VPNs from our sample on the basis of a systematic performance test. As this is based on the OpenVPN protocol, we couldn't perform the test since Atlas VPN doesn't support that protocol.
Instead, we manually evaluated Atlas VPN's performance by checking upload and download speeds both with and without a VPN tunnel. During the latter, our upload and download speeds were 85.89 and 19.99 Mbps, respectively. With a VPN tunnel, this changed to 84.29 and 20.28 Mbps, representing only a small change.

During our evaluation, using a VPN tunnel only had a negligible influence on our upload and download speeds.
Of course, we compared the speeds on several occasions, and the results were always similar. For that reason, we can say that Atlas VPN didn't have much of an impact on our connection speeds, however, we'd still like to point out that these results aren't as representative as others from our sample. Below, we've compiled a speed ranking for the services from our sample that we were able to assess using our systematic method:
1.
2.
3.
4.
5.
6.
7.
8.
9.
10.
11.
12.
13.
14.
15.
16.
17.
18.
19.
20.
Our positive impression of Atlas VPN was only confirmed in our hands-on test. We surfed for several hours with a VPN connection and didn't encounter any connectivity or speed issues. The only thing we did notice was that when establishing the first VPN connection, it took quite a while. Other VPN services don't have this problem.
Is Atlas VPN Good for Streaming?
We measure how well-suited a VPN is for streaming by testing it on four platforms: Netflix, Amazon Prime Video, Disney+, and the BBC's iPlayer. With two of these, Netflix and the BBC's iPlayer, we were able to access content from abroad. Amazon Prime Video blocked our attempts, telling us to turn off our VPN. With Disney+, the VPN tunnel abruptly ceased working.
It would be dishonest to say that we weren't expecting more from a VPN with dedicated streaming servers. Overall, however, Atlas VPN did fairly well.
VPN services handle quite a bit of sensitive data which can be used to monitor and identify users. For these reasons, robust security standards and reliable data privacy practices are particularly important.
On paper, Atlas VPN is well equipped to meet these challenges: Connections are encrypted with the AES-256 standard and use the WireGuard protocol and IPSec/IKEv2. OpenVPN, which was long considered to be the gold standard among VPN protocols (and still is by many), is not supported.
Does Atlas VPN Log User Data?
In its Privacy Policy, Atlas VPN states that it is a no-logs VPN. Specifically, the following data is not stored:
Your original IP address or

Other information that might provide details about a user's surfing behavior.
The provider explicitly promises not to collect any data which could be used by government authorities to identify users. This is important since the company is based in the US, and subject to all types of intelligence-sharing agreements.
Analytics, which can be used to improve the platform (such as details about the device or operating system you're on) as well as account data (needed for crediting payments or optimizing support) are gathered.
The security standards and privacy policy sound robust, however, the results of independent audits are far more telling. Unfortunately, Atlas VPN can only offer a single, somewhat limited third-party assessment: VerSprite, a cybersecurity company took a closer look at Atlas VPN's iOS app and wasn't able to ascertain any critical threats or issues.
A good start, however, we would prefer more comprehensive audits that examine all of Atlas VPN's software.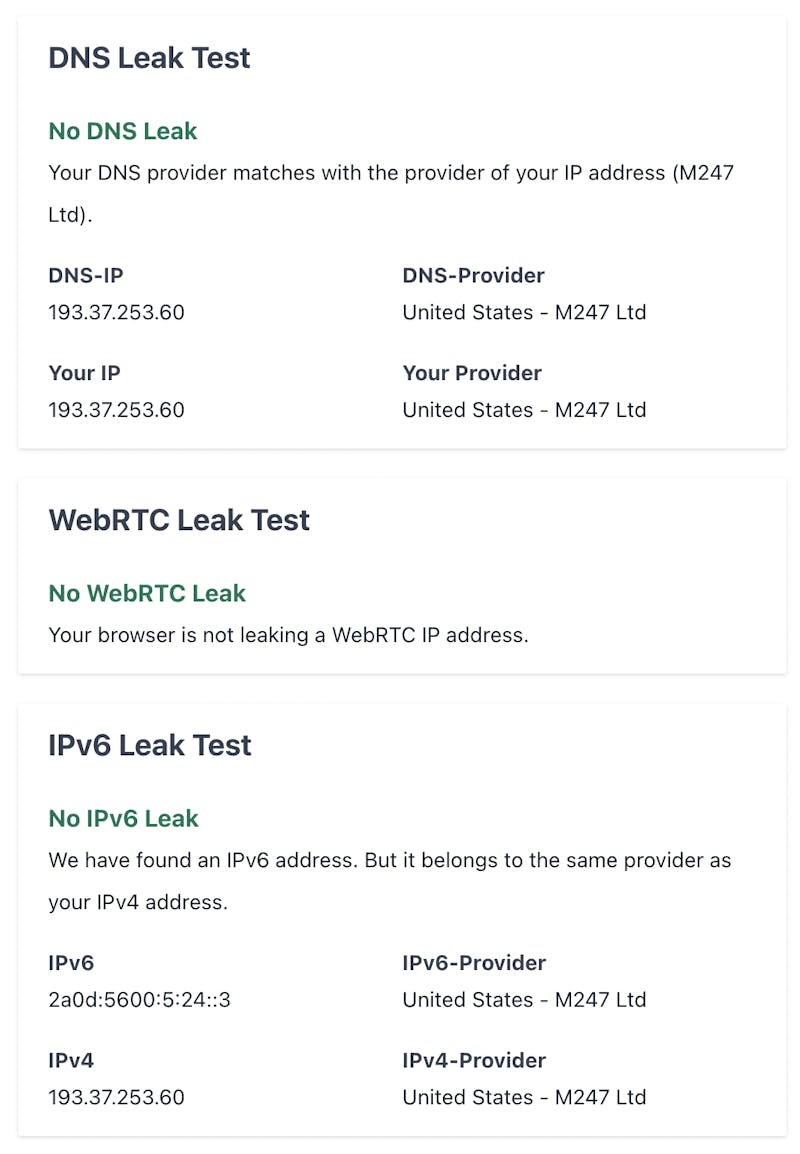 No leaks were uncovered during our assessment of Atlas VPN.
Atlas VPN appears to take its users' security seriously, however, without comprehensive and independent audits to back its claims up, we cannot adequately gauge them.
Security and Privacy
6.6 / 10
Atlas VPN's support channels can be accessed directly through a button in the app. Clicking on this will take you to the provider's support center. We were satisfied with the content, which includes step-by-step guides as well as useful links. All articles can be full-text searched, making it possible to quickly find whatever it is that you need.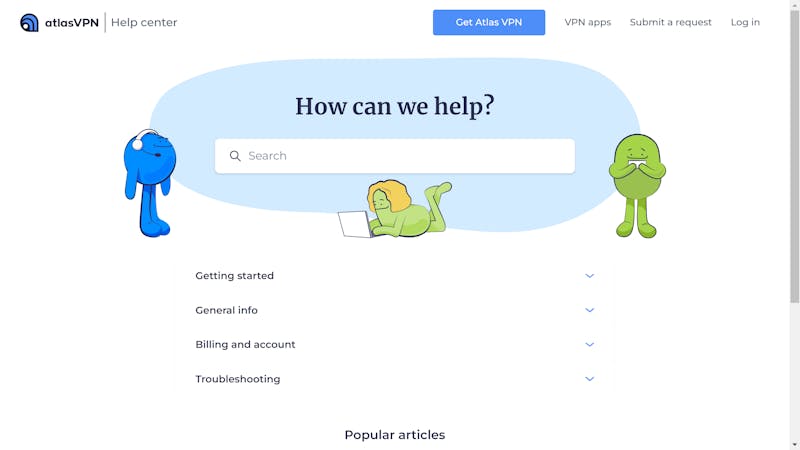 Atlas VPN's support center includes a number of informative step-by-step guides.
Direct support can be requested via a contact form or live chat, however, Atlas VPN doesn't offer a telephone hotline. When using the support chat, we were quickly put in touch with a competent staffer, and our ticket was answered in less than an hour with a very friendly and helpful message.
Overall, we're pleased with Atlas VPN's support.
Atlas VPN is priced like most VPN services: The amount you pay per month depends on the length of your subscription. Along with a monthly plan, there are also more affordable annual and 3-year rates, which represent 70% and 83% discounts off the monthly price, respectively. If you like the service, it makes sense to sign a longer contract.
One advantage of paid Atlas VPN subscriptions is that there's no limit on the number of devices you can install and use the VPN on.
Should you not be quite ready to open your wallet, you can also try out Atlas VPN's free version. This comes with a very generous monthly data limit of 5 GB and allows users to connect to servers in Amsterdam, Los Angeles, and New York.
Below, we've included a summary of all of Atlas VPN's rates:
Free
2 years
1 year
1 month
Set-up Fee
$0.00
$0.00
$0.00
$0.00
Monthly Price
$0.00
$2.05
$3.29
$10.99
Contract Period (Months)
0
24
12
1
Limits
Data Volume
5 GB
unlimited
unlimited
unlimited
Number of Devices
unlimited
unlimited
unlimited
unlimited
Features
Number of Servers
3
750
750
750
Number of Countries
2
37
37
37
No Server Logs
P2P Allowed
Tor Access
Kill Switch
Protocols

WireGuard

IKEv2

IPSec

WireGuard

IKEv2

IPSec

WireGuard

IKEv2

IPSec

WireGuard

IKEv2

IPSec
Atlas VPN offers a 30-day, money back guarantee on all premium subscriptions.
Conclusion
Data Volume
Devices
Protocols
Contract Period
Atlas VPN Free
$0.00
monthly price
Visit Website*
Atlas VPN is a promising newcomer to the VPN market: Launched in 2019, we liked its solid selection of features, including a few that aren't commonly found elsewhere. In addition, the program scores owing to its excellent price-performance ratio, especially if you're willing to commit to a long-term subscription.
All the same, there are a few disadvantages to keep in mind: Atlas VPN's server network is still relatively small, it hasn't undergone any security audits, and we weren't able to stream on all of the platforms we would have liked to. Rest assured: As soon as Atlas VPN improves in these areas, it will be a real contender.
Installation and Features
8.6 / 10
Security and Privacy
6.6 / 10
Customer Reviews
In the customer reviews that we checked, Atlas VPN received an average score of "good". Its price-performance ratio was highly praised, as was its quick support. Turning to the negatives, there were some complaints relating to connection problems.
Customer Ratings
108,920 Bewertungen
Visit Website*
We analyzed the reviews and ratings from various portals and found 108,920 ratings with an overall rating of 4.2 out of 5 .
Alternatives
If you can't make do without split tunneling and would like a VPN that's better for streaming, we recommend checking out the best platform from our EXPERTE.com evaluation, NordVPN.
In case Atlas VPN's 5 GB monthly limit isn't enough, you might want to consider ProtonVPN since its free version comes with unlimited data.
Below, we've listed more of the best alternatives to Atlas VPN:
NordVPN is our number one VPN because it combines speed, ease-of-use, and functionality in a slick package that's also pretty affordable.
5,500+ servers, 60 countries
affordable 2-year package
9.4

excellent
Data Volume
Devices
Protocols
Contract Period
NordVPN 2-year plan
$3.49
monthly price
Visit Website*
30 days money-back guarantee
ExpressVPN can impress with a strong performance, a huge server network, and excellently designed applications, but this quality also comes at a higher price.
Data Volume
Devices
Protocols
Contract Period
ExpressVPN 12 Months
$8.33
monthly price
Visit Website*
30 days money-back guarantee
With its open source philosophy and extra security features, Proton VPN targets security-conscious VPN users. But thanks to its user-friendly interface and suitability for streaming, it's worth a look for a wide audience.
open source & external audits
2,900+ servers in 67 countries
free plan without data limit
9.1

excellent
Data Volume
Devices
Protocols
Contract Period
Proton VPN Free
$0.00
monthly price
Visit Website*
Free forever
Surfshark is one of the cheapest providers on the market, but it's a lot more than a great budget option: the relatively new VPN boasts strong protection, many features, and a great support with 24/7 live chat.
3,200+ servers in 100 countries
unlimited number of devices
many apps (Linux, FireTV, ...)
8.8

good
Data Volume
Devices
Protocols
Contract Period
Surfshark 24 months
$2.49
monthly price
Visit Website*
Get 83% Discount
HideMyAss' main claim to fame is its impressive server infrastructure, but the VPN also delivers solid speeds and handy features like its IP Randomizer. When it comes to streaming, however, it's not always the most reliable choice.
Data Volume
Devices
Protocols
Contract Period
HideMyAss! 36 months
$2.99
monthly price
Visit Website*
30 days money-back guarantee
* Ad disclaimer:
For links marked with an asterisk, EXPERTE.com may earn a commission from the provider. The commission has no influence on our editorial rating.

Martin Gschwentner majored in American Studies and Media Studies in Germany, the USA and France and works as a freelance editor in Paris. He is a doctoral student at the Institute for English and American Studies at the University of Paris Diderot, where he is researching the influence of money on US politics. On EXPERTE.com he writes about IT security, data protection and software for the self-employed and small businesses.

Translation: D Bare
Continue Reading
Reviews
Comparisons
Tools & Guides