Smart DNS: Bypass Geoblocking Without a VPN

Do you want to watch foreign streaming content, access domestic media libraries abroad, and more? There are several ways to bypass geoblocking, the most practical being a VPN. However, it isn't possible to install these on every device. You may need an alternative, which is where smart DNS comes into play.
This article defines what a smart DNS is, when it should be used, and how you can set one up in just a few easy steps.
What Is Smart DNS Used For?
Smart DNS are useful for bypassing geoblocking without a VPN or proxy server, especially if your smart TV, streaming box, or game console doesn't support either of those options. Alternatively, if at home, some routers can be used to create VPN connections, however, this doesn't work for all hardware.
A VPN routes your connection through far-away servers, resulting in slower speeds. Combine this with an already weak Internet connection, and you might be better off streaming with smart DNS than a VPN.
How Does Smart DNS Work?
You can use smart DNS to change your device's virtual location, by modifying your DNS address. But what exactly is a DNS address?
A domain name system (DNS) translates domain names from a format that humans can easily read and understand into a numeric code that's easily recognizable to computers—and vice versa. For example, EXPERTE.com would be read as 172.66.41.9.
Smart DNS services replace the DNS server assigned to you by your Internet provider with their own. For instance, if you visit netflix.com, you won't get the normal IP, netflix.com. Instead, you'll get the IP of the smart DNS provider's transparent DNS proxy. This proxy server is located in the US, which tricks Netflix into believing that's where you are as well.
In contrast to using a VPN, however, any data you send or receive over a smart DNS connection will not be encrypted. On the plus side, this does improve connection speed.
Free and Premium Smart DNS Services
Both free and premium smart DNS services exist, however, we recommend taking most of the former with a grain of salt.
Free services are often unreliable. They may have limited functionality or not work at all. It's also possible to get smart DNS codes from shady providers that put your personal data at risk. In the worst-case scenario, hackers could steal your login or online banking credentials.
To be on the safe side, we advise only trusting reputable smart DNS providers. Take a minute to ensure that the program you're preparing to use has plenty of customer reviews, professional support, and a privacy policy. Generally speaking, providers which have all of these are only available for a fee. Good examples include GETFLIX and Unlocator.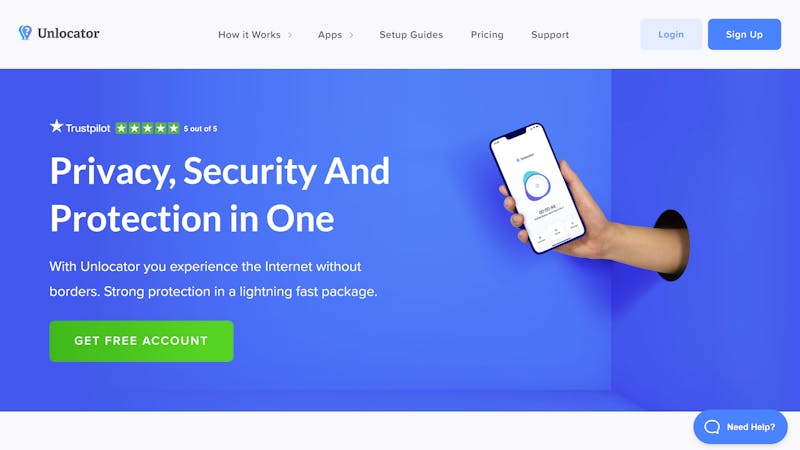 Unlocator is one of the more reputable smart DNS services.
Several VPNs also come with integrated smart DNS features, but, we'll cover this topic in more detail later on.
First, let's look at the differences and similarities between VPNs and smart DNS.
Smart DNS vs. VPN
Smart DNS and VPNs offer similar features, which helps explain why the two are often compared to one another. All the same, there are some important differences:
Smart DNS doesn't impact surfing speed
Using a VPN entails sacrificing a bit of speed, whereas with a smart DNS, your Internet connection will be at full velocity.

Smart DNS supports most Internet-enabled devices
Smart DNS works on almost all Internet-enabled devices. VPN software, on the other hand, may or may not be compatible with your end device.

Smart DNS doesn't encrypt your connection
VPNs encrypt all data traffic, while their servers assign you a new IP address. This makes it possible to surf the Internet anonymously and ward off other dangers, such as tracking, hackers, censorship, and snooping.

With smart DNS, on the other hand, your traffic isn't encrypted and you surf with your own IP address.

Smart DNS doesn't require installation—but does need to be set up manually
VPN services require you to use a dedicated app to connect to their servers. With smart DNS, on the other hand, you won't need to download a specific app, since you'll set up the service manually via your device's settings.

Smart DNS doesn't automatically unlock all sites/services in a given region

Smart DNS providers keep lists of websites their customers can access, so make sure that the pages and services you want are included. For example, if you want to watch a particular series on the BBC's iPlayer or Australia's BINGE, don't choose a provider that only allows you to unlock content from the US.
Using smart DNS is especially practical if you can do without the extra security features VPNs offer. They make it easy to unlock foreign content on all your devices without sacrificing speed.
How To Set Up Smart DNS?
Once you've chosen a service, setting up smart DNS is straightforward. Below, we'll explain each step using the Top 3 providers from our EXPERTE.com VPN review as examples.
NordVPN
After that, you'll land on your dashboard. Click NordVPN under SERVICES in the left-hand menu. To the right of the menu that opens, look for Additional features, under which you should see SmartDNS. Click on Enable.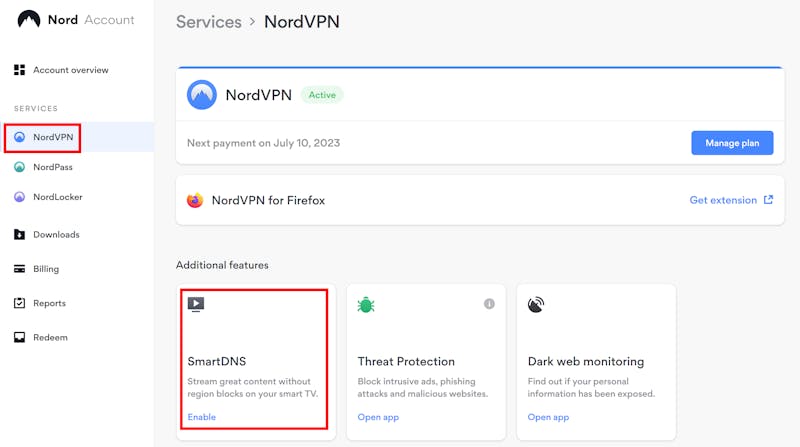 A pop-up window will open stating that you must deactivate any existing VPN connection—otherwise, you can't turn on SmartDNS. Once you've turned off the VPN, click the blue Enable SmartDNS button.
An activation request will be sent, which can take a few moments. You'll receive an email from NordVPN when the process is complete.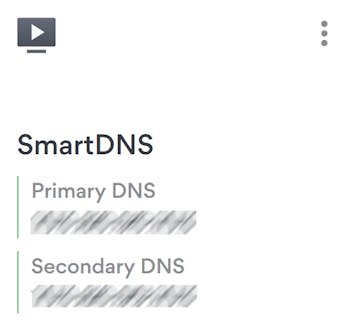 Primary and secondary DNS
Now you just need to configure SmartDNS on your end device. The linked articles below offer useful guides for how to do this:
On all other end devices, you can try using the primary DNS server 103.86.96.103 and secondary DNS server 103.86.99.103.
ExpressVPN
You can also use ExpressVPN's smart DNS solution, called MediaStreamer. This feature unlocks content on streaming providers such as Netflix and Amazon Prime Video.
To begin, log in to the ExpressVPN dashboard using your credentials and verification code.
In the left-hand menu, click on DNS Settings and then the green Register my IP address button on the right side of the screen.
Select Automatically register my IP address (located directly below), which will ensure that the correct IP is always available when you log in to the ExpressVPN dashboard or use the provider's app.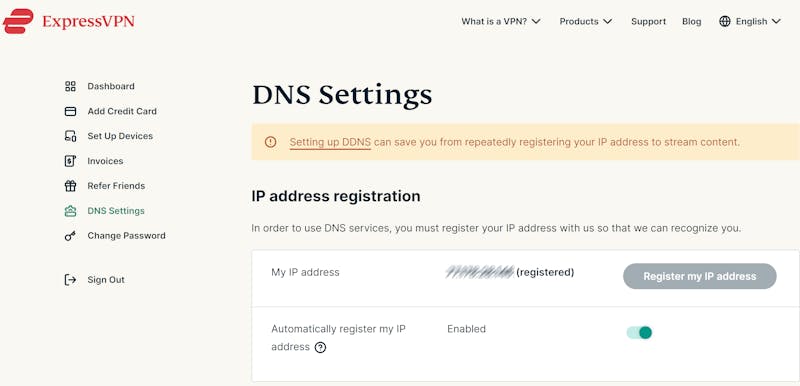 You can have your IP registered and updated automatically.
Under DNS configuration checker, click on the green Configure DNS on this device button.

Configure DNS on ExpressVPN.
A new page will open explaining how you can set up ExpressVPN's MediaStreamer on different end devices.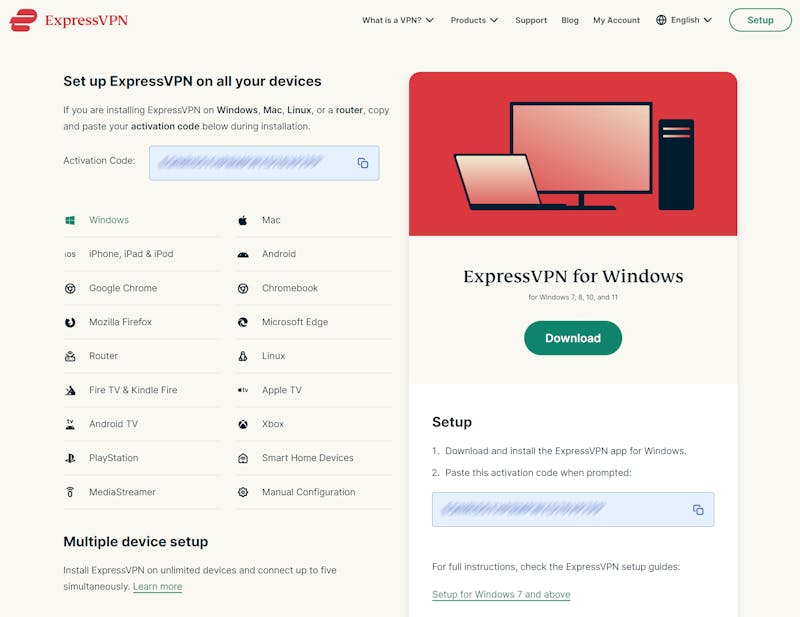 Set up smart DNS for your end devices.
Surfshark
Surfshark smart DNS gives you access to various foreign streaming services. To use this feature, turn off your VPN connection since you'll need your 'real' IP to activate smart DNS.
Then, log in to your Surfshark account using your credentials.
If you've enabled two-factor authentication, enter the code.
In the left-hand menu next to VPN, click on the downward pointing arrow to expand its options. Select Smart DNS.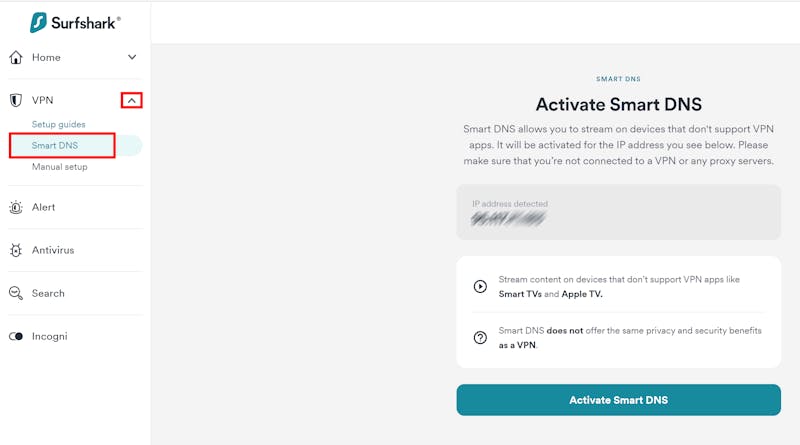 Activate Surfshark smart DNS.
Click the blue Activate Smart DNS button. The process can take up to 30 seconds, but once complete, Surfshark will send you an email confirming that the activation was successful. You'll then have access to seven DNS addresses.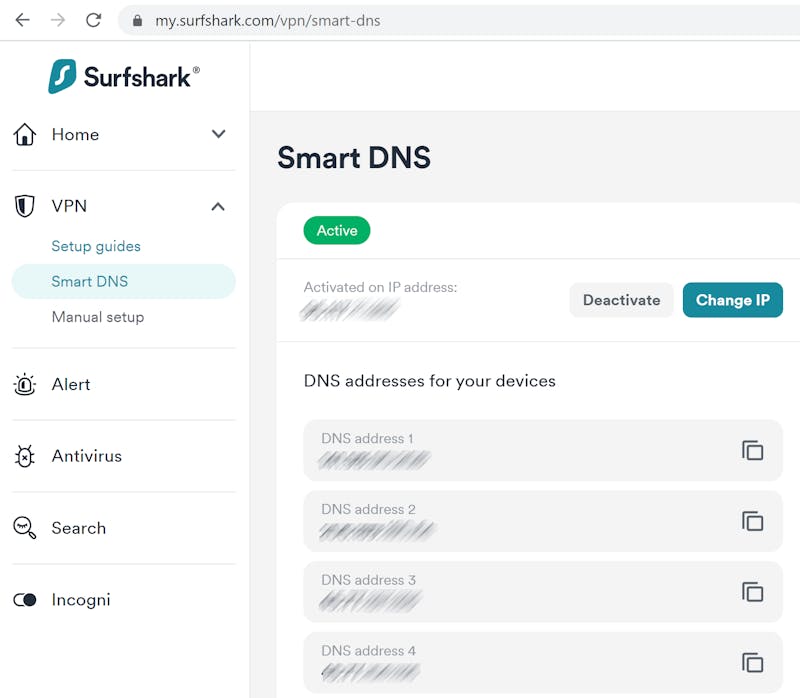 These DNS addresses are only valid until your IP is changed, which your internet service provider (ISP) does regularly (every 24 hours). To update your DNS addresses, simply click on the Change IP button. If you want to disable smart DNS, click on Deactivate.
A pop-up will open with a security question. Confirm that you'd like to deactivate smart DNS.
You must enable smart DNS on the devices you'll use to bypass geoblocking. Below are simple instructions from Surfshark that explain the process on various devices:
Which VPN Providers Offer Smart DNS?
Not all VPN services come with smart DNS features. An overview of the providers from our VPN comparison can be found below:
| Provider | Supports smart DNS | Guide |
| --- | --- | --- |
| | | |
| | | |
| | | |
| | | |
| | | |
| | | |
| | | |
| | | |
| | | |
| | | |
| | | |
| | | |
| | | |
| | | |
| | | Additional subscription required |
| | | |
| | | |
| | | |
| | | |
| | | |
| | | Additional subscription required |
| | | |
Conclusion
Smart DNS is a simple way to bypass pesky region restrictions. It's especially well suited for end devices that aren't VPN-compatible. However, unlike VPNs, smart DNS doesn't offer any additional protection on the Internet since your connection won't be encrypted, and your IP address will be visible.
If you want the best of both worlds, you can use a VPN service that offers smart DNS, such as our review winner, NordVPN. Such providers allow you to use smart DNS on your smart TV, unlock foreign content, and surf with a secure VPN connection on all of your end devices.
FAQs
Geoblocking entails restricting access to content to those located in a particular region or country. Often, this includes video libraries with movies and series or even entire websites. Streaming providers need to geoblock content for licensing reasons, since they can only show it in certain countries. Governments also use geoblocking to censor information, with the "Great Firewall of China" being a prime example.
Smart DNS is a process through which your DNS address is replaced, changing location-specific data to simulate your device's physical presence elsewhere.
Is it really possible to bypass geoblocking with smart DNS?
⊖
Smart DNS is a simple and effective way to bypass geoblocking. However, you won't be able to access all blocked content in a particular region—you'll only see content that's been unblocked by the provider.
How much does smart DNS cost?
⊖
Smart DNS isn't expensive, typically costing only $5 to $7 per month. However, some VPN providers with smart DNS are even more affordable and offer additional features to protect your data and improve online security.
Should I use free smart DNS services?
⊖
Free smart DNS services are often unreliable or spotty. You also risk sharing personal information with a dubious provider who could spy on you, steal your banking credentials, or cause other serious problems. To be on the safe side, it's best to choose a reputable smart DNS service or a VPN provider which offers smart DNS features.
Does smart DNS slow down my internet connection?
⊖
No. Because smart DNS doesn't encrypt your data like a VPN, you can use the Internet at full speed.
Yes, using smart DNS is legal. That being said, bypassing geoblocking falls into a gray area. You'll be violating your streaming provider's terms and conditions, however, there's no need to worry about legal action. Your account could theoretically be blocked, but it's highly unlikely.
Is smart DNS better than a VPN?
⊖
Both smart DNS and VPNs allow users to bypass geoblocking with ease. Smart DNS is especially well suited for end devices on which VPNs cannot be installed, such as smart TVs or Xboxes. Generally speaking, it's highly recommended to use a VPN provider with smart DNS, as the former offers additional security features that smart DNS doesn't make available.

André Bartsch is a certified technical writer. He has worked in IT for 12 years in the areas of speech recognition and business process software. Since 2020, he has been self-employed as an author, copywriter and editor. His focus is on software, internet and online marketing.
Continue Reading
Reviews
Comparisons
Tools & Guides