VPN
Cancel NordVPN: How to End Your VPN Subscription
Subscriptions, plans, and contracts... It's getting harder and harder to keep track of them all, not to mention when each one charges your account, and which cancellation deadlines to consider. In the SaaS age, more and more services require subscriptions, including VPN providers such as NordVPN. But what if you want to switch to a different service, or no longer need a VPN? This article explains how to cancel NordVPN.
Like most reputable VPN services, NordVPN is fee-based and only available as a subscription. In the VPN market, it's common to receive discounts when you sign up for a longer contract. This is also the case with NordVPN; their 2-year package is the least expensive plan they offer. However, your VPN needs or financial priorities could change over the course of two years. Moreover, you'll probably have long forgotten about the service's automatic renewal by then.
For these reasons, it makes sense to end your NordVPN subscription early—you can always renew it later if necessary. This article explains how to cancel the service and make use of the provider's money-back guarantee.
5400+ servers, 60 countries
Inexpensive 2-year package
NordVPN combines speed, user-friendliness and functionality into a coherent overall package that is also fairly affordable.
Data volume
Devices
Protocols
Contract Period
NordVPN 2-year plan
$2.99
monthly price
Visit Website »
30 days money-back guarantee
The method you use to cancel your subscription depends on where you signed up in the first place:
Via Nord VPN's website
Through the Google Play Store
In the Apple Store
Below, we'll show you how to cancel with screenshots, regardless of how you signed up.
Cancel NordVPN on Their Website
You can cancel your NordVPN subscription by turning off automatic contract renewal. This means that your contract automatically expires at the end of the current subscription period and your account will not be charged again. Here's how it's done:
1. Go to the NordVPN website. Click Log in on the top right and sign in with your credentials.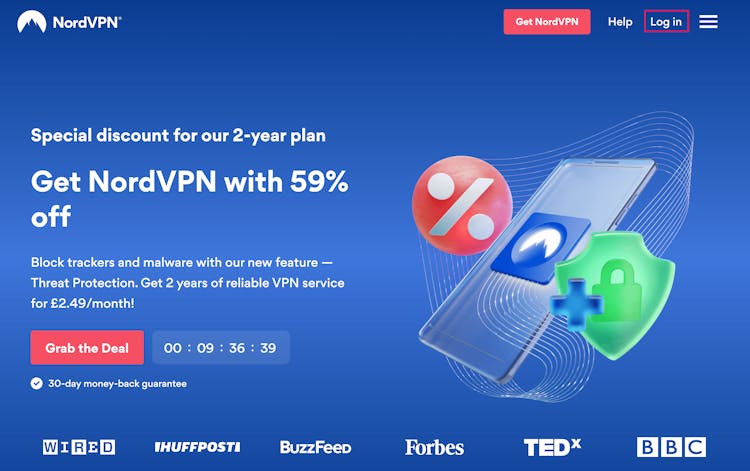 If you purchased your subscription through NordVPN's website, then you have a NordVPN account.
2. Next, you'll land in your NordVPN account overview, where all your Nord products are listed. Click Billing from the navigation menu on the left.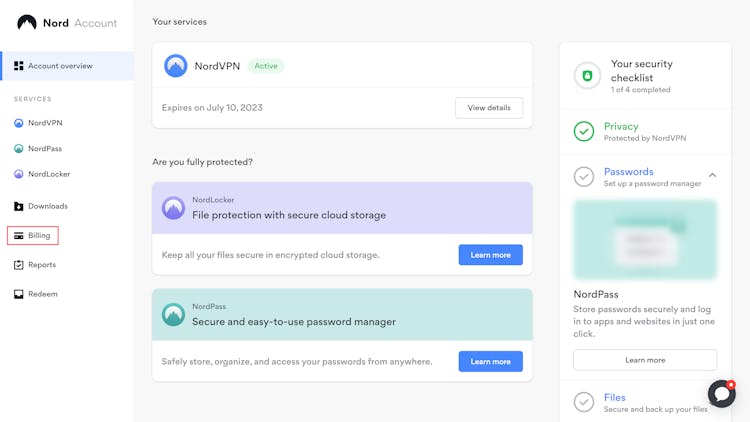 You'll find your subscription settings in the billing menu.
3. Navigate to the Subscriptions tab. In the menu, next to Auto-Renewal, you will likely see the ON setting. Click on Manage.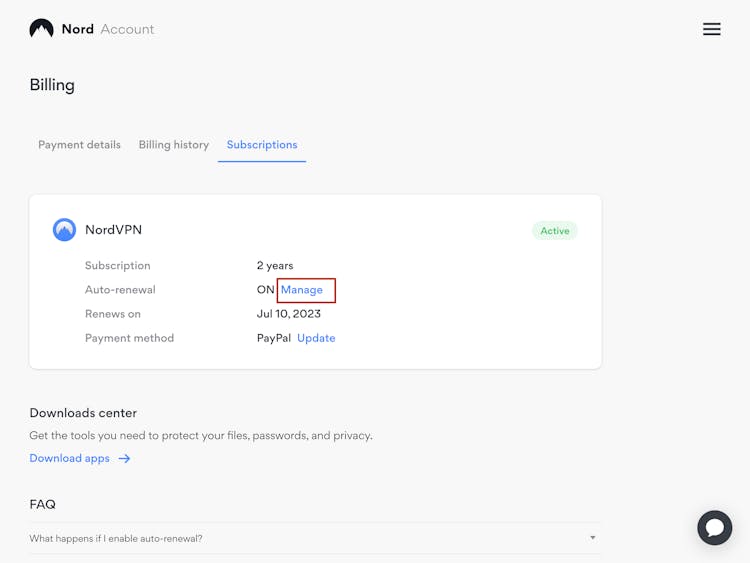 Turn off automatic subscription renewal.
4. Click on Cancel auto-renewal.
NordVPN will try to convince you to stay.
5. Automatic contract renewal is now turned off; your account won't be charged when your current contract expires.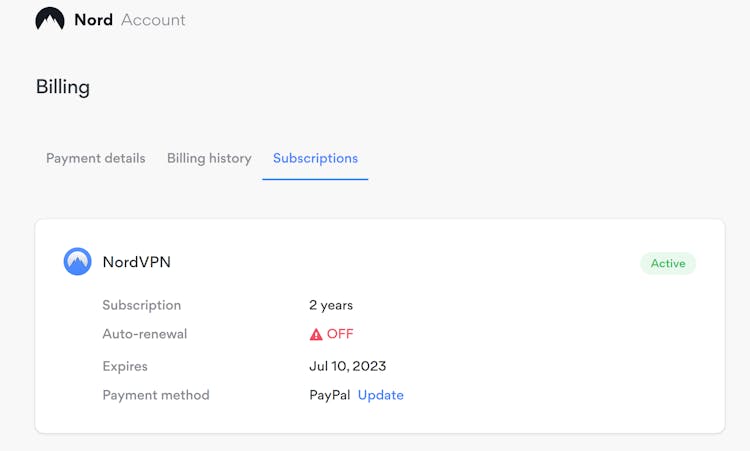 You've successfully canceled your NordVPN subscription.
Cancel NordVPN in the Play Store
If you signed up for a NordVPN subscription on your Android smartphone, you can also cancel your plan via the Play Store. Here's how:
1. Open the Play Store on your Android device. Click on the account icon in the top right corner.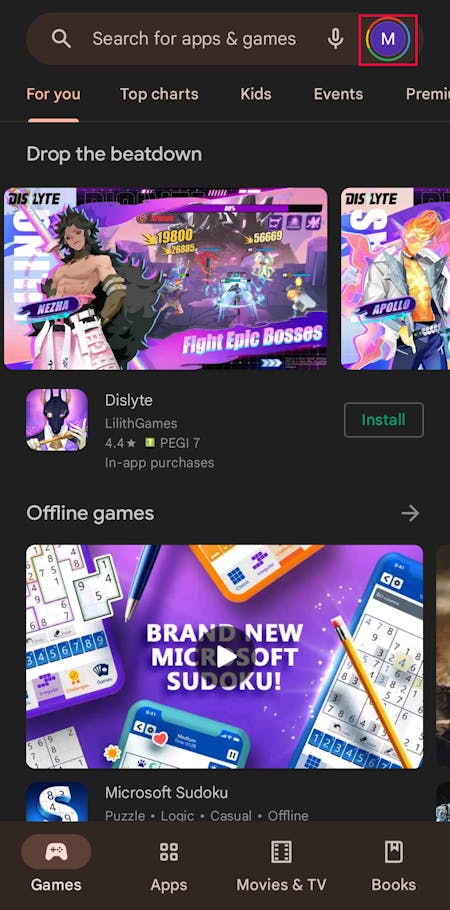 First, open the Play Store.
2. Select Payments & subscriptions from the drop-down menu.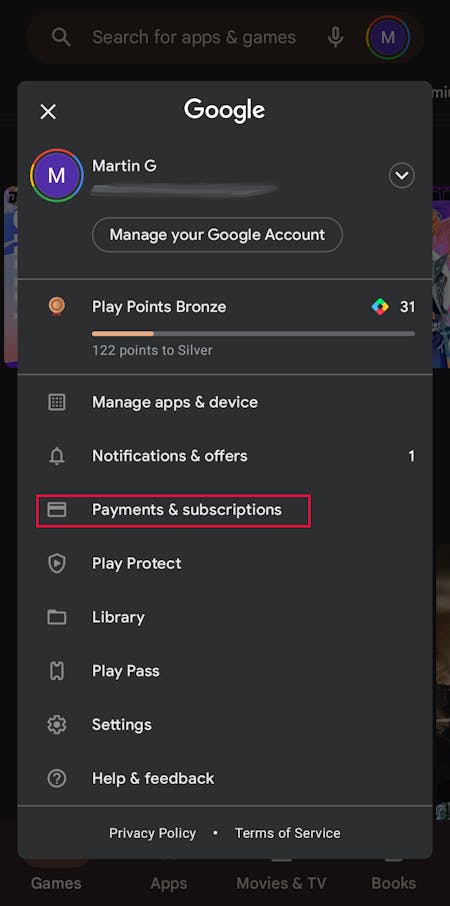 Here you'll find all payments and subscriptions associated with your Android account.
3. In the next menu, tap Subscriptions to open the list of your current and past subscriptions.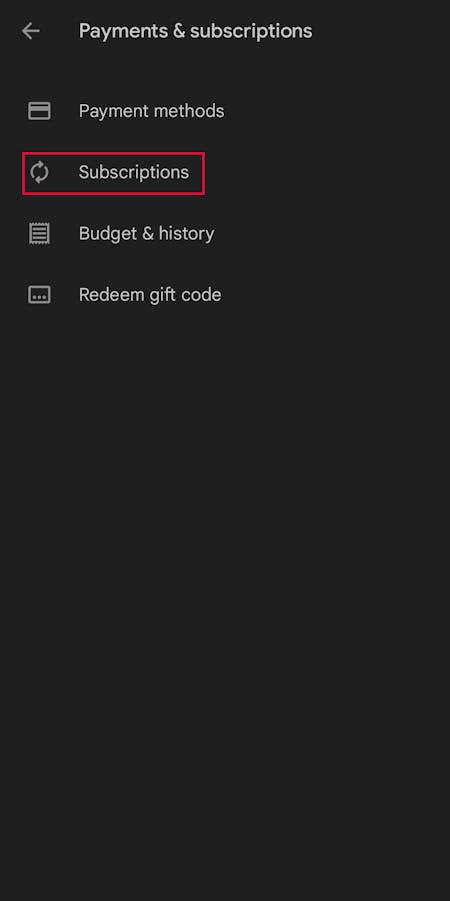 You can easily find a current overview of your subscriptions in the Play Store.
4. If you currently have a NordVPN subscription through Android, you'll find it here under Active. Tap on NordVPN.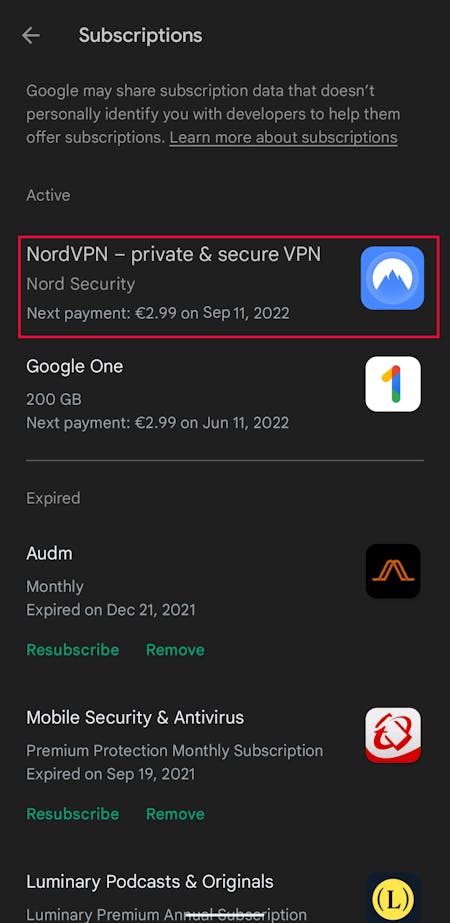 You'll find your NordVPN subscription here.
5. Tap on Cancel Subscription to complete the cancellation process.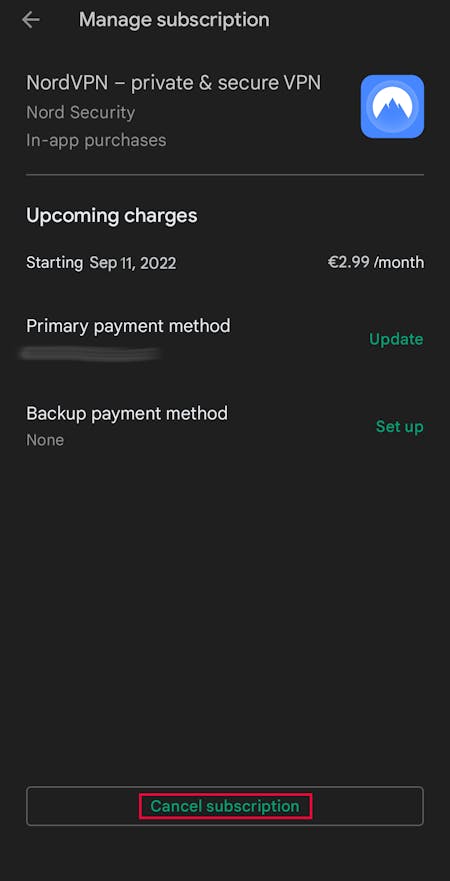 All you need to do now is complete cancellation.
If you signed up for a subscription via Apple, canceling NordVPN is a similar process:
1. Open the Apple Store and tap on the user icon on the top right.
2. On the account management screen, tap on your user icon or user name again.
3. Navigate to the Subscriptions menu to see all of your subscriptions.
4. Tap on NordVPN to open the details page.
5. From there you can cancel NordVPN.
How to Get a Refund From NordVPN
NordVPN offers a 30-day money-back guarantee, so if you cancel your subscription within that period, you can request a refund. You'll need to contact NordVPN either by email or via their convenient live chat.
Refund via email
1. On NordVPN's contact page, click on Email Us, which should automatically open your email program.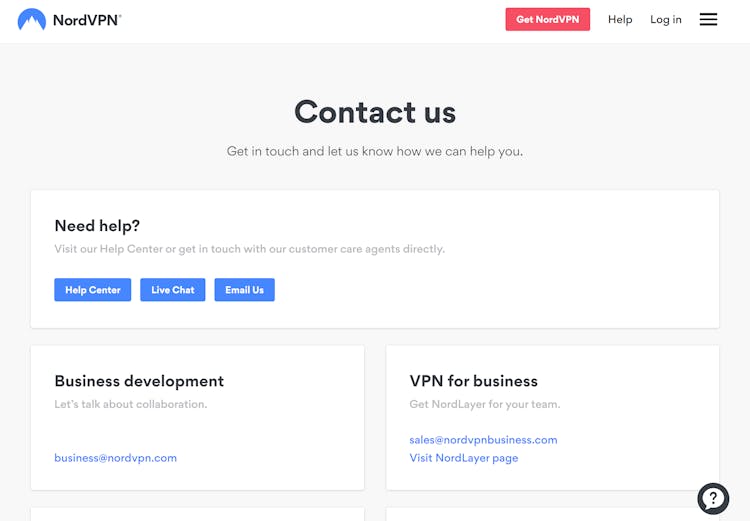 You can email NordVPN to request a refund.
2. Simply explain that you're requesting a refund. An informal message, such as "Hello, I'm writing to request a refund for my NordVPN subscription", will suffice.
3. You may be contacted regarding your request. Once all details are settled, you should receive a refund to the account you paid from within a few business days.
Refund via live chat
1. Requesting a refund using NordVPN's live chat is just as easy. You can find the chat feature either in the contact section or by clicking on the question mark that appears in the bottom right corner of NordVPN's website.
2. Type that you'd like to speak with a support agent and ask them for a refund.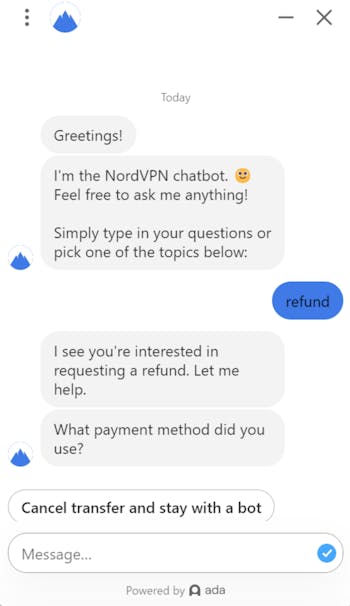 Submit your request in the chat.
3. The support agent will ask a few questions and process your request. A refund should be credited to the account you paid from within a few business days.
Perhaps you're dissatisfied with NordVPN's service and are looking for a replacement after canceling your subscription. While NordVPN was ranked number one in our EXPERTE.com VPN comparison, it has plenty of competitors. In fact, we have an entire article dedicated to the best NordVPN alternatives.
Here are what we consider the three best alternatives, along with their scores from our review:
160 cities in 94 countries
30-day money-back guarantee
ExpressVPN impresses with strong performance, a huge server network and excellently designed applications, but this quality also comes at a higher price.
Data volume
Devices
Protocols
Contract Period
ExpressVPN 12 Months
$8.33
monthly price
Visit Website »
30 days money-back guarantee
3200+ servers in 65 countries
Unlimited number of devices
Many apps (Linux, FireTV, ...)
Very cheap on the 24-month plan
Surfshark is one of the cheapest providers on the market, but besides the price also impresses with strong protection, many features and a great support with 24/7 live chat.
Data volume
Devices
Protocols
Contract Period
Surfshark 24 months
$2.49
monthly price
Visit Website »
Get 83% Discount
1200+ servers in 55 countries
Headquarters in Switzerland
Open Source & external audits
Data volume
Devices
Protocols
Contract Period
ProtonVPN Free
$0.00
monthly price
Visit Website »
30 days money-back guarantee
You may have canceled NordVPN simply because you no longer want to pay for a VPN service. If you can do without certain features and settings, a free service might be enough to meet your needs. Should that be the case, our list of the best free VPNs can help you decide what your next steps should be.
If you'd like to cancel your NordVPN subscription, it's important to consider how you signed up. Should you have registered via NordVPN's website, you can cancel your subscription by switching off the auto-renewal feature on the site itself. In case you signed up for a subscription via Google Play or the Apple Store, you can cancel your subscription there.
So long as you end your contract within 30 days of purchasing it, you're entitled to a full refund. This can be conveniently requested from the NordVPN contact section via email or live chat.

Author (German Version): Martin Gschwentner
Martin Gschwentner majored in American Studies and Media Studies in Germany, the USA and France and works as a freelance editor in Paris. He is a doctoral student at the Institute for English and American Studies at the University of Paris Diderot, where he is researching the influence of money on US politics. On EXPERTE.com he writes about IT security, data protection and software for the self-employed and small businesses.

Translator & Editor: Lisa Torelli-Sauer