VPN Not Working: What to Do When Your VPN Connection Doesn't Work

Ad disclaimer:
For links on this page, EXPERTE.com may earn a commission from the provider. This supports our work and has no influence on our editorial rating.
VPN services are designed to provide anonymity on the Internet; they route your connection through an encrypted tunnel, making it possible to surf the net largely undetected and avoid tracking. However, VPNs don't always work as smoothly as their advertising suggests.
You may encounter issues such as slow connection speeds, VPN software crashes, or difficulty establishing a tunnel. It might be tempting to switch back to an unprotected Internet connection out of sheer frustration. However, don't risk exposing your IP address and other personal data, since most VPN issues can be fixed fairly easily and on your own. In this guide, we'll show you what techniques you can try.
Resolving VPN Connection Problems
Unsatisfactory data transfer rates are one of the most common complaints voiced about VPNs. Data packets are routed through one or more servers, which, depending on the provider your choose, can result in slow connection speeds. This is especially noticeable whenever video playback is choppy. Low transfer rates can also cause longer waiting times when uploading and downloading large files.
Sometimes routers, firewalls, or virus scanners interfere with or block VPN connections. This is common when the VPN client operates under a complex and especially secure IT infrastructure environment, which is the case in many large companies.
Even VPN clients have been known to crash, stalling your secure Internet access. The good news: In most cases, you can get your VPN up and running again in just a few simple steps.
1.
Check Your Internet Connection
Even after you've successfully started your VPN software and established a tunnel, speeds can dip. In this case, check whether your Internet connection is working properly. Various websites offer what's known as a "speed test" to measure how fast your connection is.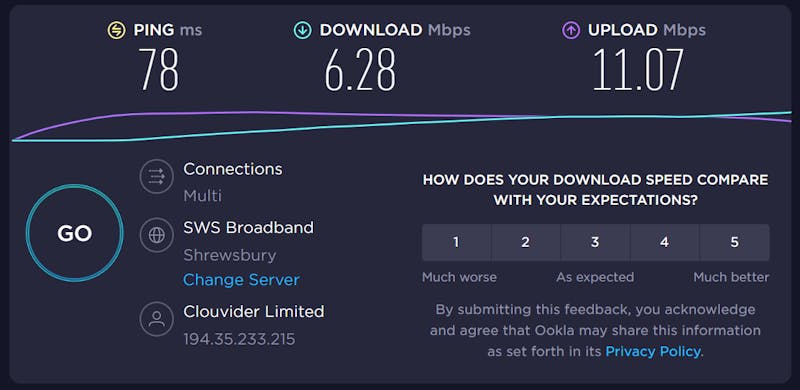 Websites such as Speedtest.net help you determine your upload and download speeds.
In most cases, you'll be able to see your upload and download speeds, as well as ping latency. High data transfer values indicate better performance; whereas ping values should be as low as possible.
Speed Tests: Not the Full Picture
The numbers yielded by speed tests only give a rough overview of your true access speed (how fast data can be transferred) since a variety of external factors influence this. That being said, speed tests may help you identify problems with your DSL connection. We recommend repeating tests at different times of the day to get a more accurate overall picture.
Network Disruptions
You can also use sites such as Downdetector.com to check if there is a disruption in your DSL provider's network. This website utilizes error reports from users, categorizing them by region. The resulting data is then displayed visually and qualitatively, which helps you easily identify any connection issues.
Wi-Fi Issues
If you're using a VPN with a wireless Internet connection such as Wi-Fi or WWAN, it's important to ensure that there's sufficient network reception and transmission; if not, you may run into slow speeds.
2.
Check Your Virus Scanner or Firewall
Virus scanners can inadvertently identify VPN connections as a threat to your PC and prevent a tunnel from being established. You can usually resolve this issue by exempting your VPN from your virus scanner's integrated firewall, or by using a VPN client that's compatible with your virus scanner.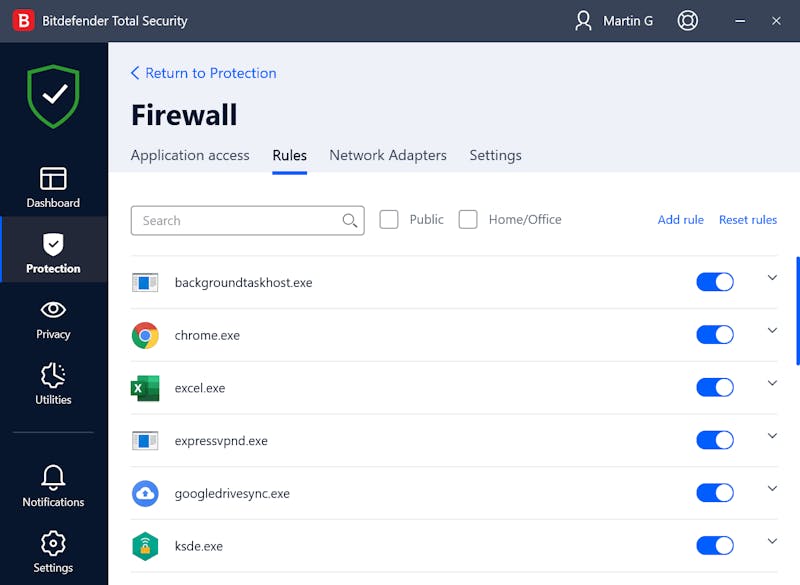 Add an exception in your firewall so that the VPN connection won't be blocked.
Many operating systems come with automatically installed and activated firewalls, which can also block access to VPN servers. To resolve this issue, manually enable your VPN service in the firewall settings.
In most cases, the firewall included in Windows automatically creates an exception for a newly installed VPN client. But if it doesn't create an exception on its own, you can manually adjust the firewall settings in Windows.
If you continue to experience slow speeds after checking your Internet connection, firewall, and virus scanner settings, restart the VPN's client to ensure that all modifications have taken effect. It's also important to avoid using multiple VPN clients simultaneously; they can influence each other and cause further disruptions.
4.
Select Another VPN Location
Bandwidths can vary depending on the server location, and servers themselves can work either faster or slower depending on their load. Therefore, it makes sense to test different servers when encountering slow VPN speeds. Luckily, VPN clients make it simple to choose from a variety of server locations.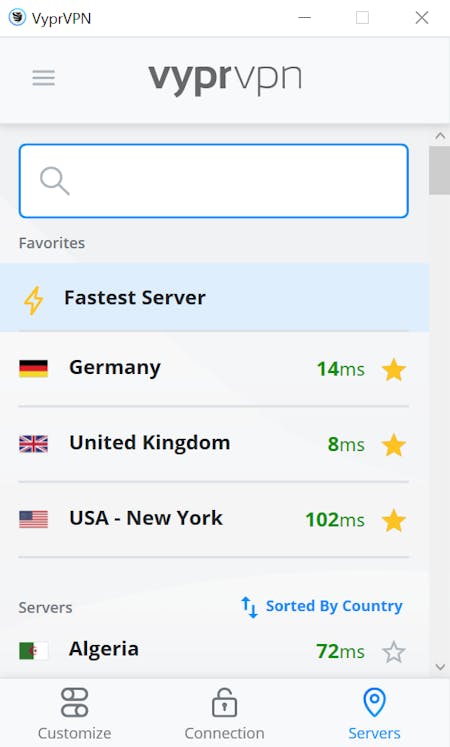 Some VPN services, such as VyprVPN, display the bandwidths of different server locations.
Some client programs even show each server's available bandwidth and load, so you can quickly switch to a faster server location.
In the case of cascading server chains (i.e. multiple consecutive VPN tunnels, which some services offer as a security feature), the highest speed correlates with that of the slowest server. Therefore, selecting a faster server instead of the slowest one in the cascade can work wonders.
5.
Reinstall the VPN Software
Outdated VPN clients are a common source of headaches when trying to establish a VPN tunnel. Be sure to check if you're using the latest version of your VPN's client; the most up-to-date software can usually be downloaded from the provider's website. You can typically find the current client's version number in the download area.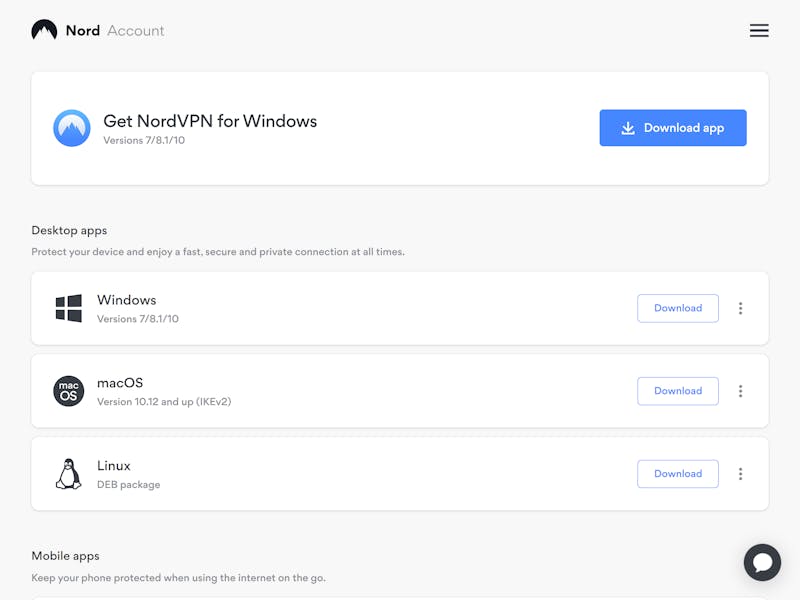 Check the VPN provider's download section to find the current version number for various apps.
After downloading the latest version, uninstall the old software and then install the new application. To be on the safe side, take screenshots of the old client's settings before uninstalling it. This will make it easy to transfer the configuration to the new client later if necessary.
You can also ensure that your operating system is up to date. Outdated operating system components can negatively affect the functionality of applications such as VPN clients.
If the above steps don't resolve the problem, you should contact your VPN service's customer support team. Customer service usually has a good understanding of difficulties related to in-house software and is especially well trained to resolve common problems. Of course, the quality of support varies from service to service, and from agent to agent.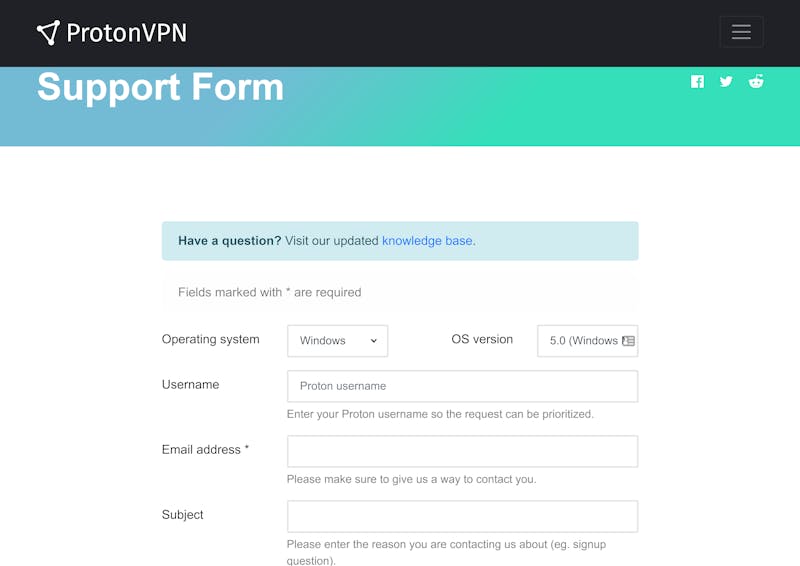 If you get stuck trying to resolve an issue yourself, contact your VPN provider's customer support team.
Most VPN providers can be contacted via email, live chat, or support form.
Use an Alternative VPN Provider — EXPERTE.com's Top 3 Picks
If the above tips fail to solve your connection issues, it's possible that your VPN service doesn't have the quality you need. In this case, you may want to look for a new provider. During our EXPERTE.com VPN comparison, we put 22 of the most popular VPN services to the test. Our team took a wide range of factors into account and checked how fast each service performed in our speed test.
We especially recommend these Top 3 providers:
NordVPN is our number one VPN because it combines speed, ease-of-use, and functionality in a slick package that's also pretty affordable.
5,500+ servers, 60 countries
affordable 2-year package
9.4

excellent
Data Volume
Devices
Protocols
Contract Period
NordVPN 2-year plan
$3.49
monthly price
Visit Website*
30 days money-back guarantee
NordVPN is our overall test winner and also took first place in our speed test. We didn't experience any problems while evaluating their service and had zero connection issues to boot. Their program offers a solid price-performance ratio with high security, user-friendly apps, and a wide range of features, including split tunneling.
Installation and Features
9.4 / 10
Security and Privacy
9.4 / 10
ExpressVPN can impress with a strong performance, a huge server network, and excellently designed applications, but this quality also comes at a higher price.
Data Volume
Devices
Protocols
Contract Period
ExpressVPN 12 Months
$8.33
monthly price
Visit Website*
30 days money-back guarantee
ExpressVPN also delivers excellent speeds. Their service scores points for a huge server network and intuitive apps that focus on the essentials. We didn't experience any connection problems while testing ExpressVPN, and content streaming was smooth. That being said, ExpressVPN is one of the most expensive VPNs on the market.
Security and Privacy
9.4 / 10
Installation and Features
8.6 / 10
Surfshark is one of the cheapest providers on the market, but it's a lot more than a great budget option: the relatively new VPN boasts strong protection, many features, and a great support with 24/7 live chat.
3,200+ servers in 100 countries
unlimited number of devices
many apps (Linux, FireTV, ...)
8.8

good
Data Volume
Devices
Protocols
Contract Period
Surfshark 24 months
$2.49
monthly price
Visit Website*
Get 83% Discount
Surfshark is on the opposite end of the price spectrum compared to ExpressVPN; their service combines low rates with powerful performance, strong features, and high security. They even keep up with their more expensive competitors when it comes to speed—Surfshark took second place in our speed test. This provider is particularly affordable, especially if you choose their 2-year package.
Installation and Features
9.4 / 10
Security and Privacy
8.0 / 10
Conclusion
While VPN software is easy to use, it may not always run smoothly or provide fast connections. From a technical perspective, VPNs are complex programs that are influenced by a number of external factors. The good news: You can quickly fix the most common problems yourself using our step-by-step guide.
However, if you've made several attempts to resolve your VPN issues and continue to have difficulties, it may be time to consider a new provider. Our EXPERTE.com VPN comparison offers detailed reviews of 22 popular programs, including our recommendations for the top services.
* Ad disclaimer:
For links marked with an asterisk, EXPERTE.com may earn a commission from the provider. The commission has no influence on our editorial rating.

Erik Bärwaldt has been working as an IT consultant for small businesses for more than two decades. In addition, he regularly publishes technical articles in various media on the topics of Linux, free software and IT security.
Continue Reading
Reviews
Comparisons
Tools & Guides