CyberGhost VPN Review 2023: Can It Be Trusted?


Ad disclaimer:
For links on this page, EXPERTE.com may earn a commission from the provider. This supports our work and has no influence on our editorial rating.
Surfing carefree and anonymously is the dream of everyone who surfs the Internet. CyberGhost, a Romanian VPN provider, brands itself "the one-click solution for your privacy needs" and 30 million people take its word. Our test shows whether this is really the case, or if CyberGhost's claims are just smoke and mirrors.
What Is CyberGhost?
CyberGhost* is a VPN service headquartered in Bucharest, which was acquired in 2017 by Kape Technologies PLC, a British cyber-security company. With the release of CyberGhost Security Suite, the provider has added a comprehensive antivirus solution to its portfolio. In this review, however, we'll only assess its VPN and related security features.
CyberGhost VPN Review
Installation and Features
8.6 / 10
Security and Privacy
6.0 / 10
User-friendly applications

Reliable video steaming on Netflix and BBC iPlayer

Competent and fast support
Security and privacy concerns
1.
Installation and Features
Seven is CyberGhost's 'lucky number': Subscriptions allow the registration of up to seven devices and the creation of seven VPN connections. This earns CyberGhost the honor of being one of the most generous VPN providers in terms of device usage and simultaneous connections.
Like most other desktop clients from our sample, CyberGhost's app can be installed on Windows, macOS, iOS, Android, or Linux with a few mouse clicks. Guides are also provided for how to connect smart TVs or routers.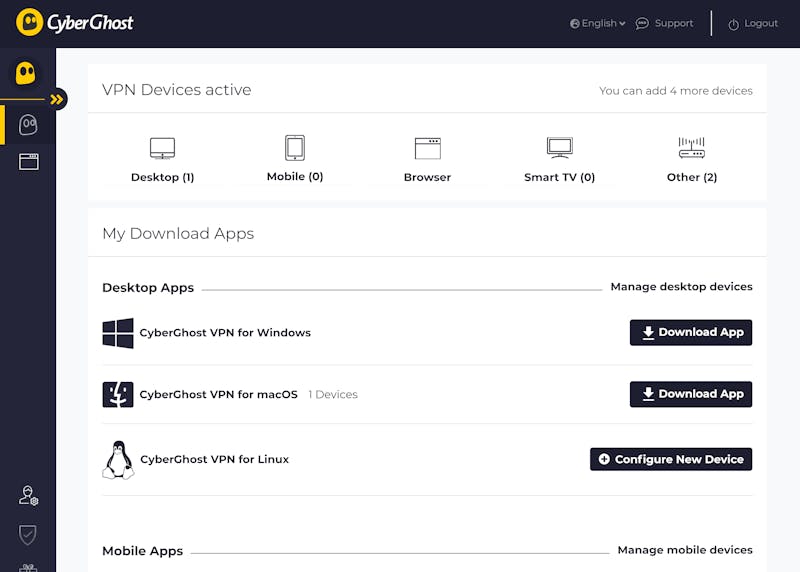 You can see all devices actively using your VPN connection and download apps for new devices of your choice in the web interface.
The 2019 release of CyberGhost's seventh edition brought many changes to the program, re-designing it to look more like its competitors. One year later, the eighth edition continued this trend, further polishing the program.
All functions in CyberGhost's smartphone app can be accessed below the large power button. When in a hurry on the go, a single tap on this button creates a VPN connection.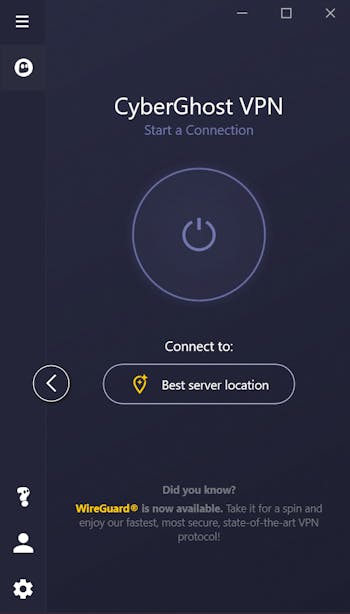 If you've ever used a VPN, you won't need long to get the hang of CyberGhost's apps.
You can select from a drop-down list of your favorite servers by clicking on 'server location' under the power button. Apart from this, all other settings and adjustments need to be made in the expanded menu. To access this, click on either the arrow symbol or the gear symbol in the sidebar.
There, you'll find a server list, which you can filter based on your favorites or other criteria, such as those that are optimized for torrenting or streaming. CyberGhost even recommends which of its servers are good for particular streaming services, such as "Netflix Japan" or "BBC iPlayer UK". During testing, video playback worked well most of the time with Netflix and BBC iPlayer, however, there were some connection issues (more on that below).
For each country and server, additional information about its distance from you, ping, and usage is displayed. Unfortunately, the last of these is often overlooked, even by the market's heavyweights, so its inclusion by CyberGhost is a nice touch.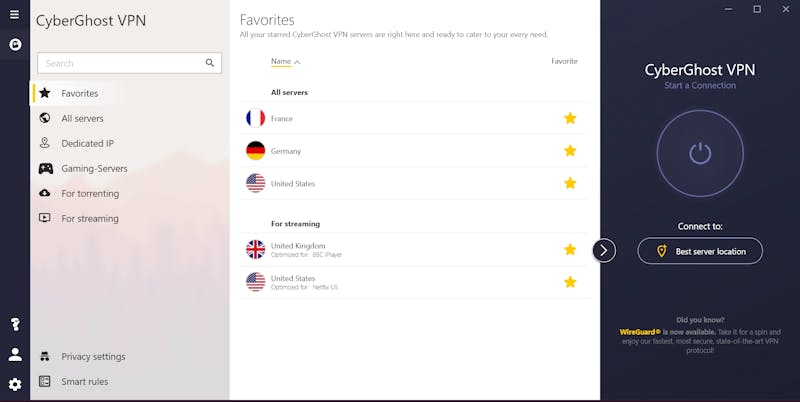 In the expanded menu, you'll be able to select from specialized servers or configure additional settings.
When it comes to settings, CyberGhost strikes a good balance between functionality and simplicity. The number of options is by no means exhaustive, however, most basic features, especially those desired from a VPN, as well as a handful of interesting extras, are included.
Under "Privacy Settings", you can find additional security tools like an ad-blocker., although, during testing, this wasn't particularly reliable. Also integrated are DNS leak protection, which obscures your browsing activity to your provider, and an automatic kill switch, that severs your connection whenever your VPN tunnel is disrupted.
By clicking on "Smart rules", you can set guidelines for the app. These include auto-start as well as the simultaneous running of other programs when you start CyberGhost. It's also possible to configure how CyberGhost interacts with unknown WLANs.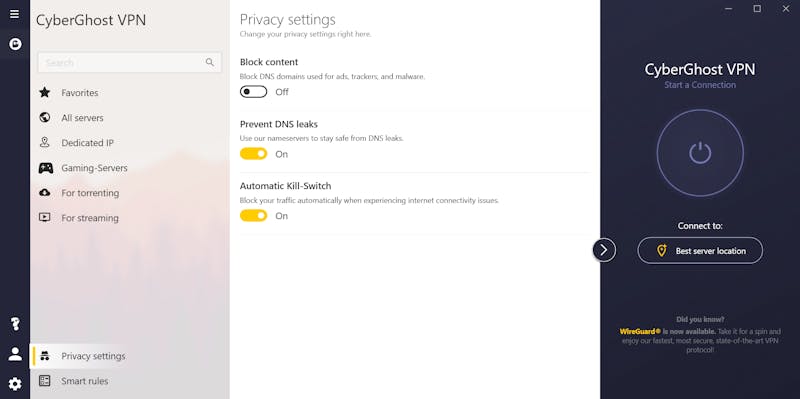 Even though both DNS leaks and the kill switch have toggles, they cannot be turned off.
CyberGhost hides its split tunneling feature under "Smart rules" in the "App Guidelines" area. There, you can select which applications use your VPN tunnel, and which should stay on your regular Internet connection. This is particularly useful when streaming content from abroad while downloading a large file at maximum speed from your location.
The provider does offer dedicated IP addresses albeit as an at-cost add-on to subscription packages.
Mobile App
As the smartphone app's design is based on that of the desktop version, it's not surprising that the iOS and Android clients look remarkably similar to one another. Tapping on the power button establishes a connection with the nearest and best server while opening the drop-down menu below allows for a server to be selected at will.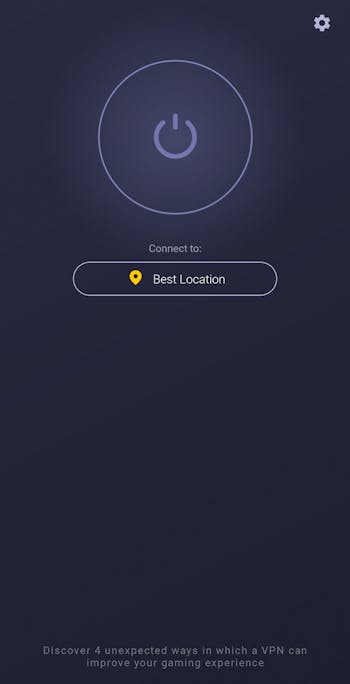 During our last review of CyberGhost (2019), we criticized the inability to change protocols in the smartphone app, however, we're happy to report that this has been fixed (more on this below). By default, protocols are set to "Auto", however. The mobile app's language cannot be changed manually, as it is based on your system's language.
Overall, CyberGhost's mobile app leaves a good impression, importing features known from the desktop client and making them intuitive to use on the go.
Installation and Features
8.6 / 10
CyberGhost possesses more than 6,600 servers across upwards of 90 countries. Most of these are located in North America and Europe, with the US and Germany well-served. The provider's global network is impressive, particularly considering its efforts in Asia and Africa, even though large parts of the latter continue to lack coverage.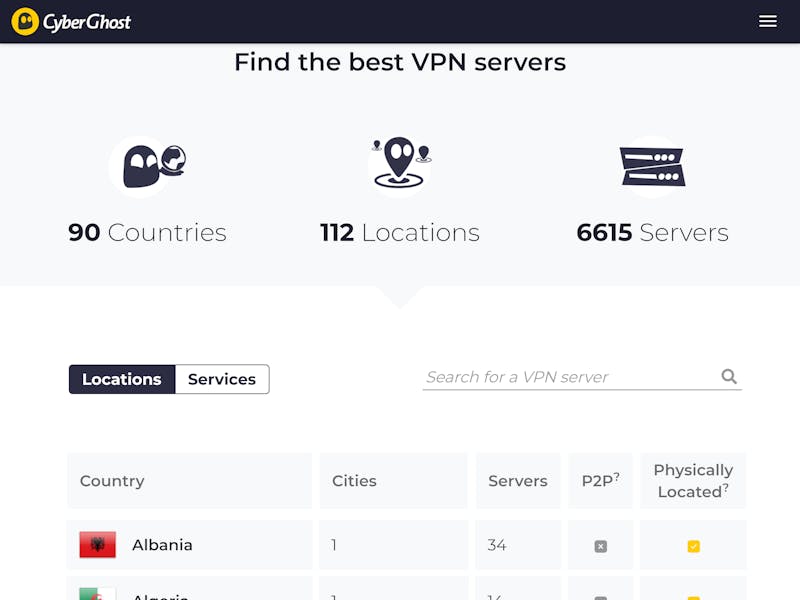 CyberGhost's number of servers and geographic spread are constantly growing.
Those areas where CyberGhost doesn't have a presence are generally the same as nearly all other providers from our sample. With that in mind, CyberGhost possesses an excellent server network.
How well VPNs perform depends on a number of factors. In addition to their speeds, it's also important to note how they hold up during regular (continuous) usage when surfing, streaming foreign content, or circumventing governmental Internet restrictions.
Speed
We assessed all VPNs from our sample using a server in Europe over a 1 GB/s connection. Random CyberGhost servers in the US and Germany were connected to throughout the day in order to evaluate their performances. More information about our methodology can be found in our VPN speed test.
The table below displays the average results from the last 365 days, arranged in order of download and upload speed (descending):
1.
2.
3.
4.
5.
6.
7.
8.
9.
10.
11.
12.
13.
14.
15.
16.
17.
18.
19.
20.
During testing, CyberGhost clocked a download speed of 118.6 MB/s and an upload speed of 18.4 MB/s, consigning it to fifteenth place in our speed ranking. Even though these numbers are quite a way off from the podium, they are solid.
The diagram below shows CyberGhost's average speeds over the past months.
CyberGhost VPN
ExpressVPN
hide.me VPN
HideMyAss! VPN
Hotspot Shield VPN
IPVanish VPN
Mullvad VPN
NordVPN
Private Internet Access
PrivadoVPN
PrivateVPN
Proton VPN
PureVPN
TorGuard VPN
TunnelBear VPN
VeePN
VPN Unlimited
VyprVPN
Windscribe VPN
ZenMate VPN
Monat
Download
Upload
12/22
December 2022
Download: 134.9 Mbit/s 134.9
Mbit/s
December 2022
Upload: 18.6 Mbit/s
1/23
January 2023
Download: 136.2 Mbit/s 136.2
Mbit/s
January 2023
Upload: 19.9 Mbit/s
2/23
February 2023
Download: 134.2 Mbit/s 134.2
Mbit/s
February 2023
Upload: 19.0 Mbit/s
3/23
March 2023
Download: 144.9 Mbit/s 144.9
Mbit/s
March 2023
Upload: 18.2 Mbit/s
4/23
April 2023
Download: 138.5 Mbit/s 138.5
Mbit/s
April 2023
Upload: 17.9 Mbit/s
5/23
May 2023
Download: 133.0 Mbit/s 133.0
Mbit/s
May 2023
Upload: 17.2 Mbit/s
6/23
June 2023
Download: 135.0 Mbit/s 135.0
Mbit/s
June 2023
Upload: 17.7 Mbit/s
7/23
July 2023
Download: 127.9 Mbit/s 127.9
Mbit/s
July 2023
Upload: 17.8 Mbit/s
8/23
August 2023
Download: 130.6 Mbit/s 130.6
Mbit/s
August 2023
Upload: 18.4 Mbit/s
9/23
September 2023
Download: 126.8 Mbit/s 126.8
Mbit/s
September 2023
Upload: 17.7 Mbit/s
10/23
October 2023
Download: 126.0 Mbit/s 126.0
Mbit/s
October 2023
Upload: 16.8 Mbit/s
11/23
November 2023
Download: 136.8 Mbit/s 136.8
Mbit/s
November 2023
Upload: 16.5 Mbit/s
12/23
December 2023
Download: 139.4 Mbit/s 139.4
Mbit/s
December 2023
Upload: 19.1 Mbit/s
Surfing
The service was less consistent during surfing than its speed test numbers had suggested. At times, everything was fine and we benefited from good upload and download speeds. On other occasions, we could establish connections, but with nowhere near the kind of speeds we had reached previously, even though we weren't taxing the connection. More than once, we were completely unable to connect to a VPN server.
Streaming
CyberGhost didn't have any difficulty granting us access to foreign Netflix, Amazon Prime, or BBC iPlayer content. Disney+ was more of a challenge, as it prevented us from streaming videos from abroad. On some occasions, owing to the speed issues noted above, even when we could connect to such services, we were unable to watch content.
Overall, CyberGhost's performance was better on paper than in actual use. Speeds were decent most of the time, however, the connection issues dampened our overall experience.
In addition to the usual selection of protocols (OpenVPN and IKEv2), CyberGhost also offers WireGuard. This state-of-the-art protocol provides cutting-edge encryption, guaranteeing high security. PTPP is no longer supported. Android users can select between OpenVPN and WireGuard, whereas for iOS devices, IKEv2 and WireGuard are supported. Connections are encrypted using AES 256, which offers maximum security.
CyberGhost is based in Romania, a country that belongs neither to the Five or Fourteen Eyes intelligence-sharing agreements. On both CyberGhost's website, as well as through its support staffers, we have been guaranteed that no logs are saved, however, the service's last independent audit (through QSCert) was in March 2012. As such, we have to take the provider at their word and trust their annual transparency report.
Further complicating the situation is that CyberGhost's parent company (Kape Technologies PLC, earlier, Crossrider PLC) was accused of spreading malware in 2018, and as an ad tech company, generates revenue by monetizing data. This doesn't necessarily implicate CyberGhost, however, contradictory corporate philosophies between parent and subsidiary certainly don't generate much confidence either.
At the end of the day, in the world of VPNs, trust is an absolute necessity.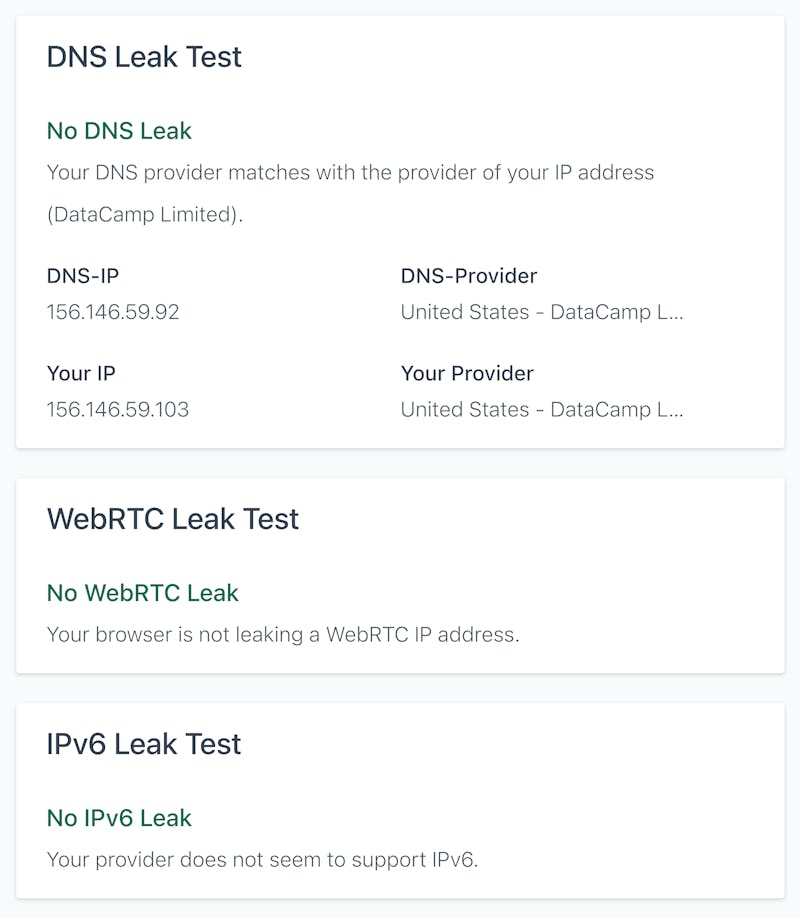 CyberGhost passed all of our leak tests without issue.
Back to the positives: CyberGhost passed our VPN leak tests (IPv6, DNS, and WebRTC) without breaking a sweat. As mentioned above, the kill switch cannot be toggled off and is always engaged for security reasons. All security features that we look for in a VPN are present.
On paper, CyberGhost does everything right, however, the significant amount of time since its last independent audit, coupled with its parent company's corporate mission makes us skeptical.
Security and Privacy
6.0 / 10
CyberGhost's customer support can be reached via a contact form offered in several languages (English, German, Romanian, and French) as well as through live chat. Our queries were quickly answered, however, when we asked about the company's data storage practices, the support personnel we spoke with were clearly overwhelmed. Both of our test emails to the support team were answered within an hour.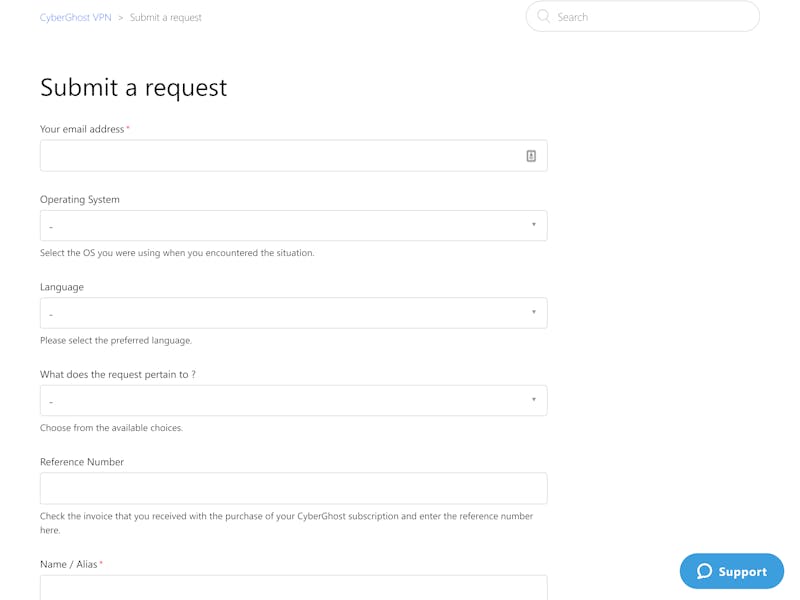 Like nearly every other VPN provider, CyberGhost only becomes 'cheap' if agreeing to a long-term subscription. The 3-year contract has a monthly cost which is 80% less than the monthly rate. Two-year contracts are also available. A dedicated IP address can be purchased for $5 per month.
A current price list for CyberGhost can be found below:
2 Years
6 months
1 Month
Set-up Fee
$0.00
$0.00
$0.00
Monthly Price
$2.37
$6.99
$12.99
Contract Period (Months)
24
12
1
Limits
Data Volume
unlimited
unlimited
unlimited
Number of Devices
7
7
7
Features
Number of Servers
9,600
9,600
9,600
Number of Countries
91
90
90
No Server Logs
P2P Allowed
Tor Access
Kill Switch
Protocols

OpenVPN

WireGuard

PPTP

SOCKS5

IKEv2

IPSec

L2TP

OpenVPN

PPTP

SOCKS5

IKEv2

IPSec

L2TP

OpenVPN

PPTP

SOCKS5

IKEv2

IPSec

L2TP
Should you want to try CyberGhost before buying, you can test out the service for free for an entire day.
Subscriptions can be paid by PayPal, credit cards, and cryptocurrencies.
Conclusion
Installation and Features
8.6 / 10
Security and Privacy
6.0 / 10
There are a number of positives worth mentioning in regard to CyberGhost: Its server network is excellent, its applications are elegant and user-friendly, and its support is commendable. During our speed test, CyberGhost put up decent numbers, however, when surfing with the service, we ran into some connection issues.
Especially in terms of anonymity and privacy, CyberGhost would help dispel the concerns surrounding its parent company by submitting to an external security audit. For anyone that values security and transparency, there are better VPN providers, however, if these aren't important to you, you could be very happy with CyberGhost.
CyberGhost offers a lot of bang for the buck, especially in the 2-year plan. It has lots of features, even more servers, and quick support including live chat. We had occasional performance issues, however.
7 simultaneous connections
fast support with live chat
7.8

good
Data Volume
Devices
Protocols
Contract Period
CyberGhost 2 Years
$2.37
monthly price
Visit Website*
45 days money-back guarantee
Customer Ratings
In the aggregated reviews that we analyzed, CyberGhost performed rather well: Its many features and user-friendliness came in for particular praise. Some users reported occasional instability.
Customer Ratings
216,849 Bewertungen
Visit Website*
We analyzed the reviews and ratings from various portals and found 216,849 ratings with an overall rating of 4.2 out of 5 .
Alternatives
Should CyberGhost's performance frighten you, there are alternatives that did better in both our speed test and performance evaluation. First place in our overall VPN ranking went to NordVPN, which combines speed, user-friendliness, and a variety of features in a strong package. You can find an in-depth comparison between the two providers here: CyberGhost vs. NordVPN
If you're looking to start out with a free VPN and are willing to accept some deficits in terms of performance, Windscribe might be an option worth exploring.
You can find the best CyberGhost Alternatives below:
NordVPN is our number one VPN because it combines speed, ease-of-use, and functionality in a slick package that's also pretty affordable.
5,500+ servers, 60 countries
affordable 2-year package
9.4

excellent
Data Volume
Devices
Protocols
Contract Period
NordVPN 2-year plan
$3.79
monthly price
Visit Website*
30 days money-back guarantee
ExpressVPN can impress with a strong performance, a huge server network, and excellently designed applications, but this quality also comes at a higher price.
Data Volume
Devices
Protocols
Contract Period
ExpressVPN 12 Months
$6.67
monthly price
Visit Website*
30 days money-back guarantee
With its open source philosophy and extra security features, Proton VPN targets security-conscious VPN users. But thanks to its user-friendly interface and suitability for streaming, it's worth a look for a wide audience.
open source & external audits
2,900+ servers in 67 countries
free plan without data limit
9.1

excellent
Data Volume
Devices
Protocols
Contract Period
Proton VPN Free
$0.00
monthly price
Visit Website*
Free forever
Surfshark is one of the cheapest providers on the market, but it's a lot more than a great budget option: the relatively new VPN boasts strong protection, many features, and a great support with 24/7 live chat.
3,200+ servers in 100 countries
unlimited number of devices
many apps (Linux, FireTV, ...)
8.8

good
Data Volume
Devices
Protocols
Contract Period
Surfshark 24 months
$1.99
monthly price
Visit Website*
Get 83% Discount
HideMyAss' main claim to fame is its impressive server infrastructure, but the VPN also delivers solid speeds and handy features like its IP Randomizer. When it comes to streaming, however, it's not always the most reliable choice.
Data Volume
Devices
Protocols
Contract Period
HideMyAss! 36 months
$2.99
monthly price
Visit Website*
30 days money-back guarantee
* Ad disclaimer:
For links marked with an asterisk, EXPERTE.com may earn a commission from the provider. The commission has no influence on our editorial rating.

Martin Gschwentner majored in American Studies and Media Studies in Germany, the USA and France and works as a freelance editor in Paris. He is a doctoral student at the Institute for English and American Studies at the University of Paris Diderot, where he is researching the influence of money on US politics. On EXPERTE.com he writes about IT security, data protection and software for the self-employed and small businesses.

Translation: D Bare
Continue Reading
Reviews
Comparisons
Tools & Guides