VPN
NordVPN Review 2022: Our Best Overall
Only a handful of VPN providers are familiar to the general public, among which NordVPN is arguably that with the greatest name recognition. Its name evokes Sweden or Finland, and its logo, showing a snowy mountain peak, only reinforces this. However, imagining a Scandinavian company like Ikea or Volvo could hardly be further off...

NordVPN is a VPN provider headquartered in Panama. This is with good reason, as will be discussed in greater detail below in the "Security and Privacy" section. In the competitive world of VPN providers, NordVPN is undoubtedly one of the heavyweights, if not an outright favorite. But is this popular reputation deserved? Keep reading to find out.
Installation and Features
4.7 / 5
Security and Privacy
4.7 / 5
Elegant app featuring an interactive world server map
Extra features like server categories and CyberSec
The server network could cover more countries
2.
Installation and Features
NordVPN's registration and installation are straightforward, so much so that within a matter of minutes the entire process can be completed. In the user menu, you can view and download all available apps. Installation guides for routers can be found in the support area.
In addition to applications for Windows, macOS, Linux, Android, and iOS, NordVPN also offers browser extensions for Google Chrome and Mozilla Firefox, as well as an app for Android TV.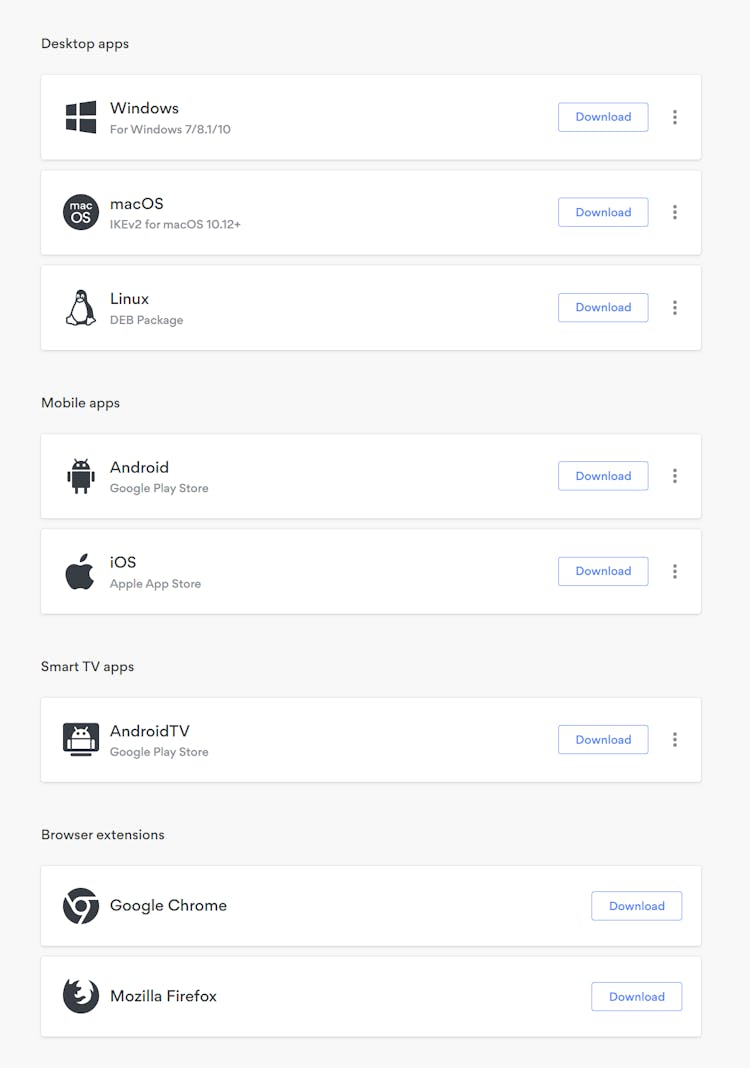 NordVPN provides apps for all of the most popular operating systems.
After selecting and downloading a client, you'll be forwarded to NordVPN's website, to log in with your username and password. Here, you can enable the service's VPN features.
The most striking feature of the app's control panel is its scrollable and zoomable world map, providing users with a clear overview of the server locations they are using, or those which are available to connect to. The program's interface is clean and organized. The user interface is divided into two columns. On the right is the interactive world map, while on the left, a menu bar lists countries, server categories, and the most-recently-used servers.
To connect to a VPN, simply click on one of the locations on the world map, after which you will be forwarded to the fastest server in the country. Through the menu bar's search function, both the country and server can be manually selected. There is also a 'quick connect' feature, which automatically connects you to the fastest server.
The only things missing are the ability to mark servers as favorites or to gauge ping in-app, as the provider lacks an integrated speed test.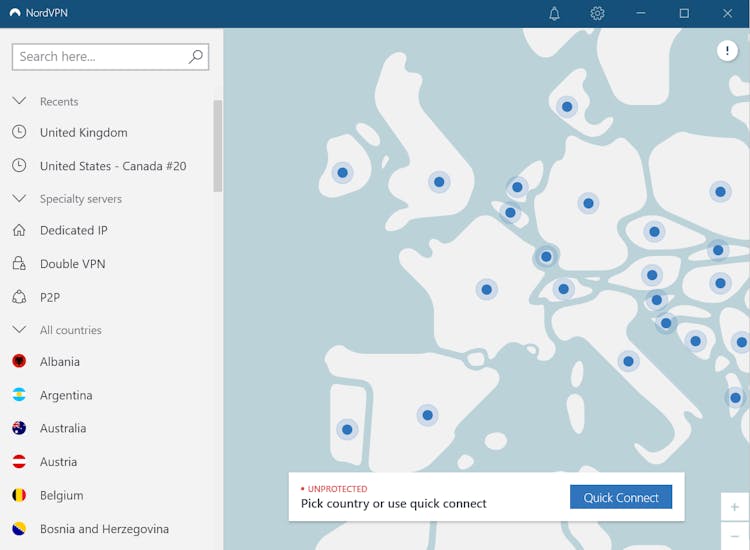 You can select a server either from the list on the left, or by clicking on one of the blue circles on the map.
At the top of the menu bar, a number of switches can be toggled 'on' or 'off', changing the program's settings. Along with important features like a kill switch, the program also possesses an integrated ad-blocker and anti-malware program, known as CyberSec, which can also be activated here.
Split tunneling, which allows for you to decide which apps and services use your VPN tunnel (and which don't), is also available. This makes it possible, for example, to watch a movie in your browser over the VPN connection without affecting a download taking place in the background using another program.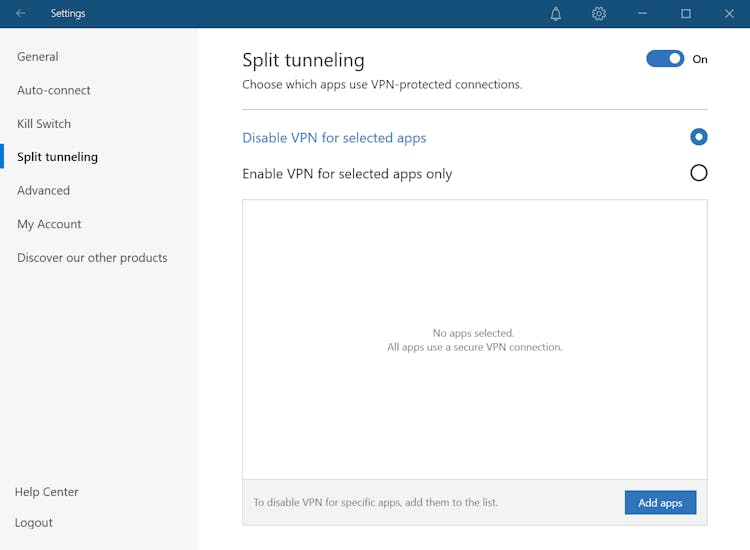 Split tunneling is offered at the app-, but not the IP level.
NordVPN's "specialty servers", optimized for specific purposes, are one of the provider's unique selling points. At the moment, five of these exist and are:
P2P: Servers designed for peer-to-peer platforms like BitTorrent;
Dedicated IP: Servers that provide constant IP addresses for a single user;
Double VPN: Connections which are established through two servers at the same time, for enhanced security;
Onion Over VPN: Servers that connect to the Tor network, for greater anonymity;
Obfuscated: Concealed servers designed to circumvent VPN blocks.
Double VPN, Dedicated IP, and Obfuscated servers can only be used with the OpenVPN protocol. Should none of these appear in your server list, go to Settings > Connect Automatically and turn off Automatic VPN Protocol Selection. After that, select OpenVPN.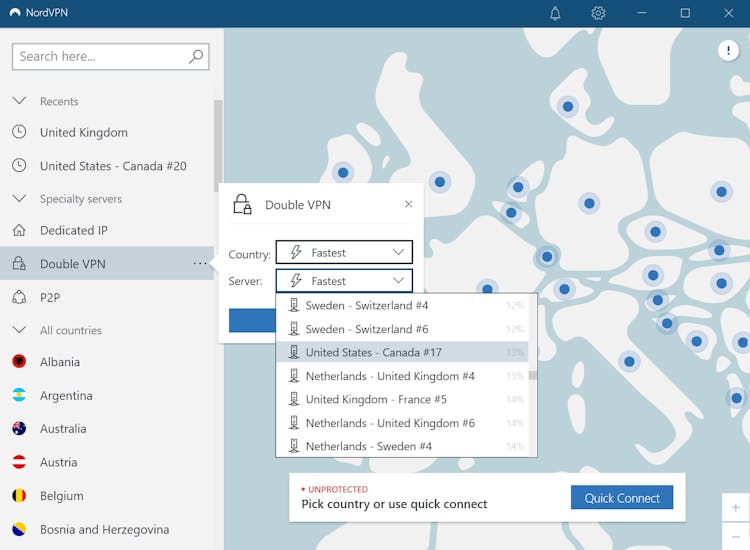 Double VPN servers simultaneously create two VPN tunnels.
Mobile App
We tested NordVPN's mobile app for Android, however, an iOS version also exists. Like the desktop client, the world map is also the focus of attention in the mobile app. Servers can be selected either by clicking on a location on the map, choosing from the list of countries, or the quick-connect feature.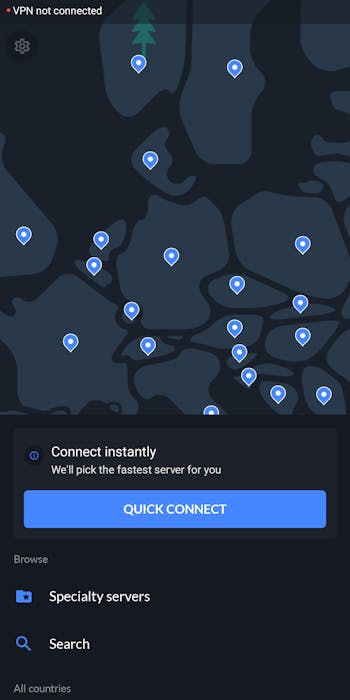 NordVPN's smartphone app provides nearly the same functionality as its desktop client.
For all intents and purposes, NordVPN's smartphone app offers the same features as its desktop client. Android users can take advantage of tapjacking protection, which warns against unintended disruptions to your connection, whether malevolent or simply accidental.
So far as features and appearance are concerned, NordVPN deservedly tops a number of 'best-of' lists: Its applications are elegant and user-friendly, include extra features like server categories and CyberSec, and mobile users can look forward to a highly intuitive experience. The world map design is a matter of preference: We liked the visualization of our connection's 'journey', however, other users may prefer the more spacious, minimalist design offered by other providers.
Our only issues were the inability to mark favorite servers, or to assess their speeds, either in the server list itself or through an integrated in-app speed test.
Score: 4.7 / 5
NordVPN has a network of more than 5,413 servers across 59 countries and is constantly expanding. Among VPN providers, NordVPN is one of the market's heavyweights, however, the number of servers it has, rather than how they are geographically distributed, seems to be the highlight. As is the case with most of its competitors, the majority of NordVPN's servers are located in either North America or Europe, with relatively few elsewhere.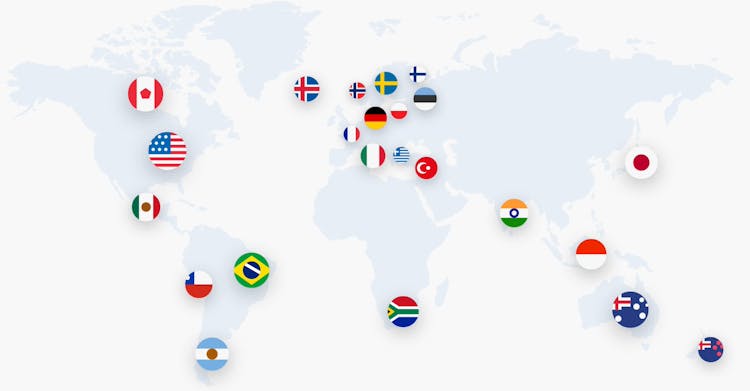 Only Cyberghost and PureVPN offer more servers than NordVPN.
In Asia and Australia, as well as Central and South America, NordVPN has a number of servers, while in Africa the only coverage is provided in South Africa. This is nothing out of the ordinary, as hardly any VPN providers offer better coverage in Africa.
Numerically speaking, the size of NordVPN's server network is impressive, however, some of its competitors offer better geographic coverage in areas where NordVPN lacks a presence.
Score: 4.7 / 5
The speed of all VPNs which we tested was evaluated using a server in Europe with a 1 GB/s connection. We assessed random NordVPN servers in the US and Germany at different times of the day to more accurately gauge their speeds and performance. More information concerning our methodology can be found in our VPN speed test.
The table below shows the average results from the last 365 days, arranged in order of download and upload speed (descending).
1.

195.7 Mbit/s

Download

42.8 Mbit/s

Upload

2.

191.6 Mbit/s

Download

42.8 Mbit/s

Upload

3.

198.6 Mbit/s

Download

18.4 Mbit/s

Upload

4.

174.6 Mbit/s

Download

41.8 Mbit/s

Upload

5.

167.3 Mbit/s

Download

16.1 Mbit/s

Upload

6.

153.7 Mbit/s

Download

27.4 Mbit/s

Upload

7.

160.7 Mbit/s

Download

16.0 Mbit/s

Upload

8.

153.4 Mbit/s

Download

22.0 Mbit/s

Upload

9.

156.0 Mbit/s

Download

19.2 Mbit/s

Upload

10.

155.9 Mbit/s

Download

15.1 Mbit/s

Upload

11.

113.0 Mbit/s

Download

41.5 Mbit/s

Upload

12.

129.8 Mbit/s

Download

18.4 Mbit/s

Upload

13.

108.8 Mbit/s

Download

38.0 Mbit/s

Upload

14.

126.0 Mbit/s

Download

18.8 Mbit/s

Upload

15.

118.6 Mbit/s

Download

18.5 Mbit/s

Upload

16.

108.2 Mbit/s

Download

16.9 Mbit/s

Upload

17.

81.7 Mbit/s

Download

43.0 Mbit/s

Upload

18.

82.8 Mbit/s

Download

38.9 Mbit/s

Upload

19.

104.4 Mbit/s

Download

12.3 Mbit/s

Upload

20.

97.6 Mbit/s

Download

12.8 Mbit/s

Upload
When the test was conducted, NordVPN clocked a download speed of 195.6 MB/s and an upload speed of 42.9 MB/s, taking pole position in our ranking, followed closely by Surfshark and Mullvad VPN. Nearly every VPN service promises high speeds - NordVPN actually keeps its word.
The chart below shows NordVPN's average speeds over the past months.
CyberGhost VPN
ExpressVPN
hide.me VPN
HideMyAss! VPN
Hotspot Shield VPN
IPVanish VPN
Mullvad VPN
NordVPN
Private Internet Access
PrivadoVPN
PrivateVPN
ProtonVPN
PureVPN
Surfshark VPN
TorGuard VPN
TunnelBear VPN
VeePN
VPN Unlimited
VyprVPN
Windscribe VPN
ZenMate VPN
Monat
Download
Upload
12/21
December 2021
Download: 205.2 Mbit/s
December 2021
Upload: 52.2 Mbit/s
1/22
January 2022
Download: 206.1 Mbit/s
January 2022
Upload: 51.1 Mbit/s
2/22
February 2022
Download: 201 Mbit/s
February 2022
Upload: 51.9 Mbit/s
3/22
March 2022
Download: 216.9 Mbit/s
March 2022
Upload: 53.3 Mbit/s
8/22
August 2022
Download: 168.7 Mbit/s
August 2022
Upload: 40.7 Mbit/s
9/22
September 2022
Download: 177.6 Mbit/s
September 2022
Upload: 40.2 Mbit/s
10/22
October 2022
Download: 198.2 Mbit/s
October 2022
Upload: 38.9 Mbit/s
11/22
November 2022
Download: 195.1 Mbit/s
November 2022
Upload: 38.3 Mbit/s
12/22
December 2022
Download: 201.2 Mbit/s
December 2022
Upload: 43.7 Mbit/s
However, there's much more to performance than just speed. In order to find out how NordVPN fared in day-to-day usage, and whether was representative of something more, we tested the VPN for an entire day, confirming our excellent first impression. Speeds were high, connections were stable, and typical problems, like captchas when performing searches with Google, didn't manifest.
We were also able to rely on NordVPN's tunnel for discrete video streaming from abroad, allowing us to enjoy Netflix, Amazon Prime Video, Disney+, and BBC iPlayer content without interruption.
If planning to visit China, NordVPN looks to be a trustworthy companion, however, you will have to pay attention to a few settings. To successfully connect, you'll need to select and use the proprietary NordLynx protocol.
In sum, NordVPN excels when it comes to performance.
Score: 5 / 5
The selection of VPN protocols offered by NordVPN is not particularly large, with support for L2TP/IPsec and PPTP stopped at the end of 2018. NordVPN seems to follow the times, meaning that some protocols will inevitably no longer be considered 'in'.
The WireGuard-based NordLynx protocol is activated by default, however, you can switch to OpenVPN if you prefer. Those who want more options, particularly considering how easy changing protocols is with other VPN providers, will be disappointed with NordVPN's lack of variety. For the overwhelming majority of NordVPN users, however, this should not be a significant or even noticeable drawback.
Where NordVPN does offer an overabundance of variety is In regard to security features: The different server categories alone set NordVPN a class above for every security-focused VPN user.
The program passed our various VPN leak tests for IPv6, DNS, and WebRTC with flying colors.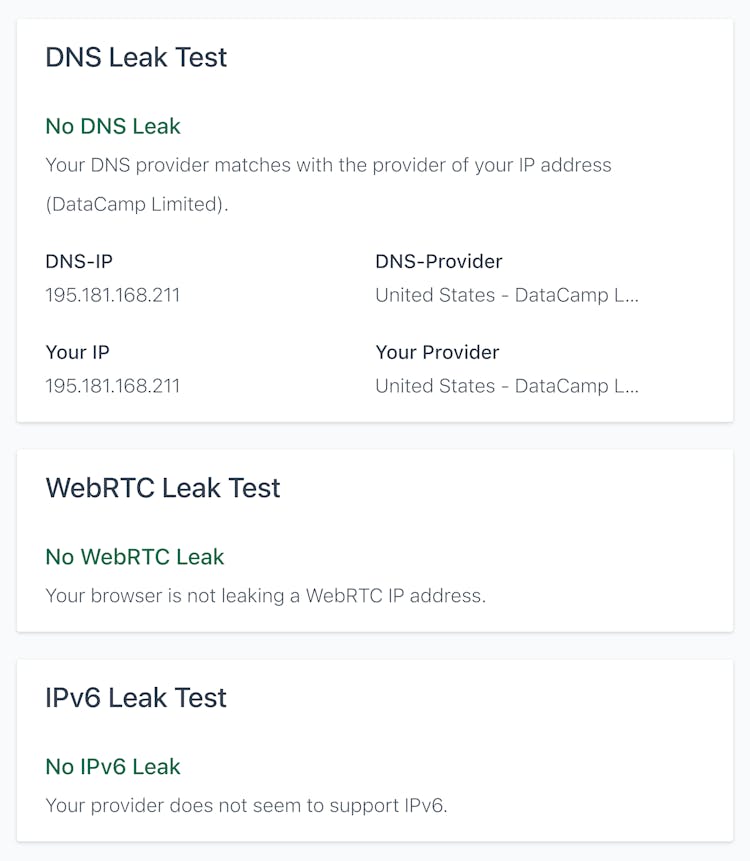 No leaks were identified during our test.
As a company, NordVPN promises a strict "No-Logs" policy. NordVPN's incorporation in Panama plays a major role in this, as data storage is not legally mandated in that country. Certain data such as your email address or payment method are saved by NordVPN, however, data relating to your identity isn't. You don't have to take NordVPN's word for it either, as according to an external audit conducted by PwC in 2020, the company adheres to its policy.
Based in Panama, offering plenty of security tools, providing secure protocols, and submitting voluntarily to external audits means that NordVPN does pretty much everything right when it comes to security. The only issue we encountered was that some users might wish for a greater selection of protocols.
Score: 4.7 / 5
Should you be unable to find an answer to your question in the help center, the NordVPN support team can be contacted by email or live chat. During our tests, live chat queries were answered by a support team member in under a minute. We received an answer to our email within around 12 hours.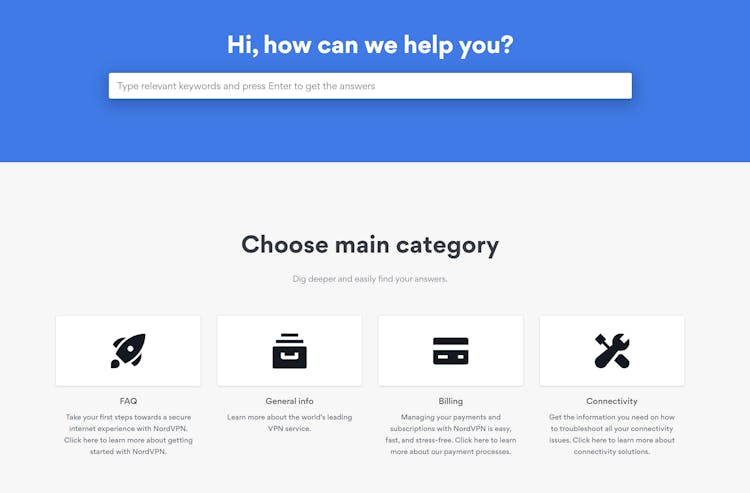 When it comes to support, NordVPN scores owing to its fast response times and live chat.
The support team staffers we chatted with were friendly and engaged, even if they weren't able to answer our questions immediately.
Score: 4.7 / 5
How much you pay for NordVPN depends upon the length of your contract/subscription. If signing on for a two-year subscription, you'll pay relatively little per month, however, if using the service on a month-by-month basis, you'll end up paying three times as much for the same features. An up-to-date price list can be found in the table below:
2-year plan
1 year plan
1-month plan
Pricing
Set-up fee
$0.00
$0.00
$0.00
Effective monthly price
$2.99
$4.49
$11.99
Contract period (months)
24
12
1
Limits
Data volume
unlimited
unlimited
unlimited
Number of Devices
6
6
6
Features
Number of servers
3,400
3,400
3,400
Number of countries
60
60
60
No server logs
P2P allowed
Tor access
Kill Switch
Protocols

OpenVPN

WireGuard

SSTP

SOCKS5

IKEv2

OpenVPN

WireGuard

SSTP

SOCKS5

IKEv2

OpenVPN

WireGuard

SSTP

SOCKS5

IKEv2
NordVPN's longer subscriptions, such as its two-year plan, are real bargains, especially when compared to those offered by its competitors. Should you not be satisfied for any reason, NordVPN also offers a 30-day, money-back guarantee.
Payment can be made with credit cards, PayPal, Amazon Pay, Google Pay, Apple Pay, or cryptocurrencies. Cancelling your NordVPN subscription can be easily done via the web interface.
Installation and Features
4.7 / 5
Security and Privacy
4.7 / 5
NordVPN rightly tops numerous lists of VPN providers, offering speed, user-friendliness, and a wide variety of functions at a relatively affordable price.
When we first reviewed the service, it lacked split tunneling, however, we're happy that since then, this feature has been integrated. As such, NordVPN is definitely one of the best all-rounders in the VPN market.
5400+ servers, 60 countries
Inexpensive 2-year package
NordVPN combines speed, user-friendliness and functionality into a coherent overall package that is also fairly affordable.
Data volume
Devices
Protocols
Contract Period
NordVPN 2-year plan
$2.99
monthly price
Visit Website »
30 days money-back guarantee
In most review aggregators that we examined, NordVPN received very good ratings. Only Trustpilot broke with this consensus, with some users there criticizing its slow speed and app issues. Interestingly, Trustpilot identified a "large number of fake reviews" targeting the product, subsequently removing them. We were unable to ascertain whether, and to which extent these impacted user ratings for NordVPN.
Review
694,416 Ratings
good
We analyzed the reviews and ratings from various portals and found 694,416 ratings with an overall rating of 4.5 out of 5 .
Show sources
160 cities in 94 countries
30-day money-back guarantee
ExpressVPN impresses with strong performance, a huge server network and excellently designed applications, but this quality also comes at a higher price.
Data volume
Devices
Protocols
Contract Period
ExpressVPN 12 Months
$8.33
monthly price
Visit Website »
30 days money-back guarantee
3200+ servers in 65 countries
Unlimited number of devices
Many apps (Linux, FireTV, ...)
Very cheap on the 24-month plan
Surfshark is one of the cheapest providers on the market, but besides the price also impresses with strong protection, many features and a great support with 24/7 live chat.
Data volume
Devices
Protocols
Contract Period
Surfshark 24 months
$2.49
monthly price
Visit Website »
Get 83% Discount
1200+ servers in 55 countries
Headquarters in Switzerland
Open Source & external audits
Data volume
Devices
Protocols
Contract Period
ProtonVPN Free
$0.00
monthly price
Visit Website »
30 days money-back guarantee
290 locations in 210 countries
Data volume
Devices
Protocols
Contract Period
HideMyAss! 36 months
$2.99
monthly price
Visit Website »
30 days money-back guarantee
What is NordVPN?
NordVPN is a Virtual Private Network (VPN) provider headquartered in Panama, offering clients for Windows, macOS, Linux, Android, and iOS. It is one of the leading VPN services, combining high performance, a wide variety of features, affordability, and user-friendliness in a single package.
How does NordVPN work?
NordVPN encrypts your data traffic, securely masking your IP address by creating a virtual 'tunnel' between you and your internet provider. When a VPN connection is used, your internet traffic is anonymous: Neither your internet provider nor third parties can see or evaluate your data in any way. VPNs can also help bypass geo-blocks, granting access to streaming content from anywhere or circumventing censorship and repressive internet laws.
How secure is NordVPN?
NordVPN is considered to be very secure: It uses the OpenVPN protocol which is considered to be the gold standard. Additionally, the company adheres to a strict "no logging" policy. This was confirmed through an independent audit last conducted in 2020 by PwC. Apart from that, the company is headquartered in Panama, a country where no legal requirement to save data exists, and provision to foreign governments is relatively rare. NordVPN passed DNS- and IP-leak tests with flying colors.
How good is NordVPN?
In EXPERTE.com's test, NordVPN received a very good score of 4.7 / 5 and is considered to offer the best price-performance ratio among all of the VPN providers we tested. The comparably inexpensive VPN service offers an excellent package of features and services while being both fast and intuitive.
What data does NordVPN store?
NordVPN promises that it only stores its users' email addresses and payment information. This "No-Logs" policy has been confirmed by an independent audit.
How many devices can NordVPN support?
Up to 6 devices can be simultaneously connected using NordVPN. Should you have more devices and wish to connect with the same server, different VPN protocols must be selected for the connection.

Author (German Version): Martin Gschwentner
Martin Gschwentner majored in American Studies and Media Studies in Germany, the USA and France and works as a freelance editor in Paris. He is a doctoral student at the Institute for English and American Studies at the University of Paris Diderot, where he is researching the influence of money on US politics. On EXPERTE.com he writes about IT security, data protection and software for the self-employed and small businesses.

Translator & Editor: D Bare