Mozilla VPN Review 2023: What Can the VPN From the Firefox Creators Do?

Ad disclaimer:
For links on this page, EXPERTE.com may earn a commission from the provider. This supports our work and has no influence on our editorial rating.
When you hear "Mozilla", chances are that you'll immediately think of Firefox, the well-known browser. However, the software development company actually offers an entire range of products and services. These include Thunderbird, an email client, SeaMonkey, a free and open-source Internet suite, and since 2019, a VPN. In this review, we'll let you know what the last of these is capable of.
What Is Mozilla VPN?
Mozilla VPN* is an open-source VPN offered by Mozilla. In 2019, the software's beta version was released as a browser extension under the name "Firefox Private Network". By the middle of 2020, Mozilla VPN, a standalone program, was launched, encompassing Windows, macOS, Linux, Android, and iOS apps.
We assessed Mozilla VPN for Windows and Android.
Mozilla VPN Review
Security and Privacy
9.4 / 10
Installation and Features
7.4 / 10
User-friendly app that includes the most important features

Allowed access to Disney+ and BBC iPlayer content from abroad...
...but not from Netflix or Amazon Prime Video

No quick-connect feature; not possible to mark favorite servers

Usage limited to five devices

Very small server network
1.
Installation and Features
Setting up Mozilla VPN is fairly straightforward. As no free version of the software is available, you'll start by selecting a subscription plan and creating a Mozilla account. After that, download the correct app for your operating system. Once installed, you'll be prompted to link it with your Mozilla account. Overall, within just a matter of minutes, you should be up and running.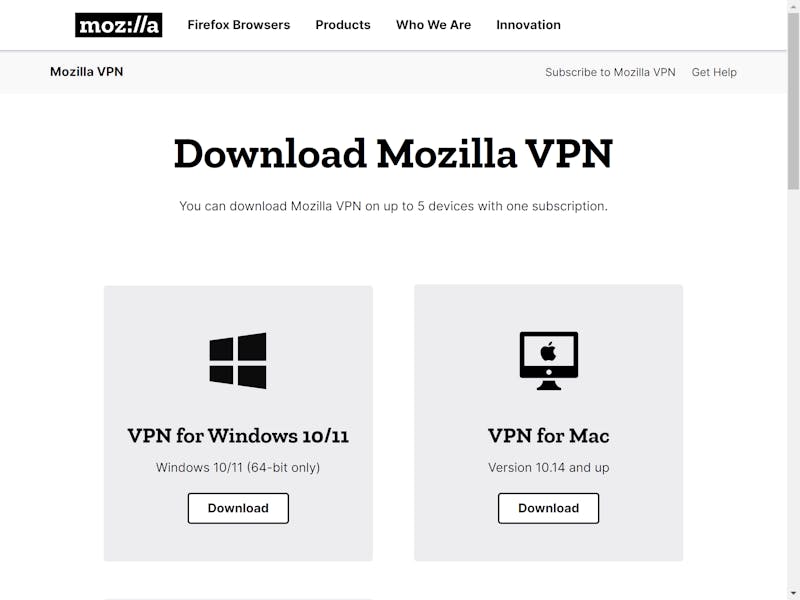 Select the appropriate version of Mozilla VPN for your system from their website's download area.
Functional & User-Friendly
The app itself is very sleek: The main screen features a toggle for establishing or closing a VPN connection. Under that, you can select which server you'd like to connect to (for us, this was set to Lisbon, Portugal, by default). Unfortunately, no quick-connect button for linking up with the fastest available server is offered.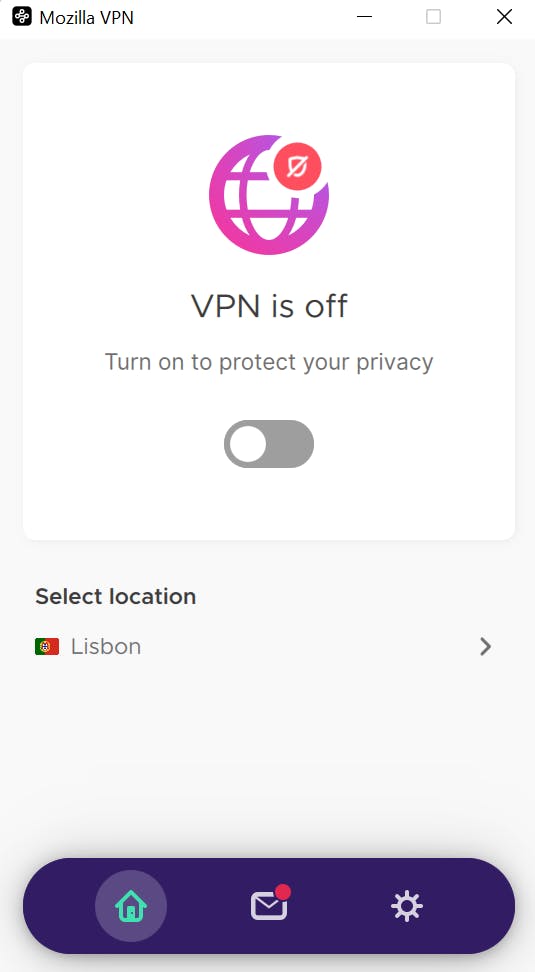 Mozilla VPN's goal-oriented user interface might not win any design awards, however, it makes the software very easy to handle.
Server selection is also limited to the bare necessities, namely, a search window and a list of servers. Metrics relating to the servers' performances are nowhere to be seen. Similarly, you won't be able to mark servers as favorites or see the ones you've most recently connected to.
The only criteria you can use to differentiate between servers is whether they are single or multi-hop. The latter offers enhanced security at the cost of speed and performance (since it routes your connection through two, rather than one server).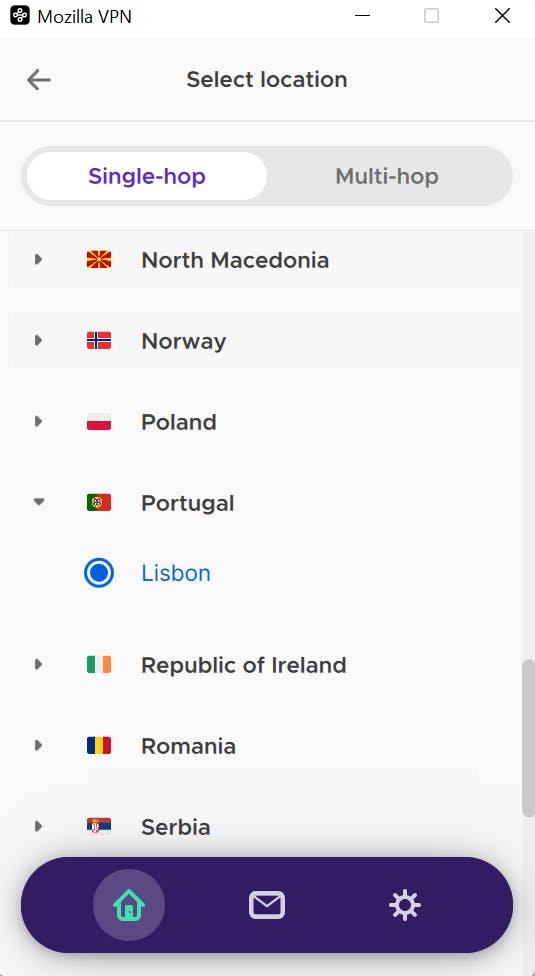 The only specification you can make when choosing between Mozilla VPN's servers is single or multi-hop.
Features: Speed Test & Split Tunneling
When connected to a VPN server, you perform a speed test by clicking on the odometer symbol in the upper right of the user interface. This shows your current download speed and ping, and also tells you what sort of activities your connection can handle (i.e. 4K streaming or online gaming).
We had the feeling that Mozilla VPN isn't entirely forthcoming about the precise speed, since the in-app numbers were always significantly higher than those yielded by independent, online services.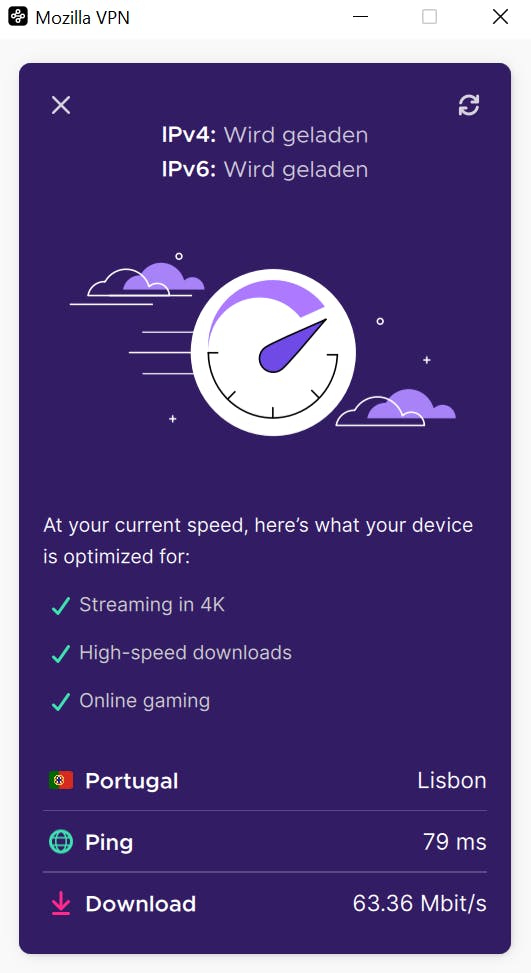 The in-app speed test offers insight into your VPN connection's performance.
You can access additional features and settings by clicking on the gear symbol in the lower right menu. Under the System Preferences heading, it's possible to configure Mozilla VPN to automatically establish a VPN connection when your computer boots up. In addition, you can change the app's language and specify what sort of notifications you'd like to receive.
By clicking on Network Settings, you'll see options for Local Network Access and VPN through Port53/DNS tunnel. The first of these, in particular, is very useful, since it allows your system to interact with other network devices (such as a printer or streaming stick), without having to close your VPN connection.
Split tunneling, which makes it possible to choose which apps use your VPN connection (and which don't) is a bit hidden. Go to App permissions, and change the Protect all apps with VPN toggle. After that, you'll be able to individually specify whether or not an installed program uses your VPN connection.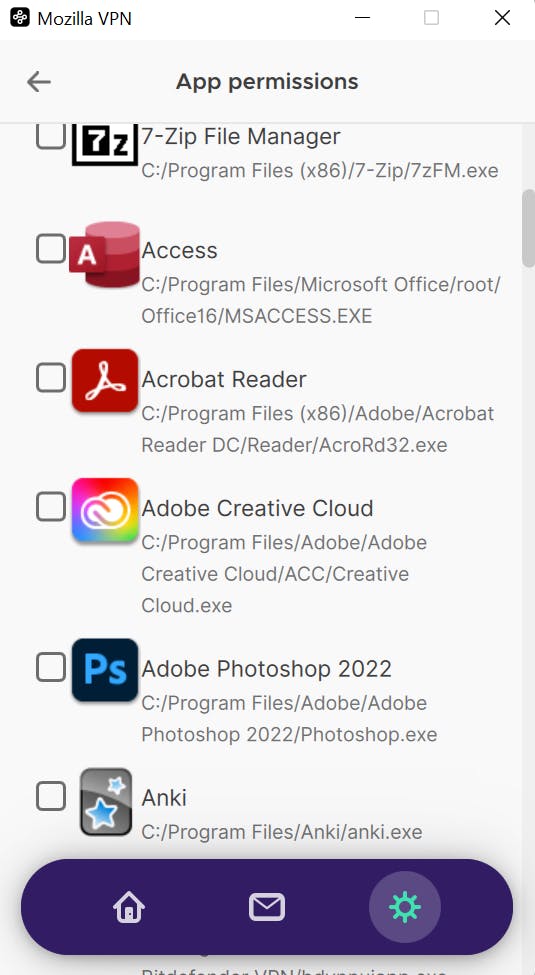 Decide for yourself which apps and programs use your VPN connection.
Rounding things out are a few DNS settings: You can select an adblocker and/or anti-tracking DNS, or input a user-defined one.
Even though Mozilla VPN offers something like a kill switch, which automatically severs your Internet connection as soon as any issues with your VPN are noticed, we have trouble calling it as such. Unlike most of its competitors, Mozilla VPN's 'kill switch' cannot be toggled on or off. Users also don't have any say in which VPN protocol their connection uses (but more on that below in the Security and Privacy section).
Mobile App
Mozilla VPN's smartphone app is an identical copy of the desktop version: You'll get access to the same functions, both for better and for worse. Split tunneling, advanced DNS settings, and local network access are all offered, however, don't expect server categories, the ability to mark favorite servers or protocol options.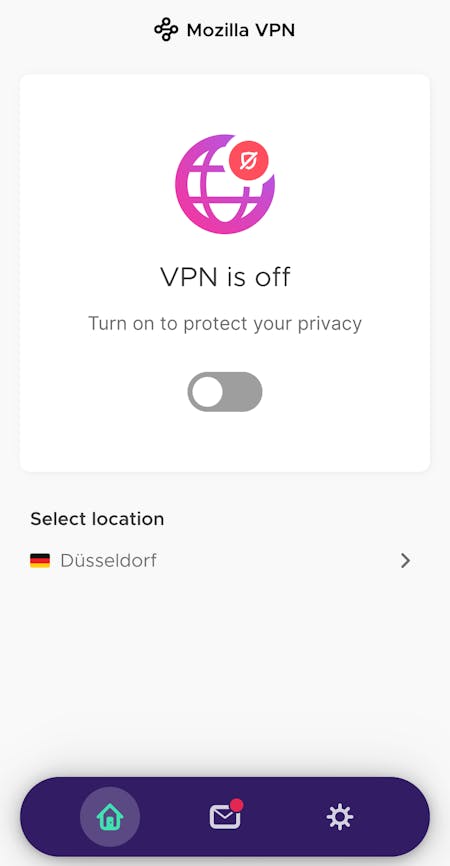 Mozilla VPN's Android app is a clone of its desktop version.
Mozilla VPN comes with a few handy configuration options as well as the basic features we expect a VPN to have, such as split tunneling. All the same, it lacks quick connect, the ability to mark favorites, a 'true' kill switch, and any selection in terms of protocols. We also found it unfortunate that the VPN can only be used on five set devices - its competitors offer much more flexibility in this regard.
Installation and Features
7.4 / 10
Mozilla VPN utilizes Mullvad's network of WireGuard VPN servers. Since the two are identical, Mozilla VPN users get access to 550 servers across 37 countries.
As with most VPNs, the servers are primarily based in Europe, North America, and Australia. Asia, Africa, and South America get the short end of the stick though, with far less representation.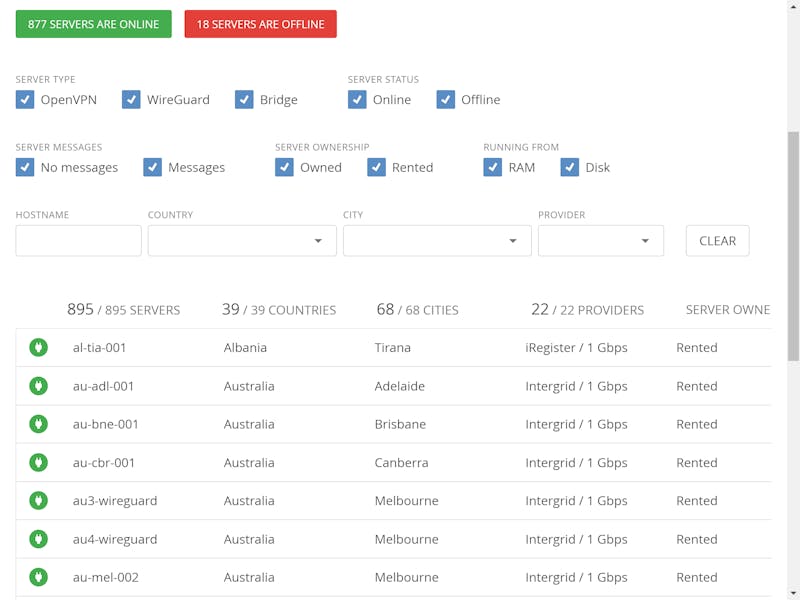 Mozilla VPN's server list is identical to that of Mullvad.
When set alongside its competitors, Mozilla VPN's servers leave much to be desired, particularly as they often offer thousands of options distributed across twice or even three times as many countries. All the same, should the countries or regions you want to virtually connect to have made the list, you might be satisfied. We prefer more variety.
Since Mozilla VPN does not support OpenVPN, we weren't able to perform our regular performance test, which uses a 1 GB/s server in Frankfurt (Germany). As a result, we had to gauge its VPN servers' speeds manually:
Our regular Internet connection clocked in at 123.55 MB/s (download) and 21.14 MB/s (upload). With a VPN tunnel (German server) these declined slightly to 117.70 MB/s (download) and 21.08 MB/s (upload).

Mozilla VPN had little impact upon our connection's performance.
We repeated our speed test several times with different servers, however, there was little difference between the results. In addition, during prolonged surfing, no noticeable limitations or subjective throttling was felt.
At the same time, compared to the results from our regular performance test, Mozilla VPN's speeds are less representative. Below, we've ranked the performance of all VPNs from our sample that could be systematically evaluated:
1.
2.
3.
4.
5.
6.
7.
8.
9.
10.
11.
12.
13.
14.
15.
16.
17.
18.
19.
20.
For everyday surfing Mozilla VPN gave a good accounting of itself: Its performance was steady, speeds were good, and there weren't any connection losses or captchas to contend with. We liked how quickly the app created VPN connections for us, often needing just a few seconds. With many of Mozilla VPN's competitors, this can take much longer.
Is Mozilla VPN Good for Streaming?
In terms of streaming, Mozilla VPN provided mixed results: With the BBC's iPlayer and on Disney+, we were able to get around frustrating geoblocking making it possible to view content that would otherwise not be available in our region. Now for the bad news: Netflix and Amazon Prime Video weren't fooled so easily, only granting us access to locally available content catalogs.
Should you be considering a VPN for streaming, there are more reliable options out there. When it comes to performance though, Mozilla VPN certainly has a lot to offer, even if we weren't able to include it in our systematic testing process.
Security and privacy are strongly emphasized on Mozilla VPN's website, however, does the provider actually offer the level of security that it promises? Let's start with the VPN's protocol: In order to protect its users' network traffic, Mozilla relies on WireGuard, an open-source option. The protocol offers high security, but not at the cost of performance, and is a solid choice. Still, experienced VPN users might want to have the ability to manually change the protocol used by their connections (OpenVPN, for example, is considered by many to still be the gold standard).
Does Mozilla VPN Store Logs?
According to its privacy policy, Mozilla only collects data to measure and improve the VPN's performance. When registering, Mozilla VPN uses your IP address to determine your geographic location. In addition, Mozilla also collects interaction data, in order to improve its products and services. None of this amounts to activity or browsing logs, however.
Similarly, network data, which can provide insight into who you are and what sort of content you view, is also not collected. At least on paper, the company's data privacy principles (No surprises, user control, and limited data) seem solid.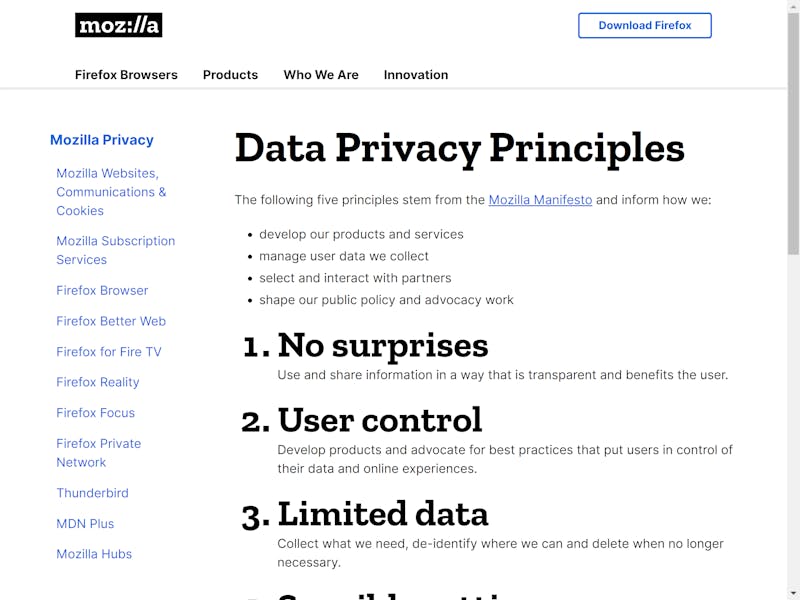 Mozilla's data privacy principles.
Cure53 Audit
Thankfully, it isn't necessary to take Mozilla at its word: In the summer of 2021, the company submitted to an independent audit conducted by Cure53, a cybersecurity firm. All of Mozilla VPN's apps were tested and probed for vulnerabilities and weaknesses. A few minor problems were identified, however, the security standards were determined to be of "high quality".
No Leaks
Mozilla VPN breezed through all of our leak tests (IPv6, DNS, and WebRTC) without incident: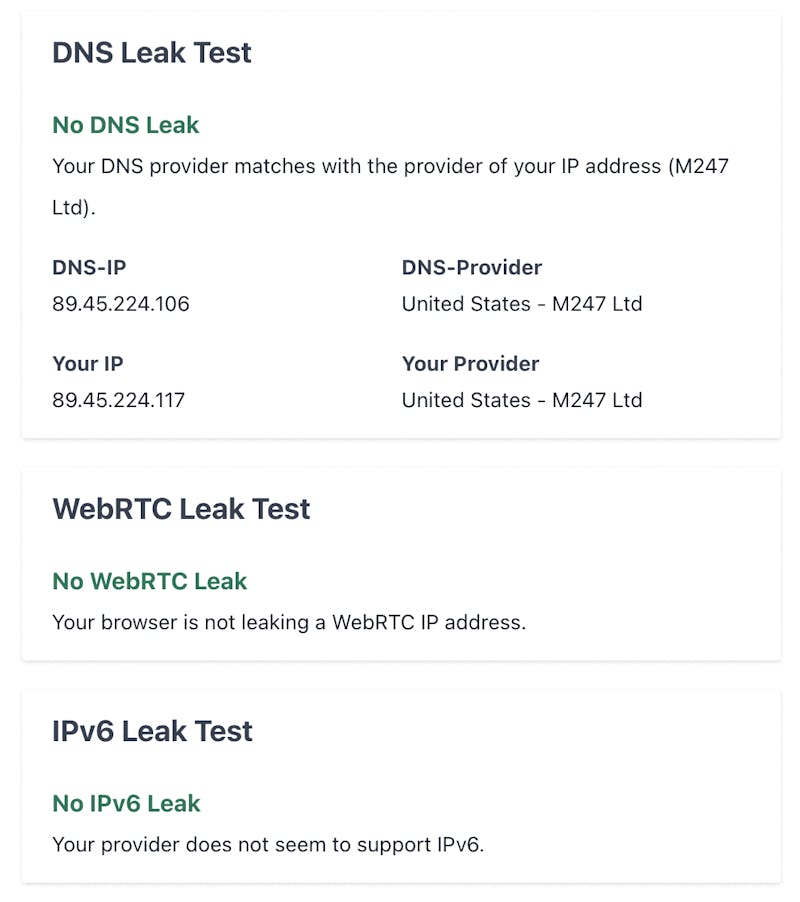 We couldn't identify any leaks in Mozilla VPN.
Mozilla VPN did well in this section thanks to its privacy principles and top-notch security standards, both of which were validated by an external audit.
Security and Privacy
9.4 / 10
In the app's Tips and Tricks section, you'll find a few nifty tutorials and guides. Should you need more intensive support, you can head over to Mozilla's help center, which has a dedicated area for its VPN software. There, a range of guides and FAQs organized into several different categories (i.e. Accounts & Setup, Troubleshooting) are offered. To find exactly what you need, you can type a few keywords into the search bar off to the right.
The articles are neatly formatted and include plenty of links. Our only complaint is that they were a bit short on screenshots and graphics.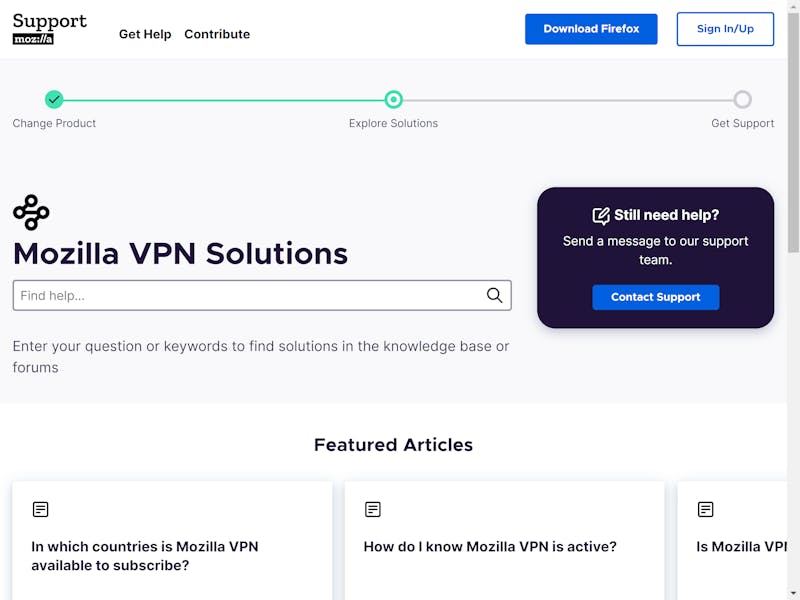 You'll find plenty of guides and FAQs in Mozilla's s support center.
Direct support is only offered via the contact form, as the service lacks a hotline or live chat. Approximately 15 hours elapsed before we received a friendly, competent, and satisfactory answer to our query. In regards to our question about whether Mozilla VPN also offers static servers, the staffer simply linked us to Mullvad's server list. This is somewhat unprofessional, as a Mozilla employee openly advertised a competing service.
Still, the overall support experience with Mozilla was a positive one, even though we would have liked to see more options for getting in touch.
Mozilla VPN is available either at a monthly or yearly rate (at the time of our assessment, this was 50% less expensive per month). In terms of features, there's no difference between the two packages. As noted above, Mozilla VPN can be used on up to 5 devices.
Below, we've included an up-to-date summary of Mozilla VPN's pricing structure:
12 months
1 month
Set-up Fee
$0.00
$0.00
Monthly Price
$4.99
$9.99
Contract Period (Months)
12
1
Limits
Data Volume
unlimited
unlimited
Number of Devices
5
5
Features
Number of Servers
580
580
Number of Countries
36
36
No Server Logs
P2P Allowed
Tor Access
Kill Switch
Protocols

WireGuard

WireGuard
Unfortunately, no free version of Mozilla VPN is available, even for trying the service out. Since Mozilla offers a 30-day money-back guarantee, you can test the VPN out risk-free.
Conclusion
includes the most important features
average streaming performance
fairly small server network
7.6

good
Data Volume
Devices
Protocols
Contract Period
Mozilla VPN 12 months
$4.99
monthly price
Visit Website*
Mozilla does a number of things right with its VPN: It performs well, the security standards are solid, and its intuitive apps are extremely easy to use while integrating many of the most important features expected from a VPN.
However, in the grand scheme of things, there are some weaknesses that the leading services from our sample did not suffer from: We were only able to access content from abroad on two of the four streaming platforms we assess VPNs on. Similarly, Mozilla VPN's server network is fairly small, and a few convenient features were missing (i.e. the inability to mark preferred servers as favorites).
Owing to these shortcomings, Mozilla VPN finds itself in the middle of our sample: Solid, but inferior to a number of other services.
Security and Privacy
9.4 / 10
Installation and Features
7.4 / 10
Customer Reviews
What are users saying about Mozilla VPN? We summarized reviews from the most trusted aggregators here:
Customer Ratings
3,081 Bewertungen
Visit Website*
We analyzed the reviews and ratings from various portals and found 3,081 ratings with an overall rating of 3.6 out of 5 .
Alternatives
If you're looking for a provider that surpasses Mozilla VPN in terms of features, server network, and performance, our best-in-class, and EXPERTE.com review champion, NordVPN, might be what you're after. Based in Panama, it also secured the top spot in our speed test and offers more than 5,000 servers across 60 countries. The EXPERTE.com silver and bronze went to ExpressVPN and Surfshark, both of which also offer a better overall package than Mozilla VPN.
Or perhaps you'd like a free alternative and can make do with a smaller server network and no video streaming? In that case, ProtonVPN should be near the top of your list as the freemium VPN was the only service from our sample that offers non-paying users unlimited data.
More of the best alternatives to Mozilla VPN can be found here:
NordVPN is our number one VPN because it combines speed, ease-of-use, and functionality in a slick package that's also pretty affordable.
5,500+ servers, 60 countries
affordable 2-year package
9.4

excellent
Data Volume
Devices
Protocols
Contract Period
Christmas Deal
+3 months free
NordVPN 2-year plan
$3.79
monthly price
Visit Website*
30 days money-back guarantee
ExpressVPN can impress with a strong performance, a huge server network, and excellently designed applications, but this quality also comes at a higher price.
Data Volume
Devices
Protocols
Contract Period
Christmas Deal
+3 months free
ExpressVPN 12 Months
$6.67
monthly price
Visit Website*
30 days money-back guarantee
With its open source philosophy and extra security features, Proton VPN targets security-conscious VPN users. But thanks to its user-friendly interface and suitability for streaming, it's worth a look for a wide audience.
open source & external audits
2,900+ servers in 67 countries
free plan without data limit
9.1

excellent
Data Volume
Devices
Protocols
Contract Period
Proton VPN Free
$0.00
monthly price
Visit Website*
Free forever
Surfshark is one of the cheapest providers on the market, but it's a lot more than a great budget option: the relatively new VPN boasts strong protection, many features, and a great support with 24/7 live chat.
3,200+ servers in 100 countries
unlimited number of devices
many apps (Linux, FireTV, ...)
8.8

good
Data Volume
Devices
Protocols
Contract Period
Christmas Deal
+4 months free
Surfshark 24 months
$1.99
monthly price
Visit Website*
Get 83% Discount
HideMyAss' main claim to fame is its impressive server infrastructure, but the VPN also delivers solid speeds and handy features like its IP Randomizer. When it comes to streaming, however, it's not always the most reliable choice.
Data Volume
Devices
Protocols
Contract Period
HideMyAss! 36 months
$2.99
monthly price
Visit Website*
30 days money-back guarantee
* Ad disclaimer:
For links marked with an asterisk, EXPERTE.com may earn a commission from the provider. The commission has no influence on our editorial rating.

Martin Gschwentner majored in American Studies and Media Studies in Germany, the USA and France and works as a freelance editor in Paris. He is a doctoral student at the Institute for English and American Studies at the University of Paris Diderot, where he is researching the influence of money on US politics. On EXPERTE.com he writes about IT security, data protection and software for the self-employed and small businesses.
Continue Reading
Reviews
Comparisons
Tools & Guides