TorGuard VPN Review 2023: How Good Is It?


Ad disclaimer:
For links on this page, EXPERTE.com may earn a commission from the provider. This supports our work and has no influence on our editorial rating.
Hearing TorGuard's name, you might think of a very famous purple onion, however, the service has nothing to do with Tor browser. Instead, the first part of its name refers to the torrent file format, widely used for P2P downloading. Not only does the service promise to erase any traces of these downloads, but much more.
What Is TorGuard VPN?
TorGuard* is an American VPN service that made its market appearance in 2012 offering applications for Windows, macOS, Linux, Android, and iOS, as well as Chrome and Firefox browser extensions. We tried out its Windows client and Android app to let you know whether TorGuard is a reliable choice in the hotly-contested VPN market.
TorGuard VPN Review
Security and Privacy
6.6 / 10
Installation and Features
6.0 / 10
No independent security audits

Access to streaming servers costs extra
1.
Installation and Features
All TorGuard clients, including older and beta versions, are available from the provider's website. Pre-configured TorGuard routers or media players, such as Amazon's Firestick, can be purchased through PrivateRouter or set up manually.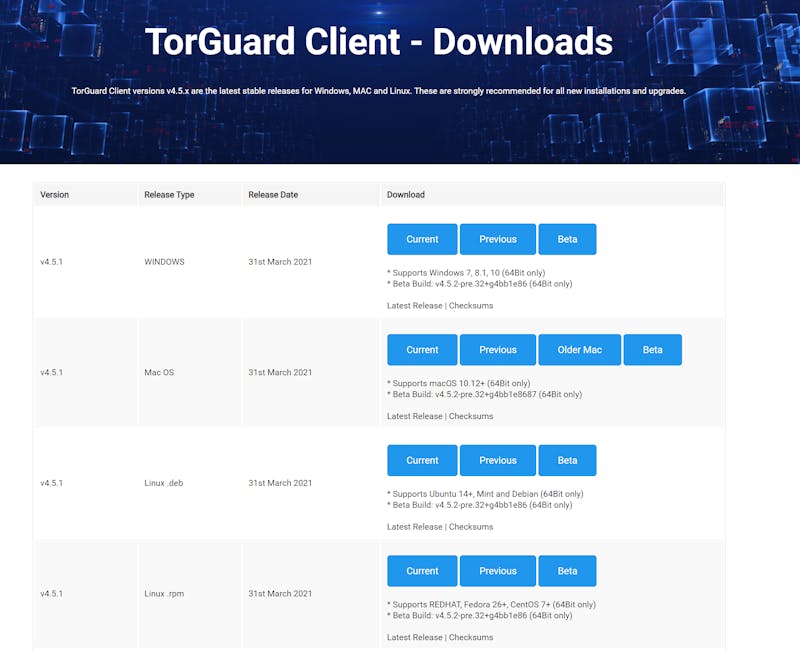 All of TorGuard's apps can be downloaded directly from its website.
TorGuard's desktop client is not going to win any beauty contests. While most other VPN services from our sample flaunt their elegant user interfaces, TorGuard's takes a utilitarian approach. The client's interface features a "Connection" button, a protocol selection window, and a server list, as well as auto-connect options.
Login data is only requested the first time you create a VPN tunnel: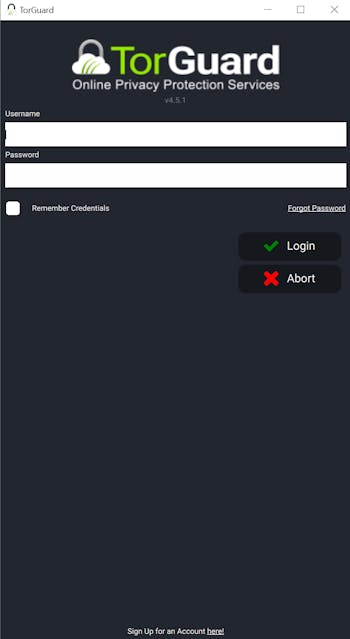 Save your login data when you first connect so that you won't have to input it in the future.
It's possible to sort and filter servers from the list according to a number of criteria. You won't be able to mark favorites or find any information about how a particular server is performing, but, your most-used servers will be displayed in their own category.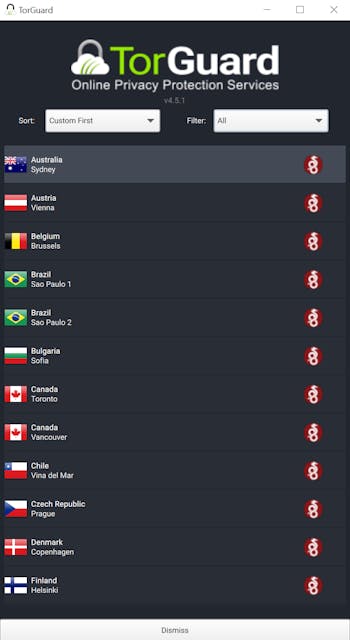 In the server list, you can select the location you'd like to create a VPN tunnel with.
To access Settings, click on "more Settings". There, tinkerers will find plenty of nice options, however, some common features, such as split tunneling, are missing.
Auto-start settings and a kill switch ("App Kill") for configuring which apps should automatically be closed if your VPN connection is interrupted are also offered. The ability to select specific apps is practical, since closing a torrent program is more important than a music-streaming one. Should you want a classic kill switch, this is available in the "Network" tab.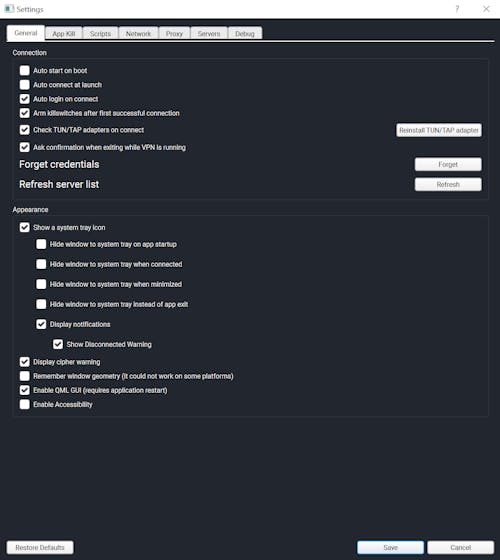 TorGuard only comes with a handful of pre-configured features, but does offer tinkerers the ability to customize these.
One of TorGuard's most interesting features is the ability to execute scripts before and after connections have been established. In this way, it's possible to start certain programs only after a VPN tunnel is in use and to automatically close them when you disconnect.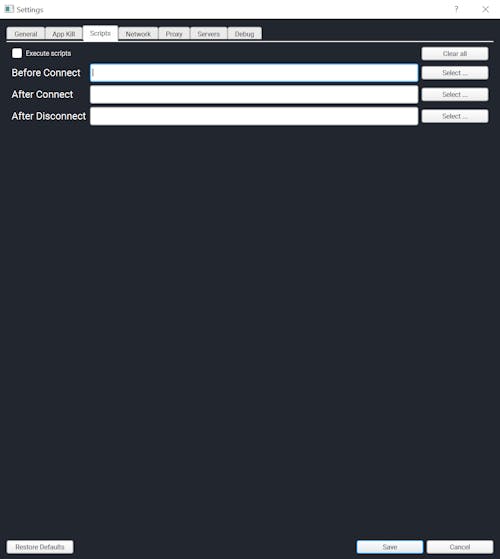 Scripts allow you to set what should automatically happen before and after you've established a connection.
DNS settings are particularly extensive, making it possible to select different DNS providers or update your DNS cache whenever a connection exists.
If desired, you can purchase a dedicated IP address to optimize performance. Unfortunately, this is made more complicated than necessary. During the ordering process, you can add one of these by clicking on "Configurable Options", but purchasing them later in the customer area doesn't appear to be possible.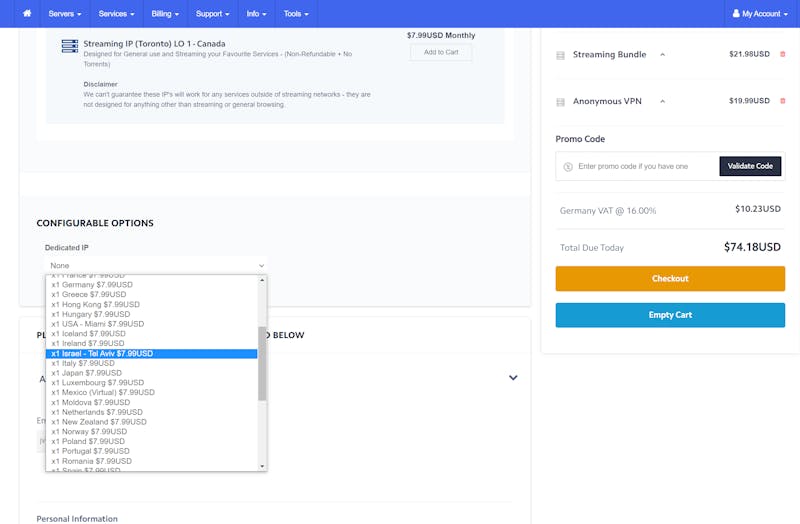 Purchasing a dedicated IP address helps to surf faster and with added stability.
The frustration we felt when searching for the option to purchase a dedicated IP address is a nice metaphor for our experience with TorGuard. Users who are accustomed to the straightforward and intuitive interfaces found elsewhere probably won't like how much of a hassle Torguard makes this. The service caters to those who want to customize their VPN connections and have the time to configure their settings.
Unfortunately, other features are nowhere to be found. This includes things like split tunneling, which allows you to pick and choose which services use your VPN tunnel, and multi-hop (routing your connection through multiple servers).
Mobile App
Like its desktop counterpart, TorGuard's smartphone app is not a work of art, however, it does offer a nice selection of interesting features. Android users can take advantage of "Always On" to remain permanently connected to a VPN.
A few other features missing on the desktop also make an appearance in the mobile version, such as the ability to mark favorites, or use split tunneling ("Restricted Apps"). As the name implies, the latter excludes apps from using your VPN connection.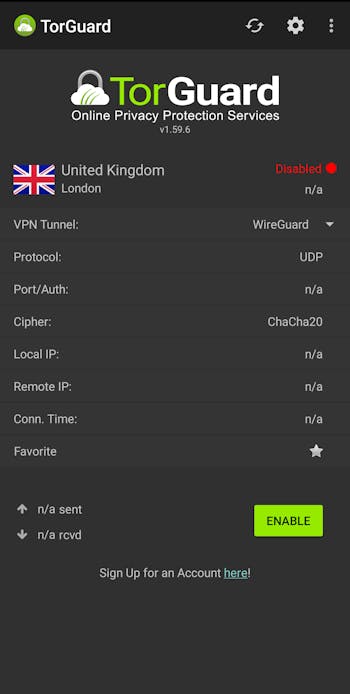 TorGuard's smartphone app is also a bit of an eyesore.
Anyone looking for a basic VPN should avoid TorGuard. The clunky user interface is too difficult to navigate, particularly if you aren't going to use the extra settings that this accommodates. Missing features like split tunneling, multi-hop, or pre-configured security settings can all be found with other, more easy-to-use VPNs.
At the same time, if you want to personalize your VPN connection, tinker with DNS settings, execute user-defined scripts, or control a super-charged kill switch, TorGuard could be right up your alley. Whatever the case, it would be nice for the service to package these features more aesthetically and intuitively.
Installation and Features
6.0 / 10
TorGuard operates more than 3,000 servers across 68 locations in 50 countries. Like most VPNs, the majority of these are in Europe and North America, with a few in Asia, Australia, and New Zealand. Beyond that, there are some in South America (Brazil and Chile), Africa (South Africa), and the Middle East (Israel and UAE).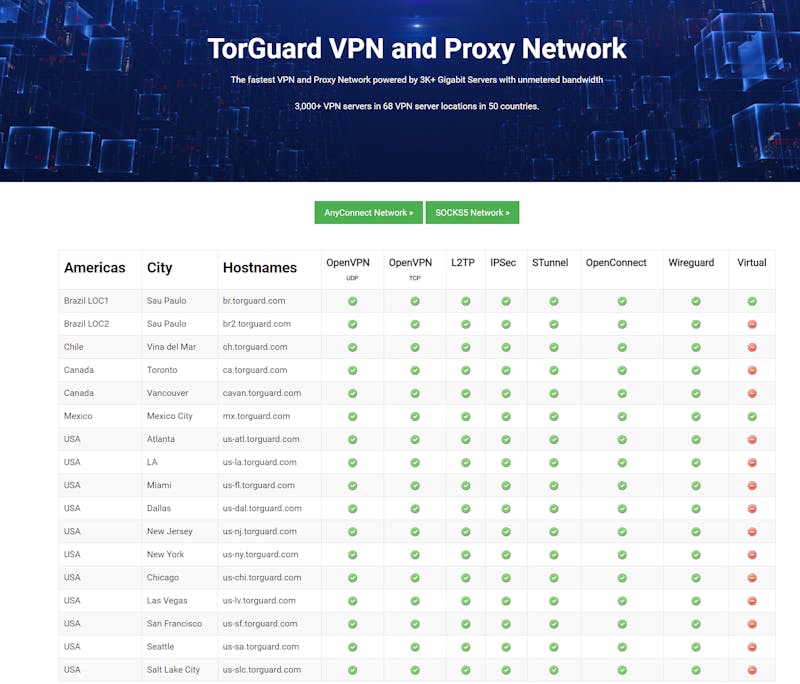 All available servers are listed on TorGuard's website.
Even though the number of countries serviced by TorGuard is less impressive than its network size, the latter is still decent.
We measure the speed of all VPNs from our sample using a server in Europe with a 1 GB/s connection. To do this, we connected to random TorGuard servers in the US and Germany at different times of the day. More information concerning our methodology can be found in our VPN speed test.
The table below shows the average results from the last 365 days, arranged in order of download and upload speed (descending).
1.
2.
3.
4.
5.
6.
7.
8.
9.
10.
11.
12.
13.
14.
15.
16.
17.
18.
19.
20.
With a download speed of 166.5 MB/s and an upload speed of 16.3 MB/s, TorGuard took a very respectable sixth place in our speed test.
The chart below shows TorGuard's average speeds over the past months.
CyberGhost VPN
ExpressVPN
hide.me VPN
HideMyAss! VPN
Hotspot Shield VPN
IPVanish VPN
Mullvad VPN
NordVPN
Private Internet Access
PrivadoVPN
PrivateVPN
Proton VPN
PureVPN
TorGuard VPN
TunnelBear VPN
VeePN
VPN Unlimited
VyprVPN
Windscribe VPN
ZenMate VPN
Monat
Download
Upload
9/22
September 2022
Download: 119.7 Mbit/s 119.7
Mbit/s
September 2022
Upload: 16.0 Mbit/s
10/22
October 2022
Download: 138.0 Mbit/s 138.0
Mbit/s
October 2022
Upload: 16.3 Mbit/s
11/22
November 2022
Download: 143.6 Mbit/s 143.6
Mbit/s
November 2022
Upload: 16.7 Mbit/s
12/22
December 2022
Download: 144.4 Mbit/s 144.4
Mbit/s
December 2022
Upload: 17.2 Mbit/s
1/23
January 2023
Download: 141.4 Mbit/s 141.4
Mbit/s
January 2023
Upload: 16.7 Mbit/s
2/23
February 2023
Download: 147.6 Mbit/s 147.6
Mbit/s
February 2023
Upload: 16.2 Mbit/s
3/23
March 2023
Download: 161.3 Mbit/s 161.3
Mbit/s
March 2023
Upload: 17.7 Mbit/s
4/23
April 2023
Download: 165.4 Mbit/s 165.4
Mbit/s
April 2023
Upload: 18.9 Mbit/s
5/23
May 2023
Download: 170.3 Mbit/s 170.3
Mbit/s
May 2023
Upload: 18.1 Mbit/s
6/23
June 2023
Download: 159.5 Mbit/s 159.5
Mbit/s
June 2023
Upload: 17.8 Mbit/s
7/23
July 2023
Download: 160.8 Mbit/s 160.8
Mbit/s
July 2023
Upload: 18.7 Mbit/s
8/23
August 2023
Download: 158.0 Mbit/s 158.0
Mbit/s
August 2023
Upload: 18.8 Mbit/s
9/23
September 2023
Download: 155.4 Mbit/s 155.4
Mbit/s
September 2023
Upload: 18.9 Mbit/s
Our surfing experience with TorGuard was also solid. As soon as a connection was established, we could rely on it. There weren't any annoying captchas to complete, which is a moderately common VPN side effect. It took a few seconds longer than usual to create connections owing to a conflict between our drivers and the protocols we had selected. When closing a VPN tunnel, the program froze for a few moments.
We didn't have any success watching foreign content on any video streaming platforms. Netflix, Amazon Prime Video, Disney+, and BBC iPlayer all ferreted out our VPN tunnel. Dedicated streaming IPs, which must be purchased separately, perform better, but plenty of other VPNs allowed us to access streaming content with their regular subscriptions.
Similarly, as we were unable to create a connection from China, the service also doesn't seem to be any help in bypassing the "Great Firewall".
In sum, TorGuard offers good speeds as well as stable and reliable connections. At the same time, the inability to stream foreign content (without subscription add-ons) or circumvent the "Great Firewall" were both disappointing.
While many VPNs are located in countries like Panama or the British Virgin Islands, making it possible for them to ignore court orders from abroad, TorGuard is based in the US, which isn't ideal for a VPN. Concretely, this means that user data can be demanded by government authorities, and must be furnished. So long as no user data is collected, or an absolute minimum, this is less of an issue.
In its privacy policy, the company states "TorGuard does not collect or log any data from its Virtual Private Network (VPN) or Proxy services." It also offers a "No-Logs" guarantee, but can we trust it? Unfortunately, TorGuard has yet to undergo an independent security audit, so we can't say. Since "No-Logs" VPNs have been caught out in the past sharing data with authorities, we remain skeptical.
With that said, TorGuard scores owing to its bountiful configuration options and integrated protection against IPv6 and WebRTC leaks. As might be expected, the provider had no trouble with our VPN leak tests (IPv6, DNS, and WebRTC).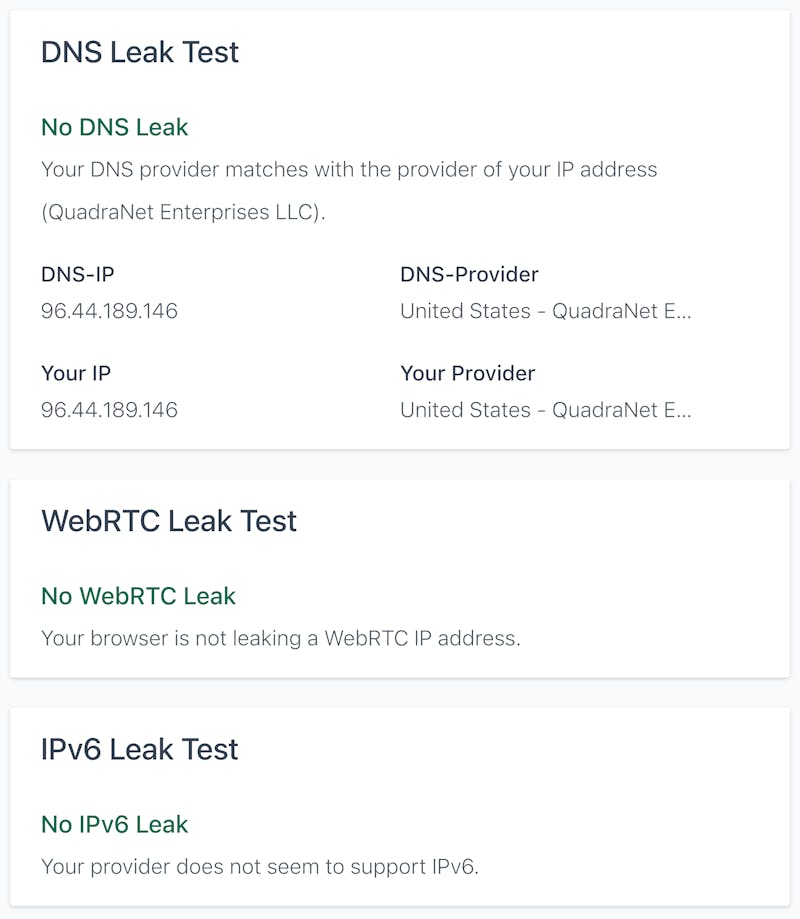 We were unable to identify any leaks during testing.
In terms of VPN protocols, TorGuard supports WireGuard, the fastest and most secure protocol available, as well as OpenVPN and OpenConnect. Beyond that, you'll also be afforded a few more options for encryption (AES 256, AES 128), authentication, and ports than other providers offer.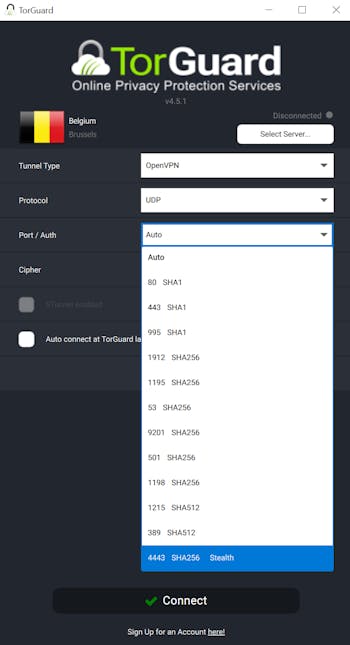 TorGuard allows users to take security into their own hands.
In terms of security, TorGuard is as good or as bad as you make it. The service doesn't include any default security options, meaning that less-experienced users will likely be overwhelmed with all of the settings. For the more experienced, the ability to fine-tune connection security is certainly welcome.
The only glaring negative is the absence of an independent security audit, which every VPN provider should undergo.
Security and Privacy
6.6 / 10
TorGuard's website features a relatively comprehensive help area with FAQs, a knowledge base, YouTube tutorials, and a forum. For a more human touch, support tickets and a live chat are also offered.
The provider promises 24/7 support, however, their live chat isn't always online. We spent an entire Friday afternoon waiting for the live chat to come online, without anything to show for it. Oddly enough, on the same day, our support ticket was answered within an hour.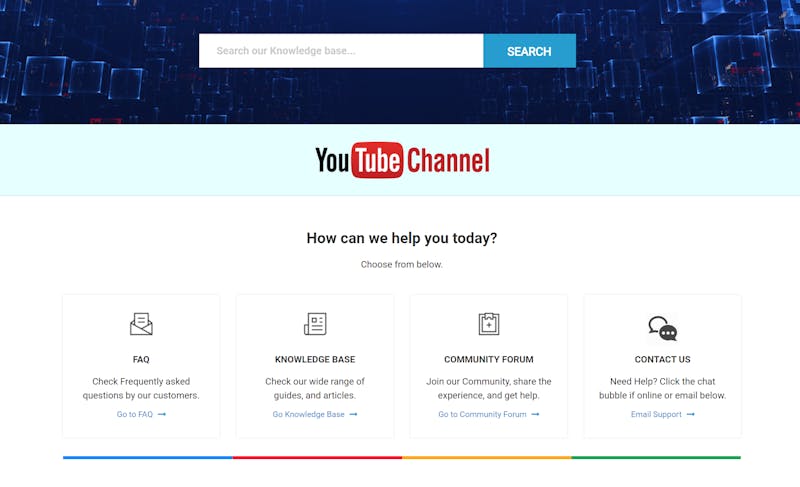 The help center provides a nice selection of support content.
Thanks to its well-equipped help center and fast response times, TorGuard's support isn't that bad. Our only complaint is that more transparency would be nice regarding the live chat. Of course, we don't expect support to immediately respond at 1:42 AM on a Sunday morning, but Friday afternoon should be covered.
TorGuard's pricing system is as clunky as its apps, owing to the variety of packages on offer, each of which includes different add-ons and features. In general, three subscriptions are available: Anonymous VPN, Streaming Bundle, and Business VPN. While assessing the service, there was also a Black Friday Bundle, even though Black Friday had come and gone a few months earlier.
Within each package, there are a number of additional options, such as Anonymous VPN Pro, which includes a dedicated IP address. Add-ons can be purchased individually. The amount you pay for a package or bundle, depends entirely upon the length of your contract (monthly, quarterly, half-year, yearly, 2-year, or 3-year).
The entire subscription experience is unnecessarily complicated. For a clearer overview of current prices, check out the table below:
VPN
VPN Pro
Set-up Fee
$0.00
$0.00
Monthly Price
from $3.89
from $6.94
Contract Period (Months)
1 - 36
1 - 36
Limits
Data Volume
unlimited
unlimited
Number of Devices
8
12
Features
Number of Servers
3,000
3,000
Number of Countries
50
50
No Server Logs
P2P Allowed
Tor Access
Kill Switch
Protocols

OpenVPN

WireGuard

OpenVPN

WireGuard
Credit cards, Amazon Pay, and even cryptocurrency or gift cards are accepted. For those who want to pay anonymously, the last two are certainly big advantages.
No trial version of TorGuard is offered, however, you can get your money back after seven days if you're not completely satisfied.
Conclusion
Security and Privacy
6.6 / 10
Installation and Features
6.0 / 10
Let's make one thing clear: TorGuard is not the best option for casual VPN users. Its boxy interface isn't user-friendly, and its wealth of settings and options won't be appreciated by those using a VPN for everyday tasks. If you want to stream foreign content, you'll need to purchase one of the bundles that offer dedicated streaming servers, somewhat defeating the purpose of a VPN in the first place.
If none of the above has put you off too much, you'll get a VPN that includes extensive DNS options, the ability to execute user-defined scripts, and plenty of customization options. Should you want more control over your VPN tunnel, TorGuard's no-frills service might be just what you're after.
3,000+ servers in 50 countries
no independent security audit
7.2

good
Data Volume
Devices
Protocols
Contract Period
TorGuard VPN
$3.89
monthly price
Visit Website*
Customer Reviews
To find out what users really think about TorGuard VPN, we compiled a number of reviews from reputable aggregators and portals.
Customer Ratings
12,502 Bewertungen
Visit Website*
We analyzed the reviews and ratings from various portals and found 12,502 ratings with an overall rating of 4.3 out of 5 .
Alternatives
You're on the hunt for a VPN that offers lots of settings, but is more user-friendly than TorGuard? Look no further than hide.me, which combines ease of use with plenty of customization options.
Or maybe performance is more important to you, and you don't think you should have to pay on top of a subscription to stream content from abroad? NordVPN, the winner of our speed test, does all of the above, and more.
The best alternatives to TorGuard can be found here:
NordVPN is our number one VPN because it combines speed, ease-of-use, and functionality in a slick package that's also pretty affordable.
5,500+ servers, 60 countries
affordable 2-year package
9.4

excellent
Data Volume
Devices
Protocols
Contract Period
NordVPN 2-year plan
$3.49
monthly price
Visit Website*
30 days money-back guarantee
ExpressVPN can impress with a strong performance, a huge server network, and excellently designed applications, but this quality also comes at a higher price.
Data Volume
Devices
Protocols
Contract Period
ExpressVPN 12 Months
$8.33
monthly price
Visit Website*
30 days money-back guarantee
With its open source philosophy and extra security features, Proton VPN targets security-conscious VPN users. But thanks to its user-friendly interface and suitability for streaming, it's worth a look for a wide audience.
open source & external audits
2,900+ servers in 67 countries
free plan without data limit
9.1

excellent
Data Volume
Devices
Protocols
Contract Period
Proton VPN Free
$0.00
monthly price
Visit Website*
Free forever
Surfshark is one of the cheapest providers on the market, but it's a lot more than a great budget option: the relatively new VPN boasts strong protection, many features, and a great support with 24/7 live chat.
3,200+ servers in 100 countries
unlimited number of devices
many apps (Linux, FireTV, ...)
8.8

good
Data Volume
Devices
Protocols
Contract Period
Surfshark 24 months
$2.49
monthly price
Visit Website*
Get 83% Discount
HideMyAss' main claim to fame is its impressive server infrastructure, but the VPN also delivers solid speeds and handy features like its IP Randomizer. When it comes to streaming, however, it's not always the most reliable choice.
Data Volume
Devices
Protocols
Contract Period
HideMyAss! 36 months
$2.99
monthly price
Visit Website*
30 days money-back guarantee
* Ad disclaimer:
For links marked with an asterisk, EXPERTE.com may earn a commission from the provider. The commission has no influence on our editorial rating.

Martin Gschwentner majored in American Studies and Media Studies in Germany, the USA and France and works as a freelance editor in Paris. He is a doctoral student at the Institute for English and American Studies at the University of Paris Diderot, where he is researching the influence of money on US politics. On EXPERTE.com he writes about IT security, data protection and software for the self-employed and small businesses.

Translation: D Bare
Continue Reading
Reviews
Comparisons
Tools & Guides