VPN
Surfshark Review 2022: Best Value for Money
Surfshark is relatively new to the hotly-contested VPN market, promising things that many other services have long offered, such as secure surfing, online anonymity, and the ability to bypass geo-blocks for streaming or surfing. Our test shows whether Surfshark devours, or is swallowed up by its competition.

Surfshark is a VPN provider headquartered in the British Virgin Islands that has been on the market since 2017. It offers apps for Windows, macOS, Linux, Android, and iOS, as well as FireTV, Apple TV, and Android TV. The service also provides browser extensions for Chrome and Firefox.
With just a few steps, Surfshark allows for VPN connections to easily be created with additional devices like gaming consoles and smart TVs. We tested Surfshark on Windows and Android.
Installation and Features
4.7 / 5
Security and Privacy
4.0 / 5
Offers lots of features, including split tunneling
The server network is a bit small
No external audits since 2018
2.
Installation and Features
An overview of the operating systems supported by Surfshark is visible on the company's website, with any of the applications quickly downloaded and installed. Since no free version exists, it's necessary to create an account and choose from one of the subscription options before accessing the program's dashboard. In the "Pricing" section of this review below, we'll go into greater detail about what subscription options are available for Surfshark.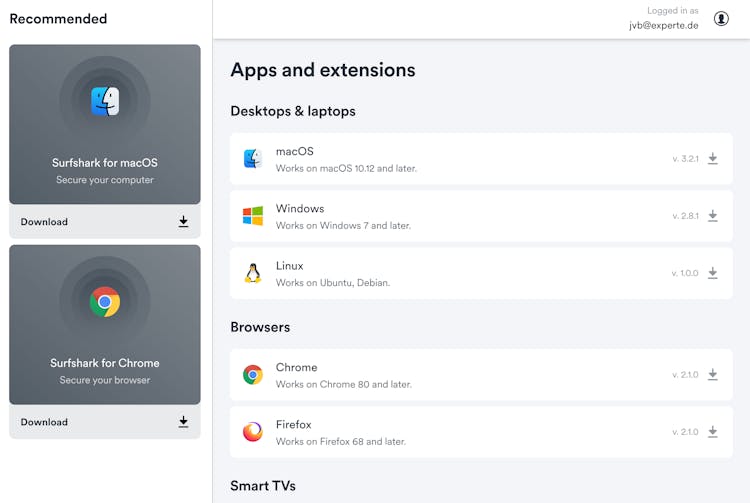 You can view manual guides for setting up Surfshark on your system or download any of its apps in the customer area.
The program's interface is clear and easy to use. A blue button on the main screen connects you automatically to the fastest server in the nearest country. Directly under the button is a list that displays the most recently used connections.
The "not connected" tab hides your IP address, while the kill switch deactivates your internet connection in case the VPN connection is lost. This ensures that your IP address will not be made public and that your connection will not create any problems.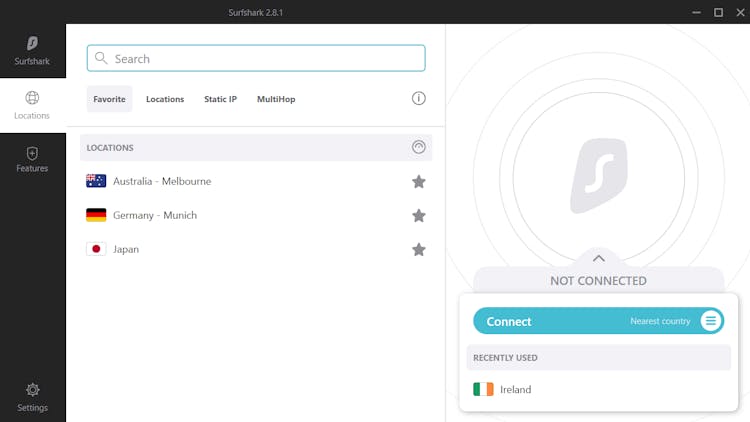 Apart from manually selecting a specific server, you can also connect automatically to the fastest server or the one that is geographically closest to your location.
When using the app's horizontal mode, a server list can be found to the left, next to the connection window. Otherwise, you can view the server list by clicking on "Locations." Under the search bar, you can select from your favorites, servers with static IPs, and multi-hop servers.
Setting favorites is as easy as clicking on the star symbol next to a server. Servers with static IPs have the same IP address even when you sever the connection and reconnect later on. However, these shouldn't be confused with dedicated IPs as they are shared with other users. Multi-hop servers create a VPN connection between two countries, adding an additional layer of security and anonymity.
By clicking on the speedometer symbol in the upper-right of the server list, you can see the real-time ping of a server next to its location.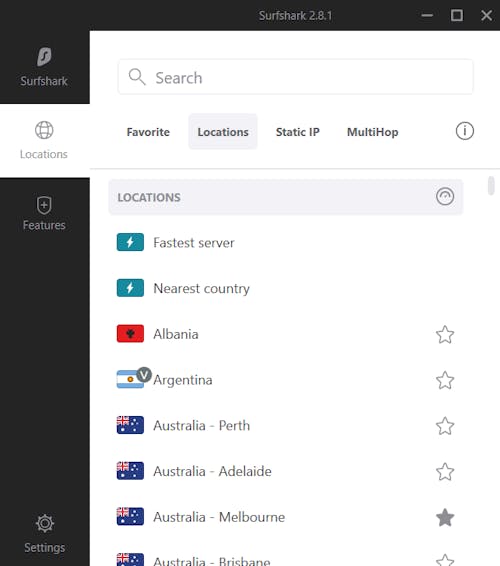 Virtual servers are noted with a 'V' in the upper-right corner of the accompanying national flag.
Among the other functions offered in the program's menu is the CleanWeb ad-blocker, which blocks advertisements, malware, and trackers. Surfshark supports split tunneling through Whitelister, which allows for selected websites or apps to be exempted from using the VPN tunnel you create.
The program also offers an email leak check via its web dashboard. The BlindSearch feature enables an incognito search mode which returns organic results free from advertisements or logs. Both of these features are offered in an extra package that you'll need to pay for separately.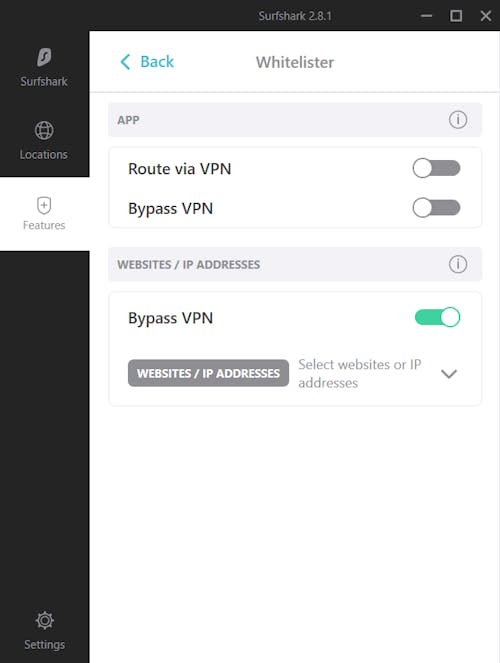 Surfshark's Whitelister allows you to select which apps and websites use your VPN tunnel and which don't.
In Settings, you can configure autostart and automatic connections under "Connectivity." To change the VPN protocol, click on Advanced Settings. We'll go into greater detail about these below in the "Security and Privacy" section of this review.
Here, you'll also find the NoBorders feature, which comes in handy for establishing connections in countries that restrict Internet usage, such as China. More on this in the "Performance" section.
Surfshark's browser extension is basically a slimmed-down version of the desktop client that can be accessed directly in your browser.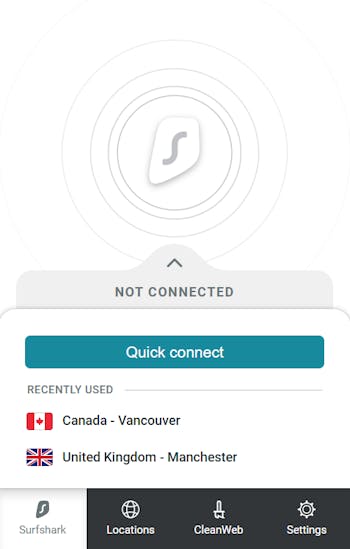 The Surfshark browser extension is available for Chrome and Firefox.
Mobile App
Surfshark's mobile app is very similar to its desktop client. With the exception of the mini version, its menus are the same, except they are on the bottom, rather than the top of the interface. All extra features, including split tunneling, the kill switch, multi-hop routing, and the ad-blocker are accessible in the mobile app.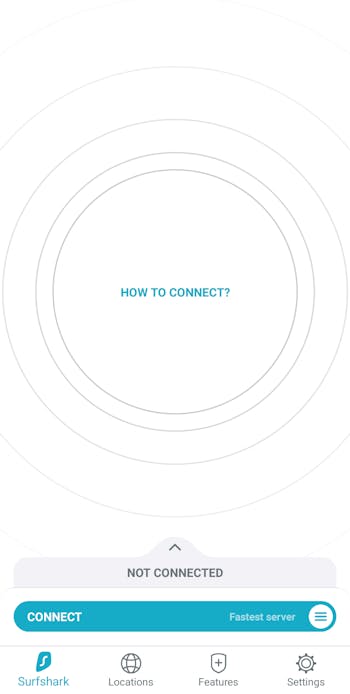 Anyone who has used Surfshark's desktop client will quickly find their way around the service's mobile apps.
Generally speaking, there's little fault to be found with any of Surfshark's applications: They're visually appealing, easy to use, and possess all important features, including split tunneling and multi-hop routing. In the case of the last two features, these, unfortunately, have not become standard among all VPNs.
Score: 4.7 / 5
Surfshark's 3,200 servers are spread across 65 countries. Most of these are located in Europe, however, the service also has some presence elsewhere in the world, which is impressive considering its age. As so often, Africa and the Middle East are the least represented, with only four servers (Nigeria, South Africa, Israel, and the UAE) catering to these huge areas.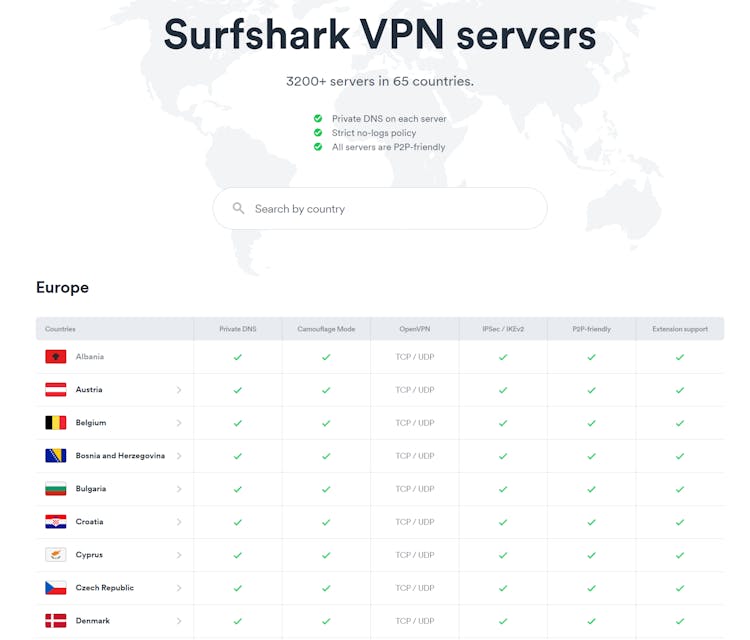 Europe is particularly well-represented among Surfshark's servers.
Surfshark (still) can't go toe-to-toe with the VPN heavyweights, however, for such a young service, it does have a respectable geographic presence.
Score: 4 / 5
The speed of all VPNs which we tested was evaluated using a server in Europe with a 1 GB/s connection. We tested random Surfshark servers in the US and Germany at different times of the day to more accurately evaluate their speeds and performance. More information concerning our methodology can be found in our VPN speed test.
The table below shows the average results from the last 365 days, arranged in order of download and upload speed (descending):
1.

195.6 Mbit/s

Download

42.9 Mbit/s

Upload

2.

191.7 Mbit/s

Download

42.8 Mbit/s

Upload

3.

200.8 Mbit/s

Download

18.1 Mbit/s

Upload

4.

175.0 Mbit/s

Download

42.0 Mbit/s

Upload

5.

167.7 Mbit/s

Download

16.1 Mbit/s

Upload

6.

166.5 Mbit/s

Download

16.3 Mbit/s

Upload

7.

153.9 Mbit/s

Download

27.0 Mbit/s

Upload

8.

155.1 Mbit/s

Download

21.2 Mbit/s

Upload

9.

154.8 Mbit/s

Download

18.8 Mbit/s

Upload

10.

156.4 Mbit/s

Download

15.0 Mbit/s

Upload

11.

113.1 Mbit/s

Download

41.4 Mbit/s

Upload

12.

129.4 Mbit/s

Download

18.4 Mbit/s

Upload

13.

109.6 Mbit/s

Download

37.6 Mbit/s

Upload

14.

126.3 Mbit/s

Download

18.8 Mbit/s

Upload

15.

118.6 Mbit/s

Download

18.4 Mbit/s

Upload

16.

109.7 Mbit/s

Download

17.0 Mbit/s

Upload

17.

82.2 Mbit/s

Download

43.3 Mbit/s

Upload

18.

79.9 Mbit/s

Download

38.8 Mbit/s

Upload

19.

106.0 Mbit/s

Download

12.2 Mbit/s

Upload

20.

99.3 Mbit/s

Download

12.7 Mbit/s

Upload
With a download speed of 191.7 MB/s and an upload speed of 42.8 MB/s, Surfshark secured second place, just barely losing out to our overall winner, NordVPN. Compared to its performance in our 2019 review (10th place), this represents a considerable improvement.
The chart below shows Surfshark's average speeds over the past months.
CyberGhost VPN
ExpressVPN
hide.me VPN
HideMyAss! VPN
Hotspot Shield VPN
IPVanish VPN
Mullvad VPN
NordVPN
Private Internet Access
PrivadoVPN
PrivateVPN
ProtonVPN
PureVPN
Surfshark VPN
TorGuard VPN
TunnelBear VPN
VeePN
VPN Unlimited
VyprVPN
Windscribe VPN
ZenMate VPN
Monat
Download
Upload
12/21
December 2021
Download: 194.6 Mbit/s
December 2021
Upload: 41.5 Mbit/s
1/22
January 2022
Download: 181 Mbit/s
January 2022
Upload: 34.6 Mbit/s
2/22
February 2022
Download: 172.6 Mbit/s
February 2022
Upload: 35.9 Mbit/s
3/22
March 2022
Download: 186.7 Mbit/s
March 2022
Upload: 37.5 Mbit/s
4/22
April 2022
Download: 188 Mbit/s
April 2022
Upload: 39.1 Mbit/s
5/22
May 2022
Download: 180.9 Mbit/s
May 2022
Upload: 38.5 Mbit/s
6/22
June 2022
Download: 185.6 Mbit/s
June 2022
Upload: 38.5 Mbit/s
7/22
July 2022
Download: 179.9 Mbit/s
July 2022
Upload: 39 Mbit/s
8/22
August 2022
Download: 177.5 Mbit/s
August 2022
Upload: 37.2 Mbit/s
To put Surfshark's performance to the test, we used the VPN for an entire day for all of our regular Internet-based activity. We're happy to report that the speed test wasn't an outlier, but reflects what you can expect when using the service on a day-to-day basis. We didn't encounter any disruptions or other problems, such as captchas when performing Google searches, as is common with some other VPN providers.
In terms of streaming, Surfshark also did very well, allowing us to view foreign content on Netflix, Amazon Prime Video, Disney+, and the BBC's iPlayer without issue.
For anyone planning a trip to China, you'll be in good hands with Surfshark, so long as you download the client before take-off and activate the NoBorders feature. We recommend selecting the Shadowsocks protocol (unfortunately, only available for Windows and Android) since automatic protocol selection won't work with many servers.
Taken together, Surfshark did excellently in our performance assessment.
Score: 5 / 5
When using Surfshark, data traffic is encrypted with AES 256, considered to be the most secure encryption standard on the market. On Windows, macOS, Android, and iOS, Surfshark supports OpenVPN's TCP and UDP protocols, IKEv2, as well as the new gold standard when it comes to security and performance, WireGuard. Windows and Android users can also take advantage of the aforementioned Shadowsock protocol, which allows for China's "Great Firewall" to be bypassed.
Surfshark passed our VPN leak tests (IPv6, DNS, and WebRTC) without breaking a sweat.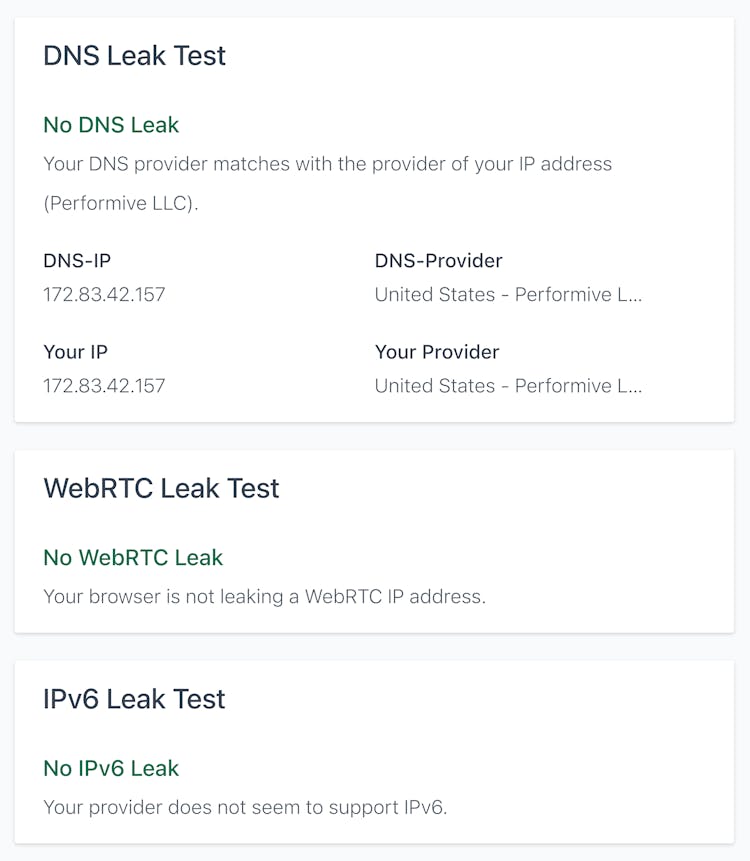 No leaks were identified during testing meaning that our privacy remained secure throughout.
Like ExpressVPN, Surfshark is headquartered on the British Virgin Islands, a country that does not have strict laws on data storage or allow data to be shared with (foreign) security services. The British Virgin Islands is also not a member of the Five or Fourteen Eyes intelligence-sharing agreements. In terms of privacy, the location of the company's headquarters should be seen positively.
Surfshark's privacy policy states that the provider does not save or log anything, apart from the registration and payment information necessary for administering its users' accounts. In 2018, the independent security auditing company, Cure53, conducted an audit of Surfshark's browser extensions.
They concluded that the program's extensions "make a very robust impression and are not exposed to any issues, neither in the privacy nor in the more general security realms." However, this audit was not all that comprehensive and limited to the service's browser extensions. As such, Surfshark can't really go toe-to-toe with its competitors who regularly allow all of their applications to be audited by third parties.
When it comes to security, everything looks good on paper. We think that Surfshark can do better and that the time is right to submit to an extensive external audit for all of its applications.
Score: 4 / 5
Surfshark's help center contains general FAQs and a knowledge base with tutorials, as well as payment information. Although we were told that more languages were available for the help center, we could not find any apart from English.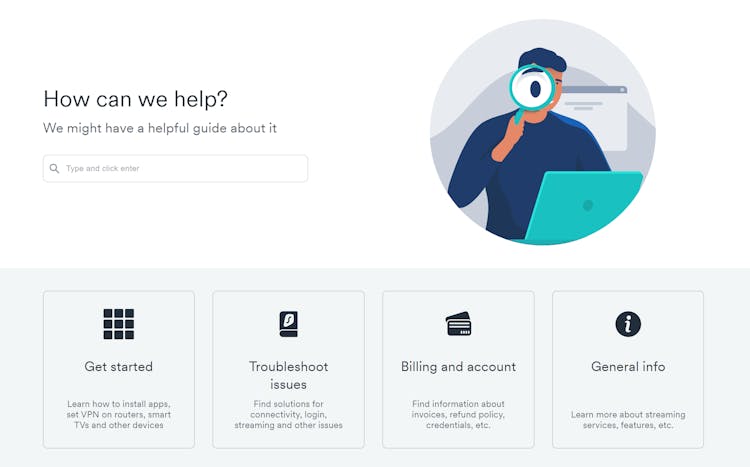 Surfshark's help center is nicely divided into different thematic areas.
Surfshark can be directly contacted via a 24/7 live chat or support ticket. When doing the latter, it took roughly a minute for us to establish contact with helpful support personnel; our email was answered after roughly seven hours.
Queries in languages other than English were answered by the live-chat support personnel using automatic translations.
Surfshark's short response time secured it points, however, multi-lingual personnel would be a welcome addition.
Score: 4.3 / 5
As in many other cases, the longer the subscription with Surfshark, the lower the monthly price. At 81% less than the monthly price, the 2-year subscription is a true bargain among even the least expensive VPN providers from our sample. An overview of current prices can be found in the table below:
24 months
12 months
1 month
Pricing
Set-up fee
$0.00
$0.00
$0.00
Effective monthly price
$2.49
$3.99
$12.95
Contract period (months)
24
12
1
Limits
Data volume
unlimited
unlimited
unlimited
Number of Devices
unlimited
unlimited
unlimited
Features
Number of servers
3,200
3,200
3,200
Number of countries
65
65
65
No server logs
P2P allowed
Tor access
Kill Switch
Protocols

OpenVPN

WireGuard

IKEv2

OpenVPN

WireGuard

IKEv2

OpenVPN

WireGuard

IKEv2
Surfshark can be paid for with credit card, PayPal, Google Pay, Amazon Pay, cryptocurrencies, Alipay, or instant transfer. Special organizational or corporate rates are not offered.
The provider also doesn't allow users to trial the service, however, a 30-day, money-back guarantee is included in all plans.
Installation and Features
4.7 / 5
Security and Privacy
4.0 / 5
Surfshark might be new to the VPN ocean, but gives a solid accounting of itself, even when set alongside the bigger or older "fish". For one thing, it's faster than nearly all of them. On top of this, it offers intuitive applications, lots of features, and fast support. Taken together, the provider is a solid choice for anyone, but a particularly good catch if you're looking for a VPN for the long haul: Its 2-year subscription plan is one of the most affordable on the market.
In some areas, Surfshark can't get the better of its competitors though. While in 2019 we were impressed with its independent audit, two years later, it has lost a bit of its shine. This is because such audits didn't become a regular part of the service, but appear instead to have just been a one-off gimmick. Were Surfshark to submit to these more frequently, and allow its commitments to security and privacy to be put to the test, there wouldn't be much to fault the provider for.
3200+ servers in 65 countries
Unlimited number of devices
Many apps (Linux, FireTV, ...)
Very cheap on the 24-month plan
Surfshark is one of the cheapest providers on the market, but besides the price also impresses with strong protection, many features and a great support with 24/7 live chat.
Data volume
Devices
Protocols
Contract Period
Surfshark 24 months
$2.49
monthly price
Visit Website »
Get 83% Discount
Most reviews on Trustpilot are positive, with a significant number of users rating it "excellent" or "good". The service's solid price-performance ratio is the reason for much of this. Alternatively, most criticism of the service is related to the speed of its connections.
Review
107,554 Ratings
good
We analyzed the reviews and ratings from various portals and found 107,554 ratings with an overall rating of 4.4 out of 5 .
Show sources
Should you want a provider whose commitment to security and privacy is unwavering and regularly submits to independent audits TunnelBear, NordVPN, and ExpressVPN are excellent choices. Our in-depth comparisons: Surfshark vs. NordVPN and Surfshark vs. ExpressVPN.
On the other hand, if you're looking for a cheaper alternative to Surfshark, ProtonVPN and Windscribe, our top free VPNs, are worth looking into.
A list of the best alternatives to Surfshark can be found below.
5400+ servers, 60 countries
Inexpensive 2-year package
NordVPN combines speed, user-friendliness and functionality into a coherent overall package that is also fairly affordable.
Data volume
Devices
Protocols
Contract Period
NordVPN 2-year plan
$2.99
monthly price
Visit Website »
30 days money-back guarantee
160 cities in 94 countries
30-day money-back guarantee
ExpressVPN impresses with strong performance, a huge server network and excellently designed applications, but this quality also comes at a higher price.
Data volume
Devices
Protocols
Contract Period
ExpressVPN 12 Months
$8.33
monthly price
Visit Website »
30 days money-back guarantee
1200+ servers in 55 countries
Headquarters in Switzerland
Open Source & external audits
Data volume
Devices
Protocols
Contract Period
ProtonVPN Free
$0.00
monthly price
Visit Website »
30 days money-back guarantee
290 locations in 210 countries
Data volume
Devices
Protocols
Contract Period
HideMyAss! 36 months
$2.99
monthly price
Visit Website »
30 days money-back guarantee

Author (German Version): Martin Gschwentner
Martin Gschwentner majored in American Studies and Media Studies in Germany, the USA and France and works as a freelance editor in Paris. He is a doctoral student at the Institute for English and American Studies at the University of Paris Diderot, where he is researching the influence of money on US politics. On EXPERTE.com he writes about IT security, data protection and software for the self-employed and small businesses.

Translator & Editor: D Bare