VPN
VPN Review: TunnelBear
Ghosts, snakes, sharks, donkeys, and moles: In the battle for the best VPN mascot, TunnelBear with its lovable, grizzly bear, rising out of a Super Mario-esque pipe, easily takes first place. Our test will show if the service has a bite or only an empty growl.

TunnelBear is a Canadian VPN service that since 2018 belongs to the US cybersecurity giant, McAfee. TunnelBear offers applications for Windows, macOS, Android, and iOS, as well as browser extensions for Chrome, Firefox, and Opera. TunnelBear's chrome extension also includes the "Blocker" ad-blocking tool.
Security and Privacy
4.3 / 5
Installation and Features
3.7 / 5
Solid apps featuring the most important features
Friendly customer support
Has undergone external security audits
Split tunneling only offered in the mobile apps
2.
Installation and Features
TunnelBear's website lists all available applications, enabling users to download and install the desktop clients, mobile apps, or browser extensions within minutes. Subscribers can create five simultaneous connections. Unfortunately, TunnelBear doesn't support smart TVs or gaming consoles, and no guides are offered for configuring the VPN for routers.
Whereas the desktop client is only offered in English, the smartphone app displays content in the system's language.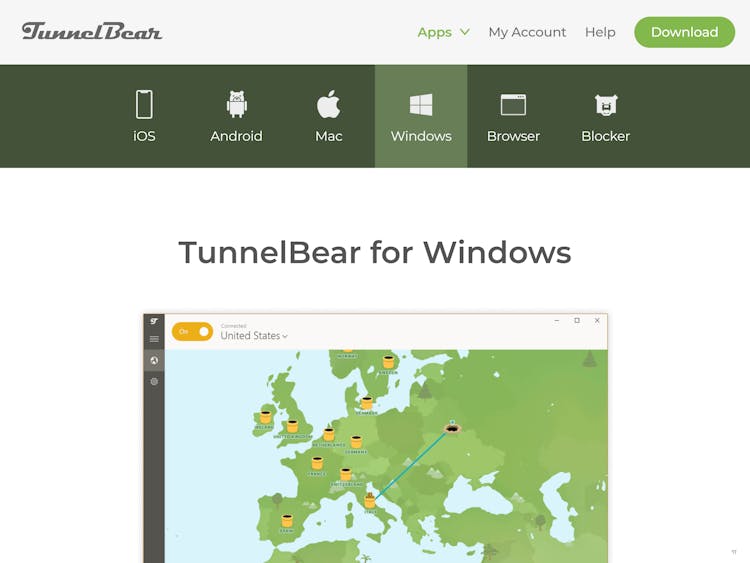 TunnelBear is only available for the most popular operating systems.
TunnelBear breaks with the tendency towards minimalism and less invasive design, with its desktop client opening a colorful, full-screen window. The world map can be retracted, however, this results in the app very nearly disappearing into the desktop.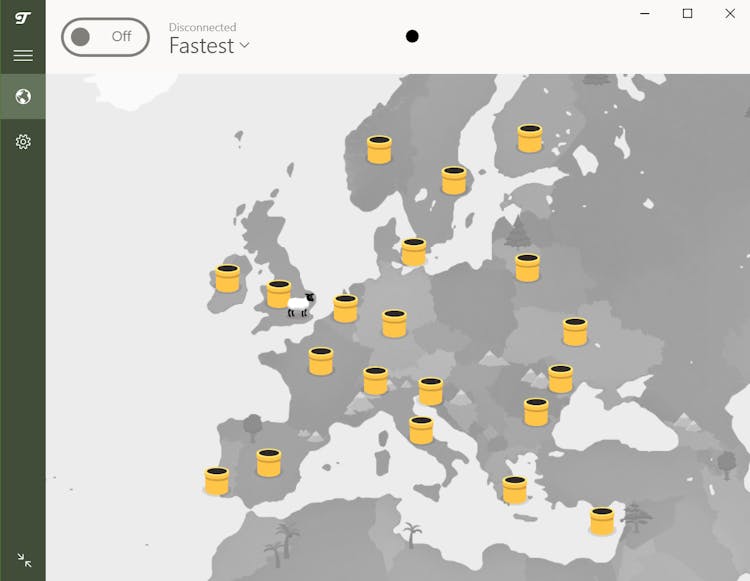 TunnelBear's desktop client features a very playful interface.
Something between the playful world map, on which the tunnel bear is shown digging around, and server locations are marked with tunnels, and, the minimized version of the app (picture below) would be nice. With that said, we did like the interface's design.

When you retract the world map, only a mini window with an On/Off switch and a drop-down server location menu remain.
Users can select a server location from the drop-down menu or click on one of the yellow tunnels on the world map, which causes the bear to start digging to establish your secure VPN connection. TunnelBear doesn't provide any information about server performance, however, by selecting "Fastest" from the server list, you'll be connected to the fastest available server.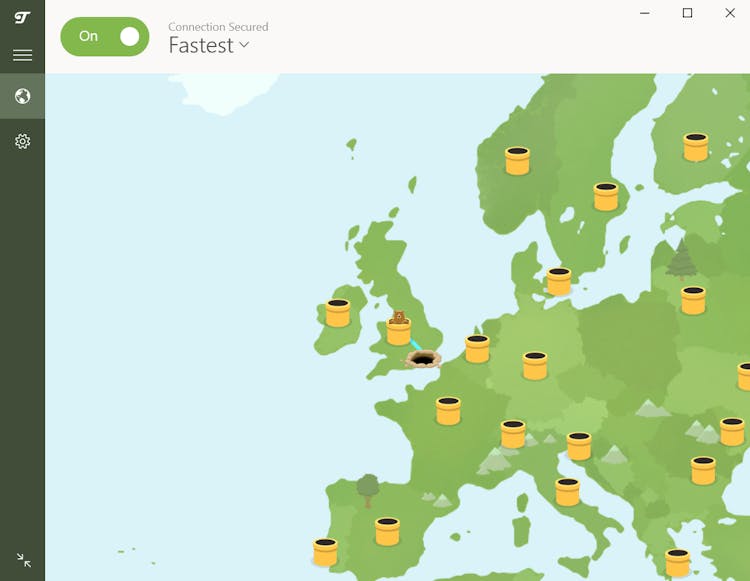 Once you've established a VPN connection, the map becomes full color.
Under Settings, you'll find a few options with which you can tailor the app to your exact preferences. The kill switch, which automatically severs your Internet connection whenever the VPN is disrupted, is referred to as "VigilantBear." In contrast, "GhostBear" helps circumvent internet restrictions.
You can set TunnelBear to automatically start when you boot up your computer, however, this is strictly for the program, as no direct option is offered to automatically connect to a VPN. It is possible to do this by setting a "trustworthy connection" that TunnelBear should automatically connect to whenever you're on a non-listed network.
Unfortunately, it isn't possible to change VPN protocols in TunnelBear or to use split tunneling or multi-hop, at least in the desktop client.
The browser extension is fairly limited, possessing only an On/Off switch and a drop-down server list. For reasons unknown, the "Quick Connect" feature is not integrated.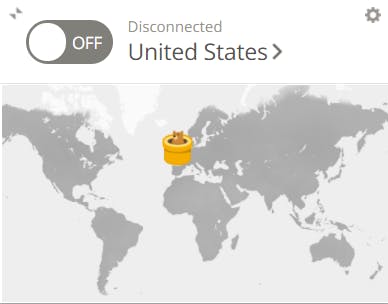 TunnelBear's browser extension is available for Chrome, Firefox, and Opera.
Mobile App
On smartphones, where gamification is standard, the design of TunnelBear's interface is a bit more at home. Here too, you can send the bear through tunnels around the world, or ask him to create an automatic connection. As in the desktop client, there aren't a whole lot of options, but "SplitBear", the provider's split tunneling feature, joins his friends "GhostBear" and "VigilantBear." The third member of the gang allows you to set which apps should be excluded from VPN tunnels you create, using your regular network connection instead.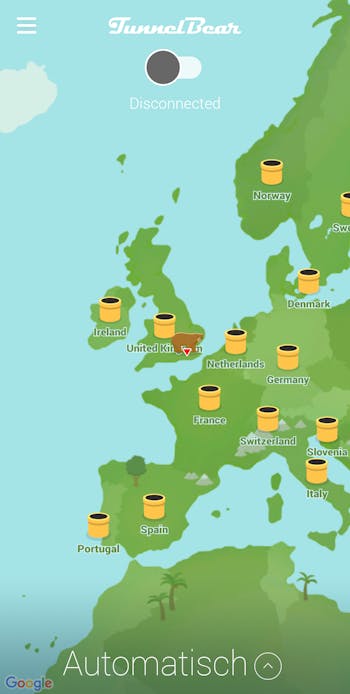 TunnelBear's mobile app also features a world map interface similar to that found in the desktop client.
TunnelBear comes with most of the features sought from a VPN provider without making any big mistakes in the process. It would be nice to have split tunneling in the desktop client, however, demand for it simply hasn't been as strong amongst VPN users.
The service's playful interface is a matter of taste. We prefer more streamlined designs, particularly for desktop clients as well as information about server speeds or performance. In total, TunnelBear doesn't do more than is necessary, but we can't really fault it either.
Score: 3.7 / 5
TunnelBear has 'dug' into 26 countries. Since no server information is provided, you'll never know precisely where the server you're using is located. With the service's competitors, you can usually see the city that a server is located in, and select from different servers within a single country. Since no figures have been published to date, it also isn't known how many servers TunnelBear has.
TunnelBear's network is rather modest, and outside of Europe and North America, pretty thin. For example, the service has no servers in Africa.

Maybe the bear needs a few assistants: TunnelBear's server network is relatively small.
In comparison to other VPN providers, which have networks comprising thousands of servers spread across the globe, TunnelBear doesn't seem to have a large complement of servers.
Score: 1 / 5
To evaluate the speed of all VPNs from our sample, we used a server in Europe with a 1 GB/s connection. At different times of the day, we connected to random TunnelBear servers in the US and Germany to more accurately gauge their performance. More information concerning our methodology can be found in our VPN speed test article.
The table below shows the average results from the last 365 days, arranged in order of download and upload speed (descending):
In our speed test, TunnelBear maintained a spot in the lower middle of our sample (12th place), evidencing a download speed of 129.4 MB/s, and an upload speed of 18.4 MB/s.
The diagram below shows TunnelBear's average speeds over the past months.
We also assessed how TunnelBear performed in a number of areas where VPNs commonly see action. For everyday surfing, we didn't note any problems and our connections remained stable.
In terms of video streaming, our results were mixed: We were able to watch foreign content on Netflix and Amazon Prime Video, but not on Disney+ or the BBC's iPlayer.
TunnelBear won't get you far in China, as we (unfortunately) weren't able to establish a connection from the country during testing.
Overall, TunnelBear performs decently, only dropping points in terms of streaming and suitability for usage in China.
Score: 3.7 / 5
As mentioned above, TunnelBear doesn't allow users any choice in selecting or configuring their VPN protocols. For macOS users, OpenVPN, known for its security, comes pre-installed. On Windows, Android, and iOS, OpenVPN and IKEv2 alternate for each connection, depending on which is faster at that moment. User data is continuously encrypted with AES 256. Unfortunately, WireGuard, the new gold standard amongst VPN protocols, is not supported.
The program passed our VPN leak tests without issue.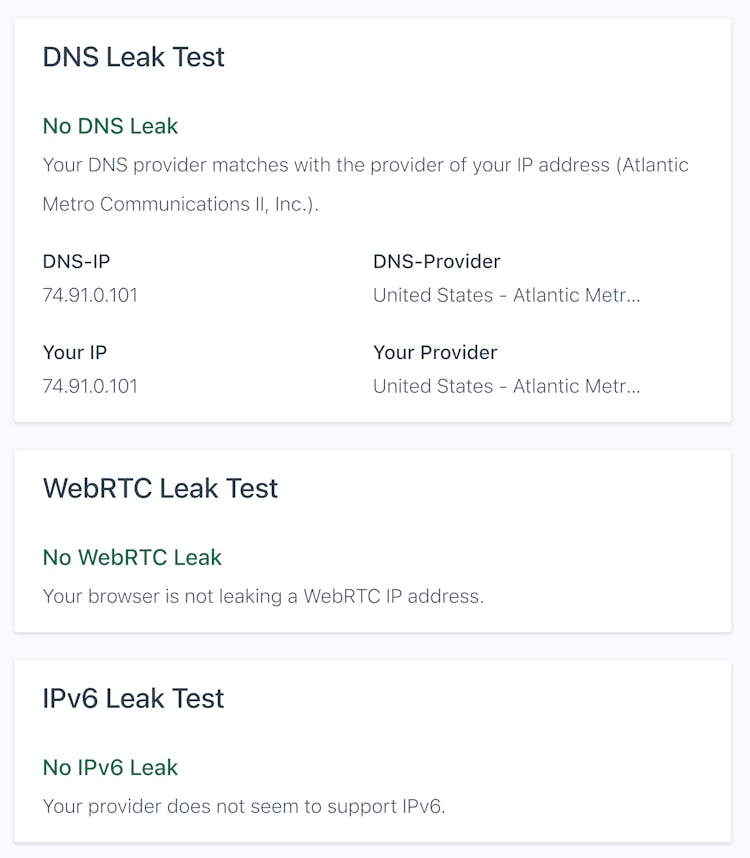 TunnelBear passed all of our leak tests.
For the third time in its corporate history, TunnelBear submitted in 2019 to an independent security audit in order to put its "No-Logs" commitment to the test. Although Cure53 identified a total of 12 weaknesses (two of which were rated as critical), they declared the provider to be "a clear frontrunner among its VPN competitors when it comes to security."
Through this process, TunnelBear gains itself a coveted place at the (lamentably) small table of VPN providers who have allowed themselves to be independently audited. In spite of these positives, we still need to call attention to the firm being based in Canada, a country that is party to the Five-Eyes intelligence-sharing agreement. Other VPN providers are based in countries where user privacy is less controversial.
Score: 4.3 / 5
TunnelBear has a clearly organized help center offering DIY-type users plenty of FAQs and guides. To gain direct assistance, it's necessary to file a support ticket, since no live chat is available. TunnelBear still scores owing to the friendly responses we received from its support team, which had a real personal touch.
The attentive "Support Bear" responded to us within 10 hours with a detailed response to our query, even throwing in some jokes for good measure.
As customers, we felt truly heard, which is always important.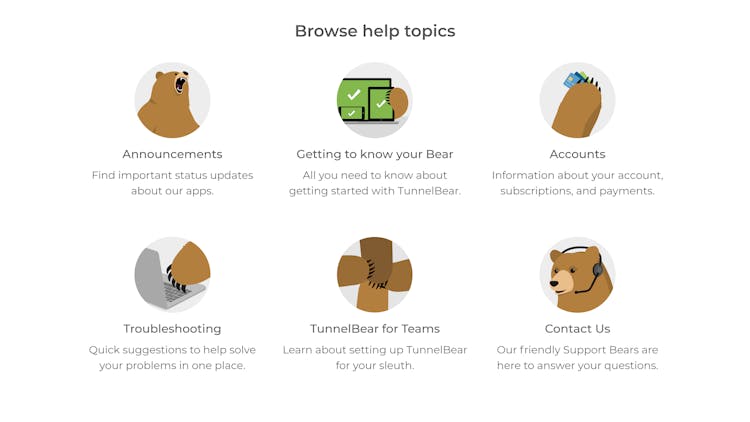 The "Support Bears" can only be reached via contact form.
Live chat would be a nice addition, as would support in languages other than English. At the same time, TunnelBear won our award for the most personable customer service.
Score: 4.3 / 5
TunnelBear is a freemium VPN provider, meaning that the service can be used for free with some limitations. For TunnelBear, this is a monthly data cap of 500 MB. For unlimited data usage and the ability to simultaneously connect up to five devices, a subscription is necessary. These can be per month, per year, or for three years. The 36-month subscription is one of the least expensive VPN packages on the market.
Companies can make use of TunnelBear for Teams, which is priced per user.
A current price list can be found below:
Free
3 Years
1 Year
Pricing
Set-up fee
$0.00
$0.00
$0.00
Effective monthly price
$0.00
$3.33
$4.99
Contract period (months)
0
36
12
Limits
Data volume
0.5 GB
unlimited
unlimited
Number of Devices
1
5
5
Features
Number of servers
-
-
-
Number of countries
26
26
26
No server logs
P2P allowed
Tor access
Kill Switch
Protocols

OpenVPN

IKEv2

OpenVPN

IKEv2

OpenVPN

IKEv2
TunnelBear doesn't come with a general money-back guarantee, but you can get in touch with support if unsatisfied. The "Support Bears" will then decide, on an individual basis, whether or not to issue a refund.
Security and Privacy
4.3 / 5
Installation and Features
3.7 / 5
For those without a good sense of humor, avoid TunnelBear. The service is easily the most playful VPN provider we encountered, trying to win your affection at every turn with puns, wordplay, and endearing graphics. To a certain extent, this strategy works: Its apps are made-to-please and include the most important features, a free version is available, and the provider's security has been authenticated by external audits.
In most fairy tales, although often well-meaning, bears are typically clumsy and sedated, both of which definitely apply to TunnelBear. In comparison to the other providers from our sample, the program's performance is sluggish, doesn't offer split tunneling in its desktop client, and has a rather tiny server network.
For anyone that can live with these shortcomings, TunnelBear is definitely a reliable VPN option.
Among the customer reviews we evaluated, TunnelBear was seen positively. A number of users praised its low price and the user-friendliness of its applications. In terms of complaints, connection problems were the most frequently cited issues.
Customer Rating
341,641 Ratings
good
We analyzed the reviews and ratings from various portals and found 341,641 ratings with an overall rating of 4.4 out of 5 .
Show sources
At nearly the same price, you might want to consider NordVPN, our price-performance winner and recipient of first place in our speed ranking. NordVPN's server network is also significantly larger than that of TunnelBear.
If you'd like to stick to a free VPN, but don't want to deal with data limits, ProtonVPN might be the right choice for you.
The best alternatives to TunnelBear can be found below:
5400+ servers, 60 countries
Inexpensive 2-year package
NordVPN combines speed, user-friendliness and functionality into a coherent overall package that is also fairly affordable.
Data volume
Devices
Protocols
Contract Period
NordVPN 2-year plan
$3.29
monthly price
Visit Website »
30 days money-back guarantee
160 cities in 94 countries
30-day money-back guarantee
ExpressVPN impresses with strong performance, a huge server network and excellently designed applications, but this quality also comes at a higher price.
Data volume
Devices
Protocols
Contract Period
ExpressVPN 12 Months
$8.33
monthly price
Visit Website »
30 days money-back guarantee
3200+ servers in 65 countries
Unlimited number of devices
Many apps (Linux, FireTV, ...)
Very cheap on the 24-month plan
Surfshark is one of the cheapest providers on the market, but besides the price also impresses with strong protection, many features and a great support with 24/7 live chat.
Data volume
Devices
Protocols
Contract Period
Surfshark 24 months
$2.49
monthly price
Visit Website »
Get 83% Discount
1200+ servers in 55 countries
Headquarters in Switzerland
Open Source & external audits
Data volume
Devices
Protocols
Contract Period
ProtonVPN Free
$0.00
monthly price
Visit Website »
30 days money-back guarantee
290 locations in 210 countries
Data volume
Devices
Protocols
Contract Period
HideMyAss! 36 months
$2.99
monthly price
Visit Website »
30 days money-back guarantee

Author (German Version): Martin Gschwentner
Martin Gschwentner majored in American Studies and Media Studies in Germany, the USA and France and works as a freelance editor in Paris. He is a doctoral student at the Institute for English and American Studies at the University of Paris Diderot, where he is researching the influence of money on US politics. On EXPERTE.com he writes about IT security, data protection and software for the self-employed and small businesses.

Translator & Editor: D Bare