Best VPN for Switzerland 2023: Simulate a Swiss IP-Address


Ad disclaimer:
For links on this page, EXPERTE.com may earn a commission from the provider. This supports our work and has no influence on our editorial rating.
Would you like to connect with Switzerland? Perhaps you're longing to watch an SRF documentary or some Alpine sports? Unfortunately, most of the country's media libraries restrict content to those with Swiss IP addresses. There is a workaround for this and it involves using a VPN.
These don't only make your Internet connection safer, but also, more international. By establishing a link to a server somewhere else, you'll receive an IP address for that country. Websites will treat you as though you were a visitor from whatever country you've selected, and you'll get access to otherwise geo-blocked content.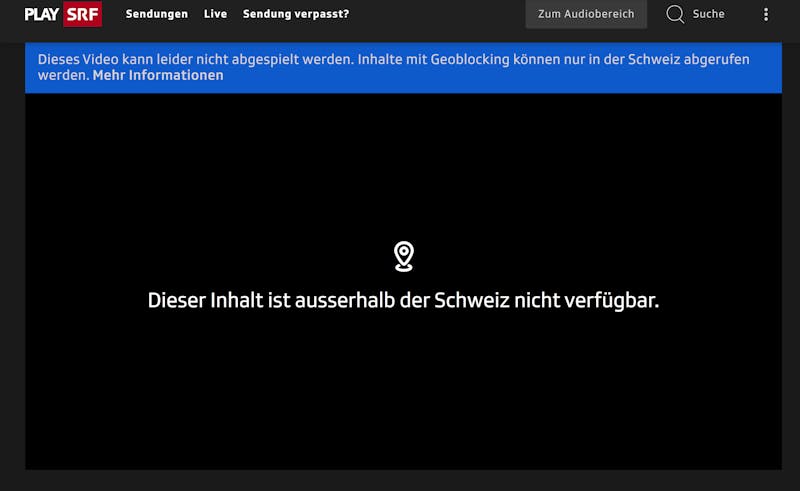 Annoying: Geo-restrictions prevent you from watching programming.
In our comprehensive EXPERTE.com VPN review, we took a closer look at 27 providers. Below, we'll let you know which provides the most reliable access to content from Switzerland.
Best VPNs for Swiss Content
To determine how good a VPN is at unlocking content from Switzerland, we paid attention to three factors: The provider's score in our overall review, the speed of its Swiss server(s), and which Swiss platforms it could unblock content on.
We measured speeds daily, compiling results into an average (for more details, be sure to consult the Performance section). For streaming, we used SRF's Mediathek as a benchmark. If you're interested in learning which services from our sample excelled at unblocking international content, don't miss our articles for Netflix, Amazon Prime Video, and Disney+.
Without further ado, here are our Top 3:
1.
NordVPN: From $3.99/Month
NordVPN is our number one VPN because it combines speed, ease-of-use, and functionality in a slick package that's also pretty affordable.
5,500+ servers, 60 countries
affordable 2-year package
9.4

excellent
Data Volume
Devices
Protocols
Contract Period
NordVPN 2-year plan
$3.79
monthly price
Visit Website*
30 days money-back guarantee
NordVPN surpassed all other providers in our comprehensive EXPERTE.com assessment. Thanks to its polished interface, a nice variety of features, high security, and excellent performance, the service won first place in our review. In our speed test (overall and for Switzerland), it also secured the top spot. Its Swiss download and upload speeds were 168.7 MB/s and 31.4 MB/s, respectively.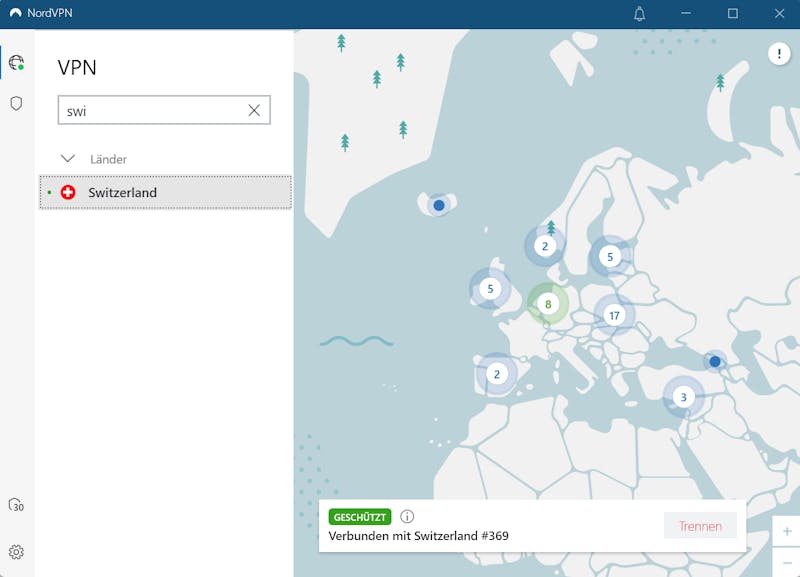 NordVPN, first place in our EXPERTE.com review, is also the best VPN for accessing Swiss content.
With more than 5,000 servers spread across 60 countries, NordVPN's global reach is impressive. Around 100 of the provider's servers are in Switzerland, and these are reliable: We were able to access content from SRF's Mediathek from abroad without issue.
NordVPN's most affordable package will set you back $3.99 per month if agreeing to a 24-month contract. A one-month plan costs $11.99.
EXPERTE.com's overall winner

Enables access to SRF's Mediathek
Installation and Features
9.4 / 10
Security and Privacy
9.4 / 10
2.
Surfshark: From $2.49/Month
Surfshark is one of the cheapest providers on the market, but it's a lot more than a great budget option: the relatively new VPN boasts strong protection, many features, and a great support with 24/7 live chat.
3,200+ servers in 100 countries
unlimited number of devices
many apps (Linux, FireTV, ...)
8.8

good
Data Volume
Devices
Protocols
Contract Period
Surfshark 24 months
$1.99
monthly price
Visit Website*
Get 83% Discount
If you're in the market for a reliable VPN that won't hurt your wallet, you can't miss Surfshark, our price-performance pick. The relatively young British Virgin Island-based provider only costs $2.49 per month (2-year subscription) or $12.95 on a monthly basis.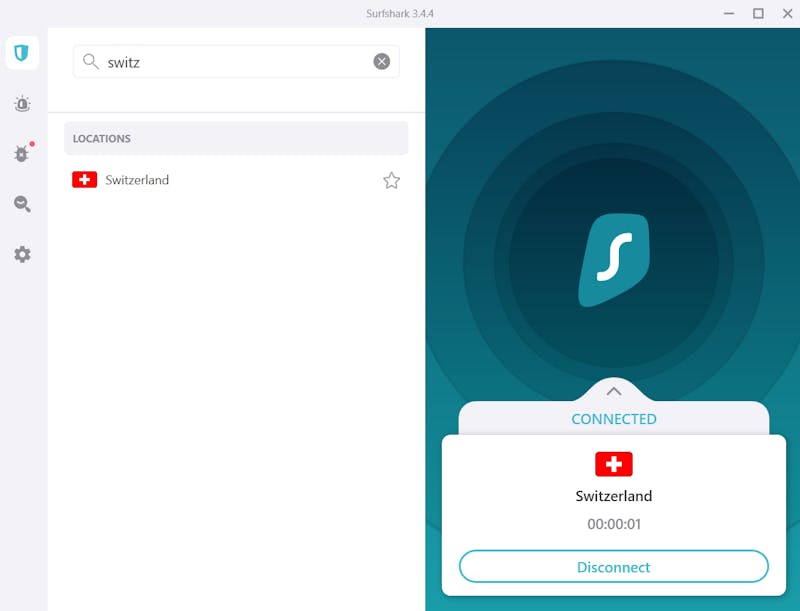 Surfshark can also provide you with a Swiss IP that comes in handy for getting around geo-blocks.
Surfshark did well thanks to its feature-laden VPN clients and wide selection of settings. It also finished just behind NordVPN, securing second place in our speed test.
Our price-performance winner offers access to more than 3,000 servers spread across 65 countries. Unfortunately, we're unable to say how many are in Switzerland, however, owing to its third-place finish in our Swiss speed test, the provider definitely has resources there. Rounding things out, we didn't encounter any problems in streaming content from the SRF Mediathek.
EXPERTE.com's price-performance pick

Top speeds, also on Swiss servers

Provides reliable access to the SRF Mediathek
Server network could be slightly larger
Installation and Features
9.4 / 10
Security and Privacy
8.0 / 10
3.
ProtonVPN: From $4.00/Month
With its open source philosophy and extra security features, Proton VPN targets security-conscious VPN users. But thanks to its user-friendly interface and suitability for streaming, it's worth a look for a wide audience.
open source & external audits
2,900+ servers in 67 countries
free plan without data limit
9.1

excellent
Data Volume
Devices
Protocols
Contract Period
Proton VPN Free
$0.00
monthly price
Visit Website*
Free forever
ProtonVPN was our first choice among free VPNs. However, you'll only be able to connect to Swiss servers if you've booked one of its paid subscriptions, which start at $4.00 per month. In our Swiss speed test, ProtonVPN, which calls the country home, did well enough for fifth place and should be just fine for streaming.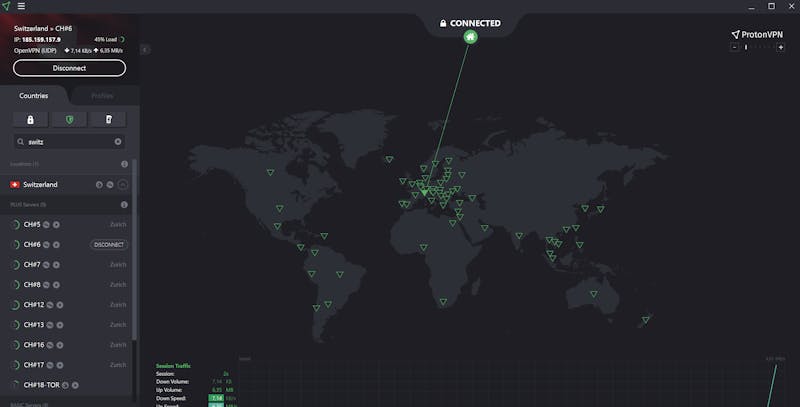 ProtonVPN offers a number of Swiss servers to choose from.
During testing, ProtonVPN didn't demonstrate any issues providing us with access to the SRF Mediathek. The provider's main advantage though is its commitment to security: ProtonVPN's apps are completely open-source and include extras like Secure Core servers.
Good performance in our speed test

Enables access to SRF Mediathek content
Server network still growing

Free version doesn't include access to Swiss servers
Installation and Features
10 / 10
Security and Privacy
10 / 10
Free VPNs for Switzerland
So, you'd like to have a Swiss IP address but aren't ready to commit to a paid VPN subscription? If that's the case, Windscribe is worth looking into.
With its flexible pricing and a generous free plan, Windscribe is a solid option for budget-minded VPN users. It also has a nice, lean app with lots of features – but sadly, its performance can't keep up.
Data Volume
Devices
Protocols
Contract Period
Windscribe Free
$0.00
monthly price
Visit Website*
Download for free
However, just to be clear: Owing to both data limits and its blocking of commercial video streaming, even Windscribe's free version isn't going to help you watch Swiss documentaries or programming.
If you'd like a Swiss IP address for any other reason, Windscribe is highly recommended, especially since its 10 GB monthly data limit is very generous. And, should your interests expand beyond Switzerland, Windscribe also offers nine other locations for free users to choose from: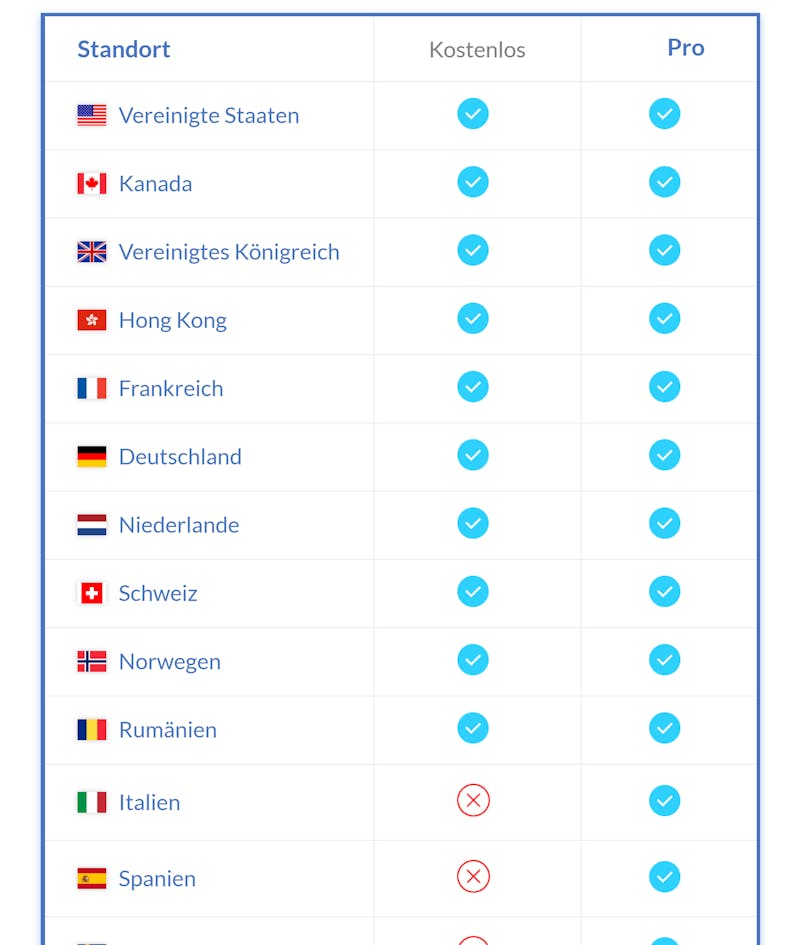 Windscribe's free version is generous in terms of both data and servers locations.
In the event that you want to take full advantage of what a VPN has to offer, there aren't really any alternatives to a paid subscription.
Swiss TV With a VPN: How To
Once you've signed up for a VPN, you're only a few clicks away from enjoying Swiss media libraries. Using Surfshark, we'll show you how to do this below.
1. Download, install, and open the VPN client for your operating system.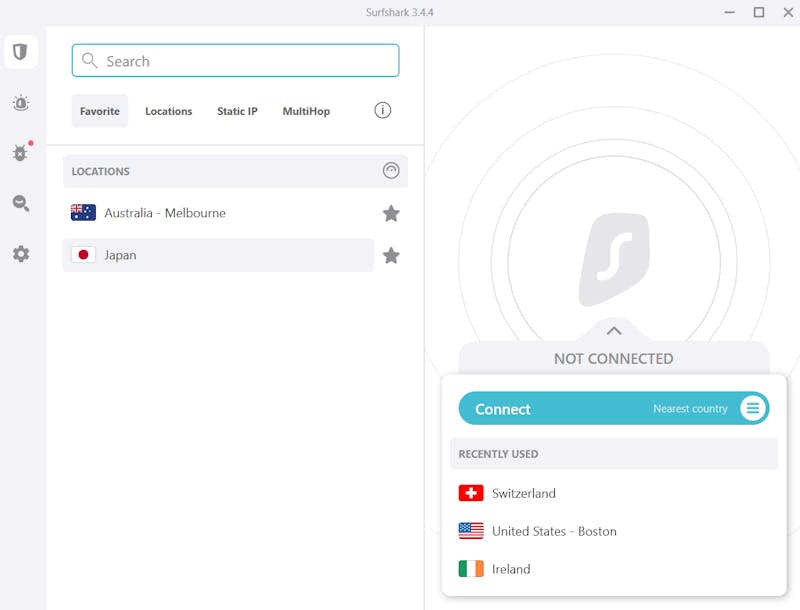 Surfshark offers clients and apps for all popular operating systems and platforms.
2. Search for Switzerland in the country list and click on the result.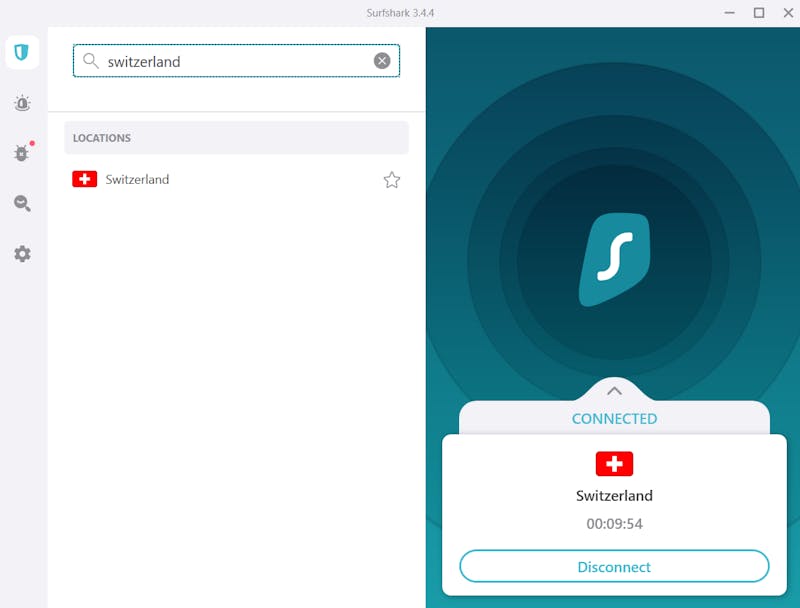 You can select Swiss servers manually from the country list or by using the search tool.
3. Once connected, head to the website you'd like to access, like SRF's Mediathek. Thanks to your new Swiss IP, you should be able to freely access this.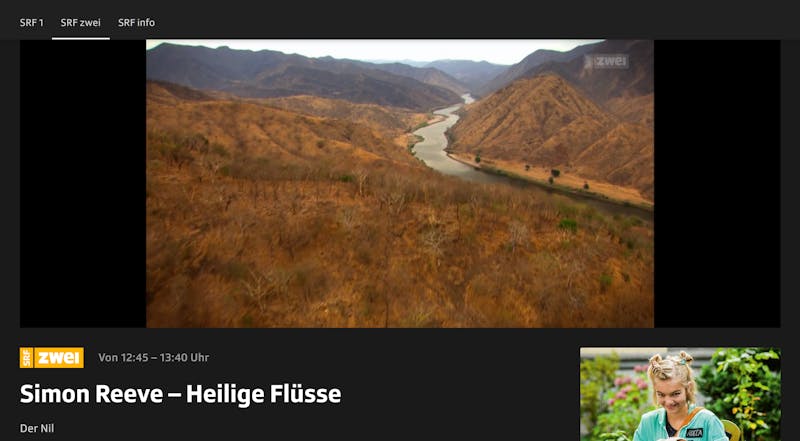 The previous error message has disappeared: With VPNs, you can watch SRF programming as if you were in Switzerland.
How We Tested
We closely examined all 27 providers from our sample to determine their strengths and weaknesses. The overall score we awarded is a composite of individual scores across five categories. Below, we've provided a brief summary of each of these:
Installation and Features
Your VPN's client is your gateway to a more global Internet and should be as user-friendly as possible. We paid attention to which operating systems and platforms each supports. Beyond that, we also took a closer look at how much you can customize your connection's settings, and whether all of the most important features are included. The services that fared best in our evaluation combined intuitive usage with plenty of features.
Server Network
Here, two numbers matter: How many servers are available, and the countries they're based in. For both, the more the better. Those providers which offered several thousand servers spread nicely around all populated continents took maximum points in this category.
Performance
Speed is the first aspect of performance that we examined and assessed continually in our EXPERTE.com VPN speed test. Apart from that, we also checked how the VPN held up during everyday usage and if we experienced connection problems or interruptions. How well a service did in terms of streaming also factored into our final score.
Specifically for Switzerland, we used SRF's Mediathek as a benchmark. Our Top 10 are presented below:
1.
2.
3.
4.
5.
6.
7.
8.
9.
10.
From the table below, you can see which of our Top 10 providers make it possible to watch content in the SRF Mediathek:
| Provider | SRF Mediathek |
| --- | --- |
| | |
| | |
| | |
| | |
| | |
| | |
| | |
| | |
| | |
| | |
Security and Privacy
Is your data in good hands with the VPN provider you've selected? We comb through each service's privacy policy and let you know whether everything is above board. To reinforce our assessment, we also pay attention to general security matters, such as the encryption and protocols on offer, rounding out our opinion by performing VPN leak tests.
Customer Support
To get our stamp of approval for support, VPNs should offer reliable direct contact options as well as an organized and informative help center. We particularly like live chat options and hope that emailed queries are addressed within 24 hours. Static support should be full-text searchable, clearly arranged, and include FAQs that cover all of the most important topics.
Overall Score
You're not in Switzerland but want to access Swiss content? Based on our experience, you can easily do this with any of the services from our Top 3.
On the other hand, if you're looking for the best VPN overall, that's also reliable for connecting to Switzerland, we recommend taking a look at our EXPERTE.com overall ranking of the leading VPN providers:
Conclusion
Geo-blocks are annoying, however, as we've shown above, anything but unavoidable. Should you not be in Switzerland, but have a longing for the SRF's Mediathek, or other Swiss programming, you can enjoy it with the help of several VPNs. Based on our evaluations, these provide reliable access to Swiss content. Our favorites are NordVPN, Surfshark, and ProtonVPN.
For free access to a Swiss IP address, you can also check out Windscribe, even though it won't help for streaming and you'll be limited to 10 GB of data per month. To gain access to the SRF Mediathek, you should be ready to pay a few dollars per month.
Detailed reviews of 27 popular VPNs are available in our comprehensive EXPERTE.com VPN assessment.
FAQs
Why should I use a VPN to access Swiss content?
⊖
As soon as you're physically outside of Switzerland, you'll lose access to Swiss content and media libraries, such as those of SRF. The main reason for this is that its content is subject to licensing agreements. With VPNs, you can connect to a Swiss server from abroad, and easily get around these blocks.
What is the best VPN for Switzerland?
⊖
Is it legal to use a VPN in Switzerland?
⊖
Yes, even though media libraries frown upon it. The SRF refers to "legal limitations" when citing its restriction of content to users outside of Switzerland. We couldn't find an explicit prohibition of VPN usage in SRF's terms and conditions, however. That means you're in the clear, and we aren't aware of any other consequences either, such as warnings or notices.
* Ad disclaimer:
For links marked with an asterisk, EXPERTE.com may earn a commission from the provider. The commission has no influence on our editorial rating.

Martin Gschwentner majored in American Studies and Media Studies in Germany, the USA and France and works as a freelance editor in Paris. He is a doctoral student at the Institute for English and American Studies at the University of Paris Diderot, where he is researching the influence of money on US politics. On EXPERTE.com he writes about IT security, data protection and software for the self-employed and small businesses.

Translation: D Bare
Continue Reading
Reviews
Comparisons
Tools & Guides