Cloud storage and backup services have grown immensely popular over the past few years for a number of reasons. One of the most important of these is what is referred to in military parlance as "fire-and-forget"; basically, configure them once, and they'll keep working until you tell them to do differently. As soon as changes are made to your files or a new one is added, the service takes note, with the change visible within a short period of time in the cloud, so long as your device has an Internet connection.
The second reason for their popularity is the ease with which they can be connected to the Internet. Greater numbers of users have access to larger data volumes and faster connection speeds than ever before, making it easy to transfer large files into the cloud: On a VDSL connection (such as Verizon's FiOS) speeds of 300 MB/s can, at least in testing, be achieved.
In reality, these speeds are almost never reached, partially as a result of how much data is utilized on a daily basis, but also owing to caps imposed on the upload and download rates by the providers themselves. For that reason, before you sign a contract with a provider, we recommend thoroughly testing their speeds from the location where you or your colleagues are planning to upload from.
How Do Cloud Backups Work?
Owing to improvement in both storage capacities, as well as user Internet speeds, cloud backups have become an interesting alternative to securing files on external hard drives or network attached storage (NAS).
Apart from the provider's servers, the most important component of cloud backups is their client, with which you can synchronize files on your devices and the cloud. Through this client, it's possible to designate which files and folders should be transferred to the cloud. As soon as you make any changes to one of these files, or add a new file (and supposing that you have an Internet connection) this change will be automatically reflected in the cloud.
Similarly, should you synchronize cloud storage with a particular system drive, the data will be updated on all other devices as well. In this way, you and your files will always be kept up to date, as will all connected computers, smartphones, and tablets.
Difference Between Online Storage and Cloud Backups
This section largely relates to the tasks traditionally fulfilled by online storage set against those of cloud storage or backups. The pioneer in the first area is Dropbox ⇱, which entered the market in 2007.
In contrast to cloud storage, a cloud backup creates a secure copy of your data through a client, protecting you against data loss or theft. Some providers allow users to create a full disk backup, which is a complete copy of everything on your computer. In this way, migrating from new hardware is convenient and straightforward. In our eyes, the best services are Acronis or Backblaze. We added an extra option in our feature overview to filter services that provide full disk backups.
In the list below, we've included an overview of the key differences between cloud storage and cloud backups.
| | Cloud-Storage | Cloud-Backup |
| --- | --- | --- |
| Synchronization of all folders | | Yes; All directories with personal data |
| Selective synchronization | Specified local directories | |
| Synchronization direction | | |
| | | |
In terms of features, there aren't a great number of differences between the two: Cloud backups also usually have a web interface in order to provide access to backups. Some cloud backup services allow users to copy and download individual files from the cloud or even share them with non-subscribers through public links. Otherwise, no clear distinction exists between cloud storage and cloud backup.
Data Synchronization
How the services are to be used plays a key role in selecting the best product. At the very least, you won't need to worry about which is compatible with your system, since all services that we examined work on both Windows and macOS.
Should you also want to secure data and files on your mobile devices, options are a bit more limited, regardless of whether you use Android or iOS. Should this be a dealbreaker for you, we've added a filter in our overview to see which providers offer mobile apps.
As already mentioned, many providers allow for web-based access to data, whereby this doesn't always perform as well as the client.
Although it might seem very complicated at first, providers have made the process of configuring backups relatively easy.
Backblaze, for example, emphasizes complete protection of your sensitive data, scanning your computer for such files during its client's installation.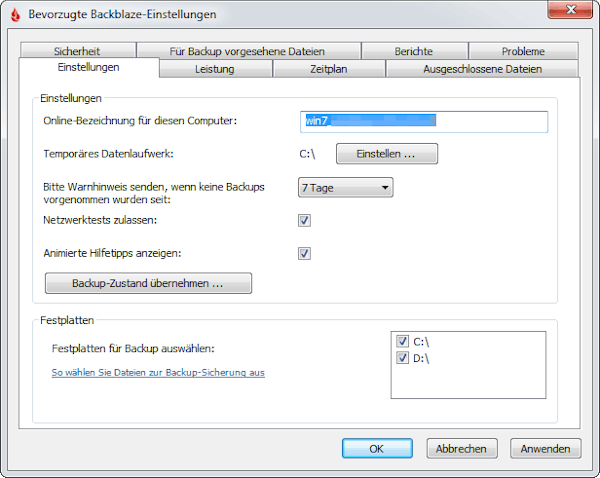 Under settings, you can see if all drives and partitions have been analyzed correctly.
Our test rig has a drive with two partitions, both of which Backblaze correctly identified. Under settings, you can view the categories into which backed up files are divided. On the computer we used, these mostly consisted of pictures and self-made videos.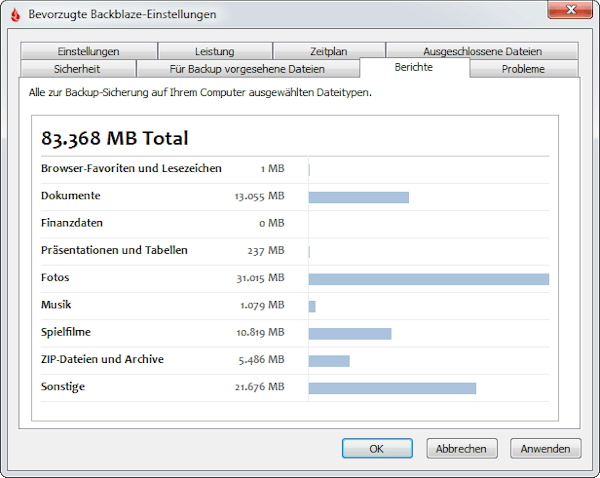 In the first overview you can see which personal files Backblaze has identified on your computer.
In the overview, you can also see how many files are to be backed up, as well as the number of files that need to be transferred to the cloud.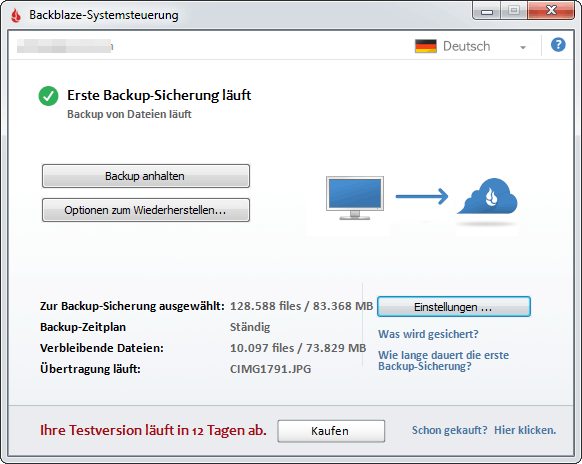 Backblaze provides you with an overview of how much data still needs to be backed up, and how much already has been sent to the cloud.
So that this process doesn't paralyze your entire network, Backblaze and other providers allow you to set how many of your system's resources should be utilized for transferring data. By default, a daily maximum upload limit of 12 GB is set, which relates to around 1.1 MB/second.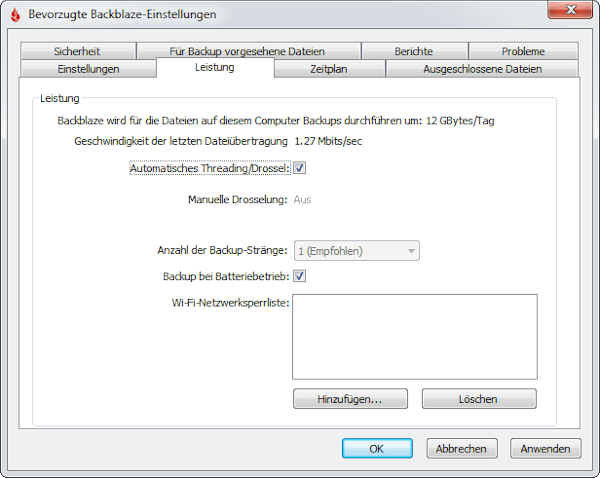 Backblaze configures the upload speed based on the bandwidth you have available.
Should you prefer to create a central repository to be used by multiple devices or computers, cloud storage is definitely the better option. One of the services we examined, SpiderOak's One Backup, helps backup data from your computer, as well as provides you with the possibility to synchronize individual drives and multiple devices.
For this reason, SpiderOak's client has two registers that offer both features: Under "Backup", you can select the directories or categories on your computer that you want to secure whereas "SpiderOak Hive" is the central folder for synchronizing files across different devices. The latter can be found in Windows Explorer directly under Favorites after installation and can be managed through the software's client.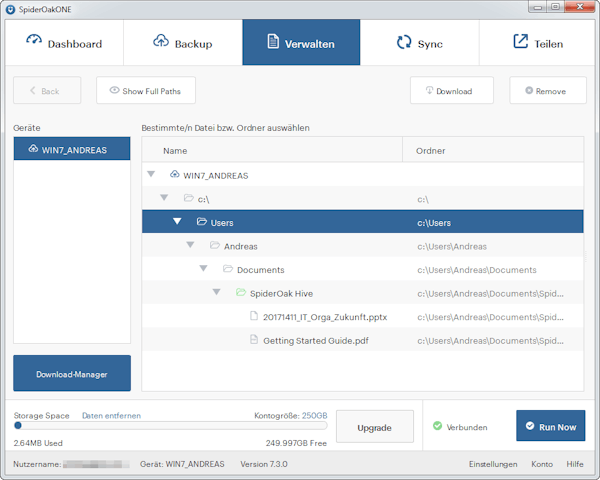 To facilitate synchronization, cloud storage providers usually include a central folder which lists all files from any devices that you have connected.
Managing individual tasks is made as easy as possible by these services, however, this doesn't differ much between providers. One aspect that is important, however, is the degree of security provided by the services we examined.
Security and Cloud Storage
When saving your files to a cloud, you're protected against a number of dangers, however, some threats still remain:
Someone steals your login information and can access your files without your knowledge.

The provider's server(s) are hacked and attackers can access data saved there.

Your provider's administrator accesses your data without your consent.
Providers are aware of these vulnerabilities and, as a result, have implemented different security features to head them off.
Despite special precautionary measures, it is possible that attackers can gain access to your account information. For that reason, it's very important for cloud storage to use multi-factor authentication.
Two-Factor Authentication (2FA)
2FA entails doubly securing your login information for a service. In the first step, you'll enter your username and password as usual. As an added level of security, you'll then be prompted for a one-time code, which the service generates either through a server-based tool, or an SMS, which it sent to a phone number you've linked to your account. The use of an app, like Google Authenticator, provides even more security, generating a one-time password that is valid for around 30 seconds.
Unfortunately, not all providers in our evaluation offer multi-factor authentication. To limit your search to those that do, simply check the "Two-Factor Authentication" filter.
The encryption used on the server where your data is stored is mainly responsible for the degree (or lack) of security afforded your files. In an ideal situation, hackers who have managed to get onto the server where your data is stored will only be able to see the names of your files, but not their content. Should the service utilize private key encryption, even administrators won't be able to explore your files, meaning that hackers won't be able to see anything at all.
Private key encryption entails the storage of a unique key only on your computer. To use this, your files are encrypted with the private key before they are uploaded to the cloud server. If downloaded, they can only be decrypted on your computer, since it is the only machine with the necessary key to do so. Many providers advertise this as "zero-" or "no knowledge" policies.
Only if both criteria are offered (Two-factor authentication and private key encryption) is your cloud storage or backup optimally protected against unauthorized access. In our overview, you can limit results to services that offer these.
Backup and Recovery
The main responsibility of a cloud backup service is to secure your computer and sensitive data. Regardless of your drive's size, sooner or later, backing up information will become a laborious project.
Backing up your system and uploading the accompanying files can quickly eat up your bandwidth and reach speeds of 1 GB per hour, depending on the service you use. These start the process by calculating the size of the upload and estimating how long it will take. After the initial backup, time becomes less of a factor, since only the changed or new files need to be added to the backup.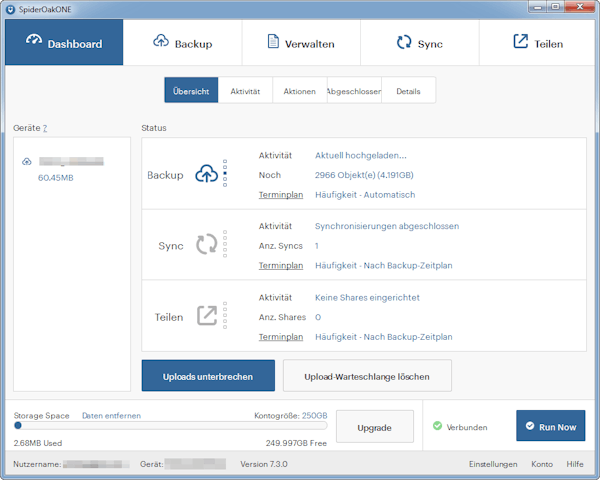 Depending on the service (here, SpiderOak One Backup), the client shows how many files have changed since the last backup and need to be uploaded.
After the initial backup, the only files that will really impact your upload speeds or system resources are large ones, like HD videos. Typically, updates to your backup occur in the background and aren't particularly noticeable.
Depending on the service you're using, backups can be scheduled or set manually.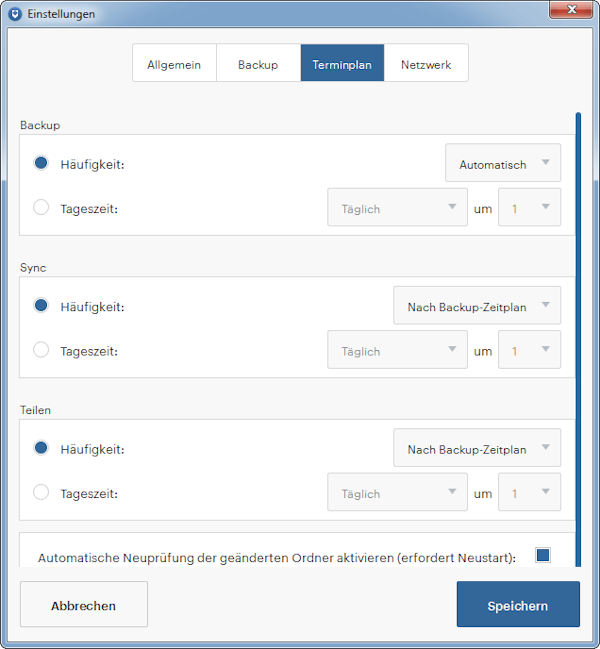 Backups (here, SpiderOak's One Backup client is shown) occur either automatically, manually, or according to a set schedule.
In addition to the threats posed by hardware damage or theft, ransomware attacks are perhaps the gravest danger at present. These entail the involuntary encryption of your files or system, demanding a ransom for their release. Even if you pay up, it isn't certain that access to your files will be returned. Accordingly, an up-to-date backup of your system and/or files is a key defensive measure in neutralizing the impact of ransomware. Having such a backup at your disposal removes any motivation to actually pay a ransomware attacker off, allowing you to easily restore your files.
Most solutions we looked at allow users to either fully restore their system, or to only restore specific folders or even files.
You also have an indirect method to create a backup: Versioning, which is offered by most of the services we looked at, allows you to return your files to a particular point in time.
Which of the solutions include this feature can be viewed by checking the Data Versioning filter in our evaluation.
Cloud Collaboration
Apart from securing your files, cloud storage also allows multiple users to share files or folders and modify them from a single, centralized location. Many providers, like SpiderOak or 1&1 IONOS, allow their users to share a file or folder so that they can work on it together. Depending on the solution you select, you can also set different access permissions for users, ranging from read-only to completely editable.
Cloud storage offers maximum flexibility: From simply making files available to actively collaborating on them, a lot of options are available, depending on your provider.
General Data Protection Regulation
In addition to securely saving files, compliance with the European Union's data protection guidelines (GDPR) is important, particularly if your business has operations in the EU. Each of the providers we reviewed dedicates some section of their sites to clarifying these in greater detail.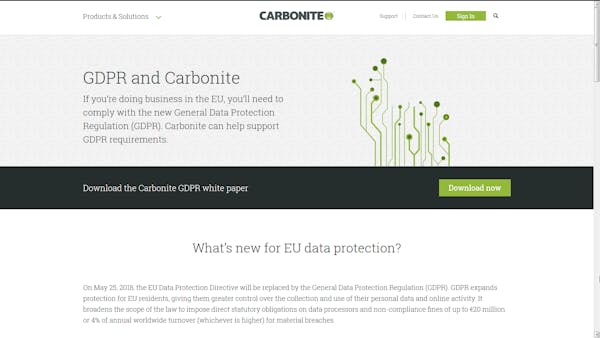 EU Data Protection laws need to be conformed to for any individual or company with interests within the 27-nation bloc.
Determining which laws companies are subject to depends to a large extent on where their corporate headquarters are located. In order to help make this clearer, we added an additional filter, Business Location, to distinguish providers based on where they are. You can choose from Germany, the EU, Switzerland, and the US.
Individual or Corporate Usage
One of the essential criteria for selecting the right service depends on what you're planning to use it for: Individual or corporate purposes. This also goes hand-in-hand with the number of computers you're using, and how you want backups to be performed and managed.
As an individual, you'll most likely want to use the service on multiple devices that are administered by the same person (or at least, a single family member). If this is the case for you, you shouldn't worry about data limits or the administrator console since you'll be able to keep a close eye on these.
Things are a bit different if you're self-employed or managing a small business. In this case, you'll have to find the tool that matches your needs, particularly how best to backup multiple devices or computers used by a variety of different people, potentially spread across the globe. If this sounds like you, securing content from a central point should be made as convenient and easy as possible.
Doing so will help to quickly recover from unexpected data loss, whether accidental or malicious, such as through ransomware attacks.
So that you'll be able to easily find the right provider, we added the ability to filter results by Software.
Important Cost Factors
Once you've found the service that provides the features you're looking for, and have considered its corporate location and degree of security, the last step is to think about its costs. Here, a number of factors can play a role: The two most important are the number of devices that can be connected, as well as the amount of storage space that is made available. We made considerations for both criteria, reflecting them in two filters in our evaluation.
An additional factor that plays a role among providers is the contract length. Like in most things, the longer you sign up for, the less you'll pay on average. Especially if agreeing to a longer contract, you should intensively test the service you're leaning towards before committing.
To make this less dramatic, a number of providers offer either a free trial phase or the ability to cancel and receive a refund after a few weeks of use. We recommend taking advantage of these options to find the provider that best suits your needs.
Conclusion
As a result of increases in upload and download speeds, protecting your files on data clouds offers a good alternative to NAS. Selecting the right provider depends to a large extent on how you've organized files on your computer: If everything is concentrated in one place, cloud storage or a synchronization folder as offered by SpiderOak are sensible choices. Under most other circumstances, a fully-fledged cloud backup service is recommended.
Adequate security as well as GDPR compliance are offered by all of the providers we examined. As a result, the major discerning criteria are the number of devices you plan on connecting, how much storage space you need, and what you're willing to pay.
FAQs
What is a cloud backup service?
⊖
Backing up to a cloud is a means of securing your files on a remote server offered by a third-party provider. It offers an alternative to physically backing up your files (such as on an external hard drive or NAS). When creating a cloud backup, a secure copy is made of the files you've selected which you can later use to restore your system (or specific files and folders) to an earlier state.
What is the difference between cloud backup and cloud storage?
⊖
Cloud backups automatically save and synchronize files or folders on your devices. These help minimize the dangers associated with data loss and aid in restoring lost content. Alternatively, cloud storage (for example, Dropbox) is akin to a virtual expansion of your drives: These services store files or folders on servers, which you can select from and download manually, on a variety of different devices.
How secure are cloud backups?
⊖
Cloud backups are very secure. In fact, they may even be more secure than local backups, since providers integrate a number of security mechanisms to keep problems or issues to an absolute minimum. For additional security, features like 2FA prevent your login data from being misused. Private key encryption ensures that your files are locally encrypted before they are sent to the provider's server. This ensures that the provider's administrators can't access your data. It's possible to think of cloud backups as something like bank vaults, and local backups like private safes.
Which cloud backup provider is the best?
⊖
There are a few criteria that good cloud backup solutions should offer. These include abundant storage space, a solid commitment to security, synchronization and sharing, as well as 2FA and private key encryption, in addition to a host of other factors. With regards to price, there are also a number of differences. In our comprehensive evaluation of cloud backup services, we took a detailed look at the providers, selecting both a winner, as well as the service with the best price-performance ratio.

Andreas Hitzig manages the IT of a medium-sized company in his main job. In addition, he has been a freelance IT author for more than two decades. He writes primarily about topics from the areas of Android and IT security, but also incorporates experiences from his everyday life into his articles.
Continue Reading
Other languages
Deutsch