What Is a VPN and Does It Make Sense to Use One? (Pros and Cons)

Our editors test and evaluate all services independently. For links on this page, EXPERTE.com may earn a commission from the provider.
VPNs are quite popular. According to Security.org's annual VPN study, 41% of all US adults used a VPN for personal or professional purposes in 2021. In large part owing to the COVID-19 pandemic and ensuing home office/remote work, the number of people familiar with VPNs has reached a record high of 85%. All the same, should everyone use them?
It's no wonder that VPNs are growing in popularity. Many companies use them to help employees remotely access their corporate Intranets. In addition, scores of Internet users have become more conscious of the risks lurking online, making VPNs more attractive for the enhanced security they offer. The truth is, VPNs aren't a jack of all trades. They are, however, very useful for specific purposes.
This article explains exactly what a VPN does, and when it does or doesn't make sense to use one. We'll also introduce you to our favorite providers from our comprehensive EXPERTE.com VPN review.
What Is a VPN?
A virtual private network is an encrypted tunnel between your device and the Internet. It masks your IP address and anonymizes your activity online so that third parties—such as criminals or data-hungry companies—cannot connect it to you.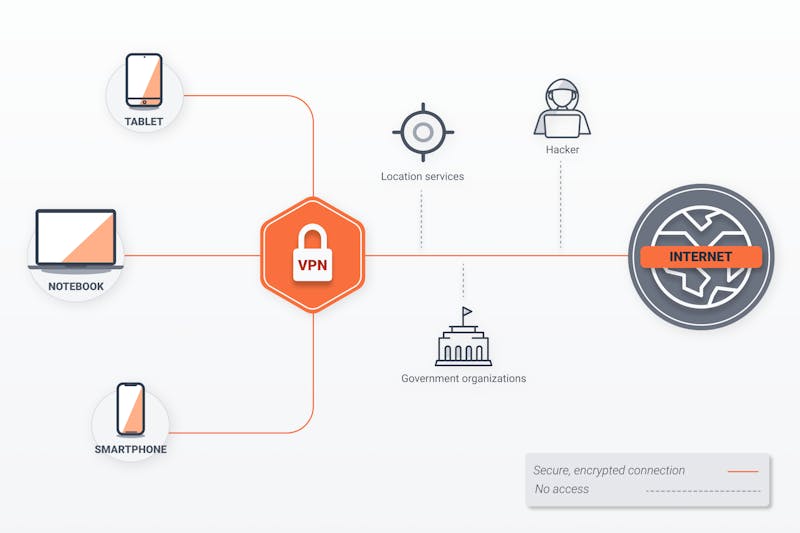 A VPN provides an anonymizing shield for your Internet traffic.
VPN connections can be established in different ways. One of the easiest is through VPN clients, which are dedicated programs that facilitate this. Using these, anyone can access secure servers all over the world at the push or click of a button.
When Are VPNs Useful?
A VPN has many uses, both private and professional. You should consider using one for:
Business/Work
In the age of remote work, it's important that you can use your employer's network when you're out of the office. With a VPN connection, you can dial into your company's Intranet from home or any other location.

Connecting to public WiFi
Whenever you connect to a public Internet network, such as WiFi, you make yourself fairly vulnerable to other users on the same network. A VPN connection ensures that your data is protected.

Protecting your privacy
You're less at risk when using your home or other private networks. However, even then, you can still be exposed to prying eyes—even if it's just companies creating a user profile for you in order to market more products.

Streaming content that is blocked or from abroad
A VPN service doesn't just mask your IP address; it also provides you with a new one. Streaming services such as Netflix offer different content from country to country, so the catalog you see is based on your IP address. Therefore, if you connect to a VPN server in another country, you'll have access to the streaming content for that location.

Visiting countries with significant Internet restrictions
If you're traveling for business or pleasure to a country with restrictive Internet laws, such as China, you can use a VPN to access websites that would otherwise be blocked.

Saving money when shopping online
Online stores and other websites also use geoblocking to ensure that local versions of their pages are displayed. However, sometimes there are better deals in other countries, and with a VPN, you can take advantage of these.
VPN services have a number of practical uses. All the same, there are some occasions when VPNs are not the right solution.
What VPNs Are Not Intended For
VPNs are useful, but not everyone needs one. For example, VPNs are less practical if:
You want full anonymity online
Total security doesn't exist on the web, even when using a VPN. Technically speaking, any potential attacks are only shifted to a different level. Instead of data being read between your device and the website, it is intercepted between your VPN server and the site. VPN services themselves may also be able to view your data. Even if the provider you select handles your data in a trustworthy and responsible way, meeting the highest security standards, data leaks can never be ruled out completely.

You want to ward off malware
A VPN is no substitute for antivirus protection. It cannot shield you from phishing and malicious downloads, so don't think of it as a comprehensive security program.

You don't mind sharing your data with companies
We aren't all Edward Snowden. Many people don't mind sharing certain data with companies and Internet service providers. In fact, some of them actually appreciate the personalized marketing that results from this. If you have no use for the basic security features of a VPN, such as protection on public WiFi, and aren't interested in bypassing geoblocks, you can certainly do without one.
A VPN isn't necessary for every Internet user. Even as a security solution, VPNs aren't a cure-all with a 100% success rate. They should always be used in conjunction with other security measures.
What Are the Best VPNs?
If you've come to the conclusion that a VPN is right for you, then you're ready for the next challenge: choosing the right provider. As VPNs grow in popularity, so do the number of services offering these capabilities.
In our EXPERTE.com VPN review, we took a closer look at 22 of the most popular VPNs, and below will let you know which stood out from the rest.
NordVPN is our number one VPN because it combines speed, ease-of-use, and functionality in a slick package that's also pretty affordable.
5,500+ servers, 60 countries
affordable 2-year package
9.4

excellent
Data Volume
Devices
Protocols
Contract Period
NordVPN 2-year plan
$3.49
monthly price
Visit Website*
30 days money-back guarantee
NordVPN came in first out of all the providers from our sample. The Panama-based VPN service earned top scores in each aspect of our evaluation, delivering top speeds, elegant and user-friendly apps, an expansive server network, and high security standards. All this, coupled with its fair pricing, left us with no doubts that NordVPN is the best provider on the market.
Installation and Features
9.4 / 10
Security and Privacy
9.4 / 10
ExpressVPN can impress with a strong performance, a huge server network, and excellently designed applications, but this quality also comes at a higher price.
Data Volume
Devices
Protocols
Contract Period
ExpressVPN 12 Months
$8.33
monthly price
Visit Website*
30 days money-back guarantee
With ExpressVPN, you'll also be pampered with high speeds, intuitive applications, and state-of-the-art security standards. They also possess one of the best server networks on the market. However, ExpressVPN's quality comes at a cost; a subscription is two to four times more expensive than those of other, comparable VPN providers from our sample.
Security and Privacy
9.4 / 10
Installation and Features
8.6 / 10
Surfshark is one of the cheapest providers on the market, but it's a lot more than a great budget option: the relatively new VPN boasts strong protection, many features, and a great support with 24/7 live chat.
3,200+ servers in 100 countries
unlimited number of devices
many apps (Linux, FireTV, ...)
8.8

good
Data Volume
Devices
Protocols
Contract Period
Surfshark 24 months
$2.49
monthly price
Visit Website*
Get 83% Discount
When it comes to VPN pricing, Surfshark might give you the most bang for your buck, however, this doesn't come at the cost of quality. In fact, Surfshark is one of the fastest VPNs on the market, grabbing second place in our speed ranking. The array of features on offer is also quite impressive. So if you're looking for a good price-performance ratio, look no further than Surfsharl.
Installation and Features
9.4 / 10
Security and Privacy
8.0 / 10
With its open source philosophy and extra security features, Proton VPN targets security-conscious VPN users. But thanks to its user-friendly interface and suitability for streaming, it's worth a look for a wide audience.
open source & external audits
1,900+ servers in 67 countries
free plan without data limit
8.7

good
Data Volume
Devices
Protocols
Contract Period
Proton VPN Free
$0.00
monthly price
Visit Website*
Free forever
Among the free VPN services, ProtonVPN is our first choice. Their free plan doesn't allow content streaming, however, you can use the VPN to anonymize and protect your online activity at home or on public WiFi thanks to its provision of unlimited data. Privacy enthusiasts are likely to appreciate the fact that ProtonVPN is completely open-source, meaning that the source code is accessible to anyone.
Installation and Features
10 / 10
Security and Privacy
10 / 10
HideMyAss' main claim to fame is its impressive server infrastructure, but the VPN also delivers solid speeds and handy features like its IP Randomizer. When it comes to streaming, however, it's not always the most reliable choice.
Data Volume
Devices
Protocols
Contract Period
HideMyAss! 36 months
$2.99
monthly price
Visit Website*
30 days money-back guarantee
HideMyAss has an impressive server network that's second to none in terms of size. They even cover regions that are typically neglected by other VPN providers, although many of the servers are virtual. HideMyAss also performed well in our speed ranking. Unfortunately, the VPN lacks split tunneling for desktops, which comes in handy for deciding which programs or applications use your VPN tunnel, and which don't.
Security and Privacy
8.6 / 10
Installation and Features
8.0 / 10
Alternatives
In addition to our Top 5 picks, there are other programs worth looking into. You can find a detailed comparison of 22 providers in our EXPERTE.com VPN review.
Conclusion
Whether or not you need a VPN depends entirely on your priorities. If you frequently use public WiFi, want to access geoblocked content, are keen to save money while shopping online, or generally value your privacy, you should consider using a VPN. However, keep in mind that some VPN features, such as the ability to stream video content from abroad, are typically only included with paid VPN subscriptions.
VPNs aren't necessary for everyone, and won't solve all of your security concerns. For example, they cannot stand in for virus protection. Rather, they enhance your privacy (although 100% privacy is never guaranteed). Nevertheless, you're usually safer with a VPN than without one, and because VPNs offer other advantages, we consider them a useful tool that can benefit most Internet users.
If you need help choosing a VPN service, be sure to consult our comprehensive VPN comparison. There you'll find detailed reviews of the 22 most popular providers.
FAQs
What is a VPN and what is it used for?
⊖
A VPN creates a secure tunnel between your device and the Internet. It disguises your location, masks your IP address, and ensures that your activity remains anonymous and unable to be associated with you. This prevents others from spying on you while using public WiFi. You can also use VPNs to bypass geoblocking, which makes it possible to stream video content from other regions or jurisdictions.
Can you be tracked while using a VPN?
⊖
VPNs cannot guarantee 100% anonymity, however, using one makes tracking your activity much more difficult compared to a connection without a VPN. Be sure to choose a trustworthy VPN provider with top security standards. Otherwise, there's a greater likelihood of your data being misused.
Are there reasons not to use a VPN?
⊖
A VPN isn't suitable for all purposes. For example, it doesn't protect against viruses or other types of malware and can slow down your connection. You'll also need to have faith in your VPN provider because their software acts as a data intermediary—making it possible for your activity to be viewed by the service itself. There are some dubious providers out there, especially when it comes to free VPN services. That being said, even the most trustworthy VPN doesn't offer 100% privacy due to the unpredictability of data leaks, among other problems.

Martin Gschwentner majored in American Studies and Media Studies in Germany, the USA and France and works as a freelance editor in Paris. He is a doctoral student at the Institute for English and American Studies at the University of Paris Diderot, where he is researching the influence of money on US politics. On EXPERTE.com he writes about IT security, data protection and software for the self-employed and small businesses.

Translator & Editor: Lisa Torelli-Sauer
Continue Reading
Reviews
Comparisons
Tools & Guides
Ad disclaimer
* For links marked with an asterisk, EXPERTE.com may earn a commission from the provider. The commission has no influence on our editorial rating.