PureVPN Review: Good Choice In 2023?


Ad disclaimer:
For links on this page, EXPERTE.com may earn a commission from the provider. This supports our work and has no influence on our editorial rating.
PureVPN's name suggests that its competitors have lost their way. In adding more features and extras, they've forgotten their true purpose, with dissatisfied users looking for a "pure VPN experience". Our test shows if PureVPN is a true 'reformer', or simply a trickster looking to profit off of a niche market.
What Is PureVPN?
PureVPN* is a Hong Kong-based VPN provider, active since 2007. In particular, PureVPN is known for catering to Asia, South America, and Africa, three regions that its competitors all too often overlook.
PureVPN Review
Installation and Features
7.4 / 10
Security and Privacy
6.6 / 10
First class server infrastructure

User-friendly mobile apps
Shared data with governments in the past
1.
Installation and Features
PureVPN is compatible with a number of operating systems and devices: Along with apps for Windows, macOS, Android, iOS, and Linux, it's also possible to set up the service on routers, smart TVs, or gaming consoles. Browser extensions are offered for Chrome, Firefox, and Edge. Downloads of all clients, as well as guides for setting up the VPN on routers and other devices can be found in the customer area's "Downloads" section.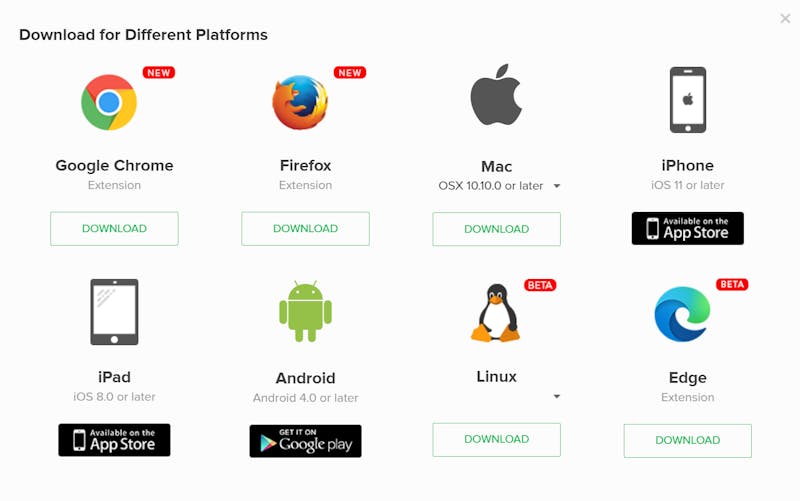 PureVPN is compatible with a number of operating systems and devices.
We found PureVPN's older desktop program, still available as the "Legacy" application, to be somewhat too cluttered. The developers appear to have heard our complaints since the service's new clients have a much cleaner user interface. Although we don't want to sound picky, the developers might have taken this a step too far, since the new main window looks empty, and could do with a few extra functions here and there.
In the middle of the client's main window, you'll find a power button. Clicking on it connects you to the "recommended" server, which for us was in the US. During testing, we noticed that so far as ping was concerned, this "recommended" server was often only the third-best, so it isn't entirely clear what criteria are used.
Below the power button, you're shown the location you last connected to. Through the sidebar on the left, you can access the app's other features.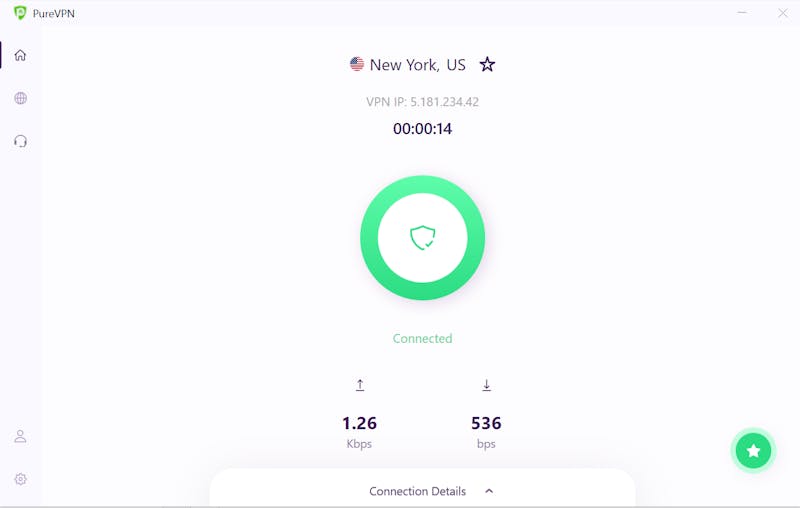 Following its latest update, PureVPN's developers cleared up its desktop client's user interface.
To the right of the server list, all available countries are listed alphabetically (some "favorites" are pre-programmed) along with their ping details. Using the search bar, you can quickly find the country you're looking for.
Clicking on the arrow to the right of a particular server will open the location menu. If more than one city or region is available, you can select a specific server location. Servers that are optimized for P2P filesharing are marked as such. Streaming servers, which used to be offered, are no longer available. In this area, PureVPN has suffered from a lack of success, which we'll discuss in greater detail in the "Performance" section below.
By clicking on the star symbol next to a server, you can add it to your list of favorites, which is visible to the left of the server list. There, you'll also be able to see your most recent locations, as well as the currently recommended server. Some of these categories could be displayed in the client's main window, but having to open an extra menu to see them isn't the end of the world.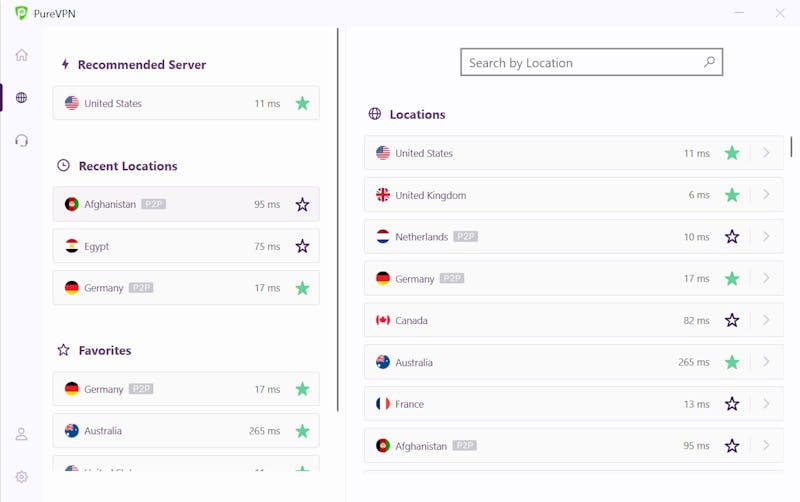 Favorites are listed next to the list of servers.
The features found under "App Settings" are, to date, somewhat sparse: These include changing protocols, configuring auto-start options, and a kill switch, for severing your Internet connection whenever your VPN encounters an issue. The latter ensures that you never surf unprotected.
You can also turn on personalized server selection, which automatically connects you to servers that you had a good connection to in the past. Designating a connection as good or bad can be done by clicking on the star symbol while using a VPN tunnel.
PureVPN's discontinuation of its split tunneling feature, which was offered in the past, is a bitter loss. We hope that the ability to exclude apps or programs from using the VPN tunnel you created, will return in the future.
A few other (at cost) add-ons can be found in PureVPN's customer area. These include a dedicated IP address and port forwarding, the latter of which improves your VPN's performance.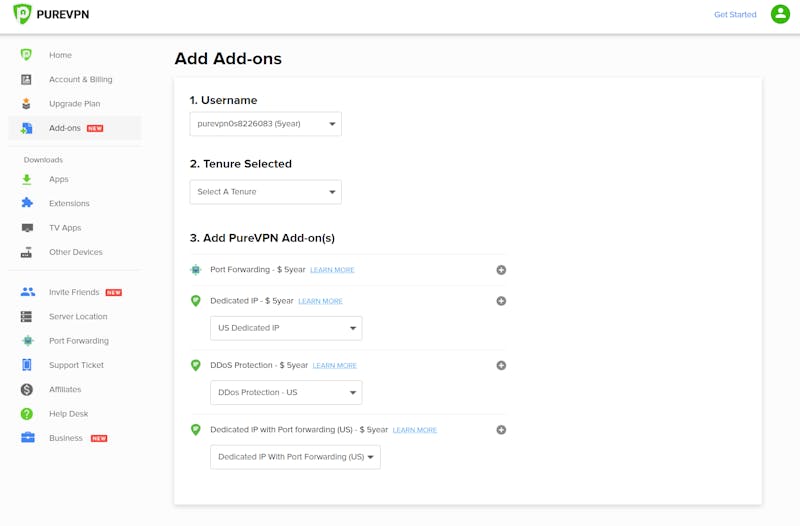 In the customer area, you can purchase a few add-ons, such as port forwarding.
Mobile App
PureVPN also overhauled its mobile app, which offers nearly the same features as the desktop client. By tapping on the app's main button, you can automatically create a VPN connection, or, scroll through the location list for a specific server.
Split tunneling is offered for smartphone users, making it possible to specify which apps use your VPN connection, and which use your regular connection instead.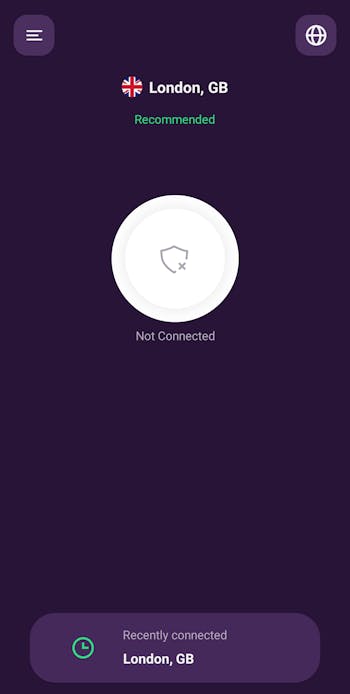 Split tunneling is only available to users of PureVPN's mobile app.
As we noted in our last review from 2019, PureVPN's desktop client needed an overhaul. At face value, we're very pleased with the changes that have been made, however, a few important features have been discontinued. If PureVPN could strike a better balance between simplicity and functionality while bringing back useful tools like split tunneling, the app would be a real contender.
Installation and Features
7.4 / 10
PureVPN's server infrastructure is impressive: According to its figures, the provider has more than 6,500 VPN servers spread across 180 locations in 140 countries. These include many African, Asian, and Middle Eastern nations, which are usually neglected by other VPN providers. We should point out, that most of these are virtual servers.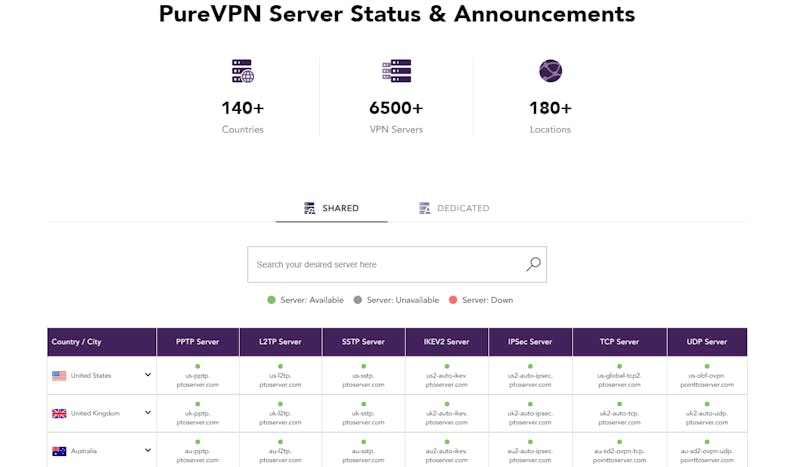 PureVPN's server network is impressive, but its details are not up-to-date.
PureVPN's figures don't appear to be the most current. For example, when counting manually, we noted around 100 locations (as opposed to the 180 advertised). A support staffer confirmed our findings, noting that some locations had been indefinitely removed from the database owing to "security concerns", such as Armenia, Morocco, Croatia, and Liechtenstein, the last two of which are surprising inclusions.
Our biggest issue in this area was that we weren't provided with any additional information, and could still select the locations from the server list, even though connections weren't created. If we hadn't asked directly, this would have been quite puzzling.
All the same, PureVPN's server network is impressive - the provider just needs to be more transparent about its actual size and capabilities.
We determined the speed of all VPNs from our sample using a server in Europe with a 1 GB/s connection. To do this, we connected to random PureVPN servers in the US and Germany at different times of the day. More information concerning our methodology can be found in our VPN speed test.
The table below shows the average results from the last 365 days, arranged in order of download and upload speed (descending):
1.
2.
3.
4.
5.
6.
7.
8.
9.
10.
11.
12.
13.
14.
15.
16.
17.
18.
19.
20.
During testing, PureVPN clocked a download speed of 113.1 MB/s and an upload speed of 41.4 MB/s, securing it a respectable eleventh place in our ranking.
The diagram below shows PureVPN's average speeds over the past months.
CyberGhost VPN
ExpressVPN
hide.me VPN
HideMyAss! VPN
Hotspot Shield VPN
IPVanish VPN
Mullvad VPN
NordVPN
Private Internet Access
PrivadoVPN
PrivateVPN
Proton VPN
PureVPN
TorGuard VPN
TunnelBear VPN
VeePN
VPN Unlimited
VyprVPN
Windscribe VPN
ZenMate VPN
Monat
Download
Upload
9/22
September 2022
Download: 47.3 Mbit/s 47.3
Mbit/s
September 2022
Upload: 12.4 Mbit/s
10/22
October 2022
Download: 173.9 Mbit/s 173.9
Mbit/s
October 2022
Upload: 15.1 Mbit/s
11/22
November 2022
Download: 152.7 Mbit/s 152.7
Mbit/s
November 2022
Upload: 19.8 Mbit/s
12/22
December 2022
Download: 238.8 Mbit/s 238.8
Mbit/s
December 2022
Upload: 15.3 Mbit/s
1/23
January 2023
Download: 156.6 Mbit/s 156.6
Mbit/s
January 2023
Upload: 16.7 Mbit/s
2/23
February 2023
Download: 140.4 Mbit/s 140.4
Mbit/s
February 2023
Upload: 16.8 Mbit/s
3/23
March 2023
Download: 150.3 Mbit/s 150.3
Mbit/s
March 2023
Upload: 15.8 Mbit/s
4/23
April 2023
Download: 148.2 Mbit/s 148.2
Mbit/s
April 2023
Upload: 15.3 Mbit/s
5/23
May 2023
Download: 172.2 Mbit/s 172.2
Mbit/s
May 2023
Upload: 17.1 Mbit/s
6/23
June 2023
Download: 188.0 Mbit/s 188.0
Mbit/s
June 2023
Upload: 18.9 Mbit/s
7/23
July 2023
Download: 200.4 Mbit/s 200.4
Mbit/s
July 2023
Upload: 19.1 Mbit/s
8/23
August 2023
Download: 200.3 Mbit/s 200.3
Mbit/s
August 2023
Upload: 18.1 Mbit/s
9/23
September 2023
Download: 195.4 Mbit/s 195.4
Mbit/s
September 2023
Upload: 15.6 Mbit/s
In terms of surfing, PureVPN showed itself to be a reliable companion. Connections were established quickly and the VPN tunnel(s) remained stable, with the kill switch also fulfilling its responsibilities.
We were able to stream some foreign content on Netflix and BBC iPlayer, but not with Amazon Prime Video or Disney+.
PureVPN isn't well-suited for a trip to China. During testing, we couldn't establish any connection from the country, despite some sources noting that it was possible.
Overall, so long as you don't need a VPN for usage in China or with some streaming platforms, PureVPN cuts a good figure.
PureVPN uses AES 256 to encrypt connections, which at present guarantees maximum security. Although in the past, the service offered a wide selection of VPN protocols, most of these can only be selected with the Legacy application. Generally speaking, the service now relies upon OpenVPN, IKEv2, and IPSec. WireGuard, the new gold standard among protocols, is not supported.
The program passed our VPN leak tests for IPv6, DNS, and WebRTC without any difficulties.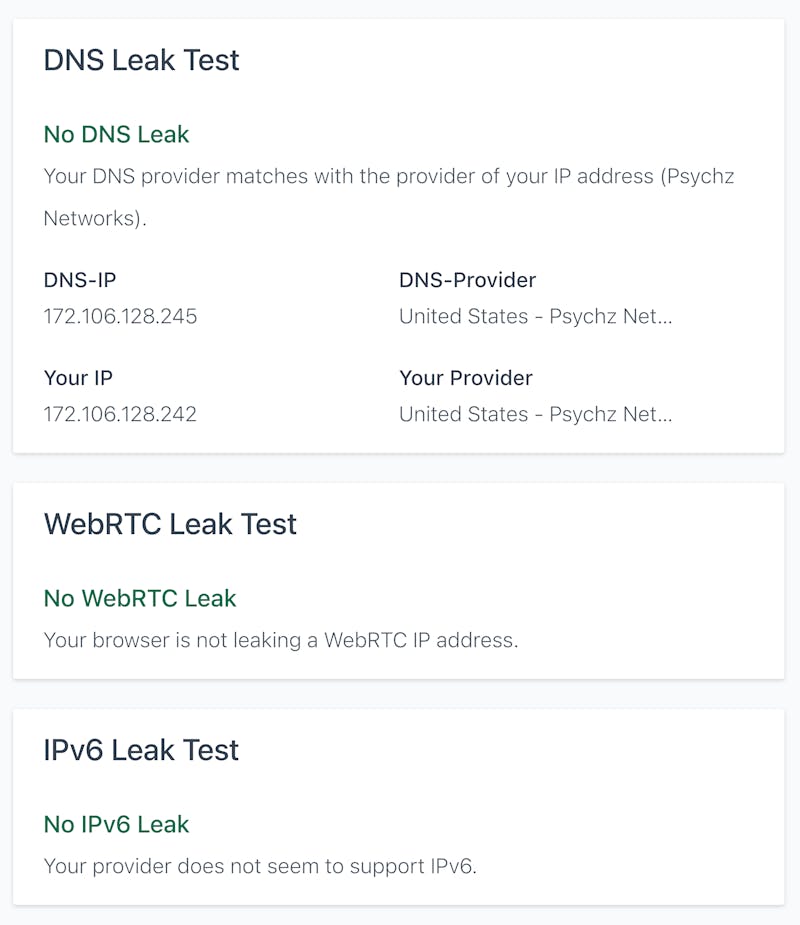 We didn't uncover any leaks during testing.
In 2017, PureVPN was criticized by data privacy activists when it came to light that the company had cooperated with the FBI to nab a cyberstalker. Even though this was for a good cause, the case raised questions about how the FBI determined that the stalker was using PureVPN in the first place. The service's "No-Logs" policy seems to have some exceptions since the provider's location in Hong Kong didn't stop it from working with US authorities.
In response, PureVPN updated its privacy policy and defended its actions in a blog entry. According to these, only network logs, which don't provide any user information, are saved. However, the damage was already done, and PureVPN's cooperation with the FBI created a number of skeptics.
In order to win back its users' trust, PureVPN has submitted to several independent audits. Altius IT and KPMG confirmed the service's "No-Logs" promise in 2019 and 2020, respectively. Unfortunately, we couldn't find either of these reports and as such, their conclusions are unknown.
It can be said that the provider is on a good path owing to its submission to independent audits. Still, it is difficult to regain trust in the VPN market after losing it over a scandal. Plenty of top providers have never broken their commitments.
Security and Privacy
6.6 / 10
PureVPN has a well-supplied support center featuring a variety of setup guides and FAQs. The entries are comprehensive and accompanied by plenty of screenshots and hyperlinks.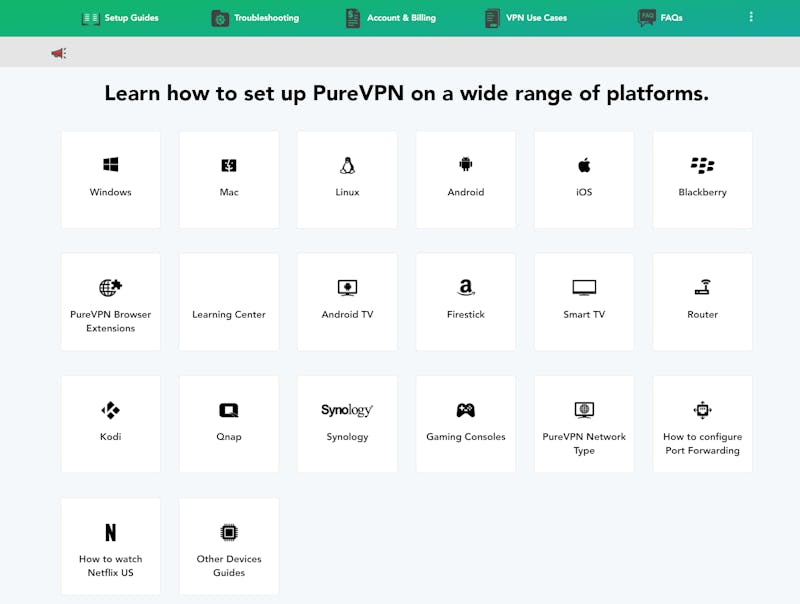 PureVPN's support center offers plenty of resources.
The service also offers a 24/7 live chat. Our questions were promptly answered within a matter of seconds.
For less-pressing or more complicated issues, support tickets can be filed, which are answered by email. Since chat team members aren't always able to answer technically demanding questions, this is important. You can also file the ticket directly through the app and answers will be sent to the email linked to your account. During testing, we waited around 3 hours for a response.
PureVPN is one of the most affordable VPN services from our sample. As usual, the subscription declines in price as the contract length increases. In particular, the 12-month package is very reasonably priced, and the provider regularly offers sales. The table below shows the current prices:
2 years
1 year
1 Month
Set-up Fee
$0.00
$0.00
$0.00
Monthly Price
$2.29
$3.32
$10.95
Contract Period (Months)
24
12
1
Limits
Data Volume
unlimited
unlimited
unlimited
Number of Devices
5
10
10
Features
Number of Servers
6,500
6,500
6,500
Number of Countries
71
71
71
No Server Logs
P2P Allowed
Tor Access
Kill Switch
Protocols

OpenVPN

PPTP

SSTP

IKEv2

IPSec

L2TP

OpenVPN

PPTP

SSTP

IKEv2

IPSec

L2TP

OpenVPN

PPTP

SSTP

IKEv2

IPSec

L2TP
In addition to PayPal and credit cards, AliPay, CoinPayments, and even a variety of gift cards and vouchers are accepted. Should you want to protect your identity, even in terms of payment method, PureVPN really rolls out the red carpet.
PureVPN offers a 7-day trial version, however, you'll need to input your payment information before starting and remember to cancel promptly.
Conclusion
Installation and Features
7.4 / 10
Security and Privacy
6.6 / 10
Regaining trust is difficult in the VPN market. Owing to its past data privacy issues, we remain cautious about PureVPN's "No-Logs" promise.
Should you not lose any sleep over those types of issues and be able to make do without split tunneling, PureVPN offers a relatively affordable and well-performing VPN with a large server network and user-friendly apps.
PureVPN has servers around the world and covers underserved regions a bit better than many other VPNs. Its range of features is great, too. When it comes to performance, however, PureVPN is behind most of its competitors.
6,500+ servers in 70 countries
covers underserved regions
possible privacy concerns
7.8

good
Data Volume
Devices
Protocols
Contract Period
PureVPN 2 years
$2.29
monthly price
Visit Website*
7-day trial
Customer Ratings
In reviewing services, we always attempt to do so as objectively as possible, however, subjective opinions can sneak in, and performance can vary from day to day and user to user. As such, it's advisable to take a look at what the overall consensus is among a wide user base. To help you do this, we've compiled reviews of PureVPN from respected platforms.
Customer Ratings
59,242 Bewertungen
Visit Website*
We analyzed the reviews and ratings from various portals and found 59,242 ratings with an overall rating of 4.2 out of 5 .
Alternatives
You're looking for a VPN untouched by scandal and that undergoes regular audits? If so, ProtonVPN, NordVPN, or ExpressVPN, all of which outperformed PureVPN in terms of speed, might be worth checking out.
More of the best alternatives to PureVPN can be found here:
NordVPN is our number one VPN because it combines speed, ease-of-use, and functionality in a slick package that's also pretty affordable.
5,500+ servers, 60 countries
affordable 2-year package
9.4

excellent
Data Volume
Devices
Protocols
Contract Period
NordVPN 2-year plan
$3.49
monthly price
Visit Website*
30 days money-back guarantee
ExpressVPN can impress with a strong performance, a huge server network, and excellently designed applications, but this quality also comes at a higher price.
Data Volume
Devices
Protocols
Contract Period
ExpressVPN 12 Months
$8.33
monthly price
Visit Website*
30 days money-back guarantee
With its open source philosophy and extra security features, Proton VPN targets security-conscious VPN users. But thanks to its user-friendly interface and suitability for streaming, it's worth a look for a wide audience.
open source & external audits
2,900+ servers in 67 countries
free plan without data limit
9.1

excellent
Data Volume
Devices
Protocols
Contract Period
Proton VPN Free
$0.00
monthly price
Visit Website*
Free forever
Surfshark is one of the cheapest providers on the market, but it's a lot more than a great budget option: the relatively new VPN boasts strong protection, many features, and a great support with 24/7 live chat.
3,200+ servers in 100 countries
unlimited number of devices
many apps (Linux, FireTV, ...)
8.8

good
Data Volume
Devices
Protocols
Contract Period
Surfshark 24 months
$2.49
monthly price
Visit Website*
Get 83% Discount
HideMyAss' main claim to fame is its impressive server infrastructure, but the VPN also delivers solid speeds and handy features like its IP Randomizer. When it comes to streaming, however, it's not always the most reliable choice.
Data Volume
Devices
Protocols
Contract Period
HideMyAss! 36 months
$2.99
monthly price
Visit Website*
30 days money-back guarantee
* Ad disclaimer:
For links marked with an asterisk, EXPERTE.com may earn a commission from the provider. The commission has no influence on our editorial rating.

Martin Gschwentner majored in American Studies and Media Studies in Germany, the USA and France and works as a freelance editor in Paris. He is a doctoral student at the Institute for English and American Studies at the University of Paris Diderot, where he is researching the influence of money on US politics. On EXPERTE.com he writes about IT security, data protection and software for the self-employed and small businesses.

Translation: D Bare
Continue Reading
Reviews
Comparisons
Tools & Guides