Bypass Geoblocking
Watching HBO Max From Abroad: How It's Done and What You'll Need
When you hear the HBO intro, you can be sure that quality content is just a few moments away. With big-budget productions like Game of Thrones, critics' favorites such as Chernobyl, and classics like The Sopranos, HBO has represented high-quality entertainment for many years. In 2020, the network launched its streaming service, HBO Max. Unfortunately, there are still some countries where HBO Max is inaccessible — at least officially.
With the right tools, you can access the world of HBO content from any region. This article explains how it's done, what you'll need, and how much it costs.
What Does HBO Max Have to Offer?
HBO Max has the complete catalog of HBO Original Series, including:
Succession
Game of Thrones
Westworld
True Detective
Boardwalk Empire
Flight of the Conchords
The Wire
The Leftovers
But that's not all; in addition to HBO and HBO Max's own productions, the streaming service offers many more movies and series on their platform. Since HBO now belongs to the entertainment behemoth Warner Media, many shows from other Warner brands such as TBS, TNT, Cartoon Network, and Adult Swim, are also included.
In total, HBO Max offers viewers well over 2,000 movies and hundreds of series.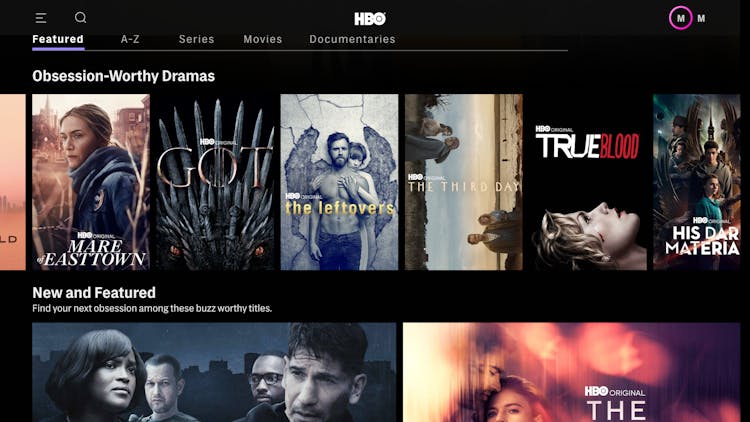 When it comes to series, HBO's lineup is unrivaled.
How to Watch HBO Max From Abroad
HBO Max has become available in a number of countries, including Croatia, Bulgaria, Poland, and the Netherlands. However, there are many regions where the service is still blocked. For those unwilling to wait to access HBO content, there's an easy solution: a VPN.
HBO Max via VPN
A VPN (virtual private network) is an online tool that redirects your connection to the internet via encrypted servers. This disguises your IP address and location so that the websites you visit don't know who—or where—you are. This not only increases your privacy but also allows you to bypass pesky geoblocking.
If you're in a county where HBO's streaming platform is unavailable, these region restrictions even prevent you from creating an HBO Max account.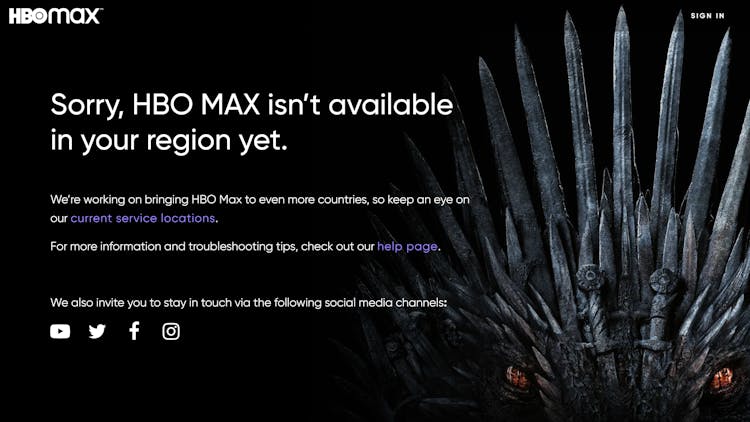 If you visit the HBO Max website from a blocked location, you'll be politely informed that the service is not yet available in your region.
If you have a VPN, you can easily connect to a server in a country where HBO Max is available and complete the registration process. You'll need three things:
A VPN account (paid subscription required)
An HBO Max account (paid subscription required)
A credit card or Paypal account
Here's how to stream HBO Max from abroad using the winner of our VPN comparison, NordVPN.
Instructions — Accessing HBO Max From Abroad With NordVPN
Step 1: Start the VPN program and from the server menu, choose a server in a country where HBO Max is available. We selected Costa Rica for the purpose of this example.
Tip: HBO Max's (and other content libraries') pricing varies from country to country. Therefore, you can save money if you choose a region with particularly low costs. For example, HBO Max is especially inexpensive in Colombia and Costa Rica.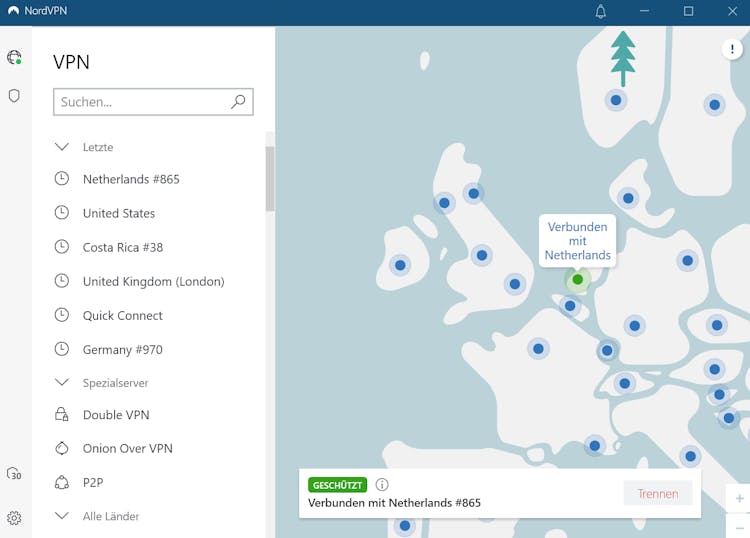 Begin by choosing the right VPN server.
Step 2: Visit the HBO Max website and complete the registration process. There are a variety of subscriptions to choose from, each with a different price. We opted for the most expensive plan with 4K resolution.
Tip: Available payment methods vary depending on the country you choose. In the USA, we were required to provide a US zip code for our credit card. Our card wasn't accepted in the Netherlands but did finally work in Costa Rica. You can change the language in the top-right menu by clicking on Inglés.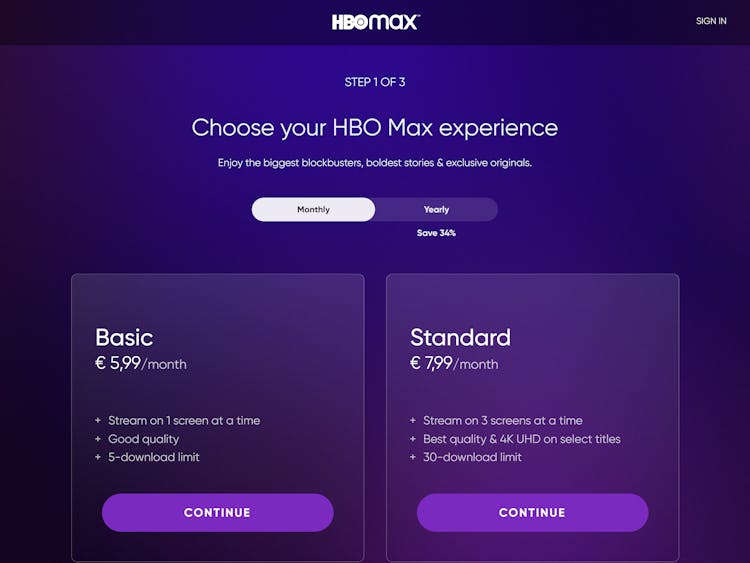 HBO Max's rates vary by region, as do other aspects such as available resolutions.
Step 3: Simply confirm your email address to access the entire HBO Max catalog—just ensure that your VPN connection is running.
Tip: Now that you have an HBO Max account, you don't necessarily need to stay connected to VPN servers in the country where you signed up. Server performance in European countries is much better compared to what you find in Costa Rica and the US. Just keep in mind that not all HBO content is available from every location.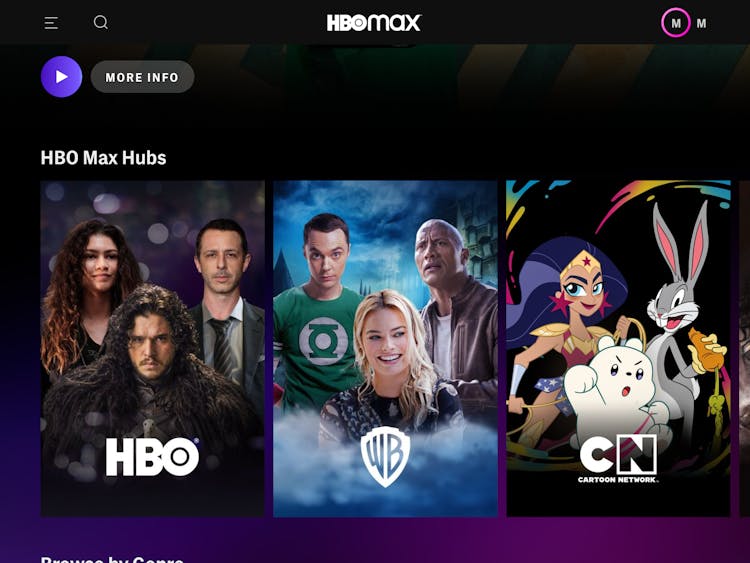 You can now browse HBO Max's catalog of movies and series.
Which VPN Services are Suitable for HBO Streaming?
Whether you have a good or disappointing experience streaming HBO Max depends on which VPN service you use. High-quality performance will ensure that your videos run smoothly and can be viewed at maximum resolution. Unfortunately, some VPN providers have difficulty with streaming services.
In our comprehensive EXPERTE.com VPN comparison, we put 22 providers to the test and evaluated their streaming performance. We also tested HBO Max with our top programs. Here are the providers we recommend:
NordVPN was the star of our review. They took an undisputed first place in our speed test, but that's not all; their service offers user-friendly applications, high security standards, and a sizeable server network. In our opinion, this Panama-based provider delivers the best VPN package on the market at an affordable price.
5400+ servers, 60 countries
Inexpensive 2-year package
NordVPN combines speed, user-friendliness and functionality into a coherent overall package that is also fairly affordable.
Data volume
Devices
Protocols
Contract Period
NordVPN 2-year plan
$2.99
monthly price
Visit Website »
30 days money-back guarantee
ExpressVPN is one of the most expensive VPN programs on the market. That being said, it's also one of the best. With top performance, a huge server network, and intuitive apps, ExpressVPN offers a well-rounded user experience and delivers reliable video streaming.
160 cities in 94 countries
30-day money-back guarantee
ExpressVPN impresses with strong performance, a huge server network and excellently designed applications, but this quality also comes at a higher price.
Data volume
Devices
Protocols
Contract Period
ExpressVPN 12 Months
$8.33
monthly price
Visit Website »
30 days money-back guarantee
Surfshark is our price-performance ratio winner. This provider offers excellent features and top speeds for a low price (especially in their 2-year plan). We were also able to stream HBO Max content without issue using Surfshark.
3200+ servers in 65 countries
Unlimited number of devices
Many apps (Linux, FireTV, ...)
Very cheap on the 24-month plan
Surfshark is one of the cheapest providers on the market, but besides the price also impresses with strong protection, many features and a great support with 24/7 live chat.
Data volume
Devices
Protocols
Contract Period
Surfshark 24 months
$2.49
monthly price
Visit Website »
Get 83% Discount
ProtonVPN is well-known for its generous free version, however, this complimentary plan is useless when it comes to streaming. Fortunately, ProtonVPN is an excellent VPN service overall with its open-source approach and a strong focus on security.
1200+ servers in 55 countries
Headquarters in Switzerland
Open Source & external audits
Data volume
Devices
Protocols
Contract Period
ProtonVPN Free
$0.00
monthly price
Visit Website »
30 days money-back guarantee
When it comes to speed, Hide.me can't keep up with its top competitors. However, their service should still be fast enough for streaming. Hide.me scores points for an extensive feature set, including split tunneling and versatile configuration options.
Is It Legal to Watch HBO Max With a VPN?
As a paying HBO Max customer, you're not breaking the law by visiting the streaming service via VPN. You are, however, violating HBO's terms of use, which means that the service could theoretically block your account. While we aren't aware of any such incidents so far, HBO may take tougher action in the future; the streaming service doesn't like this workaround for licensing reasons, so the VPN detour might stop working altogether.
Other streaming services such as Netflix and Amazon Prime Video find themselves in a similar situation. Although using a VPN in this way breaks their rules, there are no legal consequences.
HBO has earned its place as a hit series titan. With HBO Max you can find the entire HBO catalog and more in one place. If you want to watch the streaming service from a country in which HBO Max is not yet available, you'll need a VPN. We recommend using NordVPN, ExpressVPN, or Surfshark. You can find detailed reviews of 22 providers in our comprehensive EXPERTE.com VPN comparison.

Author (German Version): Martin Gschwentner
Martin Gschwentner majored in American Studies and Media Studies in Germany, the USA and France and works as a freelance editor in Paris. He is a doctoral student at the Institute for English and American Studies at the University of Paris Diderot, where he is researching the influence of money on US politics. On EXPERTE.com he writes about IT security, data protection and software for the self-employed and small businesses.

Translator & Editor: Lisa Torelli-Sauer