Best VPN for Chrome: TOP 5 Extensions 2023


Ad disclaimer:
For links on this page, EXPERTE.com may earn a commission from the provider. This supports our work and has no influence on our editorial rating.
There are only a few ways to surf safer or stream content from abroad that don't involve a VPN. As if the sheer number of providers didn't make things hard enough, each offers different services and features, including browser extensions.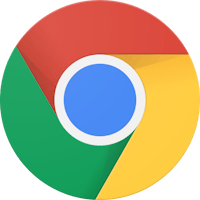 But aren't VPN clients and browser extensions the same thing? What are the advantages and disadvantages of using the latter? And which VPN extension is the best for Google Chrome? Below, we'll answer all of these questions for you.
Top 5 VPN Extensions for Google Chrome
Google Chrome is the most widely used browser in the world which is attributable, at least in part, to its flexibility and adaptability. Most VPN providers offer Chrome extensions, however, their performances are not always uniform. The list below shows the advantages and disadvantages of each of our Top 5 VPN extensions for Chrome, and how they compare with one another.
1.
ExpressVPN: The Safe Bet
ExpressVPN can impress with a strong performance, a huge server network, and excellently designed applications, but this quality also comes at a higher price.
Data Volume
Devices
Protocols
Contract Period
ExpressVPN 12 Months
$6.67
monthly price
Visit Website*
30 days money-back guarantee
ExpressVPN put in a strong performance during our comprehensive VPN test, securing second place. Its Chrome extension also impressed us too. Before continuing, we should mention that ExpressVPN's Chrome extension is not a stand-alone piece of software, but part of the provider's client. Think of it like a 'remote control' for the main client (the difference is explained at the end of this article).
This means that it cannot be used without the program's client. However, in our eyes, its advantages far outweigh this: ExpressVPN's Chrome extension unifies desktop and browser. Thanks to OpenVPN encryption, this protects your browser and data traffic, while still maintaining high speeds. In other words, you can use your browser's VPN connection to shield P2P programs or other apps on your system.
ExpressVPN's Chrome extension comes with additional security features like "HTTPS Everywhere", which ensures that you automatically connect to a website's secure HTTPS version when it's available.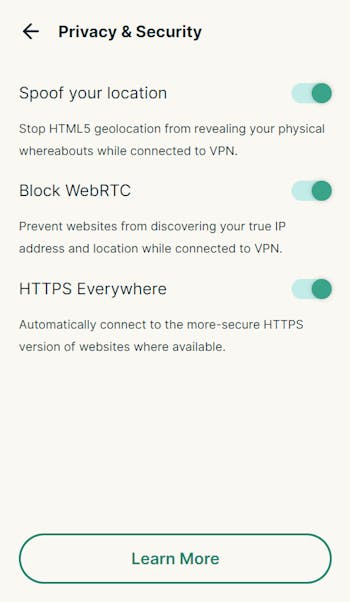 ExpressVPN's browser extension offers location spoofing, WebRTC blocking, and HTTPS Everywhere.
The extension's interface is identical to its desktop counterpart. Next to the big "Connect" button, you can scroll through server locations or recommended servers. It's also possible to set the extension to automatically connect to a VPN whenever you start Chrome. For any other options or settings though, you'll need to head over to the desktop client.
ExpressVPN is one of the best VPNs, and its Chrome extension doesn't fall short of this mark, with its comfort, speed, and security making it the best all-arounder.
Security and Privacy
9.4 / 10
Installation and Features
8.6 / 10
2.
Windscribe: The Freebie
With its flexible pricing and a generous free plan, Windscribe is a solid option for budget-minded VPN users. It also has a nice, lean app with lots of features – but sadly, its performance can't keep up.
Data Volume
Devices
Protocols
Contract Period
Windscribe Free
$0.00
monthly price
Visit Website*
Download for free
Windscribe staked out a respectable place in the upper half of our sample, scoring highly thanks to its excellent free version. Its Chrome extension also left a good impression, but in contrast to ExpressVPN's offering, only encrypts browser activity. With that said, you can see the desktop client's VPN connection in its interface.
Should you activate both simultaneously, "Double Hop" mode is enabled. This routes your data traffic through two separate proxy servers, ensuring even greater security.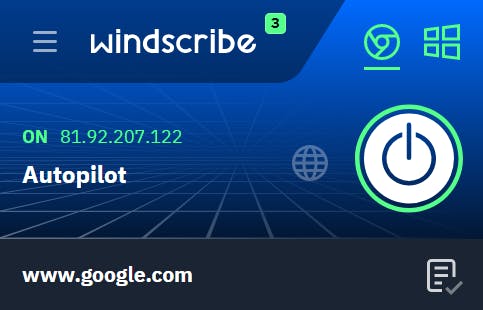 Windscribe's Chrome extension comes with a number of additional features.
That isn't all though: Windscribe's extension also includes an integrated ad blocker and a variety of features that aren't limited to paying subscribers. With "Location Warp" and "Time Warp", you can take control of your proxy connection's GPS and time settings, respectively. "Split Personality" rotates Chrome's user agent, minimizing your susceptibility to browser fingerprinting.
Windscribe offers an excellent Chrome extension, and since there's a free version, it's worth taking a look at.
Installation and Features
9.4 / 10
Security and Privacy
6.0 / 10
NordVPN is our number one VPN because it combines speed, ease-of-use, and functionality in a slick package that's also pretty affordable.
5,500+ servers, 60 countries
affordable 2-year package
9.4

excellent
Data Volume
Devices
Protocols
Contract Period
NordVPN 2-year plan
$3.79
monthly price
Visit Website*
30 days money-back guarantee
NordVPN took first place in our evaluation and its Chrome extension was one of the best we tested. Particularly in terms of security, NordVPN's extension also serves as an ad and malware blocker ("CyberSec"), to say nothing of the protection it offers against WebRTC leaks. With "Quick Connect", you can establish an instant VPN connection anywhere on the globe, or choose a server from a list of the last three countries you've connected to.
Settings are somewhat limited: Alongside "CyberSec", and "Block WebRTC", you're only able to add sites to a whitelist ("Bypass List"), which your proxy should circumvent.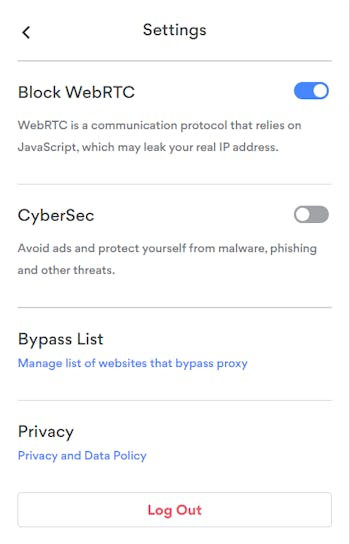 NordVPN's browser extension doesn't offer as many settings as the rest of our Top 3.
NordVPN's Chrome extension quickly creates HTTPS-encrypted proxy connections and operates independently from the desktop client, which doesn't even need to be installed. As noted above, the downside to this is that only your browser traffic is secure when using the extension.
The service is one of the fastest VPNs on the market, and its Chrome extension doesn't disappoint. Look no further if you'd like to establish a proxy connection in the shortest time possible.
Installation and Features
9.4 / 10
Security and Privacy
9.4 / 10
4.
Surfshark: Great Value for Money
Surfshark offers one of the best and most affordable VPN packages out there, especially if signing on for 2 years. The provider isn't short on features either: You'll get everything needed, including split tunneling, as well as some extra security tools, like an adblocker and email leak check.
The provider also performed well in our speed test, staking out fourth place overall.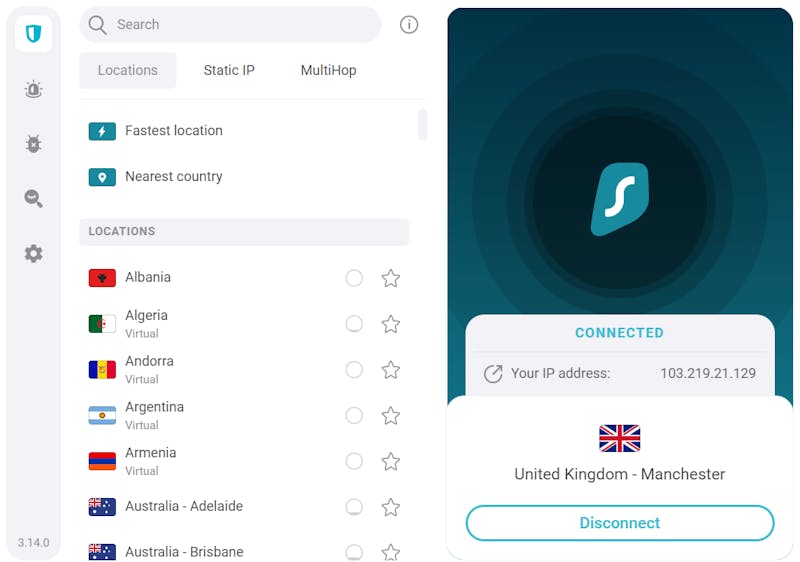 Surfshark's Chrome extension is almost identical to its desktop app.
Surfshark's Chrome extension is proxy-based and works even if you haven't installed its desktop counterpart. It affords access to Surfshark's entire server network as well as multi-hop, which allows you to route your connection through multiple VPN servers.
For an extra fee, you can unlock more features, data leak monitoring, antivirus tools, and anonymous searching with reliable, organic results.
Installation and Features
9.4 / 10
Security and Privacy
8.0 / 10
5.
Private Internet Access: Useful Security Features
Besides its huge server network and its audit-proofed 'no logs policy', Private Internet Access sets itself apart from the competition with its module-based app that can be adjusted to each users' habits.
34,000+ servers in 84 countries
performance could be better
8.2

good
Data Volume
Devices
Protocols
Contract Period
Private Internet Access 3 Years
$2.19
monthly price
Visit Website*
Private Internet Access impressed us with its module-based, customizable VPN app, combining user-friendliness with a wide variety of features. Rounding things out were its large server network and solid support.
In terms of performance and speed, Private Internet Access didn't do great, finishing in the middle of our sample. Similarly, we weren't too thrilled about its parent company, Kape Technologies, which has been accused of being a malware/adware slinger. The same company also owns ExpressVPN, CyberGhost, and ZenMate.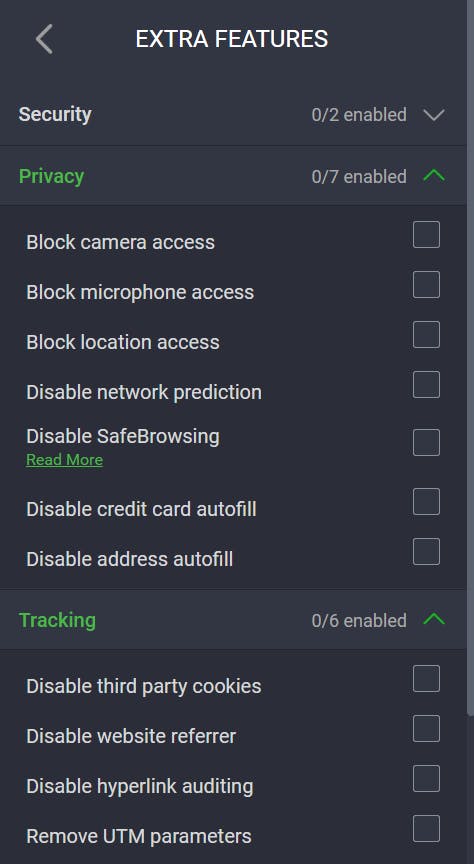 Private Internet Access scores with its extra security features.
PIA's Chrome extension made it onto this list primarily for the handful of extra security features it provides. For example, you can completely block autofill for credit card information, restrict access to your integrated microphone or webcam, and really clamp down on tracking. Taken together, this makes PIA's Chrome extension a very useful digital companion.
Installation and Features
10 / 10
Security and Privacy
6.0 / 10
Alternatives
Most VPN providers offer browser extensions for Google Chrome. Owing to its global popularity, the browser is often the first that developers design extensions for. Detailed reviews of 27 of the best VPN services can be found in our comprehensive test.
Below, we've provided a list of all of the services from our sample that offer Chrome extensions:
independent security audit
no split tunneling on desktop
7.1

good
Data Volume
Devices
Protocols
Contract Period
TunnelBear Free
$0.00
monthly price
Visit Website*
Data Volume
Devices
Protocols
Contract Period
Hotspot Shield Free
$0.00
monthly price
Visit Website*
CyberGhost offers a lot of bang for the buck, especially in the 2-year plan. It has lots of features, even more servers, and quick support including live chat. We had occasional performance issues, however.
7 simultaneous connections
fast support with live chat
7.8

good
Data Volume
Devices
Protocols
Contract Period
CyberGhost 2 Years
$2.37
monthly price
Visit Website*
45 days money-back guarantee
Hide.me secures its place in our top 10 with good to very good grades in all test categories. The app is filled to the brim with handy features, the performance is solid, and with 10 GB of data per month, the free tier is also worth a look.
78 locations in 49+ countries
many features, incl. split tunneling
free plan with 10 GB monthly
8.4

good
Data Volume
Devices
Protocols
Contract Period
hide.me Free
$0.00
monthly price
Visit Website*
Free forever
We only considered premium and freemium services among our Top 5. However, in your own search for a VPN for Chrome, you'll most likely come across "free" services, especially as mobile apps or browser extensions. Unfortunately, as the old saying goes "If you're not paying for a product, the product is you", and most of these use the data you supply to finance their activities.
In a software segment that emphasizes security and privacy, we've decided to only focus on those services that require a subscription fee or are offered in freemium versions. Should you still opt for a "free" service, do your homework and make sure you know exactly what's being installed on your device or operating system.
Differences Between a VPN Client and Browser Extension
A VPN browser extension doesn't create a "true" VPN connection, unlike a VPN client. Accordingly, many services that advertise "free VPNs" are misnamed.
VPN clients (or programs) work at the operating system level, routing Internet traffic through a secure VPN connection. On the other hand, a VPN browser extension creates a proxy connection. With proxy servers, only data from your browser is relayed, meaning that all other traffic uses your regular Internet connection.
Beyond that, there's also a difference in terms of the degree of encryption: VPN programs use VPN protocols like OpenVPN or WireGuard to encrypt a device's entire data traffic. Browser extensions don't usually have such powerful encryption, relying instead on HTML, which only works on the browser level.
Summing up: A VPN client protects all of a device's data traffic with powerful encryption, whereas a browser extension only guards your browser traffic, and, even then, with comparably weaker encryption.
* Ad disclaimer:
For links marked with an asterisk, EXPERTE.com may earn a commission from the provider. The commission has no influence on our editorial rating.

Martin Gschwentner majored in American Studies and Media Studies in Germany, the USA and France and works as a freelance editor in Paris. He is a doctoral student at the Institute for English and American Studies at the University of Paris Diderot, where he is researching the influence of money on US politics. On EXPERTE.com he writes about IT security, data protection and software for the self-employed and small businesses.

Translation: D Bare
Continue Reading
Reviews
Comparisons
Tools & Guides