Bypass Geoblocking: How to Get Around Annoying Country Restrictions

Ad disclaimer:
For links on this page, EXPERTE.com may earn a commission from the provider. This supports our work and has no influence on our editorial rating.
Whether on vacation or on a business trip, we don't want to be anywhere without our cherished streaming services. For many people, Netflix, Disney+, and others are the centerpieces of a cozy evening in front of the TV or laptop. However, while you're abroad, you might see "This content is not available in your country", instead of your favorite show. What then?
The good news is that you aren't helpless against these restrictions, known as geoblocking. In this article, we'll explain what geoblocking is all about and how you can bypass these annoying country restrictions via VPN, proxy servers, and SmartDNS.
What Is Geoblocking?
Geoblocking is the process of changing or restricting digital content based on a user's location. When online, your Internet provider assigns you a unique IP address. Based on this country-specific identification number, the servers of the site you're attempting to visit will be able to determine your approximate location.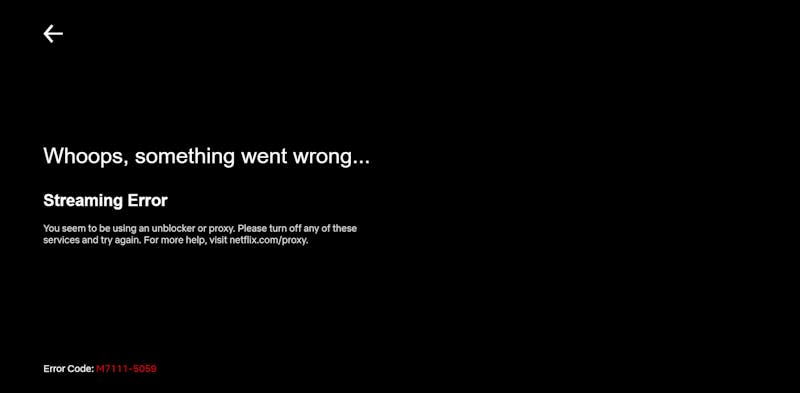 Messages like this are annoying. However, there are ways to avoid seeing them.
Why Is Geoblocking Used?
Most often, geoblocking occurs because of restrictions inherent in licensing rights. For example, when Netflix or DAZN secure expensive rights for Hollywood blockbusters, a well-loved series, or a sporting event in a given country, they can only show that material within the international borders stipulated in the contract.
Online stores utilize geoblocking to help shoppers from different countries view pages in their local language. Some prices may vary from country to country, and there could be differences in available products as well. Country blocking is also used to prevent visitors from abroad from making a purchase if shipping isn't available to their location.
For countries under authoritarian regimes such as China or North Korea, geoblocking helps to censor unwanted content. In China, for example, Google, YouTube, Instagram, and Facebook are completely blocked by what has been dubbed their "Great Firewall."
How To Bypass Geoblocking?
As mentioned above, you're not powerless against geoblocking. You can effectively overcome it with the help of VPNs, proxies, and SmartDNS. The effort and cost involved depends entirely on the method you choose. Here's a brief introduction to all three.
A VPN (virtual private network) allows you to encrypt your Internet connection, which is an easy way to protect your sensitive data from hackers. The process entails routing your data traffic through one of your VPN's servers which are located elsewhere.
What makes this nifty is that you can freely choose the server's location. As a result, you can fool websites into thinking somewhere else than you physically are. In addition, your true IP address can no longer be read, and neither your provider nor anyone else can monitor your online activity.
Getting around geoblocking is easy with the help of a VPN. Just download your provider's VPN software, log in, and connect to a server in whichever country you'd like. Enjoying content while traveling abroad that would otherwise be blocked is as simple as that.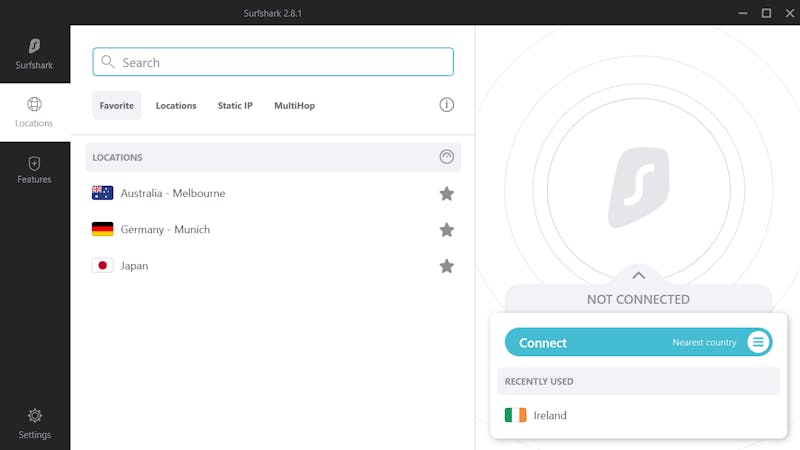 With a VPN such as Surfshark, you can change your virtual location with just a few clicks.
In our EXPERTE.com VPN review, we compared 22 of the best VPN providers. NordVPN* came out on top, scoring points for its exceptional speed, great app with various features, and high security. It's also quite affordable to boot.
NordVPN is our number one VPN because it combines speed, ease-of-use, and functionality in a slick package that's also pretty affordable.
5,500+ servers, 60 countries
affordable 2-year package
9.4

excellent
Data Volume
Devices
Protocols
Contract Period
NordVPN 2-year plan
$3.49
monthly price
Visit Website*
30 days money-back guarantee
Pros and Cons of a VPN
Fast and secure connections with privacy protection

Intuitive VPN software with various features

Possible to combine with Smart DNS among providers such as NordVPN
Paid, with a few exceptions

Slightly reduced Internet speed

Not supported by all Internet-enabled devices
A proxy server is an intermediary between your computer and the server that you're trying to reach. All requests go through the proxy server, which, in the process, transfers its IP to the destination server—thereby shielding your IP address. However, unlike a VPN connection, those made via a proxy server are not encrypted.
You can overcome geoblocking by connecting to a proxy server with a matching location. For example, if you live in the US and are visiting Germany, you can use an American proxy server to avoid any content restrictions.
How to Set Up a Proxy Server
Setting up a proxy server in your browser can be done rather quickly. First, get a current proxy server list from your favorite search engine, and select a proxy server for the country of your choice.
Here's how it works in Chrome:
1. Choose Settings from the three-dot menu in the top right, and click on Advanced. From the drop-down menu, choose System and click Open your computer's proxy settings.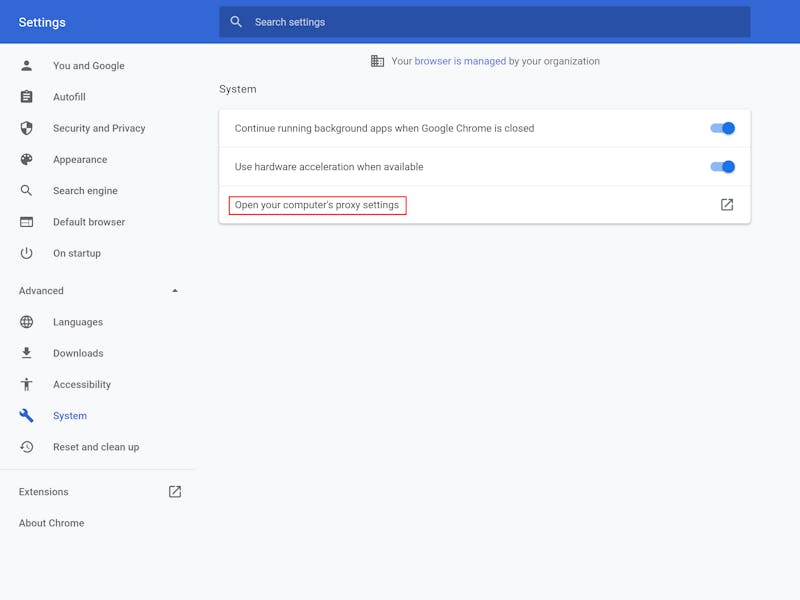 Proxy settings in Google Chrome.
2. In the new window, click on the Setup button next to Manual Proxy Settings and input the desired proxy server's address.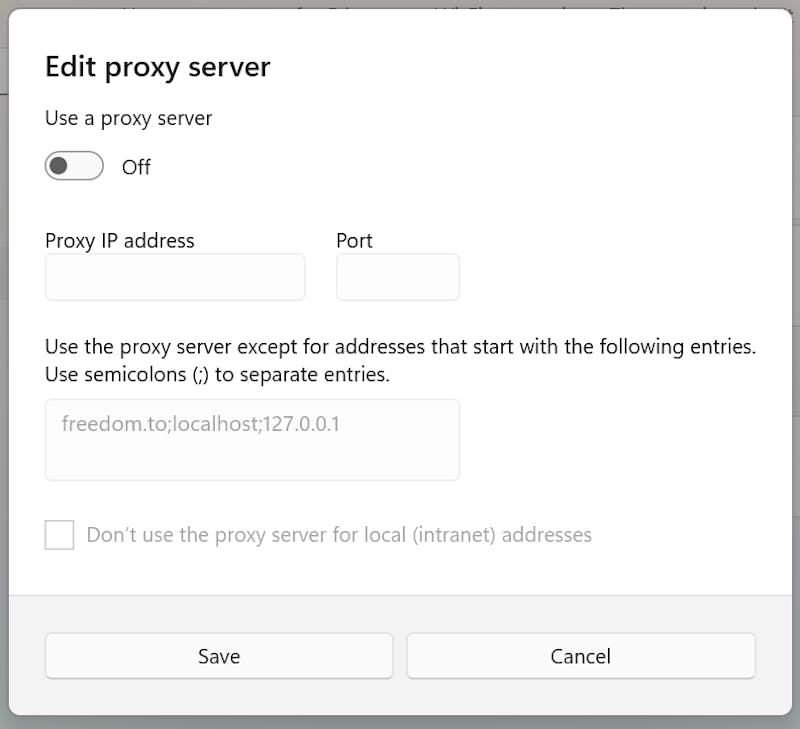 Manually set up a proxy configuration.
3. Click the Save button to finish setting up your proxy browser.
Alternatively, you can also set up a system proxy centrally in your operating system, which will then be used for all your data traffic.
Pros and Cons of a Proxy Server
No additional software needed
Frequently overloaded, making uninterrupted streaming difficult

Some proxies pass on the real IP address, making it impossible to bypass geoblocking.

Must be changed frequently

Unlike VPNs, are unencrypted
DNS stands for "domain name service" and converts domain names (like EXPERTE.com) into machine-readable IP addresses. Unlike VPNs and proxy servers, with Smart DNS, almost all traffic runs exclusively through your computer—which means you don't need to compromise on speed.
Smart DNS is a service (usually for a fee), which facilitates usage of the DNS address of a server abroad. With a different country code, you can access otherwise blocked pages and content.
For example, if you're abroad and want to access your local version of Netflix, the address of a DNS server located in your home country will be used. In essence, Smart DNS relies on the same principle as VPNs and proxy servers: the target server is fooled into thinking it has received a request from a particular location.
Setting Up Smart DNS
You won't need any special software from your Smart DNS provider to start using the service. All you'll need to do is enter the DNS addresses in your network settings. Here's how it works:
1. If using Windows 11, click the Windows Start button, then go to Settings -> Network and Internet, and click on Advanced Network Settings.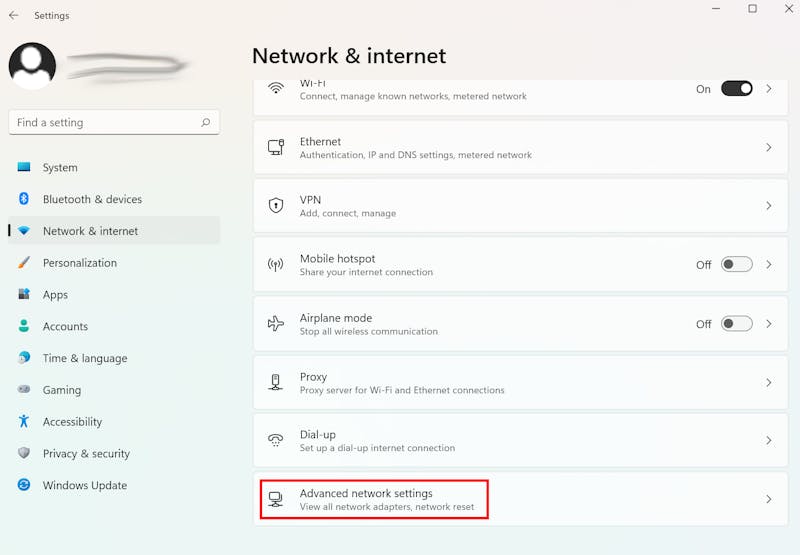 Network and Internet in Windows settings: Advanced Network Settings.
2. Under Related Settings, click on More network adapter options.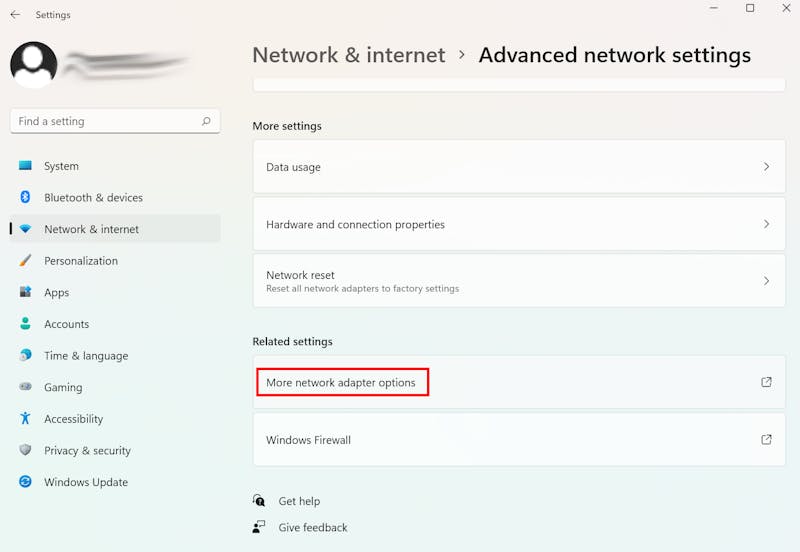 Select the network connection you want to change.
3. Right-click the network connection you want to change and choose Properties. A pop-up window will open.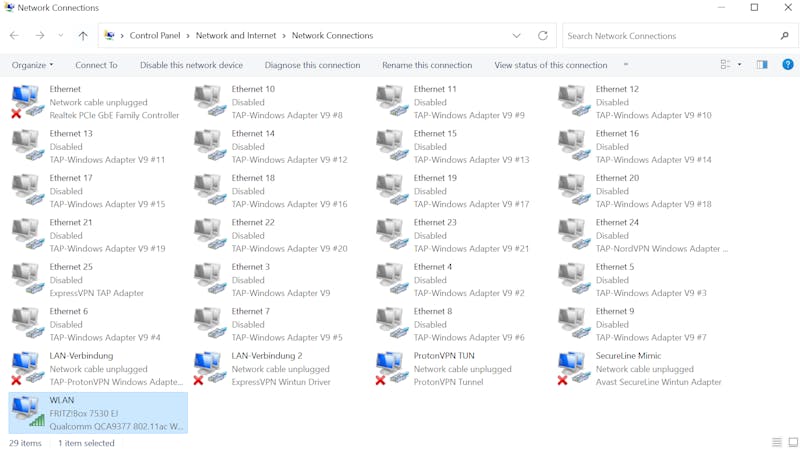 A list will open displaying all network connections.
4. Double-click on Internet Protocol Version 4 (TCP/IPv4).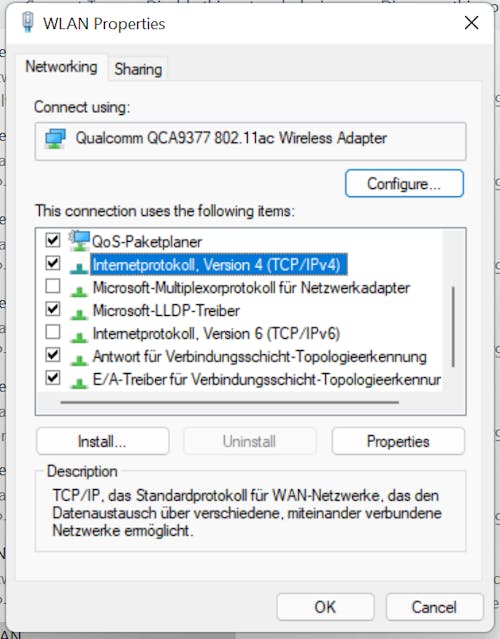 Choose Internet Protocol Version 4 (TCP/IPv4).
Select Use the following DNS server addresses and input the DNS addresses you received from your Smart DNS.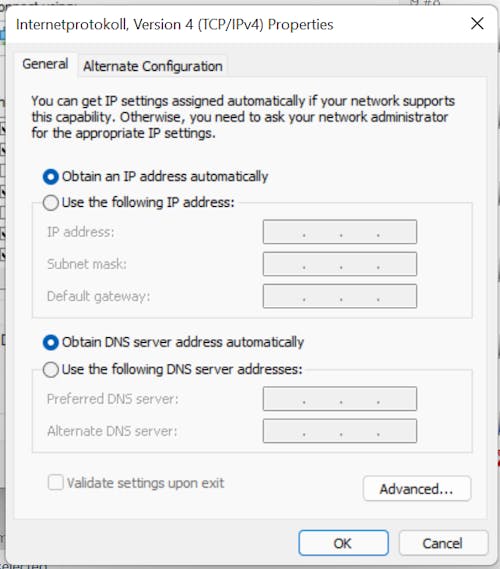 Input the Smart DNS provider's addresses here.
Click OK and restart your computer. If everything worked properly, you'll be able to bypass geoblocking from now on.
Pros and Cons of Smart DNS
Connection speed isn't compromised

Compatible with most end devices
Usually offered as a fee-based service

Unencrypted, and therefore, not secure

Only popular sites within a given region are accessible

Other blocked pages can only be accessed by sending a request to the Smart DNS provider

Needs to be configured manually, depending on the provider
Comparison: Which Method Is Best?
Because proxy servers and Smart DNS don't encrypt your traffic, VPNs are definitely ahead in terms of security and privacy. VPNs also trump Smart DNS and proxy servers when it comes to user-friendliness because you only need to download your provider's easy-to-use software. On the other hand, proxy servers and Smart DNS need to be configured manually, however, doing so isn't too challenging.
The advantage of proxy servers is that you can use a number of them at once for free. However, these free servers aren't intended for streaming, and as a result, they're often overloaded. All things being equal, in our opinion, a VPN is the best method to bypass geoblocking. Most VPNs come with a price tag, however, the same is true for Smart DNS. Because the fees are comparable, VPNs are clearly a better—and safer—choice.
Conclusion
As discussed above, it's relatively easy to bypass geoblocking when streaming or shopping online. VPNs, proxy servers, and Smart DNS are three popular methods to choose from, each with their advantages and disadvantages.
In general, a VPN is the best method because it combines performance and security. VPNs do come at a fee, but the cost is manageable. In addition, VPN software is also user-friendly, flexible, and includes data encryption for extra protection.
Discover the most recommended services in our comprehensive EXPERTE.com VPN comparison, where we rigorously assessed 22 VPN providers.
FAQs
Geoblocking, sometimes known as geo-restrictions, is designed to ensure that content and services are limited to specific regions. Requests from outside of these are rejected without exception. Geoblocking is generally used for licensing reasons, but totalitarian regimes also employ it to seal themselves and their populations off from the rest of the world.
How can geoblocking be bypassed?
⊖
There are three simple ways you can get around geoblocking, none of which require much effort: proxy servers, VPNs, and Smart DNS. Each differs significantly when it comes to cost, security, performance, and ease of use. A VPN is the best method because it combines high security and good performance with an intuitive interface.
Is it legal to bypass geoblocking?
⊖
The use of VPNs, Smart DNS, and proxy servers is legal, however, bypassing geoblocking is a bit of a gray area. You're quite certain to be in violation of your streaming provider's or online store's terms and conditions, but you don't need to worry about legal consequences. And while, in principle, your account with certain streaming services could be blocked, this hardly ever happens in practice.
How do I get an IP address for a specific country?
⊖
Essentially, the process is the same for VPN services, proxy servers, and Smart DNS servers—simply select a server that's located in the country of your choice. Once you're connected to that server, you'll automatically be assigned an IP address for that country and can access content and services that would otherwise be blocked.
* Ad disclaimer:
For links marked with an asterisk, EXPERTE.com may earn a commission from the provider. The commission has no influence on our editorial rating.

André Bartsch is a certified technical writer. He has worked in IT for 12 years in the areas of speech recognition and business process software. Since 2020, he has been self-employed as an author, copywriter and editor. His focus is on software, internet and online marketing.
Continue Reading
Reviews
Comparisons
Tools & Guides