Best VPN for Germany 2023: Comparing 27 Providers


Ad disclaimer:
For links on this page, EXPERTE.com may earn a commission from the provider. This supports our work and has no influence on our editorial rating.
Thanks to streaming, anyone can enjoy video content from around the world as long as their Internet connection is up to the task. All the same, expatriates, language learners, and business travelers are just some of the people who might want to keep tabs on Germany while they're abroad.
Geo-blocking has made this difficult, however, a VPN can help you enjoy German media anywhere on the planet.
VPNs make it possible to not only securely and anonymously navigate the Internet, but also to go on a virtual world tour. Annoying geographic restrictions are bypassed the moment you connect to a server in the country you want to visit. For those interested in watching German content, just select a server based in Germany. The best part? Almost all VPNs offer German servers.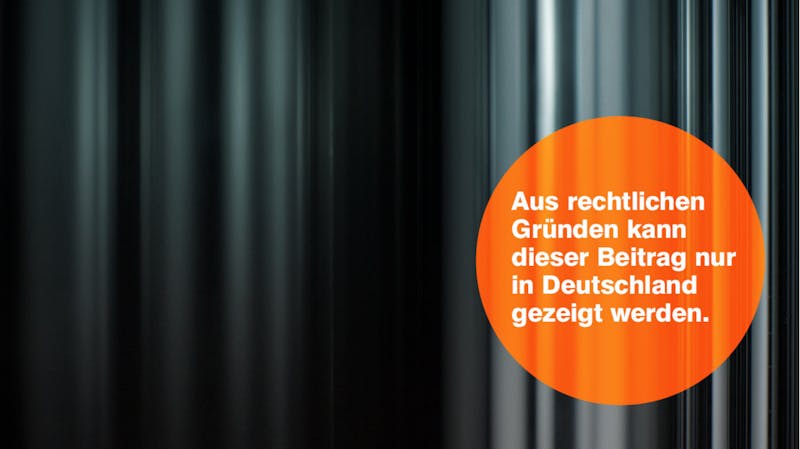 Annoying: People outside of Germany cannot access content in ZDF's media library.
Best VPN for German Content: Our TOP 5
To determine our Top 5, we took the scores from our overall evaluation. Then, we looked at how each provider's German servers performed and whether we could access German media libraries and streaming platforms.
Since there are a lot of different streaming platforms, we chose ARD, ZDF, TVNOW, and Sky. For more on how our sample performed with international streaming platforms, be sure to check our individual reviews for Netflix, Amazon Prime Video, and Disney+.
We measured performance every day, and over time, this gave us an average speed. These results can be found in the "Performance" section of this article.
Now that we've explained how we judged our sample, here are our Top 5 VPNs for German content:
1.
NordVPN: Also Number 1 in Germany
NordVPN is our number one VPN because it combines speed, ease-of-use, and functionality in a slick package that's also pretty affordable.
5,500+ servers, 60 countries
affordable 2-year package
9.4

excellent
Data Volume
Devices
Protocols
Contract Period
NordVPN 2-year plan
$3.49
monthly price
Visit Website*
30 days money-back guarantee
NordVPN took first place in our EXPERTE.com test and impressed across the board: It was the fastest provider from our sample, offers intuitive applications, plenty of features, powerful security standards, and regularly submits to external audits.
With more than 5,400 servers across 59 countries, the provider also has a strong server network. Of those 5,400 servers, 240 are in Germany (Berlin and Frankfurt). For Germany, NordVPN also takes first place in terms of speed. This is important because it means that content can not only be streamed, but also enjoyed on ARD, ZDF, and TVNOW. Only Sky blocked NordVPN's way, but a mere 2 services from our sample were able to unlock it.
240 German servers (Berlin and Frankfurt)

Access ARD, ZDF, and TVNOW
Installation and Features
9.4 / 10
Security and Privacy
9.4 / 10
2.
ExpressVPN: Reliable Streaming in Germany
ExpressVPN can impress with a strong performance, a huge server network, and excellently designed applications, but this quality also comes at a higher price.
Data Volume
Devices
Protocols
Contract Period
ExpressVPN 12 Months
$8.33
monthly price
Visit Website*
30 days money-back guarantee
The only thing we didn't like about ExpressVPN was its price: The service is considerably more expensive than its competitors and the most affordable subscription costs double that of NordVPN. You won't get any unique or special features for this price either, since ExpressVPN provides the basics (we don't have any complaints about these).
ExpressVPN took third place in our German speed test, offering an unknown number of servers in Frankfurt and Nuremberg. This provider is as reliable as NordVPN, and users can access the ARD and ZDF media libraries, along with TVNOW. Once again, however, we didn't have any luck with Sky.
Large server network (94 countries)

Access ARD, ZDF, and TVNOW
Installation and Features
9.4 / 10
Security and Privacy
8.0 / 10
3.
Surfshark: Lightning Fast in Germany
Surfshark is one of the cheapest providers on the market, but it's a lot more than a great budget option: the relatively new VPN boasts strong protection, many features, and a great support with 24/7 live chat.
3,200+ servers in 100 countries
unlimited number of devices
many apps (Linux, FireTV, ...)
8.8

good
Data Volume
Devices
Protocols
Contract Period
Surfshark 24 months
$2.49
monthly price
Visit Website*
Get 83% Discount
When it comes to price, Surfshark is at the opposite end of the spectrum as ExpressVPN: Our price-performance champion scores thanks to its excellent VPN clients and variety of configuration options and settings. During speed testing, Surfshark took second place, both overall and specifically for Germany. As such, it punches well above its weight.
Surfshark enables access to the ARD and ZDF media libraries, but not TVNOW or Sky. As far as server coverage goes, these can be found in Berlin, Frankfurt, Nuremberg, and Munich.
EXPERTE.com price-performance pick

Four server locations in Germany

Access ARD and ZDF media libraries
Doesn't unlock TVNOW or Sky content
Security and Privacy
9.4 / 10
Installation and Features
8.6 / 10
4.
Mullvad: 29 Servers at 2 Locations in Germany
Data Volume
Devices
Protocols
Contract Period
Mullvad Flatrate
$5.35
monthly price
Visit Website*
During our comprehensive review, Mullvad VPN finished in the middle of our sample. It lost points because of its small server network (754 servers in 36 countries), minimal support, and lack of features.
Still, the Swedish provider did perform well and took maximum points in security thanks in large part to its regular external security audits. Mullvad has 29 VPN servers in Germany (Frankfurt and Dusseldorf), and so it's jumped to fourth place in this ranking. As with Surfshark, we were able to access the ARD and ZDF media libraries but were barred from Sky and TVNOW.
Access the ARD and ZDF media libraries

Register and pay without personal information

Independent security audits
Doesn't provide access to TVNOW or Sky
Security and Privacy
10 / 10
Installation and Features
6.6 / 10
5.
PureVPN: Best Streaming Performance
PureVPN has servers around the world and covers underserved regions a bit better than many other VPNs. Its range of features is great, too. When it comes to performance, however, PureVPN is behind most of its competitors.
6,500+ servers in 70 countries
covers underserved regions
possible privacy concerns
7.8

good
Data Volume
Devices
Protocols
Contract Period
PureVPN 2 years
$2.29
monthly price
Visit Website*
7-day trial
There are some trust issues with PureVPN. This is because the service has a bad habit of breaking its "No-Log" promise. More recently, its privacy policy has been updated and the developers have submitted to external audits. To be fair, in the other areas we examined, PureVPN earned "good" scores, or higher and also offers a massive server network.
For our German speed test, PureVPN only reached 10th place, but still squeezes into our Top 5 since it was the fastest service across all four German streaming platforms.
Access ARD, ZDF, TVNOW, and Sky

Impressive server infrastructure
Has shared data with government authorities in the past

Only the 10th fastest VPN in Germany (from our sample)
Installation and Features
7.4 / 10
Security and Privacy
6.6 / 10
How We Reviewed
To test all 27 services from our sample, we purchased a subscription to each and thoroughly evaluated their clients and apps. Each review is divided into six main areas, five of which were scored and are listed below:
Installation and Features
We first check how many desktop clients and mobile apps each provider offers, as well as how user-friendly they are. Then, we take a look at what features and configuration options they include. To score highly, a provider's clients and apps should be easy to use but also enable access to plenty of features.
Server Network
For this, we determined how many servers each provider has, as well as how many countries these are based in. In this article, we looked specifically at how many of these are in Germany, and where they're located.
Performance
This score is influenced by a few different factors: First, we use our speed test to assess how each provider performs. In addition, we also check how the services behave on a daily basis, for surfing or video streaming.
To compare services for Germany, we clocked the speeds for each VPN's German servers. The 10 fastest (as of the time of testing) can be found below:
1.
2.
3.
4.
5.
6.
7.
8.
9.
10.
The chart below shows which German media libraries or live-streaming platforms were accessible with which VPNs:
| Platform | ARD Mediathek | ZDF Mediathek | TVNOW Live | Sky |
| --- | --- | --- | --- | --- |
| | | | | |
| | | | | |
| | | | | |
| | | | | |
| | | | | |
| | | | | |
| | | | | |
| | | | | |
| | | | | |
| | | | | |
Security and Privacy
Can you trust a particular VPN with your data? We examine each service's privacy policy to let you know if you can and whether there are any red flags. Beyond that, we also check their overall security standards, including what VPN protocols and encryption are offered and whether the provider passes our VPN leak tests.
Customer Support
To receive a high support score, a provider must offer direct contact methods, like a live chat. In addition, static support content, like guides and FAQs, needs to be informative, clearly arranged, and full-text searchable. For email support or tickets, we expect answers within 24 hours or less.
Overall Result
If you're looking for a VPN to consume German content while abroad, you'll likely find a great option among our Top 5 VPNs above. On the other hand, if you're looking for a reliable VPN that also performs well in Germany, we recommend taking a look at the providers in our overall ranking below:
Conclusion
In case you need German content, but can't physically make it to the country, VPNs offer an easy and legal way to access German media libraries (and navigate the Internet more safely and anonymously). However, not every VPN provider is equally good at unlocking the ARD or ZDF media libraries, or streaming platforms like TVNOW and Sky.
Our Top 5 help you to reliably stream German content. Detailed reviews of all 27 providers from our sample can be found in our comprehensive review series.
FAQs
Why should I use a VPN to access German content?
⊖
Most German streaming content is geo-blocked, meaning that you'll need a VPN to access the ZDF or ARD media libraries when abroad. A VPN tricks these platforms so that they think you're physically in Germany. As a result, you gain access to the content.
What's the best VPN for German content?
⊖
Our overall champion NordVPN helped us to stream from ARD, ZDF, and TVNOW. ExpressVPN and Surfshark took second and third place, respectively. Only PureVPN provided access to all four streaming providers we examined (ARD, ZDF, TVNOW, and Sky), however, its speeds were lower than the other services, which might cause some issues.
Is it legal to use a VPN in Germany?
⊖
It isn't illegal. VPNs conflict with the terms of use for most media libraries and streaming platforms, since these license content by country, and block access from abroad. You won't have to worry about any legal consequences though, and we're unaware of accounts ever being suspended or locked.
* Ad disclaimer:
For links marked with an asterisk, EXPERTE.com may earn a commission from the provider. The commission has no influence on our editorial rating.

Martin Gschwentner majored in American Studies and Media Studies in Germany, the USA and France and works as a freelance editor in Paris. He is a doctoral student at the Institute for English and American Studies at the University of Paris Diderot, where he is researching the influence of money on US politics. On EXPERTE.com he writes about IT security, data protection and software for the self-employed and small businesses.

Translation: D Bare
Continue Reading
Reviews
Comparisons
Tools & Guides