Hotspot Shield VPN Review 2023: Free, but Safe?

Whether Panama, the British Virgin Islands, or Malaysia, plenty of VPN services are located in tropical destinations. Apart from their sunny climates, these are also linked by the protection they offer users against American or European law. In many cases, these 'headquarters' consist of little more than a PO box. Who thought that a mailbox could offer so much protection!
Hotspot Shield's PO box is in Silicon Valley, California's tech Mecca, and the heart of global surveillance capitalism. Our test reveals whether or not Hotspot's 'shield' can guard you against the threats arising on today's data-crazed Internet landscape.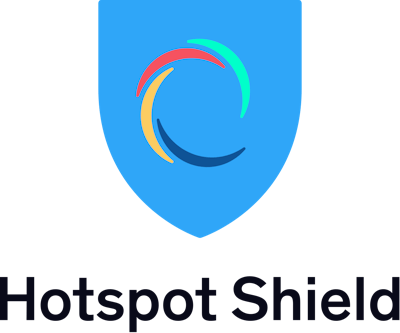 What Is Hotspot Shield?
Hotspot Shield ⇱ is a US-based VPN produced by Pango (previously, AnchorFree). The first desktop clients were launched for Windows and macOS in 2008, with iOS and Android apps, as well as a browser extension for Google Chrome, joining them later on. Since our last review, Hotspot Shield has even made a Linux app available. Today, the service is one of the most well-known and widely used VPN providers on the market.
Review
Customer Support
8.0 / 10
Installation and Features
8.0 / 10
Security and Privacy
5.4 / 10
User-friendly applications
Has not submitted to independent security audits
2.
Installation and Features
After installing Hotspot Shield's desktop client for your operating system, all you'll have to do is log in with your premium account's registration data to start surfing anonymously. It took us less than a minute to download, install, and create a VPN tunnel using the client. Premium account holders can create simultaneous connections for up to five devices.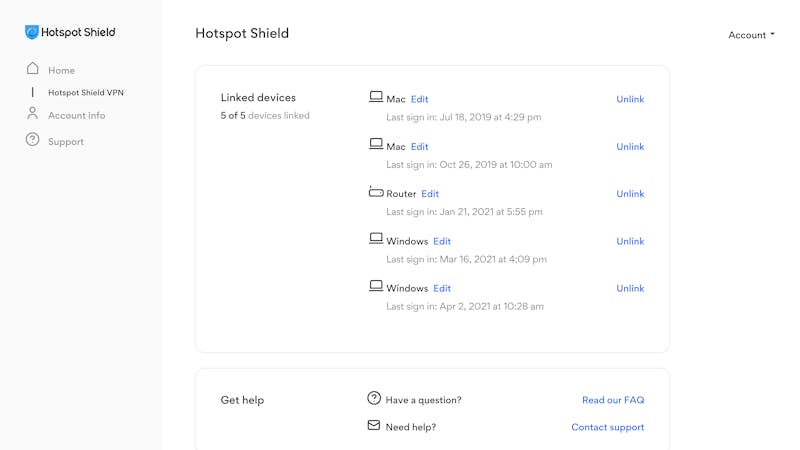 All connected devices can be managed in the account area.
Cloaked in black, Hotspot Shield's desktop client is simple, yet elegant. Like most VPN clients, its focal point is a large power button, with other features and options clustered below and to the left of it. By clicking on the power button, you can create a secure VPN connection, albeit, not to the fastest available server, but your current selection. You're also shown your daily data usage, which for premium users, isn't all that important as they enjoy unlimited traffic.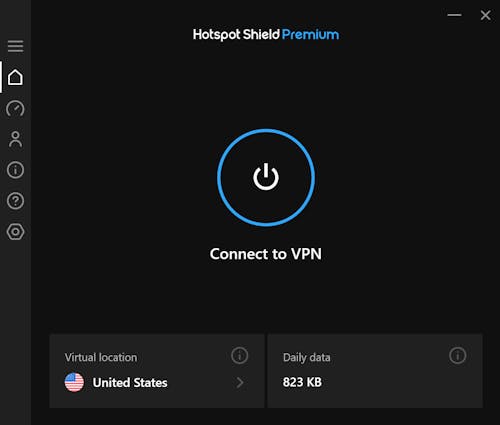 Hotspot Shield's desktop client is user-friendly, however, it lacks both a quick connect feature and the ability to mark favorites.
To change your server selection, click on "Virtual Location" below the power button. Here, you'll see all server locations listed alphabetically (with US and UK locations pinned to the top). Special streaming and gaming servers can be connected to, but as noted above, it isn't possible to mark favorites.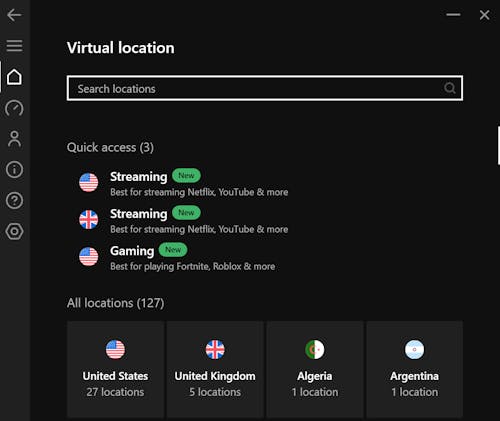 All available servers are listed alphabetically.
Once you've established a VPN connection, a small world map appears displaying the server's location, your IP, and information about its upload and download speeds. The integrated speed test, showing your upload and download speeds, is particularly nifty.
In some aspects, Hotspot Shield's desktop client's minimalism is refreshing; in other areas, it's frustrating. For example, the lack of quick connect, for easily connecting to the fastest available server, is a case of the latter. At the same time, the server list would benefit from more options, like the ability to mark favorites. As no information about servers is provided prior to connecting, choosing a server is a bit like roulette.
On the other hand, once connected, Hotspot Shield does offer curious users plenty of statistics.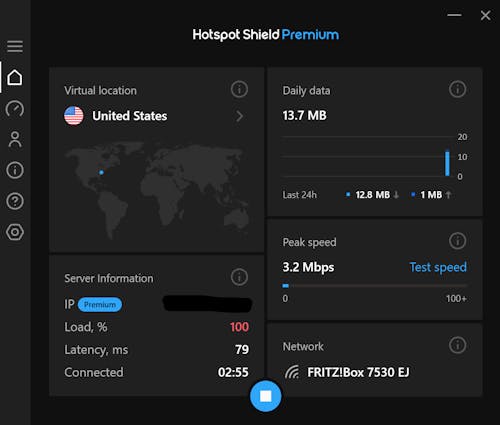 Once a VPN tunnel has been created, Hotspot Shield provides plenty of information about server speed, latency, and usage.
Under Settings, you'll find all of the features expected of a VPN, including a kill switch (automatically severs your Internet connection if a VPN disruption occurs) and IP leak protection. You can also configure Hotspot Shield to automatically connect to a VPN server when using unknown networks, such as hotspots.
During our last assessment (2019), we lamented the absence of split tunneling. We're happy to report that since then, this feature has been added, and can be accessed under the "Smart VPN" option in the Settings menu. Here, you can select which apps and websites shouldn't use your VPN tunnel. In terms of protocols, you have a (limited) choice, but we'll discuss this in greater detail in the "Security and Privacy" section of this review.
Overall, Hotspot Shield's package of features has definitely improved since we last checked in.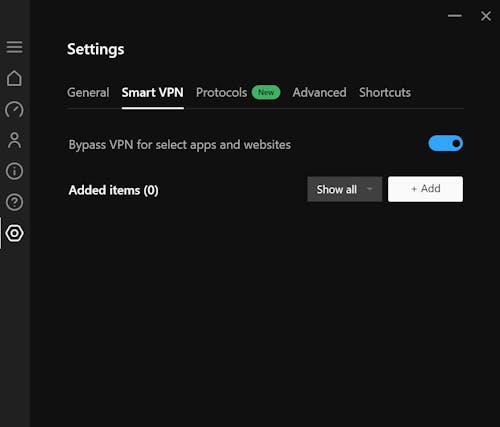 You can configure certain apps or websites to not use your VPN tunnel with the "Smart VPN" feature.
Mobile App
Hotspot Shield's mobile version is nearly identical to its desktop client, with a few exceptions. "Auto" offers quick connect functionality, creating a tunnel optimized for surfing at speeds of up to 1 GB/s. As with the desktop app, you can also manually connect to servers by selecting them from the list.
In addition to auto-start options, you'll also be able to configure Hotspot Shield to automatically create a VPN connection, or make use of the kill switch and "Smart VPN". The latter has one key difference though: You're unable to select which apps don't use your VPN tunnel, instead choosing those apps for which an automatic VPN tunnel should be created. Once finished, you'll need to manually close these connections. Unfortunately, during testing, this feature didn't work particularly well.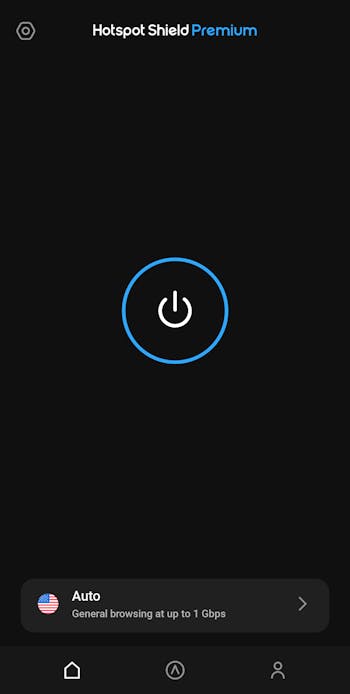 Hotspot Shield's mobile app has all of the desktop client's most important features.
Simplicity is the name of Hotspot Shield's game. Plenty of VPNs clutter their clients and apps with extra features (the practical value of which is often much lower than their marketing value), complicating the experience for regular users. As such, Hotspot Shield's approach is commendable. We would have liked to see quick connect in the desktop client, have the ability to mark favorites, or receive more information about servers before connecting to them. Multi-hop or dedicated P2P servers would also be nice additions. With that said, we had a fairly good experience with Hotspot Shield's mobile app and desktop client.
Score: 4 / 5
Hotspot Shield is backed up by a network of 1,800 servers across 80 countries. Geographically, these are concentrated in Europe, North and South America, as well the Asia-Pacific. As is the case with most VPN services, Africa and the Middle East get the short end of the stick.
For most countries, only a single server is offered, however, some do feature multiple cities.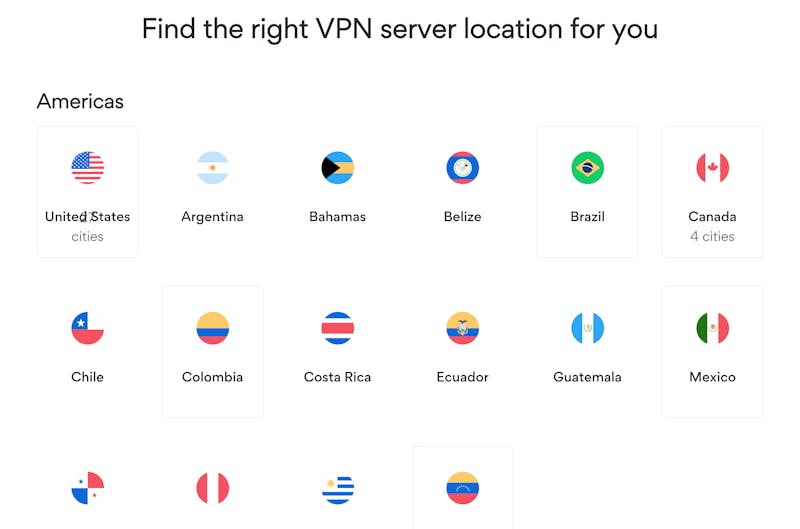 Hotspot Shield's servers are spread across the globe.
In sum, Hotspot Shield's server network is decent, even though other providers surpass it in terms of pure server power.
Score: 4 / 5
To evaluate the speed of all VPNs from our sample, we used a server in Europe with a 1 GB/s connection. At different times of the day, we connected to random Hotspot Shield servers in the US and Germany to more accurately gauge their performances. More information concerning our methodology can be found in our VPN speed test article.
The table below shows the average results from the last 365 days, arranged in order of download and upload speed (descending):
1.
2.
3.
4.
5.
6.
7.
8.
9.
10.
11.
12.
13.
14.
15.
16.
17.
18.
19.
20.
Hotspot Shield markets itself as the "fastest VPN for streaming, gaming, and more." Unfortunately, with an average download speed of 79.9 MB/s and an upload sped of 38.8 MB/s, the service took 18th place in our speed ranking. Registering the slowest download speed of all providers from our sample, Hotspot Shield's slogan didn't hold up for us when put to the test.
The diagram below shows Hotspot Shield's average speeds over the past months.
CyberGhost VPN
ExpressVPN
hide.me VPN
HideMyAss! VPN
Hotspot Shield VPN
IPVanish VPN
Mullvad VPN
NordVPN
Private Internet Access
PrivadoVPN
PrivateVPN
ProtonVPN
PureVPN
Surfshark VPN
TorGuard VPN
TunnelBear VPN
VeePN
VPN Unlimited
VyprVPN
Windscribe VPN
ZenMate VPN
Monat
Download
Upload
1/22
January 2022
Download: 77.3 Mbit/s 77.3
Mbit/s
January 2022
Upload: 39.9 Mbit/s
2/22
February 2022
Download: 79.0 Mbit/s 79.0
Mbit/s
February 2022
Upload: 38.9 Mbit/s
3/22
March 2022
Download: 81.9 Mbit/s 81.9
Mbit/s
March 2022
Upload: 38.1 Mbit/s
4/22
April 2022
Download: 80.2 Mbit/s 80.2
Mbit/s
April 2022
Upload: 38.4 Mbit/s
5/22
May 2022
Download: 85.7 Mbit/s 85.7
Mbit/s
May 2022
Upload: 38.4 Mbit/s
6/22
June 2022
Download: 88.8 Mbit/s 88.8
Mbit/s
June 2022
Upload: 40.6 Mbit/s
8/22
August 2022
Download: 86.8 Mbit/s 86.8
Mbit/s
August 2022
Upload: 39.8 Mbit/s
9/22
September 2022
Download: 85.0 Mbit/s 85.0
Mbit/s
September 2022
Upload: 40.2 Mbit/s
10/22
October 2022
Download: 81.4 Mbit/s 81.4
Mbit/s
October 2022
Upload: 38.7 Mbit/s
11/22
November 2022
Download: 78.4 Mbit/s 78.4
Mbit/s
November 2022
Upload: 33.1 Mbit/s
12/22
December 2022
Download: 81.6 Mbit/s 81.6
Mbit/s
December 2022
Upload: 35.1 Mbit/s
1/23
January 2023
Download: 81.7 Mbit/s 81.7
Mbit/s
January 2023
Upload: 35.8 Mbit/s
All the same, speed isn't everything, and Hotspot Shield's performance for everyday usage was pleasantly surprising. We didn't have any connection issues or need to complete annoying captchas during Google searches.
In terms of streaming, the service also excelled, allowing us to view foreign content from Amazon Prime, Netflix, Disney+, and the BBC's iPlayer without issue.
Similarly, Hotspot Shield looks to be an excellent companion for your next trip to China, if looking to bypass the "Great Firewall". Just be sure to download the client before your trip, as you won't be able to once in-country without a VPN connection.
Unfortunately, Hotspot Shield's numbers were disappointing; thankfully, its performance wasn't. With that in mind, we have no reservations about giving it a "good" score.
Score: 4 / 5
Because Hotspot Shield primarily relies upon a proprietary protocol (Catapult Hydra), users are even more dependent upon its security and privacy guarantees than usual. Since our last assessment, support for IKEv2 has been integrated, somewhat rectifying this.
Still, so far as data privacy is concerned, you'd have to be born yesterday to blindly trust a Silicon Valley-based tech company. In its support area ⇱, Hotspot Shield recently remarked (May 2021) upon its approach to encryption:
"Our steadfast security, inspired by the software defined perimeter (SDP) model pioneered by the US Department of Defense, supports both 128-bit AES and 256-bit AES encryption, and we use 128-bit AES encryption as a standard."
On paper, encryption seems to be airtight, with Catapult Hydra used by other VPNs as well (such as Bitdefender, which won best antivirus software in our ranking). However, since this protocol isn't open-source, more questions are raised about its exact functionality and mode of encryption, than is the case with OpenVPN or WireGuard.
More red flags: According to Aura's privacy policy ⇱, all of its affiliates (including Pango, and by extension, Hotspot Shield) collect information, despite the latter's "No-Logs" promise. Hotspot Shield notes that none of these logs contain information about you, your account, or your surfing activity. All the same, they're more invasive than necessary, or as is the case with other VPN services. Further dampening the mood is that the service uses some trackers for analytical purposes.
The provider could quiet most of our concerns relatively easily by submitting to an independent security audit, as some of its competitors (NordVPN, ExpressVPN, and TunnelBear) have done. Hotspot Shield does release transparency reports (the most recent in 2018 ⇱), however, we'd prefer third-party assessments.
As a silver lining of sorts, the provider did pass our VPN leak tests for IPv6, DNS, and WebRTC without issue.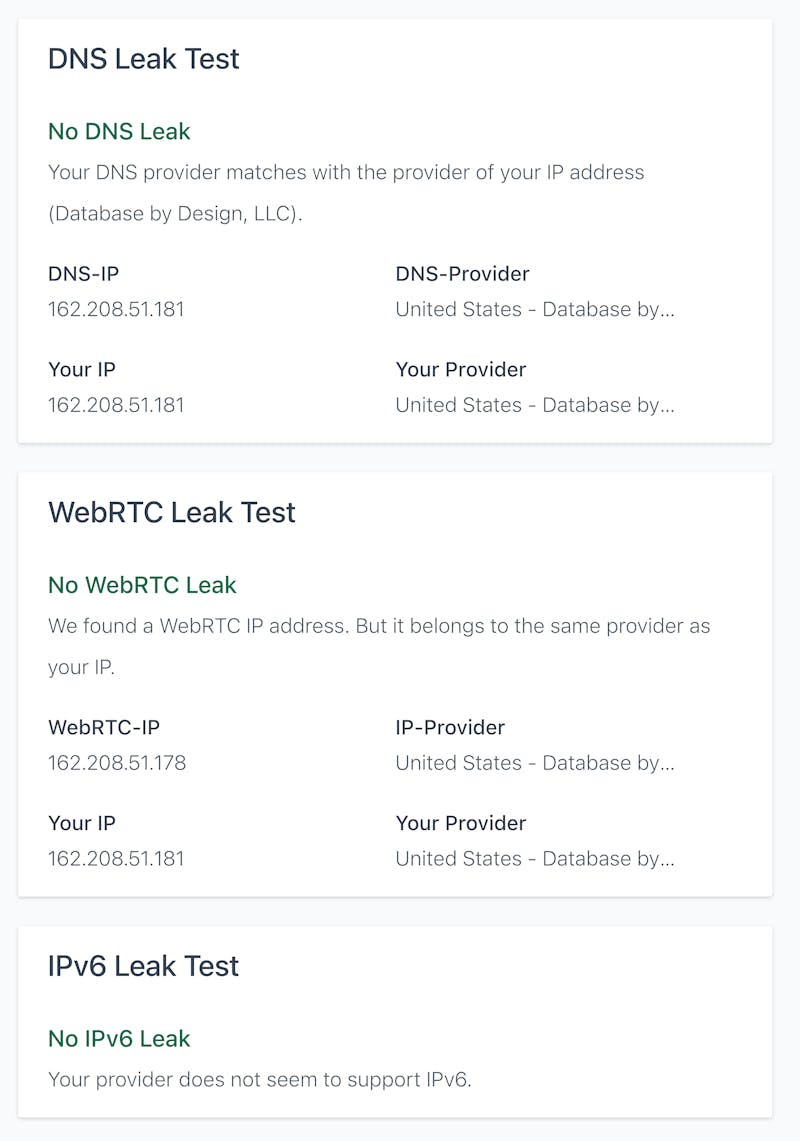 Hotspot Shield breezed through our leak tests.
When it comes to security and privacy, our feelings about Hotspot Shield are mixed. A world of good could be done by submitting to regular audits. Even then though, the provider would still be based in the US, have to answer for its parent company's data policies, and explain why it utilizes a non-transparent VPN protocol.
Score: 2.7 / 5
It's possible to directly access FAQs or get in touch with support, either by contact form, or live chat, through Hotspot Shield's apps. Help articles are loaded with screenshots and step-by-step instructions. To make finding what you need easier, the support center also features a text search.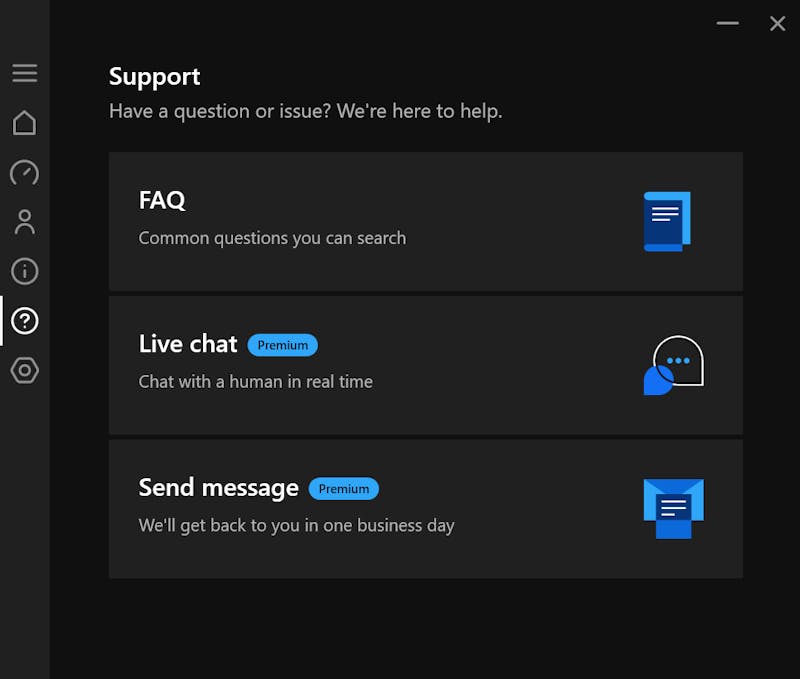 It's possible to get in touch with Hotspot Shield's support staff directly through its apps.
The response times were impressive: We received an answer to our support ticket within two hours, and immediately started typing with a staffer in the live chat.
We couldn't really ask for more in terms of support, so, full points.
Score: 5 / 5
Hotspot Shield's monthly subscription price is one of the pricier options among the services from our sample. As usual, a yearly package costs far less per month than a monthly one. Still, even at this price, Hotspot Shield is almost twice as expensive per month as our price-performance winner, NordVPN.
The provider does offer a free version, allowing anyone to surf at up to 2 MB/s and enjoy 500 MB of traffic per month. Streaming is "limited", making it less reliable than in the paid subscription, and you'll only be able to connect one device.
A current price list can be found below:
Free
Premium Yearly
Family Yearly
Set-up Fee
$0.00
$0.00
$0.00
Monthly Price
$0.00
$7.99
$11.99
Contract Period (Months)
0
12
12
Limits
Data Volume
0.5 GB
unlimited
unlimited
Number of Devices
1
5
25
Features
Number of Servers
3,200
3,200
3,200
Number of Countries
1
70
70
No Server Logs
P2P Allowed
Tor Access
Kill Switch
Protocols

OpenVPN

WireGuard

IKEv2

IPSec

Eigenentwicklung

OpenVPN

WireGuard

IKEv2

IPSec

Eigenentwicklung

OpenVPN

WireGuard

IKEv2

IPSec

Eigenentwicklung
Hotspot Shield doesn't offer a trial version of its premium plan, but you will have a 45-day, money-back guarantee.
Conclusion
Customer Support
8.0 / 10
Installation and Features
8.0 / 10
Security and Privacy
5.4 / 10
Even though the Silicon Valley-based VPN fared poorly in our speed test, we did see a few signs of promise. Its apps are solid and include important features like split tunneling. We were also able to stream foreign content without a hitch using the service's decent server network.
Unfortunately, In terms of privacy and security, too many red flags were raised. Its opaque, proprietary protocol is dubious, as are its parent companies' logging policies. An independent security audit would ameliorate some of these, but for data privacy enthusiasts, there are simply way too many holes in Hotspot's 'shield' when set alongside other providers. On the other hand, those who value performance or usability more than privacy will be very satisfied with the service.
Data Volume
Devices
Protocols
Contract Period
Hotspot Shield Free
$0.00
monthly price
Visit Website »
Customer Ratings
To find out what customers have to say about the service, we've gathered verified reviews from a variety of online platforms.
Customer Ratings
1,574,332 Bewertungen
Visit Website
We analyzed the reviews and ratings from various portals and found 1,574,332 ratings with an overall rating of 4.2 out of 5 .
Alternatives
If you're skeptical about Hotspot Shield, particularly considering its questionable privacy policy, a host of other providers such as ExpressVPN, NordVPN, Hide.me, TunnelBear, or ProtonVPN will all be able to quiet your fears.
Should speed be important to you, along with NordVPN, you can look at the second and third fastest services from our sample, Mullvad VPN and Surfshark.
The best alternatives can be found here:
NordVPN combines speed, user-friendliness and functionality into a coherent overall package that is also fairly affordable.
5400+ servers, 60 countries
Inexpensive 2-year package
9.4

excellent
Data Volume
Devices
Protocols
Contract Period
NordVPN 2-year plan
$2.99
monthly price
Visit Website »
30 days money-back guarantee
ExpressVPN impresses with strong performance, a huge server network and excellently designed applications, but this quality also comes at a higher price.
160 cities in 94 countries
30-day money-back guarantee
9.4

excellent
Data Volume
Devices
Protocols
Contract Period
ExpressVPN 12 Months
$8.33
monthly price
Visit Website »
30 days money-back guarantee
Surfshark is one of the cheapest providers on the market, but besides the price also impresses with strong protection, many features and a great support with 24/7 live chat.
3200+ servers in 65 countries
Unlimited number of devices
Many apps (Linux, FireTV, ...)
Very cheap on the 24-month plan
8.8

good
Data Volume
Devices
Protocols
Contract Period
Surfshark 24 months
$2.49
monthly price
Visit Website »
Get 83% Discount
1200+ servers in 55 countries
Headquarters in Switzerland
Open Source & external audits
8.7

good
Data Volume
Devices
Protocols
Contract Period
ProtonVPN Free
$0.00
monthly price
Visit Website »
30 days money-back guarantee
Data Volume
Devices
Protocols
Contract Period
HideMyAss! 36 months
$2.99
monthly price
Visit Website »
30 days money-back guarantee

Author (German Version): Martin Gschwentner
Martin Gschwentner majored in American Studies and Media Studies in Germany, the USA and France and works as a freelance editor in Paris. He is a doctoral student at the Institute for English and American Studies at the University of Paris Diderot, where he is researching the influence of money on US politics. On EXPERTE.com he writes about IT security, data protection and software for the self-employed and small businesses.

Translator & Editor: D Bare
Continue Reading
Reviews
Comparisons
Tools & Guides