Bypass Geoblocking
Google Blocked in China? How to Bypass Digital Censorship 2022
For most of the world, the Internet is a place where freedom abounds. However, in authoritarian states like China, the net is used as a tool of oppression—the regime decides what information is available online and who can access it.
These censorship measures, known as the "Great Firewall of China", even prevent citizens of the People's Republic from using the world's most popular search engine, Google. This article explains how you can still use Google in China, the tools you'll need, and any potential legal concerns.
First, let's verify whether or not Google is actually blocked in China. EXPERTE.com's internet censorship check can help; we use our servers in Beijing, Shanghai, and Shenzhen to test if websites are available from inside the country. Simply input a URL into the search field and click on the "Start Test" button. Within a few seconds, you'll discover whether or not the site is available in China.
Unsurprisingly, our internet censorship check shows that Google is currently blocked in China: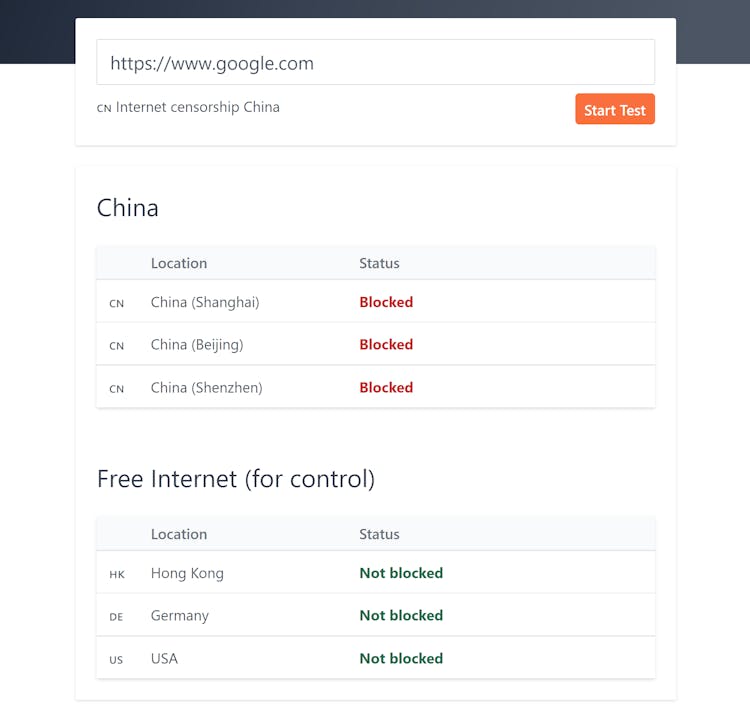 The Great Firewall blocks Google in China.
Google hasn't always been blocked in China. In the past, Chinese citizens had access to their country's own version of the search engine, even though search results had to comply with the Communist Party's censorship measures. However, since 2014, Google's search engine along with many other of the digital giant's services, such as Gmail, Google Maps, and Google Scholar, has been completely blocked.
Fortunately, it's relatively easy to circumvent these restrictions—especially if you use a VPN.
Using a VPN to Access Google — Despite Restrictions
A virtual private network (VPN) connects you to the Internet via an encrypted tunnel. VPN providers make it possible to connect to servers located all over the world, allowing you to surf both anonymously and with a masked IP address. For example, if you're in China using a VPN server located in America, you'll be able to surf the net as if you were in the US (and bypass censorship measures like the Great Firewall).
In this article, we'll explain the process step by step.
Instructions: Access Google in China via VPN
First, you'll need to choose the right VPN provider. There are many services on the market, and not all of them can reliably overcome the Great Firewall. Here, we'll demonstrate how to do this using NordVPN, the winner of our VPN comparison. However, the steps are very similar for all programs.
Step 1: Sign up for the VPN provider of your choice. Download and install the appropriate VPN software for your device from the provider's website.
Tip: It's important to do this before your trip to China; many websites offering VPN services are blocked within the country.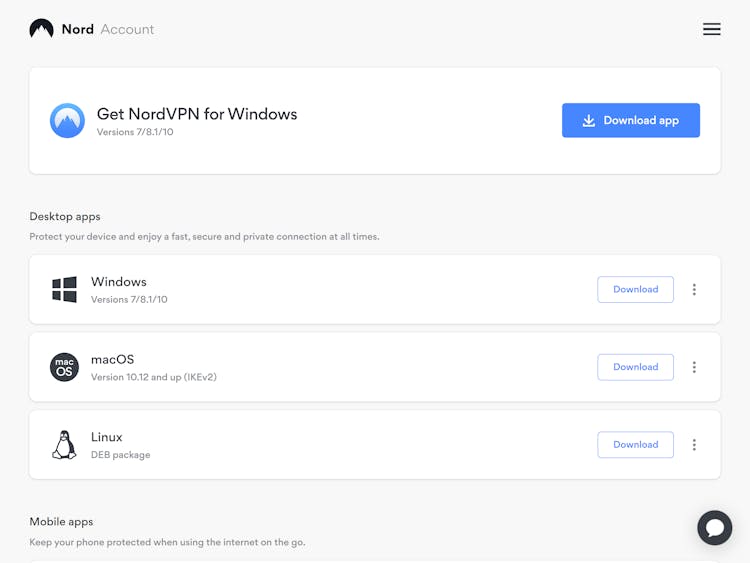 Nord's account page lists all NordVPN apps that are available for download. Choose the right one for your operating system and device.
Step 2: Install and launch the VPN's app. Once complete, you can then connect to a server outside of China and bypass the country's censorship measures.
Tip: The farther your connection has to travel, the slower it will be. For the fastest speeds within China, try choosing a server based nearby, e.g., in Hong Kong or Taiwan.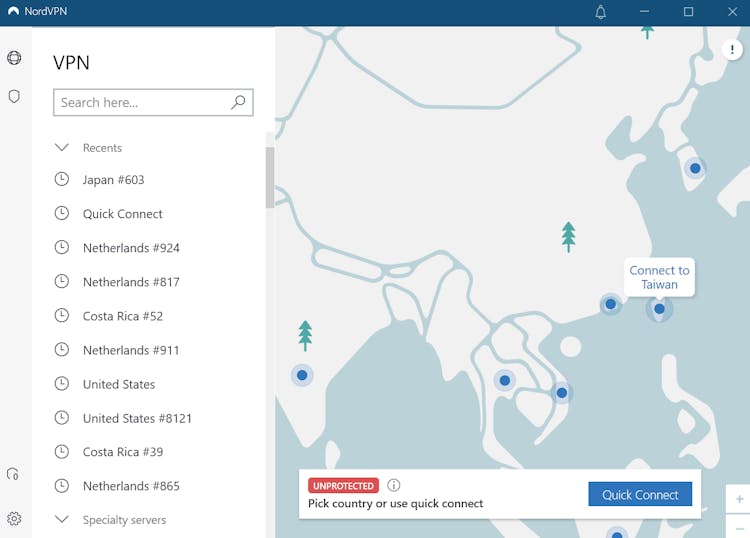 As long as you choose a VPN server outside of China, you should be able to bypass the Great Firewall.
Step 3: You're now connected to the Internet via the VPN's server and can use Google and surf the Web with a masked IP address. This means that you're free from the Great Firewall's censorship measures.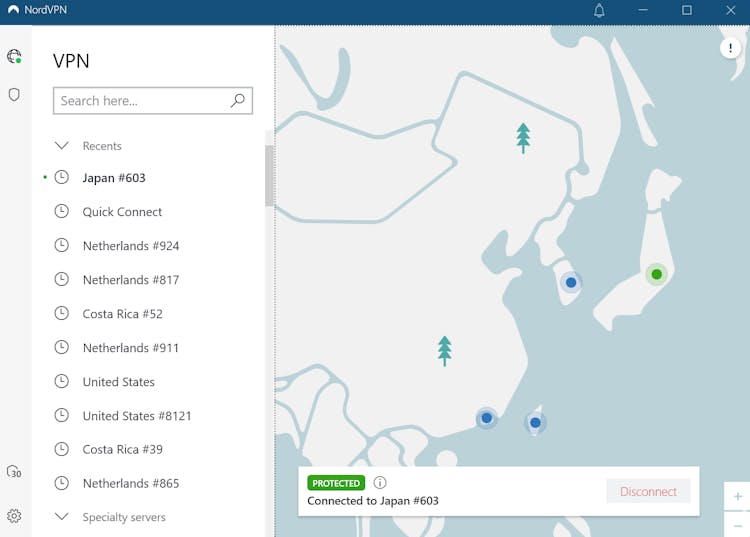 As long as the VPN connection is active, you should be able to use Google and any otherwise blocked websites without issue.
As mentioned above, not all VPN providers can overcome the Great Firewall. Before leaving for China, ensure that the service you've settled on can successfully bypass the country's censorship measures. Our EXPERTE.com VPN comparison can help you find out which is best for this.
Over the course of our assessment, we extensively tested 22 of the most popular VPN services, paying special attention to how they performed in China. To gauge this, our team used servers within the country capable of showing whether or not each provider could bypass the Great Firewall.
It's important to note, however, that when it comes to censorship, things can change quickly. The Chinese regime is engaged in a constant game of cat-and-mouse with VPN providers.
We currently find the following VPN services to be the most reliable for circumventing censorship measures in the PRC.
5400+ servers, 60 countries
Inexpensive 2-year package
NordVPN combines speed, user-friendliness and functionality into a coherent overall package that is also fairly affordable.
Data volume
Devices
Protocols
Contract Period
NordVPN 2-year plan
$2.99
monthly price
Visit Website »
30 days money-back guarantee
NordVPN isn't just the overall winner of our review, it's also our favorite VPN for traveling to China. This Panama-based service combines top performance with user-friendly apps and high security standards. They also offer an excellent price-performance ratio, especially if subscribing to their 2-year plan.
Installation and Features
4.7 / 5
Security and Privacy
4.7 / 5
160 cities in 94 countries
30-day money-back guarantee
ExpressVPN impresses with strong performance, a huge server network and excellently designed applications, but this quality also comes at a higher price.
Data volume
Devices
Protocols
Contract Period
ExpressVPN 12 Months
$8.33
monthly price
Visit Website »
30 days money-back guarantee
ExpressVPN's is more pricy than its competitors, especially when looking at the low rates available for long-term plans. However, with excellent speeds, a huge network of 3,000 servers, and beginner-friendly apps, ExpressVPN remains one of the best solutions on the market. Their service also successfully overcomes China's censorship measures
Security and Privacy
4.7 / 5
Installation and Features
4.3 / 5
3200+ servers in 65 countries
Unlimited number of devices
Many apps (Linux, FireTV, ...)
Very cheap on the 24-month plan
Surfshark is one of the cheapest providers on the market, but besides the price also impresses with strong protection, many features and a great support with 24/7 live chat.
Data volume
Devices
Protocols
Contract Period
Surfshark 24 months
$2.49
monthly price
Visit Website »
Get 83% Discount
Surfshark is our price-performance ratio winner. This provider achieved excellent scores in our speed test and offers a large set of features. It's also very reliable for use in China. While Surfshark's monthly prices are similar to those of the other two providers above, their 24-month plan is an especially good deal.
Installation and Features
4.7 / 5
Security and Privacy
4.0 / 5
In our article covering the best VPNs to use in China, you can find alternatives to our Top 3 recommendations and insight into our testing methods.
Accessing Google in China With Free VPNs
The Top 3 providers listed above are paid VPN services. We generally recommend opting for premium providers, especially when it comes to VPNs since they offer greater reliability and security. Skepticism is healthy so far as completely free VPN services are concerned. After all, if you're not paying for a product, you are the product!
If you're determined not to pay for a VPN, it's better to use the free limited versions of apps marketed by established VPN providers. We recommend two "freemium" providers in particular: ProtonVPN, which doesn't have any data limits, and Windscribe, which provides up to 10 GB per month at no cost.
There's another way to use a VPN for free while in China. Most VPN providers, including NordVPN, ExpressVPN, and Surfshark, offer a money-back guarantee. So long as you cancel your contract within a certain timeframe (typically 30 days of signing), you can request your money back. If you only need a VPN service for a short trip to China, you can try one out and ask for a refund upon your return.
If using a VPN seems like too much trouble and you're willing to tolerate censorship during your trip to China, there's a straightforward alternative to Google: Microsoft Bing.
Unlike Google, Microsoft complies with the Chinese government's rules regarding censorship. This means that your search results will be limited; for example, you won't find truthful reporting about the situation in Tibet or the Tian'anmen Square massacre. However, the search engine works well for topics that aren't so politically charged.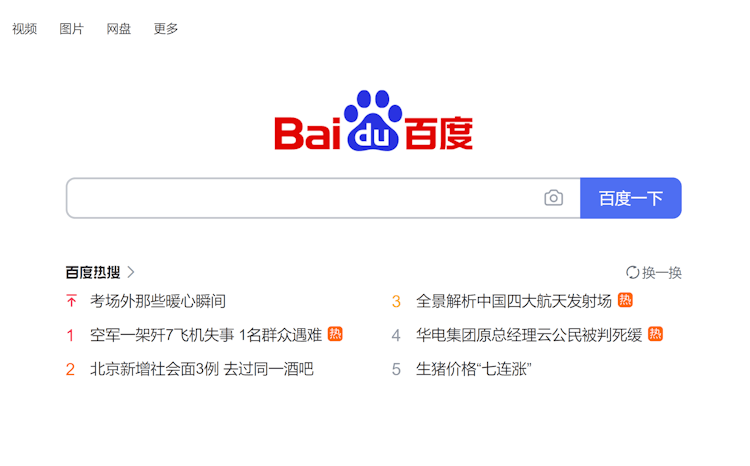 Baidu is China's answer to Google.
If you speak Chinese and want to immerse yourself in your host country's culture, you can use a Chinese search engine. Baidu is an especially popular choice.
If you can't imagine life without Google, it's best to be well-prepared before traveling to China. The search engine is blocked along with many other Google services such as Gmail and Google Maps. Luckily, it's relatively easy to bypass the Chinese government's censorship measures; all you need is a VPN to change your virtual location.
Just remember that not all VPN services work in the PRC. In EXPERTE.com's review of the best VPNs for China, we used our servers located within the country to find out which providers can circumvent the Great Firewall. Currently, our Top 3 picks are NordVPN, ExpressVPN, and Surfshark.
Is Google blocked in China?
Yes, Google is one of many websites blocked in China, as confirmed by EXPERTE.com's Internet censorship check. Our tool checks the availability of websites in China using servers located in Beijing, Shanghai, and Shenzhen. Blocked websites are a result of the Chinese government's censorship measures.
How can I use Google in China?
The easiest way to access Google in China is with a VPN. You can use the VPN provider's servers located around the world to connect to the Internet and mask your IP address. This will trick any censorship attempts and allow you to access blocked websites like Google. However, not all VPN services are effective in China. We currently recommend NordVPN, ExpressVPN, and Surfshark.
It is legal to use a VPN in China?
Only certain VPN services are approved by the Chinese government; all others are officially prohibited. That being said, the legality of VPN use is a gray area. If you're a tourist, you shouldn't have anything to worry about in this regard. We aren't aware of any cases in which travelers to China have been punished for using a VPN.

Author: Janis von Bleichert
Janis von Bleichert studied business informatics at the TU Munich and computer science at the TU Berlin, Germany. He has been self-employed since 2006 and is the founder of EXPERTE.com. He writes about hosting, software and IT security.