Watch Blocked YouTube Videos: How to Bypass Region Restrictions


Translation
Lisa Torelli-Sauer
Ad disclaimer:
For links on this page, EXPERTE.com may earn a commission from the provider. This supports our work and has no influence on our editorial rating.
No one wants to see a "Video unavailable" message while browsing YouTube. Even though the worst times are behind us when it comes to YouTube restrictions, plenty of video links take users from certain regions to dead ends. Luckily, a number of ways exist to watch these videos despite their blocked status.
But what are YouTube regional restrictions all about? And more importantly, how can you get around them? This article answers these questions and more.
Why YouTube Has Region Restrictions
YouTube's region restrictions are usually the result of licensing agreements, which vary from country to country. To comply with local regulations, the platform blocks certain content based on its users' location. If a video is restricted, you'll see a message like this: It can be frustrating to be confronted with the above when wanting to watch a video that is unavailable for copyright reasons.
However, YouTube's content restrictions aren't the end of the world, as you can still watch videos thanks to a few tricks.
Bypass YouTube Restrictions
Most YouTube restrictions are location-based and compare the visitor's IP address to any limitations on where the content can be shown. Therefore, being able to watch a video can be as simple as changing your IP address to trick YouTube into thinking you're somewhere else. This can be achieved through a number of methods; the most popular among them being VPNs and proxy servers.
Bypass YouTube Restrictions With a VPN
A virtual private network, or VPN, encrypts your Internet connection, guaranteeing more security and anonymity on the web. Here's how it works: Traffic passes through one of the VPN's secure servers, which can be located anywhere in the world. Based on this (i.e., where the server is) your virtual location (IP address) also changes.
Professional VPN services make the entire process especially user-friendly; all you have to do is download their client or app and connect to one of their servers. After doing this, it should be possible to access content that would otherwise be blocked in your region.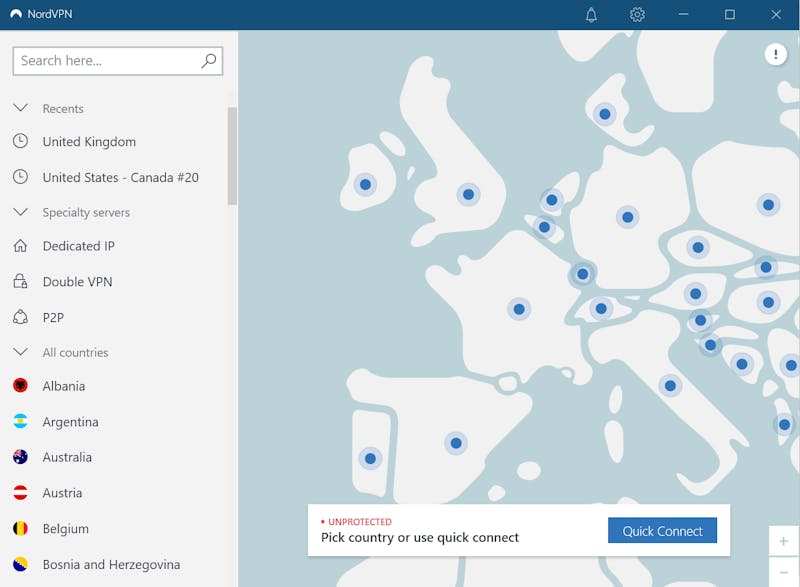 NordVPN is one of the best VPN services on the market.
Most good VPN services require a paid subscription to use, however, there are a few free offers worth looking into. While you won't be able to stream video content from abroad on premium services like Netflix, Amazon Prime Video, and others, you should be able to circumvent region restrictions on YouTube.
Best Premium VPN: NordVPN
Among paid VPNs, NordVPN is our favorite. It offers the best overall package, providing top performance, user-friendliness, and plenty of features. And it won't hurt your wallet either, since the service is reasonably priced; their least expensive package only costs about $4 per month.
NordVPN is our number one VPN because it combines speed, ease-of-use, and functionality in a slick package that's also pretty affordable.
5,500+ servers, 60 countries
affordable 2-year package
9.4

excellent
Data Volume
Devices
Protocols
Contract Period
NordVPN 2-year plan
$3.49
monthly price
Visit Website*
30 days money-back guarantee
Best Free VPN
ProtonVPN offers the best free VPN service. While most "freemium" VPNs are constricted by data or speed limits, ProtonVPN is not. Your access is limited to specific servers in the USA, Netherlands, and Japan, however, that's more than enough to effectively bypass YouTube's region restrictions.
With its open source philosophy and extra security features, Proton VPN targets security-conscious VPN users. But thanks to its user-friendly interface and suitability for streaming, it's worth a look for a wide audience.
open source & external audits
2,900+ servers in 67 countries
free plan without data limit
9.1

excellent
Data Volume
Devices
Protocols
Contract Period
Proton VPN Free
$0.00
monthly price
Visit Website*
Free forever
Bypass YouTube Restrictions With a Proxy Server
Proxy servers offer another way to bypass YouTube's region restrictions. Like VPNs, they act as an intermediary between your computer and the server you want to access, making it possible to match your IP address to the server's location. However, unlike VPNs, the connection is not encrypted.
You can set up proxy a server in your browser in just a few steps (for a detailed explanation, please consult our article on geoblocking). However, if you only want to use one to watch blocked YouTube videos, the process is even simpler thanks to a number of nifty browser extensions and web proxy services. For bypassing YouTube's region restrictions, be sure to check out those offered by HideMyAss or ProxySite.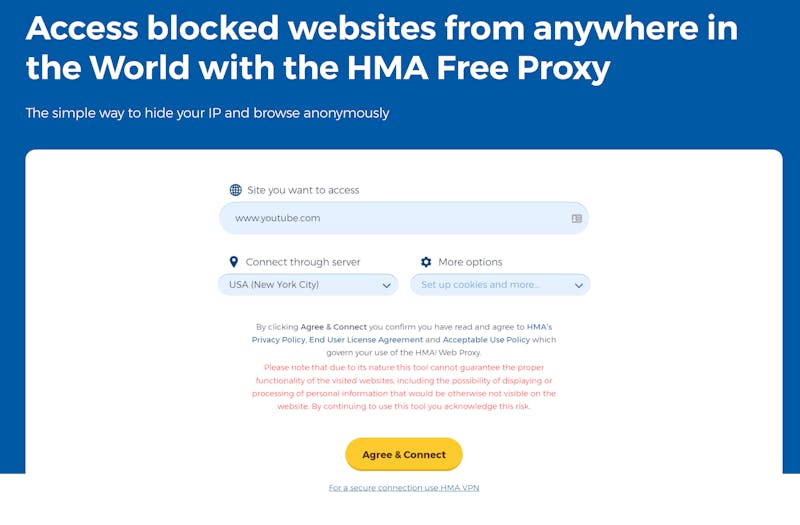 Free proxy services help you to quickly bypass YouTube's region restrictions.
Since they're effective and free, there are some advantages to using web proxy services as opposed to VPNs for YouTube content. However, because the connection is not encrypted VPNs offer greater security. That being said, if you just want to access blocked YouTube videos from time to time, you don't necessarily need a VPN—proxy services will suffice.
Is It Legal to Bypass YouTube's Region Restrictions?
The use of VPN services and proxy servers is legal in most countries. If employed to bypass YouTube's region restrictions, you might be breaking Google's terms of service (YouTube's parent company), but not the law. At most, YouTube could block your account, but we aren't aware of any such cases. In essence, circumventing these restrictions may be frowned upon by YouTube, but it's not against the law.
Things become more complicated when using a VPN or proxy server to access YouTube in countries such as China or Iran, where the platform is blocked. Here too, the situation varies from country to country. For example, in China, using a VPN to squeeze through what has been dubbed their "Great Firewall" is an open secret. So far, there aren't any known cases of legal consequences arising from accessing YouTube in China.
Conclusion
YouTube's region restrictions aren't as much of an issue as they used to be. However, owing to licensing and copyright issues, there remain a great number of videos that are inaccessible in certain regions. Fortunately, getting around these blocks is relatively easy, with both VPN services and proxy servers making this possible—oftentimes for free. Among the best free solutions of each type are ProtonVPN and ProxySite.
However, the limitations of free providers quickly become apparent when attempting to circumvent geoblocking on premium streaming services. You can find out how to reliably bypass all geoblocking in our article dedicated to the topic. We've also reviewed the best VPNs for video streaming.
FAQs
Why are some YouTube videos blocked in my country?
⊖
This can usually be traced back to licensing agreements, which are individually negotiated for each region. As a result, some content cannot be shown everywhere.
How can you access restricted YouTube videos?
⊖
The easiest methods include VPNs and proxy servers. VPNs have the added advantage of encrypting your connection. To use them, you will need to download their client or app, however. Proxy servers for YouTube can be accessed via basic web proxy services and browser extensions.
Is it illegal to watch YouTube videos with a VPN?
⊖
No. At most, you're violating YouTube/Google's terms of service, but it's not illegal to bypass the platform's region restrictions.
Can I get around YouTube restrictions with a free VPN?
⊖
Yes. While free VPNs are typically not enough to access blocked content on streaming services such as Netflix, they usually suffice for YouTube.
* Ad disclaimer:
For links marked with an asterisk, EXPERTE.com may earn a commission from the provider. The commission has no influence on our editorial rating.

Martin Gschwentner majored in American Studies and Media Studies in Germany, the USA and France and works as a freelance editor in Paris. He is a doctoral student at the Institute for English and American Studies at the University of Paris Diderot, where he is researching the influence of money on US politics. On EXPERTE.com he writes about IT security, data protection and software for the self-employed and small businesses.

Translation: Lisa Torelli-Sauer
Continue Reading
Reviews
Comparisons
Tools & Guides