Best VPN for Linux in 2023: These 5 Apps Are Worth Their Price

Ad disclaimer:
For links on this page, EXPERTE.com may earn a commission from the provider. This supports our work and has no influence on our editorial rating.
Linux is a free operating system that emphasizes security, privacy, and flexibility. Some Linux distributions are even geared specifically toward security-conscious users. Therefore, it's not surprising that there's a lot of overlap between the target groups for Linux and VPNs.
Most VPN providers have recognized this potential, offering graphic (GUI) client apps that can be integrated into a Linux system with little more than a few steps. Below, we'll let you know what to pay attention to when selecting a VPN for Linux and which providers you should consider.
What Makes a Good Linux VPN?
Apart from connection speed, a VPN's security is also important. The GUI client should be regularly updated, with solid support offered for various Linux derivatives. Since modern package management concepts like AppImage or Flatpak allow programs to be used regardless of their distribution, it isn't necessary for each distribution family to have its own package.
Some VPNs only offer basic features to Linux users and don't have graphic frontends, meaning that subscribers will need a deeper knowledge of Linux to actually use them. Because Linux has become more beginner-friendly and useable for those who aren't familiar with package management and command prompt, the VPN should have an intuitive user interface that makes connecting to a network as straightforward as possible.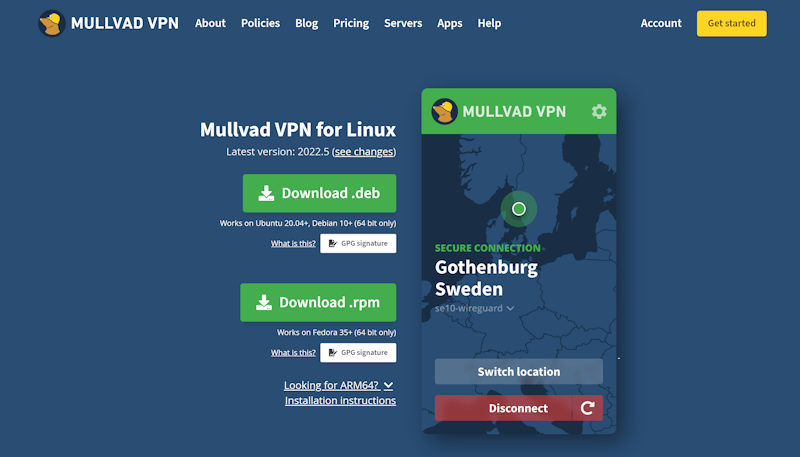 A modern Linux VPN should have a graphic user interface, just like on any other operating system.
VPNs with open-source apps are particularly trustworthy since anyone can check their code for weaknesses or issues. This has the added benefit of allowing security issues to be identified quicker than with proprietary software.
With open-source VPNs, you also won't have to worry about secret backdoors that allow government authorities to monitor what you're up to.
Finally, anyone interested in a VPN, regardless of the operating system they use, should make sure that their provider submits to regular security audits, conducted by independent and reputable third parties. Reliable VPN services will also offer a robust no-log policy, but only a positive third-party audit can actually confirm this.
Linux VPN: Our Top 5
Next, we'll introduce you to our Top 5 VPNs for Linux:
1.
Private Internet Access (PIA)
Besides its huge server network and its audit-proofed 'no logs policy', Private Internet Access sets itself apart from the competition with its module-based app that can be adjusted to each users' habits.
34,000+ servers in 84 countries
performance could be better
8.2

good
Data Volume
Devices
Protocols
Contract Period
Private Internet Access 3 Years
$2.19
monthly price
Visit Website*
Private Internet Access (PIA), based in Denver, Colorado offers access to one of the largest VPN networks on the planet, including around 35,000 servers, spread across 84 countries. Like most VPNs, different subscriptions are available, with longer contracts giving larger discounts on the monthly price.
Linux subscribers can look forward to a graphic user interface, which is downloadable as a generic binary package. This means that the GUI can be used with whatever distribution you're running.
PIA's Linux app is open-source, offering all of the same features that it does for other operating systems: Split tunneling, a kill switch, the OpenVPN and WireGuard protocols, and a DNS-based adblocker that protects against tracking and pushy marketing.

Private Internet Access offers plenty of settings and options.
In addition, PIA users can anonymously purchase their subscriptions using gift cards or cryptocurrency. The service's strict no-log policy guarantees that no user data is saved.
PIA's Transparency Report shows that as of February 2022, the service had received 9 court order requests, 6 warrant requests, and 6 subpoena requests from government authorities. Owing to the provider's strict no-log policy, it was unable to comply with any of these requests as it does not store any user data.
While self-reporting is good, we prefer to trust external audits, and here, PIA also doesn't disappoint. In June 2022, Deloitte confirmed that PIA's "server configurations align with internal privacy policies, and are not designed to identify users or pinpoint their activities".
Huge, worldwide server network

Compatible with many Linux distributions

Extensions for most browsers

Includes plenty of features like split tunneling, a kill switch, and an adblocker

External security audit in 2022
Virtual VPN servers are slower than physical ones
Installation and Features
10 / 10
Security and Privacy
6.0 / 10
OVPN, from Sweden, prioritizes its users' security and anonymity. To accomplish this, the relatively small provider takes some interesting approaches at both the hardware and software levels.
To start, OVPN's servers are completely owned by the company and don't use mass storage devices like hard drives or SSDs. This means that the operating system and server service operate entirely on RAM. A modified version of Alpine Linux is used for OVPN's operating system, and no activity logs are collected.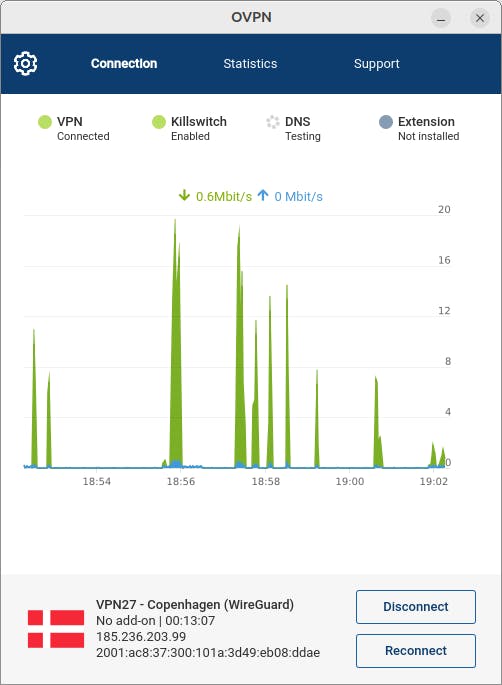 In OVPN's app, you can easily view your connection's stats.
OVPN offers client apps for all sorts of Linux derivatives, and client-server communication is completely encrypted. OpenVPN and WireGuard are used as protocols. More detailed information about what cryptographic methods the provider utilizes can be found on its website.
In terms of pricing, users can choose from several subscription packages, with discounts offered for longer contracts. A range of different payment methods are supported, and cryptocurrency is accepted. OVPN currently operates 102 servers across 32 locations, primarily in Europe and North America. Apart from these, there are also servers in Singapore, Australia, and Japan.
Well-thought-out security concept
Relatively small server network centered on Europe and North America

Expensive (if booking a monthly subscription package)
Data Volume
Devices
Protocols
Contract Period
Mullvad Flatrate
$5.35
monthly price
Visit Website*
For our number three, we stay in Sweden. Mullvad caught our attention with its unconventional payment options and wide selection of practical security features.
Subscribers can start using the VPN without supplying any personal information (not even a name or email address is necessary). Payment options include credit and debit cards, PayPal, cryptocurrency, gift cards, or even cash in an envelope. As such, users can remain completely anonymous.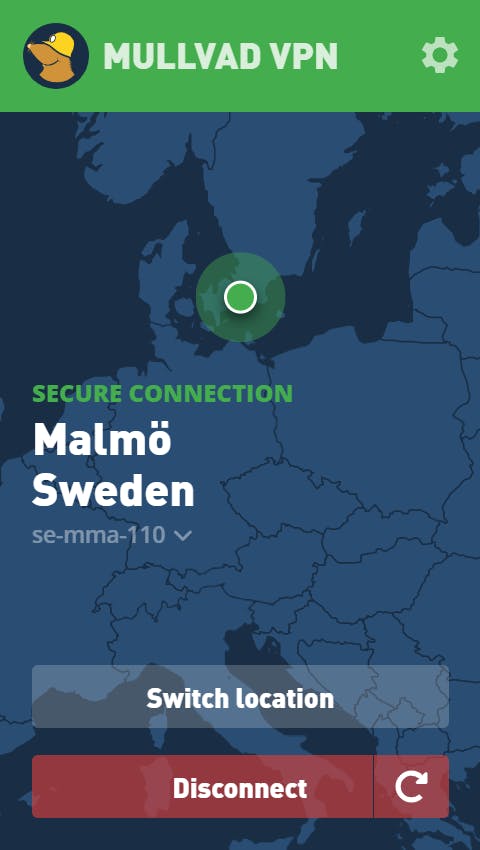 Mullvad's app is limited to the most important features.
Linux users can look forward to multiple pre-compiled packages suitable for installation on a number of different distributions. In addition to RPM and DEB packages for Intel and AMD 64-bit systems, there are also packets for ARM64 hardware architecture. With these, third and fourth-generation Raspberry Pis can be configured for usage as VPNs.
Thanks to its Linux apps, Mullvad supports a number of special WireGuard features. These include regular key rotation as well as split tunneling. In addition, Mullvad's close integration into Linux's firewall solution helps to avoid incompatibility issues that might arise when establishing a connection. Standard features like multi-hopping and a kill switch are also on board.
Highly compatible Linux client app, including all important features

Independent security audits

Solid speeds, even on Linux systems

Uses the open-source OpenVPN and WireGuard protocols

Custom DNS server selection

Very flexible payment methods
Underwhelming server network focused on Europe and North America

Only one subscription option, regardless of contract length
Security and Privacy
10 / 10
Installation and Features
6.6 / 10
With its flexible pricing and a generous free plan, Windscribe is a solid option for budget-minded VPN users. It also has a nice, lean app with lots of features – but sadly, its performance can't keep up.
Data Volume
Devices
Protocols
Contract Period
Windscribe Free
$0.00
monthly price
Visit Website*
Download for free
On the market since 2016, Windscribe, a Canadian service, is still one of the newer faces in the VPN scene. With more than 500 servers across 63 countries, its network is relatively small. Turning to the positives, it doesn't log user activity, only storing data necessary for preventing fraud, keeping tabs on data usage, and the like.
Traffic is encrypted with AES-256 and secured with a 4096-bit-long RSA key. Premium Pro subscriptions include a configuration generator, that allows administrators to integrate VPN access directly on the operating system level, without using the Windscribe app. This generator supports the OpenVPN, IKEv2, and WireGuard protocols.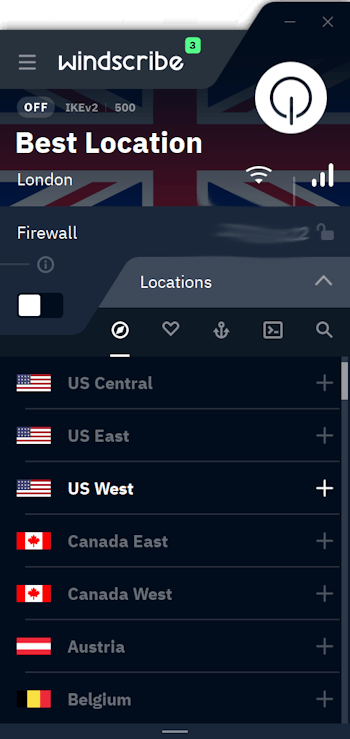 With Windscribe, you can change from one international server to another with a single mouseclick.
Windscribe offers Linux users two different binary packages, both of which include the GUI client. The app's source code is available for free, and a pre-compiled Arch Linux package is in development. The two binary packages are compatible with Linux distributions that have DEB and RPM package management. Only 64-bit architectures are supported.
Alongside its paid subscription, which can be booked for varying periods of time, Windscribe also offers a free version of its service. This is limited to 10 GB of traffic per month and around 10 different server locations.
Easy to use Linux desktop app

Compatible with many distributions owing to DEB and RPM packages

Free version for casual users
Has not submitted to an external security audit

Speeds only slightly above average on Linux systems
Installation and Features
9.4 / 10
Security and Privacy
6.0 / 10
With its open source philosophy and extra security features, Proton VPN targets security-conscious VPN users. But thanks to its user-friendly interface and suitability for streaming, it's worth a look for a wide audience.
open source & external audits
2,900+ servers in 67 countries
free plan without data limit
9.1

excellent
Data Volume
Devices
Protocols
Contract Period
Proton VPN Free
$0.00
monthly price
Visit Website*
Free forever
From Canada, we head back to Europe for our fifth and final pick, ProtonVPN. With more than 1,900 servers spread across 60 countries, the Swiss service offers one of the larger networks among VPN providers. Its apps are open-source and have been vetted as trustworthy by independent audits. Thanks to its strict no-log policy, ProtonVPN doesn't save any user data.
Both free and premium versions of ProtonVPN are available. As is common, free users can only select from a limited number of servers and will have to make do with slightly slower speeds. Paying subscribers can enjoy discounts if booking longer subscriptions.
Linux users can take advantage of both a GUI-based app and a CLI client. The graphic app is compatible with a number of different Linux distributions, however, individual packages for different software management systems are also offered. Once you've created an account, ProtonVPN's extensive documentation, which includes plenty of screenshots, will help explain the installation process step-by-step for different Linux derivatives.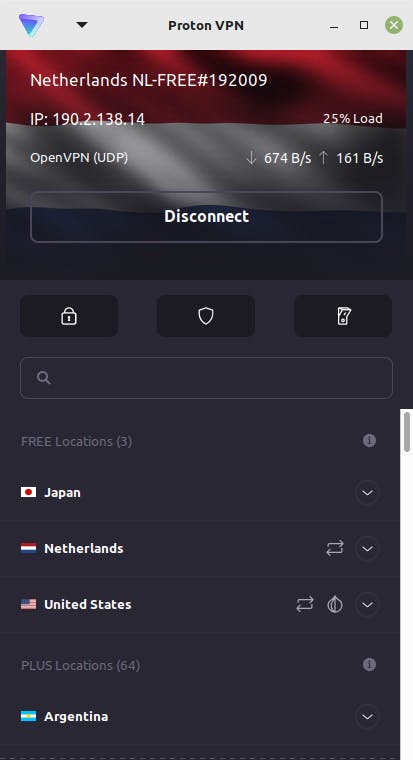 Switching between VPN servers is also easy with ProtonVPN.
The GUI app is easy to integrate into a variety of different Linux desktop environments. It's also user-friendly, making it possible to master all of the features it offers in no time.
ProtonVPN only uses highly secure protocols, such as OpenVPN, WireGuard, and IKEv2. All protocols that the service supports come preinstalled with the strongest cryptographic mechanisms configured, ensuring maximum security from first use.
Excellent Linux documentation

Straightforward subscription and pricing model

External security audits and open-source app code

Only uses secure protocols
Average speeds for free users

Free users can only access around 100 servers in 3 countries
Installation and Features
10 / 10
Security and Privacy
10 / 10
Free Linux VPN
Some of our picks above, like Windscribe and ProtonVPN, offer free versions of their service but come with certain limitations. However, these could be interesting for Linux users that only need a VPN every now and then, and don't intend to consume much traffic.
Beyond that, some VPN providers make free trial versions of their premium software available. We recommend being cautious with these though: After the trial ends, a premium subscription will usually automatically begin. For that reason, it's important to turn off automatic contract renewal (when starting a trial) and to cancel your trial ahead of time.
Guide: How to Use a VPN on Linux
Generally, all GUI apps for VPNs on Linux can be installed either directly on the respective desktop environment or by inputting commands in the terminal. Since multiple package management systems are used to install additional programs on Linux systems, there's no single installation guide or walkthrough.
VPN providers do publish extensive guides for installing their services on different Linux packages, making it possible to set them up in a matter of minutes. Below, we've provided links to these guides for our Top 5:
Once installation is complete, you can immediately open and use the apps without any further configuration.
Alternative: Manual VPN Integration
Advanced users can manually set up VPN access using Network Manager, so long as your VPN supports the OpenVPN protocol. The downside to this method is that you'll have to configure the VPN for each individual server. As a result, in most cases, using a GUI client is recommended.
Conclusion
Using a VPN with Linux is rarely more complicated than on other operating systems. So long as the service you've selected offers a graphic user interface, you can install it by inputting a command into the Terminal. In addition, most providers offer comprehensive step-by-step guides for setting up their software on Linux.
In terms of the VPNs themselves, those available for Linux are on par with what's available for other operating systems. Said differently, you won't need to worry about sacrificing any control over preferences, settings, or features. Private Internet Access, OVPN, Mullvad VPN, Windscribe, and ProtonVPN are some of the best VPNs for Linux users.
FAQs
Which VPN is best for Linux?
⊖
Almost all VPNs are compatible with Linux. For that reason, factors such as data transfer speeds, or the ability to provide access to local content while abroad, are important. Some of the best options for Linux include Private Internet Access, OVPN, Mullvad VPN, Windscribe, and ProtonVPN.
How can I configure a VPN on Linux?
⊖
Most providers offer downloadable GUI apps for a wide range of Linux distributions. In addition, almost all services provide extensive documentation that explains the installation process.
Are there free VPNs for Linux?
⊖
Some providers offer free versions of their software, however, these are limited in terms of the amount of data users receive and/or the countries that can be connected to. Otherwise referred to as "freemium", this is only practical for occasional VPN users.
We recommend staying away from "free VPNs". Generally speaking, these finance themselves through the sale of user data and activity logs, to third parties. When using such a VPN, you'll have no control over who can track your online activity. Making matters worse, free VPNs rarely have the same security standards as bona fide providers.
* Ad disclaimer:
For links marked with an asterisk, EXPERTE.com may earn a commission from the provider. The commission has no influence on our editorial rating.

Erik Bärwaldt has been working as an IT consultant for small businesses for more than two decades. In addition, he regularly publishes technical articles in various media on the topics of Linux, free software and IT security.
Continue Reading
Reviews
Comparisons
Tools & Guides