VPN
Best VPN 2022: Review of 22 VPN Providers
Have you ever used a public WLAN? Maybe you asked for a WiFi password in a restaurant, signed up to access one at an airport before your departure, or jumped on the free network at your grocery store or library. The minute you connected, you made yourself visible and potentially, open to attack by other users of the network. To prevent this, it's necessary to secure your data traffic with a virtual private network (VPN). However, security is not the only benefit that VPNs offer.
You can imagine a VPN like a tunnel between your device and the network you've connected to. It conceals your data, hides your location, and masks your IP address. This allows you to circumvent limitations in countries where Internet usage is restricted, or to watch video content from abroad as if you were physically present in that location.
As these advantages have become known to the general public, VPNs have shed their niche status. Accompanying this growing popularity has been an explosion in the number of providers, each of which promises something better than the rest. Accordingly, selection has become a headache, but to help, we've evaluated 22 providers to find the best, crowning our Top 5.
5400+ servers, 60 countries
Inexpensive 2-year package
NordVPN combines speed, user-friendliness and functionality into a coherent overall package that is also fairly affordable.
Data volume
Devices
Protocols
Contract Period
NordVPN 2-year plan
$2.99
monthly price
Visit Website »
30 days money-back guarantee
NordVPN, the winner of our evaluation, offers user-friendliness, reliability, and security in an excellent package, at an unbeatable price, particularly in comparison to the second-best service from our sample, ExpressVPN. NordVPN's server network is larger (5,413 compared to 3,000), but covers fewer countries (59 compared to 94) than ExpressVPN. Still, it registered the highest download and second-highest upload speeds in our speed test.
All of this power can be harnessed within an intuitive and elegantly designed user interface. Although this is primarily limited to the most important features of a VPN, several extras, such as an ad and malware blocker, are integrated. Split tunneling, for deciding which programs use your VPN tunnel, and which don't, is also included.
Rounding out the package, NordVPN regularly submits to external security audits, and is priced right, particularly if agreeing to a two-year subscription. Lots of advantages and few, if any, shortcomings.
Installation and Features
4.7 / 5
Security and Privacy
4.7 / 5
160 cities in 94 countries
30-day money-back guarantee
ExpressVPN impresses with strong performance, a huge server network and excellently designed applications, but this quality also comes at a higher price.
Data volume
Devices
Protocols
Contract Period
ExpressVPN 12 Months
$8.33
monthly price
Visit Website »
30 days money-back guarantee
ExpressVPN was our sample's over-achiever, excelling in nearly every area. Thanks to its intuitive user interfaces, navigating its desktop client and mobile app is easy, while in terms of performance, true to its name, the service was one of the fastest we examined Its performance was also impressive, thanks to its 3,000 servers across 160 locations in 94 countries: a truly global presence.
Like most providers, ExpressVPN offers a desktop client, mobile app, and browser extension. We crowned the service's Chrome and Firefox extensions the best we assessed, not only because they allow users to create proxy connections, but also since they serve as remote controllers for the desktop client, guaranteeing maximum security through the use of OpenVPN.
Such power and quality do come at a price though, and ExpressVPN's rates do exceed our sample's average. At the same time, this is to be expected for any product marketing itself as premium, and the provider's capabilities are vetted. The fact is that you can pay half as much for a similarly-performing service, or even nothing, if willing to accept a VPN with some limitations.
Security and Privacy
4.7 / 5
Installation and Features
4.3 / 5
3.
Best Value for Money: Surfshark
3200+ servers in 65 countries
Unlimited number of devices
Many apps (Linux, FireTV, ...)
Very cheap on the 24-month plan
Surfshark is one of the cheapest providers on the market, but besides the price also impresses with strong protection, many features and a great support with 24/7 live chat.
Data volume
Devices
Protocols
Contract Period
Surfshark 24 months
$2.49
monthly price
Visit Website »
Get 83% Discount
Although Surfshark is fairly new to the VPN market, you wouldn't know it: Its server network is strong and hot on NordVPN's heels in terms of performance, taking an impressive second place in our speed test.
But that's not all: Its apps are intuitive, its support is fast, and users are provided access to plenty of features. These include split tunneling and multi-hop, the latter of which allows you to improve your VPN's efficiency by using multiple VPN tunnels concurrently.
On the security front, Surfshark also hasn't done all that shabby either, submitting to an external audit in 2018. Unfortunately, the provider has yet to conduct a follow-up audit. Generally speaking, we like to see providers regularly (annually or bi-annually) conduct external audits, so Surfshark is overdue.
Beyond that, we had few complaints about Surfshark. Considering all of the above, and the service's price, it isn't difficult to see why Surfshark was our price-performance winner.
Installation and Features
4.7 / 5
Security and Privacy
4.0 / 5
4.
Best Free VPN: ProtonVPN
1200+ servers in 55 countries
Headquarters in Switzerland
Open Source & external audits
Data volume
Devices
Protocols
Contract Period
ProtonVPN Free
$0.00
monthly price
Visit Website »
30 days money-back guarantee
ProtonVPN has been on our radars for quite a few years, impressing with its continuous improvements. Today, the provider offers one of the most user-friendly VPN apps available, equipping users with split tunneling and SecureCore servers. The latter route your VPN traffic through a secure server in a country with high data security/privacy standards.
To reinforce its commitment to user security and privacy, ProtonVPN even went a step further than most of its competitors: In 2020 it made its software open source, allowing anyone to access the source code for its apps and probe it for weaknesses. The provider also regularly submits to external security audits.
Even amongst free VPNs ProtonVPN stands out: In contrast to most of its competitors, the service offers free users unlimited data and doesn't throttle the speed of their connections. You will only be able to use the VPN on one device and connect to three server locations, however.
Installation and Features
5.0 / 5
Security and Privacy
5.0 / 5
290 locations in 210 countries
Data volume
Devices
Protocols
Contract Period
HideMyAss! 36 months
$2.99
monthly price
Visit Website »
30 days money-back guarantee
HideMyAss impresses when it comes to numbers. The service's server network has truly global coverage, even in places where its competitors have no footprint whatsoever. But that's not all: In terms of performance, HMA staked out a very respectable fifth place in our speed test, making it one of the fastest providers on the market.
HMA also has been doing its homework, clearing up a few issues we had noted in the past, such as backing up its "No-Logs" promise with an independent audit in 2020. On top of that, the service also offers practical features, like automatic IP changing, that other providers rarely include.
We weren't particularly fond of HMA's desktop client, which looks a bit stale compared to the sleeker and more minimalistic software offered by its competitors. Some features, like split tunneling, were also missing from the desktop version.
Security and Privacy
4.3 / 5
Installation and Features
4.0 / 5
The places on the podium are limited, however, a number of providers have made solid efforts, which are also worthy of commendation. The table below provides an overview of how each VPN provider we looked at fared:
NordVPN
Check Review
ExpressVPN
Check Review
Surfshark
Check Review
ProtonVPN
Check Review
HideMyAss!
Check Review
hide.me
Check Review
Private Internet Access
Check Review
CyberGhost
Check Review
PureVPN
Check Review
Windscribe
Check Review
VyprVPN
Check Review
Hotspot Shield
Check Review
IPVanish
Check Review
Mullvad
Check Review
VPN Unlimited
Check Review
PrivateVPN
Check Review
TorGuard
Check Review
TunnelBear
Check Review
ZenMate
Check Review
Avast
Check Review
Perfect Privacy
Check Review
Avira
Check Review
VPNs serve a number of useful purposes and are more prevalent than you might think. For some, they're a regular part of most people's professional lives: Should you have a work computer, you most likely already use a VPN to connect to your organization's intranet. The underlying concept is relatively simple: Your computer or device creates a secure tunnel between the company's servers and your computer, irrespective of your physical location, enabling you to access the network as if you were sitting at the office.
The VPN providers from our sample utilize a similar principle but focus on providing greater security and anonymity, as opposed to allowing users to access specific networks. With their user-friendly clients, it becomes possible to create encrypted VPN connections through which you can enter the Internet "unobserved."
A provider's VPN server is configured so that none of the other network users can see you (and vice versa). Each user who connects to a VPN server (usually) has the same IP address when surfing, browsing, or streaming on that network. Since most VPN providers do not save any connection data, it is not possible to trace your VPN activity to your original IP address.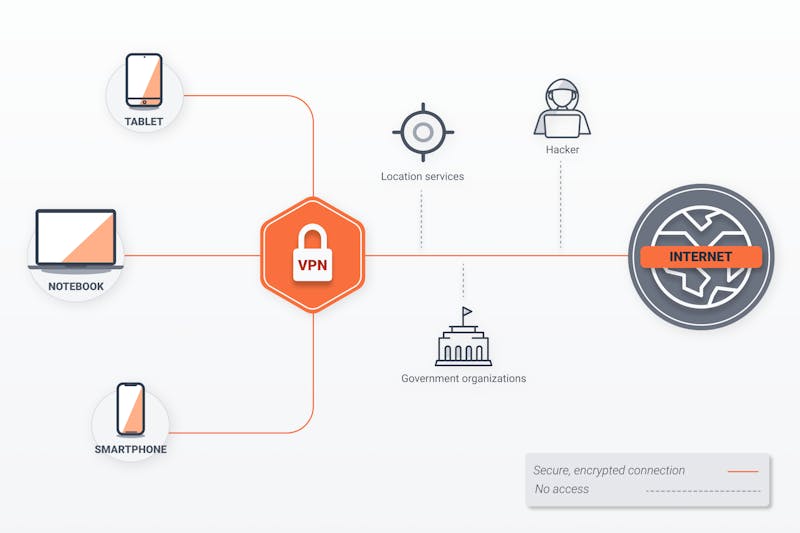 Different end devices connect to a VPN server through a VPN client, once the provider has made access to both available. All users connected in this manner are able to securely and anonymously surf the web.
In order to evaluate the services from our sample objectively, we purchased subscriptions to each. This allowed us to take advantage of as many features as possible and check their availability and efficacy. To cover all aspects essential to a VPN, we designated six core areas, five of which were numerically scored. Below, we've provided an explanation for each aspect and how we assessed it:
Installation and Features
To start, we looked at the VPN's desktop clients and smartphone/mobile apps. Coverage is the name of the game here, meaning that we paid particular attention to which operating systems applications or clients were offered for. Nearly all desktop clients are available for Windows and macOS, with only a few offering support for Linux. Similarly, iOS and Android mobile apps are available from pretty much every VPN provider.
Beyond that, we also took a look at which devices, such as smart TVs, gaming consoles, or streaming devices are supported, either with dedicated clients or (more commonly) setup and installation guides. The same is true of routers, for which step-by-step guides and a list of supported routers should be available from the provider's website.
User-Friendliness
When designing their clients and apps, most VPN providers attempt to strike a balance between ease of use and technical sophistication. In other words, users should be able to use a client or app intuitively, while having access to a nice variety of technical options and features for further customizing their VPN experience if desired.
Solutions like ProtonVPN show that it is possible to achieve a happy medium, as it offers users the ability to select between a simple or basic view, and a more detailed one. The former includes access to all important features, as well as a "Quick Connect" button, while the latter provides more detail and an expandable world map for selecting an appropriate server.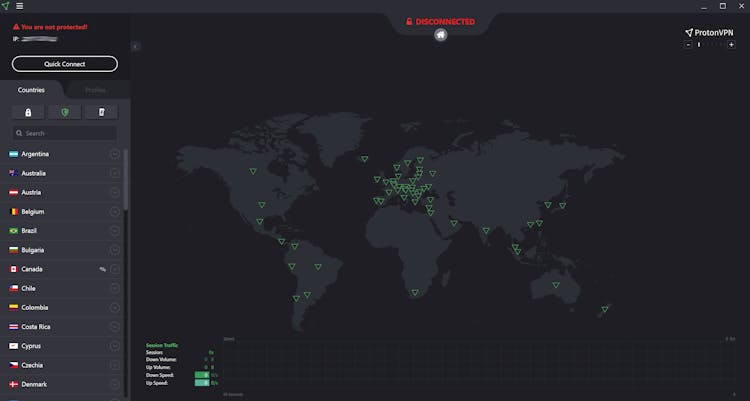 ProtonVPN offers users simple and advanced interface views.
Additional features and settings should be available in the client or app's menus. Here, we pay attention to how easy these are to find, whether they're logically arranged, and of course, if all bases are covered. The most important feature is a kill switch, which severs your Internet connection whenever a disruption to the VPN is identified. However, we also like to see split tunneling, which allows users to pick and choose which programs, apps, or websites use their VPN tunnel and which stay on the regular network. NordVPN, for example, offers both of these features: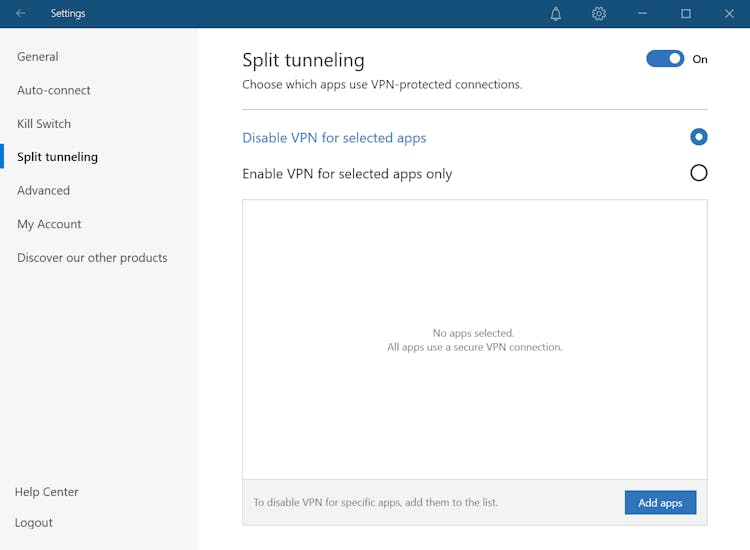 NordVPN's split tunneling feature allows you to set which applications use your VPN tunnel.
Most VPN providers cover the basics, however, there are additional features and advanced settings that we award bonus points for, including:
Multi-hop: Your connection is routed through multiple VPN tunnels, endowing it with additional security.
Dedicated IP: A unique IP address (purchased at cost) is made assigned only to you, allowing you to circumvent blacklists.
Random IP selection: Automatically changes your IP address changes at user-defined intervals, making it more difficult to follow your activity.
Generally speaking, the more features, the better, the only caveat being that the interface remains navigable and easy to use.
Mobile Apps
All providers from our sample offer mobile versions of their software, which we also examined. Most of the time, these are identical copies of the desktop client, however, sometimes, they offer additional features or are completely different than their desktop counterparts. We liked ExpressVPN's sleek mobile app which offered all of the desktop client's functionality: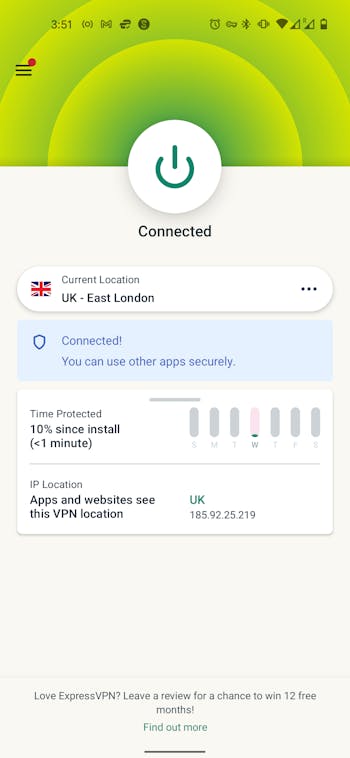 ExpressVPN's mobile app doesn't take long to get used to.
Two factors are of critical importance in assessing this area: The number of countries/locations where the provider has a presence, and the total number of servers the provider offers.
For example, ExpressVPN operates servers in 94 countries, NordVPN in 59, and TunnelBear in 26. How servers are distributed and your distance from them also plays an important role in how fast they will be when you use them. Particularly in Europe, where countries share borders close to one another, this is essential in effectively concealing your geographic location.

HideMyAss boasts that it offers the "biggest VPN network in the world", and so far as geographic coverage goes, they're right.
The second key factor is the number of servers. Generally speaking, the more servers available, the better the provider can respond to user needs, supplying them with as much bandwidth as is required. CyberGhost offers more than 6,600 servers, IPVanish 1,600, and Perfect Privacy, only 58.
The most important factor in determining the quality of a VPN provider is its performance. Only with good download and upload speeds can a VPN be used effectively for downloading, surfing, or streaming.
However, as speeds can and do fluctuate dramatically, we measure performance over a longer period of time, acquiring an average in the process. The table below shows the average download and upload bandwidths of the providers we tested over the past 12 months:
1.

195.6 Mbit/s

Download

42.9 Mbit/s

Upload

2.

191.7 Mbit/s

Download

42.8 Mbit/s

Upload

3.

200.8 Mbit/s

Download

18.1 Mbit/s

Upload

4.

175.0 Mbit/s

Download

42.0 Mbit/s

Upload

5.

167.7 Mbit/s

Download

16.1 Mbit/s

Upload

6.

166.5 Mbit/s

Download

16.3 Mbit/s

Upload

7.

153.9 Mbit/s

Download

27.0 Mbit/s

Upload

8.

155.1 Mbit/s

Download

21.2 Mbit/s

Upload

9.

154.8 Mbit/s

Download

18.8 Mbit/s

Upload

10.

156.4 Mbit/s

Download

15.0 Mbit/s

Upload

11.

113.1 Mbit/s

Download

41.4 Mbit/s

Upload

12.

129.4 Mbit/s

Download

18.4 Mbit/s

Upload

13.

109.6 Mbit/s

Download

37.6 Mbit/s

Upload

14.

126.3 Mbit/s

Download

18.8 Mbit/s

Upload

15.

118.6 Mbit/s

Download

18.4 Mbit/s

Upload

16.

109.7 Mbit/s

Download

17.0 Mbit/s

Upload

17.

82.2 Mbit/s

Download

43.3 Mbit/s

Upload

18.

79.9 Mbit/s

Download

38.8 Mbit/s

Upload

19.

106.0 Mbit/s

Download

12.2 Mbit/s

Upload

20.

99.3 Mbit/s

Download

12.7 Mbit/s

Upload
For additional information about our methodology, be sure to consult our dedicated article on the subject.
Everyday Performance
Even though more than half of our performance score is based on the speed test's results, we also paid attention to how each service handled in day-to-day usage. To assess this, we used each VPN for a day for surfing, subjectively evaluating the quality of our connections. One problem common to VPNs is the generation of captchas when performing Google searches. As a result, we monitored how frequently these appeared, if at all.
Many people use VPNs to stream geo-locked video content. Accordingly, we tested whether each VPN was capable of playing back videos on four streaming platforms: Netflix, Amazon Prime Video, Disney+, and the BBC's iPlayer. With some services, like ExpressVPN, hide.me, and VyprVPN, we were able to stream content from abroad on all four without issue.
For others, using VPNs is not just fun and games, particularly when circumventing Internet restrictions in authoritarian countries like China. Most VPN providers advertise their ability to bypass the "Great Firewall", and we tested these claims as often as possible. We only deducted points when this wasn't possible with any VPN protocols despite the service claiming that it would be.
When it comes to VPNs, security and privacy go hand-in-hand. Most providers advertise their commitments to both, offering users "No-Logs" promises or guarantees. This means that they do not protocol the online activity of their users.
However, experience and time have shown that these promises are easily made, but difficult to keep. In most cases, a look at the provider's privacy policy shows clearly what information is and is not saved or stored. Even then, just because a privacy policy exists doesn't mean that it is adhered to.
To save users the guesswork, and put their promises to the test, a number of providers have submitted voluntarily to external security audits, performed by independent third parties. One such service is Mullvad VPN which allows for its "No-Logs" commitment to regularly be assessed by third parties. We deducted points from those providers that have not submitted to such audits.
Available Protocols
A protocol determines how two devices communicate with one another. When it comes to VPN protocols, these devices are the client or app, and the server. Four protocols play a central role so far as VPNs are concerned: WireGuard, IKEv2, OpenVPN, and L2TP/IPsec. PPTP remains in use with some VPN providers, however, you should exercise caution if using it: Following the discovery of critical security flaws, even its developer, Microsoft, has warned against its usage.
Below, we've noted the most important characteristics of each protocol in a table. WireGuard is currently considered to provide the cutting edge in terms of privacy and security.
| | WireGuard | IKEv2 | OpenVPN | L2TP/IPsec |
| --- | --- | --- | --- | --- |
| | | AES 256 for data, SHA 256 for control messages | AES 256 for data, SHA 256 for control messages, 2048 Bit SSL/TLS for handshake encryption | AES 128 for data, SHA256 for control messages |
| | | | | |
| | | | | |
| | Fast, stable, secure, clear code | Fast, stable, secure, easy to set up | Fast, secure, easy to conceal | Easy to set up, easy to conceal, widely supported |
| | Lacks dynamic IP address management | Not supported by older platforms | Slightly difficult to set up | Problems with restrictive firewalls |
| | Windows, macOS, iOS, Android, Linux, routers | Windows, macOS, iOS, Android | Windows, macOS, iOS, Android, Linux, routers | Windows, macOS, iOS, Android, Linux, routers |
Leak Tests
On occasion, VPN services can suffer security issues when utilizing protocols that compromise your privacy. The most common of these are:
DNS leak
Despite the presence of a VPN tunnel, your Internet provider's Domain Name System's (DNS) server continues to be used. As a result, your activities can be followed.
IPv6 leak
Should you use IPv6, you'll need to either block this address or replace it with an IPv6 address from your VPN provider. If you don't, your connections will be traceable.
WebRTC leak
Under certain conditions, your browser's WebRTC plugin can display your real IP address. A number of options exist for preventing this.
We tested each provider for the presence of these leaks, however, this represents a snapshot, rather than a continuous assessment. Should you wish to perform your own diagnostics, you can do so with our VPN leak tests.
Location, Location, Location
As in the world of real estate, where a VPN provider is headquartered or registered is another key aspect that we examined when tabulating their security and privacy score. This is because location determines the legal framework within which the provider offers its service. Legally speaking, privacy is defined more strictly in west European countries or the US, where many VPN services are based.
In the past, a number of VPN services cooperated with authorities, complying with subpoenas or court orders. Compounding this, intelligence-sharing agreements such as Five Eyes or Fourteen Eyes require signatories to monitor and almost certainly share digital information with one another. At the same time, using VPN services headquartered in countries with less "democratic oversight" can be a double-edged sword, as when your data is misused, you have less legal recourse.
Whatever the case, it's important to know which laws your VPN provider is subject to. The owners of NordVPN, Tefincom S.A., are incorporated in Panama, where it is not necessary to save user data. ExpressVPN, based in the British Virgin Islands, needs to conform to less restrictive privacy laws than in Europe or the US.
Turning to support, an informative help center, featuring plenty of FAQs, guides, video tutorials, and screenshots is important. These should be full-text searchable and/or logically organized, making it easy to find precisely what you're looking for.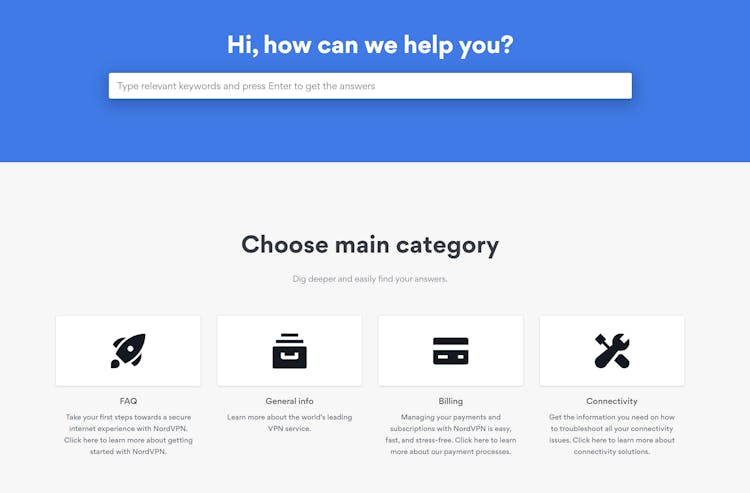 NordVPN provides users with an informative help center and responsive live chat.
Beyond static support, live support is also essential. Most VPN providers offer a ticket system, however, we like to see live chats, since they make it possible to get help quickly. These should not have long waiting times or queues (ideally, you should be connected with a staffer either immediately or within a few minutes). Hotline support is uncommon, but certainly not unwelcome.
Beyond the types of support offered, the quality is also critical. Support tickets or emails should be answered competently within 24 hours in order to maintain a good score.
Most VPNs are paid services. We don't like to see convoluted pricing structures or packages that require multiple (at cost) add-ons to become effective or useful.
Almost as a rule, month-to-month subscriptions are more expensive than yearly (or longer) contracts.
We noted which providers offer free trial versions of their software and a money-back guarantee. In the case of the latter, these are usually 30 days in length, during which time a simple email to support will result in your money being returned.
Security, privacy, streaming: There are plenty of good reasons to use a VPN. With that said, finding the right provider for you and your needs depends largely on what it is that you want to be able to do. Which features do you require? How important is performance? Which streaming services do you want to be able to access from abroad? How much are you willing to pay per month?
We hope that our comprehensive VPN reviews will help you to answer these questions and find the perfect provider. For even more insight, be sure to check out our articles on the best free VPNs or which platforms offer the best Chrome or Firefox extensions.
What is a VPN and what benefits does it offer?
A virtual private network (VPN) creates a virtual tunnel between you and your Internet provider, through which your data and traffic are encrypted, your IP address is masked, and your location is concealed. A VPN helps in remaining anonymous and secure online.
What is a VPN provider?
A VPN provider is a company that offers VPN services. Alongside VPN infrastructure, including servers, encryption, and protocols, providers give their users access to applications and extensions, allowing them to establish VPN connections, ideally, anywhere, anytime.
Which VPN provider is the best?
As in any area, stiff competition exists in the VPN market, with each provider having their own fans and clientele. Objectively speaking, when it comes to performance or the size of a server network, clear winners and losers emerge. Everything else is a question of taste: User interfaces are diverse, prices span a wide spectrum, and the number of features varies from provider to provider. In our comprehensive VPN comparison, we put some of the most well-known and reputable VPN providers through a rigorous set of evaluations, recommending our Top 5 picks.
Are VPN services free?
An Internet search for "VPN" and "free" will return hundreds, or even thousands of results, especially for mobile apps. Make no mistake, there are a number of free VPN services, however, holding to the old-truism "if you're not paying for the product, you are the product", these more than likely sell your data to finance their operations. Freemium VPN services are far more secure. These are subscription-based and offer free versions intended to tempt users into upgrading to a paid monthly or yearly plan. Since they are free, these often have limits, be it in terms of data volume, or the number of servers that can be connected to, and as such, are a mixed bag. Our Top 5 free VPN services can be found here.
How do I create a VPN tunnel?
Most VPN clients make establishing connections a piece of cake: Often, a single click on a large button in the center of the client or app is enough to connect to the fastest available server. Should you want to connect to a specific server in a particular country, all that's needed are a few more clicks. Manually configuring a VPN connection is somewhat more complicated, but still relatively easy, as we demonstrate for Windows, macOS, Android, and iOS.
How secure is my VPN?
A number of tools exist for gauging the security and reliability of your VPN. IP, DNS, and WebRTC leak checks tell you whether your VPN 'tunnel' is configured properly, or if your anonymity is compromised owing to the wrong settings being in use.

Author: Andreas Hitzig
Andreas Hitzig manages the IT of a medium-sized company in his main job. In addition, he has been a freelance IT author for more than two decades. He writes primarily about topics from the areas of Android and IT security, but also incorporates experiences from his everyday life into his articles.