VPN
HideMyAss! VPN Review: Good Choice in 2022?
"I don't have anything to hide, why should I care about online privacy?" Data privacy activists are confronted with this argument, and others like it, on a nearly daily basis. The somewhat apocryphal 'Hawthorne effect' contends that everyone behaves differently, even when they simply think that they are being observed, while abuses of privacy should never be trivialized. Even if you have "nothing to hide".
HideMyAss flips the skeptics' argument, asserting that it is normal to want to hide things and that it is the best service for doing so. With its crass name and cartoonish logo, the provider certainly draws quite a bit of attention to itself; our test shows whether this is justified, or just a load of horse sh...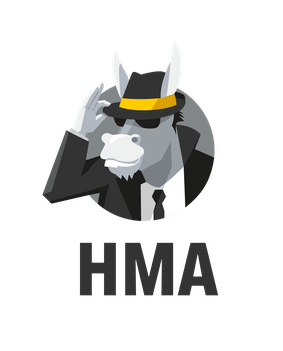 HideMyAss (HMA), founded in 2005, is a UK-based VPN service. Since 2016, HMA has been owned by Avast, a Czech security software developer perhaps best known for their antivirus programs. HMA meshes well with the rest of Avast's portfolio: Through its huge server network, users can protect their privacy and establish secure connections.
Security and Privacy
4.3 / 5
Installation and Features
4.0 / 5
User-friendly applications
Massive server infrastructure, especially in regions typically ignored by other providers
Random IP selection feature
No split tunneling in the desktop client
Not really well-suited for streaming
2.
Installation and Features
After purchasing an HMA license, you can connect the desktop client to your account in one of two ways: Either through logging in with your user data, or entering the activation code that you received following purchase of the license. You only need to log in once, as thereafter, you will always be automatically logged in.
The service's applications are compatible with Windows, macOS, Android, iOS, and Linux, as well as routers, gaming consoles, and smart TVs. Depending on your subscription, you'll be able to register and simultaneously use either 5 or 10 devices.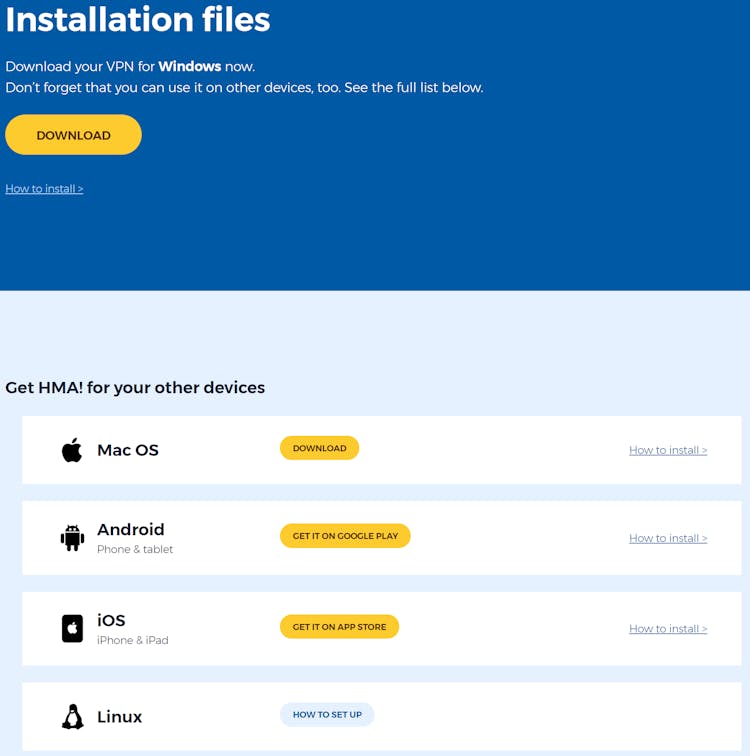 You can download the installation files for all supported operating systems directly from HMA's website.
The most recent version of HMA has a slightly more tidy interface. Whereas in the past, you could alternate between three different connection modes, now, there's only a single connection area, in which a VPN tunnel is created by clicking on the On/Off button. Below that, you can select your server's location, with "Lightning Fast Connection" set as default.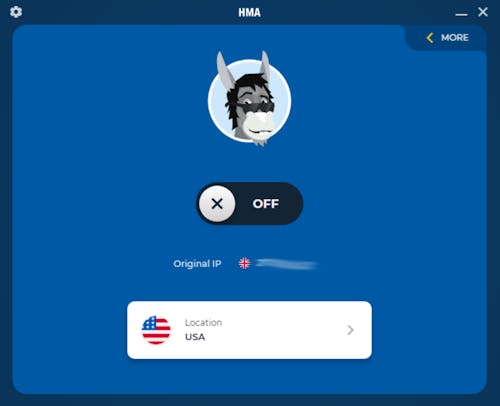 By default, you'll automatically be connected with the quickest available server, however, you can change this to a specific server.
Once a VPN connection has been created, the donkey changes into a different outfit. Below this, you'll also see your original IP address as well as the new IP address you're using. You can change this IP address by clicking on it, which comes in handy if you're confronted with download limits. In this way, you won't have to disconnect/reconnect to reset your IP address.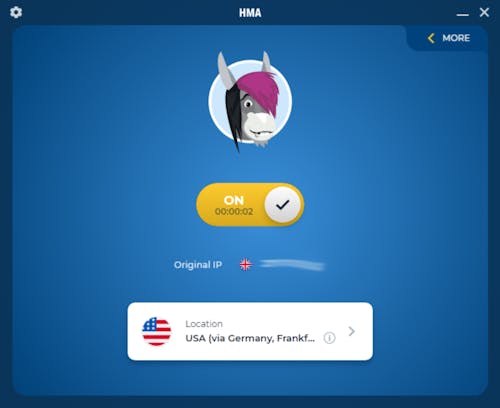 We hope that the service offers better protection than its mascot's disguises do.
You can open the server list by clicking on "Location". After that, you'll be able to sort these by region, suitability for streaming or P2P, or to mark favorites by clicking on the heart symbol next to a particular server. Should a country have multiple servers, you can select from these by clicking on the arrow to the right. Here, you'll also be shown if it's a real server or a virtual one.
Unfortunately, despite all of the detail, the server lists don't provide any information about their usage, which could result in poor upload and download speeds, or high pings.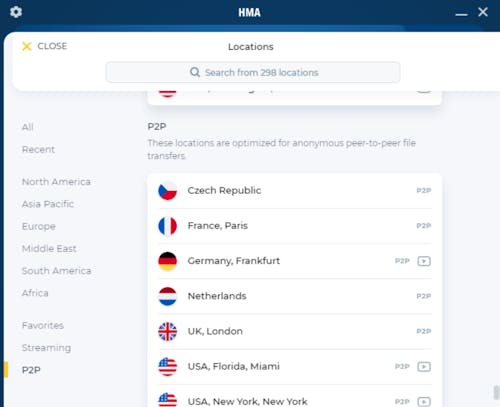 Lots of categories are provided for filtering servers.
By clicking on the "More" tab in the upper right, a submenu will open in which you can find shortcuts to connection settings, the kill switch, data traffic statistics, and a speed test. The last of these allows you to select multiple servers and compare their download speed and ping to one another. After that, you can directly connect to one of the servers.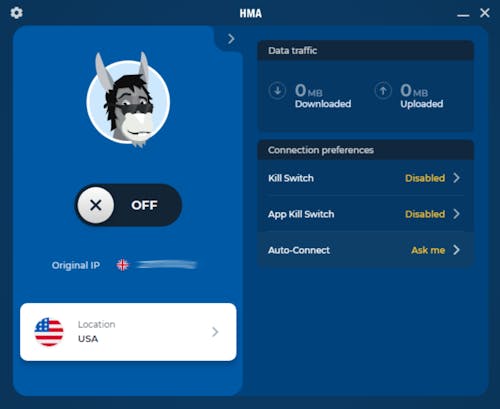 The speed test helps to find the faster server.
Settings can be accessed through the gear menu in the top left corner of the interface. Our favorite feature is random IP selection, which allows you to automatically change your IP address for a period of time, making tracking even more difficult. This is a handy function for added security that, unfortunately, isn't all that common among the other VPNs from our sample.
Apart from this, you can also look forward to all of the standard settings, such as auto-start and a kill switch. The latter has two modes: The classic version severs your connection as soon as the VPN encounters an issue, whereas the second mode allows you to choose which apps or programs should disconnect from the VPN in the event of a problem. Selecting this mode also creates a VPN connection whenever you open these apps, even if you haven't started HMA.
Changing VPN protocols isn't possible in the apps as these come automatically configured. You'll either have to do this manually outside of the app or download an older version of the desktop client. The desktop client also lacks split tunneling.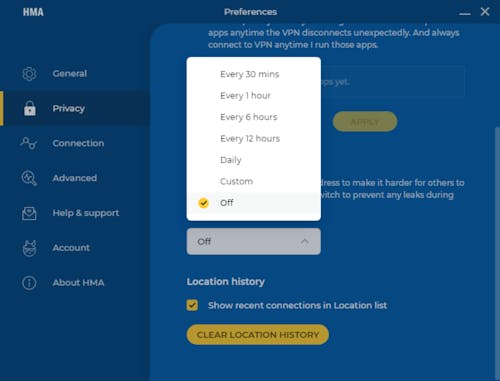 With HMA you can schedule automatic IP address changes.
In comparison to the sleeker clients offered by other VPN providers, HMA's efforts seem a bit stale, and on a 4K screen, washed-out. When it comes to looks, there are more visually appealing VPN clients out there.
Mobile App
The smartphone app for HMA is extremely familiar to its desktop client, most likely because the user interfaces are identical. Here too, you'll find the "Lightning Connect" features, as well as streaming servers and favorites. The only notable absence is the P2P category. Unfortunately, favorites you select in the desktop client aren't synchronized with the mobile app.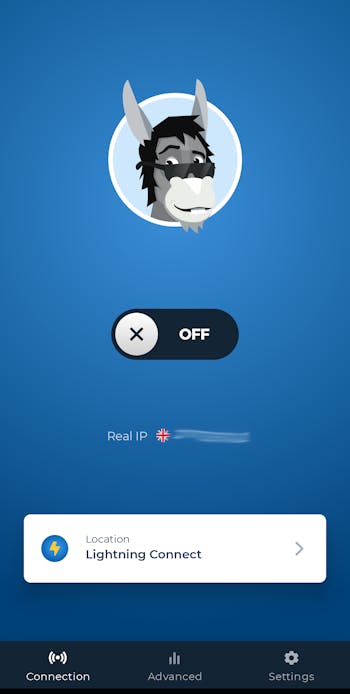 HMA's mascot also greets you on your smartphone.
Settings are also a bit sparser in the mobile app than in the desktop client, however, split tunneling is offered. This allows you to designate which apps use your VPN connection and which go through your regular connection.
HMA's user-friendly apps aren't particularly impressive, but they don't have any major deficits either, particularly with regards to features. Split tunnel routing, more protocol options, and real-time server data (apart from the speed test) would make it easier to select servers. Overall though, HMA still offers a good package.
Score: 4 / 5
HMA's features aren't breathtaking, however, its server infrastructure is. HMA stands way above its competitors, offering more than 1,080 VPN servers, in 280 locations, spread across 190 countries, easily surpassing those who claim to offer "wide-reaching" networks. HMA has servers in almost every corner of the globe, even though some of these are 'virtual servers' (and noted as such).

HideMyAss promises "the biggest VPN network in the world", and comes through!
HMA has even staked its claim in regions where other VPN providers have traditionally been less active, such as Central and South America, as well as Africa, and Asia.
Numerically speaking, in terms of servers, HMA lags behind its competitors, however, its geographic 'spread', and truly global coverage, more than compensate for this. In our mind, the geographic distribution of HMA's server network is second to none.
Score: 5 / 5
The speed of all VPNs which we tested was evaluated using a server in Europe with a 1 GB/s connection. We tested random HMA servers in the US and Germany at different times of the day to more accurately assess their performances. More information concerning our methodology can be found in our VPN speed test.
The table below shows the average results from the last 365 days, arranged in order of download and upload speed (descending):
1.

195.6 Mbit/s

Download

42.9 Mbit/s

Upload

2.

191.7 Mbit/s

Download

42.8 Mbit/s

Upload

3.

200.8 Mbit/s

Download

18.1 Mbit/s

Upload

4.

175.0 Mbit/s

Download

42.0 Mbit/s

Upload

5.

167.7 Mbit/s

Download

16.1 Mbit/s

Upload

6.

166.5 Mbit/s

Download

16.3 Mbit/s

Upload

7.

153.9 Mbit/s

Download

27.0 Mbit/s

Upload

8.

155.1 Mbit/s

Download

21.2 Mbit/s

Upload

9.

154.8 Mbit/s

Download

18.8 Mbit/s

Upload

10.

156.4 Mbit/s

Download

15.0 Mbit/s

Upload

11.

113.1 Mbit/s

Download

41.4 Mbit/s

Upload

12.

129.4 Mbit/s

Download

18.4 Mbit/s

Upload

13.

109.6 Mbit/s

Download

37.6 Mbit/s

Upload

14.

126.3 Mbit/s

Download

18.8 Mbit/s

Upload

15.

118.6 Mbit/s

Download

18.4 Mbit/s

Upload

16.

109.7 Mbit/s

Download

17.0 Mbit/s

Upload

17.

82.2 Mbit/s

Download

43.3 Mbit/s

Upload

18.

79.9 Mbit/s

Download

38.8 Mbit/s

Upload

19.

106.0 Mbit/s

Download

12.2 Mbit/s

Upload

20.

99.3 Mbit/s

Download

12.7 Mbit/s

Upload
When we performed our assessment, HMA clocked a download speed of 167.7 MB/s and an upload speed of 16.1 MB/s, securing a very respectable fifth place in our ranking. This was not far off from the best providers.
The diagram below shows HMA's average speeds over the past months.
CyberGhost VPN
ExpressVPN
hide.me VPN
HideMyAss! VPN
Hotspot Shield VPN
IPVanish VPN
Mullvad VPN
NordVPN
Private Internet Access
PrivadoVPN
PrivateVPN
ProtonVPN
PureVPN
Surfshark VPN
TorGuard VPN
TunnelBear VPN
VeePN
VPN Unlimited
VyprVPN
Windscribe VPN
ZenMate VPN
Monat
Download
Upload
12/21
December 2021
Download: 110.7 Mbit/s
December 2021
Upload: 16.8 Mbit/s
1/22
January 2022
Download: 144.6 Mbit/s
January 2022
Upload: 17.3 Mbit/s
2/22
February 2022
Download: 149.5 Mbit/s
February 2022
Upload: 17 Mbit/s
3/22
March 2022
Download: 154.3 Mbit/s
March 2022
Upload: 16.6 Mbit/s
4/22
April 2022
Download: 151.4 Mbit/s
April 2022
Upload: 17 Mbit/s
5/22
May 2022
Download: 156.2 Mbit/s
May 2022
Upload: 17.1 Mbit/s
6/22
June 2022
Download: 150 Mbit/s
June 2022
Upload: 17.1 Mbit/s
7/22
July 2022
Download: 152.5 Mbit/s
July 2022
Upload: 16.9 Mbit/s
8/22
August 2022
Download: 140.3 Mbit/s
August 2022
Upload: 17.6 Mbit/s
9/22
September 2022
Download: 145.9 Mbit/s
September 2022
Upload: 17.3 Mbit/s
10/22
October 2022
Download: 133 Mbit/s
October 2022
Upload: 15.1 Mbit/s
11/22
November 2022
Download: 117.5 Mbit/s
November 2022
Upload: 13.6 Mbit/s
12/22
December 2022
Download: 124.4 Mbit/s
December 2022
Upload: 14.4 Mbit/s
Of course, there's a lot more to performance than just speed, and HMA started out decently here. While using the service for everyday needs, we experienced stable speeds, reliable connections, and no disruptions, such as more captchas than normal.
When we tested HMA for video streaming using its dedicated servers, we had problems accessing Netflix and Amazon Prime Video content from abroad. At the same time, we were able to watch foreign content on Disney+ and the BBC's iPlayer.
Heading to China? You might not want to take the eccentric donkey with you since we couldn't establish any connections during testing. Better options for using a VPN in China include NordVPN, ExpressVPN, or Windscribe.
Score: 4 / 5
Nearly all VPN providers promise not to create any logs of their users or their browsing behavior. In most cases, the providers simply have to be taken at their word, leading to scandal when this (far too often) turns out to have not been the case. In the past, HMA couldn't break its "no logs" promise, since it didn't make one to begin with.
Happily, this changed since we last evaluated the service. As of 2021, HMA describes itself as a "No-Log VPN", owing to its 2020 passing of an independent audit conducted by VerSprite.
Of course, being based in the UK remains problematic as that country has been charged by the European Court of Human Rights with engaging in illegal mass surveillance, and is part of the so-called Five Eyes intelligence-sharing agreement. In the worst case, HMA would be legally bound to submit saved information about users and their Internet behavior to British authorities, who, in turn, could share these findings with other governments party to the Five Eyes agreement. Since HMA became a "No-Logs" provider, this has become less of an issue.
When it comes to user security, we didn't find any weaknesses, as the provider passed our VPN leak tests (IPv6, DNS, and WebRTC) without issue. Connections are encrypted with AES 256, the industry-standard, while HMA relies on OpenVPN for its protocols. Unfortunately, WireGuard, the cutting edge in protocols, is not supported.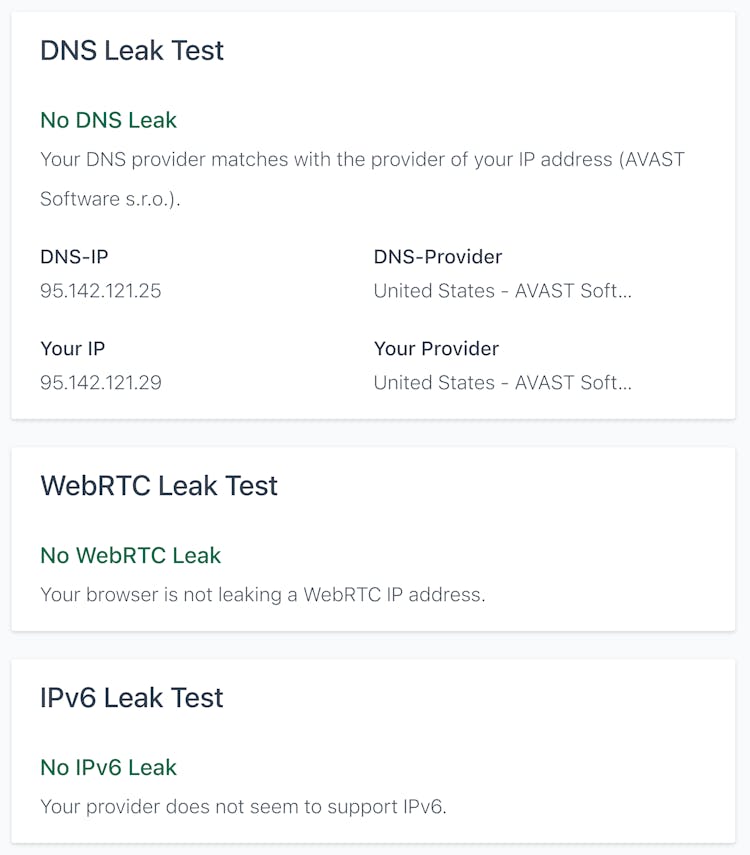 HMA passed all of EXPERTE.com's leak tests.
Some features, like random IP or the app kill switch also buttress the provider's security.
Although purists might scoff at HMA's earlier stance towards logs, its completion of an independent audit and accompanying "No-Logs" promise should be taken for what they are: big steps in the right direction. Major concerns should be dispelled, leaving users to feel safe entrusting their privacy to the provider.
Score: 4.3 / 5
Since VPN issues often need to be resolved quickly, live chat support (optimally 24/7) is a must for every VPN provider. HMA offers a live chat from 10 AM to 8 PM (UTC).
For less pressing matters, the standard contact form/support ticket is also available.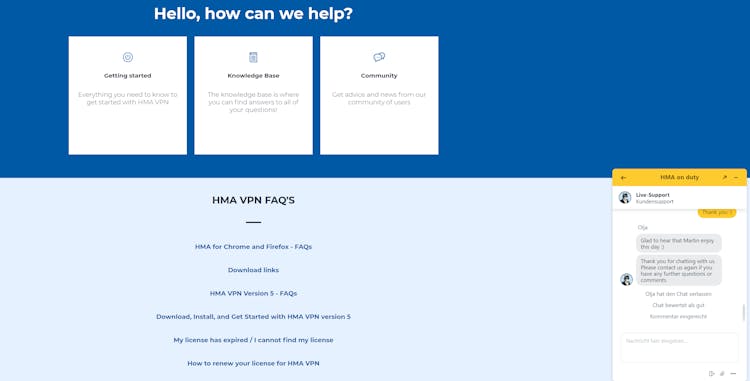 During testing, we were put in touch with a support staffer within around a minute of entering the live chat.
In the event that you prefer to resolve technical issues on your own, the informative support center offers guides, FAQs, and a forum.
Generally speaking, we felt well taken care of through the live chat, with all of our questions competently answered within a relatively short time. The only downside was that this service isn't available 24/7.
Score: 4.3 / 5
How much you pay for HMA depends on two factors: The length of your subscription (1, 12, or 24 months) and how many devices you would like to use simultaneously (5 or 10). Even though HMA is not one of the most affordable providers we looked at, you can still get a good deal with the 24-month plan.
36 months
12 months
Pricing
Set-up fee
$0.00
$0.00
Effective monthly price
$2.99
$4.99
Contract period (months)
36
12
Limits
Data volume
unlimited
unlimited
Number of Devices
5
5
Features
Number of servers
1,100
1,100
Number of countries
210
210
No server logs
P2P allowed
Tor access
Kill Switch
Protocols

OpenVPN

OpenVPN
HMA subscriptions can be paid for by credit card or PayPal. Payment by BitCoin is not possible.
If uncertain, you can test HMA for for a week, but will need to input your payment information before starting your trial. The provider also offers a 30-day, money-back guarantee.
Security and Privacy
4.3 / 5
Installation and Features
4.0 / 5
HideMyAss impresses in a number of ways: Its server infrastructure is unparalleled and covers the entire globe, showing that the glaring absence of other VPN providers from certain regions is not something that needs to, or should be, accepted. Some features which HMA offers, like the automatic IP address changer, set an example that the rest of the industry should follow.
In terms of quality, HMA also does a good job, being one of the fastest providers we looked at. This wasn't much different two years ago when we last reviewed the service, but since then, its major shortcoming, the lack of a "No-Logs" promise, has been rectified in the best way imaginable, namely, an independent security audit.
Time has not been so kind to HMA's app though, as it now looks a bit stale compared to those offered by its competitors. We're also still waiting for split tunneling in the desktop version. Compounding this, you won't want to take the donkey on your next trip to China or ask it for help in streaming some content from abroad. In all of these areas, more attractive offers are available.
290 locations in 210 countries
Data volume
Devices
Protocols
Contract Period
HideMyAss! 36 months
$2.99
monthly price
Visit Website »
30 days money-back guarantee
HMA received satisfactory to good ratings in the reviews which we examined. Its price is the most often criticized aspect of its service, whereby, the majority of users seem to be very satisfied with HMA's performance.
We analyzed the reviews and ratings from various portals and found 83,108 ratings with an overall rating of 4.1 out of 5 .
Show sources
If you're looking for a more modern app, we were impressed with ProtonVPN, even though their server network can't touch HMA's. On the plus side though, ProtonVPN offers a free plan without data limits.
Should you be more interested in a better-performing VPN, HMA came in behind our first and second fastest providers, NordVPN and Surfshark. Both of these also shined in terms of performance.
5400+ servers, 60 countries
Inexpensive 2-year package
NordVPN combines speed, user-friendliness and functionality into a coherent overall package that is also fairly affordable.
Data volume
Devices
Protocols
Contract Period
NordVPN 2-year plan
$2.99
monthly price
Visit Website »
30 days money-back guarantee
160 cities in 94 countries
30-day money-back guarantee
ExpressVPN impresses with strong performance, a huge server network and excellently designed applications, but this quality also comes at a higher price.
Data volume
Devices
Protocols
Contract Period
ExpressVPN 12 Months
$8.33
monthly price
Visit Website »
30 days money-back guarantee
3200+ servers in 65 countries
Unlimited number of devices
Many apps (Linux, FireTV, ...)
Very cheap on the 24-month plan
Surfshark is one of the cheapest providers on the market, but besides the price also impresses with strong protection, many features and a great support with 24/7 live chat.
Data volume
Devices
Protocols
Contract Period
Surfshark 24 months
$2.49
monthly price
Visit Website »
Get 83% Discount
1200+ servers in 55 countries
Headquarters in Switzerland
Open Source & external audits
Data volume
Devices
Protocols
Contract Period
ProtonVPN Free
$0.00
monthly price
Visit Website »
30 days money-back guarantee

Author (German Version): Martin Gschwentner
Martin Gschwentner majored in American Studies and Media Studies in Germany, the USA and France and works as a freelance editor in Paris. He is a doctoral student at the Institute for English and American Studies at the University of Paris Diderot, where he is researching the influence of money on US politics. On EXPERTE.com he writes about IT security, data protection and software for the self-employed and small businesses.

Translator & Editor: D Bare